Shibuya Halloween Event Returns From the Dead Featuring Yasutaka Nakata, SHINTARO, and more
Halloween is just around the corner and every year, Shibuya is plagued with groups of friends ready to party in their Halloween costumes.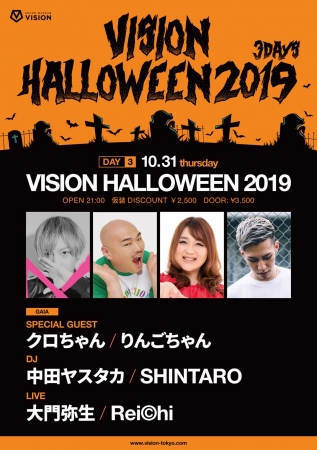 SOUND MUSEUM VISION is a club located on Dogenzaka in Shibuya and its annual tradition is to throw a grand and exciting Halloween event which will rake in all the zombies, ghosts and monsters that lurk the streets.
This year on the third day of the event, Yasutaka Nakata and SHINTARO will be taking to the stage as DJs to blast away the darkness. The event will also feature special guest comedians Kuro chan from the comedy trio Yasuda Dai Circus and Ringo chan. Live acts include musicians Rei©hi and Yayoi Daimon. 
Get in your Halloween costumes and make sure to check out this zombie hotspot. 
Information
VISION HALLOWEENPARTY 2019
October 31, 2019
Doors Open: 21:00
Discount price if you come in costume: ¥2500
Tickets on the door: ¥3500
Lineup
Special Guests: Kuro chan, Ringo chan
DJs: Yasutaka Nakata, SHINTARO
Live Acts: Yayoi Daimon, Rei©hi
Drag Queens: NOBLE*, Gyuko Matsuzaka
and much more.
Website: http://www.vision-tokyo.com/event/vision-halloweenparty-2019
RELATED ENTRIES
TV Anime The Rolling Girls to be Released in 5th Anniversary Blu-ray Box

The Rolling Girls is an anime series produced by Wit Studio that aired in 2015. In celebration of the 5th anniversary of the girly, road movie-like series, the anime will be released in a special Blu-ray box in Japan on December 16, 2020.

The box cover is designed by the series's character concept artist tanu. The box contains a digipak by character artist Katsuhiko Kitada, a CD featuring new cover songs, and more which is TBA.

The Rolling Girls Blu-ray Box Commercial
https://youtu.be/S-otc_Wfko8

A new 5th anniversary animated work is also in production which will feature commemorative illustrations from creators who were involved in the show. It will be produced by Wit Studio and released in autumn this year.

The anime's writer Yasuyuki Muto as well as the main voice cast Ari Ozawa, Rina Hidaka, Risa Taneda, and Yumiri Hanamori released the following comments regarding the Blu-ray box release. All comments translated from Japanese by MMN.

Yasuyuki Muto (Writer) | Comment

"In the time since this anime aired, even while developing the [Blu-ray] box, the voices of the many fans who supported the staff spin-off reached a lot of people. I don't think we've ever had an example of that before. All of us will work hard to deliver to you a fun little package filled with our gratitude for your support over the past 5 years!"

Ari Ozawa (Voices: Nozomi Moritomo) | Comment

"Congratulations on 5 years! It feels like it's come around so fast since people have continued to show their love for The Rolling Girls since it finished airing. This Blu-ray box takes the shape of both our love and all of your love for the series. I want to convey my thanks to all staff involved and each and every one of you. Really, thank you so much. I myself will continue to work hard to become a pillar for all of you who are working hard too!"

Rina Hidaka (Voices: Yukina Kosaka) | Comment

"[Yasuyuki] Muto has continued to stir up excitement around The Rolling Girls even after it finished airing. To everyone running the official Twitter account who have continued to send messages of support to keep working hard. To the mob of people who have always loved and cared about The Rolling Girls, even as so many new series have come out in recent years. And to everyone in the staff who have taken on everyone's enthusiasm and shaped it. Thank you so very much! The characters in this series live their lives as daredevils without being involved in any mobs or gangs. They are incredibly cool. I think they're sure to lift you up. Here's hoping that The Rolling Girls wheel continues to spin!"

Risa Taneda (Ai Hibiki) | Comment

"I love this series. From the main show to the spin off, and even the music, everything about it livens me up and gives me courage. Five years on, Ai and the rest of the gang's adventures feel far from having grown stale. I feel from the bottom of my heart that this series is evolving into something even more vivid and fun. I couldn't recommend it enough to those who have yet to see it, so I hope you use the box release as an opportunity for us to go on this Rolling Girls journey together!"

Yumiri Hanamori (Chiaya Misono) | Comment

"I'm one person in this mob of girls who continue to roll and who continue to encourage me even to this day. Meeting Chiaya was the best encounter I've ever had. It's made me who I am today. And that's why I myself am able to roll recklessly [like her] today. And I will continue to roll so that I can become matcha green for someone someday, just like Chiaya and Nonsuke! I will work hard, and so will you!"

©2015 The Rolling Girls Production Committee

Information

The Rolling Girls Blu-ray BOX (*Tentative Title)

Release Date: December 16, 2020

Price: ¥18,000 (Before Tax)

Stock Number: PCXP.50785

The Rolling Girls 5th Anniversary Animation

Release Date: Autumn 2020

The Rolling Girls Official Website: rollinggirls.com

MAXPLAN AZABU10: The New Landmark of Tokyo's Azabu Juban District

MAXPLAN Co. is set to open MAXPLAN AZABU10 on October 22, 2020 which is set to become the new symbol and a landmark of Tokyo's Azabu Juban District. The building will offer many unique and extraordinary experiences.

Nakamura Suzuko (CEO, MAXPLAN Co.) | Comment

"This project borrows the strength of internationally-active architect Kengo Kuma. I am overjoyed to have the opportunity to be a driving force together with him once again. This building, which is the 'Azabu Juban Development Project,' will be a place that creates and discovers new collective value between companies and individuals. A place of creative symbiosis. It aims to offer well being for companies that brings about a sense of cultural values. It will be a creative space for companies and individuals to resonate, bounce ideas off, and flow with one another. I pray from the bottom of my heart that these things will serve as a connection to how we want to live in the future."

Kengo Kuma (Architect) | Comment

"Azabu Juban is Tokyo's intersection between tradition and the future. I wanted to create a symbol for this district of 'fluctuations' around its crossroads. Combining panels of varying sizes with different heights, thicknesses, and textures expresses the district's diversity and energy. I wanted the building to blend in as part of the 'fluctuations,' as well as create a small 3D city which itself has 'fluctuations' […]"

We look forward to seeing how this new landmark and symbol of Azabu Juban brings together the traditional and the futuristic.

Information

MAXPLAN AZABU10
Building Site: 4-1-1 Azabu Juban, Minato Ward, Tokyo
Access: 1-minute on foot from Azabu Juban Station (via Tokyo Metro Namboku Line and Toei Oedo Line)
Grand Opening: October 2020 (subject to change)

Sailor Moon Area to Arrive at Miniature Theme Park SMALL WORLDS TOKYO in June

The world's biggest miniature theme park SMALL WORLDS TOKYO has announced that the highly-anticipated Sailor Moon area will open on June 5, 2020.

The Sailor Moon area gives people the chance to be turned into miniature 1/80 scale figurines and live there. In the run up to the grand opening, members of the official Sailor Moon fan club "Pretty Guardians" will have early access to this program from May 29, 2020.

What is SMALL WORLDS TOKYO?

SMALL WORLDS TOKYO is a miniature theme park that opened Ariake district of Tokyo earlier this spring. The park covers an 8,000 square meter area which is split into seven different areas made up of moving miniature models: the Kansai International Airport, the Space Center, World Streets, Sailor Moon, Neon Genesis Evangelion Tokyo-3, and Neon Genesis Evangelion Evangelion Cage.

What is the Sailor Moon figurine program?

The Pretty Guardian Sailor Moon series is set in Tokyo's Azabu-Juban district, which is the setting for the area in SMALL WORLDS TOKYO. During the day, the series heroines, including Usagi Tsukino, live a lively life in Azabu-Juban. At night when the street lights turn on, the girls transform into Sailor Guardians under the moonlight.

On the opposite side of Azabu-Juban district you can see Crystal Tokyo, a future capital city in the 30th Century which also appears in the original series.

In the exclusive Pretty Guardians fan club area of the exhibit, members will find miniature figurines of themselves, making it feel like they really live in the world of Sailor Moon. More details on this program can be found on the official fan club website.

Information

Pretty Guardian Sailor Moon Area w/ Figure Program
Price: Adults ¥19,800 (Tax Included) / High School Students and younger ¥17,600 (Tax Included)

On Sale: June 5, 2020

*Available to Pretty Guardians fan club members from May 29, 2020

Pretty Guardians Official Website:
https://prettyguardians.com/

Pretty Guardian Sailor Moon Area w/ Figure Program Ticket Website:
https://smallworlds-sailormoon.jp/
*Open from June 5, 2020 at 13:00 (JST)

SMALL WORLDS TOKYO

Address: Ariake Butsuryu Center, 1-3-33 Ariake, Koto Ward, Tokyo

Opening Hours: 9:00-21:30 (Subject to change on weekends, holidays, and certain periods)

Official Website: http://www.smallworlds.jp/

Garrett Popcorn Releases its Richest Matcha Flavour in Japan

Chicago-based gourmet popcorn brand Garrett Popcorn Shops® is releasing its strongest matcha flavour to date alongside a new striped tin in Japan on June 1. Both are limited edition products and will be available while supplies last.

Named "Koi Matcha Kinako Kurumi" (Rich Matcha Soy Flour Walnut), the new matcha flavour is 40% stronger than the Matcha Caramel Crisp™ and blends together soybean flour and walnut for an aromatic crunch combination. The matcha holds a pleasant bitter flavour while the soybean flour is subtly sweet and gives off a rich, delightful smell.

The new tin takes Garret Popcorn's iconic striped design and throws in multiple colours and patterns for vivid effect. Combined with the new matcha flavour, it makes for the perfect home theatre accompaniment while you watch a movie.

Information

Koi Matcha Kinako Kurumi (Japanese Name: 濃抹茶きなこくるみ)

Available: Garret Popcorn Shops® branches in Japan (see below)

*Daily limited stock. Available while supplies last.

Running

Harajuku: June 1, 2020 – July 16, 2020

Shisui Premium Outlets: June 5, 2020 – July 16, 2020

Nagoya: Now until July 16, 2020名古屋店:発売中~7月16日(木)

LaLaport Expo City: June 1, 2020 – July 16, 2020

Prices/Sizes

Small: ¥620 / Medium ¥1,100 / Large ¥1,720 / Jumbo ¥3,450 / Quarter Tin ¥4,175 / 1 Gallon Tin ¥4,400 / 2 Gallon Tin ¥8,400

*Jumbo and 2 Gallon Tin sizes exclusive to the Shisui Premium Outlets and LaLaport Expo City branches of Garret Popcorn Shops®.

Official Website: http://jpgarrettpopcorn.com/

Peach John's New Lingerie Set is Inspired by Van Gogh's 'Sunflowers'

Peach John introduced a new design to its "Kisho no Bra" lingerie line on May 27, 2020. The items in the line are inspired by famous paintings.

The first collection to be released in the line hit shelves last year. The items look inspiration from Claude Monet, Alphonse Mucha, and Pieter Bruegel the Elder, and were a huge hit amongst buyers for their delicate lacework, prints, and colour variations.

Kisho no Bra – Gogh Yellow: ¥3,980 (Before Tax) [Sizes: B-F Cup, UB 65/70/75]

Kisho no Panties Song – Gogh Yellow: ¥1,480 (Before Tax) [Sizes: S, M, L]

For the second entry to the line, Peach John are introducing a "Gogh Yellow" collection inspired by Vincent van Gogh's Sunflowers. Vivid sunflowers have been embroidered into the lingerie items to recreate the delicate art piece.

The bra and panties both maintain a feminine design while still conveying the wonder of the original artwork, making it an expression of both art and beauty.

Brown Sugar Syrup Dorayaki to be Sold at FamilyMart Convenience Stores in Japan

With shops and businesses temporarily closed as a result of lockdown measures in Japan, Japanese convenience store chain FamilyMart is currently collaborating with famous shops around Japan. They recently teamed up with famous matcha company Kanbayashi Shunsho Honten to stock some authentic matcha treats on its shelves.

For its 5th collaboration, FamilyMart is collaborating with Eitaro Sohonpo, a Japanese confectionery store that has been around since 1818, to bring the company's brown sugar syrup dorayaki to their own shelves from May 29, 2020. Since being released in December 2018, the dessert has been sold over 1 million times.

The dorayaki is made with Eitaro Sohonpo's brown sugar syrup and coarse sweet red bean paste. Each and every ingredient is chosen with care to create this luxurious dessert. The adzuki beans are soaked in a brown sugar syrup made from sugar from Okinawa Prefecture. It's also made with whole soybean soy sauce and a whipped cream that's made from a blend of fresh Hokkaido cream and 26% milk.

The dorayaki pastry is soaked in brown sugar syrup which when eaten with the whipped cream and coarse sweet bean paste makes it truly a dessert for the gods.

Information

Eitaro Sohonpo – Brown Sugar Syrup Dorayaki (Japanese Name: 黒みつしみうま生どら焼)
Price: ¥298 (Tax Included)
Release Date: May 29, 2020
Available: Japan (Except Okinawa)
FamilyMart Official Website: https://www.family.co.jp/

Street Fighter V Costume Design Contest Launched by Capcom

Street Fighter V was released back in 2016, and continues to enjoy a dedicated player base thanks to the ongoing updates. Street Fighter V: Champion Edition was released on February 14, 2020, featuring the original game and all of the content up to Season IV.

Capcom has now confirmed Season 5 which will roll out five new characters. Three new stages are also being planned. Capcom will also host a costume content for fans to design the outfits for the five new characters.

Season V: The Final Season is Now in Development

Season V is set to be final season to be released for Street Fighter V, which has garnered the support of many fans since its release back in 2016. Five new characters have been decided on and are now in development together with three new stages. More information is scheduled to roll out this summer.

Leave Your Name in Street Fighter History With the Costume Contest

One aspect of Street Fighter V that players love are the amount of costumes you can put characters in. Fans can see their favourite characters not just in their regular outfits, but in something more cool or even comical.

This is about to become even more fun as Capcom announces the launch of an official costume contest. Two costumes will be chosen from submissions based on votes by players. This is their chance to make their mark in Street Fighter history.

Pictured above are concept pieces designed by the Street Fighter V staff. Try designing something that really makes you outfit stand out from the rest.

Click here for more details on how to participate.

EX09 Colours Released Free Of Charge For All 40 Characters

While we're still a while way from Season V, Capcom decided to release the EX09 colour for all 40 characters on Wednesday free of charge, an awesome combination of black and red.

©CAPCOM U.S.A., INC. 2016, 2020 ALL RIGHTS RESERVED.

Information

Street Fighter V: Champion Edition
Platforms: PlayStation®4 / PC
Genre: Fighting
Players: 1-2 (2-8 Online
CERO Rating: B

Official Website: https://streetfighter.com/

9 Cute Nail Styles to Inspire Your Self Love and Creativity at Home

With most people stuck in lockdown, many people are taking the time to try out different nail styles right now in Japan. If you're stuck on what designs to go for, take some inspiration from these 10!

Girly Off Blue Nails | @paakogrm

Mayu has gone for the ever-popular off-blue to create a girly design.

Dalmatian Nails | @fnds23

YUI has incorporated a dalmatian print for a simple yet stylish combination.

Colourful Nails Against The Blue Sky | @bjmmm_13

Koharu's nails feature a mix of fun colours, patterns, and designs which are sure to cheer her up whenever she's using her hands and sees them.

Mai's Toy Story nails seem as though they're about to come to life and start talking. Check out those fluffy clouds too.

Demon Slayer | @aiarrn

Rin's Demon Slayer and turtle shell designs are all hand drawn. Tanjiro and Nezuko look really cute.

Nao-chan's nails are made up of various shiny parts which look even cute when the sun shines on them!

Lovely Blanket Nails | @kym__81g

Mayu's lovely blanket nails are hand drawn and have a soft, gentle aesthetic to them.

Pom's nails combine off-colours with browns for a vintage look. The polka dots are a sophisticated cute without being overly-kawaii.


Yukina's nails are made up of various cute fruits. She's serving freshness for the coming summer season.

Use this opportunity while at home to make your own nails cute too!

Beauty Connection Ginza's Fruits Salon Reveals Mango Menu Line-Up

Beauty Connection Ginza and its second floor fruit course cafe Fruits Salon have been closed since April 8, 2020 as a result of the novel coronavirus (COVID-19) outbreak. But that hasn't stopped Fruits Corner wanting to deliver its tasty treats to customers as it reveals its new mango themed menu which is set to run for the whole month of June. It will be taking online orders.

Following the pear, citrus fruits, and strawberry line-ups, the new mango course is made up of four different vitamin-packed and refreshing accompaniments, all made with fresh mangoes from Miyazaki Prefecture.


Mango Full Course: ¥4,400 (Tax Included)


1st. plate "Terrine"


2nd. plate "Airy Tart"

Each of the four plates, packed full of rich and sweet mangoes, offers refreshing taste to give you that early summertime vibe.


3rd. plate "Parfait"


4th. plate "Dried Fruits/Mignardises/After-Meal Drink)

The third plate is a gorgeous, eye-catching parfait centred on mango gelato and made up of delicious ingredients that all come together harmoniously. Mix everything together to create new flavours. The full course is 90 minutes, and beckons you to use all five of your senses to enjoy it.

Doraemon 50th Anniversary Online Fair Launched at TSUTAYA Ginza

Since the launch of the manga back in 1970, Doraemon has brought smiles on people's faces in the form of books, anime, live-action films, collaborations with artists, and more, for the past 50 years.

To celebrate the franchise's 50th anniversary, TSUTAYA Ginza has opened an online fair on its website. TSUTAYA Ginza is a place where people of all ages and nationalities come from around the world, and the number one book the store can recommend as part of Japan's culture continues to be the first volume of Doraemon. For the entirety of 2019—that's January to December—the first volume of Doraemon was the number one best selling book at TSUTAYA Ginza.

Doraemon 50th Anniversary Fair

Doraemon Volume 1 (Tentoumushi Comics)

Doraemon has come to be a symbol of Japan and has been passed down generations, but there probably a lot of people who don't know how the story started. To find out, pick up a copy of volume one at TSUTAYA Ginza.

Doraemon Volume 0 (Tentoumushi Comics)

As part of the anniversary celebrations, a special volume 0 has been published. This full-colour book features 6 versions of the first Doraemon story as well as comments  by the author and more.

Doraemon Mizuhiki Accessories (Pins, Earrings, Piercings)

Mizuhiki are decorative Japanese cords which are used for important ceremonial occasions such as weddings, births, and funerals. These special Doraemon mizuhiki have been turned into beautiful accessories featuring Doraemon and Dorami's iconic blue and yellow colours respectively. They can be used for decorating clothes with and more.

This is just a peek at some of the celebratory merchandise on offer for the online fair. For the full list, check out the website below.

RADWIMPS Release Music Video For 'Nekojarashi' Orchestral Version

RADWIMPS have dropped a music video for their song Nekojarashi (Orchestra ver.).

The music video was shot and made by staff who have been involved with many other RADWIMPS music videos. The video is a snapshot of an ordinary day, something which comes as a welcome during these chaotic times. It looks at what lies beyond in the future—a message of hope.

RADWIMPS recently released a music video for the normal version of Nekojarashi featuring a compilation of photos the band wanted fans to send in which showcase the little things in life that make them happy. Now fans can enjoy that alongside the video for the orchestral version.

RADWIMPS – "Nekojarashi (Orchestra ver.) Music Video

Kawaii Creator's Club #3: Naomi Shares Her Experiences as a Kawaii Fashion Creator

MOSHI MOSHI NIPPON is launching a new series which we are calling the Kawaii Creators Club. Each episode, we'll be introducing to you, the readers, to Kawaii Fashion Creators from around the world who are interested in kawaii fashion from Harajuku.

You'll get to know each of these creators―who all live in different countries around the world―as you learn how they came to know about kawaii fashion, where they buy their clothes and accessories, who their fashion inspirations are, and more, in the form of an interview.

In Episode #3, we welcome Naomi from the Philippines!

Naomi is a fashion student who has her own brand. We asked her about her daily life and her experiences with kawaii fashion.

–What is your nickname (or name)?

My name is Naomi but some of my friends call me Naomeow (Now-meow) or Nao!

–Which country do you live in?

I'm living in Japan now but I'm from the Philippines!

–What is your occupation? 

Naomi's Brand Omi Omi

I'm a full-time fashion student, part-time model and creator/designer of my new brand: Omi Omi.

–What made you interested in kawaii fashion?

I've always had a love for cute things, and have always been told I've been stuck daydreaming in my own world. So being able to wear kawaii fashion enables me to express my love for cuteness while being able to show people what it means to me.

–At what age did you start experimenting with kawaii fashion?

I've been dressing in kawaii fashion for as long as I can remember, but I think it's just evolved in different ways now.

–Where do you buy your kawaii accessories and clothes from?

I really love thrift shopping! This is where I usually buy my clothes if it's not given to me from online shops. Koenji and Shimokita are usually my go-to places in Tokyo. I also like re-making old clothes, and some of the things I wear I designed myself ♡ I just started my brand recently and have been doing pop-up shops around Tokyo from time to time, and will launch my website soon at www.omi-omi.com

–Is there anyone who inspires your fashion style?

I don't have a particular real person, but I do think my favorite heroines from shows and video games have affected my style in some way. For example, Mathilda from Leon the professional and Miwako Sakurada from Paradise Kiss.


–What do you like doing on your days off?

During my free time, I tend to just sleep and play video games.

–What is your favourite food and why? (It can be from any country)

Katsu Curry is my ultimate favourite dish! It just tastes so good I'm getting hungry thinking about it. I can finish that in 10 minutes.

–Do you have a favourite anime?

I have my top 3 favourite animes that I love, which are Fullmetal Alchemist: Brotherhood, Chobits, and Neon Genesis Evangelion. The stories of these are amazing, and I love animes with deep, complex plot twists.

–Who is your favourite character? (If you have one)
Chii from Chobits!

–Do you have a favourite Japanese celebrity? If yes, who is it and why?
I don't know much about Japanese dramas or celebrities unfortunately 🙁

–Do you have a favourite website about Japan or Japanese culture? If so, what is it?
I don't know much about Japanese culture websites as well 🙁

–What is your favourite Japanese word or phrase?
Probably 「ヤバイ!」

–Have you ever been to Japan? What is your favourite place?
Yes! I live here. My favourite places are Shimokitazawa, Koenji and Harajuku.

–Tell us about your dreams for the future.
I'm currently studying fashion right now, and once I graduate I plan to expand my brand around Tokyo. Maybe, in the near future, it would be such a dream to open a physical store in Harajuku.

–Finally, what does "kawaii" mean to you?
To me, I feel like "Kawaii" is more than just physical aesthetics. I think it's also a feeling, culture, and a lifestyle. You don't have to be a model, a certain gender, or popular to be "Kawaii". For me, someone who is "Kawaii" radiates that happiness from within, just like the way we feel when we see our favorite cute toys. They aren't afraid to be different, and are real with our love to express joy and cute things. There's a difference between kawaii and childish and I think being able to express your inner child is a brave and rebellious thing to do in a world full of people who push that side of themselves away!

If you want to see more of Naomil then be sure to follow her on Instagram where you can check out many more of her looks.

Naomi's Instagram: https://www.instagram.com/naomeoww/
Blog: http://www.naominikola.com
Brand: http://www.omi-omi.com