Shibuya Halloween Event Returns From the Dead Featuring Yasutaka Nakata, SHINTARO, and more
Halloween is just around the corner and every year, Shibuya is plagued with groups of friends ready to party in their Halloween costumes.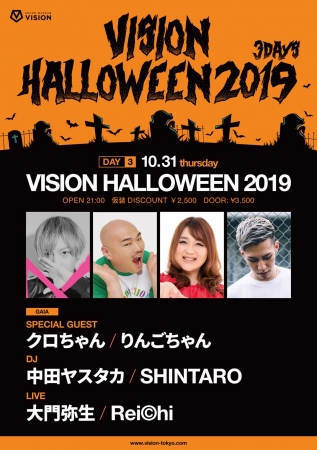 SOUND MUSEUM VISION is a club located on Dogenzaka in Shibuya and its annual tradition is to throw a grand and exciting Halloween event which will rake in all the zombies, ghosts and monsters that lurk the streets.
This year on the third day of the event, Yasutaka Nakata and SHINTARO will be taking to the stage as DJs to blast away the darkness. The event will also feature special guest comedians Kuro chan from the comedy trio Yasuda Dai Circus and Ringo chan. Live acts include musicians Rei©hi and Yayoi Daimon. 
Get in your Halloween costumes and make sure to check out this zombie hotspot. 
Information
VISION HALLOWEENPARTY 2019
October 31, 2019
Doors Open: 21:00
Discount price if you come in costume: ¥2500
Tickets on the door: ¥3500
Lineup
Special Guests: Kuro chan, Ringo chan
DJs: Yasutaka Nakata, SHINTARO
Live Acts: Yayoi Daimon, Rei©hi
Drag Queens: NOBLE*, Gyuko Matsuzaka
and much more.
Website: http://www.vision-tokyo.com/event/vision-halloweenparty-2019
RELATED ENTRIES
Shibuya-based multinational hip-hop/funk band ALI made their name known internationally with their song Wild Side which is used as the opening theme for the TV anime series BEASTARS.

The band are set to release their first full-length album ALI on November 27, and they just dropped a music video for the record's title track No Tomorrow (Give It Up).

The video was directed by Yoshirotten and is the band's first video to be shot in full colour, a change from the monochrome videos they have released up to now. The theme Yoshirotten was going for in this one was "gypsy." The video weaves together the world of a real gypsy and a spiritual gypsy, showcasing ALI's life as a band as they go from show to show.

Tickets for the band's first ever solo tour, "Wild Side Tour 2019," are now on sale.

Information

1st Album – "ALI"

Release Date: November 27, 2019

First Press Edition (CD+DVD): ¥3,000 (Before Tax) [ALI-003]

Regular Edition (CD-Only): ¥2,000 (Before Tax) [ALI-004]

ALI Official Website: https://alienlibertyinternational.com/

Cö shu Nie's Psycho-Pass 3 Ending Theme 'bullet' Remixed by Slushii

Cö shu Nie's newest song bullet is being used as the current ending theme for the season three of the ongoing hit TV anime series Psycho-Pass.

American DJ, singer-songwriter and record producer Slushiiーwho is known for working with a variety of notable artists including Marshmello, as well as receiving big time support from Skrillexーjust dropped a remix of bullet which was posted on Cö shu Nie's YouTube channel below.

The collaboration happened after Cö shu Nie vocalist Miku Nakamura featured on Slushii's song Calling Out to You. Slushii himself is an anime fan, and Nakamura is the composer for many an anime theme song including the Tokyo Ghoul:re opening theme asphyxia, the The Promised Neverland ending themes Zettai Zetsumei and Lamp, and more.

The bullet remix is also streaming on Spotify, so be sure to give it a listen to hear the song in an all-new light.

Tickets for Cö shu Nie's 2020 tour "PURE" -who are you?- are now on sale.

The Frozen 2 Café is An Open Door to Magical Food, Autumn Adventures and Much More

Frozen 2 will premiere on November 22 in Japan and America at the same time and to celebrate, the Frozen 2 café will open in OH MY CAFE Omotesando, Tokyo from November 15, Osaka and Nagoya from November 16, Hokkaido from November 21, Futakotamagawa from November 29, Fukuoka from December 5 and Kyoto from December 6. Each café will be open for a limited period only. 

We at the MOSHI MOSHI NIPPON team were as excited as Anna was for Coronation Day and so we headed to the Frozen 2 Café in Omotesando as fast as we could. Today we'll be showing you the cafés cool decorations, delicious food and original merchandise. 

Stepping into the café was like entering the autumn world of Frozen 2. A few more steps in and Anna was there to greet us. Seeing the awe-inspiring figure of Anna stood nobly before us made us feel that she has matured since the first Frozen film. Customers are free to stand next to the life-sized Anna and have a photo with her. 

The central area of the café is full of icy decorations and the walls are covered in illustrations of autumn leaves. Wander deeper into the café and you will immediately notice the life-sized Elsa. If you look closely, Elsa doesn't seem to be smiling. Seeing her hardened expression played on our minds. Is the reason for this elaborated in the film?

The food menu consisted of five original dishes and each dish was themed around one character from the film, representing them in a cute way. 

Anna's Impulsive Sandwiches and Tomato Soup: ¥2,390/with Soup Bowl: ¥3,990

Order Anna's special meal and you and your friends will be finishing each other's sandwiches in an instant. The chicken and cheese sandwiches are served alongside a tomato soup which will warm you up right away.

Elsa's Magical Muffin Sandwich and Pasta Soup: ¥2,390/with Soup Bowl: ¥3,990

A muffin sandwich hugs prosciutto and a white omelette. This is accompanied by a mushroom and pasta soup. The dish is decorated with a dusting of snowflakes and Elsa.

Olaf's Fun Snowball-Rolling Meatball Plate: ¥2,190

This plate contains a generous serving of vegetables and meatballs. Seeing Olaf's lively face will instantly put a smile on yours. The blueberry sauce coating the meatballs contributes an interesting flavour to the meal.

Kristoff and Sven: Two Pals on an Adventure Bagel: ¥2,190

Kristoff has been best pals with Sven since he was a child. There's no separating the two – even when they're a meal! You're in for a treat with chunky vegetables and Sven's favourite: a carrot.

Salamander's Surprise Bright Red Tomato Curry: ¥2,190

It seems that café-goers have the opportunity to encounter Frozen 2's new character: a salamander. Pour the curry over the Salamander and something magical happens! The curry is not very spicy so it can be enjoyed by anyone. 

There are four drinks on the drinks menu which are themed on characters and themes from the film. 

Left: Elsa's Refreshing Lemon Smoothie, Centre: Anna's Refreshing Very Berry Tea

Right: Frozen 2 Magical Blue Mallow Tea: ¥990/with Drink Coaster: ¥1,690

While Elsa's smoothie takes on the appearance of her elegant wintery dress, the sweet and tangy berry drink reflects the cute appearance of Anna. If you're curious to discover the taste of Disney magic then order the Frozen 2 Magical Blue Mallow Tea. Add the lemon to the drink and watch what happens. 

Frozen 2 Warm and Frothy Cheesecake Milk Tea: ¥990/with Cup: ¥2,490

All your favourite Frozen characters have united in the form of a heart-and-body-warming milk tea. After just one sip, you won't be able to stop.

You definitely cannot miss out on range the OH MY CAFE-limited original goods. Today we'll be introducing our top picks:

 Frozen 2 Decorations (5 Designs): ¥950

Acrylic Magnets (5 Designs): ¥500

The decoration is sealed in a bag so there is no way of knowing which one you get until you purchase it. Every available design is so cute that you would want to collect them all. 

Picture Book-Style Notebook (3 Designs): ¥950 each

From the style to the cover, this notebook looks just like a picture book. Open it up and you will discover the Frozen 2 characters frolicking together on the right side of the page. 

Crunchy Chocolate (2 Varieties): ¥980 each

This crunchy chocolate comes in a beautiful tin that you will want to keep after finishing the chocolate. Seeing the happy, smiling faces of Anna and Elsa is very reassuring.

Anna and Elsa Cartoon Merchandise

From cushion covers to smartphone cases, there is a large variety of everyday-use merchandise covered with character-like illustrations of Anna and Elsa.

As part of a special promotion event, those who reserve in advance (¥650) will receive a placemat. Customers who spend more than ¥3,000 (before tax) on café limited goods will be presented with a free ballpoint pen, and those who spend more than ¥1,000 (before tax) will receive a shopping bag (first-come, first-served).

These promotion goods are in limited stock so if you are eager to get something, make sure to head to the café as soon as possible. In addition, Olaf fans will be thrilled to know that the special winter-limited event "OLAF in HOLIDAY" will be running from December 20 and will see the release of merchandise and fun events. 

No matter how many times you visit the café, there will always be lots to enjoy and discover. Make sure to stop by for your fill of fantastical Disney magic!

©Disney

Writer:Sayuri Mizuno(MOSHI MOSHI NIPPON)

Information

Frozen 2 OH MY CAFE

■Tokyo: OH MY CAFE TOKYO, Tokyu Plaza Omotesando Harajuku

Running: November 15, 2019 – January 13, 2020

■ Osaka: kawara CAFE&DINING, Shinsaibashi 

Running: November 16, 2020 – January 13, 2020

■Nagoya: kawara CAFE&KITCHEN, Nagoya PARCO

Running: November 16, 2019 – January 19, 2020

■ Hokkaido: Cafe Interlude

Running: November 21, 2019 – January 19, 2020

■Fukuoka: kawara CAFE & DINING KITTE, Hakata 

Running: December 5, 2019 – January 19, 2020

■Tokyo: gelato pique cafe,  Tamagawa Takashimaya S.C.

Running: November 29, 2019 – January 26, 2020

■Kyoto: gelato pique cafe, Kyoto The CUBE

Running: December 6, 2019 – February 2, 2020

 

Frozen 2 OH MY CAFE Official Website: https://snow.ohmycafe.jp/

 

Frozen 2

Release in Japan: November 22

Official Website: https://disney.co.uk/movies/frozen-2

Tokyo DisneySea Celebrates Christmas With Spectacular Show & Evening Illuminations

This year heralds another heart-warming Christmas celebration at Tokyo Disney Resort® with the official Disney Christmas event, which kicked off at Tokyo Disneyland and Tokyo DisneySea on November 8 and will run up to Christmas Day.

Today, we're reporting on Tokyo DisneySea's entertainment programme "It's Christmas Time!" as well as the park's photo spots which can be enjoyed in the evenings.

It's Christmas Time!

Returning again to Mediterranean Harbor this year is It's Christmas Time!, a show which brings together the Disney character cast for a performance of Christmas song and dance.

The show begins with the performers stepping out in their bright-red Christmas outfits and singing with beautiful voices.

Lots of Disney friends were gathered together, including Mickey Mouse, Minnie Mouse, Donald Duck, Pluto, Goofy, and Chip & Dale.

"Let's have all have a wonderful Christmas together," announced Mickey, who danced the waltz with everyone.

That's when the snow began to fall, and the colourfully-clad performers began the real dance show, consisting of tap dancing, line dancing, and more. They played lots of classic Christmas songs, and we found ourselves naturally singing along too.

Duffy the Disney Bear, ShellieMay, Santa Claus and many more made an appearance too to join in the festivities.

Speaking of which, Pluto was there too, but he seemed kind of lonely… I wonder what happened?

When visiting Tokyo DisneySea this year, be sure to go all-out when celebrating with the Disney characters and performers too!

Romantic Photo Spots♡

If you head down to American Waterfront, you'll see a 15 meter high Christmas tree in front of the S.S. Columbia. And if you continue from there towards Cape Cod Cook-Off, you can get a really beautiful photo from the bridge.

Reds, yellows, greens and other colours decorate the surrounding area of Cape Cod Cook-Off, where Duffy & Friends are celebrating their Christmas.

There's also photo spots where you can take some cute photos in front of the Christmas tree.

Be sure to find the characters dressed in their winter clothes riding a sled too, you can snap a picture with them as well.

At each themed port in the park they have spectacular illuminations at night too, which are sure to warm you with that Christmas spirit.

Writer: Ellie(MOSHI MOSHI NIPPON)

Translator: Joshua Kitosi-Isanga

©️Disney

Kenshi Yonezu To Release English Version of 'Paprika' with English-Speaking Children

Foorin is a music unit made up of elementary school children with music and lyrics produced entirely by Kenshi Yonezu. Their single Paprika was released on August 15, 2018. Following auditions for native English-speaking children, Yonezu formed Foorin team E to create an English version of Paprika. 

Since the debut of Foorin's song and dance video in 2018, the song appeared in collaboration with NHK Educational TV and has made multiple appearances in events across Japan, adding a sprinkle of fun to the lives of Japanese children. It has become one of the most phenomenal kid's songs of the century. 

Yonezu's cover of the song became an instant hit among people of all generations and was well-received overseas. With a desire to make singing and dancing to Paprika more of a global sensation, he set about creating an English version of the song with native English-speaking children.

Foorin team E consists of main vocalists Jasmine (10) and Corban (8) and chorus and dancers Len (12), Evangeline (12) and Clara (6).

Foorin team E's first-ever performance of Paprika will take place at ABU TV Song Festival in Tokyo on November 19 at NHK Hall and they will also perform alongside Foorin for the first time at Japan's 70th NHK Kōhaku Uta Gassen. 

Get together with your family and younger siblings to enjoy two exciting versions of this cheerful song.

Foorin Artist Photo by Taro Mizutani

Kenshi Yonezu Artist Photo by Tomokazu Yamada

Photos from Upcoming Film Kaiji: Final Game Leaves Fans Thrilled and Concerned

Additional cast members have been announced for the upcoming film Kaiji: Final Game which is set for release in Japan on January 10, 2020. The highly-anticipated film is the first in nine years and will wrap up the live-action trilogy when it releases next year. A new trailer, the film poster and even stills teasing scenes from the film have been released to whet our appetites. 

The film will star Tatsuya Fujiwara, who is reprising his role as the titular character, as well as Sōta Fukushi as Kōsuke Takakura, Mackenyu as Minato Hirose, Nagisa Sekimizu as Kanako Kirino, and Kōtarō Yoshida as Yoshihiro Kurosaki. The original manga's author Nobuyuki Fukumoto has co-written the film's original story with Yuichi Tokunaga. 

・

Multiple photos were released showcasing several scenes from the film, revealing the Teiai Corporation's hidden gambling area Teiai Land which facades as a financial consulting firm. Kaiji, Kirino and Hirose can also be seen stepping foot into what could be their biggest dream or worst nightmare.

In one scene, Kaiji can be seen provoking Kurosaki with an unbreakable piercing gaze as Kurosaki stands paralyzed with fear. Another photo reveals Takamura grabbing Kaiji and throwing him violently on the ground. From Kaiji angrily shouting in response to being called "trash" to him enjoying a cool beer in a moment of supreme bliss, it's clear to see that the film is looking to be a thrilling emotional journey with overwhelmingly strong impact. 

Scenes of Kaiji and Kurosaki show them competing in a compelling game which was created by author Nobuyuki himself. A photo of Kurosaki standing before the game's spectators with a proud smile stretching across his face has left fans speculating and concerned about Kaiji and his friends. 

The photos reveal the cast of top-quality actors and actresses and the appearance of many well-known characters such as Ōtsuki played by Matsuo, Kōtarō Sakazaki as Namase and Rinko Endō as Yūki Amami. New characters include Ikusaburo Yamazaki playing Keishi Nishino and Nagisa Sekimizu as Kanako Kirino.

With the mere release of these photos, Kaiji fans are already trembling with excitement and an eager desire to know the characters' fates. Fans countrywide just cannot contain their excitement for the film's release.  

©Nobuyuki Fukumoto Kodansha / 2020 "Kaiji: Final Game" Production Committee

Information

Kaiji Final Game

Release Date: January 10, 2020 

To be released at TOHO cinemas across Japan

Based on Nobuyuki Fukumoto's manga series Kaiji (YMKC Special, Kodansha)

Director: Toya Sato

Screenplay: Nobuyuki Fukumoto Yuichi Tokunaga

Producer: Toho Co., Ltd. 

Official Website: kaiji-final-game.jp

Autumn in Aichi: Cherry Blossoms and Maples at Obara Shikizakura Matsuri & Korankei Maple Festival

Early November marks the opening of the autumn cherry blossoms in Obaracho, Toyota. By the time mid-November rolls around, close to 10,000 shikizakura cherry blossoms bloom a pale pink until the end of the month.

The Yoshino cherry bears its pink petals in springtime, but the shikizakura blossoms twice a year: first in spring, then in autumn. They are considered one of the most beautiful flowers of autumn, especially when they bloom against the gorgeous and vibrant red maple leaves. The Obara Shikizakura Matsuri began on November 1, and right now, you can witness this spectacle for yourself.

The shikizakura trees planted in Obara have been there since Kansei era (1789-1801). With the helping hand of locals, the trees have become one of Japan's most famous shikizakura spots. They were designated as Chiku (District) Trees in 1978 and can be seen throughout the entire district. Some of the trees are over 100 years old and as such registered as Natural Monuments of Aichi prefecture.

This is a spot we highly recommend visiting when travelling to Aichi.

▼Obara Shikizakura Cherry Blossoms

Peak Blossom Time: From Mid-November

Locations:

441-1 Johei, Obaracho, Toyota, Aichi (Obara Fureai Park)

Senmichi, Toyota, Aichi (Senmi Shikizakura no Sato)

Access: Take the Toyota Oiden Bus bound for Kaminigi (上仁木行き) and get off at Obaraokusa (小原大草) or Kaminigi (上仁木)

Details:  http://www.kankou-obara.toyota.aichi.jp/

▼Obara Shikizakura Matsuri

Running: November 1, 2019 – November 30, 2019

Locations: Senmi Shikizakura no Sato, Obara Fureai Park, and elsewhere in the region

Notes: The Kururin Bus can be boarded for free on weekends and public holidays while the festival is on

Official Website: https://www.aichi-now.jp/spots/detail/132/

The Korankei Maple Festival is also taking place this month where you can witness around 40,000 maple trees bearing their gorgeous autumn foliage.

The trees are being lit up every night for the month of November. Watch the sun set before the illuminations are turned on, creating an enchanting atmosphere with the warm, radiating lights against the night sky.

▼Maple Trees

Peak Blossom Time: From Mid-November

Location:  Iimori Asukecho, Toyota, Aichi

Access: Ride the Meitetsu Mikawa Line to Toyotashi Station, change onto Meitetsu Bus, and alight at Korankei (香嵐渓)

Official Website:  http://asuke.info/korankei/

▼64th Korankei Maple Festival

Running: November 1, 2019 – November 30, 2019

Location: Around Iimori Asukecho, Toyota, Aichi

Light-Up: Sunset to 21:00

Access: 20 minutes from Sarugata Green Road Interchange / 20 minutes from Toyota-Kanpachi Interchange

Official Website: http://asuke.info/event/nov/entry-705.html

Witness two of Japan's most celebrates treesーthe cherry blossom and the mapleーflower together in one place in Aichi.

Seven Days War Anime Film New Visual Teased With Voice Actors as Anime Characters

The anime film adaptation of Osamu Souda's short novel series Seven Days War (Bokura no Nanokakan Sensou), which has over 20 million copies in print, will be released on December 13, 2019.

The film is set in Hokkaido in the year 2020, almost 30 years since Japanese actress Rie Miyazawa made her debut as Hitomi Nakayama in the 1988 live-action film adaptation Seven Days' War. It has been revealed that she will reprise her role as Nakayama in the new animated film.

The anime film will maintain the spirit of the original work while crafting a new story. It stars Academy Award-winning actor Takumi Kitamura as the male protagonist Mamoru Suzuhara and Kyōko Yoshine who plays the main heroine Aya Chiyono.

A special promotional visual was created featuring the lead voice actors' respective characters doing the same pose as them.

The visual is a collaboration with TOHO Cinemas' and a popular section in their magazine entitled "POP! Movie Theatre, Popcorn & Me." The visual began being handed out at TOHO Cinemas for free yesterday. The illustrated versions of Takumi Kitamura and Kyōko Yoshine's characters, Mamoru and Aya, were drawn by mangaka Aoko Sasaki.

Speaking about his involvement with the visual, Kitamura commented, "I'm so happy they used us to draw the illustration! I hope I look like a protector!" Yoshine also commented, "I'm overjoyed to be part of such a tremendous project."

The two of them were also asked about their memories with popcorn. Kitamura said, "When I go to the movie theatre, I'm the kind of person to buy everything. Caramel popcorn, churros, and a drink." Yoshine said, "I get popcorn and oolong tea. When I go with my childhood friend, we get a mix of half salt and half caramel. It's always a scramble when I go with my parents or older brother <laughs>."

It has been 34 years since the first book in the novel series, and 31 years since the first film adaptation. The all-new Seven Days War will hit theatres in Japan this winter on December 13, 2019.

TM& ©️2019 TOHO CINEMAS LTD, ALL RIGHTS RESERVED. Photo: RiEamano

Information

Seven Days War

Release Date: December 13, 2019

Based on: Seven Days War (Bokura no Nanokakan Sensou) by Osamu Souda (KADOKAWA Tsubasa Bunko/KADOKAWA Bunko/KADOKAWA)

Official Website: http://7dayswar.jp/

Sayuri's My Hero Academia Ending Theme 'Koukai no Uta' Released Worldwide

Japanese singer-songwriter Sayuri's new song Koukai no Uta ('Song of Voyage') is currently being used as the ending theme for season 4 of the hit shōnen anime series My Hero Academia. It's just been announced that the single will be released digitally worldwide from Milan Records, an umbrella label of a major label at Sony Music US titled Sony Masterworks.

Sony Masterworks is a notable name in the industry, with even Hikaru Utada's hit single Face My Fearsーone of the main themes from Kingdom Hearts IIIーreleasing from it and making it to No. 98 on the Billboard Hot 100. Sayuri's Koukai no Uta release makes her the first Japanese artist to have a release from Sony Music in America since Utada.

The song is currently available to download only in Japan, and there's is also a short version of the music video on YouTube which has garnered a great deal of attention from anime fans worldwide. It will now be released internationally as a "World Edition EP" entitled Koukai no Uta/About a Voyage containing four songs on November 29, 2019 at midnight pacific time.

Koukai no Uta will be released on CD in Japan on November 27. Pre-orders are now open. The release will be followed with a string of promotional events.

JC Chamboredon, a representative of Milan Records, commented: "I and the rest of the team at Milan Records are particularly honored to be able to release 'About A Voyage,' the first official EP by acclaimed J-pop artist Sayuri outside of Japan. Not only it is a great opportunity to release her high energy end credit song to the latest season of My Hero Academia, but we are especially thrilled to share other beautiful original songs by Sayuri and to showcase her broad talent and unique edge with music fans around the world."

Sayuri also commented on the release, saying: "I am so happy at getting to release my song worldwide from Milan Records, which is an umbrella label of Sony Masterworks at Sony Music America. There are many places I've never travelled to in the world, but I feel excited at getting to visit them in the form of music. I hope it reaches lots of different people."

The My Hero Academia manga series written and illustrated by Kōhei Horikoshi is serialised in Weekly Shōnen Jump with over 24 million copies in print. Both the manga and anime have proved sensational both in Japan and overseas.

Sayuri is Japanese singer-songwriter who has performed around the world including in LA, Germany, Hong Kong, Taiwan and elsewhere. Her song Koukai no Uta was written specifically for season four of the hit TV anime series My Hero Academia.

Pikachu Meets Traditional Japan With Edo Kimekomi Doll

Mataro Doll released its new Pikachu Edo Kimekomi Ningyo doll on November 13. The doll is available in store and on the company's website while supplies last.

Mataro Doll was established in 1919. The company is a a creator of traditional Japanese dolls and is recognised by Kamigamo Shrine as the founder and only legitimate creator of the kimekokomi ningyo doll. It drew much attention in 2018 for creating a Hatsune Miku hina doll, and is about to get another wave of interest as it has created an official Pikachu kimekokomi doll, retaining the Pokémon's character and cuteness.

Pikachu is loved by kids and adults alike. This traditional Pikachu craft too can be enjoyed by people of all ages with its more sophisticated and high-quality appearance.

Mataro Dolls makes all of their items and wares by hand without the use of 3D printers or CAD. They studied Pikachu in great detail to create their new doll. Although the people working at Mataro Dolls are experts in their field, they explained how capturing the characteristic qualities of the character was no easy task.

Pikachu's yellow fur features a flowery design which is typical of traditional Japanese dolls. Catch your own one of these Pikachu dolls for a combination of traditional Japan and Japanese pop culture.

©Nintendo・Creatures・GAME FREAK・TV Tokyo・ShoPro・JR Kikaku ©Pokémon

Information

Pikachu Edo Kimekomi Ningyo
Price: ¥13,200 (Tax Included)
Set Includes: Doll/Stand/Folding Screen/Wooden Tag
*Limited quantity available while supplies last at Mataro Doll and their online store

Product Page: https://www.mataro-doll.com/products/detail/318325

Evangelion Second Impact Hits Hakone Kowakien YUNESSUN Spa Resort

If you're looking for a unique onsen experience in Japan then spa resort Hakone Kowakien YUNESSUN is for you. From Japanese sake to coffee, there are a range of unique baths for you to enjoy a soak in. The resort is also home to a number of water attractions for those looking for a splash of fun. From January 10 to June 30, 2020 the resort will be doubling up the excitement by collaborating with Evangelion. The upcoming Second Impact no Yu event provides a chance for Evangelion fans to discover the exciting world of Evangelion while soaking up the spa goodness.

The Second Impact no Yu event is being held in cooperation with the Evangelion Hakone 2020 MEET EVANGELION IN HAKONE project run by the Odakyu Group. As the first step of this project, the Evangelion series' global catastrophe "Second Impact" will be invading the swimsuit area of the Yunessun spa. If you're looking to plunge straight into some thrilling action, make sure to head to the cave bath and water slide.

From the inside to the outside, the resort has been completely invaded by Evangelion-themed decoration. More details on the collaboration event contents will be released on the resort's official website so make sure to check it out if you are interested.

Information

Second Impact no Yu

Running: January 10 – March 31, 2020

Location: Yunessun Swimsuit Onsen Outside Area 

Opening Days and Times:

Weekdays:10:00 – 18:00

Weekends and National Holidays: 9:00 – 19:00 (Last Entry: 1 hour before closing time).

Prices:

Adults: ¥2,500, Children (3 y/o – Primary School-Aged): ¥1,400 (Tax Included) 

* You must be over 110cm tall to enter Rodeo Mountain.

Resort Evangelion Decorations

Running: January 10 – June 30, 2020

Location: Hakone Kowakien Yunessun

Opening Hours:

Weekdays: 10:00 – 18:00

Weekends and National Holidays: 9:00 – 19:00 (Last Entry: 1 hour before closing time)

Hakone Kowakien Yunessun

Address: 1297 Ninotaira, Hakone, Ashigarashimo District, Kanagawa

Collaboration Website: https://eva-hakone.com/

See the Breathtaking Autumn Foliage of the Former Shizutani School in Okayama

The Former Shizutani School, recognised as the oldest school existing for commoners in Japan, has reached its peak season for autumn foliage. Speficially, for the Chinese pistache tree, which is a symbol of the school.

Shizutani School first opened in 1670 during the Kambun era. In 2015, it was registered as an Educational Heritage Site from Early-Modern Japan. The majority of the site is listed as an Important Cultural Property, including the temple, Shizutani Shrine, as well as the auditorium which is considered a national treasure.

The school's surrounding natural landscape enjoys the blooming of many different flowers throughout the entire year which people flock to see. It's especially famous for autumn, a season during which the enchanting red and yellow hues boas their beautiful blossom.

The three colours reflect from the lacquered flooring of the auditorium, rippling like ocean waves.

The beautiful contrast between the reds and yellows of the pistaches can be enjoyed during autumn-time only. The best time to see them is from now until November 20, so if you're travelling to Okayama, be sure to pay the Former Shizutani School a visit.