The Frozen 2 Café is An Open Door to Magical Food, Autumn Adventures and Much More
Frozen 2 will premiere on November 22 in Japan and America at the same time and to celebrate, the Frozen 2 café will open in OH MY CAFE Omotesando, Tokyo from November 15, Osaka and Nagoya from November 16, Hokkaido from November 21, Futakotamagawa from November 29, Fukuoka from December 5 and Kyoto from December 6. Each café will be open for a limited period only. 
We at the MOSHI MOSHI NIPPON team were as excited as Anna was for Coronation Day and so we headed to the Frozen 2 Café in Omotesando as fast as we could. Today we'll be showing you the cafés cool decorations, delicious food and original merchandise. 
Stepping into the café was like entering the autumn world of Frozen 2. A few more steps in and Anna was there to greet us. Seeing the awe-inspiring figure of Anna stood nobly before us made us feel that she has matured since the first Frozen film. Customers are free to stand next to the life-sized Anna and have a photo with her. 
The central area of the café is full of icy decorations and the walls are covered in illustrations of autumn leaves. Wander deeper into the café and you will immediately notice the life-sized Elsa. If you look closely, Elsa doesn't seem to be smiling. Seeing her hardened expression played on our minds. Is the reason for this elaborated in the film?
The food menu consisted of five original dishes and each dish was themed around one character from the film, representing them in a cute way. 
Anna's Impulsive Sandwiches and Tomato Soup: ¥2,390/with Soup Bowl: ¥3,990
Order Anna's special meal and you and your friends will be finishing each other's sandwiches in an instant. The chicken and cheese sandwiches are served alongside a tomato soup which will warm you up right away.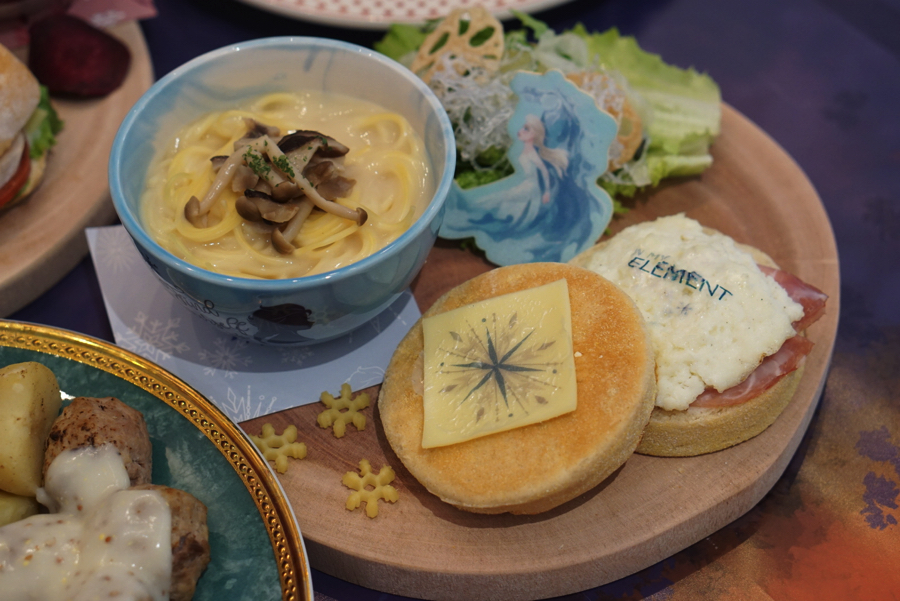 Elsa's Magical Muffin Sandwich and Pasta Soup: ¥2,390/with Soup Bowl: ¥3,990
A muffin sandwich hugs prosciutto and a white omelette. This is accompanied by a mushroom and pasta soup. The dish is decorated with a dusting of snowflakes and Elsa.
Olaf's Fun Snowball-Rolling Meatball Plate: ¥2,190
This plate contains a generous serving of vegetables and meatballs. Seeing Olaf's lively face will instantly put a smile on yours. The blueberry sauce coating the meatballs contributes an interesting flavour to the meal.
Kristoff and Sven: Two Pals on an Adventure Bagel: ¥2,190
Kristoff has been best pals with Sven since he was a child. There's no separating the two – even when they're a meal! You're in for a treat with chunky vegetables and Sven's favourite: a carrot.
Salamander's Surprise Bright Red Tomato Curry: ¥2,190
It seems that café-goers have the opportunity to encounter Frozen 2's new character: a salamander. Pour the curry over the Salamander and something magical happens! The curry is not very spicy so it can be enjoyed by anyone. 
There are four drinks on the drinks menu which are themed on characters and themes from the film. 
Left: Elsa's Refreshing Lemon Smoothie, Centre: Anna's Refreshing Very Berry Tea
Right: Frozen 2 Magical Blue Mallow Tea: ¥990/with Drink Coaster: ¥1,690
While Elsa's smoothie takes on the appearance of her elegant wintery dress, the sweet and tangy berry drink reflects the cute appearance of Anna. If you're curious to discover the taste of Disney magic then order the Frozen 2 Magical Blue Mallow Tea. Add the lemon to the drink and watch what happens. 
Frozen 2 Warm and Frothy Cheesecake Milk Tea: ¥990/with Cup: ¥2,490
All your favourite Frozen characters have united in the form of a heart-and-body-warming milk tea. After just one sip, you won't be able to stop.
You definitely cannot miss out on range the OH MY CAFE-limited original goods. Today we'll be introducing our top picks:
 Frozen 2 Decorations (5 Designs): ¥950
Acrylic Magnets (5 Designs): ¥500
The decoration is sealed in a bag so there is no way of knowing which one you get until you purchase it. Every available design is so cute that you would want to collect them all. 
Picture Book-Style Notebook (3 Designs): ¥950 each
From the style to the cover, this notebook looks just like a picture book. Open it up and you will discover the Frozen 2 characters frolicking together on the right side of the page.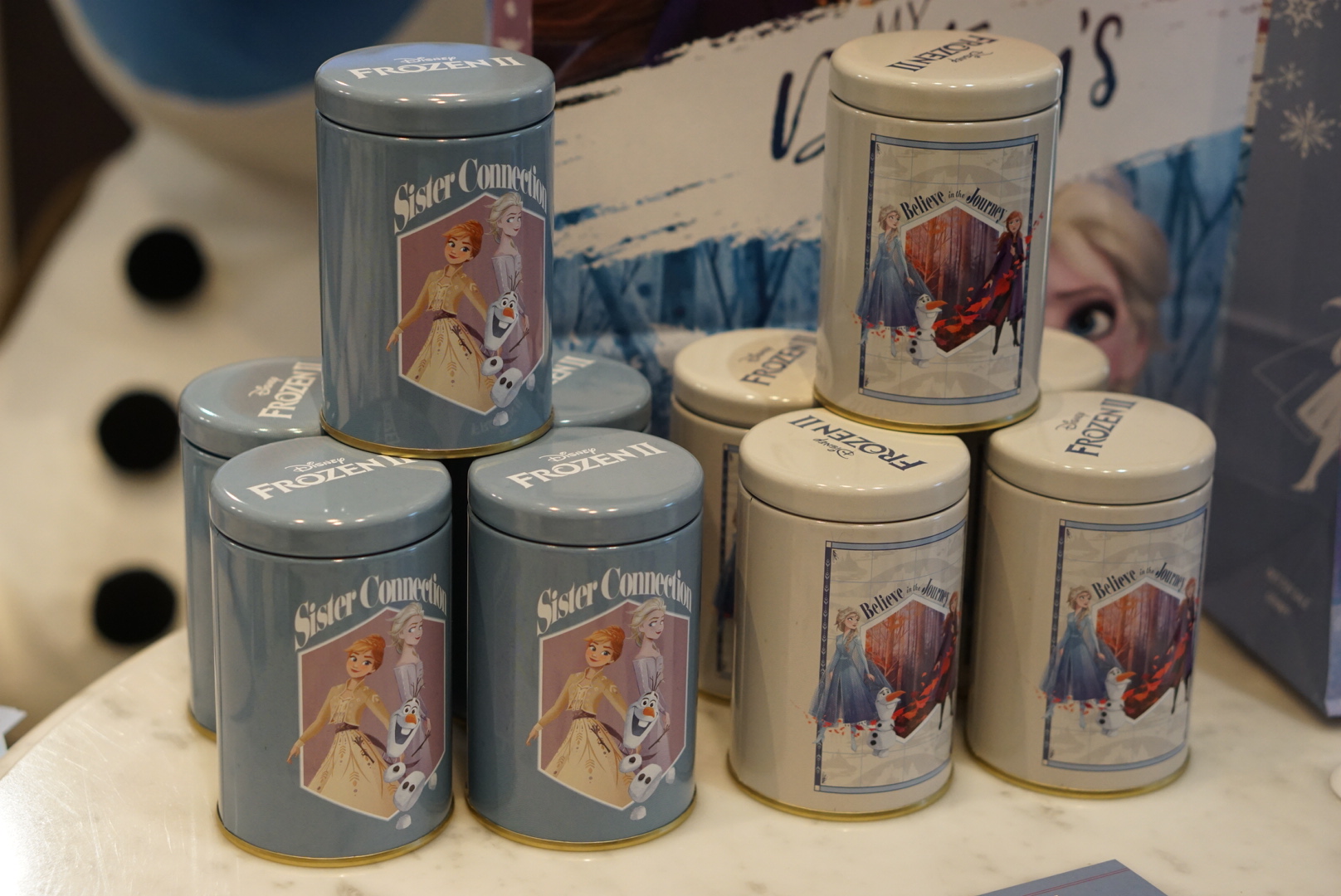 Crunchy Chocolate (2 Varieties): ¥980 each
This crunchy chocolate comes in a beautiful tin that you will want to keep after finishing the chocolate. Seeing the happy, smiling faces of Anna and Elsa is very reassuring.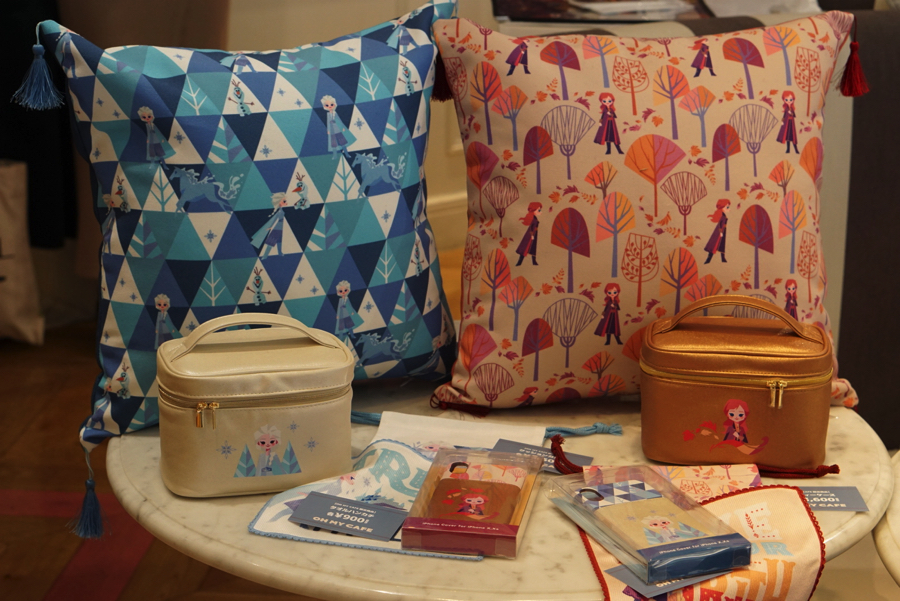 Anna and Elsa Cartoon Merchandise
From cushion covers to smartphone cases, there is a large variety of everyday-use merchandise covered with character-like illustrations of Anna and Elsa.
As part of a special promotion event, those who reserve in advance (¥650) will receive a placemat. Customers who spend more than ¥3,000 (before tax) on café limited goods will be presented with a free ballpoint pen, and those who spend more than ¥1,000 (before tax) will receive a shopping bag (first-come, first-served).
These promotion goods are in limited stock so if you are eager to get something, make sure to head to the café as soon as possible. In addition, Olaf fans will be thrilled to know that the special winter-limited event "OLAF in HOLIDAY" will be running from December 20 and will see the release of merchandise and fun events. 
No matter how many times you visit the café, there will always be lots to enjoy and discover. Make sure to stop by for your fill of fantastical Disney magic!
©Disney
Writer:Sayuri Mizuno(MOSHI MOSHI NIPPON)
Information
Frozen 2 OH MY CAFE
■Tokyo: OH MY CAFE TOKYO, Tokyu Plaza Omotesando Harajuku
Running: November 15, 2019 – January 13, 2020
■ Osaka: kawara CAFE&DINING, Shinsaibashi 
Running: November 16, 2020 – January 13, 2020
■Nagoya: kawara CAFE&KITCHEN, Nagoya PARCO
Running: November 16, 2019 – January 19, 2020
■ Hokkaido: Cafe Interlude
Running: November 21, 2019 – January 19, 2020
■Fukuoka: kawara CAFE & DINING KITTE, Hakata 
Running: December 5, 2019 – January 19, 2020
■Tokyo: gelato pique cafe,  Tamagawa Takashimaya S.C.
Running: November 29, 2019 – January 26, 2020
■Kyoto: gelato pique cafe, Kyoto The CUBE
Running: December 6, 2019 – February 2, 2020
Frozen 2 OH MY CAFE Official Website: https://snow.ohmycafe.jp/
Frozen 2
Release in Japan: November 22
Official Website: https://disney.co.uk/movies/frozen-2
RECOMMENDED ENTRIES
Frozen 2 Cafe to Open in Tokyo, Osaka, Nagoya, Hokkaido, Fukuoka and Kyoto

OH MY CAFE is home to limited period collaboration cafes featuring the world's favourite characters. The OH MY CAFE chain, operated by LEGS COMPANY, LTD., is soon launching a collaboration with Frozen 2. The Frozen 2 cafe will open in OH MY CAFE Omotesando, Tokyo from November 15, Osaka and Nagoya from November 16, Hokkaido from November 21, Futakotamagawa from November 29, Fukuoka from December 5 and Kyoto from December 6. Each cafe will be open for a limited period only. 

Frozen 2 is the sequel to Disney's global hit film Frozen and will be released in Japan at the same time as its release in America on November 22.  The cafe is themed around the world of Disney's highly anticipated film Frozen 2. The cafe will feature an original menu, merchandise and even free goodies that were inspired by the characters from the film including everyone's favourites: Elsa, Anna and Olaf. 

Menu

Anna's Impulsive Sandwiches and Tomato Soup: ¥2,390/with Soup Bowl: ¥3,990

Order Anna's special meal and you and your friends will be finishing each other's sandwiches in an instant. The chicken and cheese sandwiches are served alongside a tomato soup which will warm you up right away.

Elsa's Magical Muffin Sandwich and Pasta Soup: ¥2,390/with Soup Bowl: ¥3,990

A muffin sandwich hugs prosciutto and a white omelette. This is accompanied by a mushroom and pasta soup.   

Olaf's Fun Snowball-Rolling Meatball Plate: ¥2,190

This plate contains a generous serving of vegetables and meatballs. Seeing Olaf's lively face will instantly put a smile on yours. The blueberry sauce contributes an interesting flavour to the meal. 

Frozen 2 Magical Blue Mallow Tea: ¥990/with Drink Coaster: ¥1,690

Add the lemon to the drink and watch it transform into a different colour. If you are looking for some Disney magic, this drink is for you. The drink also contains colourful jelly. 

Frozen 2 Heart-Warming Cheesecake Milk Tea: ¥990/with Cup: ¥2,490

All your favourite Frozen characters have united in the form of a heart-and-body-warming milk tea. Take a sip and enjoy the yummy cheesecake syrup flavour.

Olaf on Holiday: Crispy Pie Dessert Plate: ¥2,190

This Pie Plate is only available from December 20 to January 13. It contains a generous portion of fruit and sweet potato paste which is full of natural sweetness. The pie and crunchy pieces are the perfect flavour combination.

Original Merchandise

Decorative Picture Tags (5 Random Designs): ¥950

Drawstring Bag (2 available patterns: Anna/Elsa): ¥850 each

Crunchy Chocolate (2 Different Designs): ¥980 each

Hot Drink Cup with Sleeve: ¥2,100

Free Goodies

Those who reserve a spot in advance (¥650 per person) will receive a placemat as a special gift upon ordering off the menu. There are four different placemat designs available. Customers are not allowed to choose the placemat they receive. These will be presented to the customer by the staff at random. 

Purchase more than ¥3,000 worth of cafe goods (before tax) to receive a free Frozen 2 ballpoint pen. Spend more than ¥1,000 (before tax) for a free Frozen 2 shopping bag. Both these are presented to customers on a first-come, first-served basis and are in limited supply. 

This is just a small selection of the wintery merchandise and meals at the Frozen 2 cafe. If the cold is bothering you this winter, be sure to step into the picturesque world of Frozen 2 for some heart-warming meals and drinks. 

©Disney

Information

Frozen 2 OH MY CAFE

■Tokyo: OH MY CAFE TOKYO, Tokyu Plaza Omotesando Harajuku

Running: November 15, 2019 – January 13, 2020

■ Osaka: kawara CAFE&DINING, Shinsaibashi 

Running: November 16, 2020 – January 13, 2020

■Nagoya: kawara CAFE&KITCHEN, Nagoya PARCO

Running: November 16, 2019 – January 19, 2020

■ Hokkaido: Cafe Interlude

Running: November 21, 2019 – January 19, 2020

■Fukuoka: kawara CAFE & DINING KITTE, Hakata 

Running: December 5, 2019 – January 19, 2020

■Tokyo: gelato pique cafe,  Tamagawa Takashimaya S.C.

Running: November 29, 2019 – January 26, 2020

■Kyoto: gelato pique cafe, Kyoto The CUBE

Running: December 6, 2019 – February 2, 2020

Frozen 2 OH MY CAFE Official Website: https://snow.ohmycafe.jp/

 

Frozen 2

Release in Japan: November 22

Official Website: https://disney.co.uk/movies/frozen-2

Idol Group Keyakizaka46 Themed Cafes to Open in Harajuku, Osaka & Nagoya

The new cafe TOKYO BOX CAFE&SPACE will open in Omotesando, Harajuku on November 21, 2019.

The cafe will serve as a space to promote artists, franchises and more by collaborating with them. For the grand opening, the cafe's first collaboration will be with Japanese idol group Keyakizaka46 which will run for a limited period from November 21, 2019 to January 13, 2020. The collaboration will subsequently move to Osaka and Nagoya where it will open on November 22 and 28 respectively.

The names of cafe menu dishes below are translated from Japanese.

Cafe Menu

Break the Cheese! – ¥1,690

This cheesy pasta dish is made with crispy cheese, the spaghetti is bathed in a rich cheese sauce, and the plate is finished with delicious seafood. Break the cheese up and tuck in!

Black Vegetable Curry – ¥1,590

The quirk of this veggie-packed meal is the black colour of the curry. Topped with okra, tomatoes, Japanese mustard greens, sunny-side up egg and more, this nutritional dish is sure to fill your belly.

2 People Season Pancakes – ¥1,790

For the sweet-tooths out there, they can look forward to forking into some chocolatey pancakes lathered sweetly in blueberry sauce and blueberry cream. Between the pancakes are fruits and chocolate to create a pancake sandwich, and adorning the plate is more chocolate, fruit, and blue dragées.

Humility! Kindness! Bonds! Shining Brightly, Keyakizaka46 Parfait – ¥1,690

Named after one of the group's catchphrases, this matcha parfait is green which is a colour that symbolises Keyakizaka46. It's piled with chocolate, macarons, ice cream, warabimochi and more for a truly hearty and mouth-watering dessert.

Late-Night Herb Tea – ¥890

During those nights when you can't fall asleep, there's nothing better than some refreshing herbal tea.

Matcha Milk That Stays Hot Even When It Blows In The Wind – ¥890

Nothing beats a cup of hot matcha milk during the cold weather. Coloured green like the group's iconic colour, this gorgeous, garden-like beverage is sure to warm up your mind and body.

Exclusive Merchandise

T-Shirt (White) – ¥3,100

Acrylic Keyring – ¥900

Tote Bag – ¥1,800

Bonus Items

Those who book a table in advance  (¥650 per person, tax excluded) and order something from the menu will randomly receive one of 26 possible trading cards pictured above.

If you order something from the food or dessert menu, you'll also receive one of 26 possible signed mini cards, chosen randomly.

Finally, if you get a drink, you can get one of these 8 possible coasters, also chosen randomly.

This is just a small peek into what's to come at the cafesーthere are more drinks, dishes and merchandise to get your hands on, so don't miss out.

*All listed menu item prices do not include tax

*All listed merchandise items include tax

*Photos are for illustrative purposes only

©Seed & Flower LLC.

Information

Keyakizaka46 Collaboration Cafe

Dates/Locations:

TOKYO BOX CAFE&SPACE (6-3-7 Jingumae, Shibuya, Tokyo) / November 21, 2019 – January 13, 2020 (Closed December 30-January 3)

Shinsaibashi contact (1-6-24 Kitahorie, Nishi Ward, Osaka) / November 22, 2019 – January 19, 2020/2019 (Closed December 31-January 1. Open later on January 2 from 14:00.)

NAGOYA BOX CAFE&SPACE (LACHIC Floor B1F, 3-6-1 Sakae, Naka Ward, Nagoya, Aichi) / November 28, 2019 – January 19, 2020 (Closes early on December 31 at 18:00. Closed January 1-3)

Table Reservations

Now open at all branches. Price: ¥650 (Before Tax). Includes bonus item.

Keyakizaka46 Official Website: http://keyakizaka46-cafe.jp

Sleigh Bells Ring at Tokyo Disneyland This Year With Plenty Of Food & Merchandise to Go Around

Jolly faces are all around at Tokyo Disney Resort right now as Disney Christmas kicked off last Friday. It's set to sleigh its way up to Christmas Day this year.

The editorial team at MOSHI MOSHI NIPPON jumped ahead and got a taste of the festive fun at the parks recently, so we're going to showcase some more of the seasonal food and merry merchandise you can get your hands on this Christmas at Tokyo Disneyland.

Food that makes you want to kick back and enjoy a nice break

 

Special Set – ¥1,500 @ Grandma Sara's Kitchen

Grandma Sara's has created the perfect hot lunch for warming up cold guests this year, adorned with a clam and seafood tomato cream, cheese and white sauce. Dip your bread into the rich sauce and tuck in! For dessert, you get a cranberry cake inspired by the look of a snow-tipped Christmas tree.

Hot drinks of all kinds

'Tis the season to stay warm, and so Tokyo Disneyland has devised a line-up of tasty drinks to warm the cockles of your heart, with flavours ranging from ruby chocolate to matcha and tapioca cheese teaーa unique flavour that's all the rage right now.

We actually covered these drinks in detail last Monday, so check out our report here.



Deck the halls with these dessert & souvenir sets

Cranberry & Tea Cake With Souvenir Cup – ¥800 @ Sweetheart Cafe and elsewhere

Strawberry Dessert With Souvenir Cup – ¥800 @ Sweetheart Cafe and elsewhere

Head to the Sweetheart Cafe to enjoy some desserts which come with cute take-home souvenirs, like cups and plates. The cranberry and tea cake is a subtly sweet cake with a fragrant tea flavour and filled with sweet and sour cranberries.

The strawberry dessert is like strawberry shortcake with ascending layers of cake batter, cream, and strawberries. It's topped with holly to give it that Christmas-y finish.

Chocolate Doughnut – ¥380 @ Cleo's and elsewhere

The chocolate doughnuts at Cleo's are completely lathered in a chocolate danish-like dough and custard cream.

The doughnuts even come in this cute Mickey and Minnie packaging, who are dressed ready and for giving gifts to guests.

If you pay an extra ¥700 you can get this adorable pouch featuring Mickey, Minnie, Donald and Daisy as snowmen.

Have a merry little Christmas with these holiday season goodies

Headband – ¥1,800

Fun Cap – ¥3,000 / Plush Toy Wristband – ¥1,700

Feel happy simply by placing these Mickey & Minnie headband ears and getting into party mode. The park has also developed a Christmas version of the Pluto fun cap so he has reindeer antlers and holly attached. Both items were previously available in a pre-sale on the park app, so depending on the shop you visit, they may have none left in stock. But if you see one, be sure to grab it quick!

There's also a Mickey version of the Minnie Mouse plush toy wristband. Wear one and have your friend or loved one wear the other!

Popcorn Basket – ¥2,400 @ The Gazebo (Popcorn Wagon)

Pick up some popcorn served in a Christmas present basket decorated with cute illustrations of Mickey and company celebrating Christmas.

It comes strung with a ribbon decorated with green, red and white colouring like a candy cane.

Spend a Disney Christmas this winter at Tokyo Disneyland where you can stay warm with some comfort food and dress up!

Model: Yuna Yabe

Writer: Sayuri Mizuno (MOSHI MOSHI NIPPON)

Translator: Joshua Kitosi-Isanga
RELATED ENTRIES
LINE Friends Themed Cafe Opens in Ikebukuro

The popular LINE Friends characters now have their own pop-up cafe inside Ikebukuro PARCO which is running until April 25. The characters form part of a series of stickers used on the Japanese messaging app LINE which is used by other 200 million people worldwide.

The Menu

Brown's Beef Burger | ¥1,250

Lattes | ¥950

LINE FRIENDS Parfaits | ¥1,100 Each

Cafe-Original Merchandise

Alphabet Die-Cut Stickers | ¥330 Each

Lunch Tote Bag | ¥1,650

Brown Mug | Available to the first 300 people who visit to the cafe

Join Brown, Cony, and Sally as they serve up a fun and tasty menu along with a collection of merchandise exclusive to the cafe as well as items also sold at the LINE Friends Store.

Information

LINE FRIENDS POP-UP CAFÉ

Running: April 1, 2021 – April 25, 2021

Where: THE GUEST cafe&diner Ikebukuro

Address: Ikebukuro PARCO Floor 7F, 1-28-2 Minami-Ikebukuro, Toshima-ku, Tokyo, 171-8557

TEL: 03-5391-8604

Official Website: http://the-guest.com/

Snoopy Café Opens in Niigata in Collaboration With Hoshi Tabeyo Rice Crackers

Befco is collaborating its Hoshi Tabeyo star-shaped rice crackers with the lovable Peanuts comic strip to open a themed café at Hotel Nikko Niigata. Named the "Hoshi Tabeyo x Snoopy Café @ Hotel Nikko Niigata," the café will open for a limited time from April 9 to May 9."

Snoopy and fans of Japanese snacks can look forward to an original themed menu, with every food item and drink ordered getting them a free novelty. Of course, the café will sell its own original merchandise too. The café will be decorated in all things Peanuts and Hoshi Tabeyo, and there will even be two photo booths for snapping a commemorative photo of your fun day.

The Menu

1. Snoopy Beef Stew: With a juicy meat and bouillon base, this stew is made with beef, onion, and mushrooms, all topped off with a Snoopy made from rice.

2. Snoopy Hamburger Curry: Snoopy's rice ears are topped with a hamburger, and the curry sauce is made with fruit and vegetables. There's even a little Woodstock made from cheese.

3. Snoopy Hot Sandwich: There are two different sandwiches, one with ham and cheese and the other with potato salad, and both have a different toasted illustration on them. These come in a free lunch box.

4. Hoshi Tabeyo Shaka Shaka Caesar Salad: A salad served in a cup drizzled in a Caesar dressing and with Hoshi Tabeyo rice crackers instead of croutons.

5. Thick Soufflé Pancake: Fat and fluffy pancakes combined with French meringue and served with a Snoopy cookie and sweet-tasting Hoshi Tabeyo. Enjoy together with the accompanying strawberry sauce.

6. Chocolate Parfait: A towering, chocolate-packed parfait layered with chocolate sauce, chocolate cornflakes, chocolate ice cream, and brownie. This is all topped off with a Snoopy cookie and Hoshi Tabeyo rice cracker.

7. Hotel Original Cookies (Set of 4): Crunchy cookies with various prints of familiar faces like Snoopy and Woodstock.

8. Lemonade: A sweet and refreshing lemonade beverage served with honey.

*Dishes 1-3 come with the Shaka Shaka Caesar Salad

*Ordering anything from the menu gets you one of four possible Hoshi Tabeyo x Snoopy postcards

Merchandise

© 2021 Peanuts Worldwide LLC( 短縮形 © 2021 Peanuts )

Information

Hoshi Tabeyo x Snoopy Café @ Hotel Nikko Niigata

Running: April 9, 2021 – May 9, 2021

Location: Hotel Nikko Niigata Floor 31F

Address: 5-1 Bandaijima, Chuo Ward, Niigata

Opening Hours: 11:30-18:30 (Last Orders 17:30)

Official Website: https://www.hotelnikkoniigata.jp/sys/news/detail/323

Disney's Zootopia Themed Cafe to Open in Tokyo, Osaka, and Nagoya for Film's 5th Anniversary

The Tokyo, Osaka, and Nagoya branches of OH MY CAFE are set to pay host to cafe experiences themed on Disney's Zootopia in celebration of the movie's 5th anniversary which hit last month. The cafes will transform into a Zootopia extravaganza from April 23.

Customers who book a table in advance receive one of six possible lunch mats

The Menu

Vegetable Curry ¥1,890 (Before Tax)

Sandwich Plate ¥1,990 (Before Tax)

Corn Cream Pie ¥1,590 (Before Tax)

Salsa Burger ¥2,390 (Before Tax)

Carrot Doria ¥1,490 (Before Tax)

Acrylic Coasters +¥900 (Before Tax)

Iced Milk ¥990 (Before Tax) / With Mug +¥1,600 (Before Tax)

Iced Coffee ¥690 (Before Tax) / With Mug ¥1,600 (Before Tax)

Iced Drink ¥990 (Before Tax)

Exclusive Merchandise

Movie Stills Series

Acrylic Key Rings

Square Magnet ¥550 (Before Tax) / Acryluc Key Ring ¥650 (Before Tax) / A4 Folder ¥350 (Before Tax)

Mask Cases ¥500 (Before Tax) / Masking Tapes ¥800 (Before Tax)

Tiny Animals Series

Acrylic Charms ¥450 (Before Tax) / Mini Notebook Set ¥850 (Before Tax)

A5 Folder Set ¥800 (Before Tax) / Mini Pouch Set ¥1,800 (Before Tax)

Mini Towels ¥1,000 (Before Tax) / Eco Bag ¥1,850 (Before Tax)

Zootopia fans won't be able to resist the tasty and healthy themed menu featuring Nick Wilde and Judy Hopps, as well as getting their hands on a range of merchandise from stationery to fashion.

©Disney

Information

Zootopia OH MY CAFE

OH MY CAFE TOKYO

Running: April 23, 2021 – June 27, 2021

Address: Tokyu Plaza Omotesando, 4-30-3 Jingumae, Shibuya, Tokyo

OH MY CAFE OSAKA

Running: April 28, 2021 – July 6, 2021

Address: 1-6-1 Shinsaibashisuji, Chuo-ku, Osaka-shi, Osaka

kawara CAFE&KITCHEN

Running: June 2, 2021 – July 13, 2021
Address: Nagoya PARCO, 3-29-1 Sakae, Naka-ku, Nagoya-shi, Aichi

Official Website: https://zoo.ohmycafe.jp/

Poupelle of Chimney Town Themed Cafe to Open in Shibuya

000Cafe by tlc, a coffee stand in Shibuya with its own pop-up space, is collaborating with the hit film Poupelle of Chimney Town to offer a limited-time cafe experience based on the movie. It will run from April 1 to June 30.

The cafe design concept

Crinkle Cookies

SHIBUYA CHIMNEY COFFEE

Poupelle of Chimney Town is an animated fantasy film based on Akihiro Nishino's picture book of the same name. It was released on Christmas Day last year and was nominated for Animation of the Year at the 44th Japan Academy Film Prize.

Fruits Basket Themed Cafe to Open in Tokyo This Spring

The anime-themed cafe brand OTA★LAB CAFE will open its first permanent cafe, "Cheer fancle cafe," in Awajicho, Tokyo on April 1, 2021. The cafe's first collaboration will be with the hit series Fruits Basket whose manga has sold over 30 million copies worldwide. It will run from April 1 to May 9 and will feature a range of dishes and drinks inspired the series as well as merchandise, new and exclusive artwork drawn by the author Natsuki Takaya, and more.

Original Merchandise

Cheer fancle cafe Original Fruits Basket Pins (30 Designs) | ¥495 (Tax Included)

Cheer fancle cafe Original Fruits Basket Acrylic Stands (15 Designs) | ¥1,430 (Tax Included)

Cheer fancle cafe Original Fruits Basket Mini Acrylic Stands (15 Designs) | ¥1,000 (Tax Included)

Cheer fancle cafe Original Fruits Basket Acrylic Key Rings (15 Designs) | ¥715 (Tax Included)

Cheer fancle cafe Original Fruits Basket Postcard Sets (30 Designs/2 Included) | ¥385 (Tax Included)

Food Menu

Veggie Pasta ¥1,320 (Tax Included) / Omurice ¥1,320 / Egg Sandwich ¥880 (Tax Included)

Niratama Donburi ¥1,100 (Tax Included) / Hamburger ¥1,320 (Tax Included)

Dessert Menu

Strawberry Shortcake ¥990 (Tax Included) / Pancake ¥1,100 (Tax Included)

Coffee Milk Jelly ¥990 (Tax Included) / 3 Dango Set ¥880 (Tax Included)

Limited-Time Drinks Menu ①

Serving: April 1, 2021 – April 20, 2021

Onigiri White Smoothie ¥715 (Tax Included) / Starry Sky Latte ¥715 (Tax Included)

Cassis Berry Soda ¥715 (Tax Included) / Berry Drink ¥715 (Tax Included)

Limited-Time Drinks Menu ②

Serving: April 21, 2021 – May 9, 2021

Orange Soda ¥715 (Tax Included) / Milk Tea ¥715 (Tax Included)

 

Matcha Milk ¥715 (Tax Included) / Blue Soda ¥715 (Tax Included)

Present Campaign

Win one of two possible signed coasters

Three lucky customers who collect all five stamps at Cheer fancle cafe can win one of two possible coasters signed by the author of Fruits Basket.

Arrival Campaign

All customers who go to the cafe will receive one of 15 possible original book covers.

Dining Campaign

For every menu item order, customers will receive one of 32 possible coasters. There are 15 chibi designs, 15 completely original designs drawn by the manga author, and two rare designs.

Spending Campaign

For every ¥2,500 spent at the cafe, customers will receive one of 15 possible postcards.

Additionally, those who follow OTA★LAB CAFE on Twitter and retweet the campaign Tweet that will be posted on March 29 will have the chance to receive a set of all the above campaign items. This is available for five people from March 29 to April 5.

©高屋奈月/白泉社

Re:Zero Themed Desserts to be Served at Dohtonbori in Japan This Spring

Japanese restaurant chain Okonomiyaki Dohtonbori has announced a collaboration with the popular TV anime series Re:Zero − Starting Life in Another World which will begin at all branches on April 1.

Food and desserts inspired by the series characters

Whether it's sweet or savoury you're looking for, fans can look forward to tucking into five different dishes from okonomiyaki to pancakes, all inspired by characters from the anime series.





Emilia's Bishojo Pancake | ¥1,320 (Tax Included)

Fat and fluffy pancakes based on Emilia, topped with fresh cream that's the same colour as her hair and adorned with assorted berries.






Rem's Gratin Okonomiyaki | ¥1,320 (Tax Included)

A gratin-style okonomiyaki that recreates Rem's iconic hairband. It's layered with light-blue sauce and spring onions.

Ram's Spanish Omelette Okonomiyaki | ¥1,320 (Tax Included)

This Spanish omelette is made with steamed potatoes, something which fans will recall Ram being a pro at making.

Beatrice's Skirt Butatama | ¥1,320 (Tax Included)

Another okonomiyaki dish made with a vinegar sauce and pork simmered in black tea.

Echidna's Magical Girl Tea Party Set | ¥1,320 (Tax Included)

A set of pancakes and a parfait, perfect for a magical girl tea party.

Merch Freebies





For every item ordered on the menu, fans will receive one of five possible A4-size folders as pictured above with super cute designs. The designs are given randomly – who do you want the most?

Pompompurin Maid Cafe to Open in Harajuku This Spring

Japanese maid cafe chain "@home cafe" has announced that it is launching a permanent maid cafe themed on Sanrio's popular character Pompompurin. The cafe will open on the famous Takeshita Street in Harajuku on April 14, 2021.

@home cafe has collaborated with many of Sanrio's popular characters in the past at its Akihabara-based cafe branches such as Hello Kitty, My Melody, Cinnamoroll, and of course Pompompurin, but this time the collaboration is flying out of Akiba and straight into the heart of Japanese pop culture: Harajuku. The cafe will feature a menu conceived by Pompompurin, and fans of the cute golden retriever will also get to take their pictures with him. The cafe maids will also wear @home-original outfits inspired by Purin.

If you're planning a visit to Harajuku, don't miss out on the chance to dine at the new Pompompurin Cafe, opening April 14.

© 2021 SANRIO CO., LTD.  APPROVAL NO. S612265

Detective Conan Themed Cafes Open in Japan to Promote Upcoming 'Scarlet Bullet' Anime Film

To promote the upcoming anime film Detective Conan: The Scarlet Bullet which is set to released in Japan on April 16, 2021, seven themed cafes will open in Tokyo, Osaka, Nagoya, and Sapporo from March 24. The cafe is themed on a retro diner which will transport fans back in time to diners inspired by America in the 1950s and 60s.

Main Visual

Bonus Items

RETRO AMERICAN DINER MENU

DETECTIVE BURGER/SNIPER BURGER/ZERO BURGER/BOYISH BURGER/SHERRY BURGER/OSUSOWAKE BURGER – ¥1,599 Each (Before Tax), +¥500 For Acrylic Key Ring

DETECTIVE SUNDAE/SNIPER SUNDAE/ZERO SUNDAE/BOYISH SUNDAE/SHERRY SUNDAE/OSUSOWAKE SUNDAE – ¥1,099 Each (Before Tax), +¥500 For Acrylic Key Ring

DETECTIVE SODA/SNIPER SODA/ZERO SODA/BOYISH SODA/SHERRY SODA/OSUSOWAKE SODA – ¥899 Each (Before Tax), +¥500 For Acrylic Key Ring

CONAN CAFE CLASSIC Menu

APTX-4869 TROPICAL LAND CURRY | ¥1,400 (Before Tax)

COLUMBO MINT SAUCE PASTA ¥1,499 / DELICIOUS TO DIE FOR RAMEN ¥1,099 / POIROT CAFE SANDWICH ¥1,399 (All Prices Before Tax)

AI'S BERRY CHEESE FRENCH TOAST ¥1,200 / RAN'S LEMON PIE ¥1,499 / HIROSHI AGASA'S "SHIPPAI JA" PANCAKES VER.2 ¥1,199 (All Prices Before Tax)

CRIMINAL'S BLACK SESAME STRAWBERRY AU LAIT ¥999 / CRIMINAL'S SOUVENIR MUG +¥1,400 (All Prices Before Tax)

LEFT'S CAFE LATTE ¥899 / YOUNG DETECTIVE SHAKE ¥1,099 / RAN'S BERRY JELLY SODA ¥999 (All Prices Before Tax)

LIMITED EVENT MENU

1st Menu: Detective Conan: The Scarlet Bullet Menu | April 16, 2021 – May 31, 2021

AKAI FAMILY BANQUET ¥1,499 / UNAGI'S KABAYAKI & TARE OKAWARI RICE ¥1,699 / SHUKICHI & YUMI'S DELICIOUS SHORTCAKE ¥1,399 / SCARLET OGURA STRAWBERRY TOAST ¥1,599 (All Prices Before Tax)

2nd Menu: Phantom Thief Kid & Aoyama Sensei's Birthday Menu | June 1, 2021 – July 11, 2021

*Only available at Nagoya cafe from July 1-11

THE JEWEL GARDEN SALAD ¥1,499 / MAGIC SPICE PARFAIT ¥1,200 / AOYAMA-SENSEI BIRTHDAY CURRY ¥1,399 (All Prices Before Tax)

3rd Menu: Shuichi Akai Season 1 Menu | July 1, 2021 – August 15, 2021

4th Menu: Shuichi Akai Season 2 Menu | August 16, 2021 – September 26, 2021

*Menus 3 and 4 exclusive to Shinjuku and Umeda cafes

*Menus 3 and 4 are centred on the character Shuichi Akai

Original Merchandise

Pins (6 Designs) | ¥450 Each (Before Tax)

Acrylic Coasters (12 Designs) | ¥800 (Before Tax)

Mini Acrylic Stands (12 Designs) | ¥900 (Before Tax)

Acrylic Magnets (6 Designs) | ¥500 (Before Tax)

Folders (6 Designs) | ¥300 (Before Tax)

Bandanas (2 Designs) | ¥1,500 Each (Before Tax)

Eco Bag | ¥1,850 (Before Tax)

Chocolate Tin | ¥1,600 (Before Tax)

Fans can tuck into a Detective Conan-themed retro menu as well as get their hands on some exclusive merchandise featuring original chibi art.

Make sure you don't miss Detective Conan: The Scarlet Bullet.

©青山剛昌/小学館・読売テレビ・TMS 1996

THE iDOLM@STER SideM Themed Cafes Open in Ikebukuro, Tennoji, and Nagoya

Three branches of Animate Cafe in Ikebukuro, Tennoji, and Nagoya are now serving as the venues for a limited-time THE iDOLM@STER SideM cafe experience until March 14. Fans of the multimedia series can enjoy a range of themed food and drink as well as get their hands on exclusive merchandise of their favourite characters in chibi form.

Animate Cafe Ikebukuro Exclusive Mini Character Illustration Tapestry

Animate Cafe Ikebukuro "High x Joker" Life-Size Panels

The idol characters will be waiting to welcome you, the Producer, to a special "Sweetie Wonderland" themed space.

Food and drink names, which are inspired by past event that have taken place in THE iDOLM@STER SideM video game, have been translated from Japanese by MMN.

Themed Food Inspired by Past In-Game Events

Ryu Kimura's Workout Tray Don | ¥950 (+¥200 for Cocoa Protein Drink) | Comes With SASUGA Logo Sticker

Super Live Fes 2016 Shiki Iseya – Shiki's Kumacchiman Steamed Bun | ¥750

2020 Valentine's Event – Prepping the Cacao Soil | ¥800

Bubbly AP CIDER!! Live Hokuto Ijūin – Sparkling Moment | ¥600

Jiro Yamashita's Jelly Drink | ¥600

Shoma Hanamura's Night Party Lemonade | ¥600

Merch

Acrylic Key Rings Sweetie Wonderland A-Group (15 Designs) – DRAMATIC STARS / Altessimo / Shinsoku Ikkon /  Café Parade / S.E.M | ¥700

Acrylic Key Rings Sweetie Wonderland B-Group (15 Designs) –  Beit / Sai / THE Kogado / F-LAGS / Legenders | ¥700

Acrylic Key Rings Sweetie Wonderland B-Group (16 Designs) –  Jupiter / W / FRAME / High x Joker / Mofumofuen | ¥700

Pins – Sweetie Wonderland A-Group (15 Designs) – DRAMATIC / STARS / Altessimo / Shinsoku Ikkon / Café Parade / S.E.M | ¥400

Pins – Sweetie Wonderland B-Group (15 Designs) – Beit / Sai / THE Kogado / F-LAGS / Legenders | ¥400

Pins – Sweetie Wonderland C-Group (16 Designs) – Jupiter / W / FRAME / High x Joker / Mofumofuen | ¥400

Pin Cover Sets (3 Included / 15 Designs) | ¥500

Pin Cover Example

Frog Chocolates With 2 Coasters (46 Designs) | ¥1,800カエル型チョコ 注文特典コースター全46種よりランダム2枚付き 1,800円

Clear Tasty Box With PVC Key Ring (15 Designs) | ¥1,800 Each

Campaign

Free Birthday Bromide Campaign

Free Coaster Campaign

©BANDAI NAMCO Entertainment Inc.

ROLL ICE CREAM FACTORY x Mr. Osomatsu Collaborate On Themed Ice Creams in Japan

Japananese ice cream chain ROLL ICE CREAM FACTORY is collaborating with the TV anime series Mr. Osomatsu at seven of its branches from February 10 to March 14. It will include a selection of ice creams, hot drinks, and merchandise based on the characters from the popular comedy series.

ROLL ICE CREAM FACTORY x Mr. Osomatsu Collab Visual

Ice Cream Menu

Drinks Menu

Novelty Coasters (7 Designs)

Merchandise line-up

Campaign for 5 people to win prize

Coupon to receive novelties earlier

So what exactly is 'roll ice cream'? Just as the name suggests, liquid ice cream is poured onto a freezing cold plate which is then rolled with a spatula to create cylindrical shapes. As expected, roll ice cream continues to make its way onto Instagram for its cute visual impact and unique design. Roll ice cream began in Thailand before becoming a boom over in New York. It's now popular worldwide having spread across Europe and the rest of Asia too. The first branch opened in Harajuku, Tokyo, back in 2017.

Fans of Mr. Osomatsu can look forward to a special selection of berry, vanilla, chocolate mint, and other tasty ice cream scoops based on the Matsuno siblings. Each cup also comes with a toothpick featuring an illustration of the character. There are also three hot takeout beverages perfect for the cold inwter season.

Customers can get their hands on a novelty coaster at participating branches for every item they order from the Mr. Osomatsu menu. There are seven designs which includes a secret, unknown design.

ROLL ICE CREAM FACTORY is also hosting a campaign on their official Twitter and Instagram accounts for 5 lucky fans to win a free poster. Details below.

Information

ROLL ICE CREAM FACTORY x Mr. Osomatsu Collab Cafe
Running: February 10, 2012 – March 14, 2021
Participating Branches: ROLL ICE CREAM FACTORY (Harajuku/Omotesando/Marui Family Mizunokuchi/Osaka/Dotonbori/AEON Mall Tokushima/Nagasaki/Huis Ten Bosch, Hiroshima, Hatchobori/Kumamoto/Shimotori)
Collab Details: https://edith-online.com/lp/osomatsusan-rollice

Twitter & Instagram Campaign
Running: February 10, 2012 – March 14, 2021
How to Participate: Follow ROLL ICE CREAM FACTORY on Instagram or Twitter and post with hashtag #おそ松ロールアイス
Twitter Account: @ROLLICErCREAM_F
Instagram Account:  @rollicecreamfactory
*Winners will be contacted directly on Twitter/Instagram

ROLL ICE CREAM FACTORY Official Website: https://rollicecreamfactory.com/

Love Me Pom Poko! Manga Gets Themed Cafe at NewType Shinjuku in Tokyo

NewType Shinjuku, a subculture cafe and bar in Tokyo, is collaborating with Modomu Akagawara's manga series Love Me Pom Poko! from February 6 to 28. The cute and charming world of the series arrives not only on the food and drinks menu but in the form of merchandise and decorations too. As is the case with collaboration cafes in Japan, there's some free novelties for customers to enjoy when they purchase something from the menu too.

The Menu

©Modomu Akagawara/Hakusensha

©Modomu Akagawara/Hakusensha

Merchandise Line-Up

©Modomu Akagawara/Hakusensha

Novelty Coasters

©Modomu Akagawara/Hakusensha

Love Me Pom Poko! is not that known in the West yet, but if you happen to be in Tokyo this month, be sure to stop on by to experience the art of the series yourself.

Information

Love Me Pom Poko! Collab Cafe
Running: February 6, 2021 – February 28, 2021
Location: NewType Shinjuku
Address: Dash Bldg. 1F, 5-12-16 Shinjuku, Shinjuku-ku, Tokyo
Opening Hours: [Weekdays] 16:00-20:00 / [Weekends & Holidays] 11:00-20:00
TEL: 03-5315-4799
Official Website: http://ntsnjk.tokyo/

Japanese food, condiment, and ingredient delivery service Oisix is teaming up with Disney's hit animated feature film Frozen to release a new meal kit as part of their Kit Oisix series. The dish is called "Frozen – World of Ice Snow Stew" and it will hit the company's website for a limited time on January 28.

Frozen – World of Ice Snow Stew | ¥2,149 (Tax Included)

Toothpick for Anna salad

Olaf rice

Recipe instructions

Recipe book and packaging

Lunch mat and toothpicks

In November 2020, Walt Disney Japan signed a contract to start the "Table for Tomorrow" project which looks to serve healthy meals to children. This is the second product in the project line.

The meal kit comes with a recipe book so children can easily follow along with making their Frozen inspired snow stew. It takes just 20 minutes to make and can be served on the Elsa lunch mat that comes with the kit.

Information

Kit Oisix – Frozen – World of Ice Snow Stew

Japanese Name:「アナと雪の女王」氷の世界のスノーシチュー
Running: January 28, 2021 – February 11, 2021
Price: ¥2,149 (Tax Included)

Serves: 2
Official Website: www.oisix.com