SMALL WORLDS TOKYO: New Details Drop On Sailor Moon & Evangelion Areas at Tokyo's Miniature Theme Park
The date has finally been revealed for the opening of the all-new SMALL WORLDS TOKYO in Tokyo's Ariake district: April 25, 2020.
The park will cover an 8,000m2 area across its four floors: the Departure Floor where visitors arrive at the doorstep of the world of SMALL WORLDS TOKYO, the Departure Lounge where you can enjoy delicious food from around the world, SMALL WORLDS where you are thrown into multiple different worlds, and the Creators Floor where you will get to see these miniature worlds being created on a day-to-day basis.
The main floor, SMALL WORLDS, is made up of seven areas: the Kansai International Airport Area, the Space Center Area, World Streets Area, Sailor Moon Area, Neon Genesis Evangelion Tokyo-3 Area, Neon Genesis Evangelion Evangelion Cage Area, and the newly-announced Tokyo Area which for now is a tentative title as they begin preparations for rolling out details about it.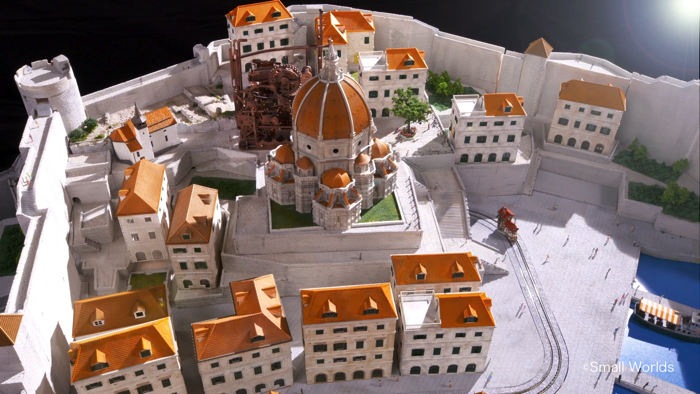 A new photo has been released, as pictured above, of the highly-anticipated Sailor Moon Area. It showcases the outside of series protagonist Usagi Tsukino's house which the park confirms is now complete.
The Neon Genesis Evangelion Tokyo-3 Area will also feature a visual attraction that makes use for AR/VR technology. It was made in collaboration with South Korean director Jae Cheol Hong. The park will also open a "Special Area" which will feature a miniature remodelling of Shurijo Castle in Okinawa, which was destroyed last month as a result of a fire. It will open sometime next year, and be subsequently moved to SMALL WORLDS OKINAWA, a new site set to open in 2021.
The Citizens Rights Figure Program, which opened in August, received such overwhelming praise a second run began on November 29. The program scans a 3D model a person and have a figure of themselves placed in the area of their choice. The areas people can place themselves in this time are the Kansai International Airport Area, Space Center Area, and World Streets Area.
Information
SMALL WORLDS TOKYO Entry Passports
Entry Passports, Entry Passports (With Backyard Tour), and Annual Passports are available via the park's official website and Lawson Tickets.
Prices (Tax Included):
Entry Passports: Adults ¥2,700 / Middle & High School Students ¥1,900 / Children (4-11 Years) ¥1,500
Entry Passports (With Backyard Tour): Adults ¥5,600 / Middle & High School Students ¥4,800 / Children (4-11 Years) ¥4,400
Annual Passports: Adults ¥9,800 / Middle & High School Students ¥7,600 / Children (4-11 Years) ¥5,900
Tickets on Park Website: https://www.smallworlds.jp/en/ticket_en/
Tickets on Lawson Tickets: http://l-tike.com/smallworlds
Citizens Rights Figure Program – 2nd Run (w/ Annual Passport)
Price: ¥12,630 (¥10,760 for those under the age of 18) *Subject to change
Now On Sale
Official Website: https://smallworlds-figureprogram.jp
SMALL WORLDS TOKYO
Address: Ariake Butsuryu Center, 1-3-33 Ariake, Koto Ward, Tokyo
Opening Hours: 9:00-21:30 (Subject to change on weekends, holidays, and certain periods)
Official Website: http://www.smallworlds.jp/
RELATED ENTRIES
Evangelion x Q-pot Reveal New Accessory Collection Featuring Designs From the Anime Series

Q-pot., a Japanese accessory brand which makes jewellery that looks like real sweets and desserts, has announced a second accessory collaboration with the Evangelion series titled "2nd Melty Impact" which will hit Q-pot. stores, select Evangelion stores, and the IKSPIARI pop-up shop on January 20, 2021.

Evangelion x Q-pot. Accessory Collection

A.T. Field Gummy Candy Necklace | ¥10,500 (Before Tax)

The delicious-looking Gummy Candy Necklace inspired by the Absolute Terror Field, the protective barrier that Angels and Evangelions can create to protect themselves. The reverse side of the necklace pedestal also features an engraving of the Tree of Life.

Red Sea & Blue Sea Metal Rings | ¥9,000 Each

Two rings representing the blue sea and red sea, the former being before the Second Impact when the world was teeming with life and the latter after the Second Impact when life is destroyed.

L.C.L. Metal Rings | ¥9,000 Each

These rings are based on LCL, the amber-coloured liquid which enables the piloting of an Evangelion Unit. In the series we see the Entry Plug of an Eva Unit flooded with this translucent liquid.

Cassius's Fork Necklace | ¥16,000

Inspired by the Spear of Cassius that the mysterious boy Kaworu retrieves when he's piloting Mark.06. The spear is fitted as a necklace through a heart which is embedded between an Angel-like halo.

The 4th Angel's Macaron Necklace ¥9,000 / Bag Charm ¥8,000

A necklace and bag charm made to look like sweet macarons. The design is based on the 4th Angel with white faces and a black body. Inside is a bright-red Swarovski crystal to represent the Angel's Core.

Asuka's Puppet Sugar Cookie Necklace ¥9,500 / Bag Charm ¥8,000

A necklace and bag charm inspired b the cute hand puppet of Asuka Langley, the pilot of Unit-02. Made to look like a sugar cookie, the accessories capture the bright-red outfit and blue eyes of the adorable puppet. It looks like it's just come freshly baked out of the oven.

Each of these accessories arrives packaged in an original tin featuring the Evangelion x Q-pot. logos. The A.T. Field Gummy Candy, 4th Angel Macaron, and Asuka's Hand Puppet also feature unique serial numbers.

Other Merchandise

The collaborative collection also feature a selection of original merchandise too.

Asuka's Puppet Pop Socket | ¥2,200

Melty Impact Mug | ¥2,800

Evangelion x Q-pot. 1st Collaboration Restock

The popular macaron and Melty Melt series from Q-pots.'s first collaboration with Evangelion is also being restocked at select Q-pot. stores.

1st Collaboration Restock – Macaron Series

1st Collaboration Restock – Melty Melt Series

Evangelion x Q-pot. Novelty

Fans who spend over ¥30,000 on any of these items at Q-pot. stores or the IKSPIRIA pop-up shop will receive a set of 6 postcards featuring designs of each Eva pilot.

ANNA SUI x Evangelion Merchandise Collaboration Promotes New Anime Film

To promote the upcoming release of the new anime film Evangelion: 3.0+1.0 Thrice Upon a Time, Evangelion teamed up with fashion brand ANNA SUI to open orders for a collection of 12 new items on Wednesday (January 13) on Bandai's official shopping website Premium Bandai.

Excerpt of merch line-up

The line-up combines iconic symbols of ANNA SUI, like butterflies and roses, with motifs from Evangelion like Unit-01. It's a special, must-grab collection for fans of the anime series and brand.

(C)カラー

Limited-Edition Emerald Blue Sailor Moon Eternal Wristwatch Released in Japan

Citizen Watch brand wicca released a new emerald green wristwatch to commemorate the release of the new anime film Sailor Moon Eternal. The item was released exclusively on PREMICO's online shop in Japan on January 6, 2021, with a limited stock of just 3,000.

Wicca x Sailor Moon Eternal Special Collab Watch | ¥29,800 (Before Tax)

The watch features intricate nods to the film such as a crescent moon at the 12-o'-clock mark with a rhinestone, Pegasus and white wings on the bottom half, an emerald blue round face, the Crystal Carillon on the 6-o'-clock mark, and more.

The mesh strap is pink and gold to complete the a beautiful and feminine appearance. And since only 3,000 have been made, each watch also has its own Edition Number engraved into it. The watches are packaged in special gold leaf box with a Swarovski® crystal on it.

©武内直子・PNP/劇場版「美少女戦士セーラームーンEternal」製作委員会

Swarovski® is a registered trademark of SwarovskiAG.

Evangelion: 3.0+1.0 Thrice Upon a Time Nail Decals Included in VOCE Magazine

Japanese beauty magazine VOCE is collaborating with the upcoming anime film Evangelion: 3.0+1.0 Thrice Upon a Time to include a selection of cute and colourful exclusive nail decals in its March 2021 issue.

Chibi Evangelion nail decals

The decals feature designs and references that are sure to be instantly recognisable to fans of the Evangelion franchise. The character decals in particular are extra adorable as they come in chibi form. And these decals don't have to be used just for nails either: you can stick them on your phone, computer or laptop, notebook – anywhere!

The collection is exclusive to the March 2021 issue of VOCE which will release in Japan on January 22, 2021.

Summon Magical Girl Vibes to Your Daily Life With the Sailor Moon Eternal x 3COINS Merch Collab

Japan's 300-yen store 3COINS collaborating with the upcoming anime film Sailor Moon Eternal, which will hit theatres in Japan on January 8, 2021, to release a collection of original merchandise which will drop at all 3COINS branches in Japan (including 3COINS+ plus, colle, 3COINS OOOPS!, 3COINS station, and ASOKO+3COINS) on January 16, 2021. The items will also be sold for a limited time at 3COINS sister brand store ASOKO Harajuku from January 16 to 29 as well as on the company's official online shop PAL CLOSET on January 18.

It's a line-up of 3COINS exclusives including a warm blanket for the winter season, a makeup basket to add fun to your makeup routine, a mug and plate with the Sailors on it, and more. There are 35 pieces of merch in total, all of which can be incorporated into your daily routine.

©武内直子・PNP/劇場版「美少女戦士セーラームーンEternal」製作委員会

Sailor Moon Eternal Lingerie Collection to Release in Collaboration With GiRLS by PEACH JOHN

GiRLS by PEACH JOHN has revealed that it's releasing a lingerie set in collaboration with the upcoming anime film Sailor Moon Eternal.

Peasy001 Sailor Moon Eternal ver. | ¥2,280 (Before Tax)


Sailor Moon Eternal Eternal Bra Set | ¥6,980 (Before Tax)


Sailor Moon Eternal Non Wired Bra Set | ¥3,980 (Before Tax)

A Sailor Moon Eternal limited-edition print of GiRLS by PEACH JOHN's popular Peasy001.

Sailor Moon Eternal Makeup Panties | ¥1,480 (Before Tax)


Sailor Moon Eternal Set Up | ¥3,980 (Before Tax)


Sailor Moon Eternal Lingerie Set | ¥3,980 (Before Tax)

The collection will drop online at GiRLS by PEACH JOHN, as well as PEACH JOHN stores in Shibuya, Shinjuku Sanchome, and Osaka on January 27, 2021. The collection will also roll out at overseas PEACH JOHN stores.

©武内直子・PNP/劇場版「美少女戦士セーラームーンEternal」製作委員会

Information

Sailor Moon Eternal Collaboration Collection
Release Date: January 27, 2021
Available in-store at: PEACH JOHN Shibuya / PEACH JOHN Shinjuku-Sanchome / PEACH JOHN Osaka / PEACH JOHN overseas
GiRLS by PEACH JOHN Official Website: https://www.peachjohn.co.jp/girls/

Sailor Moon Launches Fans Into Space at KONICA MINOLTA PLANETARIA

KONICA MINOLTA PLANETARIA TOKYO, Konica Minolta Planetarium "MANTEN" in Sunshine City, and Konica Minolta Planetarium "TENKU" in TOKYO SKYTREE TOWN® are set to collaborate with the upcoming anime film Sailor Moon Eternal starting on December 22, 2020.

Each of the planetariums' lobbies have been decorated into special Sailor Moon Eternal welcome zones, and fans can get their hands on a range of original and exclusive merchandise. At PLANETARIA TOKYO, their Cafe Planetaria is serving up a selection of Sailor Moon-themed food too.

Guided by the Light of the Moon: A Welcoming Under the Starry Sky

As part of the collaboration, PLANETARIA TOKYO, Planetaria "MANTEN," and Planetaria "TENKU" have a special welcome reception ready for visitors inspired by the two-part Sailor Moon Eternal movie.

New official artwork designed for the planetarium

A special new and original illustration has been drawn for the collaboration which is displayed at each venue as well as featuring on some of the merchandise being sold.

Welcome Zone

The Welcome Zone is decked out in Sailor Moon Eternal decorations, a special photo booth, and more for fans to feel like they're part of the anime film's work.

Locate Luna, Artemis, and Diana

If you find Luna, Artemis, and Diana at any of the planetariums, there will be keywords associated with them. The first 5,000 people at each planetarium tell these to a staff member will receive a special limited-edition Sailor Moon Eternal postcard.

Cafe Planetaria Collaboration Menu

Galaxy Doughnuts – From Left: Super Sailor Jupiter / Super Sailor Mercury / Super Sailor Moon / Super Sailor Mars / Super Sailor Venus | ¥600 Each (Before Tax)

Cafe Planetaria at PLANETARIA TOKYO is selling doughnuts worthy of a cafe whose menu focuses on having customers enjoy "the taste of the night sky." Each of the five galaxy doughnuts is inspired by the colours of the five main Sailors. There's also a selection of drinks and other desserts too.

Super Sailor Moon Lychee Milk | ¥800 (Before Tax)

A lychee juice and milk combi topped with a crescent moon-shaped lemon. Pour in the accompanying pink grapefruit juice to enjoy a new taste and cute appearance.

Tuxedo Mask's Chocolate Latte | ¥800 (Before Tax)

A truly striking beverage whose inspiration is sure to be instantly recognisable to Sailor Moon fans. It's none other than Tuxedo Mask who gets himself a macadamia nut and chocolate latte.

Super Sailor Moon Parfait | ¥1,200 (Before Tax)

A sweet and tangy parfait with colours based on the Sailor uniform. It's topped with amaou strawberry ice cream and pineapple jelly and adorned with a chocolate crescent moon and ribbon.

Super Sailor Chibi Moon Sweets Box | ¥1,100 (Before Tax)

An assortment of sweets treats like a raspberry and strawberry fruit sandwich, a berry-topped baked dessert, a heart-shaped macaron, and more.

Otome Berry Tart  ¥1,000 (Before Tax)

A fruity tart topped with assorted berries and a macaron made to look like the Crisis Moon Compact.

Planet Cocktail Series

Limited-Edition Coasters (3 Designs)

Fans who order one of the non-alcoholic cocktails from the Planet Cocktail Series will receive one of three limited-edition coasters for free. There are also alcoholic cocktails but these don't come with a coaster.

Sailor Moon Eternal Anime Film Gets Special Event at Yokohama Landmark Tower Sky Garden

Sky Garden, ab observation deck on the 69th floor of Yokohama Landmark Tower, is holding a special event in collaboration with the upcoming two-part anime film Sailor Moon Eternal from December 22, 2020 to January 31, 2021.

The event will commemorate the release of the first film, which is hitting Japanese theatres on January 8, 2021, with a range of exhibits, a VR experience called "VE DREAM FLIGHT" that puts visitors into scenes in the film, a line-up of original drinks inspired by the film, and more. And if you buy one of the special entry tickets you can get one of the original cards pictured above.

VR DREAM FLIGHT: Sailor Moon Eternal in 360°

See Super Sailor Moon and Super Sailor Chibi Moon transform and immerse yourself in scenes from Sailor Moon Eternal in a 360° virtual space.

Running: December 22, 2020 – December 27, 2020 / Weekends & Holidays in January

Time: 11:00-21:00 (Last Entries 20:30) / (from 10:00-18:00 on January 1, 2021 only)

Ages: 7+

Original Drinks

Super Sailor Chibi Moon Drink | ¥800 (Tax Included)

A strawberry latte inspired by Super Sailor Chibi Moon that's topped with chocolate hearts and a chocolate ribbon.


Pegasus Drink | ¥800 (Tax Included)

A refreshing Calpis beverage made with ramune flavoured jelly and topped with a Pegasus chocolate.

Exclusive Merch

Acrylic Key Rings | ¥935 (Tax Included)

Get your hands these limited-edition and exclusive acrylic key rings available at the Tower Shop to celebrate the release of Sailor Moon Eternal.

©武内直子・PNP/劇場版「美少女戦士セーラームーンEternal」製作委員会

Information

Sailor Moon Eternal Collaboration Event
Location: Yokohama Landmark Tower Sky Garden (Floor 69F)
Running: December 22, 2020 to January 31, 2021
*Open 10:00-21:00 (Last Entries 20:30) on December 31, 2020

*Open 10:00-18:00 (Last Entries 17:30) on January 1, 2021
Official Website: http://www.yokohama-landmark.jp/skygarden 

Rebuild of Evangelion Film Series Heads to Amazon Prime Video

Amazon Japan released the first entries to the Rebuild of Evangelion anime film series Evangelion: 1.0 You Are (Not) Alone, Evangelion: 2.0 You Can (Not) Advance, and Evangelion: 3.0 You Can (Not) Redo on Amazon Prime Video on Friday (December 18). These are currently only available on the Japanese website (as of the posting of this article).

Rebuild of Evangelion is an animated film series that retells the original events of the Neon Genesis Evangelion series, the latter of which is available to watch on Netflix which the platform describes as "Fifteen years after the Second Impact, Shinji Ikari joins his father's group NERV as one of several teenage mecha pilots fighting the monstrous Angels."

The fourth and final entry to the film series Evangelion: 3.0+1.0 Thrice Upon a Time will be released in Japan on January 23, 2021, concluding the story.

©カラー

Information

Amazon Prime Video Japan

Evangelion: 1.0 You Are (Not) Alone

Evangelion: 2.0 You Can (Not) Advance

Evangelion: 3.0 You Can (Not) Redo

Released on Amazon Prime Video: December 18, 2020

Experience a Sailor Moon Themed Wedding With This Official Line-Up of Ceremonial Items

An official collection of Sailor Moon themed wedding items is being released next year in Japan in collaboration with the manga's author Naoko Takeuchi. Orders open on January 4, 2021.


The line-up includes food, dessert, drinks, a wedding cake, welcome cards, decorative flowers, cookies, and a wedding certificate.

The decorative flowers include an enormous crescent moon for the main sofa, three bunches for the main seats, 12 desk plants, and 4 bouquets.

The cookies feature original designs with the wedding certificate also having original design sheets.

Sailor Moon Eternal Clothing Collection to be Released in Collaboration With jouetie

Japanese fashion brand jouetie is teaming up with the upcoming anime film Sailor Moon Eternal to release an original clothing collection. The items are currently available for pre-sale online at RUNWAY channel and ZOZOTOWN and will be released at all jouetie stores in Japan on January 8, 2021.

Sailor Moon Eternal x jouetie Scene Hoodie | ¥9,000 (Before Tax)

A street-style hoodie featuring a scene taken from the anime film itself. The back features an embroidered logo. It's a comfortable size so can be worn as a one piece or paired with tight pants.

Sailor Moon Eternal x jouetie Long T-Shirt | ¥8,000 (Before Tax)

A long black T-shirt which features Super Sailor Moon, Super Sailor Chibi Moon, and Luna marks on the chest. It's a street-style T-shirt bearing an old English logo, serving both cute and strong feminine. A great pairing with short pants or a skirt with high boots.

Sailor Moon Eternal x jouetie Blouse | ¥8,000 (Before Tax)

A blouse covered in guardian makes which are sure to be instantly-recognisable amongst Sailor Moon fans. Its loose silhouette means it looks great with denim bottoms like short pants.

Luxurious Sailor Moon Eternal Purses Made With Traditional Nishijin-Ori Woven Silk

Imperial Enterprise has just released two gorgeous new purses to promote the release of the two-part anime film Sailor Moon Eternal, the first part of which will hit theatres in Japan on January 8, 2021.

The purses are made with a traditional Japanese textile known as Nishijin-ori which is produced in the Nishijin district of Kyoto. There are two designs to pick from: Super Sailor Moon and Super Sailor Chibi Moon, both of which were released on PREMICO's online shop in Japan on Monday (December 7).

Both purses are skilfully and beautifully handwoven by textile artisans and are sure to delight all magical girls out there.

Super Sailor Moon

The design is inspired by a night sky with twinkling stars in the back. Dotted around the face of the purse are crescent moons and white wings arranged in a traditional karakusamon grass motif design with gold thread. The purse button is based on the Crisis Moon Compact and is bejewelled with a sparkly pink rhinestone.

Super Sailor Chibi Moon

The design features Pegasus, the Silver Crystal, moons, and white wings arranged in a traditional karakusamon design. The purse button is based on the Crystal Carillon and comes with a charm bejewelled with a pink quartzite.

The purses have a handy 19 different pockets including a coin compartment and 12 card slots. The inside of the purses also have moon and wing motifs to keep with the Sailor Moon aesthetic.

Each purse comes in a specially-made box made with beautiful gold leaf. The purses are a celebration of both Sailor Moon and Japanese artistry and are a must-have for fans of the series.

©武内直子・PNP/劇場版「美少女戦士セーラームーンEternal」製作委員会

Information

Sailor Moon Eternal x Nishijin-ori Silk Purses
Release Date: December 7, 2020
Shipping: End of January 2021
Product Page: https://iei.jp/sailor-nw2/