Shibuya PARCOーWhere You Can Enjoy Everything: Anime, Games, Food, Fashion & More
Shibuya PARCO finally opened its doors on November 22. The shopping complex is already receiving overwhelming love and attention as Shibuya's newest tourist spot as it strives to offer itself as "a unique, next-generation facility" for the world.
Boasting a gargantuan 193 shops, spanning fashion, food, art and more, Shibuya PARCO is a place where you can enjoy just about anything. MOSHI MOSHI NIPPON has compiled a list of our own recommended places from there for you, the readers, if you ever visit Shibuya.
Mirai Sake/KUBOTA SAKE BAR (Floor B1F)
Sake is a big part of Japanese culture, and is enjoyed by people worldwide. Mirai Sake/KUBOTA SAKE BAR are serving the ultimate sake experience, where you can select the drinks that best suit  your palate. The bar will serve original drinks, rare sake from ¥500 a cup, as well as food pairings from ¥400.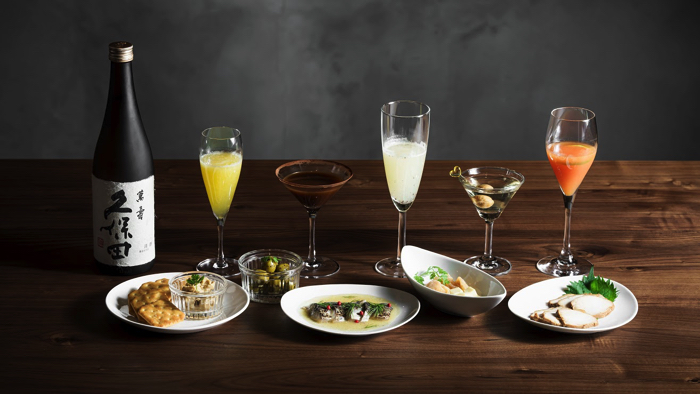 There will also be 12 original cocktails judged by YUMMY SAKE. If you've found you're not too good with sake, then you're sure to find one you like when pulling up a stool here.
Mirai Sake Official Website: https://miraisake.com/
ONITSUKA (Floor 3F)
Japanese fashion brand Onitsuka Tiger has announced a new luxury line entitled THE ONITSUKA. They have created a hybrid design combining formal shoes with sneakers that goes with a variety of styles, from suits to casual.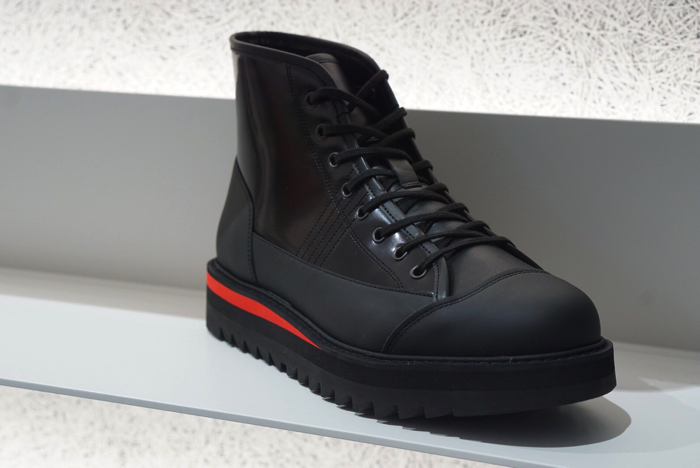 The shoes are made from high quality leather from the brand Kobegyu Leather. The heal of the souls are equipped with αGEL Foam to offer comfort and shock resistance for dynamic movement. This line will also be available to purchase at a concept store opening in New York in March 2020.
Onitsuka Tiger Official Website:  www.onitsukatiger.com
AKIRA ART OF WALL (Floors 4F & B1F)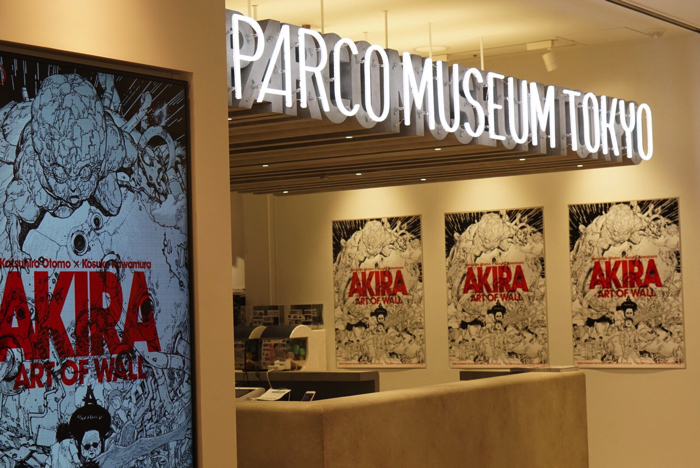 The new PARCO MUSEUM TOKYO and GALLERY X housed inside Shibuya PARCO both aim to promote art and culture to the people of Tokyo. Decorating them as the opening exhibition is the "AKIRA ART OF WALL Katsuhiro Otomo × Kosuke Kawamura AKIRA ART EXHIBITION." This art wall is in fact a relocation of the AKIRA art wall that had existed at the infrastructure building site in Shibuya for almost two years. Parts of it had been damaged over time, and so has resurfaced at the new museum.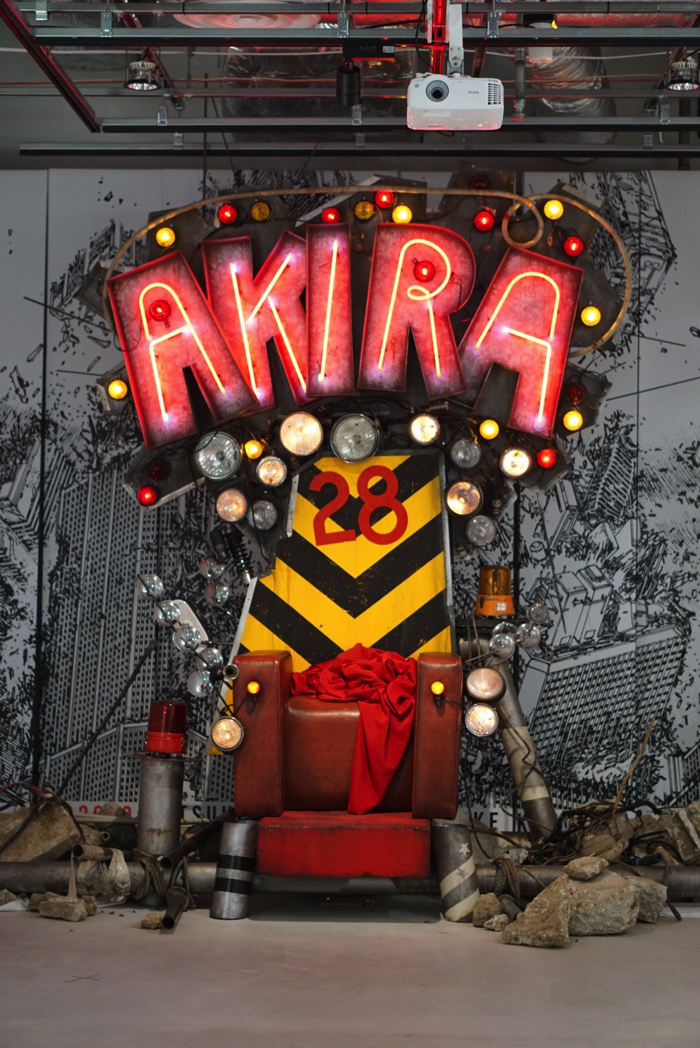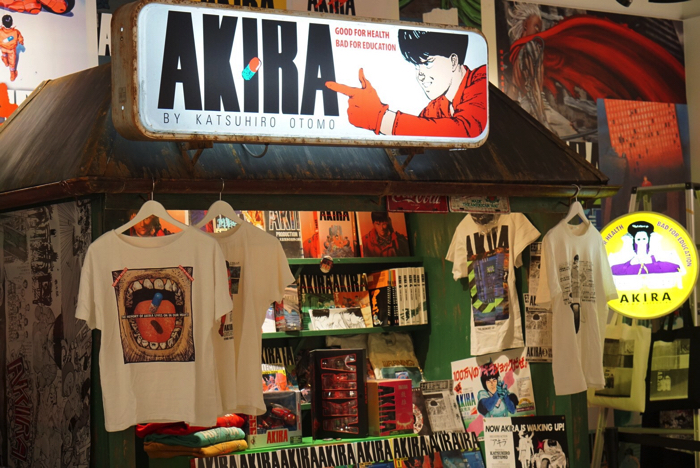 You can also get your hands on a range of merchandise, from classic manga prints to posters, clothing made in collaboration with apparel brands, and more. This is a limited-time exhibition, so if you're in Tokyo this December, don't miss out.
©MASH・ROOM/KODANSHA ©Kosuke Kawamura ©︎AKIRA ART OF WALL EXHIBITION
AKIRA ART OF WALL Otomo Katsuhiro × Kosuke Kawamura AKIRA ART EXHIBITION
Locations/Times
PARCO MUSEUM TOKYO (Shibuya PARCO 4F): November 22, 2019 – December 16, 2019 @ 10:00-21:00
GALLERY X (Shibuya PARCO B1F) November 22, 2019 – December 18, 2019 @ 10:00-21:00
*Exhibitions at both sites will end at 18:00 on their final dates. Last entries to PARCO MUSEUM TOKYO are 30-minutes before closing times.
Entry Price: General ¥1,000 / High School Students and Below ¥800 / Preschoolers – Free
Nintendo TOKYO/6F
At Nintendo TOKYO, the first long-awaited official Nintendo shop, fans can look forward to purchasing games, consoles, character merchandise, and more. There is also an area where you can play games, and events are scheduled to be held at the store.
The store stocks lots of exclusive goods you won't find anywhere else. If you love games, and you love Nintendo, then this place is a must-visit if in Tokyo.
Nintendo TOKYO Official Website: https://www.nintendo.co.jp/officialstore/index.html
Pokémon Center Shibuya (Floor 6F)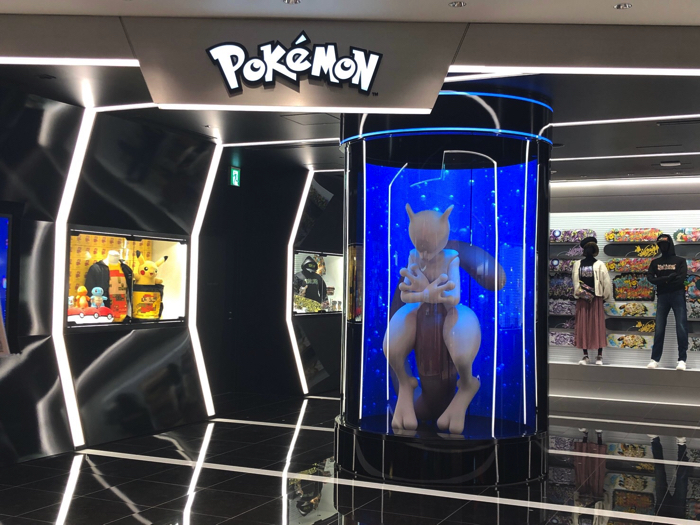 Pokémon fans won't be able to resist stepping into the Pokémon Center, where they can pick up countless Pokémon merch. Upon entry they'll walk past a 2-meter tall Mewtwo.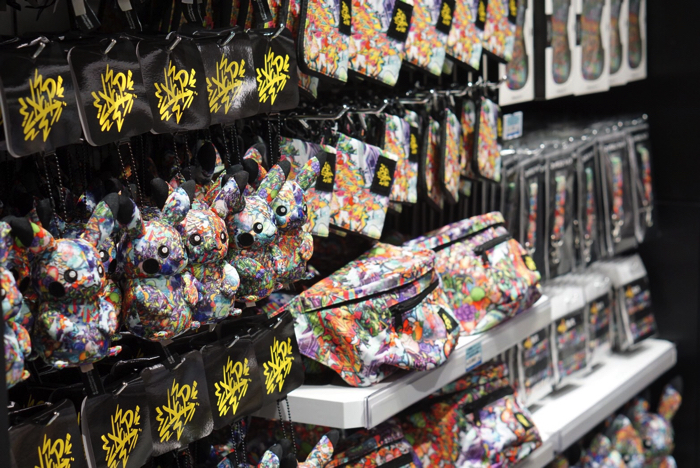 From plush toys to bags, kitchenware, stationary, Shibuya-exclusives and moreーstock up on all the Pokémon gear you could ever want. There's even some items made in collaboration with Nintendo TOKYO which is just next door!
Pokémon Center Official Website: https://www.pokemon.co.jp/gp/pokecen/
いかがでしたか?いろいろなジャンルのお店が大集結している渋谷PARCOにぜひ足を運んでみてくださいね。
Information
Shibuya PARCO
Address: 15-1 Udagawacho, Shibuya, Tokyo
Opening Hours: Shops & Services 10:00-21:00 / Restaurants 11:00-23:30 (*Times differ between shops)
No Fixed Holidays
Official Website: https://shibuya.parco.jp/teaser/
RELATED ENTRIES
Japanese Tea Flavoured Shaved Ice For Takeout at Susumu Chaya in Tokyo and Kagoshima

Japanese tea shop Susumu Chaya started up a takeout service for shaved ice on Tuesday (July 7) at all of its branches including in Kagoshima as well as Jiyugaoka and Shibuya's DESCENTE TOKYO in Tokyo.

The shaved iced takeout service was originally only available at the two Tokyo branches, but now customers in Kagoshima can enjoy the tea-flavoured desserts.

Matcha Shaved Ice: ¥750 (Before Tax)

Made using Susumu Chaya's "koicha," a rich and full-bodied matcha variety.

Houjicha Shaved Ice: ¥750 (Before Tax)

The houjicha shaved ice is made using only first-grade tea leaves picked by Susumu Chaya. It has a refreshing taste.

The shaved ice can be ordered for takeout or eaten inside the cafes. Enjoy the full flavour of Japanese tea coupled with a refreshing portion of shaved ice.

Information

Susumu Chaya Kagoshima
Address: 27-13 Uenosonochō, Kagoshima-shi, Kagoshima Prefecture
Opening Hours: 10:00-18:00
Closed: Wednesdays
TEL: 099-251-4141
Access: 8-minutes on foot from Kagoshima-Chūō Station

Susumu Chaya Tokyo Jiyugaoka
Address: 1-25-5 Jiyugaoka, Meguro-ku, Tokyo
Opening Hours: 10:00-19:00
Closed: Every 1st and 3rd Wednesday of the month
TEL: 03-6421-4142
Access: 3-minutes on foot from Jiyugaoka Station's front entrance via the Ōimachi Line

Susumu Chaya DESCENTE TOKYO Shibuya Meiji Dori
Address: 6-19-21 Jingumae, Shibuya, Shibuya-ku, Tokyo
Opening Hours: 10:00-20:00
No Fixed Holidays
TEL: 03-6804-6332
Access: 4-minutes on foot from Exit 16 of Shibuya Station

Official Website: https://susumuya.com/

Kiki's Delivery Service, Princess Mononoke & Other Studio Ghibli T-Shirts to be Sold at GBL MIYASHITA PARK in Tokyo

GBL, an online clothing company whose stock features designs from Studio Ghibli's animated feature films, is set to open its first store at MIYASHITA PARK in Shibuya, Tokyo on July 28, 2020 inside RAYARD MIYASHITA PARK.

MIYASHITA PARK is a shopping complex filled with shops stocking high quality products. GBL MIYASHITA PARK will sell a range of fun, exclusive Studio Ghibli t-shirts with designs taken from popular films from the studio.

The theme of this year's line-up is t-shirts that have a "second-hand" design to them. There are 28 t-shirts to choose from including colour variations. Six of these are exclusive to GBL MIYASHITA PARK.

Nausicaä of the Valley of the Wind T-Shirt (Pure White): ¥4,880 (Before Tax)


Princess Mononoke T-Shirt (Grey): ¥4,880 (Before Tax)


Kiki's Delivery Service T-Shirt (Red): ¥4,880 (Before Tax)

The range is made from soft cotton and is inspired by American style t-shirts. To reduce the collar from stretching over time, twill tape is wrapped around the neck part of the t-shirt. The t-shirts are also stone washed during the manufacturing process to ensure they are both soft and have that 'used' quality to them.

Laputa: Castle in the Sky T-Shirt (Grey): ¥4,880 (Before Tax)


Porco Rosso T-Shirt (Black): ¥4,880 (Before Tax)


Whisper of the Heart T-Shirt (Navy Blue): ¥4,880 (Before Tax)

Sizes come in Small, Medium, Large, XL, and XXL. The collection is a must-have for any fan of Studio Ghibli.

Information

GBL MIYASHITA PARK
Address: MIYASHITA PARK South (Floor 3F), 6-20-10 Jingumae, Shibuya, Tokyo

Opening Hours: 11:0021:00

No Fixed Holidays
TEL: 03-6434-1140

*You must book in advance to visit RAYARD MIYASHITA PARK

GBL Brand Website: http://www.gbl.tokyo

New Animal Crossing: New Horizons Outfits Released in Collaboration With Pip Elekiban

Pip Japan has created collection of items for the Nintendo Switch title Animal Crossing: New Horizons using the game's Custom Designs featured which it revealed on July 2 via the official Pip Elekiban Twitter account. Pip Elekiban is a magnetic patch used on the skin for treating muscle stiffness.

Animal Crossing: New Horizons has enjoyed successful sales during the stay-at-home measures put in place as a result of the COVID-19 pandemic. Pip Japan has released a trailer for its in-game clothing collection which consists of 3 one-piece outfits, a shirt, and more. Check it out below.

In May 2020, a survey was held in Japan for 300 men and women aged between 20-50 years old. They were asked whether they felt some form of stress during the current situation, with 60% confirming that they did. This includes mental stress as a result of not being able to visit places they wanted to visit or meet who they wanted to meet, work-related stress, physical stress brought about by a lack of exercise, and so on. Part of Animal Crossing: New Horizons' success can be attributed to these causes, with people purchasing the game during the lockdown to help alleviate stresses and as a form of escapism.

Pip Japan wanted to help bring some smiles to people's faces during the pandemic, and so have designed their own clothing collection for the game.

Pip Elekiban One Piece A (MO-YX9Y-498B-5XGT)


Pip Elekiban One Piece B (MO-11XP-HKB5-PQBQ)


Pip Elekiban One Piece C (MO-5FVD-28WC-PQ8V)

The one-piece dresses all feature super cute and stylish designs.

Pip Magneloop Shirt A (MO-YFHC-Y855-TN7V)


Pip Magneloop Shirt B (MO-LMWM-DJ2B-XWJ6)


Pip Magneloop Shirt C (MO-C12M-1561-N59T)

The shirts have simple designs but are cute in their own way too.

Pip Elekiban Tile (MO-80L5-K03Q-JKNQ)

They even made their own tile too.

Experience Shibuya Online With Airbnb and PLAY! DIVERSITY SHIBUYA's Special Website

PLAY! DIVERSITY SHIBUYA and Airbnb launched a new website on July 2 which lets people experience Shibuya tourism and all things Shibuya online.

The online project comes in response to the economic slump that Shibuya has faced as a result of COVID-19 which has meant less tourism. The website will feature a host of unique content that captures the essence of the Shibuya experience.

The first entry to the website will see KABA taking users on a virtual walk through the city of Shibuya. KABA, an activist for the LGBTQ community in Japan, was appointed as an official Tourism Ambassador of Shibuya this year. As well as this, the energetic Akkun, another Shibuya Tourist Ambassador and influencer amongst Shibuya's youth, will also be hosting a "Shibuya Sake School." There is much more content to enjoy right now too, and the website is set to expand even more.

Other features include the "WANDER COMPASS" which lets users learn about Shibuya's history and visit local spots through a virtual tour, and Shibuya TSUTAYA O-EAST's own DJ Bar "AZUMAYA" is showcasing how to make Japanese cocktails using various Japanese ingredients and spices.

Visit Shibuya from the comfort of your own home using Airbnb and PLAY! DIVERSITY SHIBUYA's special new website.

New York Ramen Bar Kuro-Obi to Open First Japanese Branch in Shibuya

New York-based ramen bar Kuro-Obi has announced that it's opening it first Japanese branch in the food hall of Shibuya's new shopping centre RAYARD MIYASHITA PARK on August 4, 2020.

Kuro-Obi was established in New York back in 2014. To date, it has opened 6 branches across the US as well as one branch in Singapore. It specialises in "tori paitan", a silky chicken-base broth. The new Japanese ramen bar will serve many different tori paitan ramen dishes takeout style, which is common in the US. All ramen served here is served in paper cups rather than bowls, so it can be eaten both in the food hall or taken away.


Added to the rich soup broth and noodles is moist chicken char siu, soft-boiled egg, negi spring onion, and fried onion chips. The black pepper used adds a kick to the overall flavour. Thick noodles are also used.

"Ramen is Freedom" is the theme of Kuro-Obi's brand in Japan, with which they aim to challenge the new possibilities of ramen.

Information

Kuro-Obi MIYASHITA PARK
Grand Opening: August 4, 2020
Address: MIYASHITA PARK South 3F FOOD HALL, 6-20-10 Jingumae, Shibuya, Tokyo

Opening Hours: 11:00-23:00 (Last Orders 22:30)

Official Website: https://kuroobi-ramen.com/

Cute Bear Pancakes Whipped Up at IMADA KITCHEN in Tokyo's SHIBUYA109

IMADA KITCHEN in SHIBUYA109 has teamed up with Hattendo Cafe to co-create the new "Torokeru Kuma-san Pancakes" (Melty Mr. Beat Pancakes) which will be served from July 1, 2020 to August 30, 2020.

IMADA KITCHEN is a food project that aims to create original food in Shibuya. Together with Hattendo, a Hiroshima brand known for its incredible cream pastries, they have created a super cute bear design pancake. Bear designs are popular with young girls in Japan.

Torokeru Kuma-san Pancake: ¥450 (Before Tax)

The fluffy pancakes are filled with melt-in-the-mouth, handmade custard cream, meaning a single bite lets you enjoy both the moist texture of the pancake and the melty drizzle of the custard cream. Your mouth is instantly filled with flavours of maple syrup and egg, which when combined with the accompanying berries makes for a sweet amalgamation of deliciousness.

Torokeru Koro Tama Kuma Sandwich: ¥450 (Before Tax)

Normally, you would have to go to Hiroshima to try Hattendo Cafe's "Torokeru Koro Tama Kuma Sandwich," but now it will be available to try at IMADA KITCHEN. Made with the cafe's "cream bread," this moist sandwich is filled with egg salad, korokke, and cabbage for a hearty meal.

Mew and Snorlax Charge Your iPhone With These Pokémon Cable Bites

Two new Mew and Snorlax "Cable Bites" have been added to the popular iPhone accessory series and will be released in Japan in late June.

A common problem iPhone users face is their phone cable disconnecting so they can't charge. The Cable Bite series was developed to tackle this issue.  Leave it to your Pokémon to look after your cable and look super cute while doing it.

Cable Bite Pokémon Mew: ¥680 (Before Tax)


Cable Bite Pokémon Snorlax: ¥680 (Before Tax)

Take your Pokémon with your wherever you go with the Pokémon Cable Bite series.

Kyary Pamyu Pamyu's 'Ninja Re Bang Bang' Remixed by Steve Aoki For Nintendo Switch's Ninjala

Kyary Pamyu Pamyu's hit song Ninja Re Bang Bang was remixed by twice Grammy Award-nominated DJ Steve Aoki. Titled Ninja Re Bang Bang Steve Aoki Remix, the song was released worldwide today across digital and streaming music services.

The song was released in the US from Steve Aoki's label Dim Mak as well as the prominent label Smash the House which plays host to the Belgian dance music festival Tomorrowland. That makes Kyary for the first Japanese female artists to have a release from both of these international labels.

Steve Aoki's remix of Ninja Re Bang Bang was released as part of Kyary Pamyu Pamyu's collaboration with the new video game Ninjala which was released worldwide on Nintendo Switch™️ yesterday (June 24).

Steve commented: "I've always been a huge, huge fan of Kyary Pamyu Pamyu and her producer Yasutaka Nakata, so getting to work on this remix made me so happy. It really is an honour. It's a really great song, so working on it was a lot of fun for me."

"Ninjala" Commercial (feat. Ninja Re Bang Bang Remix)

As well as a commercial, a special Ninjala x Kyary Pamyu Pamyu mashup video was released to promote the game. The video below sees the Ninjala characters doing the famous Ninja Re Bang Bang choreography. Steve Aoki also makes an appearance.

Kyary Pamyu Pamyu x Ninjala – "Ninja Re Bang Bang Steve Aoki Remix" Mashup Video

As well as these two videos, future in-game collaborations are set to take place in Ninjala, so look forward to them.

Information

Ninja Re Bang Bang Steve Aoki Remix
Released: June 25, 2020
Distributed By: Japan: ASOBIMUSIC / USA: Dim Mak / Europe: Smash the House

Download/Stream Here: kppm.lnk.to/ninja

SAMANTHAVEGA's Pokémon Bag and Accessory Collection Kits Out Pokémon Trainers

Japanese clothing and accessory brand SAMANTHAVEGA, which is popular amongst girls in Japan, has teamed up with Pokémon to release a very special collection which is sure to please all you female Pokémon Trainers out there.

The theme of the cute and fun collection is "cute//mode" and captures the essence of Tokyo-born Japanese pop culture as well as the world of Pokémon.

Pikachu


Eevee

The collection features a line-up of bags—from shoulder bags to backpacks, tote bags and more—as well as T-shirts, bag charms, and iPhone cases. Pikachu, Eevee, Gengar, and Team Rocket are the focus of the designs.

Team Rocket

Gengar

Modelling the collection in the photos is Japanese model and actress Tina Tamashiro who also produces SAMANTHAVEGA's bags.

Limited Edition Shopper Bag


Pokémon Series Eco Tote Bag

Those who purchase anything from the collection in Japan will receive a limited-edition shopper bag—or the eco tote bag if they spend over ¥15,000. Both are limited in stock so customers will want to grab something quick.

SAMANTHAVEGA meets Pokémon Collection

Pokémon will also take over the Samantha Thavasa Omotesando GATES pop-up digital store from July 9, 2020.

©Nintendo・Creatures・GAME FREAK・TV Tokyo・ShoPro・JR Kikaku
©Pokemon

Information

SAMANTHAVEGA meets Pokémon collection
Release Schedule:
June 23, 2020 @ SAMANTHAVEGA Online Shop (Pre-Sale)
July 15, 2020 @ SAMANTHAVEGA Stores (Japan)

Special Pop-Up Shop
July 9, 2020 @ Samantha Thavasa Omotesando GATES Pop Up Digital Store
August 12-18, 2020 @ Hankyu Umeda

Official Website: http://www.samantha.co.jp/

Yuri!!! on ICE x Sanrio Characters Come Together at a Themed Cafe in Tokyo

LEGS COMPANY has revealed that it is opening a Yuri!!! on ICE and Sanrio fusion themed cafe called "Yuri on Ice x Sanrio Characters Cafe 2020" in Shibuya, Tokyo for a limited time from August 6, 2020.

Yuri!!! on ICE is a sports anime series centred on figure skating. It was produced by MAPPA and directed and written by Sayo Yamamoto together with Mitsurō Kubo. The series received rave reviews from anime watchers and the figure skating community.

LEGS COMPANY brought this collaborative cafe to Tokyo and Osaka once before back in September and October of 2017. The collaboration is set to return this summer, with this year's theme centred on an ice cream stand. The menu is made up of themed dishes, drinks, and desserts. Let's take a look at just some of the items on offer.

A Select Look at the Menu

Food


Utopia Akatsuki Simmered Cutlet Plate: ¥1,599

A Yuri!!! on ICE classic, this katsudon dish is served in a separated style.

Borscht Plate: ¥1,599

Borscht is a Russian dish that appears in the show, and in this plate it's served as a main. Enjoy together with the sour cream.

Paella Plate: ¥1,599

A Spanish dish that appears at the end of the show, served with fish, sauce, and a side of gazpacho cold soup.

Desserts


Pancake & Ice Cream Plate: ¥1,399

Enjoy a mix of sweet and sour flavours with a fruit and whipped cream-topped pancake and ice cream. You get to pick your favourite character for your ice cream.

Tiramisu & Ice Cream Plate: ¥1,399

You can choose your favourite character with the bittersweet tiramisu too.

Drinks


Soda Float: ¥989 (Bottom Left: Strawberry / Middle: Melon / Right: Blue / Top Left: Cola / Top Right: Coffee)

Stickers (14 Designs): ¥400


Mini Towels (3 Designs): ¥850 Each

Fans can get their hands on exclusive merchandise too which is also available online in Japan.

Fans (4 Designs) *For those who book a table in advance only


Coasters (7 Designs) *For those who order a drink only

The cafe will also offer free merchandise too, including fans for those who book a table in advance, coasters for those who order a drink, and more.

©はせつ町民会/ユーリ!!! on ICE 製作委員会
©1976,1989,1992,1993,1996,1998,2020 SANRIO CO.,LTD. APPROVAL NO.610406

Information

Yuri on Ice x Sanrio Characters Cafe 2020
Running: August 6, 2020 – September 22, 2020
Location: SHIBUYA BOX cafe&space (Shibuya LOFT 2F, 21-1 Udagawacho, Shibuya, Tokyo)

Reservations: Now Open
Reservation Price: ¥650 (*4 seats per reservation)

Yuri on Ice x Sanrio Characters Cafe 2020 Official Website:
https://yuri-sanrio-characters-cafe.jp/

Onitsuka Tiger Unveils New Visuals with Brand Ambassador Willow Smith

Japanese fashion brand Onitsuka Tiger has appointed global artist Willow Smith as brand ambassador. Together, they have laughed a new brand campaign.

The campaign visuals show Willow in Onitsuka Tigers's 2020 autumn and winter collection. Oniktsuka Tiger's unique heritage and innovative spirit have been fused for a contemporary design. Together with Willow's unique style, the campaign's vision was made complete.

Some of the clothes featuring in the 2020 autumn and winter collection feature a colourful patchwork style ー a fusion of pop art and sportswear. Onitsuka Tiger's creative director Andrea Pompilio, who is director of this campaign stated:

"In this generation, we have to focus on what is happening in the world – the pressing issues such as environmental protection and saving our planet. This campaign shows Willow's natural beauty, her strength, her indomitable spirit and never-ending love for the planet. "

Onitsuka Tiger's communication team commented:

"Willow Smith is blessed with her creativity that reaches out to all of humanity. Her boundless influence is not restricted to generation Z or millennials. As 2020 heralds a new generation, we are so happy to be working in such natural harmony with Willow Smith, whose intelligence and strong faith in her opinion deliver our message to the world.

Onitsuka Tiger with Willow Smith – Official Video

 

A Statement by Willow Smith


"When working with Onitsuka Tiger, I found we were soon on the same page. We supported each other and accomplished our goal of inducing positive change in society by creating our vision. I can't wait to see just how we continue to shape the future together."

The new campaign visuals are going to be released globally on a number of platforms, including Onitsuka Tiger's official social media, from June 6, 2020. A portion of the money raised from the campaign will be donated to the NAACP Legal Defense and Educational Fund, Inc.

*All statements have been translated from Japanese.

Jump Force Deluxe Edition Arrives On Nintendo Switch This August

The Deluxe Edition of Spike Chunsoft's fighting game Jump Force published by Bandai Namco Entertainment is set to hit Nintendo Switch on August 27, 2020.

Jump Force is a fighting game that brings together a roster of over 50 characters from popular series the manga magazine Weekly Shonen Jump such as One Piece, Naruto, Dragon Ball, and many more. The game pits the characters in real world locations like New York and Matterhorn and has players battle it out.

The new trailer showcases some of the unique gameplay features which Nintendo Switch players will be able to enjoy, such as being able to play six-player local multiplayer games. The Nintendo Switch edition is packaged with the full game plus Character Pass 1 which introduces nine new characters into the long roster.

Those who pre-order the physical edition of the game will receive three One Piece, Dragon Ball, and Naruto avatar costumes and Frieza's pod as pictured below.

©JUMP 50th Anniversary
©BANDAI NAMCO Entertainment Inc. ©2017 Nintendo

Information

JUMP FORCE DELUXE EDITION Nintendo Switch™
Release Date: August 27, 2020
Platform: Nintendo Switch™
Official Website: https://www.bandainamcoent.com/games/jump-force

*Nintendo Switch and the Nintendo Switch logo are trademarks of Nintendo.

*YouTube is a trademark Google LLC.