Yutaro Features in PUMA's Promotional Material For 80's Fast Rider Sneakers
Inspired by their Fast Rider sneakers from the 80's, PUMA has forged two new models of the running shoes: the Future Rider Ride On and Style Rider Ride On. A special website went live in Japan featuring Japanese actor and model Yutaro as the model for promoting the sneakers.
The new models feature a cool and fun street style design for the new generation while retaining but revamping that retro look. Yutaro, who began his career from the age of 15 working in a second-hand clothing store and eventually went into modellingーand this year featured in the Japanese drama series Sherlockーdons the Ride On's and walks the streets of Tokyo in the photo shoot wearing outfits co-ordinated by himself.
In an interview for the promotion, Yutaro looked back at the complexes and indifferent personality of his past and how he grew as an individual after getting into modelling and working. He said his world became more colourful like the Ride On sneakers.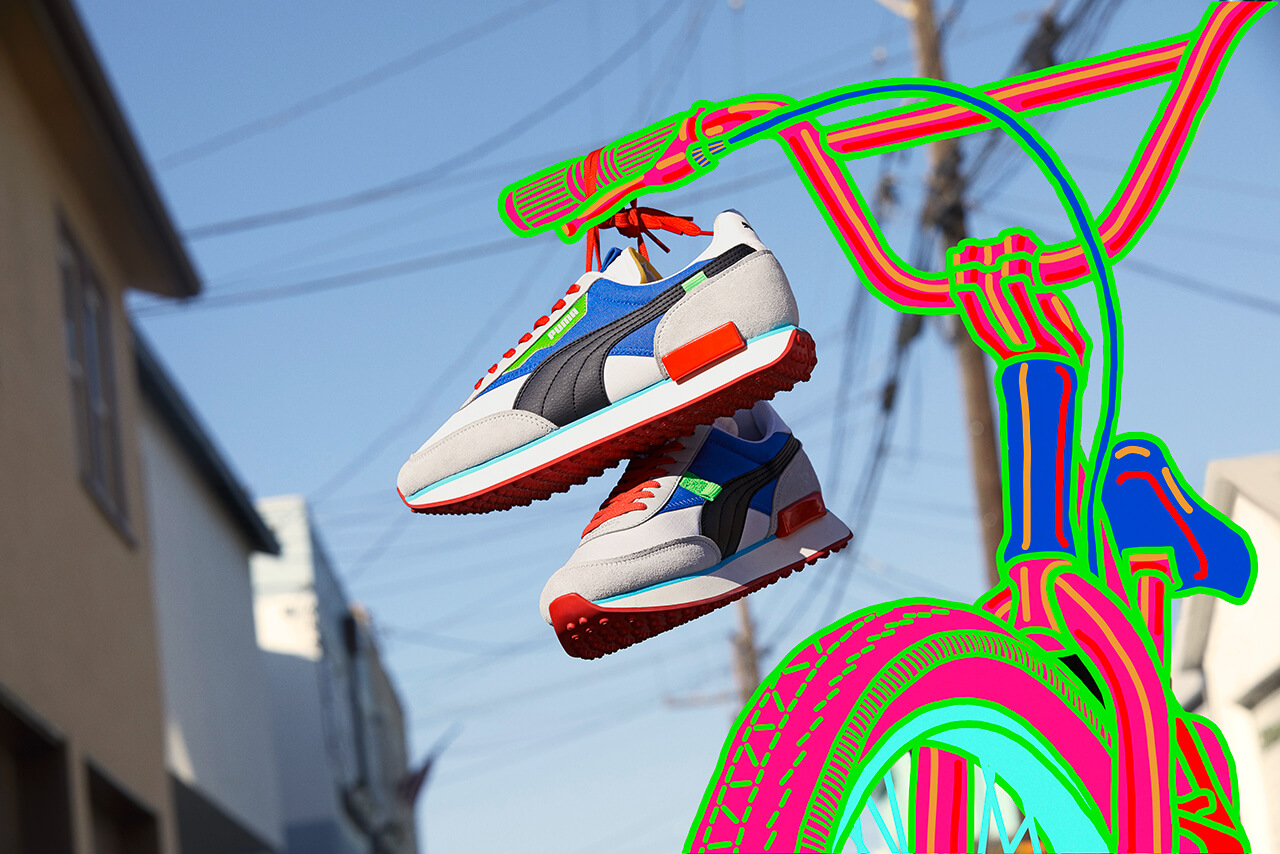 Future Rider Ride On
These sneakers feature an iconic pop style combining vibrant colours like neon green, red, and blue. The lightweight uppers are made from ripstop nylon with a suede overlay an minimum padding. The mid soles are made from the new Rider Foam which has high resilience. The outer soles and TPU stabilisers are made with superior comfort and stability in mind.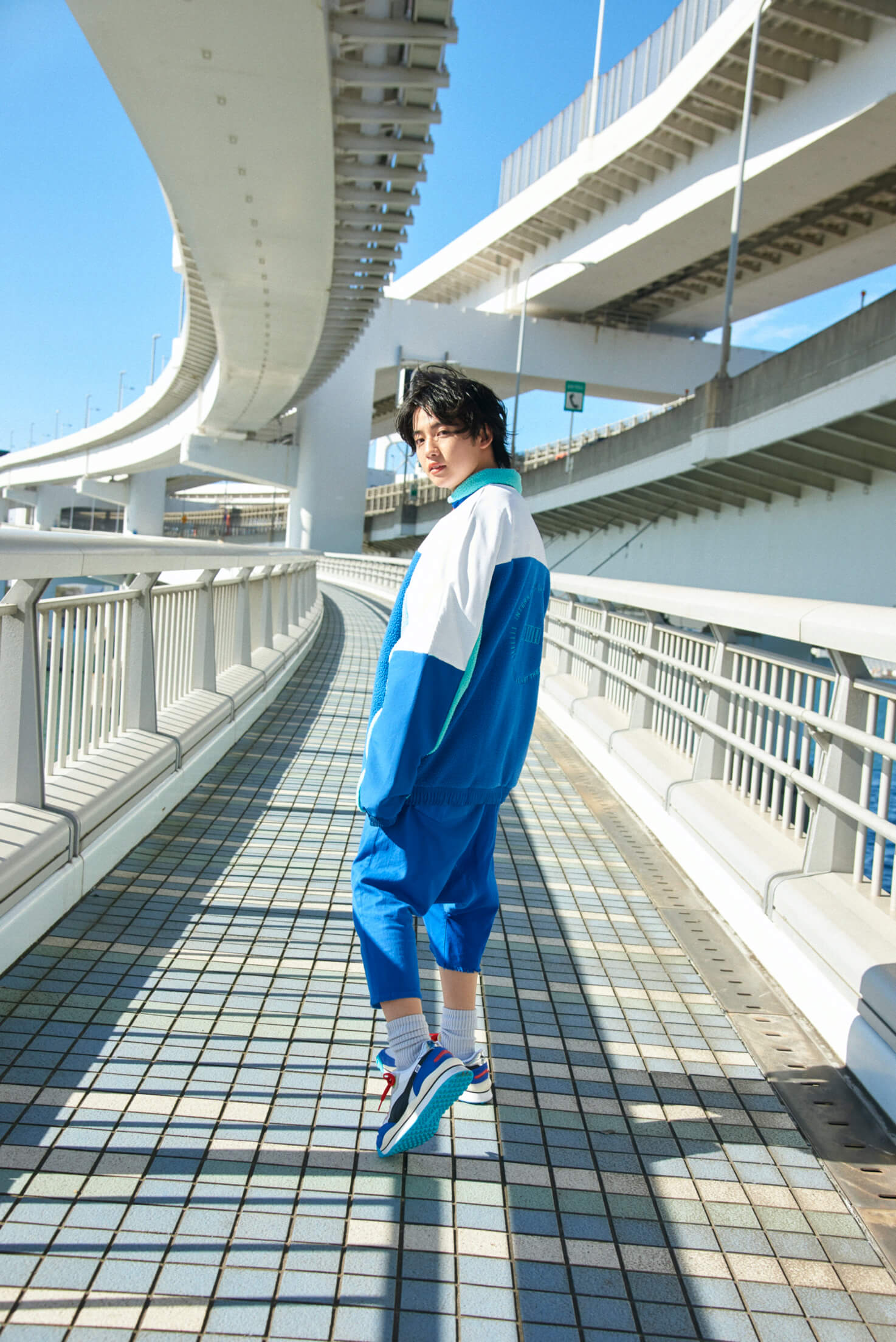 Style Rider Ride On
The eye-catching blue Style Rider Rider On's are made with TPU gel and boast an upfront fun street style. These sneakers are also made with the newly-developed Rider Foam on the mid soles. The thick mid soles are lightweight and cushioned, and the sneakers enjoy a strong grip.
Both styles have ridden the wave of generations to reappear in current times. Be sure to check out the special website featuring more content with Yutaro and Riders.
Information
Future Rider Ride On
Price: ¥9,000 (Before Tax)
Stock No.: 372838
Colours: 1
Style Rider Ride On
Price: ¥11,000 (Before Tax)
Stock No.: 372839
Colours: 1
Now available at PUMA stores, the PUMA online store, and select stores in Japan.
PUMA RIDER Special Website: https://puma-rider.com/ 
Yutaro Official Website: https://asobisystem.com/talent/yutaro/
RELATED ENTRIES
X-girl & atmos pink Collaborate With Nike On New Sneaker Models

Nike released a stylish new model of their Fontanka Edge sneakers in Japan on Friday (February 26) which was created in collaboration with X-girl and atmos pink.

NIKE FONTANKA EDGE "Light Arctic Pink" PINK

NIKE FONTANKA EDGE BLACK/LtGREEN

The new Fontanka Edge models are lightweight and fitted with highly durable Zoom X soles. They are made with a fusion of TPU and mesh for even greater durability, and their comfort has been taken to the next level. The uppers fuse seamlessly with the rest of the shoe to give them a stylish, complete look.

BAPE® Collaborates On adidas Originals Superstar Models

BAPE® has teamed up with adidas Originals once again for a 2021 Spring/Summer Collection which includes the release of a collaborative model of Superstar model sneakers at A BATHING APE® stores and online on Saturday (February 27).

The Superstar sneakers come in two colour variations. This includes a fusion of the BAPE signature "STA" and adidas Originals' iconic three stripes. The heels bear both brand's logos.

There's also a camo design of black and white contrast which pays respect to the OG Superstar models released in 1969 known as the "Celean & Celassic." The sneakers are also laced with red and blue mystic tones.

Reebok Promotes Contemporary Street Culture Scene with 'CLUB C WILD REMIX' Video

Global fitness brand Reebok released its new 'CLUB C FVS' model sneakers on Monday (February 15). The suede-woven shoes make up part of the brand's CLUB C series which first released back in 1985.

Reebok released a video entitled 'CLUB C WILD REMIX' on YouTube on Monday in promotion of the new models. The video is themed on aspects of contemporary street culture such as fashion, music, dance, and skateboarding. It features appearances of eight up-and-coming creators to the tune of the popular Japanese song Get Wild, a track that was a hit in Japan back in 1980, the same era as when CLUB C first dropped.

CLUB C WILD REMIX

The 'CLUB C WILD REMIX' is a new arrangement of the popular song Get Wild, remixed for eight individual videos by each of the aforementioned creators, all of which are strung together in the video. The video also incorporates 80's retro-style animation, CG, live-action, video game aesthetic, TikTok dances, and more. All of this comes together to form a nostalgic amalgamation of that 80's retro vibe and modern street culture.

shigge (Music Arranger) | Comment

"CLUB C is a Reebok classic. They are the best kicks, even I spent my youth together with them. They have a history and culture, something which I incorporated into my remix of this famous song together with eight talented individuals. It' a remix that prays for the continuation of CLUB C and respects its history as a diverse and unwavering line that expresses new ideas."

CLUB C FVS

Originally released in 1985, the Reebok 'Club Champion' model was created to suit the needs of tennis players, focusing on durability and high performance. The late 70's saw the rise of a tennis boom. These shoes evolve the refreshing silhouette and unique look of tennis shoes from performance models to shoes that can be worn in day-to-day life. In the 80's, Reebok's Club Champion created the basic white sneaker trend, something which continues today.

The Line-Up (Prices Include Tax)

CLUB C FVS – From Top Left: [GX2495] Porcelain・Core Black・Footwear White / [GX2495] Core Black・Core Black・Footwear White – ¥9,900 Each

CLUB C FVS – From Bottom Left: [GX5068] Core Black・Core Black・Chalk / [GX5069] Classic White・Classic White・Chalk / [GX5070] Pantone・Pantone・Chalk – ¥6,990

The CLUB C FVS incorporates vulcanized soles, a process often used in the outer soles of skating shoes that makes the rubber more durable, making them suited to the skater scene. The models take the orthodox CLUB C tennis shoes and turns them into something completely wild and new.

Don't miss out on the new CLUB C FVS drop from Reebok.

©1987 by SUNRISE Music INC. & Jun & Kei Music Publishers, Inc

Information

CLUB C WILD REMIX

Released: February 15, 2021

Where: Reebok Japan Onlne Shop / Reebok Classic Stores (Harajuku/HEP FIVE/DiverCity Tokyo/Abeno HOOP, Tachikawa Tachihi/Yokohama Vivre/Nagoya Minato AQULS) / ZOZOTOWN / Rakuten / Rakuten Fashion / Yahoo! / Locondo / Magaseek / Wowma / ABC-MART Grand Stage / ABC-MART Online 

*GX5068 and GX5069 models exclusive to Reebok's online store and Reebok branches

Porudct Page: https://reebok.jp/classic/clubc/

Yoon Ahn's AMBUSH x Nike x NBA Collection Launches Globally On December 11

Yoon Ahn is teaming up with Nike and the NBA to release a new apparel capsule collection on December 11, 2020.

As the first female designer to collaborate with the NBA, Yoon, who is the Creative Director at AMBUSH®︎, is serving fresh energy for female fans of basketball this winter.

Nike x AMBUSH NBA Collection: JACKET BK ¥35,000 / PANTS BK ¥20,000 / TOP BK ¥12,500 / JACKAT LA ¥35,000 / PANTS LA ¥20,000 / TOP LA ¥12,500 / BASKETBALL ¥10,000 (All Before Tax)

Yoon has drawn on her multidimensional and multidisciplinary perspective to reimagine Los Angeles Lakers and Brooklyn Nets apparel, from pants to sleeved tops, jackets, and more.

Nike x AMBUSH DUNK HI ¥20,000 (Before Tax)

The apparel line-up also includes the AMBUSH® approach to the iconic Nike Dunk. Channelling Japanese bike, car and truck culture, the shoes are given an elongated and heightened form, with Swooshes extending beyond the heel-like bike pipes.

The Nike x AMBUSH NBA Collection launches globally on December 11, 2020.

YOON | Comment

"The project began with a conversation about making women feel proud to represent their favorite teams. We were considering how to balance the culture of the sport without losing style. I thought of all these amazing and strong female characters from the '90s who would come out in men's clothes, and I wanted to see how we could carry that attitude, but bring in more feminine forms."

VERBAL | Comment

"Yoon is someone who thinks outside the box, and that's the case for DUNK too, which is both simple at first glance and littered with innovative ideas. The ladies NBA capsule collection is a must-check-out too, it has attitude."

Onitsuka Tiger Releases New Autumn/Winter Sneakers in Premium Line 'THE ONITSUKA'

Onitsuka Tiger is a Japanese contemporary fashion and sports brand that combines heritage with innovation. Their simple yet timeless "THE ONITSUKA" line features hybrid design dress hoes and sneakers that match every style from casual to formal.

Many of the shoes in THE ONITSUKA line feature shoes with uppers made from internationally-renowned, high-quality leather from Kobe cattle, as well as αGEL Foam soles for high shock resistance and comfort, and shark tooth soles made from rubber sponge for added durability and comfort.


JUMPA Unisex Model | ¥38,000 (Before Tax)

Inspired by ski boots and fitted with a large tongue. Made entirely with Japanese leather.

CHUKKA-S (Men's Model) | ¥43,000 (Before Tax)

Classic chukka boots with hidden laces to give a smart appearance.

BLUCHER MT (Unisex Model) | ¥50,000 (Before Tax), BLUCHER LO (Unisex Model) | ¥48,000 (Before Tax)

Based on the first ever basketball shoes released by Onitsuka Tiger in 1950. The upper features multiple colours and materials to create an original knitted tweed look.

UGG Reveals Colourful New Merchandise in Collaboration With Tadanori Yokoo

Japanese sneaker selection shop 'atmos' and Southern California-based global lifestyle brand UGG® (a division of Deckers Brands [NYSE: DECK]) are teaming up with Japanese graphic designer and artist Tadanori Yokoo to release the colourful new CA805 x Yokoo sneakers along with a capsule collection of apparel featuring his artwork on October 9, 2020 in Japan.




CA805 X Yokoo Self Portrait | ¥20,000 (Before Tax)

  

CA805 X Yokoo Wonderland RED MULTI/PURPLE MULTI/BLUE MULTI | ¥20,000 (Before Tax)

The CA805 sneaker collection is made up of two designs: Self-Portrait and Wonderland II, both of which comes in four different colourful prints.


UGG x Yokoo Tadanori Hoodie | ¥14,000 (Before Tax)

UGG x Yokoo Tadanori Shorts | ¥8,000 (Before Tax)

UGG x Yokoo Tadanori T-Shirt | ¥6,000 (Before Tax)

The line-up also includes unisex T-shirts, shorts, and hoodies featuring famous prints by Yokoo, showcasing the high level and quality of his craftsmanship.

The collection will be released in Japan at UGG@mos, atmos, and atmos pink stores as well as their online shop and at UGG® Ginza and UGG® Japan's online shop on October 9. At UGG@mos, the collection will be available only until October 30.

Information

CA805 x Yokoo Collection
Release Date: October 9, 2020
Availabke: UGG@mos / atmos / atmos pink / atmos online shop / UGG® Ginza UGG® Japan online shop

Official Website: https://www.atmos-tokyo.com/

Onitsuka Tiger x Shu Uemura Announce Unisex Sneaker and Cosmetic Collaborations

Japanese fashion brand Onitsuka Tiger and professional makeup artist brand Shu Uemura have joined up to release a new pair of collaborative sneakers and line of cosmetic products.

Since their individual establishments, both Onitsuka Tiger and Shu Uemura have hailed as pioneering brands from Japan, cementing their names across the globe. Together, Onitsuka Tigerーa brand which fuses heritage and innovation around fashion and sports in their contemporary collectionsーand Shu Uemuraーa company which inspires the millennials to bring out their unique and inner beautyーhave collaborated to release a pair of sneakers as well as 11 cosmetic items.


The new sneakers by Onitsuka Tiger are a new model that take inspiration from the company's DELEGATION EX™ pair which released back in 1964 and were worn by Japanese sports players back then. Glossy enamel has been added to bring to mind cosmetics, and matte has been used to create smooth calves. Tokyo Red is used for the colouring. The mid soles have volume and are made with spongy FLYTEFOAM™ Propel, ensuring comfort. Both ends of the spare laces, which are also Tokyo Red, bear the brand logos. The overall design screams active and urban sporty.


Unisex Shoes – ¥17,000 (Before Tax)

Shu Uemura's new collection of 11 items is made up of five different cosmetic products which come in Onitsuka Tiger's iconic key colours: Tokyo Red, Energy Orange, Indigo Blue, and others. They also bear Onitsuka Tiger's stripes. The cosmetics elicit stylishness and an energetic mood.

The new Onitsuka Tiger shoes were released on May 1, 2020 at select stores and online shops both inside and outside Japan.

Stay Home With Yutaro: Laugh, Learn, & Do All The Things You Want To Do During the Lockdown

Here at MOSHI MOSHI NIPPON, we post news and information about Japan in six languages. Our aim is to deliver a variety of content related to Japan for those who love and enjoy Japanese culture.

Right now, people across the globe are in self-isolation as a result of the coronavirus pandemic. The same goes for Japan too, so we've taken this opportunity to create a new series on the website to show how we're spending time at home here in Japan. The future is yet uncertain, and we hope for normality to return for all of us soon. We created a new articles series called Stay Home with which we hope to take your mind off the situation, even for just a little bit, to help you feel calmer. It might give you some tips on what you can do while spending time at home.

Today, Japanese actor and model Yutaro shares with us how he has been spending his time at home.

1: Gaming




I was recently given a Switch Lite as part of a TV show project, so I've been enjoying some Animal Crossing at my leisure. Right now, I'm addicted to farming iron ore. I'm Team Tsubukichi, by the way.

2: Music

While I do enjoy listening to my music loud on speakers when I'm at home, when I'm alone and want to lay around while I listen to my music I like to use my AirPods too. I generally always have music playing at home. I've recently been into a South Korean band called SURL. You should give them a listen.

3: Post-Bath Skin Care

I love baths, so I take a dip most days. I enjoy spending as much time as I like in there, but it's kind of tricky to take a photo of that, so I've taken one of some skin care items I've been using recently. CNP is a South Korean brand. It has propolis in it so you feel pretty moisturised afterwards. It's not too pricey either so I definitely recommend it.

4: Cooking

Since I'm spending more time at home now, I've been coming up with recipes to cook everyday for me and my sister who is staying with me.

I made curry on this day. It's full of meat and veg which we had with brown rice, something I'm crazy about again. It's surprisingly easy to share roles, so I've come to enjoy cooking for myself recently. A guy cooking for himselfーthat's a typical image of a model, isn't it?

The curry I made was a portion for 3 days.

Bonus: Hammock

I'm generally the kind of person who's not good with staying indoors, so I ended up splurging on a hammock which I can use when I want to feel the outside air. Rolling around in this for about 10 minutes when the weather's nice, or after a bath, or eating ice cream while listening to music is enough to make me happy.

What's your secret to spending time at home?

If I think about it too much I'll end up suggesting too many things. I don't think about it too much and just do plenty of the things I want to do right now, or things that I can only do now because of the situation. I'm using my time luxuriously.

Please give a message to those reading this article

Just like everyone else, I'm itching as the days go by, but it's all about taking advantage of the situation to do what you can. I'm enjoying gaming online to my heart's content, face timing my family and laughing, learning Korean from my friend, relaxing and swaying in my hammock, finding challenging myself to cooking surprisingly fun, and so on. There are lots of things to do to feel happiness in these times, so I want people to make their time worthwhile. Let's all get through this together!

Godzilla 65th Anniversary Sneakers Released by Patrick

To celebrate the 65th anniversary of the Godzilla franchise, stylish sneaker company Patrick has created 4 different shoe models: Godzilla Marathon, Chibi Godzilla Marathon, and two Chibi Godzilla Velcro.

Chibi Gozilla was created this year for the anniversary and is aimed at children. A book entitled Ganbare Chibi Godzilla was released in October last year and by the following month, huge orders were placed as the book received huge attention. A second picture book was released in May this year titled Nakayoshi Chibi Godzilla. In the books, a cute and tiny Godzilla befriends an equally cute and tiny Mothra and Anguirus. The first Chibi Godzilla animated film is also now airing at TOHO cinemas across Japan, attraction the attention of not only kids but movie fanatics too. A Hollywood movie titled Godzilla: King of the Monsters was also released earlier this year and became a worldwide hit.

And now, from the big screen and books, the Godzilla craze is now entering the real world in the form of sneakers. Let's take a look at the models.

Godzilla Marathon (Unisex) *Adult size

These sneakers are made from a special lacquer material to make it feel like Godzilla's tough, amour-like skin. The specially-designed insoles and woven logo are sure to be a hit with Godzilla fans.

Chibi Godzilla Marathon (Unisex) *Adult size

The entire shoe is covered with illustrations of Godzilla. The insoles have logos have also been specially designed for this model.

Chibi Godzilla Velcro

Also featuring Chibi Gozilla's iconic green colour is this model pair with Velcro for an easy fit. The kids version comes with double Velcro.

The line-up features sneakers that both kids and adults alike can enjoy. Which pair is your favourite?

TM &(C) TOHO CO., LTD.

TM &(C)  TOHO CO., LTD. Designed by Chiharu Sakazaki

Information

Godzilla Marathon

Price: ¥19,000 (Before Tax)

Size: 35-45 (22.5cm-28.0cm)

Colour: Black
Material: Steer Leather
Release Date: End of October 2019

Chibi Godzilla Marathon

Price: ¥15,000 (Before Tax)

Size: 35-45 (22.5cm-28.0cm)

Colour: Green
Materials: Nylon x Velvet
Release Date: End of October 2019

Godzilla Velcro

Price: Kids Model ¥7,500 (Before Tax) / Junior Model ¥9,500 (Before Tax)

Size: Kids 14.0cm-18.0cm / Junior 19.0cm-22.0cm

Colour: Green
Materials: Nylon x Velvet

Release Date: End of October 2019

Available At: Patrick and Godzilla Store Tokyo

Godzilla Store Tokyo Official Website: https://godzilla.store/tokyo/

A Date With Yutaro: Soaking Up the Japanese Summer Sun & Visiting the Art Aquarium | Tokyo Stroll

It's been a while since our last date with Yutaro. He's been very busy with film shoots. He had some spare time today so we paid a visit to Nihonbashi for our next date. "ECO EDO Nihonbashi: Enjoy Cool Edo With All Five Senses" is an event held every year in the Nihonbashi area which takes the Edo period cultural idea of "coolness"―an in, to enjoy being cool during the summer-and puts a modern spin on it. There are many exciting things to look forward to, including the art aquarium which proves massively popular every year.

We gave ourselves more time to arrive at the meeting place to be in the safe side, but it seems Yutaro-kun was already there waiting for us!

Nihonbashi Information Center | IPPIN CAFÉ "Sparkling Herb Tea" – ¥518 (Tax Included)

"Here, you must be boiling." Yutaro-kun kindly offers a cup of IPPIN CAFE's limited-edition sparkling herb tea. It's a delicious mix of fizzy soda and lemon, a perfect refreshment for the summer. Since he ordered takeout the drink came with a goldfish straw. Goldfish are a staple sight during Japanese summer festivals so it's very fitting for the occasion! 

With our drinks in hand, it's time to head to Nihonbashi for our Edo summer date!

Wind-Chime Forest Path

Lining the path between Fukutoku Shrine and Fukutoku Garden is the Wind-Chime Forest Path where around 200 Edo-style wind chimes dangled. This year, during the evenings, the path is illuminated with beautiful lighting. 

When the breeze rolls past the wind chimes ring one by one-a cool and refreshing sound.

"I hear each one of these Edo wind chimes are individually handmade by craftsmen."

When you hear the sound of the wind chimes it makes you feel cool like a gentle breeze of the wind.

After strolling along the Wind-Chime Forest Path we make our way towards this year's ECO EDO Art Aquarium event.

The moment we step instead Yutaro is already dazzled by all the goldfish: "Wow! I knew about this place from what I'd seen online, but this my first time here! This art aquarium really is something!"

The full title of the event is "ECO EDO Nihonbashi ART AQUARIUM 2019 ~Edo, Coolness of Kingyo~ & Night Aquarium."  Goldfish were a huge part of the common culture in Nihonbashi during the Edo period. This event recreates that and brings that "coolness" aspect while combining it with contemporary art by having people observe the fish in lots of different artistic environments.

Super Oiran

"This is the biggest fish tank, apparently it has 3,000 fish swimming inside!"

"Seeing the light reflect on the water from the illuminations lets you see the fish in a different light, doesn't it?"

Looks like Yutaro-kun is having a lot of fun taking photos.

He's equally interested in just about every fish tank!

These other fish tanks have a different aesthetic to them. Their Japanese-style designs make for great photos.

Kaleidorium 3D

"This one's beautiful, it's like a kaleidoscope."

It really does look like one. When you take a peek instead you can glimpse all kinds of colourful fish gently swimming around.

Ceiling Kingyo

"There're goldfish swimming on the ceiling too. So cool! This aquarium is incredible. It brings together the great culture of Edo and contemporary art."

The Art Aquarium bustles every single year with visitors, but this year will mark its last run. It's being held at Nihonbashi Mitsui Hall, so if you have the chance to go then please do.

We of course checked out some local Nihonbashi treats too! We stopped by morozoff for some cheesecake after the aquarium.

morozoff Kamadashi Cheesecake (Goldfish) – ¥270 Each (Tax Included)

These cute cheesecakes with their goldfish designs are available for a limited time only. They're filled with sweet red bean paste. They perfect with iced tea.

"Got some! Let's eat them while we head back."

Goldfish Lantern Walkway

Our first date in Nihonbashi was so much fun. While on the date Yutaro-kun spoke about the new live-action film he's in, Kaguya-sama: Love Is War.

"It's a romance film with mind games to try and make the other person confess their love. I play the character Tsubasa. His number one highlight scene is the kabedon scene. That was my first day shooting, so I was super nervous, but I got along well with the other actors, and the atmosphere on set was harmonious, so I was able to relax for the shoots. Tsubasa is a genuine guy who will believe things that have been said to him in earnest. You've definitely gotta check out all his scenes throughout the film!"

"A lot of the cast are the same age as me, so we were all energetic together in the waiting room. There's a scene at the end where all the cast get together. It took 3 days to shoot so we ended up getting along really well."

"This film has made me realise that love comes in many shapes, and that mind games happen in a variety of ways between guys and girls. There's cute scenes that express that small bit of pride that teenagers have, the embarassment they feel, when they get butterflies, scenes that will warm your heart. The film has various elements to it so I thoroughly enjoyed watching it myself. I hope that couples in love in their teens and twenties watch it, and I also hope that married couples watch it and crack up laughing too."

"In the film it's summer break, and they go and see fireworks and stuff. It's definitely one to watch durnig the summer. You're gonna come watch it too, right? Shall we go?"

An offer we cannot refuse! We'll definitely go and see it with you, Yutaro-kun! 

Model: Yutaro

Writer: Yuki Yokoo

Photographer: Kayo Sekiguchi

Information

ECO EDO Nihonbashi 2019 ~Enjoy Cool Edo With All Five Senses~

Running: July 5, 2019 – September 23, 2019

Location: Nihonbashi Area

TEL: 03-3242-0010 (Nihonbashi Information Center)

Event Page: https://www.nihonbashi-tokyo.jp/en/ecoedo2019/

ECO EDO Nihonbashi ART AQUARIUM 2019 ~Edo, Coolness of Kingyo~ & Night Aquarium

Running: July 5, 2019 – September 23, 2019

Location: Nihonbashi Mitsui Hall Floor 5F (Entrance at 4F),  COREDO Muromachi 1, 2-2-1 Nihonbashimuromachi, Chuo Ward, Tokyo

Opening Hours: Art Aquarium 11:00-19:00 / Night Aquarium From 19:00

[Sun-Fri] 11:00-22:00 (Last Entries 22:00) [Sat & days prior to public hoiday] 11:00-23:30 (Last Entries 23:00)

Access: Directly connected to Exit A6 of Mitsukoshimae Station, accessible on the Tokyo Metro Ginza Line and Hanzomon Line / Directly connected to Shin-Nihombashi Station / 8-minutes on foot from East Exit of Kanda Station JR 8-minutes on foot from Nihonbashi Exit of Tokyo Station

TEL: 03-3270-2590

Event Page: https://www.nihonbashi-tokyo.jp/en/ecoedo2019/contents/005.html

Kaguya-sama: Love Is War Film

Release Date: September 6, 2019

Adapted from the manga of the same name by Aka Akasaka (Shueisha/Weekly Young Jump)

Cast: Sho Hirano (King & Prince), Kanna Hashimoto, Hayato Sano, Natsumi Ikema, Nana Asakawa, Mayu Hotta, YUTARO, Takashima Masahiro, Jiro Sato

Official Website: https://kaguyasama-movie.com/

TALENT PROFILE

Yutaro

Yutaro was born in Hiroshima on June 3rd 1998. His modeling career has earned him lots of attention as a fashion icon of the new generation. The famous model also works as a "charisma" shop assistant. Yutaro has gained his reputation as a "mysterious and handsome guy" from his appearance on Japanese variety shows. His debut was made on the show "Gyoretsu no Dekiru Horitsu Sodanjo" and has since then appeared on numerous different TV shows. He challenged himself to appear on stage for the very first time in March this year and is gaining popularity by the day for his diverse work.

Lorenzo Ferro and Yutaro Discuss the True Crime Film 'El Angel' | MMN Interview

The 2018 Argentine-Spanish true crime film El Angel is set to hit theatres in Japan this year on August 16.

The movie is inspired by the real-life Argentine serial killer Carlos Robledo Puch. It was screened at the 2018 Cannes Film Festival and was chosen for the Best Foreign Language Film at the 91st Academy Awards in the Argentine category. The film caught public attention and has enjoyed great success, and that's in huge part thanks to Argentina actor Lorenzo Ferro, a newcomer who has made his acting debut with his role as Puch. He plays the character naturally and effortlessly, capturing the seemingly "pure" looks of Puch coupled with his evil intent, a killer who had free reigns to do whatever he needed to do to achieve his goal. The 60s-70s fashion that Ferro dons in the film is also a highlight worthy of note.

MOSHI MOSHI NIPPON spoke to Ferro who came to Japan to promote the film, and Yutaro, who is the same age as Ferro, and is a model that has recently become very busy in the acting world. We questioned them about them about the film, the character role, and fashion.

*Interview translated from Japanese.

──What are your thoughts after having seen El Angel, Yutaro?

Yutaro: This was actually my first time watching an Argentine movie. The first thing that piqued my interest was the unique sound of the language. With the story, when I heard that it was about a serial killer I thought it would be a pretty graphic portrayal, but it wasn't. Even people who aren't good with graphic and shocking kinds of films would be able to watch this.

──That kind of reasoning and moral compass [which the film depicts] makes you feel kind of uneasy, doesn't it?

Yutaro: Obviously the things that the protagonist Carlos does is against the law and morally wicked, but he himself doesn't believe any little thing he does is bad. He moves on instinct which in his mind is somehow acceptable, and that's dangerous. Was it hard for you to create the character, Lorenzo?

 

Lorenzo: It really was tough. I hadn't played a character until then, so the first thing I had to learn was just being in front of a camera. Playing the role came after. I had to become "friends" with the movie and "friends" with the camera. Those were the first things I needed to do to fulfill my commitment.

The whole shoot took around a month and a half, but prep time was half a year. During that time I practised playing piano and mastered riding a bike. It was a lot of work, but when I finally saw the completed movie, I felt it was definitely worth all the effort.

Yutaro: When you're playing someone who is far from anything like yourself, prep time is really important, isn't it? You have to gather material on the role and really use your imagination. I also make sure to properly communicate with the director before shoots. I ask about the film's theme and intent. If our perceptions don't match then it's not going to hold up on screen.

Lorenzo: It's definitely important to respect the director and communicate with them effectively. When we were filming, I wanted to make sure I didn't forget to see the director as a friend. For instance, if the hierarchal relationship is overly strict and the director is the kind of person to look down on you and order you around, then you can't build trust. I also think the best kind of relationship is when you can give your own opinion. Saying to them like, "That was no good, was it?" [laughs] "Why do I gotta do the same thing 40 times!?" You should be frank and express your doubts.

Yutaro: Speaking of that, it's important to have trust with your fellow cast members too. I believe that even if you're filming together, if you can't build that trust, that subtle distance between you will be conveyed [in the scene]. You yourself have got to try and converse with them in a positive manner. Go out for a meal together before a shoot, talk together about your roles.

──You live your days laboriously, Yutaro, including as an actor. What does a time look like for you when things get particularly tough?

Yutaro: I've recently been doing a lot of shoots for multiple films at the same time. When that happens I find it very important to maintain retention so that I don't forget my roles. In that sense, I also find that it's important to look at how you spend your time outside of shoots when you're working an acting job.

Lorenzo: Oh, yeah! Having spare time during shoots is a curse as an actor [laughs] Even if you fire yourself up―preparations are done, you've done your warmups, and you say, "Right, time to shoot!"―you have to start from zero again if you have time until the next shoot. That happens quite a lot.

 

──So you're demanded to have self-discipline too. El Angel is set in 1970s Buenos Aires. The fashion and interior designs seen in the film really stood out.

Yutaro: For me personally the women's clothes left an impression on me, particularly the one piece that Carlos's mother wears. The clothes that Carlos wears in each scene too. They're plain and simple but cool. I liked the leather jacket he wore when he went on a double date with his pal Ramón.

Lorenzo: Wow, you really took in at all the little details. The influence for Carlos and Ramón was drawn heavily from James Dean and Marlon Brando who were both popular actors at the time.

Yutaro: Oh, really?

Lorenzo: Like smoking cigarettes and wearing a leather jacket. We naturally had an amazing stylist who prepared our outfits for us. We were both also conscious of people like James Dean and Marlon Brando when we played Carlos and Ramón.

──What kind of clothes do you like, Lorenzo?

Lorenzo: I usually wear the kind of thing I have on now. I have a lot of rough-looking clothes. I really like fashion, my wardrobe is packed [laughs] The more clothes you have the harder it is to decide what to wear, so I really want to just wear the same t-shirt, pants and shoes all the time [laughs].

Yutaro: I looked at your Instagram, you wear t-shirts with Japanese games and anime characters on them, don't you? You have a Super Mario one on today, and I saw a Pokémon one on your Instagram. I like how you venture to wear t-shirts of games that were popular a while back now.

Lorenzo: Really? Thanks, that makes me happy. The overalls you have on now are really cute, but I think that's because it's something that would suit you. If I wore something like that I'd probably look like a clown [laughs].

Yutaro: Do you have a criteria when picking out a character t-shirt?

Lorenzo: Well, I try not to wear t-shirts of franchises I don't like, or games I haven't played yet, or of bands I've never listened to before [laughs]. I'm wearing a Mario t-shirt today but there's still much I don't know about Japanese games or culture. I'm interested in many different cultures of many different countries, so I want to know more about Japan.

Yutaro: In that case, let's go shopping together in Harajuku next time!

Writer: Takanori Kuroda

Photographer: MURA

Models: Yutaro, Lorenzo Ferro

Translator: Joshua Kitosi-Isanga

©2018 CAPITAL INTELECTUAL S.A / UNDERGROUND PRODUCCIONES / EL DESEO

Information

El Angel

Release Date: August 16, 2019 (Japan)

Cinemas: Shibuya CINE QUINTO, Human Trust Cinema Yurakucho, Shinjuku Musashino-kan, and elsewhere across Japan

Director: Luis Ortega

Producers: Pedro Almodóvar, Agustin Almodóvar (Wild Tales, 2014) 

Distributor: Gaga Corporation

Running Time: 115 Minutes

Japanese Subtitles: Rie Harada

Rating: R15

Official Website: https://gaga.ne.jp/eiennibokunomono

©2018 CAPITAL INTELECTUAL S.A / UNDERGROUND PRODUCCIONES / EL DESEO

TALENT PROFILE

Yutaro

Yutaro was born in Hiroshima on June 3rd 1998. His modeling career has earned him lots of attention as a fashion icon of the new generation. The famous model also works as a "charisma" shop assistant. Yutaro has gained his reputation as a "mysterious and handsome guy" from his appearance on Japanese variety shows. His debut was made on the show "Gyoretsu no Dekiru Horitsu Sodanjo" and has since then appeared on numerous different TV shows. He challenged himself to appear on stage for the very first time in March this year and is gaining popularity by the day for his diverse work.

Tokyo Stroll: An izakaya date with Yutaro at Sai in Shibuya

Shibuya―Tokyo's central hub for youth culture and fashion trends. This commercial and business centre is one that never sleeps: it is always bustling with people enjoying themselves whether that be shopping with friends, going on dates with their special someone, and pretty much anything you can think of a young person doing in one of the most popular parts of a city like Tokyo.

This is where Yutaro-kun is taking me on our next long-awaited next date. It's little more of a grown-up date than usual this time as we're going to an izakaya. Yutaro-kun is crazy about umeshu, or "plum wine," so he's taking me to a place that stocks a wide variety of tasty drinks. This is our first time drinking together. My heart is pounding.

Our destination is Sai, an izakaya with private booths and charcoal fires for cooking yakitori. It's a 5-minute walk from Shibuya Station's Hachiko Exit. It's on the third floor of the building directly in front of the Udagawa Kōban police station. The bar has around 100 varieties of umeshu as well as food and meals made using them. The wall is lined with wine bottles as far as the eye can see. I'm already getting excited.

The menu lists where each wine is produced by prefecture along with descriptions of each drink. I'm interested in trying the umeshu from the region I was born in, but there's lots of other delicious sound ones too so I'm spoiled for choice.

"What shall we do? Want to compare different drinks?"

Yutaro-kun is quick to jump on board the idea. He's so manly!

Umeshu Taste-Comparing Set (3 Drinks): ¥1,000

This taste-comparing set comes with three types of umeshu. It's an 'introductory-level' set that rings true as all three varieties are very easy to drink and each of their flavours are completely different. The Akatan Umeshu produced in Nara Prefecture is made with unripened plums farmed from Nara. It has a refreshing taste and the flavour of the plums is very rich. The Kishu no Yuzu Umeshu from Wakayama is made with plums from Wakayama Prefecture and the fresh juice of yuzu fruits from Tokushima Prefecture. It's sweet and sour with a refreshing flavour complemented by the citrus fruits. The Hotei Fuku Ume Nigori Umeshu from Osaka is made from highly valuable plum wine that has been aged over a long period of time. It's mixed with plum jam and pieces of fresh plum to give it a sweet and thick texture.

As well as this introductory-level set there's the mid-level set that focuses on shochu, an upper-level set with a wide variety of drinks, and an extra set that features fruit sake.

"Mm, this one's delicious! It has a real citrus-y feel. Ah, but the Hotei Fuku is good too."

Yutaro-kun looks like he's really enjoying drinking and comparing the different varieties of umeshu.

My heart beats fast seeing his adult side drinking sake. Huh, am I drunk already?

Zeppin Caesar Salad: ¥780

The Caesar salad comes with a specially-made egg salad dressing made from soft-boiled eggs. It's fun mixing the dressing. After mixing it enough we pour it over and tuck in!

"Do you eat tomatoes?"

I'm happy how considerate he is in portioning out the salad.

Seafood Carpaccio: ¥720

We both enjoy a carpaccio together made with fresh fish bought on the day and a jelly made with Kishu Akai Umeshu. Today's fish ingredient was fatty salmon!

The amazing flavour of the salmon comes through the centre of the refreshing umeshu jelly.

Pork Spare Ribs: ¥820

Kishu Umeshu is this izakaya's No. 1 recommendation. These spare ribs are cooked slowly in it, giving them a rich and intense flavour as well as a subtle sweetness.

They're too delicious I could eat as many as they'd give me!

"So tender! So delicious! This is true happiness!"

Yutaro-kun never changes, he's always so energetic when eating something tasty.

"Thank you for the meal."

The umeshu and umeshu food was amazing, but what makes me happy more than anything is that I got to drink with Yutaro-kun. I wonder where our next date will take us?

Information

Sai

Address: JOW Bldg. Floor 3F, 30-5 Udagawacho, Shibuya, Tokyo

TEL: 03-3770-6770

Official Website: https://izakayasai.owst.jp/