Tokyo DisneySea Announces 'Pixar Playtime' Event For 2020
Tokyo DisneySea has revealed details for its upcoming special event "Pixar Playtime" which is set to plunge guests into the wonderful worlds of Disney/Pixar films from January 10, 2020. Meet your favourite characters at one of the many programs or greeting events set to take place at one of the park's first big events of the New Year.
There are plenty of ways to enjoy yourself at Pixar Playtime, from snapping photos of the colourful Pixar decorations to wearing Pixar character merchandise, tucking into food and drink inspired by the characters of Pixar, and more. Let's take a look.
Decorations
For Pixar Playtime 2020, Tokyo DisneySea will be decorated like a colourful board game, making for plenty of great photo opportunities with friends and family. The floor will be lined with squares like moves on a board game, so why not challenge yourself to the various objectives written on them and try and reach the goal at Water Front Park? There's also a photo service where guests can have photos taken of them from high up as pictured above so it looks like they are pieces in the game.
The park will of course also be littered with decorations referencing Pixar's film catalogue, from Toy Story 4's Forky to the iconic Pixar Ball. Some returning features from last year's event will also make an appearance including interactive photo spots, game booths, and lots more. There's countless ways to enjoy yourself at Pixar Playtime.
Special Merchandise
Feel even more part of the festive fun by picking up some official colourful Pixar Playtime merch.
Available at Emporio: Unisex Jumper – M Size ¥3,900, L Size ¥4,200 / Cap ¥2,900 / Headband ¥1,700 / Smartphone Case ¥2,100 / Lighting Pendant ¥1,900 / Cushion ¥1,900
Red, yellow and blue define the Pixar Playtime goods line-up just like the Pixar Ball. We recommend picking up any of these items like the jumper, headband or smartphone case and snapping some photos in front of one of the many Pixar Balls scattered around the park, or while on the board game squares. Buying your own Pixar Ball cushion is sure to make for a great photos too. Dress up with friends and family and become part of the fun!
Available at Emporio: Sun Visor ¥2,900 / Earmuffs ¥2,400 / Flag ¥600 / Plush Toy ¥2,700 / Jacket ¥5,900 / Shoulder Bag ¥2,500
There's also a new collection of Cars merchandise like a jacket and earmuffs, as well as a sun visor that has Lightning McQueen's eyes on its front. We recommend taking these items to the "Lightning McQueen Victory Lap" entertainment program at American Waterfront and taking some photos while cheering on McQueen!
Special Menu Line-ups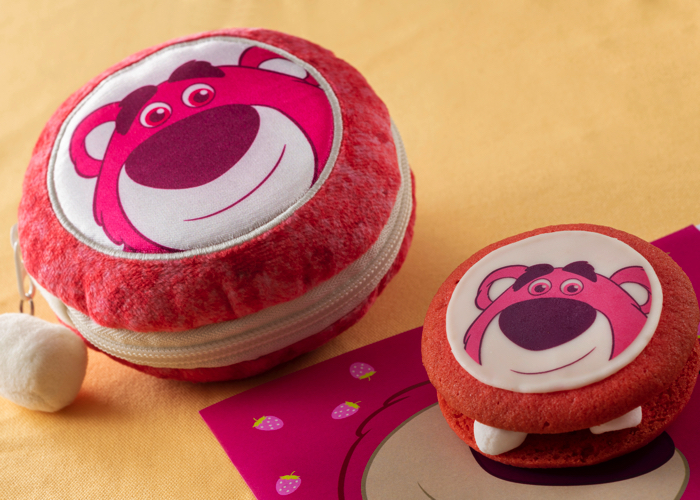 Lots-o'-Huggin' Bear's Cookie Sandwich w/ Souvenir Pouch – ¥1,300 @ Gondolier Snacks
Restaurants around the park will be serving food, drinks and desserts inspired by the Pixar cast, like this cookie sandwich centred on Lots-o'-Huggin' Bear from Toy Story 3. The pink cookies are filled with chewy marshmallows and sweet-smelling strawberry flavoured cream. It even comes with a pouch that looks like the cookie treat itself, so much so you might find yourself wanting to bite into it after trying the real thing.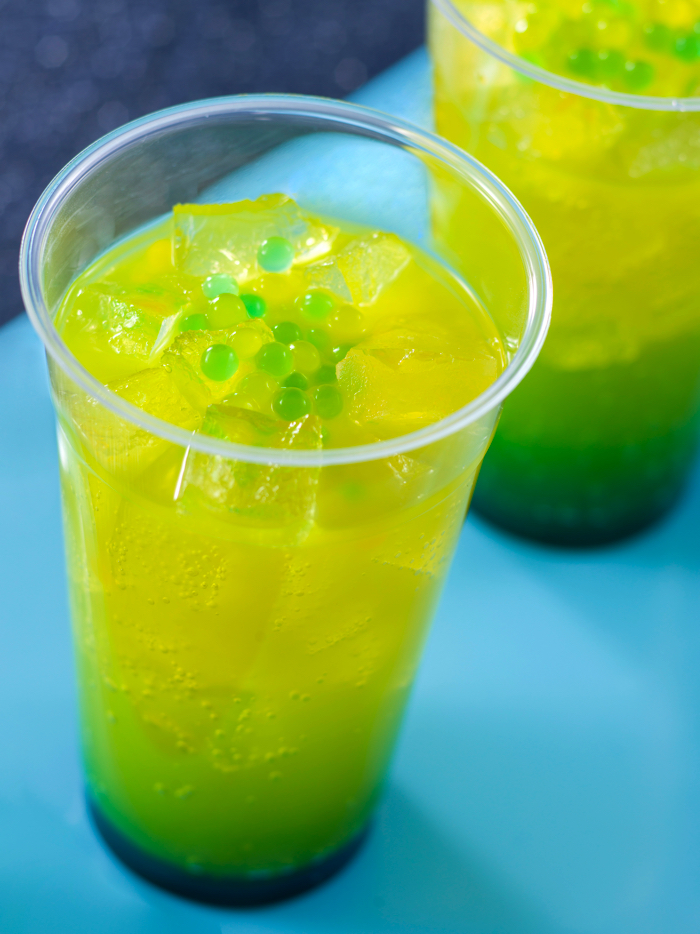 Sparkling Drink (Mango & Orange) – ¥450 @ Cafe Portofino
Sparkling Drink (Orange & Strawberry) – ¥450 @ Horizon Bay Restaurant
These drinks are also Pixar-inspired. The mango and orange version is based on the colours of Ducky and Bunny from Toy Story 4, while the orange and strawberry beverage is made in the image of the octopus from Finding Nemo.
Pixar Playtime officially begins on January 10, 2020, so make sure you get the chance to visit Tokyo DisneySea next year.
*The special merchandise and menu line-ups will go on sale early from January 9, 2020, one day before the event begins. The products and food are subject to change without notice. Please note that items are subject to selling out.
©Disney ©Disney/Pixar
RELATED ENTRIES
Solo Sauna Tune: Tokyo's New Privacy Guaranteed Finnish-Style Sauna

Solo Sauna Tune is a new sauna that offers "total privacy" which is set to open its first branch inside UNPLAN Kagurazaka in Tokyo this November.


Most sauna facilities in Japan cater to groups, but at Solo Sauna Tune, all guests are given their own space where they can undress, bathe, and relax in their own private room. This is especially desirable during the current pandemic where social distancing is paramount, and is a great opportunity for people not wanting to travel in groups.

The solo saunas are heated using sauna stoves imported from Finland. Adding water to the sauna stones lets guests control the amount of steam in the room so they can adjust as they like. There is also a Japanese white birch aroma provided to the löyly (Finnish for 'steam').

Guests can also cool off in cold water. The Chiller provides water at 15℃. There are also overhead showers for cooling down, and the showerheads can be adjusted to make the water come out like mist.

The relaxation area is coloured in a stylish black where guests can kick back for a while.


After using the sauna, guests can visit the powder room where there are a varieties of free amenities. There's also a café which serves craft beers, food, and other treats.

Information

Solo Sauna Tune
Address: UNPLAN Kagurazaka, 23-1 Tenjincho, Shinjuku-ku, Tokyo
Grand Opening November 2020

Opening Hours: TBA

Prices: TBA
Access: 3-minutes on foot from Kagurazaka Station / 7-minutes on foot from Edogawabashi Station / 9-minutes on foot from Ushigome-Kagurazaka Station

Official Website: https://www.solosauna-tune.com/

Review: Tokyo Disneyland's New Big Hero 6 Attraction and Minnie's Style Studio

Tokyo Disneyland® is set to open its all-new Beauty and the Beast area of the park tomorrow on September 28, 2020. It's opening in line with the new Big Hero 6 attraction, Minnie Mouse area where guests can meet Minnie, and the park's new popcorn shop.

MOSHI MOSHI NIPPON was granted early access to the news areas, so here's our review!

Check out our review of the new Beauty and the Beast area too here: https://www.moshimoshi-nippon.jp/362152

The Happy Ride with Baymax: The world's first Big Hero 6 attraction

The Happy Ride with Baymax ride has guests joining one of the personal healthcare companion robots on an exciting cart ride.

The park is limiting the number of people allowed on the attraction at once due to the pandemic. To board the attraction, guests need to download the app after entering the park.

Big Pop: Tokyo Disneyland's first popcorn shop

Tokyo Disneyland's first permanent popcorn shop opens in Tomorrowland.

This space-themed shop serves up a whole range of flavours like cookie cream, caramel and cheese, and strawberry milk. There's also four different popcorn baskets to choose form, including Big Hero 6 and Beauty and the Beast designs.

Minnie's Style Studio: Meet Minnie Mouse

This studio imagines Minnie Mouse as an international fashion designer who designs outfits, shoots photos, and more. Guests can meet Minnie Mouse at her studio if they book in advance.

©Disney

Review: Tokyo Disneyland's New Beauty and the Beast Area

Tokyo Disneyland® is set to open its all-new Beauty and the Beast area of the park tomorrow on September 28, 2020. It's opening in line with the new Big Hero 6 attraction, Minnie Mouse area where guests can meet Minnie, and the park's new popcorn shop.

MOSHI MOSHI NIPPON was granted early access to the Beauty and the Beast area – here's our review!

Check out our review of the new Big Hero 6 attraction and Minnie's Style Studio too here: https://www.moshimoshi-nippon.jp/362221

The world of Beauty and the Beast brought to life

The area connects Belle's village to Beast's castle by way of the forest. At the entrance to the village, guests will immediately spot the cottage of Maurine, Belle's father and the vilage inventor. Beyond that is Gaston's water fountain as well as a restaurant inspired by Gaston's bar. There are also other shops that Belle visits in the film, such as the bookshop. It's like stepping into the magical world itself.

When you leave the village and head through the forest, you are met by the spectacle that is Beast's castle, coloured in a cute pink. There's a large-scale attraction inside called "Enchanted Tale of Beauty and the Beast."

The Tokyo Disneyland-original attraction "Enchanted Tale of Beauty and the Beast"

The attraction, located inside the towering 30m-tall castle, features magical cups that guests board. The cups dance in rhythm to music from the film as they take guests through iconic moments seen in the Disney classic.

There are many surprises and discoveries to be found inside the castle.

The park is limiting the number of people allowed on the attraction at once due to the pandemic. To board the attraction, guests need to download the app after entering the park.

Village shops based on the movie

The Village Shops area features a line of shops inspired by those seen in Belle's town, each of which sells various items from clothing to accessories and souvenirs.

There are around 100 pieces of merchandise for fans to sift through.

The shops are also carrying out measures against COVID-19, showcasing the items in a display only so they cannot be touched when entering the store. Guests must use the sign-up system on the app beforehand if they want to enter the shop.

La Taverne de Gaston

All the little details have been captured to recreate Gaston's bar, making it like a snippet right out of the film.

Big Bite Croissant

 

Very Cheers

Sweet Gaston

The menu features a line-up dishes, drinks, and desserts, like sausage croissants with, French toasted cheese sandwiches, soft drinks made to look like beer, and more. The bar also requires booking on the app prior to visiting.

Le Fou's Churros (Apple Caramel)

Le Fou's is located next to La Taverne de Gaston where you can get your fingers on snacks like apple caramel churros.

And don't miss up on visiting the new popcorn wagon either which serves popcorn in a Beauty and the Beast bucket.

The new Beauty and the Beast area is a must-visit for any fan of the film, or for people who want to feel like a Disney princess.

©Disney

YUEN BETTEI DAITA: Tokyo's New Onsen Ryokan Opening in Shimokitazawa

UDS HOTELS is set to open YUEN BETTEI DAITA, a new onsen ryokan (hot spring Japanese inn), in Shimokitazawa, Tokyo, on September 28, 2020. The hotel is just a 1-minute walk from Setagaya-Daita Station and an 8-minute walk from Shimokitazawa Station.

YUEN BETTEI DAITA sits in a quiet location surrounded by old, historical Japanese houses and is basked in nature. It houses 300 guest rooms and has open-air baths, a spa, and offers traditional Japanese food the tea ceremony.

The inn is equipped with considerate facilities and has a relaxed atmosphere. It caters to modern day needs while still promising a traditional Japanese inn experience. And it doesn't have to be just used as a hotel either – guests can just spend the day there in the hot springs if they like, allowing locals to get away from the hustle and bustle of the big city and their busy Tokyo lives.

The Design

YUEN BETTEI DAITA bases itself on the appearance of residences seen back in Tokyo back in the day. The hotel has taken in furniture and materials that were inherited in a thatched-roof residence in Setagaya which has over a 100 year history, which gives a nod to the history and culture of traditional Japanese architecture, while still incorporating more modern techniques in the wooden roofing and other areas. All of this combines to create a sophisticated Japanese culture-imbued space.

Guest Rooms

There are 35 guest rooms in total, each coming in one of seven types ranging from 19㎡-32㎡. The rooms open up into a tatami and seating area. Guests are provided with yukata and leather-soled geta shoes, and are treated to Japanese tea and confections from local shops.。

Open-air onsen baths (1st Floor)

The large open-air baths receive water from Odakyu Hotel de Yama's own water source in Hakone. Guests can enjoy looking at a traditional Japanese garden while they bathe and listen to the sound of the water from Mount Fuji. The female baths also have scented mist saunas while the male baths have dry saunas.

Cooking & Tea Ceremony (1st Floor)

Kappou Tsukikage

Enjoy seasonal vegetables harvested from the local farms in Setagaya as well as Japanese sake and wine chosen to pair perfectly with the dishes.

Saryou Tsukikage

Guests can also experience the Japanese ceremony with local tea. Daita was once rich with tea farms, and so guests can look forward to enjoying delicious and authentic tea.

SOJYU spa

If guests want to relax the hotel's SOJYU spa offers full body massage, original essential oil treatments, and much more. The spa will also be open to non-guests from spring next year.

Information

YUEN BETTEI DAITA
Grand Opening: September 28, 2020

*Baths and eating facilities are open to non-guests from October 12, 2020

Address: 2-31-26 Daita, Setagaya-ku, Tokyo

Access: 1-minute on foot from Setagaya-Daita Station / 8-minute on foot from Shimokitazawa Station
TEL: 03-5431-3101

Official Website: https://www.uds-hotels.com/yuenbettei/daita

Kirby Café Launches Autumn Menu in Tokyo and Fukuoka

The Kirby Café in Tokyo and Fukuoka released three new dishes for autumn last Friday (September 18).

The menu items are made with seasonal flavours like pumpkin, sweet potato, and chestnut.

Filling Autumn Plate – Salmon Cream Pasta & Pumpkin Salad Sandwich | ¥1,480 (Before Tax)

One plate packed with fall flavours including a rich salmon cream pasta and pumpkin salad sandwich. If you look closely, you'll spot cute pieces of Waddle Dee cheese.

Fallen Leaf Waterfall☆Mont Blanc and Baumkuchen With Friends | ¥1,280 (Before Tax)

Rick, Kine, and Coo feature on this tasty-looking dessert plate which is a baumkuchen piled with a chestnut mont blanc cream.

Kirby's Hot Sweet Potato Sticks | ¥1,080 (Before Tax)

Crunchy on the outside, hot in the middle, and seasoned with fresh rosemary. Kirby is a pro at inhaling food, but don't burn yourself with these!


Information

Kirby Café TOKYO
Address: Tokyo Skytree Town Solamachi Floor 4F (1-1-2 Oshiage, Sumida, Tokyo)
Opening Hours: 10:00-22:00 (Last Orders 21:00)

Kirby Café HAKATA

Address: Canal City Hakata North Bldg. B1F, 1-2-1 Sumiyoshi, Hakata, Fukuoka, Fukuoka Prefecture

Opening Hours: 11:00-23:00 (Last Orders 22:00)

Book Here: https://kirbycafe.jp

Kirby Café Official Twitter: https://twitter.com/kirbycafe.jp

Review: Miffy Café at Tokyo Solamachi®

In commemoration of Miffy's 65th anniversary, the new Miffy Café opened on the first floor of Tokyo Solamachi on September 11, 2020 and will remain open for a limited time. The café is also collaborating with Japanese illustrator Shogo Sekine.

We visited the café to check out the themed menu, merchandise, and other fun things on show to see.

Stepping into the café is like stepping into a picture book world. It's really colourful in there. My mother read Miffy to me when I was a child, so I was hit with a real sense of nostalgia when I entered the café. No matter your age, you're sure to enjoy your time there – that's the kind of fun atmosphere they have created.

Terrine-Style Open Miffy Sandwich | ¥1,499

I ordered the terrine-style open Miffy sandwich and Miffy orange float from the themed menu.

The open sandwich arrives in the shape of Miffy, so it almost seems a waste to eat, but it was really cute and delicious. Simply the best. It's filled with potato salad, an avocado sauce, and salmon.

Miffy Orange Float | ¥899

The ice cream that tops the orange float is made to look like Miffy too!

Snapping a photo while drinking the float is pretty Instagrammable, so it's a must when visiting.

All of the items on the menu have Miffy somewhere on them, meaning anything you order is guaranteed to be kawaii. They have takeout too, which is great if you don't have much time to hang around or just don't want to dine inside.

Speaking of which, each table in the café is separated with an acrylic board to protect customers during the pandemic, and all of them have super cute designs. Another photo opportunity for sure!

The café sells original merchandise too. The fashion items and illustrations with English on them were designed by popular Japanese illustrator Shogo Sekine. There's a whole range of different goodies, from plush toys to fashion and more.

Don't you feel happy just looking at all these colours? You'll find yourself spoilt for choice on what to buy.

The Miffy Café is open until October 18. You can book a table too, so if you're in Japan during this time, be sure to visit the café website below.

Illustrations Dick Bruna © copyright Mercis bv, 1953-2020  www.miffy.com

Model & Writer:Eri Tanioku

Photo: Haruka Yamamoto

Translator: Joshua Kitosi-Isanga

Information

Miffy Café

Address: TOKYO BOX cafe&space, Tokyo Solamachi 1F, 1-1-2 Oshiage, Sumida-ku, Tokyo

Running: September 11, 2020 – October 18, 2020

Reservation Fee: ¥500

Official Website:  https://miffy-skn-65.cafe.jp/

Ojamajo Doremi Cafe 2020 ~FRUITS PARLOR~ to Open in Tokyo, Osaka & Aichi

Japanese company LEGS has announced the opening of the limited-time Ojamajo Doremi Cafe 2020 ~FRUITS PARLOR~. The themed cafes will open in Tokyo on October 29, Osaka on October 30, and Aichi on October 23.

Ojamajo Doremi is an original magical girl created by Toei Animation that ran from February 1999 to January 2003. To celebrate the series's 20th anniversary last year, LEGS opened a different Ojamajo Doremi limited-time themed cafe in collaboration with Cafe&Kitchen which welcomed lots of magical girl fans.

This year once again welcomes Etoile et Griotte as the art director for the fruit parlor-inspired cafe.

Ojamajo Doremi Cafe 2020 ~FRUITS PARLOR~ celebrates the 20th anniversary of Ojamajo Doremi Sharp is the second series in the Ojamajo Doremi series. Fans will be able to get their hands on a range of exclusive magical merchandise as well as tuck into pastel coloured fruity food.

FOOD

Doremi's Cheese Steak Doria in Cherry Sauce | ¥1,699


Steak is Doremi-chan's favourite food, so it was a must-have on the menu. The cream cheese is coloured like Doremi, and there's a cute musical note topping too. It comes with a cute lunch mat that looks like Doremi's skirt.

Hazuki's Omurice in Porcino & Orange Cream Sauce | ¥1,399


The omelette is made to look like Hazuki's yellow skirt. Enjoy together with the delicious porcino sauce and orange combination.

Onpu's Waffles With Crepe & Mascarpone | ¥1,299

Blueberry sauce-drizzled and mascarpone-topped waffles served with a mashed potato skirt. The sweet and sour mix is to die for.

DESSERT

Aiko's Blueberry Float | ¥999

A fresh blueberry float inspired by Ai-chan. Mix everything together to create a different flavour.

Momoko's Lemon Cheesecake Parfait | ¥1,399

A fresh lemon cheesecake packed parfait with lots of enjoyable flavours and textures.

Rhythm Tap Tart | ¥1,300


Inspired by the Rhythm Taps seen in the series, the tart imagines Doremi's transformation scene in Ojamajo Doremi Sharp.

DRINK

Onpu Melody Drink (5 Flavours) | ¥1,099


A rainbow line-up of colourful Onpu drinks available for takeout.

Movie Theater Menu

Girls Meet Sushi | ¥1,299


Inspired by the meat sushi that Sora and the gang eat in the animated film Majo Minarai wo Sagashite. Comes with an original postcard.

Exclusive Merchandise

Acrylic Keyrings (6 Designs) – ¥600 Each

Letter Set (1 Design) – ¥1,200 | Folder Set (2 Designs) – ¥700

A selection of super kawaii cafe-original merchandise is available for fans to grab.

Bonus Items


Those who book a table in advance, order a drink, or spend more than ¥2,000 at the cafe will receive one of six possible A5 folders.

Become a magical girl like Doremi at the Ojamajo Doremi Cafe 2020.

©Toei Animation


Information

Ojamajo Doremi Cafe 2020
Tokyo Cafe
Running: October 29, 2020 – December 6, 2020
Location: SHIBUYA BOX cafe&space
Address: Shibuya LOFT 2F, 21-1 Udagawacho, Shibuya, Tokyo

Osaka Cafe
Running: October 30, 2020 – November 23, 2020
Location: Abeno Q's Mall 4F
Address: Abeno Contact, 1-6-1 Abenosuji, Abeno Ward, Osaka

Aichi Cafe
Running: October 23, 2020 – November 23, 2020
Location: NAGOYA BOX cafe&space
Address: LACHIC B1F, 3-6-1 Sakae, Naka-ku, Nagoya, Aichi

Mickey Mouse Exhibition 'THE TRUE ORIGINAL & BEYOND' to be Held in Roppongi

The Asahi Shimbun and Nippon TV are set to host an exhibition centred on Mickey Mouse at the MORI ARTS CENTER GALLERY in Roppongi, Tokyo, from October 30, 2020 to January 11, 2021, in celebration of 90 years since Mickey Mouse's screen debut. The exhibition will showcase works shown at the Mickey: The True Original Exhibition held in New York in 2018-2019.

 

Walt Disney's concepts and ideas are formed around innovation, creativity, imagination, and storytelling. And one character who walked that journey with him and continues to this day is none other than the iconic Mickey Mouse, who since making his first appearance in Steamboat Willie in 1928, has gone on to be a symbol of the Walt Disney Company loved by people the world over.

Mickey: The True Original Exhibition in New York

The Mickey: The True Original Exhibition held in New York looked at how Mickey Mouse has influenced art and pop culture over the years, covering everything from Steamboat Willie which hailed as Walt Disney's first black and white sound film to over 100 colour short animations, artwork, and more.

Keiichi Tanaami – "Mickey's Japan Tourism"

Javier Sanchez Medina – "Studio for Mickey's hands"

The exhibition was ran from November 2018 to February 2019 and saw installations from over 20 international artists including New York-based artist Daniel Arsham and Los Angeles-based artist and graphic designer Brian Roettinger.

Brian Roettinger – "(L)imitation of Sound"

DRx – "3000% Mickey Be@r"

The Tokyo exhibition will be a travel back through time, looking at Mickey Mouse from the past to the present. It will be split into three zones: "The Origin," "The True Original," and "Beyond."

The Beyond zone will welcome original artwork from five Japanese artists.

 

Original Merchandise – Pin Badge

Original Merchandise – Ballpoint Pen

The exhibition's museum shop will have exclusive Mickey Mouse merchandise for sale, as well as pre-sales on other items. See new official goods from works like Steamboat Willie and Fantasia as well as items designed by Japanese artists. It's a chance to see Mickey in a variety of different ways.

Free eco-bag

Visitors to the exhibition will also receive one of four original eco-bags for free upon arrival.

Information

MICKEY THE TRUE ORIGINAL & BEYOND
Running: October 30, 2020 – January 11, 2021

Time: 10:00-20:00

Venue: MORI ARTS CENTER GALLERY (Roppongi Hills Mori Tower Floor 52F)

Entry Price: General ¥2,800 / Junior & High School Students ¥2,000 / Elementary School Students ¥1,200 / Preschoolers – Free
Official Website: mtob.exhibit.jp

TOKYO MYSTERY CIRCUS Announces Escape Game Based On J-Pop Group Perfume

TOKYO MYSTERY CIRCUS, the world's first and Japan's biggest puzzle-themed theme park, has announced a new escape game centred on the Japanese pop group Perfume. Titled "Escape From The Room Next To Perfume," the game is set to hit the indoor theme park on September 22, 2020.

An escape game is a real-life interactive experience that has players solving puzzles to escape a room. The story of the Perfume game puts players on the same team as Perfume. As players wait in anticipation, an LED display made to look like a window opens to reveal the Perfume members, who greet players and encourage them on their escape. And so begins the game.

There are various items and pieces of information in the room for players to solve the puzzle, including dance poses by Perfume which give hints for the next step. It's an interactive experience that makes it feel like Perfume are really there with you.

Perfume fans can get their hands on a range of exclusive merchandise too, like a sticker set, folder, and message cards. These items will be sold at the TMC GOODS SHOP at Tokyo Mystery Circus as well as the online stores SCRAP GOODS SHOP and Perfume's own A!SMART.

Information

Escape From The Room Next To Perfume

Start Date: September 22, 2020

Location: TOKYO MYSTERY CIRCUS
Address: APM Bldg., 1-27-5 Kabukicho, Shinjuku-ku, Tokyo

Official Website:  https://mysterycircus.jp/perfume/

Tokyo's Pokémon Café Adds Eevee Frappe to the Menu

The Pokémon Café in Ikebukuro, Tokyo, is adding an apple flavoured Eevee frappe to its ever-growing Pikachu Sweets by Pokémon Café menu. The frappe will be available from October 2 to December 4.

Eevee Apple Pie Frappe

The sweet tang of the apple combines with the caramel to create a tasty dessert drink, topped with whipped cream, crunchy piece bits, and a cute Eevee tail cookie.

Buy the separate Eevee sleeve to put on your drink to make a fully complete and adorable Eevee frappe♡

© 2020 Pokémon.©1995-2020 Nintendo/Creatures Inc./GAME FREAK inc.
Pokémon, ポケットモンスター and ポケモン are registered trademarks of Nintendo, Creatures Inc. and GAME FREAK inc.

KAWAII MONSTER CAFE HARAJUKU Collaborates With Alice's Fantasy Restaurant For Halloween Fair

KAWAII MONSTER CAFE HARAJUKU is set to collaborate with Tokyo's three branches of Alice's Fantasy Restaurant to serve up a Halloween themed menu. It will be served from September 19 to October 31.

The Halloween season is right around the corner, and the KAWAII MONSTER CAFE is once again joining in with the spooky festivities. This year, the cafe has joined hands with Alice's Fantasy Restaurant to create a collaborative Halloween menu lineup.

Colourful Rainbow Pasta With Halloween Cream | ¥1,400

Colourful pasta served in rich pumpkin sauce and with a variety of different ghost creams.

Singing Alice's Caesar Salad | ¥1,360

Alice's Fantasy Restaurant's popular Caesar salad heads to KAWAII MONSTER CAFE, an assortment of purple carrots, pumpkin, and other tasty delights. Alice is also hidden in the pasta somewhere as a black witch.

Kingpin Choppy & Henchman Humpty Dumpty Curry | ¥1,300

KAWAII MONSTER CAFE's mascot is served wearing a silk hat and comes with his fellow henchman Humpty Dumpty.

Cheshire Cat Splatter Ice Cream | ¥1,100

Soft serve ice cream topped with crunchy cereal, cotton candy, and chocolate, all drizzled in a splattered sweet strawberry sauce.

Customers who post a photo of their foot onto social media with the hashtag #tokyohalloweencollection can enter for a chance to win some Halloween merchandise.

UNIQLO TOKYO Begins Knitwear Focused Exhibition

UNIQLO TOKYO, the global flagship store of UNIQLO, is now holding an exhibition themed on its knitwear at its first floor LifeWear Square area until October 11, 2020. It's a consolidation of everything that goes into wearing the symbolic style of their LifeWear lineup, covering the art, science, and craftsmanship behind the items.

About UNIQLO TOKYO

UNIQLO TOKYO opened back in June this year in Ginza, Tokyo, as the country's biggest store and global flagship store. UNIQLO TOKYO is the embodiment of UNIQLO's "LifeWear," clothing that the company has created to "improve everyone's life."

SCIENCE: 3D knit installations by Rhizomatiks Architecture

Rhizomatiks Architecture have created a range of installations including mannequins centred on knitwear. Customers will be able to see knitwear being made by the machines right before their eyes.

CRAFTSMANSHIP: Tools used in the manufacturing process

See the strict standards and measures taken to carefully craft each and every UNIQLO cashmere sweater, from the processes carried out to the materials and tools used in the manufacturing process, samples, and more.

ART: Styling

See the headpieces created by Shiseido's top hair and makeup artist Tadashi Harada for displaying the knitwear. Each and every one was made with care and attention for the 20 mannequins.