Check Out Tokyo Disneyland's Adorable 'It's Very Minnie!' Show
Tokyo Disneyland has launched its Minnie-tastic programme Very Very Minnie on January 10 and it will run until March 19, 2020. The programme is packed with exciting limited period events including themed decorations, merchandise and special foods and drinks. Today we'll be focussing on the It's Very Minnie! show. 
Presented at Showbase, It's Very Minnie! is a musical revue show featuring Minnie Mouse and her Disney friends. The show is a mixture of Latin music, romance and even club scenes. As Minnie and friends dance rhythmically to the music, their colourful costumes colour the stage in a variety of styles. Each show lasts approximately 25 minutes. 
Minnie dances in a classic red and white polka dot outfit. Her performance to Minnie Oh Minnie will have you singing along in no time. 
As the lively music kicked in, Donald, Chip and Dale took to the stage in their Latin costumes.
As the music was constantly switching, the characters and dancers changed costumes at lightning speed.
Finally, Mickey and Minnie danced together. Just watching the couple dance will warm your heart. 
Seeing Minnie in a beautiful pink dress, the crowd couldn't help but scream "so cute!"
The show was a mix of the park's many nostalgic tunes and Minnie in her many adorable outfits. From the very moment the intro played and Minnie's figure appeared, fans instantly went wild. Watching fans chant their love for Minnie was very touching to see. 
The timing of the dancers and characters was perfect. They even got down from the stage to interact with the audience, who were singing and clapping along to the music with excitement. 
Some songs and costumes in the show were even having their debut. The stage was buzzing with so much excitement that it was impossible to look away. 
Just watching Minnie's variety of expressions will make you fall in love with her even more. You will want to go see her again and again. This is one of the best shows in history that Disneyland has ever put on.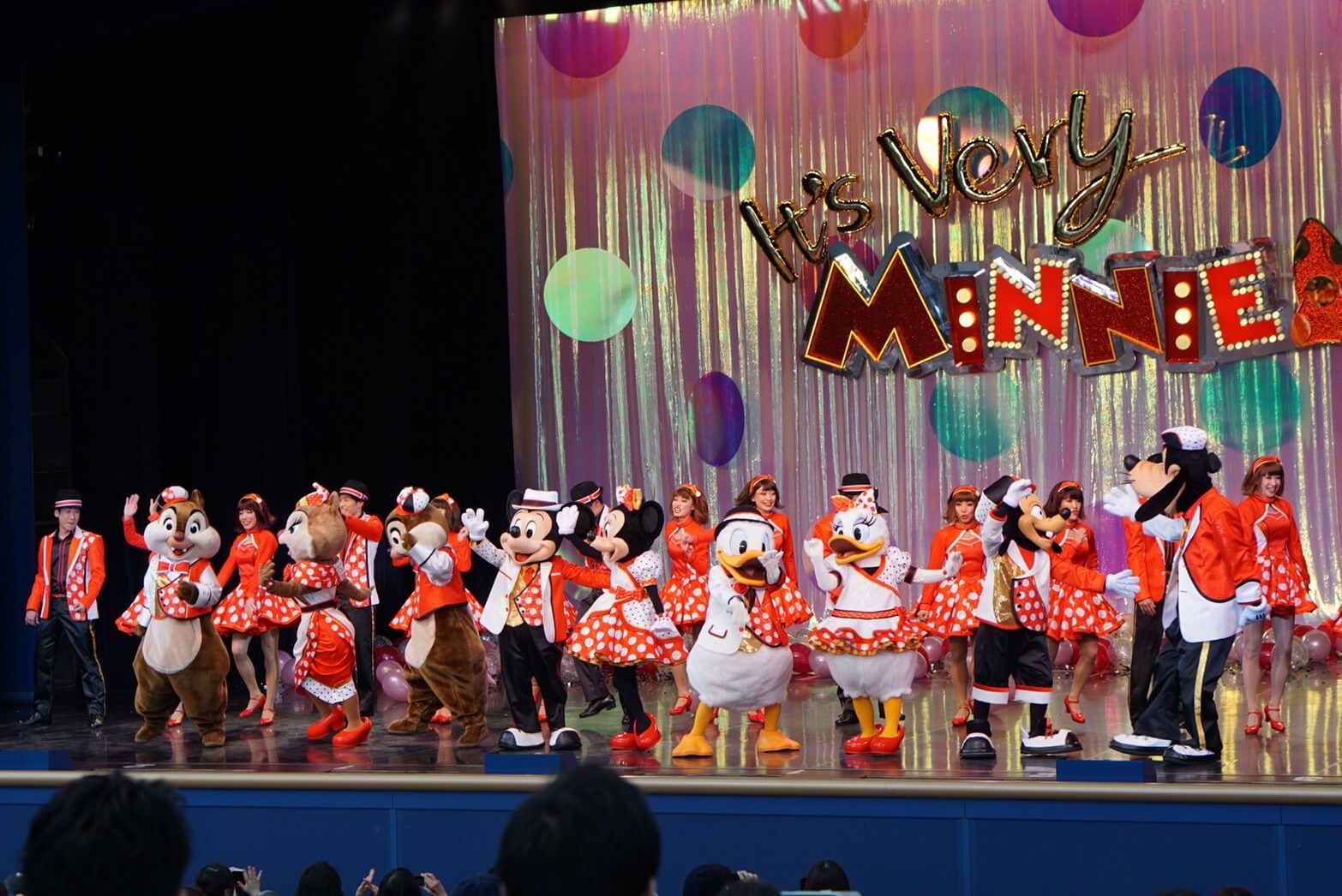 Whether you're a Minnie fan or not, anybody is bound to enjoy this fun-filled show. 
©️Disney
RELATED ENTRIES
Mickey and Minnie Costumes Now Available for LOVOT Home Robots

GROOVE X's home robot series LOVOT is set to launch a new collaboration with the Disney store.

The Minnie and Mickey LOVOT Costumes are available for purchase at the Disney Flagship Shop Tokyo, Disney Store Shinjuku Takashimaya, Disney Store LUCUA Osaka, and the Disney Official Online Store shopDisney.

LOVOT Costume – Mickey


This fancy costume will make your LOVOT look just like Mickey Mouse, dressed up with an elegant gold bow tie.
The white gloves and large round ears are too adorable. (The bow tie is removable!)


Mickey Costume Purchase Bonus: Mickey Design


LOVOT Costume – Minnie

The Minnie costume features a red and white polka dot dress and a cute ribbon. The lace visible beneath the hem of the dress is a key point.

Minnie Costume Purchase Bonus: Minnie Design

The costumes also come with special serial numbers that can be entered into the LOVOT app to give your robot Mickey or Minnie eyes! Disney fans won't want to miss out on this chance!

Information

LOVOT Costumes / Mickey & Minnie
*Includes nose and hangar for LOVOT models

Release Date: April 26, 2022
Price: ¥25,300 each (Tax Included)

Where to Buy:
Disney Flagship Shop Tokyo, Disney Store Shinjuku Takashimaya, Disney Store LUCUA Osaka, Disney Official Online Store shopDisney
: http://shopDisney.jp/c/lovot/

*Not available at LOVOT stores or LOVOT Online. 

Disney Harvest Market Cafe Introduces Spring Menu Featuring Minnie Mouse & Daisy Duck

Cafe and gift shop Disney Harvest Market in Shibuya, Tokyo, has introduced a limited-time spring menu featuring Minnie Mouse and Daisy Duck! With the theme of 'Hello, Spring,' the tasty and fresh new items were added on March 8, 2022.

Menu

Spring in Full Bloom! Afternoon Tea Set

Colorful Temari & Bite-sized Sushi Plate

Pinkish Strawberry Amazake Float (Non-alcoholic) / Floral Lilac Honey Lemonade

Merchandise

Original Minnie Mouse & Daisy Duck Mug

Spring Limited-edition Colored Paper

With themed dishes colored pink and purple, guests can enjoy sushi rolls, oatmeal pancakes with green tea bean paste, cherry blossom-colored yogurt, and more! Afternoon tea sets and non-alcoholic drinks will allow everyone to welcome spring in style, and new merchandise will also be available in limited quantities. 

Information

Disney Harvest Market by Cafe Company
Address: Shibuya Hikarie 7F (2-21-1 Shibuya, Shibuya-ku, Tokyo)
Official Site: https://d-harvestmarket.com/

Jill Stuart Teams Up with the Disney Store for Minnie Mouse Collection

For Minnie Day, Disney is teaming up with JILL by JILL STUART for a new collection! The items are now available at Disney Stores nationwide, Disney Flagship Tokyo, and the Disney Online Store shopDisney.

The collection shines a light on Minnie's positivity and her message to be yourself and enjoy each and every day of your life as if it were the best one ever. 

[JILL by JILL STUART Collaboration Products]

Ruffled Tote Bag: ¥9,790 / Jewel Royal Mini Wallet: ¥15,400
Jewel Royal Tote Bag: ¥18,700 / Ribbon Pochette: ¥16,500


This is the first time that the Disney Store has collaborated with JILL by JILL STUART on a product line, and many of the items have both a cute and mature style that fits fans of any age. The lineup includes five types of bags and wallets.

[JILL by JILL STUART]  Ruffled Tote Bag: ¥9,790 / Mask & Tissue Pouch: ¥2,200
Makeup Brush Set: ¥2,090 / Pouch: ¥2,200 / Wristwatch: ¥5,940 / Smartphone Ring: ¥1,760 / Hair Tie: ¥1,210 / Folding Umbrella: ¥2,970
*Of the products shown above, only the Frill Tote Bag is a joint product with JILL by JILL STUART. 

 

Other Disney Store original items include plush toys, beauty goods such as mirrors and brushes, accessories, and apparel. Which of these pieces would you like to incorporate into your everyday style?

© Disney 

Information

JILL by JILL STUART Collaboration Products

Now on Sale at Disney Stores nationwide, Disney Flagship Tokyo, and the Disney Online Store shopDisney

Special Page: http://shopDisney.jp/minnie-mouse/2022/

Ginza Cozy Corner Launches Minnie Mouse & Tangled Cakes

Ginza Cozy Corner has opened orders for new Disney-inspired cakes! Fans of Minnie Mouse or Tangled won't want to miss out on these scrumptious snacks.

Minnie Mouse Cake

*Limited to 3,000 units (Available while supplies last)

Over-the-Counter Sales available from January 28 – February 22, 2022
Online Sales available from January 28 – February 20, 2022
Available for pickup in-store from March 2 – March 3

Tangled Collection (9 pieces)

Over-the-Counter Sales are now available until items are sold out.
Online Sales available from February 10 at 10:00 until March 12

Rapunzel Dress Cake

This product is available year-round by reservation only. 

In-store orders: Please order at least four days prior to purchase. 

Online orders: Please order at least five days prior to purchase.

In Japan, March 3 is Hinamatsuri, a holiday to pray for the health and happiness of young girls as they grow up. What better way to celebrate than with some adorable Disney cakes?

Information

Ginza Cozy Corner Disney Cakes

Orders Now Open
Order Page: http://www.cozycorner.jp/
*Cakes ordered online can only be picked up at select stores.

Zoff Announces New Disney Collection Glasses for 20th Anniversary

Glasses brand Zoff has released a new collection titled the "Disney Collection Zoff 20th Anniversary Line," featuring Mickey Mouse and Minnie Mouse motifs. The collection will be released on September 17 2021 in Zoff stores nationwide and online.

Mickey Mouse Model

Minnie Mouse Model

Case, Glasses Cloth

The very first Zoff store opened 20 years ago. To mark the occasion, a selection of commemorative glasses will be available in their Disney collection, featuring Mickey and Minnie Mouse. The pair are dressed up more than usual, seemingly invited to a fun party. The design is special and full of details, as are all of the models in the Disney Collection.

Be sure to check out these special frames, with their charming Disney features!

Disney's Mickey & Friends Teams Up With Tokyo's Souvenir Sweet Tokyo Banana

Disney SWEETS COLLECTION by Tokyo Banana, a joint confectionery shop between GRAPESTONE and Tokyo Banana, released its new Mickey & Friends collection on Thursday.

Tokyo Banana Mickey & Friends Collection | ¥1,300 (Tax Included)

Mickey, Minnie, Donald, Daisy, Goofy, and Pluto join hands in a heart-warming new collection of Tokyo Banana, a cream-filled sponge cake and the official souvenir sweet of Tokyo's official souvenir sweet: Tokyo Banana.

 

Mickey & Friends arrive in all the colours of the rainbow

The colourful packaging features the Disney group of best friends including Mickey, who loves his friends, his girlfriend Minnie, the anger-prone Donald, stylish Daisy, silly Goofy, and trusty Pluto.

Six cute patterns decorate the sponge cakes

There are six super cute Mickey & Friends designs you could get in your Tokyo Banana, and each one is random. They are filled with chocolate banana-flavoured custard cream.

Collect all the postcards

All boxes of these treats come with two of eight possible postcard designs which you can use for sending to someone or even as room decoration.

 © Disney

These Disney Ceramic Teacups and Plates Are Traditional Kiyomizu Wares From Kyoto

Asahido is now selling a collection of Disney-inspired ceramics made using a traditional Japanese pottery technique known as Kiyomizu which originated in Kyoto.

Winnie the Pooh Hundred Acre Wood Teacup

This collection of teacups features hand drawn designs of Winnie the Pooh and his friends relaxing in their home of the Hundred Acre Wood. They are dyed indigo using a traditional dyeing technique known as gosu which makes the colour run deep into the design. There are cups to pick from, one big and one small and both with different designs. More details here (in Japanese).

Mickey & Minnie Traditional Dyed Pattern Mugs

These smiley teacups are made using the same dyeing technique and feature Mickey and Minnie made from collages of traditional Japanese patterns that have long been used in Kyoto.

Disney Princess Plates

Seven Disney Princesses have been feauted in this hand-painted Kiyomizu ware plate collection, all of which are lined with gorgeous colours including gold. They make for beautiful decorations for any Disney fan's room.

Mickey & Minnie Kiyomizu Dolls

"Rakuyaki" is the name of the hand-mouldered pottery technique used to crafts these Mickey and Minnie Mouse dolls, one which has been used since the Taisho Period. Compared to the other ceramics on this list, these dolls are baked at a lower temperature, giving the colours a softer look. Red and black are classic colour combinations used in this technique, so Mickey and Minnie were the perfect candidates. Only 100 of each will be sold.

Mickey & Friends Cupcake Collection Releases at Ginza Cozy Corner

Japanese cake shop Ginza Cozy Corner is set to release its new Mickey & Friends Collection of nine cupcakes which will be available to buy from March 19 to April 22.

Huey, Dewey, and Louie Duck appear for the first time

Mickey & Friends Collection (Contains 9) | ¥2,700 (Tax Included

Ginza Cozy Corner has baked up many Disney-inspired cupcakes before, but this is the first time that Donald Duck's nephews, Huey, Dewey, and Louie Duck, are being served. The perfect pastel-coloured sweet treats for Easter and the coming spring season.

Information

Mickey & Friends Collection

In-Store Orders: March 19, 2021 – April 22, 2021

Online Orders: March 15, 2021 – April 17, 2021

Ginza Cozy Corner Official Website: http://www.cozycorner.jp/top.html

Zoff's Disney Design Glasses Collection is Every Disney-Lover's Dream

Japanese eyewear giant Zoff released a new collection of Disney glasses on Friday (March 5) featuring designs inspired by Mickey Mouse, Minnie Mouse, Donald Duck, and Daisy Duck. Official titled the "Disney Collection created by Zoff Happiness Series," the line-up hit all Zoff stores, excluding outlets, and their online store in Japan.

The Line-Up

Mickey Mouse

Casual Line Boston(ZA211001_43A1 | ¥5,500 (Tax Included)

Casual Line Wellington ZA211002_14E1 | ¥5,500 (Tax Included)

Classic Line Wellington ZC211001_14E1 | ¥8,800 (Tax Included)

Classic Line Boston ZC212001_21E1 | ¥8,800 (Tax Included)

Minnie Mouse

Casual Line Boston ZA211001_68A1 | ¥5,500 (Tax Included)

Casual Line Oval ZA211003_43A1 | ¥5,500 (Tax Included)

Classic Line Square ZC212002_43E1 | ¥8,800 (Tax Included)

Classic Line Square ZC212002_21E1 | ¥8,800 (Tax Included)

Donald Duck & Daisy Duck

Casual Line Wellington ZA211002_72A1 | ¥5,500 (Tax Included)

Casual Line Oval ZA211003_44A1 | ¥5,500 (Tax Included)

Casual Line Boston ZA211001_21A1 | ¥5,500 (Tax Included)

Casual Line Oval ZA211003_81A1 | ¥5,500 (Tax Included)

Glasses Case & Glasses Wipe

Mickey Mouse Anti-Fog Spray – ¥800 (Tax Included) / Minnie Mouse Lens Cleaner – ¥800 (Tax Included)

Disney Japan Celebrates Minnie's Day With Exclusive Minnie Mouse Merchandise

Minnie's Day is set to fall in Japan on March 2, so to celebrate, Walt Disney Japan is getting in on the festivities nice and early by announcing the release of a new Minnie Mouse merchandise collection, called the "Disney ARTIST COLLECTION by Kelly Park," which will be officially released at Disney stores in Japan on February 23. Pre-sales will also roll out at select stores and Disney Japan's online store shopDisney from February 19.

©Disney

©Disney

Plushie ¥3,300 / Makeup Brush Set ¥2,640 / Tote Bag ¥2,090 / Room Fragrance ¥4,180 / iPhone Case (iPhone 11) ¥3,520 / Mirror ¥2,420 / Ballpoint Pen & Notebook Set ¥1,980 – (Prices Include Tax)

©Disney

nuiMOs Plushie ¥2,750 (Tax Included)


Kelly Park is an artist that is enjoying immense popularity in South Korea right now. Their new "Disney ARTIST COLLECTION by Kelly Park" is an exclusive release in collaboration with Disney Store.

The line-up is a celebration of all things Minnie Mouse for her big day, aptly named "Minnie's Day," on March 2. Vibrant blue is the main colour for the collection which Kelly Park has created to support fellow dreamers out there – those who have big hopes and aspirations in their everyday lives. The designs are bright, beautiful, and full of positivity, making them a perfect pick for the coming spring season. Minnie fans can feel fresh this spring season with fahsion items, accessories, stationery, a variety of lifestyle goods, and more.

Disney's popular nuiMOs plushie range will welcome an exclusive new Minnie Mouse plushie on February 26 which features the date "March 2, 2021" on it for Minnie's Day. It also comes with a pin. These plushies are limited-edition and only 320 will be sold – a number that of course aligns with March 2.

Celebrate the day of the original Disney Princess with the new Disney ARTIST COLLECTION by Kelly Park.

Disney's Mickey and Minnie Mouse Feature on Lotte's Choco Pie Chocolate Treats

Japanese confectionery company Lotte is joining white gloves with Mickey and Minnie Mouse to collaborate on their popular chocolatey Choco Pie treats. The tie-up will roll out in Japan from January 26.

Lotte Choco Pie Heartful W Strawberry

Lotte Choco Pie Heartful W Chocolate

Try and find the Mickey head on the packaging

Get your hands on one of 10 packaging designs

Line up these two to make it look like Mickey and Minnie kissing

 

Handmade Choco Pie Art

This marks Choco Pie's first collaboration with Disney's characters with Mickey and Minnie appearing in ten different designs. Each design has a hidden Mickey head to find (like in Kingdom Hearts III). Lotte is has also showcased some unique designs you can make for Valentine's Day with the Choco Pies, so get creative!

ⓒDisney

Information

Lotte Choco Pie Mickey & Minnie Design
Release Date: January 26, 2021
Official Website: https://www.lotte.co.jp/

Mickey & Friends Disney Christmas Cupcakes to be Released at Ginza Cozy Corner

Japanese confectionery company Ginza Cozy Corner is teaming up with Disney once again to release a new Christmas collection of cupcakes on December 1.

Colourful Disney treats for the holiday season

This sweet seasonal collection is inspired by Mickey & Friends and contains nine unique cupcakes which depict the characters getting ready for their Christmas party.

Disney Christmas Collection (Contains 9) | ¥2,500 (Before Tax)

Cupcakes include a Santa-hat wearing, chocolate ganache-filled Mickey cream cheese cake, a strawberry jam-filled Minnie mousse cake, a lemon and mint cream-packed, Christmas decoration-adorned Donald tart, a banana and mint cream Pluto tart, an orange cream Goofy chocolate cake, and more.

The cakes are packed in a special Disney Christmas box which is sure to catch the attention of sweet tooths this holiday season, perfect for stay-at-home Christmas parties.

Information

Disney Christmas Collection
Running: December 1, 2020 – December 25, 2020

Ginza Cozy Corner Official Website: https://www.cozycorner.co.jp/