Capy Neko Cafe: Japan's First Cat and Capybara Cafe Opens in Tokyo
Capy Neko Cafe is the newest animal cafe to hit Tokyo. Located in the neighbourhood of Kichijoji, right by the station, customers are able to interact with both cats and capybara at the same time.
Japan is famous for its host of animal cafes, from the ubiquitous cat cafes to more unique ones like the owl cafe. But Capy Neko Cafe stands out from the rest as being the first cafe in Japan to combine cats and capybara.
You might wonder whether it's actually safe to pet a capybara. They may be the largest rodent in the world, but they in fact loved to be pet by people. They are gentle creatures that get on with and can live alongside cats. At the cafe, you can take photos of the capybara who are sure to be chilling on the sofas as well as feed them. The comfy environment also means that they'll feel like your very own pet capybara at home.
▶︎Tawashi (Male)
Tawashi is a sensitive, affectionate, and gentle guy. He loves snacks, and he's sure to flop down if you start petting him on the butt. Part of his daily routine is having an afternoon nap on the sofa together with the cats.
▶︎Dan (Male)
The vice store manager of Capy Neko Cafe. He adores humans. He's the kind of guy who'll probably jump up onto you if you cover your lap with a blanket and sit on the sofa.
▶︎Emma (Female)
Another member with a soft spot for humans, Emma is reserved kitty who lets everybody eat their food first. She's a needy and spoiled girlーif she's on your lap, you're not getting up. She's siblings with Dan.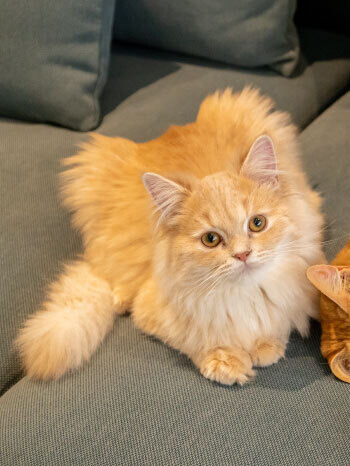 ▶︎Cream (Male)
Cream is everybody's idol. He's unapologetically spoiled and a handsome guy with perfectly round black pupils.
This list is just a small taste of the many cute residents to meet at Capy Neko Cafe. The cafe is also active in finding families for their rescued cats. The number of people who want to own a cat in Japan are looking to rescues now instead of pet shops. At Capy Neko Cafe, you get the best of both worlds: you can meet and interact with a cat and see if they're a good match for you.
If you're interested in visiting Capy Neko Cafe, keep in mind that priority goes to those who have booked in advance. This can be done via their official website, so book first and look forward to kicking back and enjoying a cup of tea, coffee or soft drink before interacting with the cats and capybara!
Information
Capy Neko Cafe
Address: PLATANO Floor 2F, 1-5-10 Kichijōji Minamichō, Musashino, Tokyo
Business Hours: 12:00-18:00
Closed: Wednesdays
Official Website: https://capyneko.cafe/
RELATED ENTRIES
Back to the Future Exhibition Displays Props from 1985 Film in Japan for the First Time

The Hot Toys flagship store, TOY SAPIENS Tokyo, will begin hosting a free Back to the Future event titled RETRO SAPIENS starting September 18, and running until October 31, 2021. 

Along with the opening of this exciting event, the TOY SAPIENS Tokyo store is also unveiling its new location. The much larger shop is now an easy walk from Shibuya Station and Harajuku Station!

After the event at the Tokyo location concludes, the event will travel to three more TOY SAPIENS stores nationwide, to allow more fans to see these legendary props in person. RETRO SAPIENS will open in Osaka in November 2021, and in Nagoya in February 2022. 

One-of-a-kind props, clothing items, and set pieces from the Back to the Future film will be on display for the first time ever in Japan during this event. If you're a fan, be sure to come and enjoy–admission is free! A number of Back to the Future related merchandise will also be on sale, including figures, apparel, and items only available at the RETRO SAPIENS event. These limited-edition products will also be available online at the TOY SAPIENS Official Online Store starting September 21. 

A special Cosbaby Keychain will also be handed out to guests who clear certain conditions while enjoying the event. Those who purchase Back to the Future merchandise will receive a RETRO SAPIENS-themed shopping bag on a first-come, first-served basis. 

Information

RETRO SAPIENS Tokyo

Running: September 18 – October 31, 2021 *September 18-20 reserved for advanced ticket holders.

Hours: 11:00-19:00 (Last entry at 18:30.) 

Address: TOY SAPIENS Tokyo (Ichigo Jingumae Building 1F, 6-25-16 Jingumae, Shibuya, Tokyo)

Admission: Free

Official Site: http://hottoys-store.jp/retrosapiens/

Nihonbashi Art Aquarium Museum Closes for Renewal and Relocation

The Nihonbashi ART AQUARIUM will be closed on September 26 2021 to make way for new exhibits and works. The museum is scheduled to be relocated in the first half of 2022.

The ART AQUARIUM Museum opened in Nihonbashi, Tokyo on August 28 202 with the concept of "a museum where life dwells." This will be the largest renewal in the history of the museum Museum, opened by writer and general producer Hidetomo Kimura, with the addition of more exhibits and new and improved interactive areas.

The Nihonbashi Art AQUARIUM Museum opened alongside the 2020 Tokyo Olympics and Paralympic, with the expectations that visitors would come from both within Japan and overseas, thanks to the exhibitions which easily explain and represent Japan's proud traditional culture and performing arts, but due to Covid restrictions, foreign tourists are still unable to enter the country. Despite this, the Museum saw many customers and with the closing of the Olympic and Paralympic Games, the museum will be closed in preparation to relocate to the new ART AQUARIUM. If you want to see the Nihonbashi location for yourself then this is your last chance!

In addition, the "ART AQUARIUM" digital tour is being held from September 12, allowing you to appreciate the Museum in a digital format until the reopening.

Make sure to check out the Nihonbashi ART AQUARIUM while you have the chance!

Information

ART AQUARIUM Museum

Address::1-3-9 Nihonbashihonchō, Chuo-ku, Tokyo

Opening Hours: 10:00~19:00 (L.A 18:30)

Official Site: https://artaquarium.jp

Kumagaya City, Saitama Bath Cafe Hareniwa no Yu Opens After Rebranding

Cafe BIVOUAC, located in Kumagaya, Saitama Prefecture, will reopen Bath Cafe Hareniwa no Yu on September 18, 21, after a full rebranding.

The space aims to be 'a garden that clears a guest's body and mind.' Visitors can enjoy a full bath and sauna, freshly-picked vegetables at the Haruniwa Dining Room, and a lush green lounge in which to relax and unwind.

The Haruniwa Dining Room, run by The Farm, a resort in Chiba Prefecture, offers healthy dishes filled with fresh local vegetables from Kumagaya with carefully-selected main ingredients.

In addition, a collaboration with fashion brand 'niko and…' will also begin upon reopening, offering the perfect comfy clothes to wear while enjoying the property.  The lineup  includes an original bath bag and sauna hat, each sold exclusively at Hareniwa no Yu.

Information

Bath Cafe Hareniwa no Yu (Cafe BIVOUAC)

Open: September 18, 2021

Address: 939 Kubojima, Kumagaya-shi, Saitama

Phone: 048-533-2614

Official Site: https://ofurocafe-bivouac.com/

French Artist Jean Jullien Provides Main Visual for Shibuya PARCO Art Week 2021

Last year's Shibuya PARCO Art Week was met with incredible fanfare, and the 2021 event is now set to begin on September 17! This year, acclaimed French artist Jean Jullien is in charge of the main visual for the showing.

The exhibition will be held at NANZUKA 2G, located on the 2nd floor of Shibuya PARCO, as well as within the PARCO MUSEUM TOKYO on the 4th floor.

Shibuya PARCO Art Week 2021 Features

Martin Margiela: In His Own Words

© 2019 Reiner Holzemer Film – RTBF – Aminata Productions

#HotelKawashima

Kensaku Kakimoto Exhibition 'Devoting Time' Collaboration with Luke Bubb, Piotr Stopniak

mono100 x Natsuki Kurachi POP UP

Nori Okawa Solo Exhibition 'Good Boy, More Drunk'

Hikaru Ichijo Exhibition 'CHIDORI ASHI,' with a motif of 'people who are carried away by alcohol'

Mariko Enomoto Solo Exhibition 'Moments,' depicting the fluctuations of daily life

Emi Ozaku Solo Exhibition 'Good something for you'

Exhibition of Tetsuji Aoyama's works, '21XX A Future Odyssey ~Someday in a Hundred Years~

Exclusive collaboration products by VOILLD x FACE on sale

Shun Komiyama Photo Exhibition 'The Wind Responds,' by MIDORI.so Gallery

A group exhibition '' DONOKO? '' Portrait series Curated by TOKYO URBAN ART

"Welcome back to your "Home Position" – Selecting art for the interior based on 'likes'





At 'WHITE CINE QUINTO' on the 8th floor of Shibuya PARCO, visitors can see a powerful documentary film about Martin Margiela, Martin Margiela: In His Own Words. Also on the 8th floor, a hands-on exhibition titled #HotelKawashima will feature Akira Kawashima of the comedy duo Kirin becoming the manager of a hotel. The comedian's voice will also be used for the in-house announcements throughout Shibuya PARCO.

An ART PASSPORT, distributed by the gallery and other stores throughout the complex, contains plenty of information about the events throughout the museum, as well as exclusive special offers. Be sure not to miss the interview with Jean Jullien!

Jean Jullien Exhibition「PAPER PEOPLE」/「POCKET PARENTS」

©Jean Jullien Courtesy of NANZUKA

©Jean Jullien Photo by Shigeru Tanaka Courtesy of NANZUKA

©Jean Jullien Photo by Shigeru Tanaka Courtesy of NANZUKA

Jean Jullien's solo exhibition "PAPER PEOPLE," curated by NANZUKA, will be held at the PARCO MUSEUM TOKYO on the 4th floor, and will depict the creative process of the artist through the medium of paper. Jullien, who has a deep knowledge and love of Japanese manga culture, is sure to bring some charm and comedy to the showing, as is typical of his style. The artist, from Brittany in France, has always been inspired by Japan, and also by the natural beauty of his homeland. Each of the nearly 50 works in the exhibition were created during the Coronavirus pandemic, and 25 special screen prints will be on sale via lottery, both at the event and online.

In the "POCKET PARENTS" exhibition at NANZUKA 2G on the 2nd floor of the complex, Jullien's upbringing and experiences as a parent are expressed in a hilarious story about aging and responsibility. Compared to "PAPER PEOPLE," this offers a different perspective from the artist, which visitors can learn more about in his interview.

Wildly In-Demand Neko Neko Tiramisu Returns in Limited Quantities

Neko Neko Cheesecake, a sweets shop specializing in cat-shaped treats, is adding the massively popular Neko Neko Tiramisu back to the menu for a limited time only, from September 10 until September 30, 2021.

※Until supplies last. 


Originally sold as a limited-edition release for Father's Day, 800 of these cat-shaped treats sold out instantly. Brought back as a result of constant consumer requests, the Tiramisu will only be available in very limited quantities.

The Neko Neko Tiramisu is filled with soft sponge cake soaked with coffee syrup, with a layer of mascarpone cheese mousse layered on top. Finished with cocoa and coffee powder, it's the perfect mix of bittersweet and rich flavors.

The Tiramisu will also be available at the online store All Hearts Mall, making it easy to send to friends and family. As the pandemic continues to keep people apart, this adorable sweet is a great way to surprise loved ones far away.

What do you think about this Neko Neko Tiramisu? It might be too cute to eat.

Healing 'Panda' Sweets Available at Gelato Pique Café for a Limited Time

A selection of healing monotone panda sweets will be available at the Gelato Pique Café between September 6 and September 25. The collection is titled "everyday PANDA! ~Sweets Time with Pandas~."

Menu


Panda Crepe

Panda Gelato

Panda Float

Goods

Gelato Pique Café Original Panda Glass/Mug
Available from September 6


Gelato Pique Panda Motif Eco Bag / Panda Motif Hand Towel
Online reservations open September 2, available instore from September 8


In 2021, the Gelato Pique Café announced two rounds of animal themed sweets, proving hugely popular on social media. For Easter they released "Bunny Sweets" with rabbit ears motifs, while a series of "Polar Bear Sweets" was released during the Summer. Now, a selection of "Panda Sweets" is the latest to join the animal collection. 

 

The chocolate and banana Panda Crepe is filled with a healing ganache and banana,  while the Panda Gelato has cocoa biscuits studded around the pandas neck, along with rounded eyes and ears. The "healing monotone" Panda Float combines the Gelato Pique Café's original Guatemalan coffee blend with Royal Blue Bourbon.

 

Along with this "everyday PANDA!" Fair, we have a large lineup of panda goods that will make you happy just by having them.  Goods that are perfect for presents, souvenirs, and rewards for yourself can be purchased at each gelato pique cafe store and EC site, so please look forward to that too!

There is a huge lineup of panda goods that will brighten your day releasing alongside the "everyday PANDA" fair, which make perfect gifts for friends – or yourself! You can view the goods lineup in store and on the Gelato Pique website.

Baumkuchen Specialty Shop Katanukiya Offers Limited-Edition Panda Cake at New Location

On September 1, Baumkuchen specialty shop Katanukia opened its second location on the second floor of Tokyo Solamachi, beneath Tokyo Skytree. These traditionally German cakes are extremely popular in Japan, and using a cookie cutter can transform them into works of art! To commemorate the new shop, the Tokyo Solamachi location will sell a limited-edition Panda Baumkuchen that is almost too cute to eat.

Panda Baumkuchen

Starry Sky Panda Baumkuchen: ¥594 (Tax Included)


 

Starry Sky Panda Baumkuchen & Drawstring Bag Set: ¥1,815 (Tax Included)

The special Starry Sky Panda Baumkuchen is made from soft, moist cake, and depicts an adorable panda character ready to gaze at the night sky from Tokyo Skytree, the tallest tower in the world. Children and adults alike will enjoy its gentle milk flavoring.

The Starry Sky Panda Baumkuchen & Drawstring Bag Set includes the signature Baumkuchen, the Starry Sky Panda Baumkuchen, Panda shortbread, and an adorable bag. There will only be 100 of these sets available, so grab one before they're gone!

Is Baumkuchen popular in your country? How would you like to try these cute sweets in Tokyo?

The Westin Tokyo Hotel to Offer Premium Autumn Parfaits for Limited Time

Three delicious desserts are coming to The Westin Tokyo for a limited time! Beginning October 1, visitors to the hotel can enjoy a collection of premium parfaits filled with seasonal ingredients and western liquors unique to the executive bar, simply named The Bar. These will be available until November 28, on Friday, Saturday, Sunday and holiday nights only.

Chocolate Parfait with Figs and Red Berries

Chestnut and Apple Parfait

Chestnut and Hazelnut Mont Blanc Parfait

The chocolate parfait includes whole figs and bright red berries, and is finished with rich port. Calvados was added to the Chestnut and Apple Parfait, allowing guests to enjoy a refreshing combination of nuts, fruits, and mascarpone. The Mont Blanc Parfait includes a fragrant rum from Martinique, and has a richer dessert flavor.

The executive pastry chef carefully layers each parfait by hand, and these unique treats combining flavors of both east and west can only be found at The Westin Tokyo!

Information

Premium Autumn Parfait

Available: October 1 – November 28, 2021 (Only available Friday, Saturday, Sunday & Holidays)

Hours: 16:30-20:00

Price: ¥3,000 each (Tax and Service Charge Included)

Location: Executive Bar "The Bar" (1F)

Reservations: 03-5423-7285

Official Site:www.westin.com

Marvel Superhero Cafe to Open in Osaka for Limited Time

A limited-time Marvel themed cafe is coming to Umeda, Osaka from September 16 until October 17. Produced by OH MY CAFE, the concept is centered on themes such as power, courage, talent, justice, and friendship, and the menu will be filled with items inspired by the many heroes of the Marvel universe.

The cafe menu features original items representing the worlds of Spider-Man, Iron Man, Captain America, Thor, and Black Widow. All dishes are healthy, low-sodium, and low-sugar. Various original pieces of merchandise will also be available for fans of American comics!

Menu

Marvel Paprikash: ¥1,759 (Tax Included)

<Spider-Man> The Best Chicken Sandwich in Queens: ¥1,650 (Tax Included)

<Captain America> American Tomato Pasta: ¥1,979 (Tax Included)

<Thor> Hammer Curry in the Desert: ¥2,089 (Tax Included)

<Black Widow> Jet-Black Squid Ink Gratin: ¥1,869 (Tax Included)

<Iron Man> Evening Donut-style Bagel Sandwich: ¥1,979 (Tax Included)

<Captain America> Ramune Soda: ¥1,209 (+¥770 for coaster) (Tax Included)

<Iron Man> Cherry Soda:  ¥1,209 (+¥770 for coaster) (Tax Included)

Marvel Cafe Latte: ¥989 (+¥1,650 for mug) (Tax Included) 

Marvel Tea Bottle: ¥769 (Tax Included) / Bottle and Charm: ¥1,320 (Tax Included)

Customers who make a reservation in advance will receive one random original mask case (7 designs). 

Original Merchandise

 

Acrylic Keyring (6 designs): ¥825 (Tax Included)

Square Pins (13 designs, random): ¥495 (Tax Included) / Marvel Case: ¥1,100 (Tax Included)

A5-size Clear Folder (7 designs, random): ¥385 (Tax Included)

Tote Bag: ¥1,100 (Tax Included) / Marvel Bandana Handkerchief: ¥1,650 (Tax Included)

Menu Art Series A4-size Clear Folder: ¥440 (Tax Included) / Menu Bandana Handkerchief: ¥1,650 (Tax Included) / Acrylic Magnets (6 designs): ¥715 (Tax Included)

Avengers: Endgame Clear Folders (5 designs, random): ¥550 (Tax Included) / Avengers: Infinity War Postcards (8 designs, random): ¥275 (Tax Included)

Ⓒ 2020 MARVEL

Chiikawa Themed Cafe to Open for Limited Time at Shizuoka PARCO

Twitter-famous character Chiikawa is coming to Shizuoka PARCO starting September 16! Guests can enjoy a cafe on the first floor of the facility serving specially-crafted treats, and can head to the fourth floor for a shop selling original Chiikawa cafe goods.

Menu

Hachiware Cream Soda / Chiikawa Cream Soda / Usagi Cream Soda: ¥990 each (Tax Included)

Fluffy Cloud Latte with Character Sugar: ¥1,100 (Tax Included)

Yoroi-san's Strawberry Milk: ¥990 (Tax Included)

Best Friends Cookie Set (3 cookies): ¥880 (Tax Included, takeout only)

Each drink order will come with a random coaster (15 designs total). 

Merchandise

 

Mug: ¥1,540 (Tax Included)

Cafe Chef Plushies: ¥1,430 (Tax Included)

Cafe Employee Plushies: ¥1,430 (Tax Included)

Bowl: ¥2,200 (Tax Included)

Random Acrylic Keychain (8 designs): ¥660 (Tax Included)

*Limit 2 items per person per type of merchandise. For random items, the limit is 10 items per person per type.
*Images are for reference only. Not all products are shown.
*Contents are subject to change. 

4th Floor Shop Special Goods

Special Gift

Guests spending ¥4,400 or more (including tax) will receive an original cork coaster!

 

The Chiikawa manga, created by Japanese illustrator nagano, is extremely popular on Twitter for its cute illustrations and heartwarming stories. In August, the second Chiikawa book was released.

Who is your favorite Chiikawa character?

©nagano

Information

Chiikawa Cafe Drink Stand

Running: September 16 – October 3, 2021

Hours: 10:00-20:00 (last food order at 19:00, last drink order at 19:30)

Location: Shizuoka PARCO 1F (6-7 Koyamachi, Aoi-ku, Shizuoka)

Chiikawa Cafe Shop

Running: September 16 – October 3, 2021

Hours: 10:00-20:00

Location: Shizuoka PARCO 4F

Admission Free

Details: http://the-guest.com/chiikawa_shizuoka/

Official Site: https://shizuoka.parco.jp/

Nature-filled Digital Detox Cafe HANARIDA Opens in Harajuku

Zoomers are used to life with their smartphones and computers. While life certainly is more convenient being able to connect instantly with your friends, have you ever felt a certain emptiness despite this? According to the Ministry of Internal Affairs and Communications, young people in their 20s spend approximately four to five hours looking at screens per day. However, sometimes, it can be nice to put down your phone and enjoy a cup of tea with your friends in front of you. With those thoughts, the HANARIDA Harajuku cafe open on August 8 2021. The hidden cafe is filled with flowers and greenery, aimed at adults. Here you can enjoy a quiet time away from the bustle of the city, relaxing with a cup of dry fruit-infused herbal tea.

Every sunday is a digital detox day, meaning that smartphones and laptops are banned in the cafe. You can leave your phone with the staff to receive a free drink. With the comfy interior and a selection of board games, conversations will flow naturally to create a home-like space, even without technology

The flowers and trees in the cafe, which was decorated by a professional flower artist, are all real. The atmosphere changed based on the time of day – the sunshine lights up the cafe while the warm lights make for a relaxing evening. You won't get tired of this cozy space! 

Experience relaxation away from the busy city while watching the flowers bloom throughout the day, as you puff on a dried fruit Hanakemuri hookah. The hookah used by HANADIRA is both nicotine and tar free, meaning they can be enjoyed by non-smokers. 

Their drink selection for Valentine's day 2021 was a huge hit on social media, particularly the Sakicha dry fruit tea. The tea is now available on the menu, so make sure to try it for yourself!

Information

HANARIDA Harajuku

Opening Date: September 8 2021 

Opening Hours: 11:30 ~ 24:00 (No regular holidays)

※Closes at 20:00 until September 12 due to the current state of emergency declaration.

Address: Section L Pop-up House 2F 4-27-2, Jingumae, Shibuya, Tokyo 

Seven minute walk from JR Harajuku Station

https://goo.gl/maps/bXVEsW735gHT7kZD9 

※Under 20s are denied entry to the cafe

Official Site: https://hanarida-official.com/ 

Kyoto Sweets Cafe eXcafe Gion-Shinbashi Restarts Popular Breakfast Menu for Weekends

The calm Machiya sweet shop eXcafe Gion-Shinbashi will be restarting the popular eXcafe Breakfast (Calico) menu on weekends from September 4 2021. This is the perfect spot to start your Gion adventure, packed full of ancient city charm and history. 

 

eXcafe currently has three store locations in Kyoto: Kyoto-Arashiyama, Gion-Shinbashi, and the newly opened Gion Yasaka.

eXcafe Gion Shinbashi is located in an area where you can appreciate the beauty of Gion, with the ever changing scenery fully reflecting the four seasons. Even on sunny weekends, the area isn't overly busy and the sky is beautifully clear, making it the perfect spot for commemorative photos.

 

The returning breakfast menu is the eXcafe Breakfast (Calico), made up of charcoal-grilled toast with a calico cat motif. The fluffy bread is thickly cut and can be completed with your favorite topping: Bean paste, butter, whipped cream, or fruits. The breakfast set also includes a drink and Mitarashi dango dessert, making it the perfect way to spend a relaxing moment at the beginning of your trip, or as a break from your early-morning sightseeing.

Morning walks in Gion are particularly refreshing at this time of year, making a perfect break from the intense Summer heat. It is also ideal for visiting the Yasaka Shrine.

You'll feel even cooler as you listen to the flowing Shira River, the water gently bubbling under the cobblestones of the famous Tatsumi Bridge. Although it is located in a trendy area, the eXcafe Gion-Shinbashi is a welcome break from the bustle of the city, surrounded by cobblestone alleys and wooden townhouses.