BURNOUT SYNDROMES Haikyu!! Opening Theme 'PHOENIX' Music Video to Premiere On YouTube
Three-piece Japanese rock band BURNOUT SYNDROMES have announced that the music video for their new single PHOENIX will premiere on YouTube on Friday January 31 at midnight (JST).
The incredibly popular song serves as the opening theme for the ongoing TV anime series Haikyu!! TO THE TOP and blew up on Japanese social media when it was released digitally on Friday last week.
The music video was directed by Takahashi Chiba, who also directed the BURNOUT SYNDROMES music videos for FLY HIGH!! and Hikariareーwhich just so happen to be theme songs for Haikyu!! too. The new video stars Mita Ibuki of Japanese idol group CROWN POP who plays the role of a high school girl.
BURNOUT SYNDROMES – "PHOENIX" Music Video (Premiering January 31, 2020 at Midnight JST)
The BURNOUT SYNDROMES band members are scheduled to post in the chat during the premiere, so be sure to tune in to watch it in real time. PHOENIX will also be released on all major streaming services, including Spotify.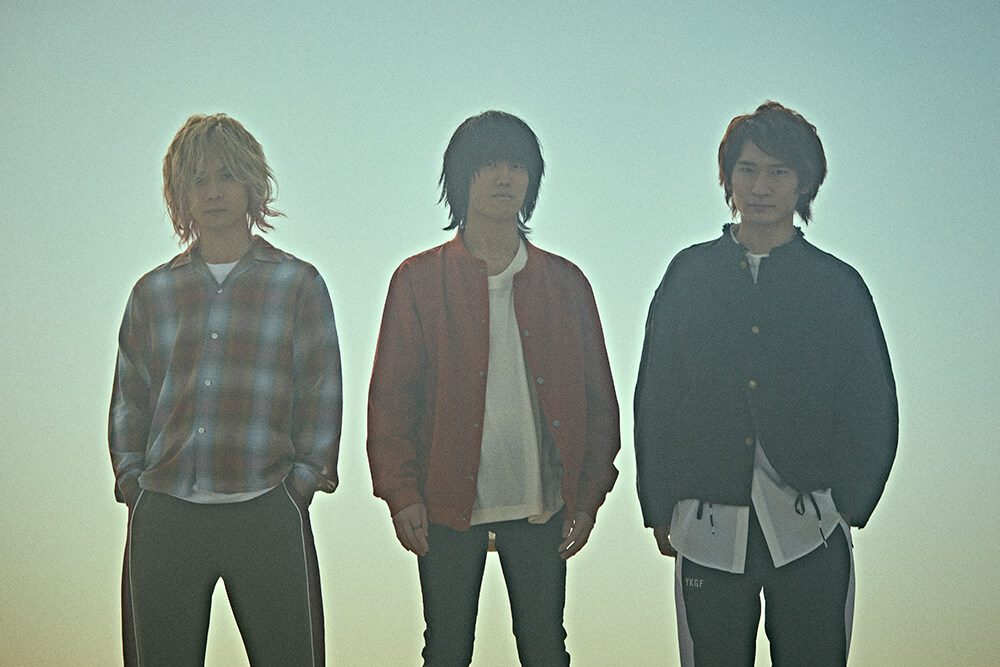 BURNOUT SYNDROMES released the following statement: "'PHOENIX' is the opening theme for the anime series Haikyu!! TO THE TOP. The song is sure to resonate emotionally with people who have devoted themselves to something. The music video uses time loops, which is a rare addition for us. It's set in a school where a girl meets the three members of BURNOUT SYNDROMES. The girl dances like a phoenix to the powerful lyrics and music. I think everything in the music video matches together wonderfully, so it's a must-watch!!"
The music video's director Takahashi Chiba said: "We went back to basics with this one, using a high school girl as the main role. The song is called 'PHOENIX.' The video centres on the idea of the phoenix which dies, resurrects, and transforms over and over again. When you're alive, you bump into walls, and no matter how many times you may come to that wall, you cannot get over it. But even if you think about that same wall, or the same situation, something is sure to change each time you come face to face with it. When your life seems to be going backwards, if you keep on endeavouring during those simple days when nothing changes, you'll suddenly arrive at a day when it feels like all your hopes have vanished. It's better to believe that you will get over that wall of life when you find yourself at the boundary of your own limits. Because nobody knows if that wall, or that scene, will be the last thing you see. I used time loops to express this idea in the music video."
©Haruichi Furudate/Shueisha・"Haikyu!!" Production Committee・MBS
Information
5th Single – "PHOENIX"
Release Date: February 12, 2020
・First Press Limited Edition (CD+DVD): ¥1,545 (Before Tax) [ESCL 5333-4]
・Regular Edition (CD): ¥1,091 (Before Tax) [ESCL 5335]
・First Press Anime Limited Edition (CD+DVD): ¥1,636 (Before Tax)
Download Links: https://erj.lnk.to/G_4dJ
CD Pre-Orders (Japan):https://erj.lnk.to/phoenix_cd
BURNOUT SYNDROMES Official Website: https://burnoutsyndromes.com/
Haikyu!! TO THE TOP
Initial Broadcast: January 10, 2020
Official Website: https://haikyu.jp/
RELATED ENTRIES
Dr. Stone, Haikyu!!, & Gintama Theme Songs to be Featured On BURNOUT SYNDROMES Anime Concept Album

Three-piece Japanese band BURNOUT SYNDROMES announced at the finale of their solo tour at Namba Hatch in Osaka, their home city, that they will release an anime concept album of their best anime songs.

Entitled BURNOUT SYNDROMEZ, the record will be released on March 25, 2020, and will feature theme songs they have performed for various anime series, such as Dr. Stone, Haikyu!!, Gintama, and more.

The album will contain a total of 12 tracks, including their latest single PHOENIX which is used as the opening theme for the ongoing TV anime series Haikyu!! To The Top, as well all of their anime songs to date, two new songs, a remix, a rearrangement, and more.

Anime fans can expect to hear some seriously popular tracks like the second opening theme FLY HIGH!! from season two of Haikyu!!ーwhich was the band's debut singleーas well as the season three opening theme Hikari Are. It also includes their third single Hana Ichi Monme which is the first ending theme of Gintama: Shirogane no Tamashii-hen, the first Dr Stone opening theme Good Morning World, and so on.

The album is a must-have for both anime, manga and game fans as well as fans of BURNOUT SYNDROMES. First Press Edition copies of the album come with the band's first-ever Blu-ray which will feature eight music videos and live performances of six songs from their tour last year. It will also include a comic which has the BURNOUT SYNDROMES members as the protagonists of an adventure story.

BURNOUT SYNDROMES will promote BURNOUT SYNDROMEZ with a Japan tour in 2021.

Information

BURNOUT SYNDROMEZ

Release Date: March 25, 2020

First Press Limited Edition (CD+Blu-ray+Comic): ¥4,200 (Before Tax) [ESCL-5366~5367]

Regular Edition (CD): ¥2,500 (Before Tax) [ESCL-5368]

Official Website: https://burnoutsyndromes.com/

Haikyu!! TO THE TOP

Official Website: https://haikyu.jp/

©Haruichi Furudate / Shueisha・"Haikyu!!" Production Committee・MBS

BURNOUT SYNDROMES Haikyu!! Opening Theme Hits Number One On iTunes Japan's Anime Charts

The new single PHOENIX from Japanese rock band BURNOUT SYNDROMES topped the anime charts on iTunes in Japan yesterday morning. The song was released digitally on January 24, 2020, ahead of the CD release which is set for February 12, 2020.

The song serves as the opening theme for the ongoing TV anime series Haikyu!! TO THE TOP and blew up on Japanese social media when it was released digitally on Friday last week.

PHOENIX also topped the singles charts of multiple platforms, placing BURNOUT SYNDROMES alongside multiple big artists, coming in at No. 5 on Recochoku's Singles Charts, No. 2 on mora, and No. 5 on animelo mix, in Japan.

The track is BURNOUT SYNDROMES' third song written for the Haikyu!! series, following from FLY HIGH!! and Hikari Are.

The band will release the music video for PHOENIX in February, when the song will also hit major digital streaming platforms.

©古舘春一/集英社・「ハイキュー!!」製作委員会・MBS

Information

5th Single – "PHOENIX"

Release Date: February 12, 2020

・First Press Limited Edition (CD+DVD): ¥1,545 (Before Tax) [ESCL 5333-4]

・Regular Edition (CD): ¥1,091 (Before Tax) [ESCL 5335]

・First Press Anime Limited Edition (CD+DVD): ¥1,636 (Before Tax)

Download Links: https://erj.lnk.to/G_4dJ

CD Pre-Orders (Japan):https://erj.lnk.to/phoenix_cd

BURNOUT SYNDROMES Official Website: https://burnoutsyndromes.com/

Haikyu!! TO THE TOP

Initial Broadcast: January 10, 2020

Official Website: https://haikyu.jp/

Haikyu!! Season 4 To The Top Fair to be Held at Animate Stores Across Japan

Animateーa chain of anime and manga related merchandise storesーhas announced that it will hold a fair to promote season four of the ongoing TV anime series Haikyu!! from February 15.

Haikyu!! is a popular manga series written and illustrated by Haruichi Furudate and serialised in Weekly Shonen Jump. The series has spawned an anime series and stage adaptation. The fourth season of the anime series began airing on January 10 this year.

The event will be held at Animate stores from February 15 to March 8 where fans of the series can get their hands on exclusive merchandise. Those who purchase or pre-order items will receive one of 8 possible postcards as pictured above featuring the cast of characters.

A special pop-up shop at the Sendai and Yokohama Vivre branches of Animate will also be open from February 15 to March 1, which will include not only merchandise, but a chance for fans to deepen their love of the series even more. Those who purchase any of the items at those shops will receive one of the above-pictured postcards. Exclusive big-size badges will also be sold in Sendai and Yokohama, so don't miss out.

©Haruichi Furudate/Shueisha・"Haikyu!!" Production Committee・MBS

Information

Haikyu!! TO THE TOP Promotional Fair

Running: February 15, 2020 – March 8, 2020

Location: Animate stores in Japan

Notes: If you purchase Haikyu!! related merchandise or pre-order the season 4 DVD or Blu-ray during the fair you will receive one of 8 possible postcards. For every ¥1,000 spent on the manga, books, or character merchandise, for every CD, DVD or Blu-ray bought, and for every DVD or Blu-ray pre-ordered (collectively over ¥1,000), you'll receive a present.

Haikyu!! TO THE TOP Animate Only Shop

Running: February 15, 2020 – March 1, 2020

Location: Animate Sendai / Animate Yokohama Vivre

Notes: If you purchase Haikyu!! related merchandise you'll receive one of 12 possible postcards. For every piece of character merchandise bought, and for every CD, DVD or Blu-ray bought, you'll receive a present.

Fair Website: https://www.animate-onlineshop.jp/contents/fair_event/detail.php?id=103322

Animate Only Shop Webpage: https://www.animate.co.jp/onlyshop/302652/

BURNOUT SYNDROMES' Haikyu!! Opening Theme 'PHOENIX' CD Cover and More Unveiled

BURNOUT SYNDROMES are set to release their new single PHOENIX on February 12, 2020. The title track serves as the opening theme for the ongoing TV anime series Haikyu!! TO THE TOP. The CD cover artwork as well as details on the content of the single as well as in-store bonuses were unveiled today.

The single will include the title track as well as a new rock song entitled BREAK DANCER and the "Moonlight Version" of Hikari Are which was used as the opening theme for season three of Haikyu!!.

First Press Limited Edition copies of the single are coupled with a DVD featuring the PHOENIX music video and making-of while Anime Edition copies are packaged in limited-edition boxes featuring anime artwork, include the creditless OP video on DVD, and an anime pin badge.

And if you're lucky enough to pick up the CD at a store in Japan, depending on where you purchase it from you'll receive some additional exclusive bonus items.

Haikyu!! TO THE TOP will begin airing in Japan on MBS and TBS from January 10, 2020.

©Haruichi Furudate/Shueisha・"Haikyu!!" Production Committee・MBS

Information

5th Single – "PHOENIX"

Release Date: February 12, 2020

・First Press Limited Edition (CD+DVD): ¥1,545 (Before Tax) [ESCL 5333-4]

・Regular Edition (CD): ¥1,091 (Before Tax) [ESCL 5335]

・First Press Anime Limited Edition (CD+DVD): ¥1,636 (Before Tax)

CD Shop Bonuses (First-Come, First-Served)

<Anime Chain Stores>

First Press Limited Edition/Regular Edition: BURNOUT SYNDROMES Postcards (Set of 2)

First Press Anime Limited Edition: Haikyu!! Folder (A4 Size)

<BURNOUT SYNDROMES Supporting Stores>

First Press Limited Edition/Regular Edition: BURNOUT SYNDROMES Postcards (Set of 2)

First Press Anime Limited Edition: Haikyu!! Poster

*Supporting stores TBA at a future date

<Amazon>

First Press Limited Edition/Regular Edition: Giant CD cover

First Press Anime Limited Edition: Giant anime CD cover

BURNOUT SYNDROMES Official Website: https://burnoutsyndromes.com/

Haikyu!! TO THE TOP

Initial Broadcast: January 10, 2020

Official Website: https://haikyu.jp/

BURNOUT SYNDROMES Perform TV Anime Haikyu!! To The Top Opening Theme

It has been announced that 3-piece Japanese rock band will perform the opening theme PHOENIX for Haikyu!! To The Top, the fourth season to the TV anime series Haikyu!!, which is set to premiere on in Japan on MBS and TBS on January 10, 2020.

The series is an adaptation of Haruichi Furudate's shōnen manga series of the name name, serialised in Shueisha's Weekly Shonen Jump. News of the fourth season blew up on Japanese social media when it was announced in August. The new season has also been attracting attention as it is collaborating with the Japanese volleyball league V.LEAGUE which many notable Japanese players are signed to.

This marks the band's third opening theme they have performed for Haikyu!!, following the season two opening FLY HIGH!ーwhich the band made their major debut with in March 2016ーand season three opening Hikariare.

Speaking about the new opening theme PHOENIX, band vocalist and guitarist Kazuumi Kumagai commented, "We've been tasked with writing a third opening theme song. We're ecstatic!"

He continues: "We've written a song with a party feel to it to tie in with the spicy development of the story. Please look forward to hearing it!"

The band also released a video of their performance at ANI-ROCK FES. 2018 at Saitama Super Arena for the Haikyu!! live show.

PHOENIX will be released as a single on February 12, 2020, which is the day after the finale of their upcoming 7-date solo tour which is set to begin in December this year. It will be the band's biggest solo tour to date.

©Haruichi Furudate/Shueisha/・"Haikyu!!" Production Committee・MBS

Haikyu!! Stamp Sets & Postcards Releasing at Japan Post Service

To celebrate the 5th anniversary of the popular TV anime series Haikyu!!, Japan Post Service will begin taking online orders for a themed stamp set on August 19.

The stamp designs feature the familiar faces of members of Karasuno High from the series.

Japan Post Service will also sell 14 different postcards with key visuals from across all seasons of the anime series, celebrating its 5-year reign. They are sure to surprise any fan who receives one on their envelop through the post!

©Haruichi Furudate / Shueisha・"Haikyu!! 3rd" Production Committee・MBS

Information

Haikyu!! TV Anime 5th Anniversary Framed Stamp Set

Price: 1 Sheet ¥3,700 / 2 Sheets ¥6,800 / 3 Sheets ¥9,900

*Prices include tax and shipping costs

How to Order

Available via the Japan Post Service online shop only. Not sold at post office branches.

Buy: https://www.shop.post.japanpost.jp/shop/a/a819framekitte/

*Link accessible from August 19, 2019

Order & Delivery Windows

①Order between August 19 – September 16, 2019. Stamps will arrive within two weeks from October 26, 2019.

②Order between September 17 – October 14, 2019. Stamps will arrive within two weeks from November 16, 2019.

BURNOUT SYNDROMES Release Dr. Stone Opening Theme 'Good Morning World!' Music Video

Rock band trio BURNOUT SYNDROMES just dropped the music video to their new single Good Morning World! which is set to hit shelves on August 21.

The video was shot at a quarry and in a studio in Ibaraki Prefecture in early June. It makes use of drone footage which captures the grand scale of the location and couples together with the aggressive music performances. The lyrics to the song maintain the band's concept of "literary rock" which are presented in calligraphy style typography.

The video contains many iconic scenes, especially the beauty of the instance when the glass breaks which represents a new world forming from destruction.

The song serves as the opening theme for the ongoing TV anime series Dr. Stone. The song was released for digital download today (August 2) and pre-orders for the CD are now open.

Takashi Chiba, the director of the music video, commented the following: "This is a music video that the band really pushed for! Listening to the song, me and the staff wanted to aim for an open location where we could film with a drone. That was the base of our idea which developed from the song's lyrics 'good morning world.' What even was there before we said good morning to the world in the first place? This is something we thought about and arrived at the idea of the old world order breaking to give life to a new world order. We had a black background behind the band which was the old world and then it cuts [to the new world] when the glass breaks […] We edited it so it focuses on the three members. Please check them out as they build a new world from the old broken one […]"

TV Anime Dr. Stone Opening Theme to be Performed by BURNOUT SYNDROMES

It has been announced that 3-piece Japanese rock band BURNOUT SYNDROMES will perform the opening theme Good Morning World! for the upcoming TV anime series Dr. Stone which is set to premiere on Tokyo MX and elsewhere on July 5, 2019.

Dr. Stone is a hugely popular manga series written by Riichiro Inagaki and illustrated by Boichi and serialised in Weekly Shonen Jump. The series won 2nd place in the Comics category for the 2018 Tsugi ni Kuru Manga Awards and send place in the 2018 Shogakukan Manga Awards.

Good Morning World! was written by BURNOUT SYNDROMES vocalist and guitarist Kazuumi Kumagai exclusively for the anime adaptation. The song comes before the band embark on their biggest Japan tour to date.

Speaking about the collaboration, Kumagai commented: "Nice to meet you. We are BURNOUT SYNDROMES, the ones in charge of the opening theme for the anime series Dr. Stone. When I first read the manga, I felt it in my heart that I wanted to sing the main theme for the series. To tell you the truth, I'm a lover of science too [like in the series]. My room is littered with scholarly essays and magazines like Newton. For me, Dr Stone. is like the crystallisation of all things I love. [Good Morning World!] is a song I have confidence in. It was completed after many talks, changing up the patterns in a number of ways, and trial and error. It's packed with enthusiasm. I hope that Senku and the others [in the series] can feel the song. It's completely synchronised with the outlook of the series. Please look forward to it!"

©米スタジオ・Boichi / Shueisha・Dr.STONE Production Committee

Haikyu!! Themed 'Kenma Cat' & 'Bokuto Owl' Hoodies to be Released on November 22

ACOS―a brand who have 10 stores in Japan and cater towards enjoying easy and casual cosplay―are releasing the Kenma Cat and Bokuto Owl hoodies based on the manga and anime series Haikyu!! on November 22. They will be available at all ACOS stores and Animate.

Kenma Cat Parker

This first hoodie is based on Kenma Kozume, and 2nd year student and setter at Nekoma High. The back is decorated with cat paw prints. It's also made from cotton fabric, so it's nice and comfy

Bokuto Owl Hoodie

This hoodie is based on Kotaro Bokuto, a 3rd-year student at Fukurodani High and the volleyball team's wing spiker. This one has owl prints on the back. You can wear it to lounge around in or even show up in it at conventions and events!

Pick your favourite!

■Information "Haikyu!!" Kenma Cat & Bokuto Owl Hoodies

On Sale: November 22, 2018Please note that depending on circumstances, sales may be subject to change, extension or cancellation.商Sales Page:

https://www.acos.me/feature/detail.php?id=323

©Haruichi Furudat / Shueisha・"Haikyu!! 3rd" Production Committee・MBS

New stage play: HYPER PROJECTION ENGEKI "HAIKYU!!": The Summer of Evolution!

8th September marks the date that the curtains raised for the stage play "Haikyu!! The Summer of Evolution". The rehearsal took place at TOKYO DOME CITY HALL, featuring Kenta Suga as Shoyo Hinata, Tatsuya Kageyama as Tobio Kageyama, Kosaka Ryoutarou as Kei Tsukishima, Miura Kairi as Tadashi Yamaguchi, Takato Nagata as Kenma Kozume, Shori Kondo as Tetsurou Kuroo, Yoshimoto Kouki as Bokuto Koutaro, and Kousei Yuuki as Keiji Akaashi . Producer Wally Kinoshita took part in an interview, expressing his passionate feelings for the 5th season performance that includes the re-run of "Itadaki no Keishiki".

<Cast comments>

Kenta Suga (Shoyo Hinata)

This piece is called "The Summer of Evolution". Last time, Karasuno High was defeated in the main match, and that's why this piece focuses on the path to discovering how to get stronger. In this play of "Haikyu!!", we can definitely prove ourselves. The one thing that isn't new is the intense amount of exerecise (lol). However, this is the highlight of the theatre piece "Haikyu!!" We are linked together by the sweat we shed and the tense match moments. We want to evolve and advance together, and that will never change.

Tatsuya Kageyama (Tobio Kageyama)

This piece is the first one I am taking part in but I don't want to be dependent – I'm giving it my all! The theme is summer, so throughout "Haikyu!!" I want to create good memories with everyone. This is my first long-term public performance, so I am going to build up my physique!

Kosaka Ryoutarou (Kei Tsukishima)

This piece is different to the ones we have done up until now in that it is packed with even more drama. I strive to deliver the best performance every single time. This is the first time I will be playing the roll of Kei Tsukishima – the older brother. I'm looking forward to deepening the relationship with my younger sibling, the relationship as a trio with Tadashi Yamaguchi, and moving forward together!

Miura Kairi (Tadashi Yamaguchi)

This is the 5th time I've been in action, and this time the freckles seem stable! Lol… While everyone is struggling on the path of bettering themselves, the stage becomes a huge mess of problems! I'll be performing to the very best of my abilities, not just with enthusiasm and strong determination, but with a cool and level head in order to carefully and conscientiously perform!

Takato Nagata (Kenma Kozume)

What I can feel right now, and this applies for Karasuno High and Nekoma High, is that before everyone got involved with the volleyball society, we were all lonely students. We are upping our game this time, so please come support us! The more we perform, the stronger our bonds grow!

Shori Kondo (Tetsurou Kuroo)

This time, Lev Haiba is a newbie at Nekoma High volleyball club. Previously, Nekoma High had their one style and formation, but now Lev's in the picture, how will the team's relationships and tactics change? You should come find out!

Yoshimoto Kouki (Bokuto Koutaro)

Reigning champion Fukurodani Academy is the main inspiration for Karasuno High. Whether it's Tsukki's or Hinata's influence, we are all constantly advancing. That's why I'm giving this performance my all! The awesome feeling I get when I give it 120 percent is what pushes me to try even harder.

Kousei Yuuki (Keiji Akaashi)

We've just got to believe in all our practice up until now. Our hearts are on fire but our heads are cool. We're giving it more than 120 percent. We want you to see the result of Fukurodani Academy's influence on Karasuno High. We do not fear mistakes. We will turn our failure into strength for each performance so we improve and advance further!

We also have a comment from Wally Kinoshita; the producer of all the theatrical pieces up until now:

"Every performance incorporates something new. The last play included a 3 hour match and some cool acrobatic moves; moves just as cool as those one would see in a circus. The precise moves of the performers, and their skill portrayed the extremity of the situation. This new play has less matches and a larger focus on everyday life. This is something that you have never seen before. There are so many dramatic changes from last time – the scenery being one of the largest changes. This new chapter of "Haikyu!!" gives off a completely different impression to all the others."

The performance in Tokyo will be followed up by a performance in Osaka, Hyogo, Miyagi, and finally Fukuoka. Following these five cities, there will be a final performance in Tokyo, where live viewing is also possible.

Finally, Kenta Suga has a very enthusiastic comment for you all: "There will be 37 live performances packed into 5 cities! Don't miss out on the one and only "Haikyu!!" unique experience! I want to talk about those who are coming now… just move your body and let your brain will go numb…lol! The drama is set in summer, although it is autumn in the real world. Let's enjoy some tasty snacks together – I wand each and every one of you, who are coming from different regions of the country, to enjoy yourselves! Even though it's a late summer, I want you to feel the atmosphere of the summer training camp. Last time we were always in the match hall, but this time we are waiting at the school!"

Com join us for a dramatic play and a hot summer!

■Information

<Performance information summary>

Title:Hyper Projection Play "Haikyu!!" Winners and Losers.

Original work:Haruichi Furudate "Haikyu!!" (Shueisha, serialized in Weekly Shonen Jump)

Production and script: Wally Kinoshita

<Public performances and venues>

Tokyo:Friday 8th 〜 Sunday 10th September 2017 〜 TOKYO DOME CITY HALL

Osaka:Friday 15th 〜 national holiday Monday 18th September 2017 〜 Mielparque Hall Osaka

Hyogo:Friday 22nd 〜 Sunday 24th September 2017 ~ Amashin Archaic Hall

Miyagi:Friday 29th September 〜 Sunday 1st October 2017 〜 Tagajo City Cultural Center Great Hall

Fukuoka:Saturday 14th 〜 Sunday 15th October 2017 〜 Kurume City Plaza, The Grand Hall

Triumphant return to Tokyo:Friday 20th 〜 Sunday 29th October 2017 ~ TOKYO DOME CITY HALL

<Ticket information>

Tokyo/Hyogo/Fukuoka/ Triumphant return to Tokyo: S seat:¥8,800/ A seat: ¥6,800(Designated seats, tax included)

Osaka/Miyagi: ¥8,800(Designated seats, tax included)

<Ticket enquiries>

Sunrise Promotion Tokyo: 0570-00-3337(Weekdays & weekends: 10:00 ~ 18:00)

<Enquiries related to the tour>

Nelke Planning: 03-3715-5624 (Weekdays: 11:00 ~ 18:00)

<Official website>

Official photos:

Ⓒ Haruichi Furudate/Shueisha Inc/ HYPER PROJECTION ENGEKI "HAIKYU!!" production committee.

Photos by Shunsuke Watabe