Win Hello Kitty & Chibi Maruko-chan Prizes With Sanrio's Lottery Draw
To celebrate the 30th anniversary of the Chibi Maruko-chan anime adaptation, the franchise is teaming up with Sanrio's internationally beloved character Hello Kitty.
For the collaboration, cute and original artwork has been created featuring Hello Kitty and Maruko-chan hanging out together in their everyday lives, a scene that's sure to incite a sense of nostalgia to both kid and adult fans of the longtime anime series.
We see Maruko-chan wearing Hello Kitty's iconic red ribbon, as well as Maruko's grandpa Tomozo Sakura donning a hat inspired by Hello Kitty.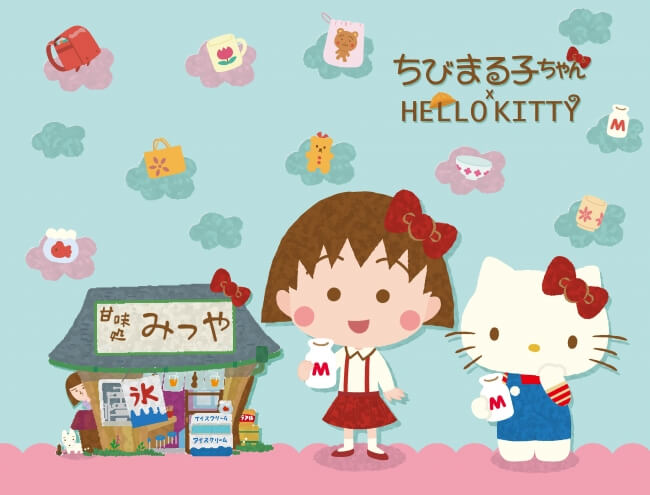 There's also an illustration of the two friends drinking milk bottles together which they bought from Mitsuya in the background, a candy shop that appears in the Chibi Maruko-chan seires.  If you look closely you can see Noguchi peeking her head from behind the shop.
A special lottery draw is set to roll out in Japan at Sanrio stores, department stores stocking Sanrio products, Lawson, MiniStop, Daily Yamazaki, bookstores, and elsewhere from early June 2020. Fans are guaranteed to win a prize, which includes a line-up of nine items as well as a special top prize. Merchandise includes a takoyaki machine, hot plate, bath towel, and more.
Following the lottery draw, more exciting things are set to take place as part of the collaboration.
ⓒ Sakura Production / Nippon Animation
ⓒ 1976, 2020 SANRIO CO.,LTD. TOKYO,JAPAN  著作:株式会社サンリオ
Information
Chibi Maruko-chan x Hello Kitty – Sanrio Lottery
Price: ¥700 (Tax Included) per go
Start Date: Rolling out early June 2020 (Start date differs between stores)
Available: Sanrio products, Lawson, MiniStop, Daily Yamazaki, bookstores, and elsewhere (*Select branches not participating)
RELATED ENTRIES
Japan Coronavirus: Studio Ghibli Museum, Sanrio Puroland & Other Facilities Close Temporarily

A number of facilities in Japan have announced temporary closures to help stop any possible spreading of the coronavirus. Please check the following closures if you're planning a trip to Japan in February or March. New information is rolling out all the time, so for the latest updates, please check the official websites for each establishment listed below.

Sanrio Puroland

Closed: February 22, 2020 – March 12, 2020

The park is scheduled to reopen on March 13, 2020, but this is subject to change depending on the circumstances of the coronavirus and news published by the government.

▶Refunds

・Pre-booked Tickets

Tickets valid between the dates February 22, 2020 – March 12, 2020 will have their validity period extended to September 30, 2020.

・Original Passports

Passport tickets valid between the dates February 22, 2020 – September 29, 2020 will have their validity period extended to September 30, 2020.

・Pre-booked PUROPASS

Payments for PUROPASSES bought between the dates February 22, 2020 – March 10, 2020 will be cancelled.

・Anniversary Time

Payments for Anniversary Time tickets for the dates February 22, 2020 – March 10, 2020 will be cancelled. Those who paid with cash will be refunded via registered mail.

Official Website (English): https://en.puroland.jp/

Official Website (Japanese): https://www.puroland.jp/

Ghibli Museum

Closed: February 25, 2020 – March 17, 2020

▶Refunds

Refunds are applicable for tickets dated between January 22, 2020 – March 30, 2020.

Refunds will be paid in full between February 15, 2020 – March 31, 2020.

Official Website (English): http://www.ghibli-museum.jp/en/

Official Website (Japanese): http://www.ghibli-museum.jp/

Toei Animation Museum

Closed: February 26, 2020 – March 18, 2020

The museum's reopening is subject to consideration depending on the circumstances of the coronavirus. It will be announced via the museum's official Twitter page and website.

Official Website: https://museum.toei-anim.co.jp/

Asahi Beer Oyamazaki Villa Museum

Closed: February 22, 2020 until further notice

Official Website (English): https://www.asahibeer-oyamazaki.com/english/

Official Website (Japanese): https://www.asahibeer-oyamazaki.com/

 

Kyoto National Museum

Closed: February 22, 2020 until further notice

All events, the museum shop Benrido, and the museum cafe Maeda Coffee, have also closed temporarily.

Official Website (English): https://www.kyohaku.go.jp/eng/index.html

Official Website (Japanese): https://www.kyohaku.go.jp/jp/index.html

ARASHI EXHIBITION "JOURNEY"

Closed: February 22, 2020 – March 9, 2020

Location: Osaka Culturarium at Tempozan

Official Website: https://arashiexhibition.jp/

Sanrio Harmony Land

Closed: February 22, 2020 – March 12, 2020

Official Website (English): https://www.harmonyland.jp/english/harmony/harmony.html

Official Website (Japanese): https://www.harmonyland.jp/welcome.html

Numerous other sports and cultural events will also close for two weeks commencing February 26, 2020. If you're travelling to Japan in February and March, please check the websites of any places you plan to visit during your trip to see if they are open.

Puro Easter 2020: Sanrio Puroland's Easter Event Will Be 'American Oldies' Themed

Sanrio Puroland is serving its annual "Puro Easter" event once again this spring. Taking on an American oldies taste, this cute-retro combining event will run from March 13 to June 2.

A new show and the return of 2019's hugely successful "Egg'n'Roll Easter" show

Weekends will see the commencement of the "Easter Bunny Race," a new show to determine who will take the place as Sanrio Puroland's number one Easter bunny. You'll have to turn up to the show to see what rabbit characters will be competing!

Running: March 13, 2020 – June 2, 2020 (Weekends, Public Holidays & School Holidays Only)

Location: Wisdom Tree, Sanrio Puroland Floor 1F

Last year's "Egg'n'Roll Easter" show was so popular that it's making a return. It combines nostalgic music and fashion of the American oldies. All of the Sanrio characters performing in the show wear cute Easter themed accessories like bunny ears.

Must-eat Sanrio Easter food and desserts

For the Easter season only, Sanrio Puroland is serving up a colourful food and dessert menu, ranging from waffles topped with banana mix ice cream, whipped cream and chocolate sauce; a curry with blue roux and snow-white omelette, and more.

There's plenty of places to take great photos too, including at the entrance to the third floor of Puroland where there's a juice box wearing adorable bunny ears. You can take a picture that looks like you're enjoying a party together with Hello Kitty and the rest of the Sanrio cast.

There's also a back panel in the first floor entertainment hall with an Easter design which serves as the perfect backdrop for a retro pop photo.

Receive an entry discount by wearing polka dots

Those who arrive to Sanrio Puroland wearing a polka dot outfit will receive am Easter discount when entering the park. This doesn't include small items like bags, shoes, shawls or accessories. Full conditions can be found on the event page below in Japanese.

Experience Easter like never before this year at Sanrio Puroland.

©1976, 2009 SANRIO CO., LTD.  ©1976, 1989, 1996, 1999, 2001, 2004, 2010, 2012, 2020 SANRIO CO., LTD.

Sanrio to Open Official My Melody Shops in Tokyo, Osaka and Nagoya to Celebrate Character's 45th Anniversary

Sanrio has announced that it is opening an official My Melody store to commemorate the popular character's 45th anniversary this year. It will open for a limited time on the first floor of Takashimaya Shinjuku in Tokyo from February 12 to 25.

The store is a must-visit for fans of Sanrio's kawaii white rabbit where they can get their hands on a huge assortment of merchandise, including exclusives, so adorable you'll want to add everything to your collection.

The line-up looks back at My Melody's 45 years in the business. The first 4,000 people to visit the store will be given a limited-edition shopping back, and the first 1,000 people who spend over ¥2,000 (tax included) will receive a free card.
*One card per person, per transaction

The store will also feature interactive projection mapping showcasing My Melody's 45-year history which when touched reacts. On February 15, the designer for the store will be drawing illustrations as well as doing signings for people.

As well as Takashimaya Shinjuku, the shop is set to hit Nagoya's Takashimaya Gate Tower Mall Nagoya and Osaka Takashiyama. Check the dates below, and help My Melody commemorate her 45th anniversary!

©'76, '20 SANRIO 著作(株)サンリオ

Information

My Melody 45th Anniversary Shop
Location: Takashimaya Shinjuku 1st Floor Main Square
Running: February 12, 2020 – February 25, 2020 (Closed February 19)
Opening Hours: [Mon-Thurs & Sun] 10:00-20:00 / [Fri-Sat] 10:00-20:30

Signings
Date: February 15, 2020 (Two Slots – ①11:30 / ②15:00)
No. of People: 20 per slot
Location: My Melody 45th Anniversary Shop
How to Participate:
・Receive a lottery draw ticket to the signing at the shop on the day (February 15) between 10:00-10:20.

・In the case that there are more people who want to join, one person may not receive two tickets for two signings. Additionally, tickets will not be handed out after 10:20.

・Winners and the order they will enter the signing will be announced at 10:20.

・Those who are chosen will receive a "Buyers Ticket." This must be exchanged for a ticket to attend the signing by spending more than ¥4,000 (tax included) at the My Melody 45th Anniversary Shop and handing over your Buyers Ticket.

*Signings and illustrations will only be done on paper and not merchandise.

*Requests for designs cannot be made

・My Melody 45th Anniversary Shop Nagoya
Running: March 25, 2020 – April 7, 2020
Location: Takashimaya Gate Tower Mall 7th Floor Rose Terrace

・My Melody 45th Anniversary Shop Osaka
Running: April 1, 2020 – April 7, 2020
Location: Takashimaya 1st Floor Good Shock Place

Sanrio Official Website: https://www.sanrio.co.jp/

Soar Into The Kawaii Dream World of The Little Twin Stars For Their 45th Anniversary

Sanrio's adorable star-themed characters the Little Twin Stars are celebrating their 45th anniversary this year. The adorable twin stars named Kiki and Lala were born into the universe in 1975 in the hyped run up to Christmas. Following their debut in the December edition of Sanrio's monthly magazine Ichigo Shimbun, the years saw their hair colours and designs retouched here and there. The one thing that remains unchanged is the love that connects them to fans all over Japan across three generations.

As Hello Kitty was celebrating her 45th anniversary last year and with My Melody also celebrating her 45th anniversary this year, now it's time for the Little Twin Stars' time to shine. 45th anniversary celebrations include collaboration events and special merchandise themed around the adorable, colourful, twinkling twins which are sure to get your heart fluttering with excitement. More information on these events and merchandise will be revealed in the future. A number of special events will be held at Sanrio Puroland and we are also expecting some new merchandise to hit the shelves at the Sanrio shop this summer. 

Sanrio Puroland: "LittleTwinStars 45th Anniversary"

Sanrio Puroland's Little Twin Stars 45th Anniversary event is set to take place from April 24 – December 31, 2020. The theme of the celebration will be Mainichi Kiki & Lala, Mainichi Kirakira (Sparkle Every Day, Kiki and Lala Every Day).


Want to soar up high into the world of Kiki & Lala? As part of Sanrio Puroland's anniversary celebrations, the attraction Kiki & Lala – Twinkling Tour is being improved to a whole new level, transforming into an even higher dreamy world where you can take photos in Puroland-limited photo booths. The attraction will only be operating on certain days.


Of course, there will be a new food menu serving up meals, desserts and more adorable treats based on Kiki and Lala's theme colours of blue and pink. What's more, Kiki and Lala will also take to the scene dressed in anniversary-limited costumes for a special photo event that your Instagram can't miss out on. Add some sparkling magic to your day and plunge deep into the world of Kiki and Lala.

LittleTwinStars 45th Anniversary

Running: April 24 – December 31, 2020. 

Sanrio Puroland Event Information: https://www.puroland.jp/ts45th/ 

Collaboration with Japanese Comedy Duo Nagareboshi

As Japanese comedy duo Nagareboshi (shooting star) is celebrating 20 years since their debut, they will be collaborating for a second time with Kiki and Lala, brightening up the year even more. Check out the collaboration design that features the four stars in Kiki and Lala's blue and pink themes. Merchandise using this design will be sold at Nagareboshi's Japan tour this year. More information on the tour will be released in the future. The first lineup of collaboration merchandise sold face towels and iPhone cases which became so popular that many items were sold out. If you missed out the first time, this is your chance!

Anniversary Collaboration with Detclear Facial Cleansing Gel: 6 Varieties

Kiki and Lala are collaborating with Detclear: a popular facial cleansing gel formulated for dry, sensitive skin that gently removes dead skin cells and dissolves blackheads. The collaboration Detclear Bright & Peel Peeling Jelly will be released on February 25, 2020 with six Kiki and Lala-themed bottle designs. The designs travel through time from the 1970s which sees our twinkling stars with yellow and brown hair to a retro time with a pink and aqua theme to the adorable magical unicorn theme that came out in more recent years. 

Whether it's an adorable pastel dreamworld design or one of the more nostalgic ones, you are bound to find a bottle that you really love. 

Detclear Bright & Peel Peeling Jelly – Unscented

Price: ¥1,200 (Before Tax)

Release Date: February 25, 2020

Available At: drugstores, general stores, cosmetics shops and official beauty online shops.

Sprinkle some stardust into your life this year for Kiki and Lala's 45th anniversary celebrations.

©'76,'20 SANRIO 著作(株)サンリオ 

Sanrio Character Museum to Open in Tokyo's Roppongi Hills For 60th Anniversary

Sanrio is set to turn 60-years-old in August 2020. To commemorate, the company has announced that it will open a museum called "Sanrio Character Museum" in summer 2020 where it will tour around Japan until 2025. The full dates and locations have yet to be announced, but its first stop will be the Tokyo City View Sky Gallery located on the 52nd floor of Roppongi Hills Mori Tower in Tokyo. Details for this first stop will be revealed sometime next month.

ⓒ '74, '75, '76, '77, '79, '80, '82, '83, '84, '85, '86, '88, '89, '90, '92, '93, '96, '98, '99, '01, '04, '05, '20 SANRIO CO., LTD.

Since its establishment, Sanrio has sought to spread kawaii culture to the world, as well as the message of everybody getting along and being friends. But how have gotten to this point with each passing generation? The museum exhibition will answer that very question, exploring its line-up of over 450 characters Sanrio has created over the years, including the most prominent ones like Hello Kitty, My Melody and Little Twin Stars who have been around for more than 40 years. It will also showcase characters that will be nostalgic to longtime Sanrio fans.

The exhibition will peruse the history of Sanrio from before it created its characters, and delve into the origin of the company's kawaii world. Fans can expect to see valuable prints, products, materials, and more. The exhibition will also include works made in collaboration with some of Japan's up-and-coming and prominent artists. Expect plenty of kawaii, and plenty of what is sure to be invaluable information for Sanrio fans.

Information

60th Anniversary Sanrio Character Museum

Start Date: Summer 2020

*Details TBA at the time of posting this article

Sanrio's Kuromi Begins 15th Anniversary Celebrations With Kuromi Cafe, Merchandise & More

This year, Sanrio is celebrating the 45th anniversary of its popular character My Melody. But she isn't the only one celebrating in 2020, as this year is also Kuromi's 15th anniversary, for which Sanrio has many exciting things planned for fans.

Kuromi first appeared back in 2005 in a television anime series entitled Onegai My Melody. She is known for her black hood with a pink skull on it. She seems like the rowdy type, but she's actually just a cute girlーsomething which has earned her many a fan, both guys and girls.

The Kuromi Cafe opens for a limited time

As you read this article, the official Kuromi Cafe is serving Kuromi-themed food, drinks and desserts to customers at the CHIBA SOGO branch of JUNNU on the first floor "Character Cafe." The menu line-up is inspired by the cheeky white rabbit, taking motifs such as her black hood. The cafe also has a photo spot for you to snap a picture to remember this celebratory day, and you can also pick up some official Kuromi merchandise.

Kuromi's Prim and Proper Curry – ¥1,540 (Tax Included)

Running: Now until March 22, 2020

Location: Character Cafe, JUNNU Floor 1F, CHIBA SOGO, Tokyo

Opening Hours: 10:00-20:00

Valentine's Doughnuts at Floresta Nature Doughnuts

Floresta is selling its first batch of My Melody and Kuromi doughnuts between February 1 and 7, and will be selling a new batch of balled doughnuts in a cup with Flat-kun and Kuromi between February 8 and 14.

 

Batch ①: February 1, 2020 – February 7, 2020

Prices: My Melody/Kuromi – ¥495 Each (Tax Included)

Batch ②: February 8, 2020 – February 14, 2020

Price: Rolled Doughnuts – ¥660 (Tax Included)

Official Website: https://nature-doughnuts.jp/

Merchandise collaboration with ITS'DEMO

All branches of ITS'DEMO in Japan are set to stock their shelves with Kuromi and My Melody items from February 15, 2020. ITS'DEMO is a chain of stores which sell fashion accessories, cosmetics, snacks, and more.

The cute line-up features flower prints which remind one of spring. Hidden within the designs are also motifs and references to each character. There are around 60 items to sift through, including stationery, snacks, and more.

Running: February 15, 2020 – March 9, 2020

Location: ITS'DEMO stores in Japan (*Select branches not participating)

Official Website: http://itsdemo.jp/

Kuromi herbarium bottle and pen by Hibiya Kadan

Hibiya Kadan is now selling a herborium and pen with Kuromi and My Melody designs. The herborium is split into two sections, one with hydrangea and annual baby's breath flowers, and the other with colourful oils. The hand-crafted pen is both a ballpoint pen and herborium in one. Both give you that fresh feeling of plants and flowers, and both are great for personal use or as a gift to someone.

Product Prices (Tax Included) Kuromi Floral Herborium – ¥2,420 / Kuromi Herborium Ballpoint Pen – ¥1,980

Release Date: Now on sale at Sanrio shops and the Sanrio online store. Releasing at Hibiya Kadan in March 2020.

Purchase:

・Sanrio

Select Sanrio shops and the Sanrio online store (https://shop.sanrio.co.jp/)

・Elsewhere

Rakuten: https://www.rakuten.co.jp/sanrio/

Yahoo! Shopping: https://shopping.geocities.jp/sanrio/

Hibiya Kadan shops and online store (https://www.hibiyakadan.com/sanrio/)

Kuromi's first collaboration with muta MARINE

muta MARINE is an ocean-inspired clothing and goods line from luxury good brand muta. They are planning to release the "Black Marine" line together with My Melody and Kuromi in March 2020.

Exhibition: 59th Japan International Boat Show 2020

Location: Pacifico Yokohama

Running: March 5, 2020 – March 8, 2020

Products: T-shirts, eco bags, and more

Available: At muta MARINE stores and the muta online shop (www.mutatokyo.com/)

Celebrate Kuromi's 15th anniversary this year with one of the many things planned for her in 2020♡

ⓒ 1976, 2005, 2020 SANRIO CO .,LTD.  著作:株式会社サンリオ

Food Review | Going On An Adventure With Maruko & Coji-Coji at Ginza's MARUKO & COJICOJI CAFÉ

When I was a kid, I found myself relating to Maruko-chan a lot. I was bad at studying, I loved just kicking back and relaxing, was sly, was always spoiled by my mother. I've always thought I was just like Maruko. I spent my childhood together with her, reading Ribon magazine, reading manga, and watching anime. I love her so much that even to this day, when I'm at home on Sundays, I never fail to watch the show.

Then there was Coji-Coji, who has a mellow and laid-back outlook, whose lines are sharp and quick, and who, if you see him, is sure to get a surprised reaction out of you. I was raised reading Chibi Maruko-chan, meaning I was of course a fan of the author Momoko Sakura, so it was only natural that I loved Coji-Coji which she wrote too.

With that long introduction out of the way, it's time for the main event. Combining the best of both worlds and my two favourites, the new MARUKO & COJICOJI CAFÉ opened at Ginza Marionette Gate 1 on January 31 and it's set to run until July 31.

I form part of the editorial team here at MOSHI MOSHI NIPPON, and loving Maruko-chan as much as I do, I of course had to make a trip to the cafe. I was joined by Chinese model and talent Etsuna.

Artwork from the Markuko-chan and Coji-Coji picture book Ehon Maru Koji. The pictures have a gentle touch to them and are enough to make you feel at ease at the first glance.

You feel warm and fluffy seeing the two of them getting along together like this.

There's huge pieces of artwork too like this one Etsuna is standing next to.

The tables have these lunch mats on them. There's two designs; one of Maruko and Coji-Coji walking across a field of grass and another with them swimming in the ocean amongst the fishes. Both are just too precious♡ I feel happy seeing the two of them having fun together. Boy, am I glad I came here.

The menu line-up is overflowing with originality too, each like its own little art piece. I ordered the baked cheesecake with a drink and Etsuna got the parfait drink.

Coji-Coji Is Here Cheesecake (w/Drink) – ¥1,380 (Before Tax)

The cheesecake is topped with Coji-Coji and Mount Fuji cookies. You can get a Maruko-chan cookie instead of Coji-Coji too, but I went for the Coji-Coji one. The cheesecake has a refreshing taste with cream that's not overly sweet. And when you add the berry sauce, it becomes a completely different delicious flavour.

I ordered a hot black coffee as part of the set, and the mug it was serve in had an original design on it in line with the cafe's theme. You can buy these mugs new there too.

Onigiri Aliens & The Star Festival Parfait – ¥1,700 (Before Tax)

This drink is inspired by the Milky Way of Tanabata. It's topped with Maruko-chan, Coji-Coji, and alien cookies.

Etsuna was spellbound by its gorgeous purple colour too♡

The parfait and drink come in separate vessels、so I recommend enjoying them one at a time. After tucking into the subtly sweet fruits, vanilla ice cream, and cream of your parfait, feel even more refreshed with a sip of your cream cheese-filled drink.

The Three Of Us Get Along – ¥1,880 (Before Tax)

There are plenty of colourful options to choose from the menu, but the one that struck my attention the most was this tomato cream and pumpkin sauce mix which contains seafood.

You get an edible Maruko-chan and Coji-Coji on the side too with tears in their eyes… what a melancholic expression. I feel sad just looking at this one.

The character cookies aren't just printed on – each and every one is hand drawn carefully. Which means the both of them have lots of different expressions! And they seem such a waste to eat (though of course I ate them all…)

If you want to see what else is on the menu, check out our other article here: https://www.moshimoshi-nippon.jp/ja/289822

Mug: ¥1,200 (Before Tax)

The cafe sells its own exclusive merchandise too, like the mug I got when my coffee and cake arrived.

Masking Tapes – ¥350 Each / Ballpoint Pens – ¥600 Each

B6 Notebooks – ¥280 Each

I picked up a notebook, pen and some masking tape. Perfect for when the cherry blossom season starts.

Hand Towel: ¥400 (Before Tax)

Etsuna got her hands on a hand towel. Everything they have in stock is cute, so I urge you to get lost in the wares of the MARUKO & COJICOJI CAFÉ if you visit! It's possible to book a table in advance, but the weekends are particularly busy, so if you have a day in mind don't forget to book.

The MARUKO & COJICOJI CAFÉ is packed full of Momoko Sakura's world. It was a mix of fun, cute, sad, and relaxing.

When I'm looking at Chibi Maruko-chan, I think of Sakura, and my chest feels tight and painful. But coming to this cafe made me think that when I look at Maruko-chan and her radiating personality, not just in the world of anime but in various different places, I feel that even if I've become an adult, I can always live my life together with Maruko-chan and Momoko Sakura, and that makes me happy. If you love Maruko-chan, Coji-Coji, and Momoko Sakura too, then be sure to jump into the picture book world of Ehon Maru Koji at MARUKO & COJICOJI CAFÉ.

©️Momoko Sakura ©️Sakura Production

Information

MARUKO & COJICOJI CAFE

Location: Sunday Brunch, Marronnier Gate Ginza 1 Floor 4F (2-2-14 Ginza, Chuo Ward, Tokyo)

Running: January 31, 2020 – July 31, 2020 (Subject to change)

Opening Hours: 11:00-21:00

Reservations/Official Website: http://www.marucoji-cafe.com

Epic Hello Kitty Gundam Figures Revealed For Summer 2020 Worldwide Release

Two new figurines have been revealed by BANDAI SPIRITS, which sees the worlds of Hello Kitty and Gundam come together as part of the longtime selling brand Chogokin ("Super Alloy") which has been selling since 1974. The figures will go on sale in Japan and 22 countries around the world in July 2020.

In April 2019, a projected began entitled Gundam vs Hello Kitty, which we covered throughout its run in detail. In the end, Gundam came out victorious, but both competitors made peace and began a new project named "Gundam x Hello Kitty Love & Peace." The two figurines are the first realisation of that new project.

In 2014, Chogokin celebrated its 40th anniversary, the year in which Hello Kitty celebrated her own 40th anniversary too, from which the incredibly popular "Chogokin Hello Kitty" was released. Last year, Mobile Suit Gundam commemorated its own 40 years since its release. The two figures are based on Amuro Ray's RX-78-2 Gundam and Char Aznable's MS-06S Zaku II which appear in the original series.

Over on the product website, you can watch a short animation showcasing the two figures, so be sure to check it out.

©Sotsu Co., Ltd. ・Sunrise ©1976, 2020 SANRIO CO., LTD.

Information

Chogokin Gundam★Hello Kitty

Price: ¥7,480 (Tax Included)

Release Date: July 2020

Chogokin Char Zaku II★Hello Kitty

Price: ¥7,480 (Tax Included)

Release Date: July 2020

Japan Release: Available at hobby shops, toy shops, internet shops, Sanrio's online shop, select Sanrio stores, and elsewhere

Product Website: https://tamashii.jp/special/sanrio/

Hello Kitty Collaborates With Japanese Biscuit Brand Tabekko Doubutsu

Sanrio is teaming up with Japan's longtime loved snack maker Ginbis to release a new line of 11 products featuring Hello Kitty. They will go on sale from February 6, 2020 at Sanrio shops across Japan, the online store, and select stores stocking Sanrio products. The collaboration combines the deliciousness of their biscuits, which are a nostalgic snack for Japanese people, with the cuteness of Hello Kitty.

The snack in question is the butter flavour of the popular longtime selling biscuit Tabekko Doubutsu, which are light to eat and come in cute animal shapes with the name of the animal written on them. Hello Kitty is a character known the world over, who celebrated her 45th anniversary last year. But the collaborative product line doesn't just include the biscuits – it includes merchandise too which will be sold as gift sets.

Plastic Mug (2 Designs) & Tabekko Doubutsu Biscuits – ¥700 Each

Two exclusive designs were created for the plastic mugs, including one with Hello Kitty flying an aeroplane over the animals, and the other with her face mixed in with the biscuit shapes.

*Please note that the biscuit packs do not come with biscuits of Hello Kitty's face

Mascot Holder & Tabekko Doubutsu Biscuits – ¥1,650

Mini Handbags (2 Designs) & Tabekko Doubutsu Biscuits – ¥1,100 Each

The mascot holder features Hello Kitty covered in biscuits, and the mini handbags come in the same designs as the plastic mugs. There are also pouches, mini purses, and more, for a total of 11 different items.

Treat yourself or your Valentine's Day sweetheart to an item in this kawaii new collaboration from Sanrio and Ginbis.

©️'76,'20SANRIO ©️Ginbis

*All listed prices include tax

Licca-chan Collaborates With Sanrio's Little Twin Stars Kiki & Lala in New Product Range

The new "LiccA Stylish Doll Collection Little Twin Stars Anniversary Style" is a new Licca-chan doll from Takara Tomy's made in collaboration with Sanrio and their popular characters Kiki & Lala, aka the Little Twin Stars. Pre-orders for the collection are set to open on February 3, 2020 at four branches of Takara Tomy as well as online at Takara Tomy Mall and the Sanrio online shop. It will be released in June, when it will also hit shelves at select Sanrio shops.

Part of the official LiccA brand of dolls, this collaboration features Licca-chan wearing the Little Twin Stars' 45th anniversary pastel colours, a mix of Kiki's pure blue and Lala's gentle pink. Stars are dotted all over the outfit, including the dress and earrings, and Licca-chan has a hairstyle that's fluffy like clouds.

Decorating her dress is a print of Kiki and Lala riding a unicorn. Her accessories include a stick with cotton candy on it, a shoe box with Kiki and Lala's logo on it coloured in rainbow leaf, and more. Everything in the design is a commemoration of Kiki and Lala's 45th anniversary.

The design for the outfit and hairstyle was chosen in a survey taken by 200 people at Sanrioworld GINZA back in September 2019 which was held to get fans involved with Kiki and Lala's 45th anniversary.

Kiki & Lala and Licca-chan have been friends since the 80's when a range of collaborative merchandise was released, such as the Licca-chan doll size Sanrio Gift Gate shop set featuring Kiki & Lala, the Licca-chan outfit with Kiki & Lala designs which was released as part of the "Sanrio Mate" series, and more.

If you're a collector of Licca-chan and Sanrio merchandise, then don't miss out on this new and very special collaboration.

© TOMY ©1976,2020 SANRIO CO.,LTD.TOKYO,JAPAN

Information

LiccA Stylish Doll Collection Little Twin Stars Anniversary Style

Pre-Orders: February 3, 2020

Release Date: June 2020
Price: ¥14, 000 (Before Tax)

Participating Stores: Takara Tomy Omocha no Yoshida Branch (Ashikawa, Hokkaido) / Takara Tomy Hakuhinkan Toy Park Branch (Ginza, Tokyo) / Takara Tomy KIDDYLAND Harajuku Branch (Harajuku, Tokyo) / Takara Tomy KIDDYLAND Osaka Umeda Branch (Umeda, Osaka) / Takara Tomy Mall / Sanrio Online Shop

Official Website: licca.takaratomy.co.jp/stylishlicca

Sanrio Gift's New Shop in Ueno Welcomes Hello Kitty Panda Merchandise & More

Sanrio opened a new gift shop called Sanrio Gift Gate in Ueno on January 24, 2020. This is the 107th branch of the gift shop to open in Japan, following the openning of the Asakusa branch which opened in Asakusa last year. Aimed at tourists both Japanese and foreign, it sells merchandise of Sanrio's popular cast of characters.

You can't miss the shop as a giant Pompompurin embracing a panda suit-clad Hello Kitty are waiting to greet you at the entrance. The panda is a symbol of Ueno due to Ueno Zoo housing giant pandas.

The souvenir shop features a range of Ueno exclusives, including a line-up of six popular Sanrio characters wearing panda outfits.

Plush Toys (6 Designs) – ¥2,200 Each / Small Plush Toys (6 Designs) – ¥1,760 Each

Who could resist one of these cute toys? The bigger ones at 16cm tall and the small ones 11cm. The line-up includes fan favourites Hello Kitty, Pompompurin, Cinnamoroll, My Melody, Kuromi, and Pochacco.

There's also pop-up cards with a variety of designs, including one that opens up into Ameya-Yokochō open-air market, another that turns into Hello Kitty and a panda sat down, and more.

Edo-Tamagawaya x Hello Kitty Pink Tonkotsu Ramen – ¥390

Budoonoki Sanrio Character Baumkuchen – ¥594 Each (Hello Kitty/My Melody/Pompompurin/Cinnamoroll)

The Salt Industry Center of Japan x Hello Kitty Table Salt – ¥248

There's also food and snacks amongst a whole range of other goodies, all perfect as gifts and souvenirs.

Be sure to stop by Sanrio Gift Plaza the next time you're in Ueno.

ⓒ 1976, 1996, 2020 SANRIO CO.,LTD. TOKYO, JAPAN  Original Text: SANRIO CO.,LTD.

*All listed prices include tax. Sold items receive stock turnovers.

Information

Sanrio Gift Gate Ueno
Address: Plaza U Bldg. 1F, 4-8-6 Ueno, Taito Ward, Tokyo

Business Hours: 11:00-20:00 (subject to change – please check website for latest info))

Other: Duty-Free/Payment possible with Alipay and WechatPay.
Shop Information: https://www.sanrio.co.jp/shop/sh8122100/

Cute and Chewy Pompompurin Confection Now Being Sold at Lawson Convenience Stores in Japan

Lawson, one of the main convenience store chains in Japan, has released the all-new Mochi Mochi Pompompurin Yaki, a cute and chewy confection filled with custard pudding flavoured cream.

The kawaii sweet recreates Pompompurin's adorable sleeping form. Inside of him is a squirt of purin, or Japanese custard pudding, flavoured cream, which happens to be Sanrio Golden Retriever's favourite treat. You'll find yourself reaching for your phone to snap a photo of him to post online before tucking in.

The confection will be discontinued once all have been sold, so if you're in Japan, head to your closest Lawson.

©1996, 2020 SANRIO CO., LTD. APPROVAL NO.S604266