Sanrio Character Museum to Open in Tokyo's Roppongi Hills For 60th Anniversary
Sanrio is set to turn 60-years-old in August 2020. To commemorate, the company has announced that it will open a museum called "Sanrio Character Museum" in summer 2020 where it will tour around Japan until 2025. The full dates and locations have yet to be announced, but its first stop will be the Tokyo City View Sky Gallery located on the 52nd floor of Roppongi Hills Mori Tower in Tokyo. Details for this first stop will be revealed sometime next month.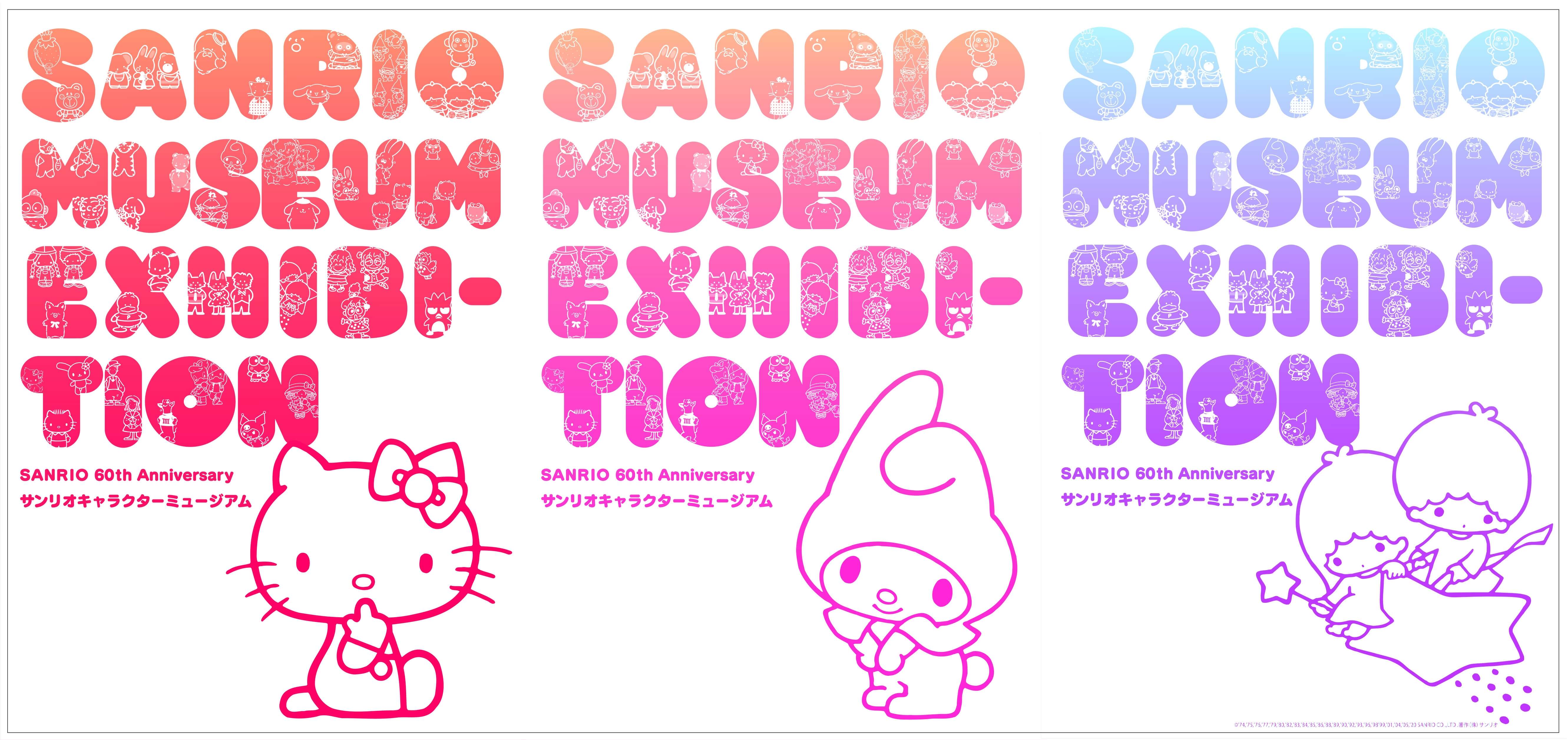 ⓒ '74, '75, '76, '77, '79, '80, '82, '83, '84, '85, '86, '88, '89, '90, '92, '93, '96, '98, '99, '01, '04, '05, '20 SANRIO CO., LTD.
Since its establishment, Sanrio has sought to spread kawaii culture to the world, as well as the message of everybody getting along and being friends. But how have gotten to this point with each passing generation? The museum exhibition will answer that very question, exploring its line-up of over 450 characters Sanrio has created over the years, including the most prominent ones like Hello Kitty, My Melody and Little Twin Stars who have been around for more than 40 years. It will also showcase characters that will be nostalgic to longtime Sanrio fans.
The exhibition will peruse the history of Sanrio from before it created its characters, and delve into the origin of the company's kawaii world. Fans can expect to see valuable prints, products, materials, and more. The exhibition will also include works made in collaboration with some of Japan's up-and-coming and prominent artists. Expect plenty of kawaii, and plenty of what is sure to be invaluable information for Sanrio fans.
Information
60th Anniversary Sanrio Character Museum
Start Date: Summer 2020
*Details TBA at the time of posting this article
RELATED ENTRIES
Natural Donut Shop Floresta Collaborates with Sanrio's Kiki and Lala for New Treats

From July 2 until July 24, the handmade donut shop Floresta will be offering donuts inspired by the Sanrio characters Kiki and Lala! These treats, made from all-natural ingredients, will be available at Floresta shops and at the online store.


The Little Twin Stars, Kiki and Lala, were born on the Omoiyari Star in the Dream-Star Cloud.

 

The older sister Lala and younger brother Kiki appear on these healthy donuts along with a shooting star. Floresta's special white chocolate is kneaded with purple sweet potato powder and strawberry powder to create a donut that isn't too sweet.

Little Twin Stars Collaboration Donuts

Part 1: July 2 – July 12
Ring Donuts (2 varieties)

Kiki / Lala

Part 2: July 13 – July 24
Kiki & Lala Shooting Star Donut Holes




During the second half of the event, guests will be able to grab donut holes based on the beloved characters. Although these sweet treats may be colorful, they were made with all-natural ingredients and are free of synthetic colors, fragrances, and preservatives. 

Enjoy these donuts yourself, buy them for a friend, or bring them to a family get-together.


© 2022 SANRIO CO., LTD. APPROVAL NO. L631150

Sailor Moon Museum Details Second Round of Exclusive Merchandise

The Sailor Moon franchise's 30th-anniversary museum will run from July 1 to December 30 at Tokyo's Roppongi Museum. The series became a global phenomenon in the 1990s and remains massively popular to this day.

 
The exhibition will feature the largest-ever exhibition of original illustrations by Sailor Moon's creator Naoko Takeuchi, at over 600 pieces. The museum will have three phases, each swapping out different pieces, so fans can have a different experience depending on when they visit!

The event will include an 'immersive experience theater,' which will display colored images on a massive 4.5 x 8-meter screen with special effects. Fans can also enjoy a 'hologram manuscript exhibit,' which will display the Sailor Scouts' famous dialogue. Plenty of merchandise will also be available for purchase, with the second round of available goods just announced!

Original Merchandise (Second Lineup)

Clear Folder ('90s Anime Logo)

Clear Folder (Random, 5 varieties)

Masking Tape Holder

Masking Tape (Luna, Artemis & Diana)

Hat ('90s Anime Logo)

Cloth Shirt ('90s Anime Logo)

Aurora Sticker (Random, 10 varieties)

Reversible Cushion (Luna & Artemis)

Pochette (Luna)

Face Powder Collection (5 varieties)

The second round of original merchandise features many items utilizing the '90s anime logo, including a shirt, hat, and clear folders. A themed masking tape holder was made to resemble Sailor Moon's Moon Stick, and the tape itself features the cats Luna, Artemis, and Diana.

 

The interior of the special store created for the exhibition was designed by Wataru LINDA Igarashi, an art director known for his cute pieces based on the concept of 'window shopping.' 

Come experience some serious nostalgia at the Sailor Moon museum later this year!

© Naoko Takeuchi

Information

Sailor Moon Museum

Running: July 1 – December 30, 2022

Vol.1: July 1 – September 4

Vol. 2: September 10 – November 6

Vol. 3: November 12 – December 30

Closed: September 5-9, November 7-11

Hours: 10:00-18:00 (Last entry at 17:30)

Venue: Roppongi Museum (5-6-20 Roppongi, Minato-ku, Tokyo)

Official Site: sailormoon-museum.com

Sanrio Puroland Opens New Sensory Show Fusing Real and Virtual Worlds

Starting July 15, Sanrio Puroland will premiere a new show, Nakayoku Connect. The unique hands-on experience will blend both the real and virtual worlds.

The interactive show Nakayoku Connect is set to introduce a new type of entertainment that combines a real live show filled with twinkling lights and lasers set to pop dance music with a virtual world. This is the first new show to be performed at Puro Village in three years, since Wish me mell's Chance for You began in September 2019. This will also be the first time in about two years–since the temporary closure in 2020–that regular shows will be held in Puro Village during business hours.

 

For the first time ever, this show will be presented not only in Puroland, but virtually as well. Visitors are welcome to enjoy this unprecedented experimental show incorporating the world around us and the world inside the computer.

In Japanese, Nakayoku means 'to care about friends' and 'to get along happily.' The creators of the show believe that this is an important value to think about today, and visitors will enjoy seeing their favorite characters, from Hello Kitty and Dear Daniel to Bad Badtz-Maru and Kogimyun. The live and virtual shows will be performed simultaneously, and the characters will wear new costumes inspired by the concept of retro-futurism.





For a more immersive experience, the show will utilize a 'fiber beam' for the first time ever. Harmless to the body, the entirety of Puro Village will be illuminated, with the lights and animations linked to the show's music. Come enjoy this brand-new experience!

Sailor Moon Museum Details Exclusive On-Site Merchandise

The Sailor Moon franchise's 30th-anniversary museum will run from July 1 to December 30 in Tokyo's Roppongi Museum. The series became a global phenomenon in the 1990s and remains popular to this day.



The exhibition will feature the largest-ever exhibition of original illustrations by Sailor Moon's creator Naoko Takeuchi, at over 600 pieces. Rare original color drawings and some never-before-scene creations will be on display, and fans won't want to miss this incredible chance. The museum will have three phases, each swapping out different pieces. Fans can have a different experience depending on when they visit!

Postcard Set (A): ¥880 (Tax Included)

Clear Folder A (Set of 2): ¥770 (Tax Included)

Nakayoshi Extras Reprint – Premium Card Collection Graffiti Ver. 1 / Ver. 2: ¥1,650 

 

A special store at the exhibition will sell original goods featuring original artwork by the original series creator Naoko Takeuchi. Postcards and clear folders feature colorful designs of famous scenes from the series, and longtime fans will appreciate a reproduced collection of trading cards that appeared in Nakayoshi Magazine.

 

New original goods will be available during each period of the museum. In late June, the interior of the exhibition and the second batch of original merchandise will be revealed!

© Naoko Takeuchi

Information

Sailor Moon Museum

Running: July 1 – December 30, 2022

Vol.1: July 1 – September 4

Vol. 2: September 10 – November 6

Vol. 3: November 12 – December 30

Closed: September 5-9, November 7-11

Hours: 10:00-18:00 (Last entry at 17:30)

Venue: Roppongi Museum (5-6-20 Roppongi, Minato-ku, Tokyo)

Official Site: sailormoon-museum.com

UNIQLO Releases UT Collection Inspired by the Great Museums of the World

UNIQLO's graphic T-shirt brand UT has launched an artful new collection! The Museums of the World collection of men's shirts features beloved museums like the Tate Modern, the Louvre, the Museum of Fine Arts Boston, and more. This valuable collection was made possible by UNIQLO's continued art initiative, as the company has continued to work with museums around the world to share the wonders of art with as many people as possible.

A Collection Allowing Customers to Enjoy the World's Best Museums as Part of Their Daily Lives

This collection brings together some of the world's most beloved museums, with designs inspired by the exteriors of these well-known homes of art. The Louvre design fully captures the iconic pyramid, while the contemporary MoMA is expressed with simple lines. The name of each museum is also printed on one sleeve for extra style.

UNIQLO's Art Initiative


UNIQLO has partnered with some of the world's leading museums over the years. Through free admission programs, sales of collaborative products and various events, these museums aim to provide opportunities for more people to experience and deepen their understanding of art.

May 2013 – Present / The Museum of Modern Art (New York, USA) 

March 2016 – Present / Tate Modern (London, England) 

September 2017 – Present / Museum of Fine Arts (Boston, USA) 

March 2018 – Present / Barcelona Museum of Contemporary Art (Barcelona, Spain)

February 2021 – Present / Louvre Museum (Paris, France)

Don't miss this unique collection! Which museum would you like represented in your wardrobe?

Sanrio to Create Original Character Inspired by Boy Band JO1

Sanrio and LAPONE Entertainment have teamed up to launch the JO1 x Sanrio Character Development Project to create a new character inspired by the globally popular boy band JO1.

The new project combines JO1's creativity with Sanrio's beloved branding to create a character embodying the member's strengths. JO1 announced the project during the 2022 SANRIO FES at Pacifico Yokohama North on June 12. A teaser has also been posted on the official JO1 YouTube channel. A special program will closely follow the project and new episodes will be posted on YouTube in the future, so be sure to watch!

Teaser Video


JO1's marketing department has been tasked with making the group's fans feel even closer, and the new character will be a kind of 'alter ego' of JO1. It's unclear what kind of character we'll see at the end of this, but fans are excited to find out!


©'22 SANRIO 著作(株)サンリオ ©️LAPONE ENTERTAINMENT

Tokyo City View at Roppongi Hills Welcoming Guests for Rainy Season Fun

During late spring and early summer, Japan enters the rainy season. From mid-June until early July, Tokyo City View, the indoor observatory at Roppongi Hills, will be giving people a way to enjoy this dreary time. From photo spots to afternoon tea and cute menu items at the on-site restaurant and cafe, this is one of the best places to spend time in Tokyo. 

Photo Spot Transforms Rainy Weather into Sunny Weather

Starting June 13, three photo spots featuring colorful umbrellas will appear around Tokyo City View. Even if it's pouring rain outside, it's always sunny under these pop-art umbrellas! Take some shots 250 meters above the streets of the city and post them on social media!

Normally, Tokyo City View ticket holders can enter the Sky Deck rooftop deck for an additional ¥500. For a limited time, a special set ticket including Sky Deck will be available at the on-site ticket counter! On rare sunny days during the rainy season, guests can enjoy the open-air Sky Deck, a perfect place to refresh and unwind.

Running: June 13 – July 4, 2022

Admission: ¥2,000 (General Admission, Weekdays) 

Details: https://tcv.roppongihills.com/jp/news/2022/06/5723/

*Certain areas of the indoor observatory will be closed during this period. 

Spend a Rainy Day at THE SUN & THE MOON Cafe & Restaurant

NY Cheesecake with Caramel Sauce: ¥1,280 (Tax Included)

Banana Split: ¥1,150 (Tax Included)

THE SUN & THE MOON Cafe and Restaurant is attached to Tokyo City View. At the cafe section, guests will be able to order some cute new items from the dessert menu to sweep away the rainy day blues. 

The restaurant section offers a spectacular city view and is filled with greenery, intending to make guests feel like they're in a forest in the sky. On a rainy day, you may feel like you're in the rainforest! Come enjoy a cup of tea and gaze out at the city.

The Roppongi Hills Observation Deck regularly hosts the Roppongi Astronomy Club. On July 7, the Tanabata Special Viewing Event will invite guests to enjoy a sparkling night view of Tokyo and the stars above. On July 15, a special Moonrise Viewing will be held, where visitors can watch the moon rise from the direction of Tokyo Skytree.

How would you like to spend a rainy day in this spectacular Tokyo landmark? 

Final Results of 2022 Sanrio Character Ranking Announced

The results are in! The annual Sanrio Character Award tallies millions of votes to discover which of the company's 450 characters is the fan favorite for the year. In 2022, nearly 26.5 million people cast their vote, totaling up to 124% of last year's turnout.

Taking the top spot for the third year in a row is Cinnamoroll, almost reaching 3 million votes. The character is celebrating his 20th anniversary this year, so it's fitting that he should take home the trophy!

Pompompurin came in second. The adorable dog has been in the top three for the past eight years and managed to rack up nearly 2.4 million votes. Surprisingly, Kuromi came in third, surpassing her rival My Melody for the first time ever. This was also the first time in the history of the competition that Kuromi has ranked in the top three.


Hangyodon ranked eighth, becoming the first new character in the top ten in 34 years. The fish character has been seeing increased popularity over the past year. 

All rankings are available to view on the official website, so be sure to take a look to find out where your favorite sits!

©'22 SANRIO  S/D·G  S/F·G  SP-M  著作 (株)サンリオ

Ueno's National Museum of Western Art Celebrates Reopening with Live Commentary for 'In Dialogue with Nature' Exhibit

The National Museum of Western Art, located in Ueno Park, reopened in April 2022 after being closed for renovations for 18 months. The first special exhibition post-reopening will feature Van Gogh's works in Japan for the first time, along with paintings depicting modern nature from both the National Museum of Western Art and the Museum Folkwang in Essen, Germany.

To commemorate the post-renovation reopening of the National Museum of Western Art in Tokyo, this exhibition traces the development of modern art born out of the dialogue between nature and humankind.

The event was realized in collaboration with the Museum Folkwang, and both institutions were founded on private collections: that of Karl Ernst Osthaus (1874–1921) in Germany and Matsukata Kojiro (1866–1950) in Japan.

The exhibition will feature over 100 paintings, drawings, prints, and photographs from both museums, spanning from German Romanticism to the art of the twentieth century, ranging from Impressionism to Post-Impressionism. 


Guests can enjoy all aspects of the infinite expanse of nature as shown in both collections, from the smallest roadside flowers to the vast universe and all humanity contained within. Would you like to come and experience this unique exhibition?


Information

The National Museum of Western Art Reopening Event
In Dialogue with Nature: From Friedrich, Monet and Van Gogh to Richter

Running: June 4 – September 11, 2022

Closed Mondays, July 19 (*Open July 18 and August 15)

Venue: The National Museum of Western Art (Ueno Park, Tokyo)

Hours: 9:30-17:30 (Open until 20:00 on Fridays, Saturdays)

Niconico Museum Homepage: https://ch.nicovideo.jp/niconicomuseum

GELATO PIQUE HOMME Limited Concept Store Opens at Hankyu Men's Tokyo for Father's Day

Men's roomwear brand GELATO PIQUE HOMME will open a limited-time concept store at Hankyu Men's Tokyo from June 15 until June 21, 2022. 

The store will offer a wide variety of items, including light and comfortable loungewear perfect for summer and unisex items perfect for partners. In addition, GELATO PIQUE x BE@RBRICK collaboration items will also be available for purchase. 

Popular around the world, Medicom's BE@RBRICK figure can now be purchased in full Gelato Pique loungewear, with customers able to choose between 400% and 1,000% sizes. Shoes are also available for each figure.

The summer collection includes soft and lightweight items perfect for the heat, including sweatshirts, long pants, and ultra-thin shirts.

Hand soap and face wash will also be available. Gelato Pique Homme's original citrus mint blend is made with bergamot and patchouli essential oils sourced from France.

Come pick up some of these items, perfect for Father's Day!

Information

GELATO PIQUE HOMME LIMITED CONCEPT STORE
Running: June 15 – June 21, 2022
Address: Hankyu Mens Tokyo Main Base, 1F (2-5-1 Yurakucho, Chiyoda-ku, Tokyo)
Hours: 11:00-20:00
*Business days and hours are subject to change.

GELATO PIQUE HOMME Official Site: https://gelatopique-homme.com/

Godiva Cafe Releases Drinks and Goods Inspired by Sanrio's Hapidanbui

Godiva Cafe first collaborated with Sanrio's Hapidanbui collective in February of this year. The second collaboration will begin on June 15, 2022!

Hapidanbui Chocolixer – White Chocolate Cacao 27% / Cacao 50%

Hapidanbui Godiva Cafe Original Pouch (with Godiva Soft Cookie)

The second collaboration will highlight the characters Pochacco and Pekkle. Godiva Cafe's iconic drink, the Chocolixer, will be available in a special sleeve, and an original sticker will be handed out with each purchase.

Pochakko and Peckle pouches designed exclusively for the collaboration will also be available in-store while supplies last!

 © 2022 SANRIO CO., LTD. APPROVAL NO. L630772

Information

Godiva Cafe x Hapidanbui – 2nd Collaboration

Hapidanbui Chocolixer

Price: ¥680 (Tax Included)

Where to Buy: Godiva Cafe locations nationwide

Available: June 15 – end of August

Hapidanbui Godiva Cafe Original Pouch

Price: ¥1,850 (Tax Included)

Where to Buy: Godiva Cafe locations nationwide

Available: June 15 while supplies last

Official Site: https://www.godiva.co.jp/

Kura Sushi Begins Exclusive Sanrio Characters Collaboration Campaign

To commemorate the 20th anniversary of the popular Sanrio character Cinnamoroll, a new campaign has begun at Kura Sushi locations around Japan! Popular Sanrio characters have gathered for a 'Sushi Party,' and guests can look forward to a new collection of original merchandise.


During the event period, customers are invited to partake in a game when they visit Kura Sushi. For every five plates, they will be entered to win a piece of original merchandise including clear folders, pins, and more!


Starting June 24, guests spending ¥2,500 or more will receive a clear folder featuring Sanrio characters (4 varieties).


Visitors to the Kura Sushi location in Harajuku will be able to grab an Apple Cinnamon W Cream crepe featuring a special Cinnamoroll illustration. Combining apple compote, cinnamon, and custard, this sweet treat not only offers the sweetness and softness of apples but is also perfect for posting on social media! The pale blue whipped cream is inspired by Cinnamoroll's coloring.

Come celebrate Cinnamoroll's 20th anniversary at Kura Sushi!

©2022 SANRIO CO., LTD. APPROVAL NO. L631475