McDonald's Japan Reveals White Chocolate Strawberry Latte and Frappe
McCafé by Barista branches of McDonald's in Japan are set to release three new drinks on February 26, 2020, for a limited time: the "White Chocolate Strawberry Frappe," "White Chocolate Strawberry Latte," and "Iced White Chocolate Strawberry Latte."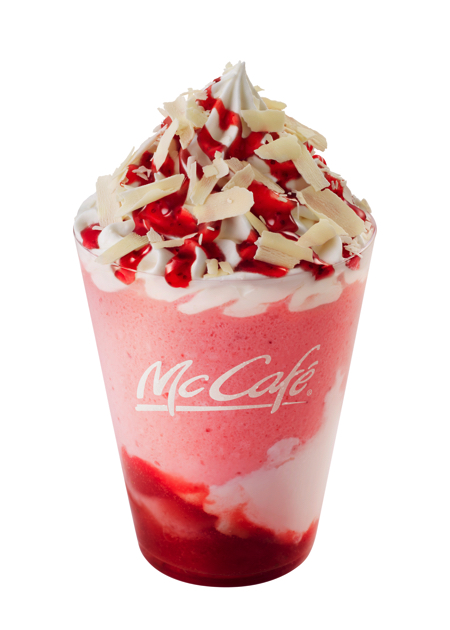 White Chocolate Strawberry Frappe – ¥490
The White Chocolate Strawberry Frappe is built up of a sauce made using fresh slices on strawberry and whipped cream, on top of which rests a refreshing milk base also mixed with strawberry sauce. Topping it all off is a squirt of fluffy whipped cream, a drizzle of strawberry sauce, and a sprinkling of white chocolate nibs. The aftertaste of this tasty dessert beverage leaves you feeling refreshed while satisfying your taste buds with its sweet flavour.
Iced White Chocolate Strawberry Latte – ¥390
White Chocolate Strawberry Latte – ¥390
The strawberry sauce and strawberry syrup used in the hot and iced versions of the White Chocolate Strawberry Latte are mixed together with fluffy foamed milk and cold milk to create a succulent strawberry milk. This is finished with whipped cream, more strawberry sauce, and plenty of white chocolate bits. Containing no coffee, these drinks enjoy the subtle sweetness of the white chocolate and the tangy-ness of the strawberry milk.
Refresh yourself this spring in Japan with a cup of McDonald's new White Chocolate Strawberry drinks.
RELATED ENTRIES
Shinjuku's Takano Fruit Parlour Serves Up Strawberry Desserts For the Spring Season

This spring, Takano Fruits Parlour is serving up a special strawberry-themed course menu at its Shinjuku branch starting on April 5. It comes as part of the restaurant's monthly fruit theme where they shine a spotlight on a single fruit each month. This month is strawberries which are adorning everything from appetisers to the main and dessert with a collection of succulent delights.

Spring Strawberry Course | ¥4,400 (Tax Included)

The course includes an apéritif, strawberry soup, beef cooked in a strawberry and demi-glance sauce, fruit salad, a hot dessert, strawberry chiboust, strawberry art palette assortment, a chilled strawberry dessert, and a choice of coffee, tea, or cafe au lait.

Information

Spring Strawberry Course

Running: April 5, 2021 – April 28, 2021 (Weekdays Only)

Where: Takano Fruit Palrour

Address: 3-26-11 Shinjuku, Shinjuku-ku, Tokyo

Time: [Morning Slot] 11:00-13:30 / [Afternoon Slot] 16:30-18:30

TEL: 03-5368-5147

Official Website: https://takano.jp/parlour/

Fuji-Q Highland's Gaspard and Lisa Town Begins Spring Season Strawberry Festival

Strawberry lovers, listen up. If you're looking to indulge in strawberry-flavoured desserts all day long, then this fruity festival will have your mouth watering. The Gaspard and Lisa themed town at Fuji-Q Highland in Yamanashi is now holding its annual Strawberry Festa event which is running until May 5.

There are so many tasty treats to enjoy at this year's event, from cakes and pastries, desserts and drinks—all made with plump and fresh strawberries—that you can enjoy eating while walking around the themed town. One must-try is the Strawberry Pavlova which is made with a meringue that's crunchy on the outside and soft in the middle and is adorned with fresh cream and, of course, strawberries. It's a hearty serving but is actually a light and refreshing eat.

Strawberry Afternoon Tea Set at Les Rêves Salon de thé

Strawberry Festa exclusive face masks

Guests at the park who spend over ¥3,000 in a single transaction at any shop in the town will receive a free original face mask.

Hotel guest rooms

Meet Gaspard and Lisa in-person

Les Rêves Salon de thé

Strawberry Crepe recipe showcase

For those unable to travel due to restrictions, the town has also posted an online video showing how you can makes a strawberry crepe at home.

Chocolate bananas at LA BANANE

A variety of new shops have also opened at Fuji-Q Highland, including Strawberry Fetish which is Japan's first shop specialising in strawberry hard candy, as well as LA BANANE where you can enjoy chocolate bananas and other treats.

Colourful bagels at BONBON BAGLE

Gaspard and Lisa Town original merchandise

Scrumptious Strawberry Mont Blanc Served Up This Spring in Japan

Japanese mont blanc specialists Seishibori Mont Blanc Senmonten released a brand new strawberry flavoured mont blanc on Thursday (March 11).

Seishibori Mont Blanc Senmonten runs two separate locations: a takeout stand and a dessert cafe. It first launched in October 2020 to huge success and is looking to expand by setting up branches in Fuji, Hamamatsu, Chiba, Nagoya, and eventually the rest of Japan in the future.

A seasonal treat made with fresh strawberries

Since it first opened its doors to the public, Seishibori Mont Blanc Senmonten continues to see long lines of customers awaiting their indulgent mont blancs. Their new strawberry version uses a specially-made chestnut cream that's made with two types of chestnuts: one from Italy with a strong aroma and another from Kumamoto Prefecture which is known for its subtle sweetness and has also been called the "King of Chestnuts." Added to this is fresh strawberry for a refreshing kick in the mix. Spooning into the mont blanc, one will find a crunchy homemade meringue which provides texture to the silky fresh cream as well as the strawberry and chestnut creams. The fresh Japanese strawberry added on top finishes it all off for a harmony of flavours.

Strawberry Mont Blanc: Eat & Walk ¥980 / Takeout ¥900 / Eat-In ¥1,800

The dessert is available from March 11 until the seasonal strawberry stock runs out.

Seishibori Mont Blanc: Eat & Walk ¥900 / Takeout ¥700 / Eat-In Regular ¥1,650 / Eat-In Small ¥1,210

The shop's mont blancs are a delicate formation of chestnut cream measuring just 1mm in diameter. This delicate process, which is conducted in front of customers, has been recorded and put on Japanese social media many times. The process involves using an antique press as pictured above.

A blend of Italian and Japanese chestnuts for a rich, high-quality cream

The cream that's a blend of Japanese and Italian chestnuts was developed after much trial and error. The result was the same delicately crafted 1mm melt-in-the-mouth experience which combines perfectly with the crunchy meringue, fresh cream, and ice cream. If you order it for takeout, the meringue is also coated in white chocolate.

McDonald's Japan Releases Coffee Jelly Pudding Frappe

McDonald's Japan continues its flurry of delicious releases to its diverse menu with the addition of the new Coffee Jelly Pudding Frappe which hit McCafé by Barista® branches of McDonald's on Wednesday (March 10).

The sweet beverage takes rich-tasting Japanese custard pudding, known as purin, and turns it into a drink. It's topped with fluffy whipped cream and dunked with chewy pieces of coffee-flavoured jelly which sit temptingly at the bottom of the cup waiting to be enjoyed. Together with a drizzle of caramel sauce, the drink is a perfect balance of sweet and full-body. A must-grab for the arrival of the warm spring weather.

Kubota Sake and Strawberry Infused Dessert and Drink Released by DEAN & DELUCA

The Marunouchi branch of DEAN & DELICA is collaborating with lifestyle company Welcome and Asahi Shuzo Brewing to release a drink and dessert made with Kubota Junmai Daiginjo sake and strawberries.

Junmai Daiginjo White Chocolate | ¥572 (Tax Included)

A rich, sweet beverage made with 45% cacao white chocolate, milk, strawberry compote, yuzu citrus, Kubota Junmai Daiginjo, and a topping of sprinkled chocolate.

Junmai Daiginjo Gelato Affogato

A luxurious dessert that combines a perfect balance of sweet, acidic, and bitter flavours with a yuzu-scented gelato made with Junmai Daiginjo and milk, a drizzle of strawberry sauce, and a shot of espresso.

Kubota Junmai Daiginjo is a crisp and dry Japanese sake known for its vivid collection of fruity notes. It can be enjoyed chilled to bring out the fragrances as well as at low temperatures.

Information

SAKE & DOLCE

Available: From March 8, 2021 while supplies last

Where: DEAN & DELUCA Cafe Marunouchi

Official Website: https://www.deandeluca.co.jp

Dean & DeLuca Releases Strawberry Desserts and Drinks For Spring 2021

The fresh juice season is back for spring at Dean & DeLuca cafes in Japan this year where they have a very special selection of drinks and desserts lined up for customers as well as an exclusive tumbler.

Creamy Italian maritozzi

Indulge in a tempting maritozzi this spring season which has a fluffy brioche bun stuffed loaded with fresh cream stuffed with sweet strawberries. This famous Italian delicacy is usually enjoyed in the morning but the addition of milky cream and tangy strawberries makes it a perfect dessert.

Every bite treats the taste buds to a combination of buttery brioche, melt-in-the-mouth cream, and a choice of either fresh cream and strawberries or fromage blanc and sweet and sour apricot jam.

Left: Maritozzi Strawberry ¥410 / Right: Maritozzi Apricot Jam & Fromage Blanc Cream ¥367

Serving: From March 1, 2021 while supplies last

Participating Market Branches: Shinagawa/Yurakucho/Shinjuku/Ebisu/Hiroo/Yaesu/atré Kawasaki/CIAL Tsurumi/Yokohama/Nagoya/Osaka

Participating Cafe Branches: All

A taste of spring with fresh strawberry juice

This year, Dean & DeLuca are serving up the "Strawberry & Fruit Tomato" smoothie which is made with freshly-picked whole strawberries and tomatoes. Tomatoes are generally seen as a summer vegetable, but the most delicious time to enjoy tomatoes grown in Japan is the spring season just like strawberries. The strawberries and tomatoes take on plenty of sugar content during the winter season which brings a rich sweetness best enjoyed right now.

 

The juice is prepared fresh for every order, with whole fruits put into a mixer and then served.

Left: Strawberry Juice ¥583 / Right: Strawberry & Fruit Tomato ¥605

Serving: From March 1, 2021 while supplies last

Participating Market Branches: Roppongi/Shinagawa/Yurakucho/Shinjuku/Ebisu/Hiroo/Yaesu/atré Kawasaki/CIAL Tsurumi/Yokohama/Nagoya/Osaka/AMU Plaza Hakata

Participating Cafe Branches: All

Spring-exclusive Strawberry Apple Pie

Japanese apple pie chain GRANNY SMITH APPLE PIE & COFFEE is also providing a seasonal strawberry and apple pie filled with in-house custard.

 

GRANNY SMITH APPLE PIE & COFFEE's Strawberry Apple | ¥648

 

Serving: March 2, 2021 – April 30, 2021

Participating Cafe Branches: All (Except Yurakucho LUMINE STREET)

Enjoy spring with a spring-coloured tumbler

Dean & DeLuca's popular tumblers return in seasonal colours and fitted with an airtight screw cap. They're available in "Tokyo Pink" and "Charcoal Grey" colours.

 

Tumblers: ¥3,080 Each

Released: From March 1, 2021

Participating Cafe Branches: All

*Cafe-exclusive, not available for purchase online

McDonald's Japan Serving its Famous Limited-Time Teritama Burgers Again This Spring

Spring is almost here, which means the return of McDonald's Japan's famous "Teritama" series of burgers, a delicious combination of teriyaki sauce and egg. The customer-favourites hit the menu on Wednesday (March 3).

Teritama

Cheese Teritama

Pastrami Beef Teritama

Teritama Muffin

McFizz® Iwate Prefecture White Peach (1% Fruit Juice)

McFloat® Iwate Prefecture White Peach (1% Fruit Juice)

Shaka Shaka Potato® Chicken & Garlic Seasoning

The Teritama burger is a popular order at McDonald's in Japan. First launched in 1996, it lathers a pork patty with a sweet and sour teriyaki sauce that's made from apple and garlic and tops it with a runny egg. The series includes the standard egg and teriyaki pork burger as well as the cheddar cheese-loaded "Cheese Teriyama," and the spring season exclusive "Pastrami Beef Teriyama." This year also sees the return of the "Teriyama Muffin" which was first introduced in 2017.

Don't forget to order the black pepper-covered Shaka Shaka Potato fries that come with a chicken and garlic seasoning. As well as the savoury line-up, sweet tooths can look forward to a McFizz and McFloat made with the juice of white peaches farmed in Iwate Prefecture.

McDonald's Japan also released a series of commercials for the 2021 Spring season Teritama series. Check them out below.

McDonald's Japan Teritama 2021 | 15-Second Commercial

McDonald's Japan Teritama 2021 | 30-Second Commercial

McDonald's Japan Teritama 2021 | 60-Second Commercial

McDonald's Japan Teritama 2021 | 120-Second Commercial

Information

McDonald's Teritama 2021

Released: March 3, 2021

Where: McDonald's Japan branches

Official Website: https://www.mcdonalds.co.jp/

Milky Strawberry Sandwich Biscuits by Sugar Butter Tree Arrive Ahead of Spring

Sugar Butter Tree, a shop by Grapestone that specialises in cereal sweets, released its new Strawberry Chocolate Sandwich at all branches of Sugar Butter Tree on February 15.

A Limited-Time Treat Made With Seasonal Japanese Strawberries

This strawberry-loaded biscuit is sold by Sugar Butter Tree every year. It's made with only the best picked springtime strawberries to create a delicious chocolatey snack. If you love strawberries, then this is a treat for you.

Sugar Butter Tree Strawberry Chocolate Sandwich: Pack of 5 – ¥648 / Pack of 8 – ¥1,080 / Pack of 12 – ¥1,620 (Tax Included)

Milky, melt-in-the-mouth strawberry goodness

The chocolate 'sandwich' contains crunchy milk cream with a delicious sugar butter scent. This is wrapped in a strawberry chocolate coating, making for a mix of sweet and tangy.

Looks cute on the table served with tea

The design theme for the biscuit is "strawberry teatime." Its pastel colour makes for a cute serving snack served with a cup of tea.

Information

Sugar Butter Tree's Strawberry Chocolate Sandwich

Available: February 15, 2021 – Mid May 2021 (While supplies last)

Where: Sugar Butter Tree (Tokyo/JR Nagoya Takashimaya/Hankyu Umeda/Hakata Hankyu) + Gin no Budou (Daimaru Tokyo/Seibu Ikebukuro/Lazona Kawasaki)

Also Available Online: https://www.paqtomog.com

Sugar Butter Tree Official Website: https://www.sugarbuttertree.jp/

Succulent Strawberry Tarts Get Baked Up at Andrew's Eggtart This Spring

Japan's egg tart chain Andrew's Eggtart is baking up some special handmade strawberry tarts this spring made with fresh strawberries farmed in Japan.

Spring Strawberry | ¥380 (Before Tax)

The tarts are triple-layered with a strawberry compote, strawberry cream, and an in-house original custard cream. Each tart is finished with fresh cuts of succulent strawberry to finish, adding a fruity flavour to the sweet treat.

Information

Spring Strawberry

Order Window: March 3, 2021 – May 31, 2021

Participating Branches: Dotonbori / Osaka Namba Station / JR Tsuruhashi / AEON Mall Osaka Dome City / Nagoya Meitetsu / Kagoshima Tenmonkan

*Available while supplies last

Andrew's Eggtart Official Website: https://www.eggtart.jp

Sweet Strawberry Desserts Get Baked Up at Kobe-Sanda Premium Outlets

Kobe-Sanda Premium Outlets, an outdoor shopping centre in Hyogo, is having a strawberry-loaded time with a selection of desserts made with strawberries harvested in Sanda as well as a market themed on strawberries. The event is taking place from February 12 to March 21.

The line-up doesn't shy away from strawberries in anyway, with the sweet and succulent red gems being used for crepes, pancakes, pizzas, drinks, and more.

The Sandai Ichigo Marche arrives for the first time at Kobe-Sanda Premium Outlets where visitors can buy whole bunches of strawberries of different types directly from the harvesters. It is being held on February 13 and 14 and March 13 and 14. And you can't have a strawberry festival in Japan without enjoying a strawberry daifuku either, kindly provided by the old-time Sanda-based confectionery store Matsuedo.

Sanda Strawberry Menu (Prices Include Tax)

The menu features a line-up of desserts made with numerous strawberry varieties gathered in Sanda, such as the akihime and benihoppe. Each is made by different participating shops.

Tana Forno

Sanda Benihoppe Chocolate S'mores Pizza – ¥748 / Strawberry Squash – Single ¥550, Set ¥495

The dessert pizza is a perfect combination of benihoppe strawberry and chocolate.

Delifrance

Kobe-Sanda Strawberry Anpan – ¥300

Moist sweet bread with low-sugar coarse sweet bean paste, whipped cream, and strawberries.

Canvas

Sanda Strawberry Mixed Berry Crepe – ¥649

A triple whammy of strawberries, blueberries, and raspberries decorate this crepe.

Kua'aina

Strawberry Pancake Brûlée – ¥930

A pancake brûlée loaded with strawberries.

Crazy Crepes

Sanda Strawberry Crazy Ichigo – ¥750

Enjoy the natural flavours of the strawberries as they are without any additions like chocolate.

Sandai Ichigo Marche

At the Sandai Ichigo Marche, visitors can buy strawberries, vegetables, strawberry daifuku, and more. It's a celebration of all things Sanda.

Running: February 13, 2021 / February 14, 2021 / March 13, 2021 / March 14, 2021
Time: 11:00-15:00 (While supplies last)
Location: Garden Court (Will move under the galleria in front of the food gallery if it rains)

Enjoy the delicious taste of seasonal strawberries grown in the lush environment of the Rokkō Mountains.

Information

Sandai Ichigo
Running: February 12, 2021 – March 21, 2021
Location: Kobe-Sanda Premium Outlets
Address: 7-3 Kozudai, Kita-ku, Kobe, Hyogo
Closed: February 18, 2021 (3rd Thursday of February each year)
TEL: 078-983-3450
Kobe-Sanda Premium Outlets Official Website: https://www.premiumoutlets.co.jp/kobesanda/

McDonald's KitKat McFlurry to be Whipped Up in Japan

McDonald's Japan is teaming up with Nestlé next week to bring back last years' customer-favourite McFluffy® KitKat® for a limited time starting on January 27.

McFlurry KitKat | ¥290

The delicious dessert combines McDonald's tasty soft service ice cream with crushed KitKat and finishes it with a drizzle of special sauce made with couverture chocolate. Mix everything together for pure chocolatey heaven goodness.

McFlurry Oreo | ¥290

McDonald's Japan also serves the McFlurry Oreo, a regular item on the menu, and right now is the only time you can enjoy comparing the tastes and textures between both the Oreo and KitKat McFlurries.

Which one has you drooling more?

Information

McFlurry® KitKat®
Running: January 27, 2021 – Late March 2021

Available: McDonald's Japan (Select branches not participating)
Serving Times: 10:30 until closure
Official Website: http://www.mcdonalds.co.jp/

*KitKat is a registered trademark of Nestlé Group.

Japanese Star Actor Kimutaku Features in McDonald's TV Commercial For New Cafe Latte & Choi Mac Burger

McDonald's Japan is teaming up with iconic Japanese actor and singer Takuya Kimura, also known as Kimutaku, once again following their collaboration with him in 2020. The star is featuring in a new commercial and campaign by McDonald's that centres on rediscovering the value and taste of the fast food chain.


The first in a series of commercials hit Japanese televisions on Tuesday (January 12) for McDonald's Japan's revamped hot and iced Cafe Lattes. The second commercial will be released next Tuesday (January 19) for the Yakkii grilled ginger burger. The ¥200 burger is arriving on the menu at McDonald's Japan the following day on Wednesday.