Join Senku and Escape the Stone Cave in the Official Dr. Stone Escape Game in Tokyo
Japanese escape game creation company SCRAP is teaming up with the popular anime series Dr. Stone to bring an all-new escape game entitled "Escape From the Stone Cave" to its site in Kichijoji, Tokyo. The Dr. Stone themed escape game will open on February 21, and fans of the series can also get their hands on a range of original and exclusive Dr. Stone merchandise.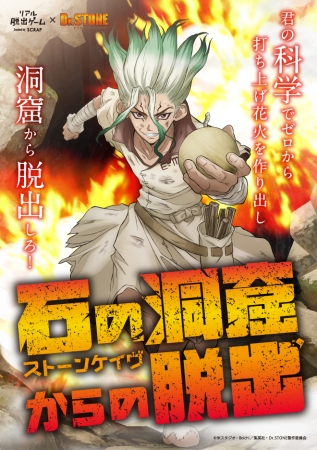 The escape game features a completely original story with full voice acting. Participants will follow in the footsteps of Senku by carrying out actual science experimentsーmade in collaboration with puzzle creator group AnotherVision from the University of Tokyoーwhile solving puzzles and cracking codes to escape the Stone Cave.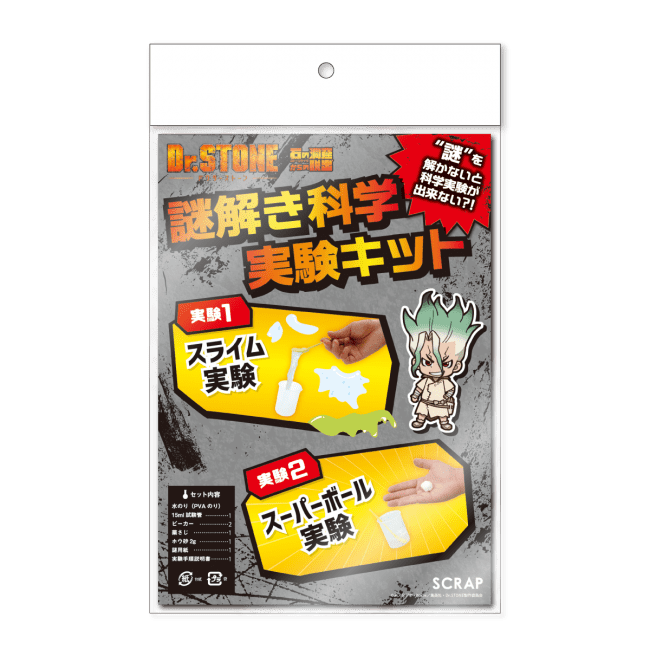 Puzzle Solving Science Experiment Kit
Senku Dr. Stone
Five pieces of exclusive merchandise will be released in line with the event, including a folder, a science experiment kit, and more.
Fans of Dr. Stone won't want to miss out on this fun event as they wait for the second season of the anime series.
©米スタジオ・Boichi / Shueisha・Dr.STONE Production Committee
Information
Escape From the Stone Cave
Start Date: February 21, 2020
Time Limit: 40 Minutes / Time Of Arrival: 50-90 Minutes
No. of People (Group): 3 max
Location: SCRAP Nazo Building Kichijoji
SCRAP Kichijoji
Address: SCRAP Nazo Bldg. Kichijoji Honcho, Musashino, Tokyo)
Access: 3-minutes on foot from the North Exit of Kichijoji Station
Official Website: http://realdgame.jp/dr_stone/
RELATED ENTRIES
Dr.STONE Inspired Silver Ring Collection Releases by Japanese Jewellers ETERNO RÉCIT

Japanese anime and manga-inspired jewellery brand ETERNO RÉCIT released a new collection of silver rings last Wednesday (February 3) based on characters from the popular TV anime series Dr.STONE.

Dr.STONE Ring Collection: Senku Ishigami, Gen Asagiri, Tsukasa Shishio

Senku Ishigami Design

Gen Asagiri Design

Tsukasa Shishio Design

The collection is a must-grab for fans of the series. Who else is enjoying the ongoing second season?

(c)米スタジオ・Boichi/集英社・Dr.STONE 製作委員会

Mr. Osomatsu Escape Game Releases Original Merchandise Collection

Japanese escape game developer company SCRAP released a new collection of original and exclusive merchandise based on one of its Mr. Osomatsu themed escape games. The escape game was created in collaboration with the anime's third season.

The merch at a glance

Bonus items for those who book advance tickets

The escape game, which is called "Escape From the Black Market Empire," features an original voiced story that has players using their smartphones to communicate with the six Matsuno siblings. They must work with them to help repay their debt.

The merchandise collection includes plenty of must-grabs for fans like folders, stickers, tote bags, and more. And there's some bonus items for those who buy an advance tickets.

©赤塚不二夫/おそ松さん製作委員会 ©SCRAP

Mr. Osomatsu Themed Escape Game Begins Across Japan

Japanese escape game developer company SCRAP, who has welcomed more than 7.4 million players worldwide to its iconic escape games, is now holding a game themed on the popular TV anime series Mr. Osomatsu.

The game is titled "Escape From the Black Market Empire" and features an original voiced story that has players using their smartphones to communicate with the six Matsuno siblings. They must work with them to help repay their debt. It is taking place at SCRAP branches across Japan including in Kichijoji, Nagoya, and Osaka, each of which has been decorated with posters signed by seven members of the anime's voice cast.

The escape game's official website also posted a commercial that's worth checking out featuring newly-recorded lines from the iconic sextuplets.

Bonus Merch

Bonus merch for participating in the game includes:
・Champagne glass
・Coaster
・Business card
・Business card case

Original Merchandise (Prices Include Tax)

Hand Towel Set ¥2,000 / Sticker Stick ¥300 / Folder ¥1,000 / Pins ¥500 / Key Rings ¥800

©赤塚不二夫/おそ松さん製作委員会
©SCRAP

Chihayafuru Anime Gets Escape Game at TOKYO MYSTERY CIRCUS

TOKYO MYSTERY CIRCUS, Japan's first and biggest puzzle-themed theme park, has announced the opening of a new escape game based on the popular manga anime series Chihayafuru which will begin at the site on March 4, 2021.

The immersive story-driven escape game has players take on the role of a member of the Fujiyama High School karuta club. While learning the essential points of competitive karuta from Chigaya Ayase and the gang, they must aim for victory to escape. No prior preparations are necessary – players can book their tickets and just turn up on the day.

This unique escape game takes place in a traditional tatami mat room and combines puzzle-solving skills with competitive karuta in which clues are written on the cards. Fans of the manga and anime series are sure to enjoy this immersive game.

Tickets will go on sale on January 23, 2021 at 12:00 (JST).

©末次由紀/講談社

Dr.STONE Mobile Game Announced as in Development

Poppin Game Japan has announced that it is developing a mobile game based on the TV anime series Dr.STONE which is based on the manga series of the same name by Riichiro Inagaki. The game will be released sometime in 2021.

Dr.STONE Story

Dr.STONE is set several millennia after all humans on earth are mysteriously turned to stone. Taiju awakens to find the modern world he once knew completely overtaken by nature. He comes across his intelligent friend Senkuu, a lover of all things science, and together they aim to turn the Stone World back into the world of science they once knew.

The anime's first season aired last year from July to December. A second season will begin airing on January 14, 2021.

New illustration for the mobile game

The new mobile game will have players collecting different items and ingredients to craft scientific tools, battling characters from the story, and more. Full details will be announced at a later date so stay.

©米スタジオ・Boichi/集英社・Dr.STONE製作委員会

*The "Android" name, the Android logo, the "Google Play" brand, and other Google trademarks, are property of Google LLC.
*IOS is a trademark or registered trademark of Cisco in the U.S. and other countries and is used under license. 
*Phone, iPad, iPad mini, iPod touchm, and App Store are trademarks of Apple Inc., registered in the U.S. and other countries.

Information

Dr.STONE Mobile Game
Release Date: 2021

Attack on Titan The Final Season Escape Game Announced at TOKYO MYSTERY CIRCUS

SCRAP has announced the release of a new escape game at TOKYO MYSTERY CIRCUS, Japan's biggest puzzle-themed theme park, in promotion of the final season of Attack on Titan which is now airing. Set to begin on February 25, 2021, the escape game is titled "Escape Game x Attack on Titan The Final Season: Escape From the 5 Titans."


This marks the fifth Attack on Titan themed escape game to be held. Players will become a member of the Survey Corps and worked with Levi, Mikasa, and other characters to face off against five Titans. The immersive story will have players feeling like they are really in the world of the anime series.

The key to this escape game is the map provided to players which they must used together with other items to assemble a diorama map of Marley. They will then use their completed diorama to their advantage in order to escape.

The escape game is a celebration and mark of Attack on Titan's final season and a must-experience for fans in Japan.

©SCRAP
©諫山創・講談社/「進撃の巨人」The Final Season製作委員会」

Information

Escape Game x Attack on Titan The Final Season: Escape From the 5 Titans
Location: TOKYO MYSTERY CIRCUS
Running: Febrauary 25, 2021 – April 25, 2021

Nazo Complex Nagoya
March 25, 2021 – April 25, 2021
June 30, 2021 – July 25, 2021

Osaka Himitsukichi Of Scrap
May 13, 2021 – June 27, 2021

Ajito Of Scrap Sapporo
July 2, 2021 – August 1, 2021

Ajito Of Scrap Sendai
April 29, 2021 – June 13, 2021

Ajito Of Scrap Okayama
April 29, 2021 – May 30, 2021

Nishitetsu Hall Fukuoka
April 29, 2021 – May 5, 2021

Event Website: https://realdgame.jp/shingeki_2021/

Dr.STONE Anime Series Gets Official Board Game Release in Japan

The popular anime series Dr.STONE is getting an official board game entitled "Senku to Bunmei no Akari" (Senku and the Civilisation of Light) which will be released in Japan on December 24, 2020.

Dr.STONE is a popular manga series written by Riichiro Inagaki and illustrated by Boichi. An anime adaptation aired in 2019 with a second season on the way in January 2021. The series has been praised the world over for its story and animation quality.

The board game was designed by Japanese board game designer Seiji Kaina whose designs have received much praise, including being endorsed at the annual board and card games awards Spiel des Jahres for the game Love Letter. Kaina has also been awarded Golden Geek in four categories on the international board game hobbyist website BoardGameGeek.


The game follows the Dr.STONE story and has players work working together to rebuild civilisation by making a whole list of different items together with the help of series protagonist Senku. Players play as one of six characters from the series such as Chrome and Kohaku as they try to clear the story.

© 米スタジオ・Boichi/集英社・Dr. STONE製作委員会 ©2020Arclight,ink.

Online Pokémon Escape Game Launches in Promotion of Pokémon the Movie: Secrets of the Jungle Anime Film

SCRAP launched a new online escape game entitled "Escape From the Mystery Pokémon Jungle" on November 14, 2020 in promotion of the upcoming anime film Pokémon the Movie: Coco which will be released in Japan on December 25, 2020. The film will also be released in the US in 2021 under the title Pokémon the Movie: Secrets of the Jungle.


SCRAP is a Japanese company that specialises in the creation of escape games. Since the outbreak of the pandemic, SCRAP has been hosting online escape games for people around the world. It has collaborated with Pokémon every year since 2013, with 300,000 participants having played the games collectively. This new escape game has players watching a video on the game's official website while using a pen and paper to solve the puzzles and mysteries of the Mystery Pokémon Jungle.

Players can download and print the materials they will need for the game from the website. This will be their puzzle-solving kit which includes gimmicks of its own that will require assembly with tape. And since the game can be played at any time, players can choose what time works best for them when they have a free slot in the day.

The game offers a selection of different courses including two different two-person standard courses as well as a lighter family course for parents to play with their children.

The escape game is a great way to celebrate the upcoming and highly-anticipated release of Pokémon the Movie: Secrets of the Jungle.

©Nintendo・Creatures・GAME FREAK・TV Tokyo・ShoPro・JR Kikaku
©Pokémon
©2020 Pikachu Project

Dr. Stone Collaborates With Snickers® Chocolate Bar On TV Commercial

Popular global chocolate brand Snickers® joined hands with the the TV anime series Dr. Stone on Monday for a special collaboration.

Dr. Stone is a hugely popular manga series written by Riichiro Inagaki and illustrated by Boichi and serialised in Weekly Shonen Jump. The manga has over 7 million copies in circulation. The first season of the anime series aired in 2019, with a second slate to begin broadcasting in January 2021.

For the collaboration, the voice actor for Senku in the anime series voiced character lines for a Snickers® commercial.

In the commercial, we see Kusanagi of the Japanese comedy duo Miyashita Kusanagi turned to stone in the Stone World. If you've watched or read Dr. Stone, you'll know that Senku always knows what to do, and is ten billion percent sure that his plans will work, so of course in this there was only a single answer: to feed Kusanagi a Snickers® bar! Check out the results in the commercial below.

Snickers Japan is also holding a Twitter campaign for the collaboration. 40,000 lucky people in Japan who answer the page's quiz questions correctly will get to win a Snickers coupon. Additionally, 100 people will be randomly selected to win a special prize.

Are you looking forward to season two of Dr. Stone next year? Follow us know on Twitter or Facebook and let us know!

©米スタジオ・Boichi / Shueisha・Dr.STONE Production Committee

TOKYO MYSTERY CIRCUS Announces Escape Game Based On J-Pop Group Perfume

TOKYO MYSTERY CIRCUS, the world's first and Japan's biggest puzzle-themed theme park, has announced a new escape game centred on the Japanese pop group Perfume. Titled "Escape From The Room Next To Perfume," the game is set to hit the indoor theme park on September 22, 2020.

An escape game is a real-life interactive experience that has players solving puzzles to escape a room. The story of the Perfume game puts players on the same team as Perfume. As players wait in anticipation, an LED display made to look like a window opens to reveal the Perfume members, who greet players and encourage them on their escape. And so begins the game.

There are various items and pieces of information in the room for players to solve the puzzle, including dance poses by Perfume which give hints for the next step. It's an interactive experience that makes it feel like Perfume are really there with you.

Perfume fans can get their hands on a range of exclusive merchandise too, like a sticker set, folder, and message cards. These items will be sold at the TMC GOODS SHOP at Tokyo Mystery Circus as well as the online stores SCRAP GOODS SHOP and Perfume's own A!SMART.

Information

Escape From The Room Next To Perfume

Start Date: September 22, 2020

Location: TOKYO MYSTERY CIRCUS
Address: APM Bldg., 1-27-5 Kabukicho, Shinjuku-ku, Tokyo

Official Website:  https://mysterycircus.jp/perfume/

Online Japanese Haunted House Horror Game to Terrify On Zoom Live Call

Japanese escape game creative company SCRAP has announced a new online haunted house experience which will have players utilising Zoom to escape from a cursed home. The experience will be launched on September 11, 2020.

The online game is an entirely new experience developed by SCRAP in collaboration with Hirofumi Gomi, a producer of haunted houses across Japan as well as Tokyo Dome City Attractions. The game's story sees players' underclassman Utsumi searching for you inside a particular house which is rumoured to be haunted.

Players are put into a team of 1 to 7 people and use Zoom or LINE to give directions to the rest of the cast. Players must work together and with the in-game cast to uncover the hidden malice behind the house and escape. It's an interactive game that will plunge players into a scary experience they won't soon forget.

Information

Escape From the House of Cursed Mirrors (Japanese Title: 呪い鏡の家からの脱出)
Tickets: On sale from September 6, 2020 at 10:00 (JST)

Start Date: September 11, 2020

Time: 60 minutes

Groups: 1-7 people

Service: Zoom or LINE

Official Website: http://realdgame.jp/noroi_kagami/

Neon Genesis Evangelion Escape Game Has You Dodging Lasers

Hakone Kowakien Yunessun, a hot spring amusement park in Hakone, began teaming up with Neon Genesis Evangelion on July 1 for a series of events. The newest event to be announced is the "Evangelion Laser Trap" escape game which is set to begin on July 23. The park's cave baths are also taking on a theme inspired by the Second Impact in Evangelion with special lights and sounds.

Evangelion Laser Trap Escape

Guests must become Evangelion characters and use their knowledge, experience, and whole body to make it through the dark room and avoid the red lasers. Those who clear the room will receive an original Evangelion sticker.

Second Impact Cave Baths

The cave baths will be illuminated with bright red lights inspired by the Second Impact cataclysm from Evangelion.

Evangelion themed food and drinks will be served at the event, and fans can get their hands on exclusive merchandise.

Information

Evangelion Laser Trap Escape
Running: July 23, 2020 – August 23, 2020
Location: Hakone Kowakien Yunessun

Opening Hours: 09:00-19:00 (Last Entries 18:00
Entry Fee: General ¥2,500 / Children (3-12 Years) ¥1,400

Participation Fee: ¥500 per person

Second Impact Baths

Running: January 10, 2020 – September 30, 2020

Location: Hakone Kowakien Yunessun

Opening Hours: 09:00-19:00 (Last Entries 18:00
Entry Fee: General ¥2,500 / Children (3-12 Years) ¥1,400

Participation Fee: Free

Official Website: https://eva-hakone.com/