Join Senku and Escape the Stone Cave in the Official Dr. Stone Escape Game in Tokyo
Japanese escape game creation company SCRAP is teaming up with the popular anime series Dr. Stone to bring an all-new escape game entitled "Escape From the Stone Cave" to its site in Kichijoji, Tokyo. The Dr. Stone themed escape game will open on February 21, and fans of the series can also get their hands on a range of original and exclusive Dr. Stone merchandise.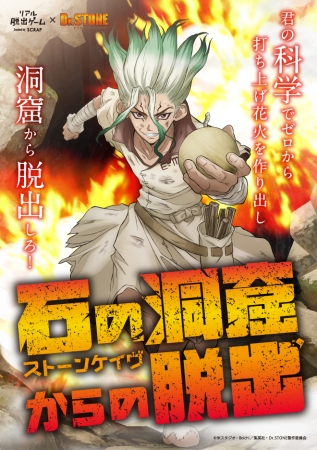 The escape game features a completely original story with full voice acting. Participants will follow in the footsteps of Senku by carrying out actual science experimentsーmade in collaboration with puzzle creator group AnotherVision from the University of Tokyoーwhile solving puzzles and cracking codes to escape the Stone Cave.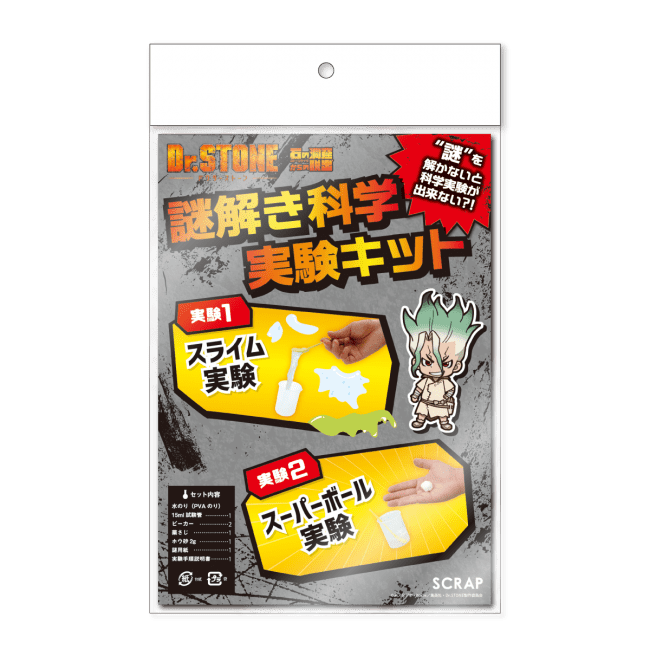 Puzzle Solving Science Experiment Kit
Senku Dr. Stone
Five pieces of exclusive merchandise will be released in line with the event, including a folder, a science experiment kit, and more.
Fans of Dr. Stone won't want to miss out on this fun event as they wait for the second season of the anime series.
©米スタジオ・Boichi / Shueisha・Dr.STONE Production Committee
Information
Escape From the Stone Cave
Start Date: February 21, 2020
Time Limit: 40 Minutes / Time Of Arrival: 50-90 Minutes
No. of People (Group): 3 max
Location: SCRAP Nazo Building Kichijoji
SCRAP Kichijoji
Address: SCRAP Nazo Bldg. Kichijoji Honcho, Musashino, Tokyo)
Access: 3-minutes on foot from the North Exit of Kichijoji Station
Official Website: http://realdgame.jp/dr_stone/
RELATED ENTRIES
Escape From The Labyrinth of Time with Cardcaptor Sakura in This New Escape Game

Approximately 6 million people worldwide have stepped up to the thrilling challenge of an escape game by Real Dashutsu Game. They're now collaborating with Cardcaptor Sakura to launch a new puzzle-solving adventure called "Escape From the Labyrinth of Time" (Toki no meikyū kara no dasshutsu).  The main visuals for the event along with the story have been unveiled.

The event will be launched at the world's first ever mystery-solving theme park Tokyo Mystery Circus on April 1, 2020. The escape game will also be held in five cities across Japan. Participants are invited to join Sakura Kinomoto on a journey back in time, using the power of Sakura's staff and cards as a Cardcaptor to solve the puzzles and crack the codes.  





There's not long to wait until the games are launched. The main visuals for the event have now been revealed. The main visuals depict Sakura at junior high school-age from the Clear Card Saga along with Sakura at elementary school-age from the Clow Card Saga. 


The designs for the bonus merchandise that come with the purchase of bonus advanced tickets have also been unveiled. This includes a card with an original design of Sakura that cannot be obtained from anywhere else. 

If you purchase a bonus merchandise advanced ticket, you will receive clipboard designed with the pattern on Sakura's card book. The functional and beautiful clipboard and the cute Cardcaptor Sakura-themed card are both original merchandise that cannot be obtained from anywhere else. If you're a fan, don't miss out. 

Plunge into the world of Cardcaptor Sakura this spring. 

© CLAMP・ST/Kodansha, NEP, NHK

Information

Real Life Escape Game: Escape From the Labyrinth of Time (Toki no meikyū kara no dasshutsu). 

Game Time: 60 minutes/ Estimated Completion Time (including explanations etc) : 120 Minutes

Group Size: 4 People Max

Indoors

Game Type: All start simultaneously

Tokyo Mystery Circus

Dates: April 1 – June 21, 2020

Nazo Complex Nagoya, Aichi

Dates: April 24 – July 26, 2020

Osaka secret base of scrap

Dates: June 5 – July 26, 2020

Ajito of Scrap, Tenjin, Fukuoka

Dates: May 22 – July 26, 2020

Ticket Information
Advanced Tickets: ¥3,400
Advanced Tickets with Bonus Merchandise: ¥7,000 per person
Same Day Ticket: ¥3,900

*No same day tickets will be available if all advanced tickets have been purchased. 

*If you purchase a ticket with a student discount, you must bring your student card for inspection on the day.

* For young students without ID who wish to apply a discount, the accompanying parent or guardian must bring official ID with the date of birth of the child for inspection (such as their health insurance card). If you do not bring ID, you may be asked to pay the remaining balance for a general ticket. 

*Please be aware that you cannot get any kind of refund for your ticket once purchased. 

Special Edition Website: http://realdgame.jp/cc_sakura/

Dr. Stone, Haikyu!!, & Gintama Theme Songs to be Featured On BURNOUT SYNDROMES Anime Concept Album

Three-piece Japanese band BURNOUT SYNDROMES announced at the finale of their solo tour at Namba Hatch in Osaka, their home city, that they will release an anime concept album of their best anime songs.

Entitled BURNOUT SYNDROMEZ, the record will be released on March 25, 2020, and will feature theme songs they have performed for various anime series, such as Dr. Stone, Haikyu!!, Gintama, and more.

The album will contain a total of 12 tracks, including their latest single PHOENIX which is used as the opening theme for the ongoing TV anime series Haikyu!! To The Top, as well all of their anime songs to date, two new songs, a remix, a rearrangement, and more.

Anime fans can expect to hear some seriously popular tracks like the second opening theme FLY HIGH!! from season two of Haikyu!!ーwhich was the band's debut singleーas well as the season three opening theme Hikari Are. It also includes their third single Hana Ichi Monme which is the first ending theme of Gintama: Shirogane no Tamashii-hen, the first Dr Stone opening theme Good Morning World, and so on.

The album is a must-have for both anime, manga and game fans as well as fans of BURNOUT SYNDROMES. First Press Edition copies of the album come with the band's first-ever Blu-ray which will feature eight music videos and live performances of six songs from their tour last year. It will also include a comic which has the BURNOUT SYNDROMES members as the protagonists of an adventure story.

BURNOUT SYNDROMES will promote BURNOUT SYNDROMEZ with a Japan tour in 2021.

Information

BURNOUT SYNDROMEZ

Release Date: March 25, 2020

First Press Limited Edition (CD+Blu-ray+Comic): ¥4,200 (Before Tax) [ESCL-5366~5367]

Regular Edition (CD): ¥2,500 (Before Tax) [ESCL-5368]

Official Website: https://burnoutsyndromes.com/

Haikyu!! TO THE TOP

Official Website: https://haikyu.jp/

©Haruichi Furudate / Shueisha・"Haikyu!!" Production Committee・MBS

Solve the Puzzles Of Osaka Metro and Reach the Goal With New Subway Game

Osaka Metro is currently holding a puzzle-solving game for passengers which will run until March 31, 2020. As of January 24, over 12,000 people have participated in this exciting endeavour.

The game requires people to ride with Osaka Metro and travel around Osaka while solving various puzzles to reach the goal. This style of escape game has proven incredibly popular in the subway around Tokyo and Nagoya, but this marks the first time it has been held in Osaka. The course is designed in such a way as to enable people to discover or rediscover the wonders of Osaka, allowing them to enjoy the many sights.

Participants must purchase a puzzle-solving kit, which comes with a 1-day train ticket to use Osaka Metro, and follow the instructions to complete the course. Once a puzzle is solved, they are granted knowledge of the next location to head to.

There is also a giant 4-meter long photo spot at Morinomiya Station which can be accessed via Osaka Metro's Chuo Line and Nagahori Tsurumi-ryokuchi Line. Snap a photo of yourself with the colourful train carriage handles, and also take a photo together with Osaka Metro's official mascot character Nyanbarou.

After completing the event, head to the photo spot so you can add to your Osaka travel album.

*"リアル脱出ゲーム" and "ナゾトキ街歩きゲーム" are registered trademarks of SCRAP Co., Ltd.

Information

Nazotoki Machiaruki Game "Puzzle Solve Metro Trip"

Running: November 28, 2019 – March 31, 2020

Puzzle Kit: ¥2,300 (Adults Only) at Osaka Metro stationmaster offices, and from February 29, 2020 will be available at season ticket sellers

*Comes with a one-day ticket to use with Osaka Metro

*Ticket cannot be used on the Osaka City Bus or Imazato Liner

Osaka Metro Official Website: https://www.osakametro.co.jp/en/index.php

Complete a Mission and Explore Enoshima with The Mekakushi Dan

Ever dreamt of teaming up with the Mekakushi Dan from the Kagerou Project to complete a mission? Now you can and explore the wonders of Enoshima while you are at it. From September 14 to November 17, Enoshima will hold its biggest ever real life rescue game featuring Japanese mixed-media project The Kagerou Project. The event will be called Mekakucity Quest in Enoshima and will run over approximately two months.

From games and music to novels, anime and manga, The Kagerou Project characters have dominated the scene in a large range of media forms. The Mekakucity Quest in Enoshima was created in collaboration with SCRAP, who are famous countrywide for their real life escape games. 

This game can only be cleared by walking around Enoshima to find hints and answers to the challenges but don't worryーThe Mekakushi Dan will be in contact with you via the messaging app LINE to help you solve the riddles. 

Upon accepting your mission, you will receive a mission guide full of information on the mouthwatering gourmet food and fascinating history of Enoshima. The guide will take you on a wonderful journey of discovery through locations popular among tourists and even romantic date spots. This is the perfect way to enhance your Enoshima experience. 

Multimedia creator Jin, who is the founder of the Kagerou Project, has teamed up with SCRAP to create this exciting real life game which is full of fun contents that anyone can enjoy. The original storyline takes advantage of the wonders of Enoshima, creating a unique experience that is not available anywhere else. It is a rare opportunity to get close to the Mekakushi Dan and simultaneously enjoy the exciting culture of Enoshima. 

Your journey will start at Subana Kaikan (スバナ会館) which will be selling lots of Kagerou Project collaboration merchandise that cannot be obtained from anywhere else. Make sure to check out the official website for more information. 

There is an exciting bonus in store for those who successfully clear the game: A surprise phone call from Ene and Shintaro! Just hearing the voice message of these two popular characters is enough to send some fans wild. Those who clear the game will also have the opportunity to take part in a special lottery for the chance to win a ticket to watch the debut screening of the anime Kagerou Daze No.9 before anyone else. This series is set to go live next spring. 

*The debut screening is a private event that you can only take part in by clearing the Mekakucity Quest in Enoshima. There is no general screening event for those who do not succeed. 

As the sweltering heat of summer has finally subsided, this is the perfect chance to explore the wonderful tourist spots and indulge in the delicious local food of Enoshima while facing challenges with your pals or even your partner.

Information

Mekakucity Quest in Enoshima

Start Point: Subana Kaikan (スバナ会館), 1-9-12, Katasekaigan, Fujisawa, Kanagawa

Running: September 14 ー November 17, 2019 

Approximate amount of time required to complete the quest: 2 hours

Ticket Availability:

Selling on September 12, 2019 (10:00ー16:00)

*  Advanced tickets and more information is available on the official website.

* It is possible to obtain tickets after the ticket sale period has ended.

Official Website: https://realdgame.jp/mekakucityquest/

Tickets: http://bit.ly/2kJajwP

Escape From Godzilla at TOKYO MYSTERY CIRCUS Escape Game Theme Park

TOKYO MYSTERY CIRCUS's catalogue of games just keeps on growing. The puzzle and escape game theme park has just announced the return of its escape game Escape From Shin Godzilla which is being held in collaboration with the 2016 film Shin Godzilla.

The event was previously held last April where it ran until October, enjoying huge popularity with over 40,000 escape game-goers. Players took the role of a member of the Kyosaitai―the anti-Godzilla task force―based in Kabukicho, Shinjuku where you will be tasked with solving puzzles to defeat the colossal giant.

The thrilling event returns once more with original visuals created to make it look like Godzilla has really invaded Kabukicho. Tickets are now on sale, and you can pick up exclusive merchandise and themed food at the venue too. Can you defeat Godzilla?

TM&©TOHO CO., LTD. ©SCRAP

Information

Escape From Shin Godzilla

Location: Himitsu Kichi Lab, TOKYO MYSTERY CIRCUS (Floor B1F)

Running: October 4, 2019 – November 10, 2019

Times

Weekdays: 13:20 / 16:20 / 19:20
Weekends & Holidays: 10:10 / 12:40 / 15:10 / 17:40 / 20:10
*The event will end 100 minutes after each starting time

Price
Advance: Single ¥3,300 / Group ¥12,000 / Repeater Group Ticket ¥12,000
Same-Day: Single ¥3,800 / Group ¥14,000 / Repeater Group Ticket ¥14,000
*Same-day tickets will not be available if all advance tickets sell out

 

TOKYO MYSTERY CIRCUS

Address: APM Bldg., 1-27-5 Kabukicho, Shinjuku, Tokyo, 160-0021

Opening Hours: Weekdays 11:30-23:00 / Weekends & Holidays 09:30-23:00

No Fixed Holidays.

Price: Free Entry (*Separate tickets required for games)

Official Homepage (English): https://mysterycircus.jp/en/

Event Page (Japanese): https://mysterycircus.jp/shin-godzilla/

Dr. Stone's Second Anime Opening to be Performed by PELICAN FANCLUB

Three-piece rock band PELICAN FANCLUB made their major debut last autumn. It has just been announced that their new song Sangenshoku will be used as the second opening theme for the ongoing TV anime series Dr. Stone.

Dr. Stone is a hugely popular manga series written by Riichiro Inagaki and illustrated by Boichi and serialised in Weekly Shonen Jump. The anime adaptation began airing in July. The second opening theme will debut in the anime this October. Details surrounding the CD release will be announced in the near future.

PELICAN FANCLUB wrote the song after reading the manga series. We have yet to hear any of the track itself, but the band are known for the great amplitude of their songs and the unique lyrics by band vocalist and guitarist End Alien. We look forward to hearing what a PELICAN FANCLUB and Dr. Stone collaboration sounds like.

Speaking about their tie-in with the series, End Alien commented: "Me and [the series character] Senku are the same in that we like to make things. By reading the manga and then writing the lyrics, I was able to write in such a way that could be described as like a chemical compound, with both elements mixing together. When you mix colours together they it becomes a new colour."

He continues: "When you mix words together they take on meaning. This song will become something unique to the people who watch the anime series and think about these things. Please enjoy both the opening song we have create along with Senku creating different things with science."

Japan's First Rurouni Kenshin Escape Game Slices its Way Into Museum Meiji-Mura in Aichi

A new escape game themed on Rurouni Kenshin has been created by SCRAP and is to slash its way into Museum Meiji-Mura on September 11. The museum has stood for over 60 years, focusing on the Meiji period of Japan.

Rorouni Kenshi is a hit manga series loved the world over with over 70 million copies sold. The latest arc of the manga, Rurouni Kenshin: The Hokkaido Arc, is serialised in Jump Comics SQ and is being published in English by Viz Media.

In the first ever escape game based on the series, you will become a practioner of the Kamiya Kasshin-ryū and join Kenshin in facing enemies. To accomplish your objective, you will need to speak to various people in the game, as well as learn sword techniques from a certain character in the series. It taking place in the Museum Meiji-Mura means you will be fully immersed in the story―like you have slipped back in time―as the series itself is set during the Meiji period.

Help Kenshin defend Tokyo by participating in this new exciting escape game.

©Nobuhiro Watsuki / Shueisha ©SCRAP

Information

Rurouni Kenshin Escape Game at Museum Meiji-Mura

Location: Museum Meiji-Mura (1 Uchiyama, Inuyama, Aichi Prefecture)

Running: September 11, 2019 – December 15, 2019

Tickets

Price: ¥2,200 (comes with kit to play the game) *does not include entry fee to the museum

Available: At the reception desk for events at the museum

Game

・Time Restriction: None (allot yoruself 2-3 hours to play)

・No. of Participants: Unlimited (you can play on your own or with a group)

・Once the game starts, you are free to walk around the museum to complete the game

・Though there is no time restriction the game will end at the museum's closing hours

Official Website: https://realdgame.jp/ruroken/

BURNOUT SYNDROMES Release Dr. Stone Opening Theme 'Good Morning World!' Music Video

Rock band trio BURNOUT SYNDROMES just dropped the music video to their new single Good Morning World! which is set to hit shelves on August 21.

The video was shot at a quarry and in a studio in Ibaraki Prefecture in early June. It makes use of drone footage which captures the grand scale of the location and couples together with the aggressive music performances. The lyrics to the song maintain the band's concept of "literary rock" which are presented in calligraphy style typography.

The video contains many iconic scenes, especially the beauty of the instance when the glass breaks which represents a new world forming from destruction.

The song serves as the opening theme for the ongoing TV anime series Dr. Stone. The song was released for digital download today (August 2) and pre-orders for the CD are now open.

Takashi Chiba, the director of the music video, commented the following: "This is a music video that the band really pushed for! Listening to the song, me and the staff wanted to aim for an open location where we could film with a drone. That was the base of our idea which developed from the song's lyrics 'good morning world.' What even was there before we said good morning to the world in the first place? This is something we thought about and arrived at the idea of the old world order breaking to give life to a new world order. We had a black background behind the band which was the old world and then it cuts [to the new world] when the glass breaks […] We edited it so it focuses on the three members. Please check them out as they build a new world from the old broken one […]"

TV Anime Dr. Stone Opening Theme to be Performed by BURNOUT SYNDROMES

It has been announced that 3-piece Japanese rock band BURNOUT SYNDROMES will perform the opening theme Good Morning World! for the upcoming TV anime series Dr. Stone which is set to premiere on Tokyo MX and elsewhere on July 5, 2019.

Dr. Stone is a hugely popular manga series written by Riichiro Inagaki and illustrated by Boichi and serialised in Weekly Shonen Jump. The series won 2nd place in the Comics category for the 2018 Tsugi ni Kuru Manga Awards and send place in the 2018 Shogakukan Manga Awards.

Good Morning World! was written by BURNOUT SYNDROMES vocalist and guitarist Kazuumi Kumagai exclusively for the anime adaptation. The song comes before the band embark on their biggest Japan tour to date.

Speaking about the collaboration, Kumagai commented: "Nice to meet you. We are BURNOUT SYNDROMES, the ones in charge of the opening theme for the anime series Dr. Stone. When I first read the manga, I felt it in my heart that I wanted to sing the main theme for the series. To tell you the truth, I'm a lover of science too [like in the series]. My room is littered with scholarly essays and magazines like Newton. For me, Dr Stone. is like the crystallisation of all things I love. [Good Morning World!] is a song I have confidence in. It was completed after many talks, changing up the patterns in a number of ways, and trial and error. It's packed with enthusiasm. I hope that Senku and the others [in the series] can feel the song. It's completely synchronised with the outlook of the series. Please look forward to it!"

©米スタジオ・Boichi / Shueisha・Dr.STONE Production Committee

Dragon Ball Escape Game―Save the World From Human Extinction

Real Dasshutsu (Escape) Game is teaming up with Dragon Ball to bring a new real life escape game titled Chikyuujin Shoumetsu Kara no Chou Dasshutsu ("The Great Escape From Human Extinction") which will run from March 22 to May 31.

The event was originally held in 8 cities across Japan last year from August to December, bringing in over 20,000 players. It is set to return once more to the same 8 cities as well as Asakusa and Kyoto for a total of 10. The game will also be playable in English from April 12.

Advance tickets are priced at ¥2,400 and same-day tickets at ¥3,900. There is also an advance ticket option to receive the above-pictured bag too for ¥3,900.

Experience the new Dragon Ball escape game powered up bigger and better than ever.

Information

Chikyuujin Shoumetsu Kara no Chou Dasshutsu ("The Great Escape From Human Extinction")

Running: March 22, 2019 – May 31, 2019
Available in English: April 12, 2019 – May 31, 2019

Locations

Ajito of Scrap Asakusa
Ajito of Scrap Shimokitazawa Nazo Building
Ajito of Scrap Yokohama
Ajito of Scrap Sendai
Ajito of Scrap Nagoya
Ajito of Scrap Tenjin, Fukuoka
Ajito of Scrap Kyoto
Ajito of Scrap Osaka Nazo Building
Ajito of Scrap Okayama
Ajito of Scrap Sapporo

English Locations

Ajito of Scrap Asakusa
Ajito of Scrap Yokohama
Ajito of Scrap Nagoya
Ajito of Scrap Kyoto
Ajito of Scrap Osaka Nazo Building

Tickets

Advance: ¥2,400 (w/ bag ¥3,900)

Same-Day: ¥2,900
*Same-day tickets will not be available if all advance tickets have sold out.
*The optional bag is only available will advance tickets.
*This game requires access to the internet via smartphones, tablets or other devices. Not compatible with feature phones. Any online fees charged are the responsibility of the player.

Event Page: http://realdgame.jp/dragonballsuper/

Psycho-Pass Event Taking Place at TOKYO JOYPOLIS in 2019

Haregake, a creator of riddle-solving games that have brought in over 100,000 participants, has developed an all-new puzzle game called "Psycho-Pass: Sinners of the System in JOYPOLIS" that is set to run at the indoor theme park TOKYO JOYPOLIS in Daiba, Tokyo from January 11 to March 17 next year.

The game will make use of the entire JOYPOLIS building and have participants solving riddles. You will take the role of an executive officer and use your smartphone to talk with Shinya Kogami, Nobuchika Ginoza and Shuusei Kagari to gather clues and solve the puzzles.

Trailer:

An incident took place with unknown origins that led to a murder… Will you be able to identify and stop the killer?

Information

Psycho-Pass: Sinners of the System in JOYPOLIS

Location: TOKYO JOYPOLIS

Address: DECKS Tokyo Beach 3F-5F, 1-6-1 Daiba, Minato Ward, Tokyo

Running: January 11, 2019 – March 17, 2019

Reception Hours: 10:00-21:00

Access: 2-minutes on foot from Odaiba-kaihinkōen Station via Yurikamome Line / 5-minutes on foot from Tokyo Teleport Station via Rinkai Line

Participating: Purchase a ticket at the theme park on the day

Ticket Price: ¥1,500 (Separate fee charged for entry to TOKYO JOYPOLIS)

TOKYO JOYPOLIS Entry Fee: Adults (18+ Years) ¥800 / Children (17-Years and Below) ¥500

Event Page: https://nazoxnazo.com/psycho-pass_ss/joy

©Psycho-Pass Production Committee

Dragon Ball Super Themed Escape Game to Take Place in 8 Cities Across Japan

Escape game creators SCRAP have teamed up with Dragon Ball to bring fans a new collaborative event titled Chikyujin Shometsu Kara no Choudasshutsu ('Escape From Earthling Annihilation'). The event will take place in Tokyo, Kanagawa, Miyagi, Aichi, Fukuoka, Osaka, Okayama and Hokkaido until December 31, 2018.

Escape From Earthling Annihilation – Plot

The peace of the earth was snatched away in an instant.

The evil emperor Frieza suddenly appeared on the planet.

His goal: to acquire perpetual youth and longevity with the Dragon Balls and annihilate earth.

Goku―the planet's last resort―his powers too were taken by the Frieza Force.

For him to gain his strength back, he must gather all of the Dragon Balls before Frieza.

You must help Goku locate the Dragon Balls scattered around town and help maintain earth's peace!

An online campaign is also being held in Japanese for participants of the event. You need to post a photo taken of yourself at the event on social media with the relevant hashtag along with your wish. One random person will be selected to have their wish granted. You can write whatever you like in Japanese, such as ○○がほしい ('I want…'), ○○に会いたい ('I want to meet…'), ○○を体験したい ('I want to experience…') etc.

Experience Dragon Ball for real as you read in the manga by collecting the Dragon Balls and having your wish granted!

■Information

"Chikyujin Shometsu Kara no Choudasshutsu" (Escape From Earthling Annihilation)

City List

Tokyo (Ajito of SCRAP, Shimokitazawa Building): August 30, 2018 – December 31, 2018

Kanagawa (Ajito of SCRAP Yokohama): September 6, 2018 – December 31, 2018

Miyagi (Ajito of SCRAP Sendai): September 7, 2018 – December 31, 2018

Aichi (Nazo Complex Nagoya): September 10, 2018 – December 31, 2018

Fukuoka (Ajito of SCRAP Tenjin, Fukuoka): September 12, 2018 – December 31, 2018

Osaka (Ajito of SCRAP, Osaka Nazo Building): September 12, 2018 – December 31, 2018

Okayama (Ajito of SCRAP Okayama): September 14, 2018 – December 31, 2018

Hokkaido (Ajito of SCRAP Sapporo): September 14, 2018 – December 31, 2018

*Final dates at each venue subject to change.

Ticket Prices

Advance Tickets: ¥2,400

Advance Tickets With Super Sacoche Bag: ¥3,900

Same-Day Tickets: ¥2,900

*In the case that advance tickets sell out on a certain day, same-day tickets will not be available.

*Sacoche bags available with advance tickets only.

*You need to be connected to the internet to participate in this event such as via a smartphone or tablet (excluding feature phones). Any charges are the participant's responsibility.

Event Page (Japanese): http://realdgame.jp/dragonballsuper/

Wish Campaign

Application Date: 1st Round – August 30, 2018 to October 18, 2018 (*2nd round TBA)

Announcements: November 1, 2018

Application Conditions: Must be participating in Chikyujin Shometsu Kara no Choudasshutsu.

Present: Wish granted (1 person)

How to Apply

Step 1: Participate in the event.

Step 2: Have your photo taken while participating.

Step 3: Post your wish along with your photo and the hashtag #ドラゴンボール超脱出.

Step 4: Show that you have posted it to a member of staff.

Step 5: Fill in an application form.

Step 6: Write your wish on the application form and deposit it into the box.

*Only 1 person will be selected each round.

*A limit of ¥100,000 will be granted to fulfil the wish.