GODIVA's Irresistible Chocolixir Sakura Drink Available This Spring
GODIVA Japan Inc. is releasing a new chocolate drink as part of their Chocolixir series. The new drink flavour "Chocolixir Sakura" will be sold from February 16 to April 9, 2020 at GODIVA shops only.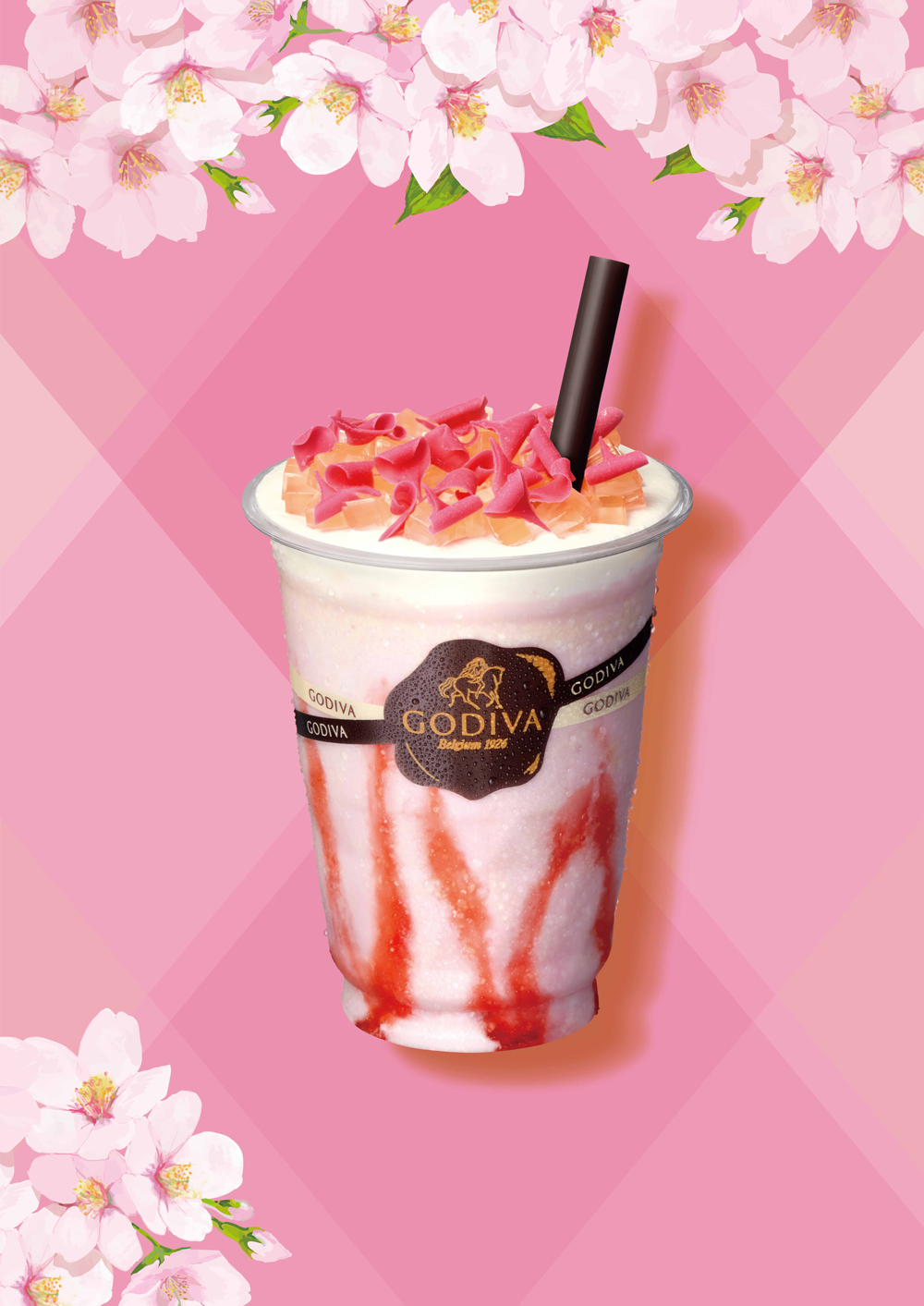 Chocolixir Sakura: ¥630 (Before Tax)
Cherry blossom jelly and pink chocolate curls rest on top of a white cloud of whipped cream to create the appearance of cherry blossom petals. The drink creates the image of beautiful sakura petals as they reflect off the water's surface, creating the warm image of the rays of the spring sun. The sweet aroma and creamy melt-in-the-mouth white chocolate is divine. This chilled drink also contains small pieces of smashed white chocolate, creating a fun texture in your mouth. 
It looks just as wonderful as it tastes. One sip will fill your heart with the refreshing vibes of spring. GODIVA's velvety smooth chocolate drinks are always to die for. You just have to try it. 
RELATED ENTRIES
Hatsune Miku Features in Pocari Sweat Promotion as Official Ambassador

Otsuka Pharmaceutical released a 30-second video titled "Netsunarero" on their official YouTube channel on May 6 announcing Hatsune Miku and members of Leo/need from the Project Sekai Colorful Stage ft. Hatsune Miku mobile game as the official ambassadors for the Japanese sports drink Pocari Sweat.

The importance of "Netsunare"

The video stresses the importance of netsunare – sweating in order to get used to the heat during summer. Leading the promoting of this message is Hatsune Miku who is followed by Leo/need, MEIKO, Mirai Akari, Fuji Aoi, and YuNi. The video features the original song Waiting for Clear Weather created by Orangestar for the Project Sekai Colorful Stage ft. Hatsune Miku mobile game. The popular track has been streamed over 1.9 million times as of April 2021.

The Character Line-Up

Since December 2019, Otsuka Pharmaceutical has appointed Hatsune Miku, MEIKO, Leo/need, MEIKO, Mirai Akari, Fuji Aoi, YuNi, and other familiar faces as official ambassadors for Pocari Sweat to spread information on how to overcome Japan's hot summer weather to the world. It is part of the beyond2020 project which Otsuka describes: "With an eye to 2020 and beyond, this cultural program will contribute to the creation of a legacy befitting a maturing society that will make the next generation proud, through Japan's strength which consists of its local and diverse culture."

Leo/need from Project Sekai Colorful Stage ft. Hatsune Miku

Project Sekai Colorful Stage ft. Hatsune Miku is a mobile game for iOS/Android. The members of Leo/need include guitarist and vocalist Ichika Hoshino, keyboardist Saki Tenma, drummer Honami Mochizuki, and bassist Shino Hinomori. They will release their first single on June 9, 2021.

Twitter Campaign

Otsuka Pharmaceutical is also holding a Twitter campaign in Japan as part of the promotion where 200 random people can win a box of seven 500ml Pocari Sweat bottles for cooling down in the summer heat.

How to Sign Up

Step 1: Follow Pocari Sweat on Twitter @pocarisweat_jp

Step 2: Retweet or quote any of Pocari Sweat's posts featuring the hashtag #ネツナレろ ("Netsunarero")

Running: May 6, 2021 – May 19, 2021 (Japan Only)

Campaign Site: https://pocarisweat.jp/action/pocarimiku/netsunarero/

© SEGA / © CP / © CPM / © Mirai Akari Project / © YuNi / © Fuji Aoi

Godzilla Energy Drink Releases in Japan to Promote Godzilla vs. Kong

In promotion of the Godzilla vs. Kong movie, Japanese soft drink manufacturing company Cheerio Corporation released a new energy drink called GODZILLA ENERGY on April 30.

The Godzilla franchise began in 1954 with the first movie release. Since then, it has gone on to receive 29 films, three animations, and three Hollywood adaptations. An anime series began airing last month, and Godzilla vs. Kong was released worldwide on March 31 (but is releasing in Japan on May 14).

GODZILLA ENERGY is imbued with the full force of Godzilla's energy so you too can stomp relentlessly on your way to victory. The 500ml can has today's standard 210mg caffeine and 630mg arginine今.

The can's design features a monstrous image of Godzilla with a neon logo and the drink itself is the same vibrant colour.

TM & © TOHO CO., LTD.

Information

GODZILLA ENERGY

Released: April 30, 2021

Where: Japan (Cheerio Online Shop / Cheerio Vending Machines in Japan / Stores in Japan)

Godzilla Official Website: https://godzilla.jp

Non-Alcoholic Cocktails Made With Vinegar Get Served at Tokyo's Royal Park Hotel

Royal Park Hotel is collaborating with the Japanese condiment brand Mizkan, which is known for its vinegars, mustards, salad dressings and more, to serve non-alcoholic cocktails made with vinegar. The Non Alco-Vinegar Cocktail Fair will be held from May 1 to June 30.

Royal Park Hotel x Mizkan

Tropical Princess/FLORAL BEAUTY Vinegar Cashew/Frozen Fruity Su/Blueberry Black Vinegar Soy Milk Shake/Vinegar Fruit Yogurt/Ponzu & Tomato Ginger

The non-alcoholic vinegar cocktails were created for both drinkers and non-drinkers of alcohol as a way to enjoy the food scene more. The alcoholic drinks used in cocktails gives them a kick, and so does vinegar when used in food. These beverages combine vinegar with a range of fruits, teas, carbonated water, and other ingredients.

The line-up was conceived by the Vinegar Club who have also posted recipes for various cocktails on their website – links below.

McDonald's Japan Releases Peach Smoothie and Frappe Made From Three Kinds of Peaches

McDonald's Japan is releasing two new beverages at McCafé by Barista® on April 28 each made with three varieties of peach: the Gorotto Peach Smoothie and Fuwa Fuwa Peach Creamy Frappe.

Gorotto Peach Smoothie: Regular ¥440 / Large ¥480

Fuwa Fuwa Peach Creamy Frappe: Regular ¥490 / Large ¥530

McDonald's Japan's original Peach Smoothie and Peach Frappe beverages first appeared in 2015 and have been slurped up by customers every year since. This year, they return even juicier and more delicious than ever before by being made with three kinds of peach juice: yellow peach, white peach, and for the first time, nectarine.

The Gorotto Peach Smoothie cup is topped with a sauce made from fresh white peach pieces that give an exquisite sweet kick to the richly sweet yellow peach. The nectarine adds a sweet and sour layer to the mix for the ultimate peach combination. The Fuwa Fuwa Peach Creamy Frappe has all of this plus a topping of fluffy whipped cream. And for an extra ¥60, customers can double the amount of sauce they can have on either of these drinks.

While these limited-time drinks are on offer, customers can pick up a stamp card. For every peach frappe or smoothie ordered, they'll get a stamp. Collect all four and get yourself a free regular-sized mango smoothie, green smoothie, chocolate frappe, or espresso frappe. The card is valid from April 28, 2021 to September 30, 2021.

Information

Gorotto Peach Smoothie / Fuwa Fuwa Peach Creamy Frappe

Release Date: April 28, 2021

Where: McCafé by Barista branches of McDonald's in Japan

McDonald's Japan Official Website: https://www.mcdonalds.co.jp/

KitKat Japan Releases New Mini Maple Chocolate Bars For Earth Day

In accordance with Earth Day, which is set for April 22, Nestlé released its limited-time KitKat Mini Maple on Monday to raise awareness of environmental issues and the future of the planet.

KitKat Mini Maple (3 Included)

KitKat Mini Maple (12 Included)

9 packaging designs with different messages related to the environment

'KitKat Always For Earth Day' online talk event to take place on April 30

In September 2019, Nestlé began packaging five of its major large-sized KitKat bags in paper bags rather than plastic, and since autumn 2020, most of their large sized bags are now made from paper. This has helped reduce 450 tonnes of plastic per year.

Now, Nestlé is releasing a new collection of packages for Earth Day featuring original designs by up-an-coming young artist SUGI. Each features messages from members of MIMO, a group managed by Japanese model Mila Aina, stating messages about helping to protect the environment and the future of planet earth.

Tokyo's New Vegan Dessert Shop the vegan marshmallooow Opens in Ginza

Ginza Mitsukoshi is welcoming a limited-time vegan dessert shop by the name of 'the vegan marshmallooow' which is open from April 1 to June 30. This shop is known amongst the vegan community in Japan for its vegan cakes, and due to that positive response, is now opening its first long-term promotional pop-up shop in collaboration with Mitsukoshi Isetan Group.

Online orders opened at Mitsukoshi Isetan on March 27 with a delicious line-up that includes their signature vegan chocolate cake.

A look at just some of the mouth-watering line-up

Chocolate Cake

Their number one most popular order: a gorgeously gluten-free mirror cake made with rich chocolate.

 

<NEW> Whole Fruit Cake

For those who like something a little more fruity and refreshing, this juicy cake is topped with assorted fruits like setoka orange, peach, kiwi, blueberry, strawberry, and more. The gluten-free sponge and soy cream give it a light texture that's also rich.

 

<NEW> Special Chocolate Cake Slice

An exquisite three-layered version of the shop's iconic chocolate make made with plant-based ingredients. Its triple tier is formed harmoniously of sponge, chocolate mousse, and cream. A single serving for a single sweet tooth.

Strawberry Shortcake

Two moist layers of gluten-free strawberry sponge with a soy milk base. Smooth, creamy, light, and delicious.

 

Mont Blanc

This mont blanc is specially made with Japanese chestnuts. The addition of soy cream elevates the nutty flavour throughout. A crunchy tart and fluffy sponge also makes for a textural sensation.

the vegan marshmallooow's vegan cake now available online at Mitsukoshi Isetan

Vegan Chocolate Cake Set (3 Pieces)

Matcha and Latte Cookies and Drinks Released by Yojiya

Kyoto makeup brand Yojiya is now selling its own collection of snacks and drinks which it released via its website last week.

Yojiya Matcha Sandwich Cookies | ¥1,400 (Tax Included)

Yojiya Cafe Latte Chocolate Cookies | ¥1,350 (Tax Included)

Yojiya Matcha Milk | ¥950 (Tax Included)

Yojiya's snack line-up is made with the idea of being able to enjoy high-quality food products at home. Their collection includes crunchy matcha and cafe latte cookies along with matcha milk, the latter of which is made with famous Uji matcha from Uji, Kyoto. Perfect for a tea/coffee break or as a souvenir.


Experience an Indoor Hanami Cherry Blossom Flower Viewing at Ofuro Cafe Bijinyu

Ofuro Cafe Bijinyu is now hosting its "Air Hanami" event where customers can enjoy a safe and socially-distanced Hanami flower viewing experience this spring.

Ofuro Cafe is a relaxing space that feels like you've been invited to a friend's house. You can enjoy coffee, magazines, the massage chair, rent a PC, and more, all for free.

In the middle of the cafe is a 3-meter tall cherry blossom tree to recreate that Japanese springtime feel. There are also some cherry blossom-themed souvenirs available for purchase.

With social gatherings and outdoor picnics being restricted in Japan for this year's Hanami season, Ofuro Cafe offers a space where people can do it safely. They can chat, read a book, play board games, and more beside the cherry tree for a tranquil flower-viewing experience.

Information

Ofuro Cafe Bijinyu

Address: 15-15 Kagoue, Aoi Ward, Shizuoka

TEL: 054-252-1126

Ofuro Cafe Bijinyu Official Website: https://ofurocafe-bijinyu.com/

Cherry Blossom Chocolate and Soda Releases From MAISON CACAO

Japanese aromatic raw chocolate brand MAISON CACAO is launching a new Kamakura-based brand called Shiki to Maison ("Four Seasons & Maison") which will feature chocolates that capture the events and culture found throughout the four seasons in Japan.

The first entries to the series are cherry blossom chocolates which are available from March 26 to April 4, as well as cherry blossom drink which can be enjoyed on March 27 and 28.

 

Aroma Raw Chocolate SAKURA ¥2,200 / Cacao Vinegar Soda SAKURA ¥550 (Before Tax)

Aroma Raw Chocolate SAKURA

Indulge in a box of these luxury cherry blossom chocolates which are made with 100% cacao powder which have a refreshing white chocolate aftertaste. The chocolates are made with cherry blossom as well as a fresh cream laced with salt-pickled cherry blossom. They also include a paste made from liquid drawn from cherry blossom petals. It's a taste of Japanese spring with every bite.

Cacao Vinegar Soda SAKURA

This springtime beverage includes a cacao vinegar made from cacao pulp and is coupled with fragrant cherry blossom. This one is available at the Komachi and Cacao Hanare branches as well as at CHOCOLATE BANK.

Information

Shiki to Maison Sakura Sweets

Japanese Product Name: 四季とメゾン 桜スイーツ

Serving: March 26, 2021 – April 4, 2021

MAISON CACAO Official Website: https://onlineshop.maisoncacao.com/

Häagen-Dazs Releases Matcha Chocolate Cookie and Almond Caramel Cookie Ice Cream

Häagen-Dazs Japan released two new ice cream flavours as part of its Decorations mini cup series on March 23: the Matcha Chocolate Cookie and Almond Caramel Cookie.

The visually-striking Häagen-Dazs Decorations series is a smooth, rich-flavoured ice cream with delicious toppings to compliment the ice cream.

For the third entry to Decorations, Häagen-Dazs welcomes back the Almond Caramel Cookie from 2019 and adds the all-new matcha and chocolate combo Matcha Chocolate Cookie.

Matcha Chocolate Cookie / Almond Caramel Cookie – ¥295 Each (Before Tax)

Even more delicious after stirring

The best way to enjoy Decorations is to first spoon the ice cream as it is to taste the flavours. After that, you'll want to stir it all together to all the flavours and textures fuse, creating a delightful contrast between the soft ice cream and crunchy toppings.

Almond Caramel Cookie

Almond Caramel Cookie takes inspiration from the Florentine biscuit which is a sweet pastry topped with nuts and fruits. The cup contains delicious caramel butterscotch ice cream laced with caramel sauce, all of which is topped off with crumbly sliced almonds and crunchy butter cookie pieces.

Matcha Chocolate Cookie

The Matcha Chocolate Cookie is exactly what it says on the cup: a fragrant matcha ice cream infused with chocolate sauce and topped with sweet chocolate and matcha cookies.

Information

Decorations: Almond Caramel Cookie & Matcha Chocolate Cookie

Released: March 23, 2021

Where: Japan (Supermarkets, convenience stores, department stores, and elsewhere)

Product Page: https://www.haagen-dazs.co.jp/decorations_2021/

Japanese Springtime Flowers Bloom a Delicious Menu at TREE by NAKED Yoyogi Park

Spring has arrived at TREE by NAKED Yoyogi Park, a cafe run by NAKED that's located in Yoyogi Park in Shibuya, Tokyo. On Monday, the cafe launched a seasonal menu which incorporates a variety of spring flowers like cherry blossoms, showy's baby breath from Kumamoto, keiou-zakura from Yamagata, and more.

TREE by NAKED Yoyogi Park first opened in July 2017. It's an experience-based art restaurant where customers can enjoy Japan's latest cutting edge technology and next-generation gastronomy. Its popularity has risen rapidly, earning itself a reputation for offering an experience that stimulates all five of the senses, as well as for its photogenic interior decor.

With the pandemic restricting travel in Japan, people are unable to visit places far away across the country, and so the cafe is bringing a little bit of different places around Japan, namely their flowers, in collaboration with JA Kumamoto Uki and JA Yamagata.

Kumamoto is the only place in Japan that grows show's baby breath. They are raised with the prefecture's rich water and soil to blossom beautiful white and pink. These flowers can not only be enjoyed at TREE by NAKED Yoyogi Park as decorations, but customers can actually buy a bouquet of them too. Thanks to the skills of producers, the flowers can be grown out of season over a long period running from December to April, allowing people to enjoy their gorgeous springtime hues even if it's not spring.

Açaí Lemonade – Eat In ¥825 / Takeout ¥810

Cherry Blossom & Strawberry Nicecream – Eat In ¥770 / Takeout ¥756

"Power & Healthly" are the concepts for the lunch and cafe-time menu which includes both food and drink. The cafe's popular homemade açaí lemonade has been turned into a springtime version with fresh cherry blossom petals. There's also a vegan-friendly ice cream made with banana, avocado, soy milk, and a blend of strawberry and cherry blossom. It has a slight salt tang to it.

Vegan Cherry Blossom Latte – Eat In ¥770 / Takeout ¥756

Vegan Avocado & Sprout Sandwich – Eat In ¥1,100 / Takeout ¥1,080

The cafe's popular cherry blossom latte from last year returns with a soy milk base. There's also sandwiches, including a vegan one fried in coconut oil.

Strawberry Mille-Feuille – Eat In ¥1,650

The cafe's strawberry mille-feuille is so popular that they have to make a limited batch each day. It's even been featured on Instagram. With the strawberry season here, customers can enjoy fresh whole strawberries topping their dessert.

The cafe will also be running an evening cafe and bar experience with a range of desserts, food, and alcohol.

Information

Spring Menu

Released: March 15, 2021

Where: TREE by NAKED Yoyogi Park

Address: 1-10-2 Tomigaya, Shibuya, Tokyo

Opening Hours: 11:00-20:00 (EVENING CAFÉ & BAR TIME from 16:00) *Last orders at 19:00

Closed: Tuesdays/Wednesdays

TEL: 03-6804-9038

TREE by NAKED Yoyogi Park Official Website: https://tree.naked.works/yoyogi/

Snoopy Cherry Blossom Marshmallow Latte and Lemonade Serve Up at PEANUTS Cafe Nakameguro This Spring

PEANUTS Cafe Nakameguro is now serving up two new cherry blossom beverages for the spring season: the Sakura Lemonade and Sakura Charred Marshmallow Latte, both of which are now available to order until April 11.

Sakura Charred Marshmallow Latte ¥700 (Before Tax) / Sakura Lemonade ¥650 (Before Tax)

PEANUTS Cafe Nakameguro serves limited-time drinks every cherry blossom season in Japan, and this year is no different. Both beverages capture the cute pink tones of the country's national flower which invite feelings of springtime walks and Hanami flower viewing.

(C) 2021 Peanuts Worldwide LLC

Information

PEANUTS Cafe Nakameguro Spring 2021 Drinks

Serving: March 20, 2021 – April 11, 2021

Address: PEANUTS Cafe Nakameguro, 2-16-8 Aobadai, Meguro-ku, Tokyo

TEL: 03-6452-5882

Official Website: http://www.peanutscafe.jp/