GODIVA's Irresistible Chocolixir Sakura Drink Available This Spring
GODIVA Japan Inc. is releasing a new chocolate drink as part of their Chocolixir series. The new drink flavour "Chocolixir Sakura" will be sold from February 16 to April 9, 2020 at GODIVA shops only.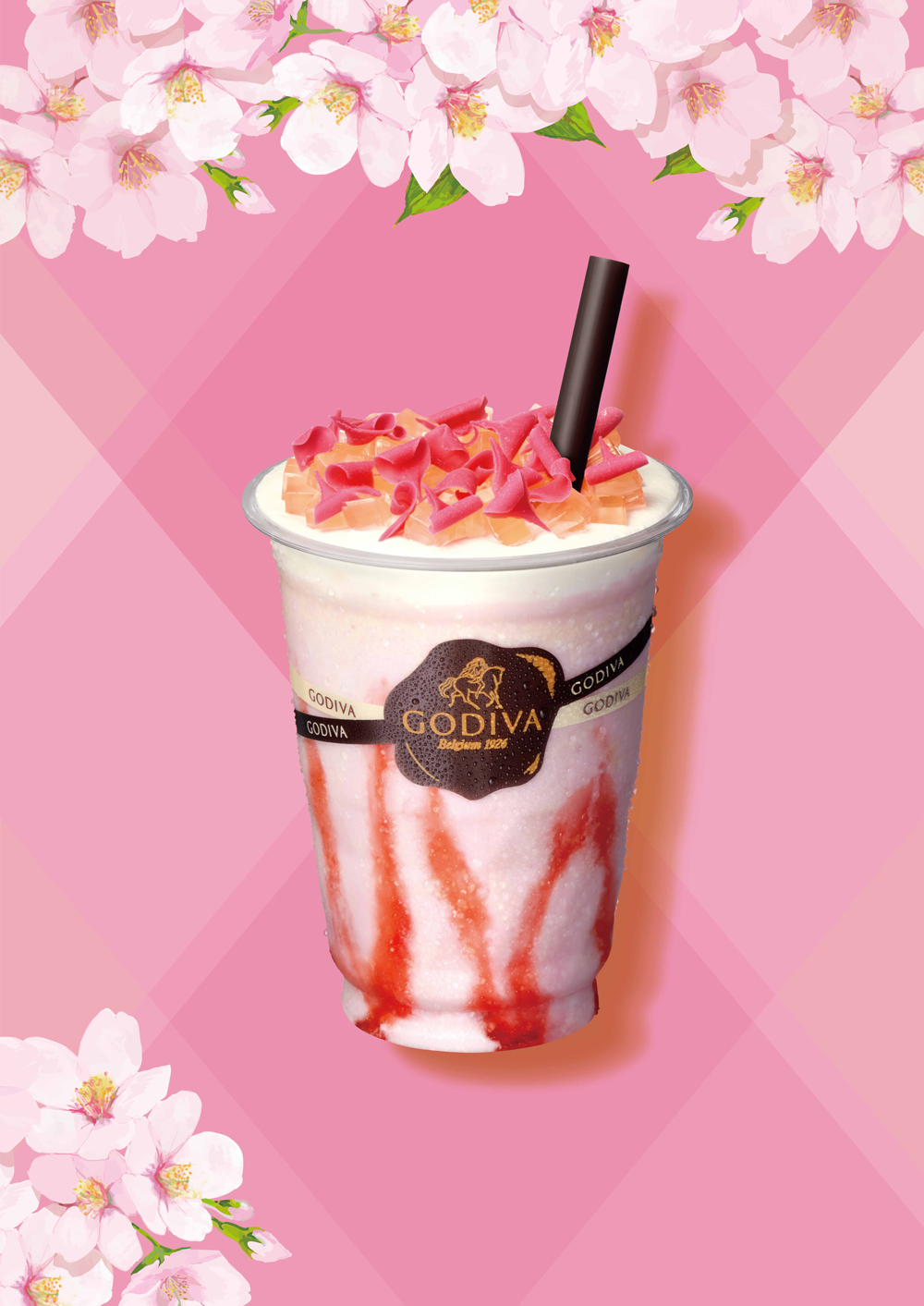 Chocolixir Sakura: ¥630 (Before Tax)
Cherry blossom jelly and pink chocolate curls rest on top of a white cloud of whipped cream to create the appearance of cherry blossom petals. The drink creates the image of beautiful sakura petals as they reflect off the water's surface, creating the warm image of the rays of the spring sun. The sweet aroma and creamy melt-in-the-mouth white chocolate is divine. This chilled drink also contains small pieces of smashed white chocolate, creating a fun texture in your mouth. 
It looks just as wonderful as it tastes. One sip will fill your heart with the refreshing vibes of spring. GODIVA's velvety smooth chocolate drinks are always to die for. You just have to try it. 
RELATED ENTRIES
Japanese Spring Cherry Blossom Desserts and Food Bloom Pink at Tokyo Solamachi This March

Spring is arriving early at Tokyo Solamachi where shops and restaurants will be serving up their own cherry blossom themed desserts and dishes from March 1.

The Line-Up: A Delectable Excerpt

Vibrant Cherry Blossom Desserts Welcome Spring

Hanami Soft | ¥800

Where: Gion Tsujiri (East Yard Floor 6F)

Serving: March 1, 2021 – April 30, 2021

Feel the warm breeze of Japanese hanami with a parfait serving of cherry blossom bavarian cream and jelly, Uji match soft serve ice cream, cherry blossom chocolate, white flour dango dumplings, high quality red bean paste, wafer, and other little assorted treats.

Sakura Mochi Flavoured Spring Pancakes | ¥935

Where: Coconoha (West Yard Floor 4F)

Serving: March 1, 2021 – April 11, 2021

Coconoha's popular fluffy pancakes topped livingly with cherry blossom ice cream, chewy white flour dumplings, and sweet red bean paste.

 

Takeout Cherry Blossom Food

Sakura Sushi | Takeout ¥2,138, Eat-In ¥2,178

Where: Kirby Cafe Tokyo (East Yard 4F)

Serving: From March 19, 2021

A picnic serving of six springtime sushi rolls decorated with Kirby references which comes in a cute lunchbox.

Cherry Blossom Lassi | ¥520

Where: AMARI DELI (West Yard Floor 2F)

Serving: March 1, 2021 – April 11, 2021

A cherry blossom lassi in full bloom with fluffy whipped cream and finished with sprinkles of pink-coloured chocolate.

 

Cute Spring Cherry Blossom Snacks

Financier Sandwich Box – Sakura & Matcha | ¥1,500 (Contains 4)

Where: Afternoon Tea Room (East Yard Floor 3F)

Serving: February 25, 2021 – April 21, 2021

An assortment of two financier cakes: the Sakura Financier Sandwich which is cherry blossom flavoured and filled with white chocolate, roasted walnuts, and strawberry flakes, and the Matcha Financier Sandwich which is filled with milk chocolate, roasted walnuts, and pistachio. Available while supplies last.

 

Restaurant Menus Beckon Hanami

Spring Roast Beef Nigiri & Cherry Blossom Dashi Kishimen Noodles | ¥1,380

Where: Sugimoto (East Yard Floor 6F)

Serving: March 1, 2021 – April 11, 2021

Roast beef sushi rolls made with Nagoya Owari beef and served with slightly-salted flat kishimen noodles served in a cherry blossom flavoured broth. Limited to 10 servings per day.

This is just a sampled look at what's to come at Tokyo Solamachi this spring – if you're in Tokyo for the cherry blossom season, be sure to visit!

Information

Cherry Blossom Desserts & Dishes

Where: Tokyo Solamachi

Address: 1-1-2 Oshiage, Sumida-ku, Tokyo

Starting: March 1, 2021

TEL: 0570‐55‐0102 (11:00-19:00)

Tokyo Solamachi Official Website: http://www.tokyo-solamachi.jp/

Art and Chocolate Melt Together in Chocola Meets Crowdfunder

A new chocolate brand by the name of Chocola Meets has been cooked up in Japan that prioritises bean to bar chocolate made from fairtrade cocoa beans. The brand's USP however lies in its collaboration with artists who pen work for the chocolate's packaging.

16 art pieces created by 4 artists for the craft chocolate packaging

Chocola Meets will begin selling its tasty chocolate collection from mid-March, but for those who can't wait, the brand launched a crowdfunding campaign on February 15 via CAMPFIRE which offers pre-sales.

 

Chocola Meets prides itself on its collaborative business model which provides support to participating artists by giving them a cut of sales. This includes the money made for the crowfunder as well as the proceeds made from chocolate sales.

Sasabe (Chocola Meets, Operations Officer) | Comment

"The concept for Chocola Meets is, 'Meet My Like: Experience What it Feels Like to Find Your Likes.' This is something we value and is the reason why Chocola Meets exists. The reason behind our collaborative business model of Art x Craft Chocolate, something which hasn't been done before, is to continuously offer that very concept – one which holds irreplaceable value. And in order to do that, we needed something that allows the artists to continue living comfortably. So we're giving proceeds from the chocolate to the artists which gives them an incentive to create."

The CAMPFIRE crowdfunder offers pre-sales of the chocolates at a discounted price. There are other benefits too, like framed art by the artists, coupons, and more.

Chocola Meets successfully met their Crowdfunding goal, having raised ¥430,700 of the pledged ¥300,000 (as of February 16, 2021).

Fruit and Sake Infused Chocolates by Lotte to Release in Japan

Japanese confectionery company Lotte is releasing two new chocolates on March 23 that are infused with sweet and tangy fruits and sake: the "Torotto Strawberry Liqueur Chocolate" and "Torotto Citrus Liqueur Chocolate."

The Line-Up

Torotto Strawberry Liqueur Chocolate | ¥200 (Before Tax)

This melt-in-the-mouth milk chocolate delight is laced with a sweet strawberry liqueur filling that's sure to please the taste buds of all who love combination of chocolate and alcohol.

Torotto Citrus Liqueur Chocolate | ¥200 (Before Tax)

This one is also wrapped in velvety milk chocolate but its filling is replaced with a citrus fruit liqueur, lending a fresh, flavourful finish.

These chocolates are the perfect combination of sweet and sour fruits and Japanese sake for the coming spring season.

Harajuku Whips Up Oita Prefecture's Jazz Youkan Sweet Adzuki Bean Block

The Jazz Youkan is a cute confection made from sweet adzuki red bean paste and made to look like a little piano. It's made in Japan's Oita Prefecture, but Tokyo residents can now enjoy this sweet treat at HARAJU Cross JAPAN MASTERY COLLECTION_est which is located on Floor B1F of WITH HARAJUKU, a shopping complex in front of Harajuku Station. It is being sold until February 14 in three flavours: Chocolat, Matcha Chocolat, and Classic.

The Jazz Youkan

The Jazz Youkan is a confectionery made by Jazz to Youkan Yufuin CREEKS, a shop in Yufu, Oita. It's part of their concert series of sweets and pairs well with a cup of coffee or glass of wine.

Line-Up (Prices Include Tax)

Chocolat | ¥2,646

The seasonal winter Chocolat is made with sweet white bean paste, couverture chocolate, dried cherries, fig, and raisins. All the chocolates in this series are individually handmade by the shop's chocolatiers, and this time, the classic Chocolat variant has been made even more delicious. It's smooth, moist, and rich without being too sweet. Best enjoyed with coffee or wine.

Matcha Chocolat | ¥2,646

If you love matcha then this is the treat for you. It's different from the normal Chocolat version of this sweet as it's made without dried fruits. Instead, it contains large-grained adzuki beans for an irresistible texture.

Classic | ¥2,160

The Classic version is made with brown sugar from Okinawa and adzuki beans and contains dried figs soaked in wine. Another perfect pairing with coffee or wine, and the piano face shows the work of true Japanese artistry.

©冬季限定 ジャズ羊羹 chocolat

Information

Jazz Youkan
Order Window: January 16, 2021 – February 14, 2021
Orders: TEL: 03- 6384-5815 / E-mail: shop_est@japanmasterycollection.jp
Sales Window: February 7, 2021 – February 14, 2021
Where: HARAJU Cross JAPAN MASTERY COLLECTION_est
Address: 1-14-30 Jingumae, Shibuya, Tokyo
Opening Hours: 12:00-18:00
Jazz to Youkan Yufuin CREEKS Official Website: http://www.jazz-youkan.com/

CoCo Fresh Tea & Juice Releases Valentine's Day Chocolate CoCo Dinosaur Beverages

Tastea Trustea Japan released two new beverages on Friday (February 5) for Valentine's Day at CoCo Fresh Tea & Juice in Japan: the CoCo Dinosaur and Tapioca CoCo Dinosaur.

CoCo Dinosaur ¥520 / Tapioca CoCo Dinosaur ¥580

The two teach beverages are made with a rich chocolate sauce and fresh milk. They are topped with chocolate and brown sugar syrup for a sweet combination of flavours and textures. An enjoyable beverage that is both refreshing and Instagram-worthy for Valentine's Day.

Information

CoCo Fresh Tea & Juice
Serving: February 5, 2021 – End of February 2021
Where: All 12 branches of CoCo Fresh Tea & Juice in Japan
CoCo Fresh Tea & Juice Japan Official Website: https://cocofreshtokyo.amebaownd.com/

New Limited-Edition Sakura Cherry Blossom Beauty Face Masks Released by LuLuLun

Japanese face mask and beauty brand LuLuLun released its new limited-edition cherry blossom scented face masks on Monday (February 1) to welcome in the Spring 2021 season early.

Spring 2021 Premium LuLuLun (Cherry Blossom Scent) | ¥1,600

Combined with springtime's beauty ingredient

Spring is the season when flare ups can happen and we need to be careful of UV light, humidity, and pollen. LuLuLun's products pride themselves on their moisturising properties, and their new cherry blossom face masks are no exception. They are combined with cherry blossom petal extract, lending a fragrant scent while leaving the skin smooth and beautiful.

Rape blossom oil for even smoother skin


The rape blossom is another of Japan's popular flowers as they blossom and transform fields into rolling carpets of bright yellow. The face masks contain oil extracted from rape blossom seeds for an extra blanketing of smooth skin.

Coltsfoot extract equals healthy texture


Also in the ingredient list is extract from the coltsfoot flower, a strong plant that is able to withstand winters to make it into the spring where it can finally reveal its delicate form. It serves to create a healthy complexion on the skin.

ADAM ET ROPE' x GODIVA Drop Clothing and Bag Collection

ADAM ET ROPE', a Japanese clothing brand managed by JUN Co.,LTD., teamed up to release a collection of T-shirts and tote bags in collaboration with the Belgian premium chocolate brand GODIVA on Saturday (January 30).

The collection is inspired by GODIVA's iconic pink van logo. The story of the van dates back to just after the Second World War. After the war, Brussels found itself in a state of depression. Pierre Draps, the chocolatier behind GODIVA, was saddened by the aftermath, and wanted to do his part to bring happiness wherever he went. He decided to paint his delivery van pink, in hopes of bringing joy to the people of Brussels, and drove it around during his chocolate deliveries.

The PROJECT PINK VAN collection was released at ADAM ET ROPE' stores, J'aDoRe JUN ONLINE, and ZOZOTOWN in Japan on January 30. And from now until Valentine's Day, customers who purchase any of these items will receive some free GODIVA chocolate. This offer is available in Japan only and while supplies last.

PROJECT PINK VAN Collection

PINK VAN T-SHIRT | ¥5,500 (Before Tax)

Colours: White/Black/Brown
Sizes: M/L/XL

GODIVA L/S T-SHIRT | ¥7,000 (Before Tax)

Colours: White/Black
Sizes: M/L/XL

GODIVA TOTE BAG | ¥3,500

Colours: Black/Camel/Camo

Pokémon, My Melody, Moomin and More Valentine's Day Chocolates Arrive at Daimaru Tokyo

The Hoppe Town area of Daimaru Tokyo is currently celebrating Valentine's Day up to February 14 with the release of a selection of gift chocolates by six brands in collaboration with popular characters.

Pokémon Chocolate Set (Large Box) | ¥1,404 (Tax Included)

My Melody x Goncharoff Chocolates (Contains 21) | ¥2,160 (Tax Included)

Moomin x Merry Chocolate's Hattifatteners Chocolates (Contains 11) | ¥1,188 (Tax Included)

Dick Bruna by Morozoff: Picture Book Chocolates (Contains 15) – ¥864 (Tax Included) / Miffy Pouch Chocolates (Contains 8) – ¥1,320 (Tax Included)

Chatrois Kitten Tiny Plain Chocolates | ¥783 (Tax Included)

Katanukiya Angel Panda | ¥684 (Tax Included)

Which of these cute and tasty-looking treats has caught your eye the most?

©Nintendo・Creatures・GAME FREAK・TV Tokyo・ShoPro・JR Kikaku ©Pokémon
©1976,2021 SANRIO CO,LTD.APPROVAL NO.L613374
©Moomin Characters™

Information

Daimaru Tokyo Valentine's Sweets
Running: January 27, 2021 – February 14, 2021

Location: Hoppe Town on Floor 1F of Daimaru Tokyo
Official Website: https://www.daimaru.co.jp/

LEMONADE by Lemonica Releases Sweet Spring Lemon Version of its Signature Freshly Squeezed Drink

LEMONADE by Lemonica, a shop in Japan that serves lemonade made with its own original recipe, is now serving its "Sweet Spring" version of its freshly-squeezed Namashibori Squeezy lemonade as the best season for citrus fruits in Japan has arrived.

Namashibori Squeezy: Regular Size ¥444 / Large Size ¥509 (Before Tax)

The Namashibori Squeezy is one of LEMONADE by Lemonica's most popular menu items, made with freshly-squeezed citrus fruits. The shop uses only the best picks of each season, and right now is the ideal season for citrus fruits which calls for the return of the "Sweet Spring" edition of its signature beverage. Sweet Spring is actually the name given to a specific variety of Japanese citrus fruit which is a combination of mikan and hassaku orange. It has a naturally high sugar content and is rich in flavour, adding pure sweetness and a tangy kick to the beverage without being bitter. It's known for being a rare fruit due to the difficulty of growing and harvesting it, so it's not often seen in the markets in Japan. They are normally shipped in January and February and are mostly grown in Kyushu as the island enjoys a lot of sun.

LEMONADE by Lemonica doesn't make its lemonade by adding syrup to lemon juice. It uses whole lemons to create its own original recipe. It highlights how lemons have a lot of different parts which when combined can provide many different flavours including the lemon flesh, juice, peel, white sponge, and stem.

And for the winter season, LEMONADE by Lemonica is introducing some limited-time desserts to its menu made with sweet strawberries.

Snowberry Lemo Pina / Snowberry Hot Lemonade

Wrap Yourself in Japanese Cherry Blossoms With This Home Fragrance, Bath, and Body Series

Global Product Planning has released its new "Sakura" cherry blossom series of home fragrance, bath, and body products. The collection comes in response to this year's cherry blossom festivals and celebrations in Japan which are looking to be difficult as a result of COVID-19, so people can enjoy the floral scent from the comfort of their homes.

Home Fragrances

Sakura CA Flower Reed Diffuser ¥1,800 | Sakura CA Linen Water ¥1,200 | Sakura CA Fragrance Card ¥300 | Sakura CA Fragrance Beads ¥600 (Prices Before Tax)

Hand Care Items

Sakura CA Hand Cream ¥500 | Sakura CA Mini Hand Soap ¥360 | Sakura CA Hand Soap ¥500 | Sakura CA Jewel Soap ¥300 (Prices Before Tax)

Bath Items

Sakura CA Bath Powder ¥200 | Sakura CA Bath Salts | Sakura CA Bath Confetti ¥300 | Sakura CA Bath Bombs ¥300 (Prices Before Tax)

Bath Gifts

Sakura CA Thanks Mini Gift ¥400 | Sakura CA Mini Bath Gift ¥450 | Sakura CA Bath Set (Box) ¥600 | Sakura CA Bath Set (Bag) ¥1,000 | Sakura CA Bath Set (Oval) ¥1,200 (Prices Before Tax)

Cover your bedroom, bathroom, and body in all things cherry blossom with this special new collection.

Tokyo's Fancy New Pink Afternoon Tea at THE GRAND GINZA is Topped With Chocolate and Strawberries

THE GRAND GINZA in Tokyo is getting ready for Valentine's Day and White Day with the revealing of its new afternoon tea menu which will be served from February 1 to March 31.

The "Pink Afternoon Tea" is a combination of succulent strawberries and fruity ruby chocolate, which is the fourth type of chocolate alongside milk, dark, and white. It includes a ruby hot chocolate for staying warm during these cold winter months, strawberry macarons, strawberries to dip in ruby chocolate, strawberry quiche curry, and other unique items for a mix of sweet and savoury. There's also a strawberry mille-fuille made with a recipe by Ginza's famous French restaurant Maxim's de Paris.

There are also 18 drinks to choose from including 13 types of teas from TWG. It's a must-visit for Valentine's Day.

Sankt Gallen Brewery to Release 800 Limited-Edition Chocolate Beer Bottle Sets

Sankt Gallen Brewery has announced the release of a new drinking set which includes its chocolate-flavoured beer "Imperial Chocolate Stout" and a special glass for drinking it out of. The brewery, which is located in Atsugi, Kanagawa, will launch it as a limited-edition release on February 1, 2021 with just 800 sets available.

Imperial Chocolate Stout ¥600 | Le Lectier Chocolate Stout 2021 Edition Flavour ¥500 | Orange Chocolate Stout ¥500 | Sweet Vanilla Stout Valentine Label ¥460 (All Prices Pre-Tax)

Chocolate Glass

Chocolate Glass Set

The Imperial Chocolate Stout isn't made with cacao or the chocolate used in sweets. It's in fact made with "chocolate malt," a raw beer ingredient roasted at a high temperature which draws out its chocolaty flavour. Although the beer uses almost 30% more of this raw ingredient than regular beer, only about half the amount is brewed from a single distilling compared to regular beer, which gives the beverage a distinct jet black colouring. The bubbles on top make it almost like a chocolate shake.

Other drinks in this series include the Le Lectier Chocolate Stout which arrives this year in a limited-edition 2021 flavour. It's made with the Le Lectier, a rare type of pear that is difficult to grow. The Orange Chocolate Stout is made with thinly sliced bitter orange peel, the kind that's used in marmalade, of which half is boiled to intensify its citrusy notes. It's inspired by the classic French confection that coats orange peel in chocolate. Finally, the Sweet Vanilla Stout comes in a Valentine's Day label for 2021. This beer, which is richly black like an espresso, is laced with vanilla, bringing with it a sweet fragrance and vanilla chocolate aftertaste.

These chocolate beers themselves go perfectly with some actual chocolate, and so Sankt Gallen Brewery teamed up with the Japanese patissier Tadashi Yanagi to create a glass made of chocolate to drink the beer from.

Which of these beverages has your mouth watering the most?