Gorgeous Ukiyo-e iPhone Cases Released by ARTiFY in Japan
Smartphone case brand ARTiFY showcased its Klimt and ukiyo-e glitter cases at art museums in Japan last year, which was a huge hit. They were so popular that the company has decided to make them available to consumers online.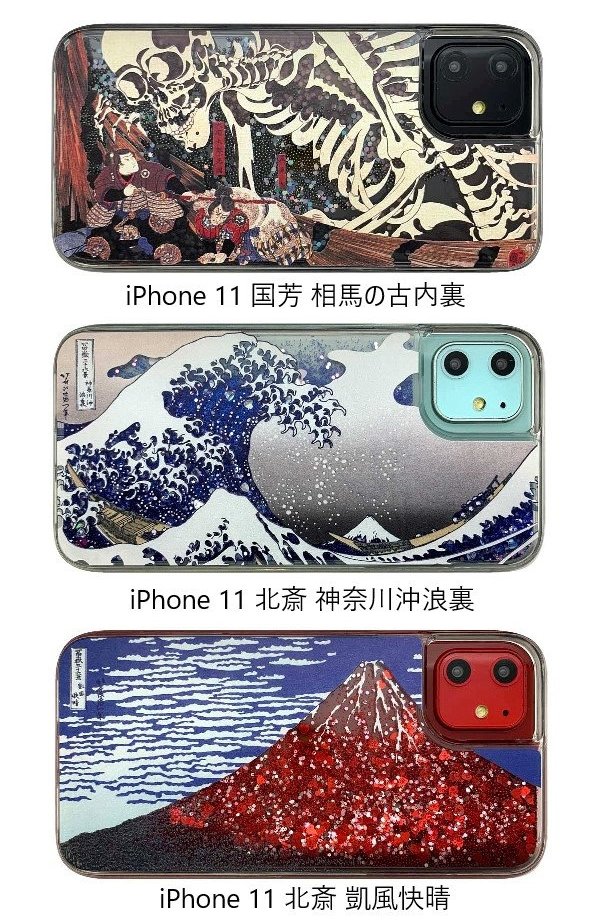 The brand's name, ARTiFY, means to "make something into art." But for them, that doesn't simply mean a piece of art to look at: it's things you can wear, things you use in your everyday life and beyondーbringing life and art together and making it more fun and integrated.

ARTiFY's products are on the rise. You can find their products at the Ukiyo-e exhibition at the Fukuoka Art Museum's museum shops, and in the run up to the Tokyo 2020 Olympics, the number of souvenir shops aimed at foreign tourists they are stocked in are set to go up.
Information
Ukiyo-e iPhone Glitter Cases
Designs: Soma no Furudairi by Utagawa Kuniyoshi / The Great Wave off Kanagawa by Hokusai / Fine Wind, Clear Morning by Hokusai
Released: February 10, 2020
Price: ¥3,960 (Tax Included)
Compatible With: iPhone6, 6s, 7, 8, iPhoneX/Xs, iPhone 11, iPhone 11 Pro, iPhone 11 Pro Max
Available: Art museums, museums, online stores and elsewhere in Japan
RELATED ENTRIES
Ukiyo-e Soap On Sale at SOLEIL TOKYO Pop-up Store in Shinjuku NEWoMan

A brand of Ukiyo-e themed soap by Hinata Hina is currently on sale at the SOLEIL TOKYO pop-up store in Shinjuku NEWoMan, a huge shopping mall packed with fashion boutiques, food shops, cafes, bakeries and restaurants, and more. The soap is available until August 16.

The soap was created with the Edo period in mind. There are two different gift packages being sold in addition to three new designs available in early limited stock before they go on general sale.

The soap is a fusion of original lactic acid bacteria which enables a luxurious marshmallow-like foam when lathered that's gentle to the skin, opening your path to looking beautiful like those in the ukiyo-e illustrations.

The soaps are made in Japan and are made using only the necessary ingredients. They are made simply, use no synthetic surfactant and are odour-free. This is all replaced with natural ingredients like plant lactobacillus, yeast, honey, and olive oil.

They make for a perfect souvenir for Japanese, so be sure to check them out if you're in Shinjuku.

■Information
Ukiyo-e Soap

Shop Name: SOLEIL TOKYO Pop-up Store

Available: July 23, 2018 – August 16, 2018

Location: NEWoMan lab. 1F (4-1-6 Shinjuku, Tokyo)

Official Sales Page:  http://hinatahina.com/ukiyoe/

Ukiyo-e & Sengoku Busho Crest Limited Edition Soy Sauce Packaging

Soy sauce company Marusen Shoyu, who are based in Yamagata Prefecture, are selling bottles of soy sauce with limited edition packaging. Get your hands on either the ukiyo-e soy sauce or sengoku busho crest soy sauce.

Yamagata Prefecture has a long history of 'dashi soy sauce,' which takes regular soy sauce and adds stock like bonito and kelp which brings an exquisite balance of sweetness and deliciousness and deepens the flavour of the soy sauce. Aji no Daimyo Shoyu is a type of dashi soy sauce made with dashi bonito. It was developed 40 years ago and remains a best seller among customers.

When the 2011 Tohoku earthquake hit Japan in 2011, Marusen Shoyu began to think up ways they could cheer up customers, locals and Japan as a whole from Yamagata by using their soy sauce. This is what led them to start producing dashi soy sauce. First and foremost was putting a smile on people's faces, and so they used the great local ingredients at their disposal as well as delicious ingredients in Japan to enable people to enjoy a bit of luxury and brighten up.

The new limited-edition packaging is linked to this idea.

Ukiyo-e Packaging 220ml x 3 Bottles

These make for a perfect souvenir outside Japan. The bottles are designs on the ukiyo-e pieces of Sharaku, a print designer of the Edo Period.

Sengoku Busho Crest Packaging 50ml x 3 Bottles

These mini bottles bear the family crests of Nobunaga, Hideyoshi and Ieyasu from the Sengoku period. They each have their own flavours and make for a great gift.

Both package designs come with 3 bottles each containing 3 different flavours. The Aji no Daimyo Shoyu is made with bonito dashi to make a sweet and deep flavoured dashi soy sauce. The Kombu Daimyo Shoyu is made with a delicious and fragrant kelp dashi. The Tokugawa Shoyu, which isn't made with dashi, has the same kick you'd find in a high quality soy sauce for sashimi.

Try these soy sauces for yourself, you're guaranteed to get addicted to each and every one of them!

David Bowie Ukiyo-e and Photography Exhibition to Take Place at Bookmarc

Bookmarc is a bookstore managed by New York fashion brand Marc Jacobs, where the long-awaited third entry to UKIYO-E PROJECT's series will have its launch event, paying homage to David Bowie and his works. The ukiyo-e and photography exhibition will run from June 23 to July 1.

 

Title: David Bowie Hengekyou "Takezawa Douji"
From Terry O'Neill's "Diamond Dogs" 
Artist: Masumi Ishikawa / Engraver: Yusuke Sekioka / Printer: Tatsuya Ito Size:

 480mm

×

340mm (Portrait) *200 copies available




Price: ¥108,000 (Tax Included)

Takezawa Douji the Second was a hugely popular acrobat during the Edo Period popular for numerous kinds of performances as well as puppetry. As an entertainer, you could say he has a high affinity with Bowie, who in a sense was an illusionist.

This art piece takes inspiration from Diamond Dogs and changes a dog for the Nine-Tailed Fox, and David Bowie switches places with Douji to perform the spinning top.

 

Title: David Bowie Hengekyou "Kidomaru"
From Brian Duffy's "Aladdin Sane"
Artist: Masumi Ishikawa / Engraver: Sato Nami / Printer: 中山誠人 Size:

480mm

×

340mm (Portrait) *200 copies available


Price: ¥108,000 (Tax Included)


Kidomaru is a familiar face in the world of ukiyo-e, a sorcerer who appears in myths and legends of the Kamakura Period. This art piece features the giant snake itself and an intricately drawn Bowie.

 

These captivating and bewitching ukiyo-e pieces of David Bowie are sure to entice fans around the world.

UKIYO-E PROJECT presents David Bowie Ukiyo-e Exhibition F

eaturing the Works of Terry O

'Neill and Brian Duffy


 Location: Bookmar

Address: 4-26-14 Jingumae, Shibuya, Tokyo

Running: June 23, 2018 – July 1, 2018

Time: 12:00-19:00

Edo Cat Cafe Combines the Worlds of Ukiyo-e and Cats

An Edo-style cat café will bring to life the world of ukiyo-e with real cats you can play with. The Edo Cat Cafe will run from June 15 to August 31 this year at the event space outside the West Entrance at JR Ryogoku Station.

The concept behind this event is: "A rumour between the residents of an Edo 'nagaya' and cats. Travellers from across the country catch sound of the rumour and come to get a glimpse."

The nagaya was a type of living quarters in the Edo period made like a row of houses. The cat café building is made to look like one of these. Ukiyo-e paintings and models will decorate inside and bring to life the street and atmosphere of the Edo period. There will also be entrances, streets and staircases for cats to use. You'll be able to enjoy a unique experience and take photos while playing with cats in what will really feel just like the world of Edo.

There will be several zones inside building, including the cat tea room, cat 'red light district,' cat bath, cat nagaya, and cat plaza. Each area will be furnished with ukiyo-e that fit the scene, bringing to life the world of Edo. As well as being able to take photos with the cats anywhere inside the café, you'll also have the chance to learn about the deep relationship between the people of Edo and cats through the commentaries of each ukiyo-e piece. There'll even be a merchandise corner to purchase original goods related to cats.

But it doesn't stop there. There will also be a chance to enjoy Edo's food culture at -Ryogoku- Edo NOREN, join in a campaign being held in collaboration with Sumida Hokusai Museum, and more. Part of the proceedings made at the café will go towards tackling the problem of homeless cats. Cat-loving artists are also set to cooperate in the event and they will produce original ema plaques.

If you're also a cat-lover then don't miss out on this unique Edo and cat café mashup!

■Information

Edo Cat Cafe

Location; Ryogoku Station West Exit Event Space (Sumida-ku, Tokyo)

Date: June 15, 2018―August 31, 2018

Time: 11:00-20:00 (Last Entries 19:00)

Access: 1-minute on foot from West Exit of Ryogoku Station via the JR Sobu Line

*Event subject to date changes in case of natural disasters or other unpredictable causes.

*Please refrain from picking up the cats, speaking in a loud voice, chasing cats and other such behaviour.

Entry Price (60 Minutes / Tax Included)

*Same-day tickets. Prices in brackets denote tickets bought in advance.

Adults: ¥1,500 (¥1,000)

High School / Junior High School Students: ¥1,200 (¥800)

Extension: ¥500 per 20 minutes

Advance Tickets Sales Window: May 10, 2018―June 14, 2018

*It is advised you do not enter the café if you are allergic to cats.

*Those at elementary school age and below are not permitted entry.

*Please do not use flash on your cameras.

*Please do not take food or drink into the café.

*Please do not take your pets in with you.

Lawson Tickets (Sold at all Lawson stores and Mini Stop Loppi in Japan)

http://l-tike.com/edonekochaya

Official Event Website

Let's learn about the history of Japan at renewed "EDO-TOKYO MUSEUM"

After closing for 6 months, EDO-TOKYO MUSEUM was reopened on the 1st of April and about 22,000 people visited the museum between the 1st to 7th of April.

They held talk sessions and live performances between the 1st of April (Sun.) to the 7th (Sat.) which was designated as reopening commemoration week named, "EDO→TOKYO VISION Edo Tokyo no Rekishi (history) Bunka (culture) to Tsunagaru (connect with) Isshukan (one week)."

First, Shiriagari Kotobuki from Nakamuraza appeared on the stage and along with the performance of Kanya Tsuruzawa, a Gidayu Shamisen player, he performed live drawing on a 30m long Japanese paper using sumi (Japanese ink.) The audience was glued to the performance. Lastly, he drew the illustration of Sky Tree and hung the work from "Nihonbashi," one of the works exhibited in the museum.

The event started with the rakugo performance (Japanese traditional comic storytelling) of the female rakugo performer Kokintei Kikuchiyo. She performed one of popular story created during the Edo period named, "Tarachine."

About 300 spectators attended the"Rekishi Special Acoustic Live." The venue was filled with excitement right after Rekishi wearing a hakama appeared on the stage with the sound of a trumpet shell and drums.

EDO-TOKYO MUSEUM is planning to introduce the history and culture of the Edo Period and Tokyo to those who love history, to those who have never visited the museum and to tourists from foreign countries. They will hold many events to become a focal point of Tokyo's culture.

Let's visit the renewed EDO-TOKYO MUSEUM and learn about the history of Tokyo!

■Information

EDO-TOKYO MUSEUM

Address: 1st avenue, 4-1, Yokoduna, Sumidaku, Tokyo

Opening hours: weekdays 9:30 to 17:30 (Sat – 9:30 to 19:30) ※last entrance – 30 minutes before closing time

TEL:03-3626-9974

Website:

https://www.edo-tokyo-museum.or.jp

Edo-Tokyo Museum Re-Opens With Exhibition of Mysterious Ukiyo-e Painter Sharaku

The Edo-Tokyo Museum will re-open on April 1st after a 6-month closure. The museum has been newly fitted with a shop and restaurant.

To commemorate the re-opening, Tōshūsai Sharaku's Actor Ichikawa Ebizo as Takemura Sadanoshin and Kitagawa Utamaro's Reflective Love from Anthology of Poems: The Love Section will be put on regular display for the first time.

Tōshūsai Sharaku was an ukiyo-e print designed of the Edo Period. Sharaku is known as a mysterious artist who, after releasing a whole collection of other prints in a small timeframe of just 10 months, suddenly disappeared.

Other events are also scheduled for the museum including talk sessions. Topics center around questioning what things modern Tokyo inherited from the Edo Period, as well as what is necessary to revive traditional things into modern life. Other talks and performances will also take place by experts in other fields and artists too.

Discover the world of the mysterious ukiyo-e painter Tōshūsai Sharaku at the refurbished Edo-Tokyo Museum.

■Information

Edo-Tokyo Museum

Re-Opening: April 1st

Talk Sessions: April 1st & April 7th

Address: 1-4-1 Yokoami, Sumida, Tokyo

Opening Hours: 9:30-17:30 (9:30-19:00 on Saturdays) *last entries 30 mins before closure

Exhibition Price: Adult \600 (Group: \480) / University Students & Vocational College Students \480 (Group: \380) / High School & Junior High School Students, Over 65s \300 (Group: \240) / Junior High School Students (Enrolled in school in city or living in city), Elementary School Students, Children – Free (Group: Free)

*Groups must be 20 people or more.

Closed: Mondays (Unless on a national holiday or substitute holidays, in which case it falls to the next day), New Year's Day

TEL: 03-3626-9974 – 9:00~17:00 (Closed Saturdays & Holidays)

Website: https://www.edo-tokyo-museum.or.jp/

Dr.Martens' boots & shoes using the motif of "ukiyoe"

Dr.Martens will release their new shoes collections called "FLORALS REMIXED" (2018,02,09) and "EASTERN ART" (2018,02,23).

The "FLORALS REMIXED" shoes have a flower-patterned print on them named, "Wonder Last" which symbolizes the freeness to go out on a trip. The flowers printed on the shoes are colored pink, blue, yellow and green. This collection includes the 10-hole boots, 8-hole boots, 3-hole shoes, Mary Jane shoes and the Jungle boots with a zip.

The 8-hole boots and 3-hole shoes of the collection titled, "EASTERN ART" using the motif of ukiyoe (Japanese traditional painting) uses grain leather on their uppers and are finished with emboss to represent the texture of "washi" (Japanese traditional paper).

The exotic design was created by the design team in England. Also, the gold-colored studs on the shoes are brilliant.

Why not get your very own Dr.Martens' unique products.

■Information

Dr.Marten

< FLORALS REMIXED >

Release date: 2018,02,09 (Fri.)

Price: 10-hole boots – 42,000 yen + tax, 8-hole boots – 28,000 yen + tax, 3- hole shoes – 24,000 yen + tax, Mary Jane – 22,000 yen + tax, Jungle boots – 28,000 yen + tax

Colors: black+marrow pink, bone+marrow pink

Size: UK 3 to 6

<EASTERN ART>

Release date: 02,23 (Fri.)

Price: 8-hole boots – 28,000 yen + tax, 3 hole shoes – 24,000 yen + tax

Size: UK 4 to 9

An "ukioe" item now comes with the "Tokyo Midtown Award's" award product – a sake gift

Tokyo Midtown has been holding an art and design competition titled, "Tokyo Midtown Award" starting from 2008 with the aim of "promoting JAPAN VALUE."

In this competition, a lot of design ideas are collected and some winning works can be commercialized. This time, the winning work in 2015, 「Ukiyoe puchipuchi」will be commercialized. To date, a total of 16 works have been turned into events or commercialized products.

Ukiyoe puchi puchi(R) won the semi-grand prix from among 1,316 entries in the design competition held with the theme of "hospitality" in 2015.

In the begging of 20th century, Japanese people surprised Europeans by exporting ceramics using cushioning material that had "ukioe" designs on them.

This is a product where ukiyoe has been printed on bubble cushioning material. It is perfect for the wrapping of alcohol bottles.

"Omedetai paper cup" received the Good Design Award in 2017. It was commercialized in March of this year.

Check out the following URL to see other commercialized items. http://www.tokyomidtown.com/jp/award/design/product.html

Also check out the following URL to see Tokyo Midtown Award 2017 selection results for the art and design awards. http://www.tokyo-midtown.com/jp/award/

Stay tuned for the next commercialized items!

■Information

Ukiyoe puchi puchi(R)

Price: large ¥324, small ¥302(tax included)

Selling agency:Kawakami Sangyo Co., Ltd.  http://www.putiputi.co.jp/

Selling date: November, 2017(plans)

Material: polyethylene

Size:

large(for one bottle)180×570mm

small(for four bottles)150×475mm

Artist: coneru

<Member /Satoru Shimizu, Jun Yamane, Takahiro Uekubo, Ryusuke Sugawara>

Omedetai paper cup

Price: ¥637(tax included, 50 pieces)

Selling agency:Sunnap Co..

Materials:virgin pulp 100%, polyethylene laminate processing

Capacity: 7 ounce(205ml、72.6φ×79.3mm)

Artist:Yu Inoshita

Japanese rail company uses ukiyo-e posters to ask commuters to mind their manners on the train

The ever-growing series of traditional artworks is grabbing everyone's attention for its beauty and humour.

One of the many things we love about Japan is the way that art blends into everyday public life. Whether it's custom-wrapped trains, plastic food replicas, or Hello Kitty-adorned construction sites, everywhere you look there are eye-catching images that inadvertently grab our attention.

One place that's particularly well-known for its arty posters and banners is the Japanese rail system. Here, we've seen "manner posters" that ask commuters to refrain from things like eating and manspreading, but now there's a brand new type of manner poster on the rail network that's got everyone talking.

Inspired by traditional ukiyo-e woodblock prints, the new series from Seibu Railways is called "Denshanai Meiwaku-zue" (電車内迷惑図絵), a title in line with traditional ukiyo-e naming conventions, which translates to "Picture of Annoyances Inside the Train".

▼ The first poster in the collection is "Please let others sit comfortably".

The second print in the series, called "Please turn down your volume", features groups of chattering animals, harking back to the style of Kawanabe Kyōsai (1831–1889), an acclaimed caricaturist known for his images of demons and animals.

Star Wars turned into gorgeous, traditional Japanese ukiyo-e paintings!

The force of Star Wars themed ukiyo-e paintings has awakened, maintaining the genuine and original traditional Japanese art style. This is the second instalment of Star Wars ukiyo-e from Horishi and Surishi, this time bringing new characters to the line-up.

Darth Maul

Boba Fett

The pieces were made using the Echizen Washi style made by living national treasure Iwano Ichibei, who is a holder of Important Intangible Cultural Property. They will be available for purchase in time for the release of "Rogue One: A Star Wars Story", which will be released worldwide on December 16th, 2016. You can pre-order yours from November 16th, 2016 from the Rhythm Force website (http://dentoistradition.com/). The ukiyo-e are also scheduled to be displayed at IDC Otsuka Kagu Showroom in Shinjuku.

Millennium Falcon ※Available only upon purchasing the set

There are a limited 100 sets of the complete 3 set. There are 100 each of the Darth Maul and Boba Fett pieces to be sold separately, while the super rare Millennium Falcon piece can only be obtained by purchasing the complete set of 3.

■Information

Pre-order Date: November 16th, 2016

Available: Last third of December, 2016

Price: ¥50,000 each (tax not included) / Complete 3 Set ¥150,000 (tax not included)

Size: H390-410mm x W275mm

※Each piece is just a little smaller than the current A3 paper size (H420mm x W297mm)

※Each pieces' size may vary depending on the piece

※Each piece will be numbered and signed

ーーー
■Related Article: The secrets of Edo exposed with digital art at the "Super Ukiyo-e 'Edo no Himitsu' Exhibition"! See the world's most gorgeous Ukiyo-e art turn into digital art

http://www.moshimoshi-nippon.jp/20169

■Related Article: Edo Ukiyo-e woodblock prints become modern day pop art at Nagoya/Boston Museum of Fine Arts!

The secrets of Edo exposed with digital art at the "Super Ukiyo-e 'Edo no Himitsu' Exhibition"! See the world's most gorgeous Ukiyo-e art turn into digital art

The "Super Ukiyo-e 'Edo no Himitsu' Exhibition" will be held from Saturday January 28th, 2017 to Sunday May 21st, 2017 at Kayabachō in Nihonbashi. Ukiyo-e are an art form that reveals the life and culture during the Edo period – from food to customs, fashion, love, gossip and more. They are a paramount form of media in knowing the real state of the Edo period at the time and its historical background. This exhibition will bring to the fore the hidden secrets of Edo by asking the question "What was Edo?" Kabuki actor Kataoka Ainosuke VI will be the voice cast guide at the event.

The exhibition aims to have people not just "looking" at Ukiyo-e, but being "absorbed" into them. Using the latest video technology, the Ukiyo-e will be brought to life and made gigantic, as well as 3D, so you will be able to feel like you are reliving the world of Edo as you are enveloped inside beautiful and bewitching Ukiyo-e. Moreover, you'll be able to have a digital taste at what it's like to sightsee in Edo. The exhibition will be split into different zones, including "famous locations", "streets", "entertainment", "gourmet" and more, each with their own Ukiyo-e digital art.

People who attend the event will begin at "famous places" and move on to "streets" and "entertainment" before going to "gourmet" at lunch so you can have the full sightseeing experience while deepening your knowledge of Edo. The Ukiyo-e you will be able to see at the exhibition were ones taken from Ukiyo-e held by Boston Museum of Fine Arts which were photographed and then made digital. The "Spalding Collection" of Ukiyo-e which aren't allowed to be taken off the premises are called the most beautiful in the world for the quality of their preservation, having retained their original colour. Which means you'll be able to feel even closer to that world.

The exhibition is part of the culture activity project "Nihonbashi Kabutocho・Kayabachō Art Project". There will also be another digital art exhibition in the same venue, "Mite Taberu Taiken Kei Digital Art 'Shoku Kami-sama no Fushigi na Restaurant' Exhibition" (translation: Look & Eat Digital Art Experience "The Food God's Mysterious Restaurant". Art relating to Japanese culture is really becoming something big in the world leading financial district of Nihonbashi Kabutocho/Kayabachō.

■Information

"Super Ukiyo-e 'Edo no Himitsu' Exhibition"

Date: Saturday January 28th, 2017 to Sunday May 21st, 2017

Location: Nihonbashi Kayabachō

Closest Station: One minute walk from Kayabachō Station via the Tokyo Metro Hibiya Line / Tōzai Line

Tickets:

Advance Ticket: Adult (high-school student or older): ¥1,300 / Child (3-years old and above to middle-school age): ¥800

On Sale: Saturday October 29th, 2016 to Friday January 27th, 2017

Same Day Ticket: Adult (high-school student or older): ¥1,600 / Child (3-years old and above to middle-school age): ¥1000

On Sale: Saturday January 28th, 2017 to Sunday May 21st, 2017

"Edo no Himitsu" AND "Mite Taberu Taiken Kei Digital Art 'Shoku Kami-sama no Fushigi na Restaurant' Exhibition" Ticket Set

Advance Ticket: ¥2,900 – On Sale: Saturday October 29th, 2016 to Friday January 27th, 2017

Same Day Ticket: ¥3,400 – On Sale: Saturday January 28th, 2017 to Sunday May 21st, 2017

※"Child" tickets not included in set tickets

Ticket Enquiries: Lawson Tickets 0570-063-050(Times: 10:00~20:00)

Organiser: スーパー浮世絵製作委員会

WEBSITE:https://superukiyoe.com

Facebook:https://www.facebook.com/supreukiyoe

Twitter:https://twitter.com/superukiyoe

Instagram:https://www.instagram.com/superukiyoe