Japanese Hanami 2020: Soak Up the Pink Springtime Cherry Blossoms at Hoshino Resorts KAI
KAI, a hot spring ryokan brand managed by Hoshino Resorts, has announced an exciting new experience at 14 of its branches called "Otsu na Hanami Tabi" (A Chic Flower-Viewing Trip) which will run from March 15, 2020 to May 31, 2020.
The service offers a new kind of Hanami, or flower-viewing, experience for guests that doesn't stop at just admiring the cherry blossoms, but enables them to enjoy both local history and customs too. Guests will be provided with a wicker basket of delicious Hanami goodies to enjoy, just like they did in the past.
We've picked five of the Hoshino Resorts KAI hot spring inns that we think our readers will be most interested in. Let's take a look!
Hoshino Resorts KAI Tsugaru | Aomori
Hoshino Resorts KAI Tsugaru is located in the town of Owani, which sits in southern Tsugaru in Aomori Prefecture. They are offering an exciting experience this May: "Shidare-zakura Hitorijime Taizai," which lets a single group have exclusive access to an area of seven shidare-zakura weeping cherry trees blooming in the inn's spacious garden, which sit far away from guest rooms. Those lucky enough to experience this service can sip on cider and tuck into some delicious apple pie while listening to a Tsugaru-style shamisen performance, known as tsugaru-jamisen.
Shidare-zakura Hitorijime Taizai
Running: May 1, 2020 – May 7, 2020
Price: ¥5,000 per person
No. of People: 1 group per day (2-4 people per group)
Booking: 0570-073-011 (KAI Reservation Centre)
Note: The tsugaru-jamisen performance will take place 15:30-16:30
Hoshino Resorts KAI Kawaji | Tochigi

Feel what it's like to live the life of someone living in a satoyamaーa village centred around an agricultural lifestyleーby waking up with the sunrise to start work early. Your morning job will be making tea at the watermill. You will use traditional and ancient tools like the suribachi mortar and the houroku pan to make tea grown from tea leaves in the area which you can enjoy a cup of to start your Hanami. As well as making tea, you'll be able to enjoy a quiet breakfast while gazing at the Yoshino cherry trees, so you can get that real satoyama spring experience.
Running: April 18, 2020 – April 25, 2020
Hoshino Resorts KAI Izumo | Shimane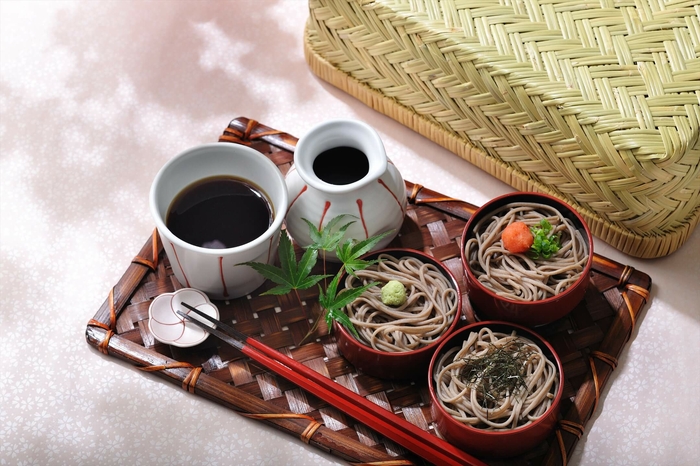 Hoshino Resorts KAI Izumo is located in Tamatsukuri Onsen in Shimane Prefecture, where all guest rooms have their own open-air bath. The hot spring ryokan's "Sakura Koraku" experience gives you a chance to try wariko sobaーa style of soba noodles originating in Shimane's city of Matsueーunder the cherry blossom trees.
Sakura Koraku
Running: April 1, 2020 – April 20, 2020
Time: 15:00-19:00
Price: ¥500 for one Hanami picnic set for two people (5 sets prepared per day)
Booking: Hoshino Resorts KAI Izumo front reception
Notes: Rickshaw will run from April 1, 2020 to April 7, 2020 costing ¥1,300 per person. 30 minute ride. 5 groups per day (2 people per group).
Hoshino Resorts KAI Kaga | Ishikawa
Head to one of Kaga's famous weeping cherry blossom tree spots to enjoy a cup of Japanese tea prepared yourself. This plan offers the chance to experience Ishikawa culture in a spot that has been loved by locals for decades.
Running: April 1, 2020 – April 30, 2020
Hoshino Resorts KAI Aso | Kumamoto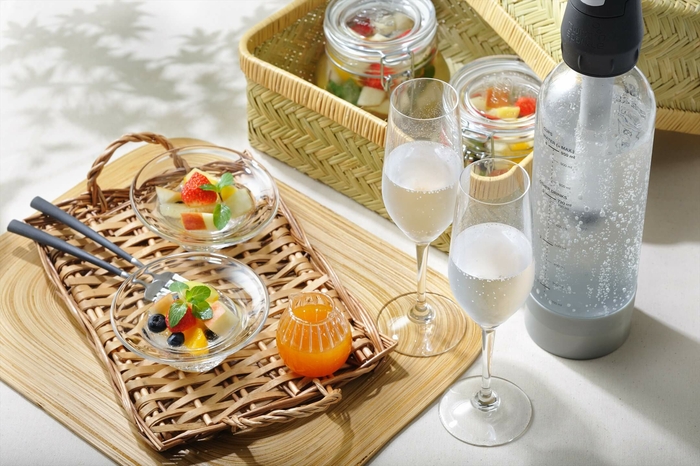 Hoshino Resorts KAI Aso stands in Aso-Kuju National Park. Gaze at the five peaks of Mount Asoーthe largest active volcano in Japanーwhile sipping on water drawn from one of Japan's 100 famous water sources. Change up the water of the water to your liking: carbonate it, add syrup, and so on. You'll also get some refreshing fruits that have sat in carbonated water. Sit amongst the colourful flowers, like tulips and baby blue eyes, while soaking up the beautiful sights of Aso.
Tansan Ohanami
Running: April 20, 2020 – May 31, 2020
Price: ¥3,000 per person
No. of People: 3 groups per day (two people per group)
Booking: 0570-073-011 (KAI Booking Centre)
Note: In the case of rain, Tansan Ohanami will not run on that day
This is just 5 of the 14 Hoshino Resorts KAI branches offering a chic Hanami experience. If you're travelling to Japan this spring, be sure to check out what they're offering.
RELATED ENTRIES
Japanese Spring Cherry Blossom Desserts and Food Bloom Pink at Tokyo Solamachi This March

Spring is arriving early at Tokyo Solamachi where shops and restaurants will be serving up their own cherry blossom themed desserts and dishes from March 1.

The Line-Up: A Delectable Excerpt

Vibrant Cherry Blossom Desserts Welcome Spring

Hanami Soft | ¥800

Where: Gion Tsujiri (East Yard Floor 6F)

Serving: March 1, 2021 – April 30, 2021

Feel the warm breeze of Japanese hanami with a parfait serving of cherry blossom bavarian cream and jelly, Uji match soft serve ice cream, cherry blossom chocolate, white flour dango dumplings, high quality red bean paste, wafer, and other little assorted treats.

Sakura Mochi Flavoured Spring Pancakes | ¥935

Where: Coconoha (West Yard Floor 4F)

Serving: March 1, 2021 – April 11, 2021

Coconoha's popular fluffy pancakes topped livingly with cherry blossom ice cream, chewy white flour dumplings, and sweet red bean paste.

 

Takeout Cherry Blossom Food

Sakura Sushi | Takeout ¥2,138, Eat-In ¥2,178

Where: Kirby Cafe Tokyo (East Yard 4F)

Serving: From March 19, 2021

A picnic serving of six springtime sushi rolls decorated with Kirby references which comes in a cute lunchbox.

Cherry Blossom Lassi | ¥520

Where: AMARI DELI (West Yard Floor 2F)

Serving: March 1, 2021 – April 11, 2021

A cherry blossom lassi in full bloom with fluffy whipped cream and finished with sprinkles of pink-coloured chocolate.

 

Cute Spring Cherry Blossom Snacks

Financier Sandwich Box – Sakura & Matcha | ¥1,500 (Contains 4)

Where: Afternoon Tea Room (East Yard Floor 3F)

Serving: February 25, 2021 – April 21, 2021

An assortment of two financier cakes: the Sakura Financier Sandwich which is cherry blossom flavoured and filled with white chocolate, roasted walnuts, and strawberry flakes, and the Matcha Financier Sandwich which is filled with milk chocolate, roasted walnuts, and pistachio. Available while supplies last.

 

Restaurant Menus Beckon Hanami

Spring Roast Beef Nigiri & Cherry Blossom Dashi Kishimen Noodles | ¥1,380

Where: Sugimoto (East Yard Floor 6F)

Serving: March 1, 2021 – April 11, 2021

Roast beef sushi rolls made with Nagoya Owari beef and served with slightly-salted flat kishimen noodles served in a cherry blossom flavoured broth. Limited to 10 servings per day.

This is just a sampled look at what's to come at Tokyo Solamachi this spring – if you're in Tokyo for the cherry blossom season, be sure to visit!

Information

Cherry Blossom Desserts & Dishes

Where: Tokyo Solamachi

Address: 1-1-2 Oshiage, Sumida-ku, Tokyo

Starting: March 1, 2021

TEL: 0570‐55‐0102 (11:00-19:00)

Tokyo Solamachi Official Website: http://www.tokyo-solamachi.jp/

New Limited-Edition Sakura Cherry Blossom Beauty Face Masks Released by LuLuLun

Japanese face mask and beauty brand LuLuLun released its new limited-edition cherry blossom scented face masks on Monday (February 1) to welcome in the Spring 2021 season early.

Spring 2021 Premium LuLuLun (Cherry Blossom Scent) | ¥1,600

Combined with springtime's beauty ingredient

Spring is the season when flare ups can happen and we need to be careful of UV light, humidity, and pollen. LuLuLun's products pride themselves on their moisturising properties, and their new cherry blossom face masks are no exception. They are combined with cherry blossom petal extract, lending a fragrant scent while leaving the skin smooth and beautiful.

Rape blossom oil for even smoother skin


The rape blossom is another of Japan's popular flowers as they blossom and transform fields into rolling carpets of bright yellow. The face masks contain oil extracted from rape blossom seeds for an extra blanketing of smooth skin.

Coltsfoot extract equals healthy texture


Also in the ingredient list is extract from the coltsfoot flower, a strong plant that is able to withstand winters to make it into the spring where it can finally reveal its delicate form. It serves to create a healthy complexion on the skin.

Wrap Yourself in Japanese Cherry Blossoms With This Home Fragrance, Bath, and Body Series

Global Product Planning has released its new "Sakura" cherry blossom series of home fragrance, bath, and body products. The collection comes in response to this year's cherry blossom festivals and celebrations in Japan which are looking to be difficult as a result of COVID-19, so people can enjoy the floral scent from the comfort of their homes.

Home Fragrances

Sakura CA Flower Reed Diffuser ¥1,800 | Sakura CA Linen Water ¥1,200 | Sakura CA Fragrance Card ¥300 | Sakura CA Fragrance Beads ¥600 (Prices Before Tax)

Hand Care Items

Sakura CA Hand Cream ¥500 | Sakura CA Mini Hand Soap ¥360 | Sakura CA Hand Soap ¥500 | Sakura CA Jewel Soap ¥300 (Prices Before Tax)

Bath Items

Sakura CA Bath Powder ¥200 | Sakura CA Bath Salts | Sakura CA Bath Confetti ¥300 | Sakura CA Bath Bombs ¥300 (Prices Before Tax)

Bath Gifts

Sakura CA Thanks Mini Gift ¥400 | Sakura CA Mini Bath Gift ¥450 | Sakura CA Bath Set (Box) ¥600 | Sakura CA Bath Set (Bag) ¥1,000 | Sakura CA Bath Set (Oval) ¥1,200 (Prices Before Tax)

Cover your bedroom, bathroom, and body in all things cherry blossom with this special new collection.

This Japanese Cherry Blossom Lipstick Stays On Even When Wearing a Face Mask

Japanese cosmetics brand Para Do launched a campaign via Twitter on Thursday (January 21) for people to win a limited-edition glittery cherry blossom edition of their Sakura Veil Lip lipstick.

Shiawase Sakura Set

Para Do's Sakura Veil Lip is known for staying on the wearer's lips even when they wear a face mask. 150 Twitter users in Japan have a chance to win a special limited-edition variant of the popular product along with a cherry blossom face mask as part of the set. The masks are available in 4 designs.

Para Do Sakura Veil Lip PK04 Shiawase Kirameku Cherry Blossom Colour | ¥770 (Tax Included)

The lipstick arrives in a glittery pink. It's mixed with a whole range of beauty liquids and contains only a little colour to ensure lips are kept moist. It also makes sure lips don't dry out while wearing a mask, and there is no colour transference from the lips onto the mask, making it perfect for the winter and spring seasons.

Shiawase Kirameku Lipstick Campaign
Running: January 21, 2021 – February 21, 2021

Prize: Shiawase Sakura Set (Contains the Para DO Sakura Veil Lip PK04 Shiawase Kirameku Cherry Blossom Colour and Sakura Face Mask)
Winners: 150
How to Participate:
1.Follow @ParaDo_ on Twitter
2. Write your wish related to one of the themes #幸の縁 (happiness) #運の縁 (fortune) #結の縁 (relationships) #美の縁 (beauty) in Japanese along with the hashtag #桜お守りリップ. Full details can be found on the official website.

Sakura Prayers

Ninna-ji Temple is a World Heritage Site in Kyoto famous for its cherry blossoms. A special event is being held there for the lipstick to pray for happiness happiness.

Shiawase Sakura – Prayers for luck

The base of the lipsticks are printed with one of four different prayers: one of happiness, one for luck, one for relationships, and one for beauty. The designs are random so you can look forward to seeing which you get.

Information

Para Do Sakura Veil Lip PK04 Shiawase Kirameku Cherry Blossom Colour

(Japanese Name: パラドゥ サクラヴェールリップ PK04 しあわせきらめく桜色)
Running: January 20, 2021 until June 2021

Available: 7-Eleven convenience stores in Japan (select branches not participating)
Product Page: https://www.parado.jp/lineup/lip/sakuraveil_lip.html

hotel androoms Announces Opening of New Kyoto Shijo Branch in March

Solare Hotels and Resorts has announced that a new branch of hotels androoms will open in Kyoto Shijo on March 6, 2021. In the run up to its grand opening, the company has opened a website where guests can book hotels with Solare Hotels and Resorts at the cheapest possible price. The website will begin rolling out more information about each hotel on the site through the year.

Access

hotel androoms Kyoto Shijo is located a convenient 5-minute walk from Kyoto Station's Karasuma Line section and 7 minutes from the Central Exit in the JR section, placing it within close distance to many of Kyoto's sightseeing spots.

The hotel offers seven different room types from standard to double to premium twin. One room can house a maximum of three people, accommodating groups and families. It also promises to be packed with a variety of exclusive services you won't find at other hotels.

Specialty coffee by Unir Kyoto

hotel androoms Kyoto Shijo will welcome the opening of a new branch of Unir inside the hotel which serves coffee made from specially-selected coffee beans. The coffee is hand-roasted on site with baristas pouring their love and skill into every cup.

Breakfast delivered right to your room

The morning time is your time and should be used as you please without you having to rush around, so says the hotel, and so it offers a breakfast delivery service which must be booked in advance.

Relax and unwind in the modern-style baths

Those looking for a little relaxation can look forward to pushing all their stresses aside in a modern bathing area which is inspired by a cave. It's open from 3pm-2am and again from 6am-10am.

If you're planning a trip to Kyoto and want a hotel with easy access to all the hot spots then be sure to consider hotel androoms Kyoto Shijo.

Strawberry Loaded Afternoon Tea and Strawberry Cocktail to Welcome the New Year at Hotel Gajoen Tokyo

Hotel Gajoen Tokyo, which is a museum and hotel fusion, is serving up a special Strawberry Afternoon Tea and Strawberry Cocktail at its restaurant New American Grill "KANADE TERRACE" from January 6 to February 11 and February 15 to March 19 next year.

Strawberry Afternoon Tea | ¥4,500, with champagne ¥6,200 (1 Person/Before Tax/Service Charge Not Included)

New American Grill "KANADE TERRACE" is known for its afternoon teas, which are made with seasonal ingredients, as well as its cocktails. Their new Strawberry Afternoon Tea will welcome in the New Year with a strawberry and rhubarb tart, strawberry fondue, strawberry and mascarpone soup, and other sweet and savoury selections.

Strawberry Cocktail | ¥1,600 (Before Tax/Service Charge Not Included)

The Strawberry Cocktail is of course made with fresh strawberries as well as mint and soda for a fusion of sweet and tangy. Those who don't enjoy alcohol can rest assured they'll enjoy this alcohol-free cocktail.

Information

Strawberry Afternoon Tea / Strawberry Cocktail
Location: New American Grill "KANADE TERRACE" (Hotel Gajoen Tokyo Floor 1F)
Serving Dates: January 6, 2020 – February 11, 2020 / February 15, 2020 – March 19, 2020)
Serving Times: Afternoon Tea 14:30-17:30 / Cocktail 11:30-21:00
*Serving times are subject to change

*The afternoon tea is available while supplies last

Official Website: https://www.hotelgajoen-tokyo.com/archives/59170

Japan Hotels | New Hotel The OneFive Terrace Fukuoka to Open on December 15

Hakata Hotels is welcoming the third branch of its The OneFive brand hotels with the opening of The OneFive Terrace Fukuoka in Chuo, Fukuoka, on December 15, 2020.

The OneFive is based around the old Japanese way of ichigo ichie, which roughly translates to "treasure every meeting, for it will never reoccur." It has taken considerate measures to question what really constitutes as necessary service when it comes to hotels, and launched as a new brand of simple yet comfortable and high quality hotels serving Japanese omotenashi, or hospitality.

Simple yet fine quality comfort

The OneFive Terrace Fukuoka is located in busy central Hakata—within walking distance of the entertainment district of Nakasu and the lively riverside area of Tensu—while offering spacious and comfy rooms.

Rooms are 27㎡~48㎡ in size, with Double Rooms being equipped with king size beds and Twin Rooms with two double beds. Each has a bath, toilet, and wash area, as well as a writing desk, closet, and other pieces to make the hotel stay as comfortable and convenient as possible. There are of courses terraces too, living up to the hotel's name, which act as 'another living room' for guests.

The 4 S's of Japanese Tea at The OneFive Terrace Fukuoka

1. Select
A selection of specially-selected teas from around locations in Kyushu such as Yame (Fukuoka), Chiran (Kagoshima), Ureshino (Saga), and elsewhere.

2. Style
Enjoy tea in a variety of different styles from creamy and foamy draft tea to hand drip tea and more.

3. Sweets
The hotel's pastry chefs will whip up a range of tea-flavoured desserts that fuse the traditional Japanese taste with modern western ideas.

4. Scene

All guests staying at The OneFive Terrace Fukuoka are offered a welcome cup of tea. The hotel is a chance for them to appreciate the local culture, region, and lifestyle arranged in a contemporary way.

Winter Travelling in Japan With Hoshino Resorts Promises Cosy Solitude

Hoshino Resorts is offering many ways for guests to enjoy themselves this winter with a range of activities and vistas, whether it be gazing at the starry sky, enjoying a holiday season glamping session, and more—all of which can be done while avoiding the Three C's during the pandemic, meaning you won't have to come into contact with others.

A Wintertime Agriturismo Resort Experience in Tochigi

At Hoshino Resorts RISONARE Nasu, guests can enjoy an authentic, vegetable-packed Italian course dinner, indoor bathing in their own guest rooms in an accommodation surrounded by nature, open-air hot springs to warm up during the winter season, and more. There's also a "Farmer's Lesson" for that true agricultural tourism experience ('agriturismo') so guests can feel at one with nature in Nasu.

▼Hoshino Resorts RISONARE Nasu
Address: 2301 Takakuotsu, Nasu, Nasu District, Tochigi
Running: December 1, 2020 – March 15, 2021

Stargazing On the Ice in Nagano

Guests can lose themselves in the stars while they enjoy a glass of Nagano wine or fondue from Hoshinoya Karuizawa's cafe and bar. One group of two guests can rent the area all to themselves for a romantic and memorable time.

▼HOSHINOYA Karuizawa
Address: 2157-428 Nagakura, Karuizawa, Kitasaku District, Nagano
Running: December 1, 2020 – February 28, 2021

Winter Season Glamping in Yamanashi

HOSHINOYA Fuji is offering a special glamping program this winter where guests get their very own private space to enjoy the outdoors. They can chop their own woods, build their own fires, and more. It's the perfect program to get your body warmed up during the cold winter months.

▼HOSHINOYA Fuji
Address: 1408 Ōishi, Fujikawaguchiko, Minamitsuru District, Yamanashi
Running: December 1, 2020 – March 15, 2021

An Unbeatable Ocean View With Hanami Flower Viewing in Shizuoka

Hoshino Resorts RISONARE Atami is offering a special program where guests can enjoy the earliest bloom of Japan's plum blossoms together with a panoramic ocean view. The hotel's rooftop Sora no Beach Books&Cafe is a cafe designed to look like a beach and serves as the perfect vantage point for this exclusive experience.

▼Hoshino Resorts RISONARE Atami
Address: 2 Chome-13-1 Minaguchicho, Atami, Shizuoka
Running: January 8, 2021 – March 12, 2021

Acquire Knowledge of the Blue Zone in Okinawa

HOSHINOYA Taketomi Island sits on Taketomi Island which is located inside one of the world's four Blue Zones, regions where it's claimed that a higher than usual number of people live longer. There, guests can gain knowledge on how to live a healthy lifestyle. They will spend time moving their bodies as they work out on the farm, learn the secrets to sunbathing and eating nutritional food, and more, all to rebalance the rhythm of their lifestyles.

▼HOSHINOYA Taketomi Island
Address: Taketomi, Yaeyama District, Okinawa
Running: From December 1, 2020 (Not running on select days)

Fuji-Q Highland's Hidden Leaf Village Theme Park Area Adds New Photo Spots

Fuji-Q Highland, an amusement park in Yamanashi, Japan, added new photo spots to its popular Naruto x Boruto Fuji Hidden Leaf Village area on Friday (December 4).

The new spots

New statues of Jiraiya, Tsunade, Gaara, and Itachi have been placed around the park, making the perfect for a photo opportunity and to make guests feel even more like they're in the world of Naruto.

A new Gaara-inspired ramen dish

¥1,180 (Tax Included)

The area is home to Ramen Ichiraku which is inspired by the ramen bar seen in the Naruto series. There, they have cooked up a new ramen dish inspired by Gaara which comes with a boiled egg with the kanji for 'love' (愛) that's written on the character's forehead.

Naruto themed hotel rooms at Highland Resort Hotel & Spa

Fuji-Q Highland's official hotel, Highland Resort Hotel & Spa, has its own special Naruto-themed rooms with references to shinobi and the Hidden Leaf Village dotted everywhere. A new batch of amenities are also set to roll out for guests from February 1, 2021 which will include yukata that dress you like Naruto and Sasuke, face towels with Naruto and Sasuke on them during their final battle, and more.

If you've always wanted to feel like you're in the world of Naruto, look no further than Fuji-Q Highland.

ⓒ岸本斉史 スコット/集英社・テレビ東京・ぴえろ

Information

Fuji-Q Highland Naruto x Boruto Hidden Leaf Village
Opening Hours: 10:00-17:00
Closed: [2020] December 10th / [2021] January 7th, 14th, 21st, 28th
Official Website: https://www.fujiq.jp/

Shinobi Japanese Ninja Suite Room NARUTO
Capacity: 4 People (¥6,000 for each additional person up to 6 people)
Book: https://www.highlandresort.co.jp/
*Booking comes with amenities

Lanterns to Soar the Night Sky of Saitama at O Park OGOSE

BIO-RESORT HOTEL&SPA O Park OGOSE has announced that it's set to light up the night sky of Saitama with a special evening lantern launching event which will be held on Fridays and weekends from December 6.


Guests can pick from five different sky lanterns which use LED lights and helium gas. The lanterns are safe for small children to use so families can enjoy the enchanting experience together.

O Park OGOSE is a biotope-themed resort facility where guests can stay while surrounded by lush green forests. The sky lantern event is being held in response to the pandemic outbreak so that people can feel refreshed and a coming-together.

Information

SATOYAMA Sky Lantern Night
Running: Fridays and weekends from December 6, 2020 (until lantern stock runs out)
Location: BIO-RESORT HOTEL&SPA O Park OGOSE
Address: 3083-1 Ueno, Ogose, Iruma District, Saitama
Price: ¥2,000 per person
TEL: 049-292-7889
O Park OGOSE Official Website: https://opark.jp/
*The number of participants at the event is being restricted in response to the COVID-19 pandemic

FAUCHON HOTEL KYOTO Announces Opening Of Le Spa Fauchon in March 2021

FAUCHON HOTEL KYOTO is set to open its second branch in March 2021 which will be home to the Fauchon brand's world-first spa Le Spa Fauchon.

Le Spa Fauchon's spa experience incorporates its concept of "FAUCHON Meets Kyoto. Feel Paris" which is offered in a variety of ways. The spa of course serves a wide range of body, facial and scrub treatments with voluptuous fragrances and rich textures, while the floors of the spa rooms are dyed a stylish Fauchon pink. It's a coming-together of splendorous Paris and quaint Kyoto.

An unforgettable spa experience by Japan and Paris's beauty specialties

Le Spa Fauchon is managed by Cred International at FAUCHON HOTEL KYOTO, an industry-leading company that operates luxury hotels both inside and outside Japan.

The spa's products and menu were developed in a joint effort between premium cosmetic brand KOS PARIS, which manages numerous 5-star hotel spas and offers high-quality products in Paris, and which is coming to Japan for the very first time, and Cred International. The spa is also offering an original and exclusive range of oils in collaboration with top Paris therapist Yuki Inotsume, who has offered her knowledge of Japanese skin care and Japanese peoples' preferences, and KOS PARIS's high-grade oils.

FAUCHON HOTEL KYOTO also offers all guests a selection of amenities in their rooms with the "FAUCHON Meets Kyoto. Feel Paris." concept for guests to enjoy the ultimate spa experience.

If you're staying in Kyoto, why not treat yourself to a spa trip at Le Spa Fauchon?

Aman Resorts Founder Adrian Zecha Launches New Ryokan Hotel Brand Azumi

Adrian Zecha, the founder of Aman, together with Naru Developments, has announced the launch of their new ryokan hotel brand Azumi. The first Azumi property is set to open in the Seto Inland Sea area of Japan in Spring 2021.

Azumi: A New Ryokan Brand


Adrian Zecha came across his first ryokan in Japan about 60 years ago and subsequently went on to launch multiple hotel brands, including Aman. Azumi is his latest project to take the hospitable nature of the Japanese-style inn, known as a ryokan, and its traditions while ensuring to pay respect to the region and people in the community in which each property will open.

During the 1950s, Zecha, who was a correspondent and reporter of Asia at the time, encountered ryokan for the very first time while in Japan. He was impressed by the hospitality bestowed to guests staying at the inn which for him felt homely. With that in mind, Azumi maintains an exclusive and sophisticated appearance while at the same time is adamant in understanding that the guest is what makes a ryokan as a person, and so offers a warm welcome and interaction that connects to the local community.

Azumi's approach aims to respect the traditions and community of each region while at the same time building something that will be passed down through the generations. Shiro Miura of Rokukaku-ya, a shop which values living materials such as wood and stone through Sukiya architecture, has been on the Azumi team since the brand's inception to create a space that can be enjoyed as a marvel of Japanese architecture while satisfying those travelling from abroad.


The brand's name comes from the Azumi people, an ancient seafaring tribe who crossed the ocean and settled in Japan.

The first Azumi property will open on an island in the Seto Inland Sea which boasts clear blue waters and is known for its abundant natural environment which has made it a big player in Japan's citrus fruit production as well as the fishing industry.

Azumi will open its doors in Spring 2021, filled with the ideas conceived by the one and only Adrian Zecha.