Osaka Hirakata Park's 'Time Travel Fantasy' Illumination Event Extended to Spring
Hirakata Park's "Hikari no Yuenchi" illumination event, which has been running for the autumn and winter season and is set to finish on March 1, 2020, is being extended into the spring season due to its huge popularity. The spring period will run from March 20 to April 7.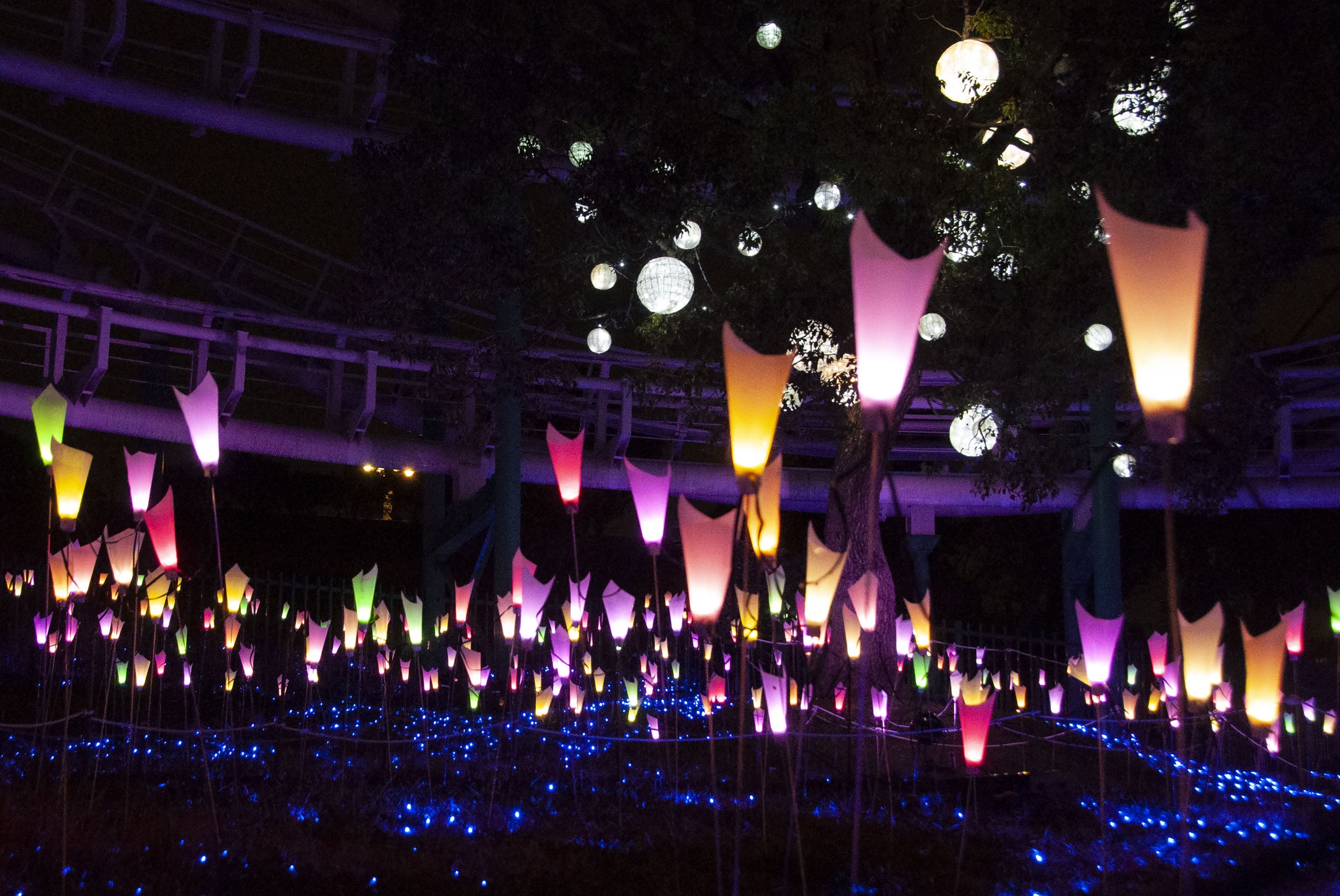 The theme of this year's Hikari no Yuenchi is "Time Travel Fantasy." Dazzle your eyes with a bright selection of breathtaking illuminations inside the event's four areas, such as the lights along Time Travel Fantasy Street where the symbol of the parkーa 10-meter tall treeーstands gloriously, or the Illumination Flower Garden. The blue and purple winter colours of the lights will change into springtime pinks, greens, and yellows.
Illumination Flower Garden
Flowering illuminations will twinkle atop the hill in spring pastel colours like cherry blossom pinks, fresh verdure green, and rape blossom yellows.
The dazzling delights of the winter season will continue into the spring period, like the 24 different night attractions, and the illumination food too like the "shining bubble tea." We also recommend taking advantage of the "Night Fee," which sees a special entry price open from 16:00.
Enjoy the cool spring breeze and gorgeous Japanese illuminations at Hirakata Park this March.
RELATED ENTRIES
Chairoikoguma Market to Open at KIDDYLAND Osaka Umeda This Spring

Japanese character goods and toy chain KIDDYLAND is collaborating with San-X, the creators of the iconic Rilakkuma and its friends, to open the Chairoikogumarché, a market themed on Chairoikoguma, at KIDDYLAND Osaka Umeda. It will be open for a limited time this spring from March 11 to 25.

Chairoikoguma is a popular honey-loving bear character created by San-X who lives in the Honey Forest. This year marks the 5th anniversary since its debut.

In 2018 and 2019, San-X opened the limited-time Korilakkuma Meets Chairoikoguma Store which was hugely popular amongst Rilakkuma fans, with repeat buyers returning multiple times. Chairoikogumarché was originally scheduled to open at KIDDYLAND Osaka Umeda in April 2020, but it was postponed and will now open next month. Once they book their attendance, fans can look forward to laying their eyes on original Chairoikoguma artwork coupled with phrases spoken in the Kansai dialect. There will be exclusive items to purchase, merch pre-sales, bonus goodies, and more.

Merchandise Line-Up Excerpt

Charm Set | ¥1,320 (Tax Included)

Mask Case | ¥660 (Tax Included)

Pre-Sale Merchandise

Pre-Sale Release: March 11, 2021

*This product will be released for general sale at Rilakkuma Stores in Japan, excluding the Osaka Umeda branch, on March 13.

Chairoikogumarché & Nakayoshi Plush Toy (Sakuranokorisu) | ¥3,080 (Tax Included)

*Not available at Rilakkuma Store Umeda Osaka. Pre-sale exclusive to Chairoikogumarché.

*Will also be released on San-X's online shop.

Pre-Sale Release: March 11, 2021

*This product will be released for general sale at all Rilakkuma Stores in Japan on April 3, 2021.

Long Plush Pillow | ¥6,600 (Tax Included)

Mini Shoulder Bag | ¥5,500 (Tax Included)

*Will also be released on San-X's online shop.

Bonus Items

1. Customers who spend over ¥3,000 (tax included) at Chairoikogumarché will receive a random free zipper case from a possible two designs. First-come, first-served.

*One per person, per transaction. Design chosen randomly.

*Available while supplies last.

*Will be released at all Rilakkuma Stores except the Osaka Umeda branch on March 13.

2. Customers who spend over ¥5,000 (tax included) at Chairoikogumarché will receive a free tote bag. First-come, first-served.

*One per person, per transaction. Design chosen randomly.

*Available while supplies last.

©2021 SAN-X CO., LTD. ALL RIGHTS RESERVED.

Information

Chairoikogumarché

Running: March 11, 2021 – March 25, 2021

Where: KIDDYLAND Osaka Umeda

Address: Hankyu Sanbangai Floor B1F, 1-1-3 Shibata, Kita-ku, Osaka-shi, Osaka

Opening Hours: 10:00-20:00

*Opening hours subject to change

Event Page: https://www.kiddyland.co.jp/event/chairoikogumarche/

Face Mask Shop to Open in Osaka On February 8

Japanese children's clothing brand BABYDOLL has announced that it will open up a shop selling only face masks in Namba, Osaka on February 8, 2021. The store is called #Jibun Iro Mask ("Mask in My Colour") and will sell the newest face masks in the popular MASK DEPOT series which have sold over 150,000 units in Japan.

Pick your colour and size

There's a line-up of around 200 original masks available in different colours and sizes. Customers take a "colour assessment" where they answer four questions and pick from 20 different colours to find their perfect match, resulting in a mask made for them. There's also an option to gift wrap the masks to be given as presents to people. And for the store's grand opening, those who purchase 3 or more masks will receive another mask free of charge. This offer is available from February 8 to 14.

Valentine's Day Treats Cooked Up at The St. Regis Osaka

The St. Regis Osaka, a hotel located in Chuo, Osaka, is seducing couples with the reveal of its luxurious Valentine's Day dessert line-up which will be sold at the hotel's Italian restaurant La Veduta from February 1 to 14.

2021 Valentine's Collection Line-Up

Valrhona Chocolate Bark | Single Bag: ¥1,200 (Before Tax)

A bag of irresistible chocolates made using chocolate by the French premium chocolate brand Valrhona. It's available in three flavours: Milk (Hazelnut/Miso), Dark (Almond/Soy Sauce), and White (Macadamia/Sake Lees).

Extra Dark Chocolate Gateau Chocolat | ¥2,800 (Before Tax)

A truly full-bodied chocolate experience made with 61% chocolate that can be indulged chilled or warmed up.

Valentine's Edition Valrhona Guanaja & Jivara Lactee Chocolate Éclairs | ¥750 (Before Tax)

A chocolate cake strip loaded with thick ganache and topped with chocolate-covered hazelnuts to create a bite-sized éclair.

St Regis Signature Brioche | Set of 3: ¥1,000 (Before Tax)

A set of three of St Regis's signature brioches: the extra dark Valrhona chocolate "Danish," the Valrhona Guanaja & Jivara Lactee chocolate "Ganache," and the Valrhona "Passion Fruit Inspiration."

La Veduta's Italian Valentine's Day Menu

Dinner For Two | ¥32,000 (Before Tax)

The menu line-up at La Veduta features a dinner for two which includes an amuse-bouche, marinated Japanese amberjack, heart-shaped ravioli capresi, Tournedos Rossini beef fillet with tai sea bream, a strawberry tiramisu, and tea snacks.

This is a real indulgence for couples looking for a romantic dining experience or treat.

Information

The St. Regis Osaka Valentine's Day
Running: February 1, 2021 – February 14, 2021
Address: 3-6-12 Honmachi, Chuo-ku, Osaka-shi, Osaka
Opening Hours: [Mon] 8:00-14:00 / [Tue-Sun] 8:00-18:00

La Veduta
Running: February 10, 2021 – February 14, 2021
Opening Hours: 17:30-21:00 (Last Orders 19:30) *Closures at 20:00 until February 7
Enquiries: 06-6105-5659 (10:00-19:00)
The St. Regis Osaka Official Website: https://www.marriott.co.uk/hotels/travel/osaxr-the-st-regis-osaka

Hoshino Resorts BANTA CAFE Releases Video of Magical Beachside Illuminations

The incredible beachside Hoshino Resorts BANTA CAFE, which offers guests a breathtaking ocean view along the Okinawan coast, released a video on the official Hoshino Resorts YouTube page showcasing the cafe's ongoing illumination event, "Illumi Banta," which is running until February 28, 2021. Guests can enjoy some limited-time menu options and then take a romantic stroll along the beach with a warm lantern in hand.

Okinawa is known for its warm climate, rarely dipping below 15°C in the chilly season of winter. There are many celebratory days enjoyed every year around Christmas and New Years, and so BANTA CAFE decided to get in on the action with Illumi Banta, which has been running since December 1 last year—while following the necessary precautions against COVID-19 to ensure everyone stays safe. The spacious cafe is mostly outdoors so visitors can enjoy their time without worry.

A seat at the cafe in on a clear evening guarantees a front row seat to a beautiful orange sunset that sinks into the horizon. Normally, the cafe closes as sunset arrives, but for this event, opening hour have been extended into the night.

BANTA CAFE is located in the village of Yomitan where the beautiful ocean is surrounded by coral reef, enormous rocks, and a rich natural environment. It's a must-visit if travelling to Okinawa.

Information

Illumi Banta
Running: December 1, 2020 – February 28, 2021 (Except February 1st-5th)
Time: 18:00-22:00 (Last Orders 21:00)

BANTA CAFE
Address: 560 Gima, Yomitan, Nakagami District, Okinawa
TEL: 098-921-6810
Opening Hours: 10:00 to one hour after sunset (from 08:00 on weekends and holidays)
Official Website: https://banta-cafe.com/en/

Foodies Make Their Way to Zi-tempo's Pop-Up Eatery in Osaka's Shinsaibashi PARCO

PARCO has teamed up with Kaji Kaji H, Koichi Igarashi—who is known for his work with BEAMS JAPAN's brand projects—and a certain chief editor at a popular Kansai fashion magazine to open Zi-tempo, a limited-time food spot aimed at foodies that will run for 20-days at PARCO Shinaibashi in Osaka.

Zi-tempo brings together designers from popular fashion brands working in Kansai, editors from fashion magazines, stylists, writers, more to serve up a creative menu by a line-up of individuals not involved in anyway in the food industry. As well as food, visitors can get their hands of a selection of related merchandise, clothing, and more.

The First Serving

Running: January 13, 2021 – January 19, 2021
Curry Mala: Enjoy the unique spices of both curry and mala

Spicy curry has recently become something of a soul food in Osaka. For the first serving, foodies can enjoy discovering a wonderful combination of spices in a selection of curries, as well as a numbing line-up of mala made with mapo tofu. This menu is the creation of 'R,' a designer at a fashion brand, and 'T,' a former chief editor of a Japanese fashion magazine. R is actually the owner of a popular curry house called COBACHI CURRY in Nakazakicho, while T has tasted countless mapo tofu dishes. This makes them the perfect curry-mala combo for this experiment.

Menu

・Curry Mala Shokuhako – ¥1,200 (Before Tax)
・Curry Mala 1 (Spice Chai) – ¥500 (Before Tax)
・Curry Mala 2 (Spice Highball) – ¥500 (Before Tax)
・Curry Mala Hoodie – ¥7,800 (Before Tax)
・Curry Mala Long T-Shirt – ¥5,800 (Before Tax)

The Second Serving

Running: January 20, 2021 – January 26, 2021
Tacos Variar x Berbers Ya!: Traditional Mexian and Moroccan dishes


The second serving sees a coming-together of tacos and couscous by two creators working in Kansai: nahonic who works at Tacos Variar at an underground spot in Kansai selling tacos, and stylist Sunny, both of whom enjoy homecooked couscous from their Moroccan mothers growing up. Foodies will get to enjoy both Mexican and Moroccan food at the same time, a perfect opportunity during the current climate when travelling is difficult. There will also be a variety of apparel and goods from creators like the mystery creative group "the golden dawn."

Menu
・1P ¥350 (Before Tax)
・2P ¥700(Before Tax)
・3P~ ¥300 / 1P(Before Tax)

The Third Serving


Running: January 27, 2021 – February 1, 2021
Natouya: Taste and compare an array of natto rice bowls


Eateries serving gyudon, or beef rice bowls, never fail to bring in repeat customers for their cheap prices, quick service, and delicious taste. But our heal is the most important thing, so why not change it up once in a while with a natto rice bowl? At the event, foodies get to tuck into a selection of dishes using 5 different kinds of natto beans that vary in size and colour, served sticky, yummy, and in generous portions. These natto rice bowls were conceived by Murakami, a researcher of natto and editor of a certain fashion magazine. There will also be goods from natto apparel brand NNBean, natto crockery, and plenty of other things for lovers of natto to enjoy.


Menu

・Five Bean Natto Rice Bowl – ¥900 (Before Tax)
・NNBean Sweater – ¥7,100 (Before Tax)
・NNBean Long T-Shirt – ¥5,800 (Before Tax)
・Natto Plate – ¥4,200 (Before Tax)

If you're in Osaka throughout January, and love food, don't miss out on a unique eating experience over at Zi-tempo.

Information

Zi-tempo
Running: January 13, 2021 – February 1, 2021
Location: Shinsaibashi PARCO B1F "THE KITCHEN"
Address: 1-8-3 Shinsaibashisuji, Chuo-ku, Osaka
Opening Hours: 10:00-20:00 (Subject to change depending on COVID-19 and weather)
Shinsai PARCO Official Website: https://shinsaibashi.parco.jp/

Kyoto's Shinto Shrine Iwashimizu Hachimangu Announces Light-Up Event

Iwashimizu Hachimangu, a Shinto Shrine in Yawata, Kyoto, has announced that a 5-day light-up event will take place from February 10 to 14 at the site's main shrine which is listed as a national treasure of Japan.

Following government guidelines in response to COVID-19, the event will feature LED illuminations, glowing exhibits from craftsmen, lights made by locals from materials such as bamboo, and more, all in the hopes of creating a bit of evening-time sightseeing in the area. The event will also be streamed live online for those unable to attend where viewers can also enjoy watching ceremonial dance by shrine maidens.

Information

Iwashimizu Hachimangu Inori no Tomoshibi ~Wa no Kokoro~

Event Name in Japanese: 国宝・石清水八幡宮 祈りのともしび~和の心~
Running: February 10, 2021 – February 14, 2021
Light-Up Times: 17:00-20:00
Location: Iwashimizu Hachimangu (30 Takabo, Yawata, Kyoto)
Note: Face masks and COVID-19 Contact Confirming Applications required
Event Page: https://ochanokyoto.jp/event/detail.php?eid=569
Official Website: https://newnormaltourism.jp/

Universal Studios Japan Announces Easter Universal Celebration 2021

Universal Studios Japan is set to spring into Easter starting on March 12 with the announcement of Universal Easter Celebration 2021. This year, which marks the 20th anniversary since USJ opened, will see the park's cute and iconic characters once again lull guests into an unforgettable Easter dream at Universal Wonderland and Minion Park.

Universal Easter Celebration

USJ will see colourful pastel decorations cover the Universal Wonderland and Minion Park areas, and the characters too will be dressed in their seasonal Easter costumes. A special Easter rendition of the Wonderland Seasons Joy show will also take place to commemorate the park's 20th anniversary with song and dance.

Wonderland Seasons Joy ~Easter Ver.~

Minion Park Easter

The park will also introduced a special egg hunt after Elmo and the Minions dropped some of their eggs. If you manage to find them all you get a limited-edition gold medal. USJ is also taking the Easter festivities online too with a special celebratory live stream called Let's Cooking! Kawaii Easter Party

WIZARDING WORLD and all related trademarks, characters, names, and indicia are © & ™ Warner Bros. Entertainment Inc. Publishing Rights © JKR. (s21)
Minions and all related elements and indicia TM & © 2021 Universal Studios. All rights reserved.
TM & © 2021 Sesame Workshop
© 2021 Peanuts Worldwide LLC TM & © Universal Studios & Amblin Entertainment
Universal Studios Japan TM & © Universal Studios. All rights reserved.

© Nintendo

Information

Universal Easter Celebration
Running: March 12, 2021 – June 27, 2021
Location: Universal Studios Japan
Official Website: https://www.usj.co.jp/web/en/us

Super Nintendo World Releases Virtual Tour of Entire Theme Park Area

Universal Studios Japan (USJ) announced last month that its highly-anticipated new Super Nintendo World area will open on February 4, 2021, which also happens to fall on the day of USJ's 20th anniversary.

Super Nintendo World comes as the world's first theme park area to be based around Nintendo's characters and games, combining innovative ideas with cutting-edge technology.

With just one month left until the grand opening, USJ has launched a special website for Super Nintendo World which offers a virtual tour through each part of the new theme park area. Mario fanatics are sure to be delighted by the adornments from Bowser's Castle to Pipes, Mushrooms, Question blocks, and more, as well as familiar faces like Goombas, Thwomps, Yoshi—the list goes on.

Accessing the site will bring you to an overview of the map. As you scroll down the website takes you on a virtual journey to each of its iconic attractions, all of which are designed to make you feel like you're really in the world of Super Mario.

2021 New Year's in Japan: 5 Must-Visit Illumination Spots

Illumination and light-up events are a huge part of winter and the holiday season in Japan, but when Christmas ends, many of them are turned off until next year. But there are still some that run through the New Year holidays and into early spring, so we've compiled a list of 5 must-visit illumination and light-up spots to visit over the next couple of months.

Please note that the times and dates of these events are subject to change depending on the COVID-19 situation.

Tochigi: The Garden of Illuminated Flowers ~Flower Fantasy 2020~


Ashikaga Flower Park in Ashikaga, Tochigi, is holding an illumination event for winter called "The Garden of Illuminated Flowers ~Flower Fantasy 2020~" until February 7, 2021. Held for the 19th time this year, the event was ranked among the Top 3 biggest light-up events in Japan in 2017 alongside Sapporo White Illuminations and Huis Ten Bosch Illuminations. It was also ranked top by night view critics in Japan as the best illumination event for four consecutive years.

Full Details: https://www.moshimoshi-nippon.jp/366535 

▼The Garden of Illuminated Flowers ~Flower Fantasy 2020~

Address: 607 Hasamacho, Ashikaga, Tochigi
Running: October 17, 2020 – February 7, 2021
Official Website: https://www.ashikaga.co.jp/flowerfantasy_special2020/en/index.html

▼MIDTOWN WINTER MOMENTS

Tokyo Midtown's winter season event 'MIDTOWN WINTER MOMENTS' is running until February 28, 2021. "ANOTHER WORLD" is the concept for this year's rendition of the annual event, which is enjoying new winter illuminations, Christmas decorations, an ice rink, and plenty of other fun experiences for people to enjoy throughout the entire day, right into the evening. A highlight of the event is the "MIDTOWN WINTER LIGHTS," warm illuminations to light fires in hearts during the cold winter season that will create a dazzling spectacle the likes of which cannot be missed.

Full Details: https://www.moshimoshi-nippon.jp/366420

▼MIDTOWN WINTER MOMENTS
Running: November 19, 2020 – February 28, 2021
Official Website: https://www.tokyo-midtown.com


Kanagawa: SAGAMIKO ILLUMILLION's 'Pokémon Illuminations'

Lake Sagami Pleasure Forest's annual SAGAMIKO ILLUMILLION winter event is taking place until April 4, 2021, and this year, it has brought that a new Pokémon with Pokémon illuminations. Wild Pokémon illuminations roam everywhere and there are plenty of Pokémon photo spots to take your picture with including Pikachu sleeping in the forest, Charmander taking a nap by an open-air, and more.

Full Details: https://www.moshimoshi-nippon.jp/375427

▼SAGAMIKO ILLUMILLION
Address: 1634 Wakayanagi, Midori-ku, Sagamihara, Kanagawa
Running: November 14, 2020 – April 4, 2021
Illumination Times: 16:00-21:00 (Last Entries 20:30)
*Illumination times to begin from 17:00 starting in February
Official Website: https://www.sagamiko-resort.jp/illumillion/


Nagano: Karuizawa Shiraito Falls Midwinter Light Up

Shiraito Highland Way is holding this year's Karuizawa Shiraito Falls Midwinter Light Up until February 14, 2021. Karuizawa Shiraito Falls is a 3-meter tall waterfall that spans 70-meters in length. The lights add a warmth to the cool evening and glow under a starry night sky. The event creates a different atmosphere from the summer light-up, allowing visitors to enjoy the enveloping nature in a way that they normally can't and see beauty they may not have noticed in the area before.

Full Details: https://www.moshimoshi-nippon.jp/379120

▼Karuizawa Shiraito Falls Midwinter Light Up
Location: Karuizawa Shiraito Falls
Running: December 19, 2020 – February 14, 2021
・Christmas Session: December 19th-20th, 24th-27th (17:00-19:00)
・New Year Session: January 2nd-3rd, 8th-11th (17:00-19:00)
・St.Valentine Session: February 11th-14th (17:30-19:30)

Access: https://karuizawa-shw.com/access/

*Please see the website for the latest information
*Entry restrictions may be made depending on the number of visitors

Official Website: https://karuizawa-shw.com/

Shizuoka: Hikari no Sumika Winter Illuminations

Toki no Sumika is hosting its 19th annual winter illumination event "Hikari no Sumika" until March 21, 2021. There are many different illumination areas to enjoy at the event, like the Forest of Trees Illuminations, the 370m-long Tunnel of Lights, and more.

Full Details: https://www.moshimoshi-nippon.jp/359381

▼Hikari no Sumika 2020-2021
Running: September 18, 2020 – March 21, 2021
Address: Gotemba Kogen Toki no Sumika, 719 KōyamaGotemba, Shizuoka
Illumination Times: 17:30-22:00
Car Park Spaces: 2,000
Enquiries: 0550-87-3700 (9:00-20:00)

Official Website: http://www.tokinosumika.com/illuminations2017/renewal/

Doraemon Future Department Store to Open Pop-Up Shop in Osaka and Nagoya

Doraemon's official shop Doraemon Future Department Store, which is located in Odaiba, Tokyo, is celebrating its 1st anniversary of opening this December by opening two limited-time shops in Osaka and Nagoya this month and January respectively. Fans can get their hands on a selection of exclusive merchandise and more.

Customise Service

The pop-up shops will offer a customisation service which lets customers have different embroideries put into the T-shirts, tote bags, and other merch they buy. The work is done on the spot by hand so you can see the result of what will be a very special item of which only one exists in the world. Perfect for Doraemon fans and gifts to friends and family.

Post Office

The shop will offer a postal service for sending off Doraemon letters and postcards with original Doraemon stamps.

Bonus Items

1st Anniversary Postcard


Mini Tote Bag


Those who buy anything from the department stores will receive a free 1st anniversary postcard. And for every ¥5,000 spent (tax included) they'll get a mini tote bag. These are all limited in stock so you'll want to get them while they're hot.

If you're in Osaka or Nagoya over the New Year be sure to pay a visit to the Doraemon Future Department Store pop-up shops.

©Fujiko-Pro

Information

Doraemon Future Department Store in Abeno Harukas Kintetsu 2021
Location: Abeno Harukas Kintetsu, Wing Building Floor 4F
Running: December 30, 2020 – January 17, 2021
Opening Hours: 10:00-20:00 (until 18:00 on January 17)
Closed: January 1, 2021

Doraemon Future Department Store in Takashiyama Gate Tower Mall 2021
Location: Takashiyama Gate Tower Mall (Nagoya), Rose Terrace on Floor 7F
Running: January 8, 2021 – January 26, 2021
Opening Hours: 10:00-21:00

*Opening hours subject to change

A Dream Collaboration Between Rilakkuma and Sumikko Gurashi Announced For Hirakata Park

Hirakata Park in Osaka has announced a special collaborative event with San-X's popular characters Rilakkuma and Sumikko Gurashi which will begin on March 6, 2021.

Park entrance

Rilakkuma and friends as well as the characters of Sumikko Gurashi will both have their own special pavilions raised at the park entrance. At the Rilakkuma tent, the cute bear and his comrades where will be showcasing their three fundamental elements that go into having a leisurely and relaxing time. Over at the Sumikko Gurashi tent, you'll get a peek into the lives of these cute characters which are known for their lifestyle of dwelling in the corner.

The event will welcome a range of original Rilakkuma and Sumikko Gurashi themed food and merchandise too.

©2020 San-X Co., Ltd. All Rights Reserved.

Information

Rilakkuma & Sumikko Gurashi Festival
Running: March 6, 2021 – June 27, 2020

Opening Hours: 10:00-17:00 (Last Entries 16:30)

Location: Hirakata Park Event Hall I

Enquiries 0570-016-855 (10:00-17:00)
Event Page: https://www.ntv.co.jp/rilakkuma-and-sumikko-fest/

Illumination Island Odaiba 2020: Tokyo's Artificial Island Begins Winter Illuminations Up to Christmas

23 facilities including shopping centres, hotels, parks, and more in Odaiba are participating in Illumination Island Odaiba 2020, a large-scale illumination event that opened on Friday and is set to run up to Christmas Day.

This year's event is bigger than the last, with only 10 facilities having taken part in 2019. The main park in Odaiba will also be lit up for the first time this year. The event is taking place to express gratitude towards those facing hardship during the pandemic – to connect everyone via gorgeous lights for a brighter tomorrow.

*Please note that illumination dates and times differ for each facility

Participating Facilities (Excerpt)

DECKS Tokyo Beach

The third-floor seaside deck faces Odaiba Marine Park and offers a gorgeous view of Tokyo Bay. Winter illuminations will serve cosy vibes around the rest area and plants, and serves as the perfect site to gaze at the lit-up Rainbow Bridge against the backdrop of Tokyo's nightscape.

Running: November 14, 2020 – February 14, 2021

DiverCity Tokyo Plaza

The Festival Hiroba's staircase will be colourfully lit up from 16:00 every day until January 31, 2021. After that, it will be lit up from 17:00.

VenusFort


teamLab – "The Tree of Resonating Colors of Life" ©チームラボ

teamLab's towering digital art installation The Tree of Resonating Colors of Life is running at Odaiba until February 7, 2021. The 8-meter tall three-dimensional tree is created from an accumulation of light spheres.

Palette Town Daikanransha


The Daikanransha Ferris wheel is a symbol of Odaiba and offers a panoramic view of famous sights around Tokyo up 115-meters in the sky.

Winter Illuminations: December 1, 2020 – December 25, 2020

Statue of Liberty


Odaiba's Statue of Liberty will be lit up with rainbow colours, changing the atmosphere in the area completely.

Running: December 11, 2020 – December 25, 2020

ARTBAY HOUSE


Japanese artist Takahiro Matsuo is also getting in the the action with the prism art at his PRISM/GLOW exhibition.

Running: November 27, 2020 – December 25, 2020

Tokyo International Cruise Terminal Station


A 5-meter tall Christmas tree is decorating Tokyo International Cruise Terminal Station.

Running: November 27, 2020 – December 25, 2020 (Not running select days)