New Cyclist-Friendly Villa to Open in Japan's Town Of Nasu
Towa Nasu Resort K.K., which manages such locations as Towa Pure Cottagesーa location home to a varied and wide-ranging number of accommodationsーand Nasu Highland Resort Youth Hostel, amongst other facilities, has come together with logging and house construction company Sumitomo Forestry to create a new "cyclist-friendly" villa accommodation. It is set to open in mid-March this year, offering both the time and space for cyclists to enjoy riding.
Bike Maintenance Space
Bicycles can be brought into your room. There is a path leading from the entrance to a space which has a bike rack and tools for fixing up your bike.
Specialist Tools Selected by a Pro Team
Japanese UCI Continental cycling team Nasu Blasen, who have their own mechanic, have picked out a selection of specialist tools for guests to use, such as hex wrenches, torx spanners, screwdrivers, floor pumps, Shimano Di2 battery, a maintenance stand, chain oil, and more.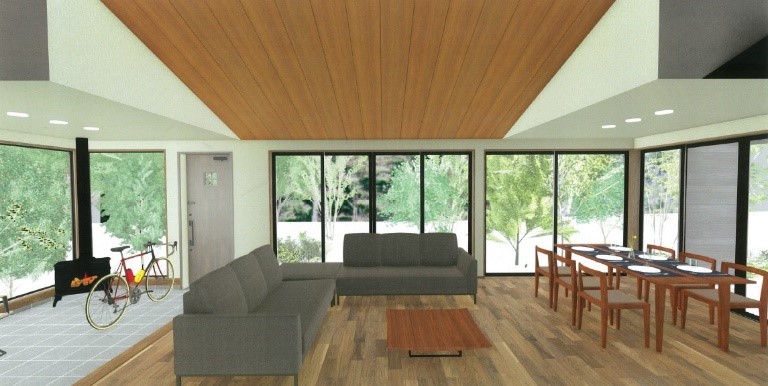 An Open Space With All Glass and No Walls
The huge space which is made up of the maintenance space, living room, dining room, and kitchen is decked out with warm walnut wood, and has no walls separating the rooms inside, so you can still watch over your bike while spending time with friends and family. The room is furnished with an enormous wooden frame provided by Sumitomo Forestry, and around 95% of the outer wall is made up of glass windows, offering a spectacular view of Nasu's natural surroundings during the day. At night, the plants are lit up to offer an entirely different atmosphere. All rooms are also as extremely secure and durable as police and fire stations.
If you're a cyclist travelling to  Japan, consider booking at the all-new Cyclist * Friendly * Villa .I.
Information
Cyclist * Friendly * Villa .I
Address: 3376 Oaza Takakuotsu, Nasu, Nasu District, Tochigi (Japanese: 那須ハイランド別荘地内 栃木県那須郡那須町高久乙3376、那須ハイランド別荘管理事務所向い)
Capacity: 2-6 people
Price: From ¥39,000 (Before Tax) on weekdays
Official Website: https://www.nasu-resort.com/#1
RELATED ENTRIES
Wine and Dine at Four Seasons Hotel Kyoto's Luxurious New 'Champagne Garden'

Four Seasons Hotel Kyoto opened its limited-time "Champagne Garden" on July 3 at its first floor outdoor terrace restaurant Brasserie. Running until September 6, customers can enjoy free-flow French Bollinger champagne and cocktails.

Four Seasons Hotel Kyoto opened back in October 2016 as a luxury hotel, home to the famous Sekisuien Gardens which have a history spanning back 800 years and are mentioned in the The Tale of the Heike epic. The hotel's first floor restaurant Brasserie has towering 9-meter tall windows that look out onto these gardens, while inside customers can enjoy dining in a stylish environment.

The champagne served in the Champagne Garden is produced by the French Champagne house Bolligner, a company that started by Jacques Bollinger in 1829. Fermented in oak barrels, the champagne has sophisticated and complex flavours. In 1884, Bolligner received a Royal Warrant from Queen Victoria.

At the Champagne Garden, guests can enjoy four different types of canapé made by the restaurant's head chef Koga together with a glass of Bolligner. They can also order rosé wine, cocktails, or soft drinks too, all of which are free-flow. And since the restaurant faces the garden, guests can enjoy the view of the greenery throughout all four seasons, in central Kyoto.

Four Seasons Hotel Kyoto reopened on July 1 after closing temporarily due to COVID-19. The hotel has launched its "Lead With Care" program which ensures guests and staff are at the top of the priority list for safety against the coronavirus.

Information

Four Seasons Hotel Kyoto – Champagne Garden
Running: July 3, 2020 – September 6, 2020

Location: Brasserie, Four Seasons Hotel Kyoto Floor 1F

Address: 445-3 Myōhōin Maekawachō, Higashiyama-ku, Kyoto
Time: 11:00-20:30
Price: ¥8,800 per person (90 minute window)
*15% service charge and 10% consumption tax charged separately

*Booking in advance recommended

TEL:  075-541-8288

Official Website: https://www.fourseasons.com/jp/kyoto/

Hoshinoya Tokyo Ranks Number One On 'World's Best Awards 2020 Top Hotels in Tokyo'

Travel + Leisure published their "World's Best Awards 2020 Top Hotels in Tokyo" list on July 8, 2020 on which Hoshinoya Tokyo, managed by Hoshino Resorts, placed No. 1.

"World's Best Awards" is a list of the top hotels as ranked by travel magazine Travel + Leisure's user ratings. The hotel category takes into account the facilities, location, service, food, and more offered at each hotel.

Established in Otemachi, Tokyo in July 2016, Hoshinoya Tokyo is a ryokan-style hotel which has two basement floors and 17 upper floors. It has a traditional Japanese ryokan vibe to it with its tatami mats, sliding doors, bamboo materials, and more, plus guests must take their shoes off at the entrance. And while it has traditional elements, it caters to the modern lifestyle, combining the best of both worlds. It offers guests a chance to easily experience Japanese culture and what it's like to stay in a ryokan.

Information

Hoshinoya Tokyo
Address: 1-9-1 Otemachi, Chiyoda-ku, Tokyo

TEL: 0570-073-066

Rooms: 84

Check In @ 15:00 / Check Out @ 12:00

Access: 10-minutes on foot from Tokyo Station's Marunouchi North Exit / 2-minutes on foot from Otemachi Station's A1 and C2 exits (via Tokyo Metro)

Official Website: https://hoshinoya.com/en/

THE AOYAMA GRAND HOTEL to Open on the Former Aoyama Bell Commons Grounds This Summer

THE AOYAMA GRAND HOTEL in Aoyama, Tokyo will officially open on August 5, 2020. Set to be a new landmark of Tokyo as "a hotel where you have fun," the establishment will house 42 rooms and a restaurant which serves everything from food around the world to authentic Japanese cuisine. Table bookings for the restaurant opened on July 1, 2020.

THE AOYAMA GRAND HOTEL is opening on the former Aoyama Bells Commons building which is just a 3-minute walk from Gaiemmae Station. The hotel is managed by Plan・Do・See who also manage 6th by ORIENTAL HOTEL (Yurakucho), ORIENTAL HOTEL (Kobe)< WITH THE STYLE (Fukuoka), THE LUIGANS (Fukuoka), and more.

Gaiemmae in Aoyama is a hub for fashion and culture in Japan which is visited by people all over the world. THE AOYAMA GRAND HOTEL will slot nicely into place in the area, serving a timeless experience with its polished and relaxing atmosphere and incredible restaurant.

ROOM

All guest rooms are fitted with a unique mid-century modern style design that maintains both the welcoming vibe of the region and brings a contemporary feel. Rooms are made to offer an experience akin to living there, where guests can look forward to indulging all their senses.

The bathroom amenities offered are provided by Oltana, making this the first hotel in Japan to stock the company's products. The items were developed specially for THE AOYAMA GRAND HOTEL and blend essential oils with Japanese fermentation methods. Everything from the raw materials to the finish product is made in Japan, and all are made sustainably and ethically.

RESTAURANT

Welcoming guests at the hotel entrance is THE BELCOMO on the fourth floor which offers a delicious casual dining experience whether it be for lunch, dinner, coffee, or an evening drink.

On the same floor is SHIKAKU, a counter-style restaurant serving authentic and seasonal Japanese food that is prepared before guests' eyes with fresh ingredients.

And hidden on the 19th floor where the guest rooms are located is Aoyama Sushi Kanesaka, a sushi bar that serves exquisite sushi courses made with artisanal care and the utmost care.

Opening on the hotel's top floor this autumn too is TRATTORIA ANDREA ROSSI, a classic Italian restaurant which will serve simple yet delicious dishes, wines, and desserts prepared in front of customers. On the same floor, a rooftop bar called THE TOP will also open where you can enjoy seasonal original cocktails, specially-selected wines, champagnes, and more.

Information

THE AOYAMA GRAND HOTEL

Address: 2-14-4 Kita-Aoyama, Minato-ku, Tokyo

Rooms: 42

Price: ¥60,000-¥120,000 (2 people for 1 room)

Check In From 15:00 / Check Out By 13:00

Official Website: https://aoyamagrand.com/en/

RELAX FUJINO: The New Glamping Guest House Opening in Kanagawa

Hibiya-Kandan is set to open a new glamping guest house by the name of "RELAX FUJINO" on August 21, 2020.

Just an hour and a half's journey from the city, RELAX FUJINO is opening in Kanagawa Prefecture's town of Fujino, a place known for its abundant nature and traditional arts. It aims to be a place where both "the heart and body can be happy."

The guest house promises to serve guests the ultimate relaxation experience, have them feeling positive about themselves, and opening their eyes to new discoveries. They will be able to enjoy the region's culture and nature while indulging in the kind of luxurious experience that Hibiya-Kandan is known for offering.

The glamping site is home to two separate sites: the Japanese-style "RURI" and the Western-style "ECRU," both of which have decks offering a panoramic view of the mountain range. Each site also has its own dome-shaped tent which span 28 square meters in length. There are counter tables which offer a panoramic view of the sights, garden tables, and even BBQ spaces. This mix of indoors and outdoors makes guests feel like part of Fujino's gorgeous natural environment. There are communal showers and toilets inside too, as well as a nearby hot spring facility.

The food served is made with plenty of organic vegetables grown in Fujino. A stay at the site means you get a free dinner and breakfast too.

There are plenty of both indoor and outdoors activities to get involved in, like yoga, coffee roasting, crafts, blueberry picking, and more.

Bookings open on August 1, 2020. If you're in Japan this summer, then why not get away from the hustle and bustle and enjoy a relaxing time out in nature?

Information

RELAX FUJINO
Grand Opening: August 21, 2020 (Bookings open from August 1, 2020)
Address: 4611-1 Magino, Midori-ku, Sagamihara, Kanagawa
TEL: 042-649-0286

Official Website: https://hibiya-stay.com/relax/

NIPPONIA HOTEL Ozu Castle Stay: Ehime Prefecture's New Tenshu Hotel

Value Management, a company in Japan which carries out work in bringing new life to historical Japanese buildings, hotels, restaurants, and more, is opening a new hotel in Ehime Prefecutre called NIPPONIA HOTEL Ozu Castle Stay on July 23, 2020. The hotel will be the first in Japan where guests can stay inside wooden tenshu, which are traditionally the highest towers in a Japanese castle.

The city of Ozu is home to many examples of historical architecture, from its central castle town to Ozu Castle itself and more. It has become a location for tourism which focuses on historical houses and buildings. That's where NIPPONIA HOTEL Ozu Castle Stay comes in. The surrounding townhouses have been renovated so that both the town and castle make up the entirety of the hotel complex.

Ozu Castle is a symbol of Ozu and was built by Tōdō Takatora and Wakisaka Yasuharu. It is officially recognised as an Important Cultural Property of Japan. Its tenshu were demolished during the Meiji Period, but thanks to the existence of pictures and models, they were rebuilt for the first time ever after the war in 2004. NIPPONIA HOTEL Ozu Castle Stay is the first facility in Japan to offer a castle stay experience like this, so it's a must-include on anyone's bucket list when visiting Japan.

Information

NIPPONIA HOTEL Ozu Castle Stay

Address: 382 Ozu, Ozu-shi, Ehime Prefecture

Price: From ¥1 million per night. One group per night. 30 groups per year (subject to change).

Official Website: https://www.vmg.co.jp/

Hotel New Otani Tokyo to Open Night Pool & Stay Plan

Hotel New Otani Tokyo is launching its "Night Pool & Stay" hotel plan on July 1, 2020 which gives guests exclusive access to the night pool during their stay.

Hotel New Otani Tokyo's night pool was first opened in 1998 with the concept of building a luxury pool that you won't get sunburned in. Over 20 years on, the pool continues to beckon people during summertime for its unique pool experience under the moonlight and hotel lights and music produced by Japanese DJs who are popular in the country's club scene. This year's "Night Pool & Stay" plan will open with all of the necessary measures in place against COVID-19, with thorough cleaning and bacteria elimination at the top of the hotel's list to ensure safety for its guests.

Check-in to the hotel's "Night Pool & Stay" plan opens at 17:00. Guests don't have to worry about using the locker room – they can get ready in their rooms before heading to the Garden Pool. After a luxurious dip in the pool, guests can retire to their sophisticated rooms, whether standard or suite, for some relaxation time. Check-out is 10:00, so they can enjoy their rooms throughout the early morning.

Located next to the Garden Pool is OUTRIGGER, a poolside restaurant open during the summer only that you can enter in your swimsuit. The restaurant serves popular dishes served at Hotel New Otani as well as Garden Pool exclusives. Tuck into a soybean hamburger, fresh green salad, nutritional smoothies, and more.

Information

Night Pool & Stay
Running: July 18, 2020 – September 5, 2020 (Not open Sundays except August 9 and 16)

Hotel Otani Club Members: Open June 30, 2020 at 10:00am

General Guests: Open July 1, 2020 from 10:00am

Bookings/Enquiries: 03-3234-5678 (10:00-18:00)

Official Website: https://www.newotani.co.jp/tokyo/stay/plan/night-poolstay/

Yukai Resort Premium Toba Saichoraku: The New Hot Spring Resort Hotel in Mie Prefecture

Yukai Resort, a company in Japan which manages lots of famous hot spring resorts across the country, opened Yukai Resort Premium Toba Saichoraku in Toba, Mie on June 5, 2020.

Yukai Resort manages 29 well-established hot spring resort hotels and ryokan throughout Japan, including hotels where you can get one night with dinner and breakfast from just ¥7,500 (before tax) to ryokan where you can enjoy kaiseki meal courses, and more. All their luxury establishments feature hot springs surrounded in lush environments.

Yukai Resort Premium Toba Saichoraku opened on June 5, 2020 and is taking all of the necessary precautions against COVID-19 to protect guests and so that guests can enjoy a comfortable stay.

Yukai Resort Premium Toba Saichoraku is 10 minutes by car from Toba Aquarium and 30 minutes from Ise Grand Shrine, making it a great location to enjoy the sightseeing spots of Ise and Shima. The hotel's concept is centred on being an "active resort" where you can get the full Toba experience with history, the sea, and activities.

The large open-air communal baths look out onto Toba Bay. The baths are designed like infinity pools, giving the effect that they are connected to the sea. Guests can enjoy a dip in the day or evening so they can enjoy both a blue sky or starry sky. There are also saunas.

There is also an indoor swimming pool with warm water, as well as foot baths, a kids play park, karaoke room, and many more fun features.

Yukai Resort Premium Toba Saichoraku also houses Yukai Resort's first ever indoor glamping guest rooms with large tents decked with beds, sofa, carpet, cushions, and other amenities for a glamorous camping experience. There are glamping rooms with their own open-air baths that look out onto Toba Bay too, as well as both Japanese-style and Western-style rooms.

As a precaution against COVID-19, the restaurant is serving its food for takeout only until August 31, 2020. Guests can enjoy their meal in their rooms or in one of the many communal spaces. There's plenty of health Japanese food to enjoy including sushi, Matsuzaka roast beef, eel, tuna, and more.

A Cafe With a View: Okinawa's New Seaside Cafe 'Hoshino Resorts Banta Cafe' Opens This July

Hoshino Resorts's new cafe Hoshino Resorts Banta Cafe will open in the village of Yomitan in Okinawa on July 1, 2020, offering a spectacular view.

The cafe is split into four distinct areas which overlook the the beach from atop a cliff. Customers are invited to take in the breathtaking scenery with a delicious dessert made from ingredients like mangoes, pineapple, and sugar—or a tasty meal.

An incredible beach cafe overlooking the sea

Banta Cafe runs along the western coast of Yomitan, a village in central Okinawa which is about an hour's drive from Naha Airport. The cafe gets its name from iyumibanta which in Okinawan dialect refers to the cliffs you climb to spot the shadows of fish in the water, and is also the name they give to enormous rocks. The cafe is located atop one of these iyumibanta, or cliffs, making Banta Cafe a fitting name. From the cliff, customers can enjoy a panoramic view of the horizon which stretches across infinity. According to Hoshino Resorts, Banta Cafe sits as the largest beach cafe in Japan, spanning 1600㎡.

4 Unique Areas to Pick From

Having four distinct areas to choose from means you can select where you want to go depending on your mood on the day. Let's take a look at each of them.

Rooftop Deck: A panoramic view welcomes you

Beyond the entrance is the Rooftop Deck which offers an unbroken view of the horizon. With the comfortable shadow cast by the eaves of the roof, and the sound of the rolling waves and wind, it feels like you're sitting on the deck of a boat.

Beach Terrace: Kick back and enjoy the sea breeze

The Beach Terrace is located along a footpath that leads from the top of the cliff down to the beach. This spacious area sits nice and close to the sea. The Okinawan Ryukyu-tatami flooring has cushions for you to sit on as well as cabanas, so you can sit and chat with people while enjoying the view of the ocean, offering the real Okinawan experience.

Rocky Terrace: Lose yourself in the green wild of nature

The Rocky Terrace is enveloped in plants and vegetation that has grown naturally—it's like a hideaway created by nature. The area has a wooden deck and rocking chairs for people to kick back and relax in, and there are tables with towering rocks that offer shade too.

Goro Goro Lounge: Lay down on a sofa and look out to the sea

The final area is the Goro Goro Lounge where an entire wall is made up of open windows. Here, you can relax and lay down nice and comfy on the sofas. There are long tables by the sofas too, perfect for pulling out a map or guidebook and planning the rest of your trip.

A true Okinawan cafe experience


Bubbly Jelly Soda

The cafe's "Bully Jelly Soda" is inspired from a traditional bubbly Okinawan tea called bukubuku cha. It's flavoured with lemongrass and mint and contains different jellies like mango and hibiscus.

Chulato

This gelato ice cream gets its name from the Okinawan word for delicious which is chura. Choose from a variety of classic Okinawan flavours like pineapple and guava and top your ice cream with purple yam and bitter melon chips, chinsuko, and more.

Food Menu


The food lineup is to die for, with tasty bites like pizza toast topped with bitter melon, pork and egg rice ball which is a soul food of Okinawa, hot dogs filled with juicy sausages, shrimp fritters served with mango sauce, fried chicken, and plenty of other finger food.

Witness the magnificent sunset during business hours


Banta Cafe is home to a gorgeous beach with coral. The sea is cobalt blue as far as the eyes can see, there are strangely shaped rocks worn by the waves, and in the evenings is an incredible view of the sunset which can be enjoyed with a cocktail in hand.

Hoshino Resorts Olu Grill


Banta Cafe will also have its own separate grilled food restaurant called Olu Grill. Olu is another Okinawan word which means "blue," in this case referring to the blue ocean. From fried steak served with an original sauce made from Okinawan awamori liquor and kurozu black vinegar to seafood and juicy burgers, there's plenty to fill you up.

Information

Hoshino Resorts Banta Cafe / Olu Grill
Grand Opening: July 1, 2020
Address: 560 Gima, Yomitan, Nakagami District, Okinawa Prefecture
Access: 60-minutes by car from Naha Airport / 90-minutes by limousine bus from Naha Airport

Hoshino Resorts Banta Cafe
Opening Hours: 10:00 until sunset
TEL: 098-921-6810
Official Website: https://banta-cafe.com/
*Breakfast service available from mid-July 2020. Serving hours will be 7:00-9:30

Hoshino ResortsOlu Grill
Opening Hours: [Dinner] 17:00-21:00 (Last Orders 20:30)
TEL: 098-921-6811
Official Website: https://banta-cafe.com/olu-grill/
*Reservations required. Lunch service available from mid-July 2020. Serving hours will be 11:00-15:00.

Kyoto's New Hotel Mitsui Garden Hotel Kyoto Kawaramachi Jokyoji Fuses With a Temple

Mitsui Garden Hotel Kyoto Kawaramachi Jokyoji, a new hotel by major real estate developer Mitsui Fudosan and Mitsui Fudosan Hotel Management, opened bookings for the new hotel last Friday. The hotel is set to officially open on September 28, 2020.

The hotel was developed to integrate into Jokyoji, a temple in Kyoto with a history spanning over 500 years. Even in Japan, where it is common for temples to undergo reconstruction, this is a rare project. The hotel aims to be a model case for breathing new life into temples.

The hotel is just a 1-minute walk from Kyoto-Kawaramachi Station and within walking distance from the bustling retail area of Shijō Kawaramachi, the Hanamachi district Ponto-chō, and Kyoto's geisha district Gion. Guests are wrapped in the serene atmosphere of Jokyoji Temple where they can enjoy its historically maintained art, get involved in morning activities, and more.

Entrance Lobby

Mitsui Garden Hotel Kyoto Kawaramachi Jokyoji's design concept is "Hotel Temple." Nikken Space Design crafted the hotel's interior design, which makes use of Jokyoji Temple's preserved wood, gold leaf-covered folding screens and other features, while adding a modern white and black colour scheme throughout, giving a sense of comfort and high quality. From the lobby, guests can glimpse the main area of the temple and feel one with it.

Spacious rooms and baths

  

Guest rooms, even the standard room types, are a spacious 24m². All rooms can accommodate 2+ people, and there are even triple rooms which can house 3 people. Every room also comes with separate toilets and showers. Up on the second floor are the baths where guests can wind down after a day of travelling and sightseeing.

Restaurant

The 2nd floor restaurant, Sanga Ono Kyoto Jokyoji, was developed by ONO GROUP which has built many restaurants in Fukuoka Prefecture. This is the company's first restaurant to be built outside Fukuoka. Guests can enjoy delicious Japanese rice, Kyoto vegetables, tai-chazuke (green tea poured over sea bream), Kyoto-style grilled fish, and more. The restaurant will also serve Japanese buckwheat noodles overseen by Akamachaya Asago, a restaurant listed in the Michelin Guide.

Experience Jokyoji Temple

Jokyoji Temple was founded in 1171 by Taira no Shigemori. In 1591, the temple was moved to Teramachi-dori where it has stayed to this day. When the hotel opens its doors, it will offer various activities to guests. Those who take part in the morning activity will receive a goshuin stamp from the chief priest.

Experience a hotel and a temple like never before as both are fused together at Mitsui Garden Hotel Kyoto Kawaramachi Jokyoji.

FUNATSURU Kyoto Kamogawa Resort Opens Rooftop 'KAMOGAWA Tenku Terrace'

FUNATSURU Kyoto Kamogawa Resort, the administrative building of VMG HOTELS & UNIQUE VENUES, has opened its 4th floor rooftop terrace 'KAMOGAWA Tenku Terrace' for a limited time. It will remain open until August 31, 2020.

VMG HOTELS & UNIQUE VENUES uses historical buildings to open new brands, like hotels and unique venues, while offering historical and cultural experiences of the buildings' local areas.

FUNATSURU Kyoto Kamogawa Resort originally opened as a traditional inn priding itself on its cuisine back in 1870. It was renovated and reopened as FUNATSURU Kyoto Kamogawa Resort in 2008. Its historical and artistic value has been highly acclaimed as a time-honoured work of architecture and was registered as a tangible cultural property of architecture by Japan's Agency for Cultural Affairs. It has banquet and ceremony spaces, and in the summer you can enjoy its restaurant on the riverbed. The building is also used for parties and wedding ceremonies.

Like all businesses, FUNATSURU Kyoto Kamogawa Resort too has suffered at the hands of the COVID-19 pandemic, but the facility wants people to enjoy the summer nighttime skies of Kyoto and so while observing the necessary coronavirus precautions it has opened its rooftop terrace which can be used as a bar.

Information

KAMOGAWA Tenku Terrace
Running: June 6, 2020 – August 31, 2020 (Closed Tuesdays & rainy days)
Opening Hours: 20:00-Midnight (Last Orders 23:00)
Price: Table Charge ¥1,000 per person (includes tax and service charge)

Official Website: https://www.funatsuru.com/restaurant/news/#new_01

Nazuna Kyoto Tsubaki: A Luxury Ryokan Renovated From a Traditional Townhouse Alleyway

Nazuna Kyoto Tsubaki St. is a new inn that recently opened in Kyoto which is made up of 23 machiya (townhouses) and two restaurants. It was co-developed by Nazuna and Kiraku and offers an accommodation experience like no other.

Nazuna Kyoto Tsubaki St. is renovated from an entire 110-year-old L-shaped alleyway of machiya spanning 1,400 square meters. The reception building sits on an unassuming streetand  serves as both an entrance to welcome guests, as well as a passage from the outside world into Tsubaki St. On the other side, guests are greeted by a world reminiscent of the historical geisha districts of Kyoto known as Hanamachi. In the evening, guests can experience the luster of Tsubaki St. as the Japanese paper lanterns and paper lamps illuminate the stone-cobbled path.

All guest rooms enjoy private semi open-air baths

All 23 guest rooms are named and decorated based on the elements of nature that have long been enjoyed in the ancient city of Kyoto: TAKE (bamboo), MIZU (water), IWA (stone), HANA (flower), and HA (leaf). And since each guest room is its own building, guests can enjoy the entire space to themselves. There is also a large open area between the reception and guest rooms to reduce the chance of running into other guests, offering a more private experience.

Chisao Shigemori's modern rock garden greets guests at the reception

The first floor of the reception building features a rock garden created by landscape architect Chisao Shigemori which fuses the traditional and the modern. His grandfather was Mirei Shigemori, a famous Japanese landscape architect who is known for having designed the Tofukuji Hojo Temple gardens in Kyoto, amongst other projects. Chisao himself has produced numerous works both inside and outside Japan, such as at Matsuo-Taisha Shrine.

The reception building's second floor is a lounge space where guests can enjoy tea and confections made by d:matcha after checking in. It's a chance to try Kyoto's famous Uji matcha. At nighttime, this are is free for people to use where they can enjoy friendly soft drinks and alcohol.

Unforgettable food at two different restaurants

Behind a secret door located somewhere inside Tsubaki is "q," a six-seated chef's table produced by Hiroshi Sasaki, who is the owner of the Michelin three-star restaurant Gion Sasaki, and TOROMO PRODUCE. A roster of chefs will rotate for service, with Hiroshi Sasaki in the line-up. The restaurant will open officially on July 2, 2020 and is now taking enquiries via mail@toromi.co.jp. Group and family bookings are available. The restaurant will serve special courses the likes of which cannot be experienced anywhere else.

The other restaurant, "Wagyu Ryotei bungo" will serve courses made with specially-selected high quality Japanese wagyu beef. There are counter seats as well as 7 private and semi-private rooms which house 2-8 people.

Information

Nazuna Kyoto Tsubaki St.
Address: 838 Bomoncho, Shimogyo-ku Kyoto 600-8388
TEL: 075-748-0402

NEARBY STATIONS & AIRPORTS
5 minutes on foot from Omiya Station (Hankyu Kyoto Line) and Shijo-Omiya Station (Keifuku Arashiyama Line)
10 minutes by taxi from Kyoto Station

Official Website: https://www.nazuna.co/property/nazuna-kyoto-tsubaki-st/

Help Fukuoka's Hotels During COVID-19 With Crowdfunding Project

Fukuoka's tourism industry is suffering greatly as a result of the novel coronavirus (COVID-19) pandemic, and so the city has launched a crowdfunding project to ask for people's help and support.

By donating, you can receive a special ticket which can be used when travel returns to normal which can be used at hotels you have donated towards. The tiers are priced at ¥3,000 and ¥5,000, which will get you tickets priced at ¥3,300 and ¥5,500 respectively to be used in the future. If you're thinking of travelling to Fukuoka, or already had plans booked to go there, then consider donating towards the city.

Fukuoka is a city loved by Japanese people and foreigners alike. It has a rich food culture, incredible festivals, a rich history, and an amalgamation of urban and rural scenery.