Winston in Bloom: Afternoon Tea Collaboration by Harry Winston and Park Hyatt Tokyo Releasing in April
Harry Winston and Park Hyatt Tokyo are joining hands to release a special afternoon tea set titled "Winston in Bloom." It will be served at Peak Lounge on the 41st floor of Park Hyatt Tokyo from April 1 to 30 and be inspired by Harry Winston's floral jewellery.
Known as the "King of Diamonds" and "Jeweler to the Stars," Harry Winston founded his brand in New York in 1932. He was captivated by the beauty of flowers and how they produce themselves naturally, a beauty which is represented in his jewellery.
The collaborative "Winston in Bloom" afternoon tea is made in the image of a high-class flower garden adorned with diamonds and coloured stones.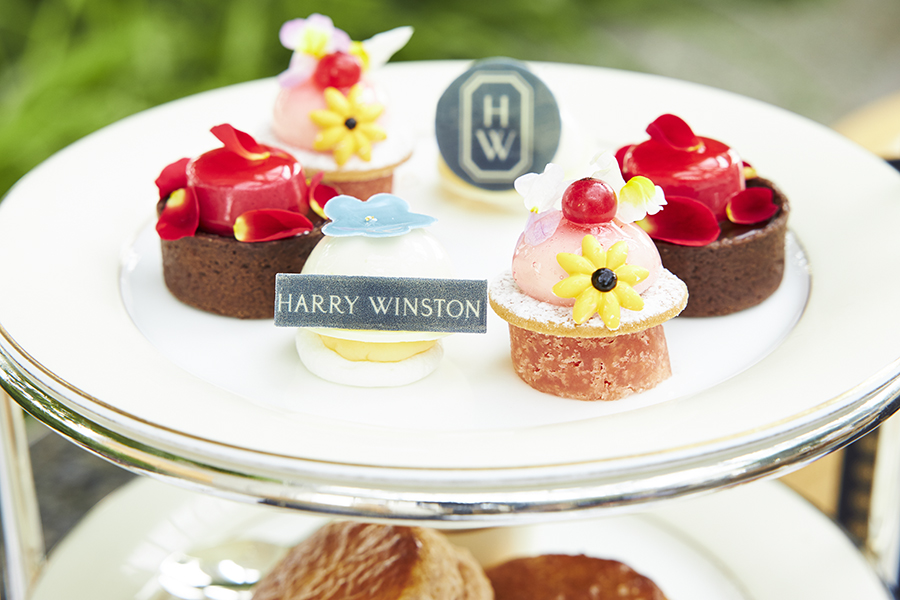 This is the Harry Winston brand's first afternoon tea collaboration in Japan, and offers an elegant taste experience for anyone who wishes to munch through this garden.
Special gifts are also prepared for anyone that orders this afternoon tea. These are available while supplies last.
Information
Winston in Bloom Afternoon Tea
Running: April 1, 2020 – April 30, 2020
Time: Weekdays 14:00-17:00 / Weekends & Holidays 12:00-17:00)
Price: ¥5,000 per person (Service charge and tax not included)
Location: Peak Lounge (Park Hyatt Tokyo Floor 41F)
Reservations
TEL: 03-5323-3461
RELATED ENTRIES
60th Anniversary Sanrio Exhibition: The Beginning of Kawaii to Open at Roppongi Hills

From Hello Kitty to Pompompurin, Cinnamoroll, My Melody, and more – Sanrio's internationally adored cast of characters can be universally agreed to be representatives of Japan culture of 'kawaii.' In celebration of Sanrio's 60th anniversary, the company have announced an exhibition centred on the beginning of kawaii culture. The event will take place at TOKYO CITY VIEW from September 17, 2021 to January 10, 2022.

60th Anniversary Sanrio Exhibition: The Beginning of Kawaii recently finished up at the Matsuzakaya Art Gallery in Nagoya on June 12 and is set to move to Ōita Prefectural Art Museum where it will run from July 10 to September 5 before heading to TOKYO CITY VIEW. This exhibition will not only look back over Sanrio's 60-year history, but will also dive into how Japan's culture of 'kawaii' came about. Fans of Sanrio and Japan's kawaii can expect product and design showcases, in-depth explanations, and more.

Sebastian Masuda's iconic artwork is the centrepiece of the exhibition

Entrance exhibit in the daytime

At the entrance of the venue is the Unforgettable Tower, a symbolic art piece by Sebastian Masuda created exclusively for this exhibition which towers 6 meters tall. It's made up of countless plushies of Sanrio characters such as Hello Kitty.

Entrance exhibit in the evening


The kawaii installation stands gorgeously against the cityscape of Tokyo which makes for an Instagrammable photo in the evenings when the city is lit up. The piece, as its name suggests, hopes to create unforgettable memories. The exhibition is set to run through Halloween, Christmas, and New Year, so visitors are sure to make some memorable ones.


© 2021 SANRIO CO., LTD. APPROVAL NO. SP610376

Shouta Aoi's voice as the tour guide

Having lent his voice to other Sanrio events, including at Sanrio Puroland and in collaboration with the Little Twin Stars, the Japanese singer, actor, and voice actor Shouta Aoi has recorded announcements for the exhibition which will be played to guide people around the event.

A themed menu created for the Tokyo exhibition

From Left: Anniversary Afternoon Tea / Hello Kitty Daisuki Fried Apple Mille-Feuille / Cinnamoroll's Balloon Trip

© 2021 SANRIO CO., LTD. APPROVAL NO. SP610376

THE SUN & THE MOON, a cafe and restaurant fusion on the same floor of the exhibition, will serve up food, desserts, and non-alcoholic cocktails inspired by the Sanrio characters. Special seasonal afternoon tea sets will also be sold on Halloween, Christmas, and more too.

Dates
Restaurant: September 17, 2021 – January 10, 2022

Cafe: December 15, 2021 – January 10, 2021

*Closed December 21-26

The main exhibition

The exhibition will be split into six zones with 10 different themes. Over 800 products, documents, and materials related to Sanrio will be presented, many of which will shine a spotlight on some of their most famous characters out of their roster of 400, such as Hello Kitty and My Melody, and other characters that might not be known to those outside Japan such as best friends Patty & Jimmy. It's a chance to walk through the history of Sanrio and Japan's culture of kawaii.

© 2021 SANRIO CO., LTD. APPROVAL NO. SP610376

© 2021 SANRIO CO., LTD. APPROVAL NO. SP610376

© 2021 SANRIO CO., LTD. APPROVAL NO. SP610376

One of the six zones will look into secrets of Sanrio through the globally-beloved kawaii icon Hello Kitty. Another will display outfits such as the Hello Kitty dress worn by Lady Gaga.

Original merchandise

A small peek at just some of the items available

© 2021 SANRIO CO., LTD. APPROVAL NO. SP610376

Sanrio fans can also get their hands on a collection of merchandise with designs ranging from the exhibition's main visual to classic designs. There will be over 100 items to sift through.

Tickets for the exhibition will be available from August 1. A limited number of special tickets that include free merch will also be released.

© 2021 SANRIO CO., LTD. APPROVAL NO. SP610376

Information

60th Anniversary Sanrio Exhibition: The Beginning of Kawaii

Running: September 17, 2021 – January 10, 2022

Where: TOKYO CITY VIEW (Roppongi Hills Mori Tower Floor 52F)

Address: 6-10-1 Roppongi, Minato-ku, Toky0

Price: TBA

60th Anniversary Sanrio Exhibition: The Beginning of Kawaii Official Website: https://sanriocharactermuseum.com/

Showa Summer Dessert Drinks Get Served Up at AWESOME STORE & CAFE IKEBUKURO in Tokyo

AWESOME STORE & CAFE IKEBUKURO is now serving up two new summer-exclusive dessert drinks inspired by the Japanese Showa era. The 'Imitation Gold' and 'Blue Light Awesome' are both available now until September 26.


Imitation Gold: ¥467 (Tax Included) / Blue Light Awesome: ¥467 (Tax Included) *both served in plastic cups (see below)

The Imitation Gold's flavour is reminiscent of an energy drink. It's topped with vanilla ice cream and colourful gummies. The Blue Light Awesome is a Blue Hawaiian syrup-infused pineapple juice topped with vanilla ice cream and a cherry. Both of these cute dessert drinks are the perfect refreshments for the summer.

Those who buy both drinks will also receive an original black straw to make the drinks even more Instagrammable. These are available while supplies last.

Some other popular must-tries

Other classics on the menu to try include soft and chewy bagels, coffees, and more.

Chocolate High | ¥396 (Tax Included)


Ebi Avocado | ¥396 (Tax Included)


Fuwa Toro Bacon Omelette | ¥396 (Tax Included)


AWESOME Organic Coffee (Hot/Iced) | From ¥217 (Tax Included)

Information

AWESOME STORE & CAFE IKEBUKURO
Opening Hours: 10:00-21:00 (Currently operating on reduced hours – closes at 20:00)
TEL: 03-5944-9754
Address: Q Plaza IKEBUKURO 1F, 1-30-3 Higashi-Ikebukuro, Toshima-ku, Tokyo
Official Website: https://www.awesomestore.jp/store/pages/cafe.aspx

Detective Conan Escape Games Open in Japan

In promotion of SCRAP's new Detective Conan themed escape game Escape From the Scarlet Investigation (Blood Task Force), five of the company's past escape games made in collaboration with the anime series are being revived for a temporary period.

Escape From the Orient Express

Escape From the Magical Castle

Escape From the Black Assassin

Escape From the Final Public Examination

Escape From the Navy Blue Art Museum

Here's what it's like to play..

SCRAP's escape games are made in collaboration with many different series and see players become a character in the story where they must solve puzzles and riddles to find a way out. They have collaborated with Detective Conan since 2013 during which over 1.3 million people have played. The newest entry to the series is Escape From the Scarlet Investigation (Blood Task Force).


Five previous escape games make a return this year including Escape From the Orient Express (2014), Escape From the Magical Castle (2015), Escape From the Black Assassin (2016), Escape From the Final Public Examination (2018), and Escape From the Navy Blue Art Museum (2019). Each features a completely original story set in the world of Detective Conan.

©青山剛昌/小学館・読売テレビ・TMS 1996
©青山剛昌/小学館

Information

Escape From the Scarlet Investigation (Blood Task Force)

Japanese Title:「緋色の捜査網からの脱出」

Release Date: 2021

Details:  https://realdgame.jp/conan2020/

Escape From the Orient Express

Japanese Title:「オリエント急行からの脱出」

Tokyo
Venue: Tokyo Mystery Circus
Running: August 4, 2021 – September 12, 2021
Details: https://mysterycircus.jp/events/8933

Aichi
Venue: Real Dasshutsu Game Nagoya (formerly Nazo Complete Nagoya)

Running: September 2, 2021 – September 20, 2021
Details: https://www.scrapmagazine.com/nazocomplex/events/orient_express2021/
 

Escape From the Magical Castle

Japanese Title:「奇術城からの脱出」

Tokyo
Venue: Real Dasshutsu Game Kichijoji
Running: August 19, 2021 – September 5, 2021
Details: https://www.scrapmagazine.com/nazobldg_kichijoji/events/2021conan3/
 

Escape From the Black Assassin

Japanese Title:「黒き暗殺者からの脱出」

Aichi
Venue: Real Dasshutsu Game Nagoya (formerly Nazo Complete Nagoya)

Running: July 29, 2021 – August 29, 2021
Details: https://www.scrapmagazine.com/nazocomplex/events/assassin2021/

Tokyo
Venue: Real Dasshutsu Game Kichijoji

Running: September 15, 2021 – October 24, 2021
Details: https://mysterycircus.jp/events/8934
 

Escape From the Final Public Examination

Japanese Title:「公安最終試験からの脱出」

Aichi
Venue: Real Dasshutsu Game Nagoya (formerly Nazo Complete Nagoya)

Running: August 26, 2021 – September 26, 2021
Details: https://www.scrapmagazine.com/nazocomplex/events/project_zero2021/
 

Escape From the Navy Blue Art Museum

Japanese Title: 「紺青の美術館からの脱出」

Tokyo
Venue: Real Dasshutsu Game Kichijoji

Running: September 9, 2021 – September 26, 2021
Details: https://www.scrapmagazine.com/nazobldg_kichijoji/events/2021conan7/

renacnatta x Shiki Theatre Company to Release Banshu-Ori Weave Collection

renacnatta has teamed up with Shiki Theatre Company to release a collection of banshu-ori skirts and neckties, all of which will arrive on August 3.

renacnatta is a brand which weaves clothes using deadstock fabric from Japan and Italy and by using traditional Japanese weaving techniques.

Skirts

Banshu Mermaid Wrap Skirt – Matinee|Collaboration with Shiki Theatre Company | ¥35,200 (Tax Included)


Banshu Mermaid Wrap Skirt – Soiree|Collaboration with Shiki Theatre Company | ¥35,200 (Tax Included)


Neckties

Banshu Tie – Matinee|Collaboration with Shiki Theatre Company | ¥9,350 (Tax Included)

Banshu Tie – Soiree|Collaboration with Shiki Theatre Company | ¥9,350 (Tax Included)

Shows at the Shiki Theatre Company have been cancelled or postponed due to COVID-19. The collaboration comes to reignite the fire and excitement towards the theatre in these restrictive times. This August, the theatre is release a new and original musical which will see actors wearing clothing made using banshu-ori weave. This collection uses the same weaving technique.

Banshuori is a yarn-dyed textile made using a special production method which sees yarn dyed in advance and patterns woven by the dyed yarn. The items in the collection come in two colours: Matinee and Soiree, named after afternoon and evening theatre performances respectively. The Matinee line-up is beige and yellow while the Soiree picks are a mix of navy and black.

The one-size-fits-all skirts feature a comfy mermaid style with a fashionable silhouette perfect for going to the theatre with. They are made in such a way that they do not wrinkle when sitting down for long periods of time. The neckties too are made using banshu-ori weave for a smooth, sleek look.

Hololive x Atre Akihabara Merchandise Collection Revealed

Virtual YouTuber talent agency Hololive Production is set to release a new exclusive collection at Atre Akihabara in Tokyo on August 1.

The Line-Up

Acrylic Panel / B2 Tapestries / Acrylic Chibi Figures

Big Silhouette T-Shirts / Holostars T-Shirt / Key Visual Graphic T-Shirt

Key Visual Acrylic Panel

Chibi Character Illustration Acrylic Figures

B2 Tapestries

hololy Photo Contest

Hololive fans can get their hands on merchandise of all their favourite VTubers with this collection that will be sold exclusively at Atre Akihabara. To promote the collection, giant poster will be plastered up outside and around Atre Akihabara, with a giant one at the north entrance 3D illustrations at the south entrance. And for every ¥500 spent in a single transaction on the items, fans will receive a free character card.

Information

Hololive Summer Festival x Atre Akihabara

Running: August 1, 2021 – August 15, 2021
Locations: Atre Akihabara 1 (1-17-6 Soto-Kanda, Chiyoda-ku, Tokyo) / Atre Akihabara 2 (1-9 Kanda Hanaokucho, Chiyoda-ku, Tokyo)

Book Slot: http://hololive-summerfes.com/

MOSHI MOSHI ROOMS opens Harajuku-Kawaii themed accommodation called 'HARAJUKU'

Rokuyon, which manages unique accommodations mainly in Shibuya, has opened the fourth room of "MOSHI MOSHI ROOMS", the home-sharing facility, named "HARAJUKU" produced by ASOBISYSTEM, which introduces HARAJUKU culture to the world.

"MOSHI MOSHI ROOMS offers accommodation services in concept rooms full of originality not found in existing hotels or home-sharing facilities. The concept of the fourth room is "HARAJUKU". The room is filled with "KAWAII", one of the representative cultures of Japan. Once you step into the room through the archway, you will feel as if you have wandered into the world of a picture book. The room is inspired by Harajuku, a place where you can enjoy the extraordinary feeling of being lost in a different dimension.

With the opening of the room HARAJUKU, an entire building has been transformed into MOSHI MOSHI ROOMS, with four rooms available for booking via Airbnb. The rooms can be used for a variety of purposes, such as accommodation for domestic and foreign tourists, staycations (casual holiday at home or nearby), girls' parties, and birthday parties with your friends. In order to ensure the safety of the guests, they carry out temperature checks, use alcohol sanitisers and disinfect the rooms with alcohol when cleaning.

The archway at the entrance is a gateway to a world of wonder. From the moment you step into the house, the excitement is bound to build.

The living room is decorated with colourful objects and animals reminiscent of a museum. Why not find your favourite objects and animals, and enjoy taking photos with them?

The bedroom has a queen-size bed, together with a sofa bed and an air bed in the living room, which can accommodate up to four people.

The shower room is equipped with amenities such as shampoo, conditioner, and body soap. The separated washbasins and Toto Washlet toilets have been installed.

The kitchen is fully equipped with a microwave, fridge, and other daily necessities. Colourful KAWAII tablewares are lined up so that you can enjoy the world of the room more.

MOSHI MOSHI ROOMS

The first room  'SAKURA'

The room has received high praise from both domestic and international travelers.

A monument of cherry blossoms, the symbol of Japan, fills the ceiling of the bedroom, creating a gorgeous and unique space.

The second room 'ORIGAMI'

This room is themed on origami, one of the symbols of Japanese culture.

The living room is furnished with benches and stools inspired by a teahouse. Looking up at the ceiling, a number of Japanese umbrellas decorate the space.

The third room 'DOSUKOI'

The room combined the traditional Japanese culture of sento, a Japanese public bathhouse and sumo, Japanese wrestling.

The sumo wrestler's hands and the large bath inspired by a sento attract the viewer's attention. The painted pictures on the walls are the work of Kiyoto Maruyama, one of only three sento painters in Japan.

The rooftop

The rooftop offers an expansive space with a panoramic view of Harajuku. It can also be used for events such as tent saunas and BBQs. Only the rooftop can be rented out as a rental space.

Why don't you create your own story at MOSHI MOSHI ROOMS, a place full of unique concepts that you can only experience here?

Fullmetal Alchemist Art Exhibition to Return for the Manga's 20th Anniversary in Tokyo and Osaka

As part of the 20th anniversary celebrations of Hiromu Arakawa's manga series Fullmetal Alchemist, the Fullmetal Alchemist Exhibition RETURNS art exhibition will run at Sunshine City Exhibition Hall C in Ikebukuro, Tokyo from December 18, 2021 to January 16, 2022. It will subsequently take place at Hirakata Park in Osaka in Spring 2022.

The exhibition is a powered up version of the original exhibition that took place from 2017 to 2019. It will feature lots more artwork for fans of the series to enjoy. The key visual for the exhibition is based on the original monochrome illustration that Arakawa drew 20 years ago to announce the manga's serialization. She has redrawn it with colours for the exhibition.

C Hiromu Arakawa/SQUARE ENIX

Information

Fullmetal Alchemist Exhibition RETURNS

Tokyo

Running: December 18, 2021 to January 16, 2022

Venue: Sunshine City Exhibition Hall C

Osaka

Running: Spring 2022

Venue: Hirakata Park

*More details TBA

Details: https://www.mbs.jp/hagarenten/

Hirakata Park Official Website: http://www.hirakatapark.co.jp/

Veuve Clicquot La Grande x Yayoi Kusama Collaboration Gets Restocked

First released in 2020, the limited-edition Veuve Clicquot La Grande Dame 2012 Yayoi Kusama is set to be restocked in limited quantities. To promote the re-release, three pop-up shops are set to open in Japan: one in Nihombashi Mitsukoshi Main Store from July 28 to August 3, another in Iwataya Mitsukoshi from August 14 to August 17, and another in Mitsukoshi Nagoya Sakae Store LACHIC from August 14 to August 22.

Veuve Clicquot La Grande Dame 2012 Yayoi Kusama Gift Box | ¥27,740 (Tax Included)

Nihombashi Mitsukoshi Main Store Pop-Up Shop

Iwataya Mitsukoshi Pop-Up Shop

Mitsukoshi Nagoya Sakae Store LACHIC Pop-Up Shop

Yayoi Kusama

The pop-up shops serve as a space to celebrate two revolutionary women: the Japanese artist Yayoi Kusama and Madame Clicquot, who led the champagne industry as a female entrepreneur in the 1800s. This includes Kusama's 2-meter tall sculpture My Heart That Blooms in The Darkness of The Night designed for the collaboration, a replica of Kusama's Self Obliterated by Dots: Madame Clicquot which she created in 2006 for the Madame Clicquot Art Exhibition charity event, recordings of Kusama reading out poems she created for the collaboration, and more. Visitors to the pop-up shops can also scan a QR code and watch the What makes me Bloom short movie, and more.

The Veuve Clicquot La Grande Dame 2012 Yayoi Kusama Gift Box can be bought at the three stores, and at LACHIC, you can try a glass of the champagne.

Information

Veuve Clicquot La Grande Dame x Yayoi Kusama

Nihombashi Mitsukoshi Main Store


Address: 1-4-1 Nihonbashimuromachi, Chuo-ku, Tokyo 103-0022, Japan

Opening Hours: 10:00-19:00
TEL: 03-3241-3311

Pop-Up Store
Running: July 28, 2021 – August 3, 2021
Location: Nihombashi Mitsukoshi Main Store (Floor 1F Central Hall)
Opening Hours: 10:00-19:30

Product Page: https://www.mistore.jp/shopping/product/900000000000000001739169.html
*Click and Collect only
*Orders open on July 21 from 10:00

Iwataya Mitsukoshi


Address: 2 Chome-5-35 Tenjin, Chuo Ward, Fukuoka, 810-8680, Japan

Opening Hours: 10:00-20:00

TEL: 092-721-1111

Pop-Up Store
Running: August 11, 2021 – August 17, 2021
Location: Iwataya Mitsukoshi KIRAMEKI BORD (Floor 1F)

Mitsukoshi Nagoya Sakae Store LACHIC
Opening Hours: Mitsukoshi Nagoya Sakae Store 10:00-20:00 / LACHIC 11:00-21:00

Address: 3-5-1 Sakae, Naka-ku, Nagoya, Aichi 460-8669, Japan
TEL: 052-252-1111

Pop-Up Store
Running: August 14, 2021 – August 22, 2021

Location: LACHIC Bazaar (Floor 1F)
Opening Hours: 11:00-21:00

*Purchases from Nihombashi Mitsukoshi Main Store are advance orders only

Manga Artist Arina Tanemura Opens Cafes Based On Seven of Her Series Including Phantom Thief Jeanne

Two branches of Animate Cafe in Ikebukuro and Nagoya are celebrating seven manga works of manga artist Arina Tanemura including I.O.N, Phantom Thief Jeanne, Time Stranger Kyoko, Full Moon o Sagashite, Sakura Hime: The Legend of Princess Sakura, The Gentlemen's Alliance Cross, and Neko to Watashi no Kinyōbi.

The collaboration will run from July 28 to August 23. Table reservations must be made for those wanting to dine from July 28 to August 1 as well as on weekends and public holidays. Reservations are not required for all other days.

Arina Tanemura Precious Wedding Party at Animate Cafe

The Menu Line-Up (Excerpt)

Full Moon o Sagashite: Negi Ramen Lunch | ¥980 (Tax Included)

Arina's Precious Wedding Plate | ¥1,300 (Tax Included)

Phantom Thief Jeanne: Tiramisu | ¥800 (Tax Included)

The Gentlemen's Alliance Cross: Glass Dessert | ¥800 (Tax Included)

I.O.N: Drink | ¥600 (Tax Included)

Phantom Thief Jeanne: Sindbad | ¥600 (Tax Included)

Time Stranger Kyoko: Crystal Stranger | ¥600 (Tax Included)

Full Moon o Sagashite: Honey Hot Milk | ¥600 (Tax Included)

The Gentlemen's Alliance Cross: Espresso | ¥600 (Tax Included)

Sakura Hime: The Legend of Princess Sakura: Soda | ¥600 (Tax Included)

Neko to Watashi no Kinyōbi: Curry Soup With Bread | ¥600 (Tax Included)

Free coaster with every menu order

Exclusive Merchandise (Excerpt)

Big Acrylic Stand (Wedding Ver.) | ¥1,600 (Tax Included)

Wedding Card | ¥800 (Tax Included)

CoLotta Acrylic Plate Keyrings | ¥800 (Tax Included)

Big Ribbon Pouch | ¥2,500 (Tax Included)

Stamp Card Campaign

Arina Tanemura made her debut in the shojo manga magazine Ribbon Original in 1996 with her short manga The Style of the Second Love. In 1998, she garnered mainstream popularity when her work Phantom Thief Jeanne began serialisation which has over 5.5 million copies in circulation. Some of her other famous works including Full Moon o Sagashite, Sakura Hime: The Legend of Princess Sakura, and The Gentlemen's Alliance Cross. In 2015, she worked as the character designer for the smartphone game IDOLiSH7.



This marks her third cafe collaboration, and this time it's themed on a 'Precious Wedding Party' with food inspired by the characters from her stories as well as exclusive merchandise.

©種村有菜/集英社

Japanese Michelin Star Chef to Open New Restaurant Kimura Don in Shinjuku

A new restaurant by the name of Kimura Don is set to open inside Shinjuku Takashimaya's Restaurant Square on July 20, 2021.

Kimura Don is a new donburi restaurant produced by Koji Kimura, a chef whose popular sushi bar Sushi Kimura, located in Futakotamagawa, has held two Michelin stars since 2013. His new eatery continues the traditions and techniques honed at Sushi Kimura while spinning innovation into new donburi rice bowl dishes conceived from the many ideas Kimura has conceived over the years.

The donburi to be served recreates that perfect balance between vinegared rice and toppings which Kimura mastered at his sushi bar. Customers can enjoy a range of additions including donburi classics such as meat and fish as well as seasonal ingredients. The restaurant also uses locally grown and reared produce and ingredients that's also environmentally-friendly from Tokyo such as Kinuhari rice from Hachiojo and Akigawagyu beef. This will help to foster a relationship between local farmers and consumers. 

Lunchtime Dishes | ¥3,500 Each | Serving Times: 11:00-17:00 (Last Orders 16:00)

Pick from five different donburi bowls such as tuna, pilchard, and roast beef. Each season will also has its own exclusive dish made with seasonal ingredients. There's also a special option to order a set of two smaller versions of the dishes too for ¥3,800. 

Evening Courses | From ¥12,000 | Serving Times: 17:00-23:00 (Last Orders 22:00)

The evening course line-up is also made up of five different bowls as well as seven seasonal snacks.

Koji Kimura | Comment

"I've been set up in Futakotamagawa for 16 years. I studied how to prepare sushi rice for many years, since it serves as the foundation, so that I could create unique sushi. I have made sushi rice that's unique and draws a line under other restaurants, rice which when combined with toppings explodes with umami flavour. I use this same sushi rice as the basis for lots of innovative donburi dishes, and I'd love for people to enjoy a taste at the first place in Japan to do this."

MIDTOWN ART PALETTE Brings Dreamy Digital Artwork to Tokyo Midtown For Summer

Tokyo Midtown's annual MIDTOWN ART PALETTE has returned again for the summer, opening on July 16 and running until September 5. This year, the event delivers a Digital Art Garden with gorgeous dream-like digital artwork.

Digital Art Garden

Last year's event

Experience a distinctively Japanese way to stay cool and refreshed on a wooden veranda with light and mist dancing through the outdoor space inspired by traditional Japanese rock gardens. Find yourself bewitched by an enchanting summer evening as the digital art transforms throughout the day.

This year's event is being held with all proper social distancing measures in place.

Take digital art home with you with AR fireworks

Locate five QR codes dotted around Tokyo Midtown which when accessed via your smartphone will award you with artistic AR fireworks, allowing you to enjoy fireworks with you wherever you point the camera on your screen, including at home.

Event Report: Sanrio's Little Twin Stars and Their Dreamy World at Tokyo Tower

Sanrio's popular character duo Kiki & Lala, also known as the Little Twin Stars, are have brought their dreamy, pastel-coloured world to Tokyo Tower with a special summer event titled "Little Twin Stars Summer Night Fantasy Meets Kiki & Lala Exhibition produced by LIDDELL" which began on July 10.

At the event entrance, guests are given a special 'passport' notebook which is stamped before entering, allowing access to Kiki & Lala's world in the clouds above.

Guests are guided by Kiki & Lala's voice through the rose-coloured "Star & Rose-Coloured Cloud Fantasy Gate" were they are met with five different booths.

At Kiki's Star Catching booth, visitors can experience one of Kiki's favourite past times by 'catching' stars. The stars that are caught can be taken home as a fun memory.





There's also the Starry Sky Light Shower booth which is decorated with mirror balls that reflect the light as well as a wall featuring words and phrases said by the twins, the pink and light blue-coloured Kiki & Lala's Playroom where you can snap cute photos, the Glittering Moviegenic booth which uses your smartphone to watch an animation of Kiki & Lala, and more.

Fans of the twins can enjoy an exhibit of various artworks too, including the 8-meter tall Fantasy Wall which depicts the world above the clouds.

The day before the exhibition began, on July 9, Tokyo Tower was lit up in blue and pink Kiki & Lala colours from 19:30 to midnight. It was a special one-night experience.

If you're in Tokyo this summer, soar up high into Kiki & Lala's world at Tokyo Tower.

©'21 SANRIO 著作(株)サンリオ

Information

LittleTwinStars Summer Night Fantasy Meets Kiki & Lala Exhibition produced by LIDDELL

Running: July 10, 2021 – July 25, 2021

Event Site: https://sanrio.site/qY0AN