BABYMETAL Release Trailer For Live DVD & Blu-ray of Their Performance at The Forum in Los Angeles
BABYMETAL just dropped a trailer on their official YouTube channel for their upcoming live DVD & Blu-ray release LIVE AT THE FORUM which will hit shelves on May 13, 2020.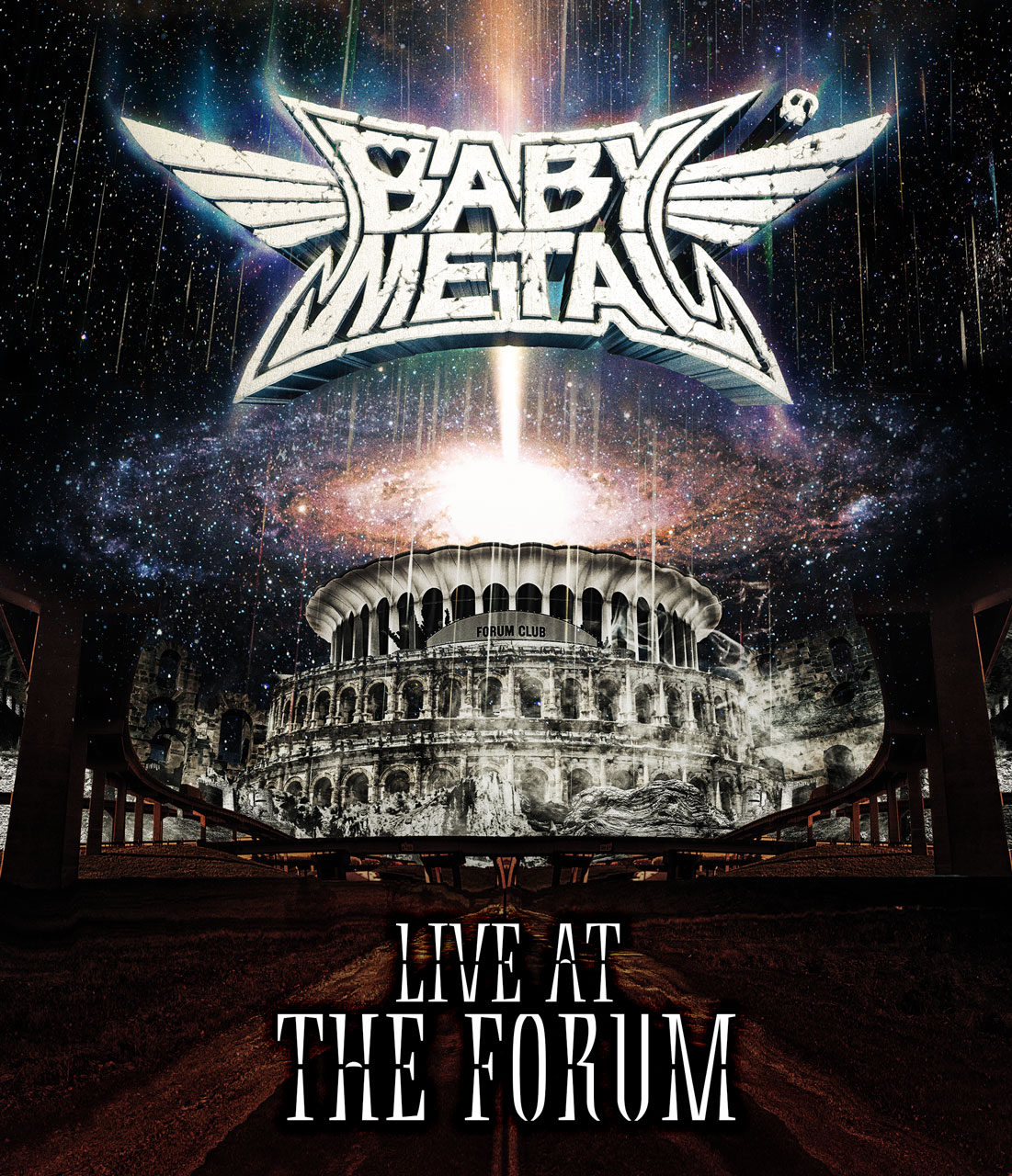 LIVE AT THE FORUM features the full set of BABYMETAL's concert "METAL GALAXY WORLD TOUR LIVE AT THE FORUM" which took place at The Forum in Los Angeles on October 11, 2019. Their first US arena show to date, the show was part of their METAL GALAXY WORLD TOUR to promote their third studio album METAL GALAXY which released three days prior to the show on October 8.
The trailer features scenes and highlights of the exciting "Metal Galaxy" themed night at The Forum, a venue which has welcomed countless rock and pop acts, such as The Rolling Stones, The Jackson 5, Elvis Presley, and many more.
BABYMETAL – LIVE AT THE FORUM Trailer
A programme will air on WOWOW Live on March 15 at 21:00 (JST) entitled BABYMETAL Live Selection – Odyssey to the METAL GALAXY – which will feature a compilation of BABYMETAL's live performances taken from the 8th chapter of the Metal Resistance. Their epic show at Makuhari Messe will also be shown in April and May.
Information
LIVE AT THE FORUM
Release Date: May 13, 2020
Set List: 15 Songs
Blu-Ray: ¥7,000 (Before Tax)/ ¥7,700 (After Tax) Catalog Number: TFXQ-78181
DVD: ¥6,000 (Before Tax) / ¥6,600 (After Tax) Catalog Number: TFBQ-18224
LIVE AT THE FORUM – THE ONE LIMITED EDITION –
Contents: Blu-Ray (1 Disc, 15 Songs), Live CDs (2 Discs, 15 Songs), APOCALYPSE (64 Pages *Subject to change)
THE ONE Limited Edition: ¥18,000 (Before Tax)/ ¥19,800 (After Tax) Catalog Number: ONEB-0023
Order Window: January 25, 2020 at 11:30 (JST) – March 17, 2020 at 12:00 (JST)
Buy: https://www.asmart.jp/p_90017126
*THE ONE LIMITED EDITION is limited to members of the official BABYMETAL fan club THE ONE
BABYMETAL Official Website: https://www.babymetal.com/en/
RELATED ENTRIES
BABYMETAL Launches Ticket Sales for STAY METAL STAY ROCK-MAY-KAN Online Concert

BABYMETAL will be celebrating 10 years since their formation with their ultimate live performance STAY METAL STAY ROCK-MAY-KAN which will be streamed online from 9pm on December 12, 2020. The live concert will be made available to fans who have joined their official club "THE ONE".

The virtual concert will include BABYMETAL's supportive message along with the live performance at Meguro Rokumeikan.

10 BABYMETAL YEARS presents "STAY METAL STAY ROCK-MAY-KAN" Trailer

A portion of the revenue gained from STAY METAL STAY ROCK-MAY-KAN will be invested in supporting Meguro Rokumeikan, which has been hit hard by the effects of coronavirus, BABYMETAL's live performance crew, and of course THE ONE fan club members, who have supported them this far. To find out how to tune in to the live concert, check out the STAY METAL STAY ROCK-MAY-KAN special edition website.

At the end of the event, BABYMETAL will unveil more news on their 10 solo concerts at the Nippon Budokan along with ticket information – an unmissable opportunity for any fan.

BABYMETAL Announce 10 Solo Concerts at the Nippon Budokan

In celebration of BABYMETAL's 10th anniversary, as the band turned 10 this year, they have announced that they will perform ten solo concerts at Japan's legendary Nippon Budokan in 2021.

BABYMEAL first performed at the Nippon Budokan back in March 2014 when they hailed as the youngest-ever female act to play there when they were around the ages of 14 and 15. The series of ten shows will serve to wrap up BABYMETAL's 10-year celebration following the release of their upcoming greatest hits album 10 BABYMETAL YEARS which will hit shelves on December 23, 2020.

Concert dates and ticket information will be announced at BABYMETAL's live show "STAY METAL STAY ROCK-MAY-KAN" which will be streamed this December. Stay tuned for updates.

BABYMETAL Reveal '10 BABYMETAL YEARS' Greatest Hits Album's Cover Art

BABYMETAL revealed last month that they are celebrating their 10th anniversary with the release of a greatest hits album entitled 10 BABYMETAL YEARS on December 23, 2020. The number ten is the focus of the record, which will celebrate ten years of the band with special selections of ten songs spread out across ten different album editions.

Regular Edition (CD/Vinyl) and First Press Limited Edition A copies of the album feature a celebratory 10-year artist logo.

First Press Limited Edition B copies come in a vinyl-size jacket with a new photo taken of Su-metal and Moametal. There are 10 variations of this design, so part of the fun is finding out which one you'll get at the store.

First Press Limited Edition C copies features BABYMETAL's 10-year anniversary logo with a colosseum design.

Both the THE ONE Limited Edition A and THE ONE Limited Edition B, which are exclusive to members of BABYMETAL's fan club THE ONE, feature a limited-edition variant of the band's celebratory logo.

There will be a Regular Edition released on CD and vinyl, First Press Limited Edition A which will include a Blu-ray with all 16 of their music videos on it, First Press Limited Edition B which comes in a special vinyl-size CD cover containing ten newly-taken photos of Su-metal and Moametal, and First Press Limited Edition C which includes Blu-ray featuring 10 LEGEND MOVIES—a special video of ten songs chosen by fans in the 10 LEGEND SONGS TOURNAMENT.

But that's only the beginning of the editions available. If you're a member of the BABYMETAL fan club, THE ONE, then you can get your hands on THE ONE Edition A which includes a karuta battle set (Japanese playing cards). THE ONE EDITION B comes with the 'Chronicle Set' which features a video containing interviews with the band members. Both of these editions come with special packaging.

Be sure to check out the official 10 BABYMETAL YEARS special website below for more information.

BABYMETAL Announce 10 Year Anniversary Greatest Hits Album '10 BABYMETAL YEARS'

BABYMETAL revealed on Saturday via their official website and social media pages that they are celebrating their 10th anniversary with the release of a greatest hits album entitled 10 BABYMETAL YEARS on December 23, 2020. The number ten is the focus of the record, which will celebrate ten years of the band with special selections of ten songs spread out across ten different album editions.

There will be a Regular Edition released on CD and vinyl, First Press Limited Edition A which will include a Blu-ray with all 16 of their music videos on it, First Press Limited Edition B which comes in a special vinyl-size CD cover containing ten newly-taken photos of Su-metal and Moametal, and First Press Limited Edition C which includes  Blu-ray featuring 10 LEGEND MOVIES—a special video of ten songs chosen by fans in the 10 LEGEND SONGS TOURNAMENT.

But that's only the beginning of the editions available. If you're a member of the BABYMETAL fan club, THE ONE, then you can get your hands on THE ONE Edition A which includes a karuta battle set (Japanese playing cards). THE ONE EDITION B comes with the 'Chronicle Set' which features a video containing interviews with the band members. Both of these editions come with special packaging.

Then there's the Su-metal Edition, Moametal Edition, and Kobametal Edition, each of which comes with all three different Prophet Cards included in all the other editions mentioned and each with unique serial codes. These three band member editions also contain ten songs chosen respectively by each member of their personal favourite tracks the band has put out.

To wrap it all up, a special X Edition will be release at a different date to the other editions and it will come with a mystery item that "Only The Fox God Knows" which will serve as the final piece of the puzzle to 10 BABYMETAL YEARS. The release date of the X Edition and what exactly it entails has yet to be announced.

The greatest hits album is just the tip of the iceberg for BABYMETAL's 10th anniversary celebrations. If you're a member of THE ONE, you'll gain special access to a video premiere of BABYMETAL's legendary performance at Meguro Rockmaykan, a venue in Tokyo that has a special place in the band's heart as it's the first place where they played their first-ever solo concert. The video premiere is scheduled for this December. Part of the proceeds earned from online tickets will be donated to both Meguro Rockmaykan and BABYMETAL's live crew who have been affected during the pandemic. Online tickets as well as the premiere date and time will be announced at a later date.

A book entitled Bessatsu Kadokawa Souryoku Tokushuu compiling ten years of BABYMETAL will also be released in Japan on October 13, 2020. It contains a long interview with Su-metal and Moametal as well as never-before-heard stories from band producer Kobametal from BABYMETAL's decade-long history, photos taken from live shows, a talk between Demon Kakka and Kobametal, and much more.

2020 is the year of BABYMETAL and the start of the 10th chapter of the Metal Resistance.

Information

10 BABYMETAL YEARS
Release Date: December 23, 2020

・Regular Editions
*First Press copies contain three one of three possible Prophet Cards
①Regular Edition (CD): ¥2,000 (Before Tax) [TFCC-86736]
Regular Edition (Vinyl): ¥5,000 (Before Tax) [TFJC-38045]

・First Press Limited Editions
*First Press copies contain three one of three possible Prophet Cards
②First Press Limited Edition A (CD+Blu-ray): ¥3,800 (Before Tax) [TFCC-86737]
[CD] All 10 Songs
[Blu-ray] All 16 Music Videos
③First Press Limited Edition A (CD+10 Vinyl CD Covers): ¥4,800 (Before Tax) [TFCC-86738]
[CD] All 10 Songs
[Vinyl CD Cover] 10 LEGEND ARTWORKS (Changeable Vinyl Covers)
④First Press Limited Edition A (CD+Blu-ray+Poster): ¥4,000 (Before Tax) [TFCC-86739]
[CD] All 10 Songs
[Blu-ray] 10 LEGEND MOVIES
[Poster] 10 LEGEND SONGS TOURNAMENT

・THE ONE Editions
⑤THE ONE A Edition -Karuta Battle Set: ¥12,000 (Before Tax) [ONEC-0024]
[CD] All 10 Songs
[Battle Cards] 42 Original BABYMETAL Karuta Cards
[Battle CD] KARUTA Battle Fight Track
[Battle Field] KARUTA Battle Field

THE ONE Limited Edition A Order Window
Running: October 10, 2020 at 00:00 (JST) to October 13, 2020 at 12:00 (JST)
*Orders will end on October 13, 2020 at 12:00 (JST), but there may be extra copies available afterwards depending on stock left

⑥THE ONE Limited Edition B – Chronicle Set: ¥24,000 (Before Tax) [ONEC-0026]
[CD] All 10 Songs
[Blu-ray Disc-1] Chronicle of BABYMETAL Interviews
[Blu-ray Disc-2] 10 Best Live Songs
[APOCALYPSE ~10 BABYMETAL YEARS~] 72-page photo book
[Big Flag]

THE ONE Limited Edition B Order Window
Running: October 10, 2020 at 00:00 (JST) to October 22, 2020 at 12:00 (JST)
*Orders will end on October 22, 2020 at 12:00 (JST), but there may be extra copies available afterwards depending on stock left

THE ONE Limited Edition A  & THE ONE B Edition – Where to Buy

THE ONE Limited Edition A – Karuta Battle Set: https://www.asmart.jp/p_90021961
THE ONE Limited Edition B – Chronicle Set: https://www.asmart.jp/p_90021962

・Prophet Editions
*Comes with all three different Prophet Cards and 10 songs chosen by Su-metal, Moametal, and Kobametal respectively
⑦SU-METAL Edition (Prophet Card S)
⑧MOAMETAL Edition (Prophet Card M)
⑨KOBAMETAL Edition (Prophet Card K)

X Edition
⑩X Edition

*Comes with "ONLY THE FOX GOD KNOWS" item. Release date and further details TBA.

10 BABYMETAL YEARS Special Site: https://www.toysfactory.co.jp/artist/babymetal/10babymetalyears
BABYMETAL Official Website: https://www.babymetal.com/en/

BABYMETAL Drop New Fire Music Video For 'BxMxC'

BABYMETAL  dropped a new music video on Thursday for BxMxC, a track included exclusively on the Japan Complete edition of their third studio album METAL GALAXY that was not featured on the international release.

The fire track has been a huge hit at live shows, with the band's first performance of it held during their concert METAL GALAXY WORLD TOUR IN JAPAN EXTRA SHOW LEGEND – METAL GALAXY which was held at Makuhari Messe on January 2020. The crowd went crazy, and have done so for every performance, including overseas where it had not been previously released—but as of Thursday, along with the music video, can now be listened to on Spotify outside Japan.

In BxMxC, Su-Metal shows off her hip-hop side with some sick flows, while Moametal provides her iconic screams, and both to the sound of a brutal beat.

The music video is the band's first to be recorded in a studio since KARATE back in 2016. Check out the full video below.

BABYMETAL -"BxMxC (OFFICIAL)


You can also hear the song live on the band's live album LEGEND – METAL GALAXY [DAY-2]. BxMxC will be released as a solo track on 12-inch vinyl in Japan on December 9, 2020.

This year marks the 10th anniversary since BABYMETAL formed, and they continue to deliver and break new ground in the metal scene.

BABYMETAL Announce Shopping Channel YouTube Stream 'BABYNET DA DA DA'

04.September.2020 | MUSIC

BABYMETAL have announced that they will stream their first ever shopping channel-like show on YouTube on September 9, 2020—which is the same date as the release of their DVD, Blu-ray, and live album LEGEND – METAL GALAXY—at 21:00 (JST). The stream will not be archived.

Since April this year, BABYMETAL has premiered past live concert footage on their official YouTube channel three times, giving fans around the world an at-home show experience. Now the band is trying something different with the announcement of their teleshopping stream.

BABYNET DA DA DA will focus on the upcoming LEGEND – METAL GALAXY, showcasing footage from the DVD and Blu-ray release and exclusive merchandise that comes with it.

BABYMETAL's LEGEND – METAL GALAXY concert held at Makuhari Messe will also be screened at cinemas around Japan for one night on September 10.

BABYMETAL Drop Trailer For LEGEND ‒ METAL GALAXY DVD & Blu-ray Release

BABYMETAL just dropped the trailer for their upcoming live DVD and Blu-ray LEGEND – METAL GALAXY, which is set to hit shelves on September 9, 2020.

The two concerts, held on January 25 and 26 this year at Makuhari Messe Internathional Exhibition Hall in Chiba, were added as extra shows to the Japanese leg of their ongoing "METAL GALAXY WORLD TOUR." They performed for close to 50,000 fans across the two nights, with 24 songs making up the set list. The shows were themed around a "Metal Galaxy," which is the title of their 3rd studio album, and which was split into two further themes for each night: Day one on January 25 was "World of Light" while day two on January 26 was "World of Darkness." BABYMETAL threw out the idea of a generic set list with these concerts, instead option for performing both discs from METAL GALAXY, one for each night respectively.

LEGEND – METAL GALAXY Trailer

Fans who purchase both either the DVD or Blu-ray together with the live album that will be released on the same day will enter the chance to win an official BABYMETAL cushion. Exclusive to Japan, only 100 people can qualify, and winners will be selected randomly.

Pre-orders for the live album open today. Their performances of Brand New Day (feat. Tim Henson and Scott LePage) and Headbanger!! from the album are now available to listen to early on Apple Music.

Information

Blu-ray & DVD

Release Date: September 9, 2020

LEGEND – METAL GALAXY (METAL GALAXY WORLD TOUR IN JAPAN EXTRA SHOW)

2 Blu-ray Discs (First Press Edition) [Day 1/2: 24 Songs]: ¥9,000 (Before Tax) [TFXQ-78184]

2 Blu-ray Discs (Regular Edition) [Day 1/2: 24 Songs]: ¥8,000 (Before Tax) [TFXQ-78185]

2 DVD Discs (Regular Edition) [Day 1/2: 24 Songs]: ¥7,000 (Before Tax) [TFBQ-18228]

LIVE ALBUM

Release Date: September 9, 2020

LEGEND – METAL GALAXY [DAY-1] (METAL GALAXY WORLD TOUR IN JAPAN EXTRA SHOW)

CD (Day 1: 12 Songs): ¥2,500 (Before Tax) [TFCC-86717]

CD (Day 2: 12 Songs): ¥2,500 (Before Tax) [TFCC-86718]

THE ONE Limited Edition: ¥24,000 (Before Tax) [ONEB-0026]

Buy Here: https://TF.lnk.to/LEGEND_METALGALAXYPR
BABYMETAL Official Website: http://www.babymetal.com

BABYMETAL Announces YouTube Premiere Of 2017 Hiroshima Concert

BABYMETAL's third YouTube premiere of one of their concerts has been announced, and it will be their 2017 show in Hiroshima 'LEGEND – S – BAPTISM.' The concert will premiere on their official YouTube channel on June 28, 2020 at 20:00 (JST). The video will not be archived.

BABYMETAL hit Hiroshima Green Arena twice on December 2 and 3 in 2017, just weeks before Su-Metal's 20th birthday. It was also Su-Metal's first time in Hiroshima. As the title of the concert 'BAPTISM XX' suggests, the concert was a look to the past and in the future, and marked the start of a new period.

BABYMETAL's last YouTube premiere took place on May 10 and was for the band's concert at The SSE Arena, Wembley in London in 2016. Like for that premiere, Su-Metal has once again designed new merchandise for the stream which will be available to purchase online for 24 hours only.

BABYMETAL Announces DVD & Blu-ray Release of JAPAN EXTRA SHOW LEGEND ‒ METAL GALAXY

BABYMETAL has announced that their concert "METAL GALAXY WORLD TOUR IN JAPAN EXTRA SHOW LEGEND – METAL GALAXY" which was held on January 25 and 26 this year at Makuhari Messe Internathional Exhibition Hall in Chiba will be released on DVD, Blu-ray, and CD.

The two concerts were added as extra shows to the Japanese leg of their ongoing "METAL GALAXY WORLD TOUR." They performed for close to 50,000 fans across the two nights, with 24 songs making up the set list. The shows were themed around a "Metal Galaxy," which is the title of their 3rd studio album, and which was split into two further themes for each night: Day one on January 25 was "World of Light" while day two on January 26 was "World of Darkness." BABYMETAL threw out the idea of a generic set list with these concerts, instead option for performing both discs from METAL GALAXY, one for each night respectively.

At the shows, giant LED screens materialised visuals of a metal galaxy, pulling fans space-bound into the galactic world of BABYMETAL. They performed several tracks live for the first time, including Oh! MAJINAI (feat. Joakim Brodén), Brand New Day (feat. Tim Henson and Scott LePage), Night Night Burn!, and BxMxC. BABYMETAL performed Road to Resistance as the final song of Day 1 with their Avengersーthe dancers who tour with BABYMETALーand the Kami Band, while Ijime, Dame, Zettai wrapped up Day 2.

Both days will be split into two separate DVD and Blu-ray releases. They will be released as Regular Editions, and a first-press edition will be released featuring a vinyl-sized CD cover. The shows will also be released on CD, coming as the first live albums from BABYMETAL since LIVE AT WEMBLEY in 2016.

A Limited Pressing Edition will also be made available to members of the BABYMETAL fan club THE ONE which is coupled with the Blu-ray copy, both CDs, a photo book, a special interview with Su-Metal and Moametal, and special packaging. These made-to-order copies went live on June 15.

Information

Blu-ray & DVD

LEGEND – METAL GALAXY (METAL GALAXY WORLD TOUR IN JAPAN EXTRA SHOW)

2 Blu-ray Discs (First Press Edition) [Day 1/2: 24 Songs]: ¥9,000 (Before Tax) [TFXQ-78184]

2 Blu-ray Discs (Regular Edition) [Day 1/2: 24 Songs]: ¥8,000 (Before Tax) [TFXQ-78185]

2 DVD Discs (Regular Edition) [Day 1/2: 24 Songs]: ¥7,000 (Before Tax) [TFBQ-18228]

LIVE ALBUM

LEGEND – METAL GALAXY [DAY-1] (METAL GALAXY WORLD TOUR IN JAPAN EXTRA SHOW)

CD (Day 1: 12 Songs): ¥2,500 (Before Tax) [TFCC-86717]

CD (Day 2: 12 Songs): ¥2,500 (Before Tax) [TFCC-86718]

THE ONE Limited Edition: ¥24,000 (Before Tax) [ONEB-0026]

Buy Here: https://TF.lnk.to/LEGEND_METALGALAXY

BABYMETAL Official Website: https://www.babymetal.com/jp/

BABYMETAL's Live at the Forum DVD & Blu-ray Tops Sales in Japanese Charts

BABYMETAL released their LIVE AT THE FORUM DVD and Blu-ray on May 13 which has gone and ranked in at number one on Oricon's Weekly Music DVD & Blu-ray Disc charts for the May 25 selection. This is the band's 6th release to reach number one on these charts, following LIVE AT BUDOKAN ~RED NIGHT & BLACK NIGHT APOCALYPSE~ on January 19, 2015. They stand alongside behemoth female acts such as Perfume who have reached number one in this category.

LIVE AT THE FORUM features the full 15-song set of BABYMETAL's concert "METAL GALAXY WORLD TOUR LIVE AT THE FORUM" which took place at in front of 17,500 fans at The Forum in Los Angeles on October 11, 2019. Their first US arena show to date, the show was part of their METAL GALAXY WORLD TOUR to promote their third studio album METAL GALAXY which released three days prior to the show on October 8.

Last year saw BABYMETAL take their "METAL GALAXY WORLD TOUR" around the globe. At the end of the tour, the band returned home to Japan for several shows, including two at Saitama Super Arena on November 16 and 17 and Osaka-jo Hall on November 20 and 21. These Japan shows are to be released on a new Blu-ray titled METAL GALAXY WORLD TOUR IN JAPAN and are now available in limited copies to members of the band's fan club THE ONE. Pre-orders are set to close on May 21, 2020 at 23:59 (JST).

BABYMETAL Announces Live at Wembley Stream On YouTube

Back on April 2, 2016, BABYMETAL performed their first ever arena show outside Japan at The SSE Arena, Wembley in London. Fans will now have the opportunity to relive that concert as BABYMETAL has announced that "LIVE AT WEMBLEY" will be released on their official YouTube channel on May 10, 2020 at 23:00 (JST).

The SSE Arena, Wembley has welcomed some of the biggest names in music history from The Beatles to T.Rex, The Rolling Stones, Bon Jovi, Pink Floyd, and more. BABYMETAL hails as the first Japanese artist to perform there.

LIVE AT WEMBLEY – ONLINE LIVE – Trailer

BABYMETAL recently streamed their "LIVE AT TOKYO DOME" show which was watched by fans around the world. The trailer for their "LIVE AT WEMBLEY – ONLINE LIVE" invites fans to don their BABYMETAL T-shirts, make the Fox God sign, and rock out at home. Additionally, for 24 hours, BABYMETAL is restocking some of their old merch online.

BABYMETAL to Participate in YouTube Music Week Stay Home #WithMe Project

BABYMETAL have been announced as part of the line-up for YouTube Japan's upcoming "Music Week Stay Home #WithMe" program which is set to run from April 29, 2020 to May 6, 2020, dates which run through Japan's Golden Week.


The program is being held in collaboration with record labels and popular music artists in Japan. 49 acts are confirmed for the line-up, each of which will stream past live performances at scheduled times using YouTube Premiere on their official YouTube channels.


BABYMETAL are set to post the second night of their "BABYMETAL – LIVE AT TOKYO DOME – BLACK NIGHT" concert held at Tokyo Dome on September 20, 2016. It will be posted on May 1, 2020 at 20:30 (JST).

BABYMETAL – LIVE AT TOKYO DOME – BLACK NIGHT
Premiering: May 1, 2020 at 20:30 (JST)

YouTube Music Week Stay Home #WithMe
*The timetable will be posted on YouTube Japan's official Twitter page.

Use this time to listen to music from your favourite acts in Japanーor perhaps to discover new artists!

Information

YouTube Music Week "Stay Home and Listen #With Me"
Running: April 29, 2020 – May 6, 2020

Taking Place: On artist's official YouTube channels
BABYMETAL Official YouTube Channel: https://www.youtube.com/BABYMETALofficial