Gluten-Free Vietnamese Bánh Mi Baguettes Sold at the New Bánh mi Tokyo
In Vietnamese cuisine, a Bánh mi is a baguette stuffed with various ingredients and served as a sandwich. It's a popular meal in Vietnam, and in recent years has seen an appearance in Japan.
Bánh mi Tokyo opened in Gaiemmae, Tokyo on March 16, 2020. They serve bánh mi with a Japanese taste, and their bread is made from 100% rice flour with no artificial flavourings or purified sugar.
Bánh mi are generally made with lard or margarine, but at Bánh mi Tokyo, they are made with with ingredients with good-quality oil content like rice koji sweet sake and nuts, which give them a richness and creaminess and remove things like trans-fats that are a burden on the body. This also greatly cuts calories and other fats too.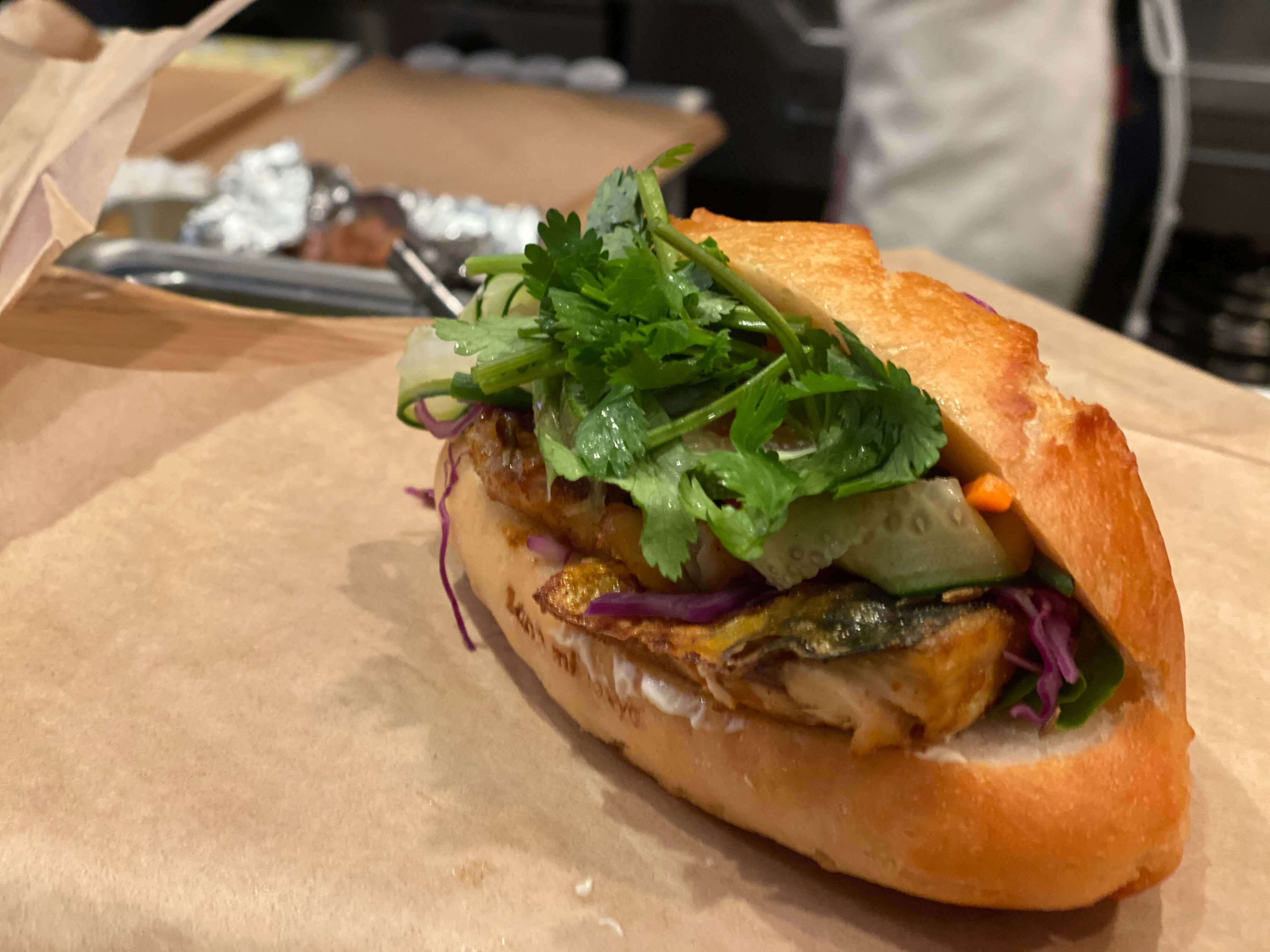 Mackerel Curry Bánh Mi
All bánh mi overflow with original flavours, from the chicken-filled "Standard Bánh Mi" to the "Mackerel Curry Bánh Mi" which is made with curry flavoured grilled mackerel, "Five Spice Char Siu Bánh Mi" stuffed with juicy pork belly, and more.
Bánh mi Tokyo also serves high-quality original coffees which are a must-try together with your bánh mi
Information
Bánh mi Tokyo
Address: 1F, 3-1-25 Jingumae, Shibuya, Tokyo)
Opening Hours
[Weekdays] Morning 8:30-9:30 / Lunch 11:00-15:00 (Last Orders 14:30) / Cafe 15:00-17:30 (Last Orders 17:00)
[Weekends & Holidays] Lunch 11:00-15:00 (Last Orders 14:30) / Cafe 15:00-18:30 (Last Orders 18:00)
*Please note that opening hours are subject to change as a result of the coronavirus. Check the cafe's official website for the latest information.
TEL: 070-4142-0868
Official Website: https://banhmi-tokyo.com/
RELATED ENTRIES
Snoopy's PEANUTS Cafe in Japan Collaborates With Pake On Leopard Print Zipper Bags

Four branches of the Snoopy-themed PEANUTS Cafe, as well as its online shop, launched a collaboration with the Japanese zipper bag brand Pake® on Friday (November 27) to release a collection of leopard print zipper bags.

PEANUTS Cafe Nagoya Gets New Interior Design Artwork

As part of the collaboration, PEANUTS Cafe Nagoya has put up a colourful piece of framed artwork on the first floor. At first glance, it looks like simple leopard print, but if you look closely, you can see Snoopy floating around in that colourful world.

PEANUTS Cafe x Pake Zipper Bag "The Clandestine" | ¥1,100 (Before Tax)

PEANUTS Cafe and Pake's collaborative zipper bags come in blue and pink, both with leopard print backgrounds visible thanks to the clear bag allowing you to also see the items you put inside.

Snoopy art from an old-time Peanuts comic

The artwork used on the zipper bag is taken from a Peppermint Patty story published in January 1975 over several days. It's the scene when Patty's dad is late arriving home and can't sleep so is invited to Snoopy's room. She jumps onto his waterbed and he goes flying up and down.

© 2020 Peanuts Worldwide LLC

Information

PEANUTS Cafe x Pake
Participating Branches: PEANUTS Cafe Nakameguro / PEANUTS DINER Yokohama / PEANUTS Cafe Kobe / PEANUTS Cafe Snoopy Museum / PEANUTS Cafe Nagoya
PEANUTS Cafe Online Shop: https://www.peanutscafe.jp/online/

Gucci's Shibuya Store Collaborates With Cassette Tape Shop waltz

To celebrate one year since opening, the Shibuya PARCO branch of Gucci in Tokyo is collaborating with the Nakameguro-based cassette tape shop waltz from November 20 to December 6.

waltz is a vintage-style boutique with shelves lined with old music and VHS tapes, cassette players, books, vinyl records, fashion and design magazines, stereo equipment, and more. Self-described as the "ultimate destination for retro multi media," the shop is a real nostalgia trip nostalgia, and is one of 13 Gucci Places alongside places like Chatsworth House in the UK and LACMA in Los Angeles.

Gucci Shibuya PARCO features its own booth where people can listen to old cassette tapes from waltz's Secret Room. The song selection includes tracks from the 1970's, which Gucci's Epilogue collection is inspired by, a playlist created by Gucci creative director Alessandro Michele, and more.

Gucci Shibuya PARCO incorporates Shibuya's creative and innovative spirit while lacing it with Gucci's contemporary and eclectic perspective.

Information

Gucci Shibuya PARCO x waltz Special Collaboration
Running: November 20, 2020 – December 6, 2020
Location: Gucci Shibuya PARCO
Gucci Japan Official Website: https://www.gucci.com/jp/ja/

SOAK: Tokyo's New Entertainment Restaurant & Bar Opens Bookings

Japanese creative company BAKERU has opened bookings for the new entertainment restaurant and bar SOAK which is set to open on November 13, 2020 on the top floor of MIYASHITA PARK's new brand hotel "sequence MIYASHITA PARK" in Shibuya, Tokyo. The restaurant will served up a 'Japanese innovative' menu made by Takeshi Nagashima of Nishiazabu 81 and Hideaki Nagaya of L'Effervescence.

An otherworldly restaurant and bar serving Japanese innovative cuisine

"BUILD NEO TOKYO" is the theme of SOAK. SOAK welcomes by Takeshi Nagashima of Nishiazabu 81 which delivers performance style-entertainment to customes, and Hideaki Nagaya of L'Effervescence, who was chosen for "JAPANESE CUSINE TOP 5 CHEF IN HONG KONG." Bartending will be Takashi Goto who has worked as the main bartender at Sake Bar DECIBEL in New York and Shampoo in Shinjuku Golden Gai.

An event and party space which can hold up to 100 people

Located just a 3-minute walk from Shibuya Station, SOAK can be used as a party and event space with a maximum capacity of 100 people whether it be a wedding reception or a gathering of friends, family, or business, as well as for events, catering to any and every need. The space was designed by Noiz, a leading interior designer in Japan. The monuments were designed by contemporary artist Akira Yoshida, while the audio design is by Acoustic Engineering and the music is selected by Hirokazu Yamasaki from the post-rock and instrumental band Toe.

OYU: The rooftop terrace offering a panoramic view of Shibuya

Take in a panoramic view of Shibuya atop the rooftop terrace, and enjoy the pool either in the sunlight or shrouded luxuriously in the night with gorgeous illuminations and a glass in hand.

The pre-opening is set for November 13, 2020, but this is subject to change depending on the state of the pandemic.

Information

SOAK

Pre-Opening: November 13, 2020

Address: MIYASHITA PARK North Floor 18F, 6-20-10 Jingumae, Shibuya, Tokyo

Opening Hours: 17:00-24:00 (Last Orders 23:30)

Closed: Mondays

TEL: 03-6427-9989 (17:00-22:00)

Official Website: https://soaks.tokyo/

Attack on Titan The Final Season Themed Cafe to Open in Ikebukuro

Two branches of Animate Cafe, Animate Cafe Ikebukuro 3 and Animated Cafe Nagoya 2, are set to collaborate with Attack on Titan from November 25 in promotion of the anime's upcoming final season which will begin airing on December 7. This marks Animate Cafe's fourth collaboration with the anime.

Menu

Animate Cafe held a poll amongst customers who dined at the previous Attack on Titan collaboration cafes to find out what the most popular dishes were. These have been chosen to go on the menu for this collaboration.

5 Years Colossal Hamburger & Mother's Handmade Stew | ¥1,000


Eren Meringue & Bertholdt Tart | ¥750


Hange's Experiment Drink | ¥600


Eren's Death Wish Drink | ¥600

New additions to the menu include Hange's Experiment Drink and Eren's Death Wish Drink.


The Final Season Special Rose Cake | ¥750


Gorgeous Champagne Jelly | ¥600

Original merchandise


Big Acrylic Stands (4 Designs) | ¥1,600


Trading Pins (A Group: 6 Designs/B Group: 7 Designs/C Group: 4 Designs) | ¥400 Each


Print Cookies | ¥1,000 Each (Comes with 1 illustration card)

©️Hajime Isayama・Kodansha / Attack on Titan The Final Season Production Committee

Information

Animate Cafe x Attack on Titan The Final Season
Running: November 25, 2020 – December 14, 2020

Locations: Animate Cafe Ikebukuro 3 / Animated Cafe Nagoya

*On November 25, November 27, and weekends, customers must sign up to dine at the cafes – those who sign up will be selected randomly. On all other days, it's free-entry where you don't have to book, but keep in mind that the cafe may still be busy on these days.
Official Website:  https://cafe.animate.co.jp/event/shingeki2011/

Sai Sai Jaran Jaran #10: SILENT SIREN's Hinanchu Visits Tokyo's New Hotel sequence MIYASHITA PARK

Sai Sai Jaran Jaran is a featured series here on MOSHI MOSHI NIPPON from the members of the all-female band SILEN SIREN (aka Sai Sai) who visit various hot spots in Japan and experience different things, the Sai Sai way.

In Episode #10, SILENT SIREN drummer Hinanchu wanted to go and stay at a hotel in Tokyo, so she decided to take a trip to sequence MIYASHITA PARK, a new hotel inside Shibuya's new landmark shopping complex MIYASHITA PARK which itself opened in August 2020.

The newly-reborn MIYASHITA PARK is a four-storey shopping complex with stores located on the first three floors and the top floor being home to the park. The park houses a range of exercise and sports sites like a skate park and bouldering wall as well as the green area and even a Starbucks. This park is so spacious that it's easy to forget it's right next to busy Shibuya Station. It has been open for three months now and is already adored by the community.


sequence MIYASHITA PARK is an 18-storey hotel that stands on the north side of MIYASHITA PARK. It can even be accessed from the complex's fourth floor park which leads visitors to the lobby lounge. The park side of the hotel is also home to a cafe called VALLEY PARK STAND.


VALLEY PARK STAND can be used by non-guests at the hotel too and is open from morning to night time. The windows tower from the floor to the ceiling, allowing plenty of natural light into the cafe. There's plenty of seating areas with table seats, sofas, and benches.


MIYA PITA CHICKEN SHAWARMA ¥900 | FRENCH FRIES & COCKTAIL COMBO ¥800 (Tax Included)

VALLEY PARK STAND is a cafe themed on a fictitious valley park, acting as one big park situated in the middle of bustling Shibuya. Adventuring through the valley park is best done with one of the cafe's signature "MIYA PITA" pita sandwiches in hand.


The cafe offers a selection of coffees, pastries, and pitas for lunch and breakfast. In the evenings, customers can switch to the bar to enjoy something alcoholic. Their original craft cocktails are very popular and are made by a bartender who honed their craft while working in New York.

Hinanchu ordered the "Park & Pomegranate Bellini." Normally hotel cocktails are small, but the ones served at VALLEY PARK STAND are much more generous.


The cafe even sell their own merchandise, from mugs to tumblers and even picnic blankets so you can have a picnic in MIYASHITA PARK if the weather calls for it!

For more information about VALLEY PARK STAND, check out our full breakdown here.

VALLEY PARK STAND
Address: sequence MIYASHITA PARK 4F, 6-20-10 Jingumae, Shibuya, Tokyo
Opening Hours: 7:30-23:00 (Last Orders 22:30)
TEL: 03-6712-5442

Instagram: https://www.instagram.com/valleyparkstand/

The hotel check-in lounge can be found on fourth floor, the same as VALLEY PARK STAND. Check-in uses a new unmanned self-service system so all you need to do is follow the instructions.


Guest rooms are simple but the furniture and fixtures are of high quality. Hinanchu stayed in the 4-person "BUNK BED 4" room. Prices vary depending on the season, but it can cost less than ¥5,000 for one person to stay in a 4-person room which is a bargain!


The wide windows in guest rooms look out across MIYASHITA PARK. Depending on the hotel room you're in, you'll also be able to see landmarks like Tokyo Tower and Tokyo Skytree. The windows also read "Hi, TOKYO!" on them which makes for the perfect photo opportunity.


All rooms are also fitted with reading material by young authors. If you scan the QR code next to their piece, you can learn more about them and even make a donation.


Check-in is at 17:00 and check-out is 14:00 so guests can enjoy their stay leading into the early afternoon of the next day. The MIYASHITA PARK shops open at 11:00, so after checking-out, guests can go straight to shopping or lunch.

So, how did you find MIYASHITA PARK, Hinanchu?

"I've always lived in Tokyo, so I never imagined I'd stay in Shibuya, but you can really feel like a queen staying here! Despite it being smack bang in the middle of Tokyo, it's right next to the park which feels good. I definitely recommend it to those who live in rural areas that want to come and play in Tokyo since places like Shibuya and Harajuku are close by. The hotel is littered with art and stylish design, so it's not simply a stay but a creative experience too which I think will be popular with foreigners. I want to come here again on my own for a relaxing time!"


On the fifth floor of the hotel is the restaurant and bar Dōngxī Restaurant & Sakaba which offers both breakfast, and dinner. The new entertainment restaurant and bar SOAK is also opening on November 13.

If you're thinking of staying in Tokyo or Shibuya, be sure to look up sequence MIYASHITA PARK.

Photo: Kayo Sekiguchi
Text: Sayoko Ishii

Translation: Joshua Kitosi-Isanga

 

SILENT SIREN


SILENT SIREN is a four-member all-female band consisting of vocalist & guitarist Sumire "Suu" Yoshida, drummer Hinako "Hinanchu" Umemura, bassist Aina "Ainyan" Yamauchi, keyboardist Yukako "Yukarun" Kurosaka. In 2015, they performed their first solo concert at Nippon Budokan, making them the fastest Japanese all-female band in history to perform there since making their major debut. In April this year, they launched their own YouTube channel called "Sai Sai Channel." They released their 7th album mix10th on September 2, 2020. The band celebrated their 10th anniversary with a special live performance at Yamanakako Communication Plaza Kirara on September 20, 2020. For the latest information on SILENT SIREN, visit their official website here: http://silent-siren.com/

Cute Miffy Travel Merchandise to be Sold at Pop-Up Store in Shibuya

Pinkoi, the company that runs Asia's biggest global e-commerce site of the same name, has announced a collaboration with Dick Bruna's popular character Miffy, who is celebrating her 65th anniversary this year. A special pop-up store that will open up at Hotel Koe Tokyo from November 19 to December 6.

Miffy fans can look forward to getting their hands on 180 different exclusive items made in collaboration with designers from Taiwan, Hong Kong, Thailand, China, and Japan

Pinkoi x Miffy 〜TRAVEL with Miffy〜

"TRAVEL with Miffy" is the name of the collaboration which features a collection of travel-themed Miffy goods.

Merchandise (Sample)

Re-Mask (Hong Kong) | Face Masks

Face masks have become a normal part of everybody's life this year as a result of the pandemic, so why not go for a cute design? These cotton masks were made by a face mask company in Hong Kong and come in a variety of colours such s white, pink, and navy.


agooday (Taiwan) | Food Eco Bag

An eco-bag perfect for taking to the supermarket when grocery shopping. The inside of the bag is made from vinyl so can be washed. Its small size also makes it conveniently compact for carrying around.


一帆布包 (Taiwan) | Drink Holder

This drink sleeve has a strap on it so you can carry around your hot or cold beverage like a handbag. These are made by a Taiwanese bag brand which has been going for over 30 years.


pupupu (Japan) | Bags

Cute bags with minimalist designs and made from warm and fluffy material perfect for the winter season. Miffy's ears are actually the handles.


寺沼麻美 (Japan) | Mobiles

These cute Miffy mobiles are all handmade, with swaying stars and clouds to help you drift you off to sleep.

Limited Edition Presents

Stickers / Tote Bag / Handkerchief

There's also a selection of goodies visitors can get their hands on. If they post on Twitter, Instagram, or Facebook using the hashtag #pinkoixmiffy while at the pop-up store they can get some Miffy stickers. If they spend over ¥8,000 they'll get the tote bag. Pinkoi members will get one of four possible Miffy handkerchiefs.

Special Website

A special page for the pop-up store will open on Pinkoi's official website on November 12 less than a week before the pop-up store opens so Miffy fans can order items online early.

Information

Pinkoi x Miffy 〜TRAVEL with Miffy〜 TOKYO Pop-up Store
Running: November 19, 2020 – December 6, 2020

Opening Hours: 11:00-19:00 (Open from 14:00 on November 19)

Location: hotel koe tokyo 2F pop up space

Address: 3-7 Udagawacho, Shibuya, Tokyo
Access: 5-minutes on foot from Shibuya Station's A6b Exit

Pinkoi Official Website: https://jp.pinkoi.com

Jurassic World Café by PARCO Opens in Singapore

PARCO Pte Ltd, the Singaporean division of Japanese department store chain PARCO, opened the new Jurassic World Café at ION Sky on the 56th floor of the ION Orchard shopping centre in Singapore on November 6, 2020. The café comes as the first Jurassic World Café to open in South East Asia and serves an original line-up of food and drink, an exhibit of everybody's favourite Velociraptor Blue from Jurassic World, a selection of exclusive merchandise, and more.

Jurassic World Café Singapore


The Jurassic World film series is hugely popular in Singapore, and so it's only fitting that the country gets its own themed cafe. The menu is diverse, consisting of a special selection created by PARCO's own The Guest Cafe & Diner as well as local food like Nasi Lemak, unique picks like the Brachiosaurus Mint Pandan beverage, and much more. There will even be a merchandise shop for fans to pick up a souvenir on their way home.

PARCO Singapore has collaborated with The Guest Cafe & Diner, a cafe which collaborates with franchises and of which there are five branches in Japan, on five separate occasions up and down South East Asia, including the Minions Cafe which opened for a limited time in Singapore in 2017. PARCO Singapore is continuing to expand its reach outside of Singapore with other collaborative cafes and exhibitions.

 

The Menu


Danger lurks at every corner in Jurassic World, and that fact is captured in the menu line-up.

Cafe Bonus Items


There will also be special gifts given to customers.

To see the full line-up, be sure to check out the official website below and pay a visit to Jurassic World Café Singapore.

Information

Jurassic World Café Singapore – A concept by PARCO
Location: ION Sky, ION Orchard Floor 56F, MRT Orchard, 2 Orchard Turn, Singapore 238801
Running: November 6, 2020 – January 3, 2021 (Closed November 13)
Opening Hours: 11:00-22:00
Official Website: www.jurassicworldcafe.sg

Tokyo and Fukuoka's Kirby Café Reveal Menu For Winter 2020

The chilly winter season is on the horizon, but Kirby Café Tokyo and Kirby Café Hakata will keep customers warm with their new winter menu which will be served from November 11, 2020 to February 28, 2021.

Kirby Café Winter Menu

Food

Winter Kirby Burger & Clam Chowder Pasta | ¥2,680 (Before Tax) *Comes with souvenir plate

Mogu Mogu Kirby's Poka Poka Pie Stew | ¥2,680 (Before Tax) *Comes with souvenir cup

Kirby is staying warm and cosy with his scarf on the burger and clam chowder pasta dish. For the stew, Kirby's entire face is made from pie.

Kirby's Hot Crumble Bowl | ¥1,980 (Before Tax)

This hot crumble is served in a cute Kirby bento box which you can take away with you.ス

Desserts & Drinks

Ice Dragon☆Pastel Cream Anmitsu | ¥880 (Before Tax)

Kirby Café's Authentic Oven Baked Pizza ~Berries and White Chocolate~ | ¥1,480 (Before Tax)

The Ice Dragon☆Pastel Cream Anmitsu is a Japanese-style dessert while the pizza is a dessert pizza perfect for wintertime.

Kirby Fighters 2 Menu

Wrestler Kirby Burger | ¥1,580 (Before Tax)

King Dedede & Meta Knight's Tag Dessert | ¥1,480 (Before Tax)

The cafe is also serving up a meal and dessert in collaboration with the new Nintendo Switch title Kirby Fighters 2.

Kirby Café Original Merchandise

Postcards | ¥150 Each (Before Tax)

Winter Blanket | ¥2,700 (Before Tax)

A selection of exclusive and seasonal Kirby Café merchandise.

Information

Kirby Café Winter

Running: November 11, 2020 – February 28, 2021

KIRBY CAFÉ TOKYO

Grand Opening: December 12, 2019

Address: Tokyo Skytree Town Solamachi Floor 4F (1-1-2 Oshiage, Sumida, Tokyo)

Opening Hours: 10:00-22:00 (Last Orders 21:00)

*No fixed holidays except where Tokyo Solamachi is closed

Reservations & Website: https://kirbycafe.jp/tokyo/

Kirby Café HAKATA

Grand Opening: March 12, 2020

Address: Canal City Hakata North Bldg. B1F, 1-2-1 Sumiyoshi, Hakata, Fukuoka, Fukuoka Prefecture

Opening Hours: 11:00-23:00 (Last Orders 22:00)

Reservations & Website: https://kirbycafe.jp/hakata/

IKEA to Open New 7-Floor Branch in Shibuya This November

IKEA Japan has announced that it will open a new branch in Shibuya, Tokyo, on November 30, 2020.

IKEA Shibuya comes soon after IKEA Harajuku which opened in June of this year. The new branch will boast seven floors: the first six will offer lifestyle products and open on November 30 while the 7th floor will house the restaurant which is set to open in Spring 2021.

A special pre-opening will be available to IKEA Family members on November 27 and 28 who can get their hands on products before anyone else at a special price. Members must book their place by November 10.

The Promised Neverland Cafe to Serve Up Themed Food and Drink in Tokyo

A special exhibition centred on the popular manga series The Promised Neverland will take place at Roppongi Hills Tokyo City View in Tokyo from December 11, 2020.

The Promised Neverland is a manga series written by Kaiu Shirai and illustrated by Posuka Demizu. The series was published in Weekly Shonen Jump and concluded with its final volume on June 15, 2020. A live-action film will be released in December while the anime adaptation's second season will air next year.

The exhibition will explore and celebrate the world of The Promised Neverland in detail, with displays, illustrations, early conceptions, and much more. A special 19-page manga episode written by Kaiu Shirai and illustrated by Posuka Demizu will also be shown.

Fans at the exhibition can also dine at CAFE GRACE FIELD,  the series-themed cafe opening up temporarily at Cafe THE SUN. Let's take a closer look and see what fans can expect to see at the cafe.

CAFE GRACE FIELD Collaboration Cafe

Illustrative photo showcasing the cafe

The Promised Neverland is set inside Grace Field House, an orphanage in a forest that houses children with no relatives. It's here that we meet the main characters: Emma, Norman, Ray, and Mom. CAFE GRACE FIELD is inspired by Grace Field House and the children who live in it, with food based on the characters and certain episodes in the series, a cafe latte you can order and get a free coaster with, and many other dishes, drinks, and desserts exclusive to the exhibition.

The Menu

Isabella's Burger | ¥1,480 (Tax Included)

A hearty hamburger inspired by Isabella, the Mom of Grace Field House, filled with a fat patty, tomatoes, and lettuce. It's served with chips which are topped with a key that opens all doors in the house.

Emma's Omelette Rice | ¥1,380 (Tax Included)

A serving of omurice (rice-filled omelette) which features Emma's trademark lock of hair that sticks up and orange edible flowers scattered over the tomato sauce, all to capture Emma's smiley personality.

Norman's Farm Green Curry | ¥1,580 (Tax Included)

A spicy green curry based on Norman standing in the fields of the forest. The plate includes the pen Norman finds which belongs to William Minevra, as well as the name Minevra written in Morse code around the outside of the dish.

Ray's Final Book Sandwich | ¥1,550 (Tax Included)

This dish is inspired by the scene when Ray gives Emma the last book he reads before escaping the house. The sandwich itself is made to look like the book and is filled with egg salad, crunchy fried fish, and tomatoes.

Full Score Parfait | ¥1,450 (Tax Included)

An assortment of ingredients based on the three main characters in the series who receive a full score: Emma (orange jelly), Norman (panna cotta), and Ray (chocolate pudding and cake). A parfait that's not overly sweet and displays each of the three characters' I.D. Numbers which are used for identification in the series.

Little Bunny Shortcake | ¥1,350 (Tax Included)

A mixed berry shortcake with Conny's precious Little Bunny on top. The bunny is made from milk pudding and sat on a bed of yogurt cream-filled fluffy sponge.

The House's Lantern Drink | ¥1,050 (Tax Included)

A lantern-style dessert drink with everyone from Grace Field House, topped with chocolate whip, frozen yogurt, and two pieces of orange inspired by Emma's hair.

The Promised Pendant Drink | ¥1,050 (Tax Included)

A refreshing combination of ginger ale, Calpis, and Blue Curaçao topped off with apple flavoured ice. The blue and green gradation of the beverage is based on the pendant given to Emma by Mujika, a key item of the story.

Emma's Cafe Latte, Norman's Cafe Latte, Ray's Cafe Latte | ¥850 Each (Tax Included)

Three cafe lattes with Emma, Norman, and Ray print on them. Every cup ordered gets you an original coaster. There are three coaster designs, each given randomly for every drink order.

Twitter Campaign – Christmas Edition Cafe Latte

Running: December 11, 2020 – December 25, 2020

From December 11-25, fans who answer the official Twitter quiz correctly have the chance to order the Christmas Edition Cafe Latte. Every cup ordered gets you a special coaster.

©Kaiu Shirai・Posuka Demizu /Shueisha

Information

THE PROMISED NEVERLAND SPECIAL EXHIBITION

Running: December 11, 2020 – January 11, 2021

Opening Hours: 10:00-22:00 (Last Entries 21:30)

Location: Roppongi Hills Tokyo City View Sky Gallery

Address: Roppongi Hills Mori Tower Floor 52F, 6-10-1 Roppongi, Minato-ku, Tokyo

Exhibition Website: https://yakuneba-ten.jp/

*Information about this event is subject to change without notice. Please visit the exhibition's portal site or Roppongo Hills Mori Tower's official website for the latest updates, cautions, and measures against COVID-19.

Marvel Superhero Cafe to Open in Harajuku This October

Japanese company LEGS is set to open a Marvel themed cafe for a limited time in the Omotesando and Harajuku area of Tokyo from October 30, 2020. The cafe's concept is centred on themes such as power, courage, talent, justice, and camaraderie, and will serve up a special menu inspired by the heroes of the Marvel universe.

The cafe will be decorated in all things Marvel, with Spiderman, Iron Man, and Captain America statues stood proud and ready to welcome customers. There will also be a photo spot in celebration of the upcoming film Black Widow which will be released in Japan first on April 29, 2021 and subsequently the US on May 7, 2021.

The menu line-up will be inspired by Marvel's roster of characters such as Spiderman, Iron Man, Thor, Captain America, Black Widow, and more.

The Menu

<Marvel> Paprikash | ¥1,599 (Before Tax)

A paprikash inspired by the one that Marvel demigod Vision makes in Captain America: Civil War. This one's sure to have you feeling assembled and ready.

<Captain America> American Tomato Pasta | ¥1,7900 (Before Tax)

A Japanese-style napolitan pasta with a tomato sauce that packs a punch to charge up your power.

<Iron Man> Evening Doughnut-Style Bagel Sandwich | ¥1,799 (Before Tax)

A bagel sandwich inspired by the doughnut eaten by Tony Stark under the sunset.

The Drinks

<Captain America> Ramune Soda | ¥1,099 (+¥700 for coaster) (Before Tax)

A bubbly ramune soda for when you're in need of a power kick, topped with a cherry.

<Marvel> Cafe Latte | ¥899 (+¥1,500 for mug) (Before Tax)

A cafe latte which comes with an original mug.

All customers who book in a table advance (¥650 per person before tax) and order from the themed menu will receive one of the above-pictured face mask cases from seven different designs.

Exclusive Merchandise

The cafe will also sell a range of original merchandise in several different designs such as the cafe logo, items based on the menu art, art from the Marvel movies, and more.

<Cafe Logo Series> Acrylic Keyring (6 Designs) | ¥750 (Before Tax)

<Menu Art Series> A4 Folder | ¥400, Bandana Handkerchief | ¥800 (Before Tax) *Available early November

<Movie Series> Avengers: Infinity War Postcards (8 Designs) | ¥250 (Before Tax)

Ⓒ 2020 MARVEL

Information

Marvel Cafe Produced by OH MY CAFE

Location: TOKYO BOX cafe&space Omotesando

Address: 6-3-7 Jingumae, Shibuya, Tokyo

Running: October 30, 2020 – November 29, 2020

Official Website: https://heroes.ohmycafe.jp/

Kawaii Bear Themed Cafe Menu Arriving at Tokyo's Q-pot CAFE. This Christmas

Q-pot CAFE. in Omotesando, Tokyo, has revealed its upcoming Q-pot CAFE. "KUMA"STMAS MENU which is set to be served from November 1 to December 25.

Happy Merry "KUMA"STMAS!

"KUMA"STMAS is a portmanteau of the Japanese word for bear (kuma) and Christmas. The cafe's cute menu is here to bring warmth and cosiness this holiday season.

Merry "KUMA"STMAS Plate w/ Drink – ¥2,060 (Tax Included)

A sweet assortment cute enough to tug your heartstrings.

Q-pot CAFE.'s pastry chefs take their time to delicately handmake the adorable bear's baby face oat milk cookie. The cookie is sat on top of a fluffy duvet of whipped cream, berry jam with fresh berries, and a chocolate génoise cake. It's a sweet and tangy combination of raspberry and strawberry.

The cookie-topped cake is also served with a rich pistachio cream Christmas tree.

Merry "KUMA"STMAS Bitter Caramel Milk Tea – ¥750 (Tax Included)

A warm and cosy beverage to heal your heart, mind, and soul. This baby bear looks sweet but has delightfully rich notes thanks to the caramel. The tea is one of the cafe's originals, the "Sweet Weekend," which has a refreshing after taste and goes perfectly with the caramel cream.

Merry "KUMA"STMAS Afternoon Tea Set | ¥2,400 per person (Tax Included) *Photo shows a set for two

If you love teddy bears, then this afternoon tea set is a dream come true.

Top Plate

The top plate is a delicate assortment of sweet and crunchy oat milk cookies, a glass dessert of fromage blanc and fresh orange jelly, velvet cupcakes topped with pistachio cream made to look like a Christmas tree, and creamy macarons.

Bottom Plate

The bottom plate is the savoury selection and comes with croissants stuffed with roast beef topped with honey mustard sauce, a rich potato potage, and skewers piercing olives, mini tomatoes, and pickles.

Special Novelty <Teddy Bear Message Card>

Customers who book a table in advance to the cafe will receive a free teddy bear message card. These are limited in stock, so if you're in Tokyo don't miss out.

Information

Q-pot CAFE. "KUMA"STMAS

Location: Q-pot CAFE. Omotesando

Running: November 1, 2020 – December 25, 2020

Opening Hours: 11:00-19:00 (Last Orders 18:30)

Online Bookings: Tabelog

TEL :03-6447-1218

Bookable Slots: 11:00/12:30/14:00/15:30/17:00