Kyo no Ondokoro Marutamachi: Rent An Entire Kyoto Townhouse to Yourself
Kyo no Ondokoro Marutamachi is set to open in the Goshominami area of Kyoto on April 25, 2020. The single-accommodation hotel is a complete renovation of a traditional Kyoto-style townhouse.
Kyo no Ondokoro Marutamachi comes as the 7th branch of hotels from Kyo no Ondokoro. It's a single building to rent for up to 4 people, who can enjoy taking a soak in the man-made carbonated spring bath which is kind to the skin and hair, using the soft water shower, and getting ready in the spacious makeup corner. It's the perfect getaway for girl groups travelling together.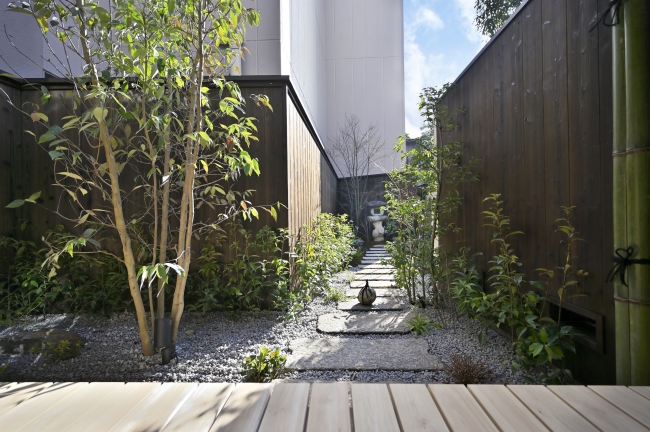 The hotel is in a convenient location for sightseeing in the ancient capital of Kyoto. The building has been completely renovated to adapt to modern lifestyle while still retaining those traditional elements of a Kyoto townhouse that was built during the Meiji Periodーand in an area that's rich in traditional scenery.
The lounge space sofa seats are inspired by Japanese rock gardens
The lounge space, which connects the second-floor bedrooms and the washitsu Japanese-style room, are furnished with unique round sofas. All the rooms open up to each other so guests can enjoy the company of each other during their travel stay.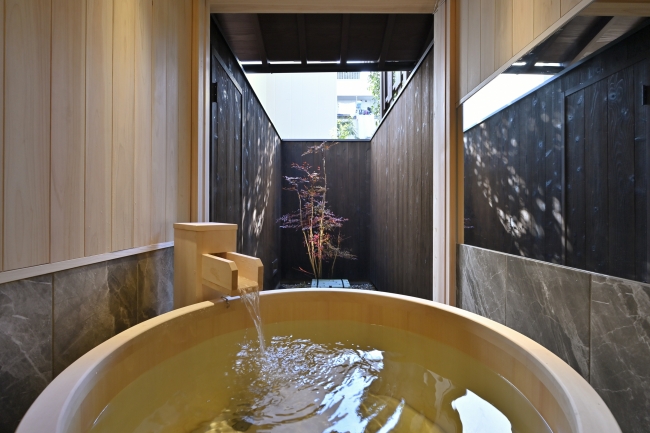 Hinoki cypress artificial carbonated spring bath
Amenities
The round bath is made from hinoki cypress, and the carbonated water lets you stay glowing and nice and warm after you step out of it. The bathroom is also stocked full of amenities like shampoo courtesy of popular brand THREE.
Up to four people can apply their makeup together in the makeup corner
The makeup corner is big enough to sit four people so they can get ready for their day or night out together while chatting.
Colourful art pieces also adorn the walls of the makeup room, Japanese-style room and elsewhere to add a touch of beauty to them.
If you're planning a trip to Kyoto with the girls then why not book at Kyo no Ondokoro Marutamachi when it opens on April 25?
Information
Kyo no Ondokoro Marutamachi
Address: 341-2 Shōshōiotabichō, Nakagyō-ku, Kyoto, 604-0873
Grand Opening: April 25, 2020
Price: ¥30,000 per night
Bookings: Opened on March 27, 2020
Offcial Website: https://www.kyo-ondokoro.kyoto/en/
RELATED ENTRIES
Shonai Hotel Suiden Terrasse Reopens With New Sauna Area

Shonai Hotel Suiden Terrasse reopened on April 29 after refurbishments to install a new sauna. The hotel, located in Yamagata Prefecture, is known for being situated atop rice paddies. Along with the sauna, it has also introduced a new spa program and healthy new menu made using organic vegetables grown by the hotel company itself.

An authentic Finnish-style sauna

The sauna is based on the Finnish-style löyly sauna, fully equipped with an authentic kiuas sauna stove inside which sauna stones are placed to heat up the room. Hinoki scented water is also used in the sauna.

The Sauna Features


Men's Sauna

The male sauna features hexagonal designs on the seats, ceiling windows, and bath. The seats can be moved around freely so guests can decide how high they wish to sit for optimal heat customisation. The sauna rooms overlook the rice paddies outside, and there's open-air baths outdoors too so guests can feel at one with nature.

Women's Sauna

The women's sauna is also a löyly type but uses raised benches instead of chairs. After sweating it out, guests can head to one of the outdoor baths and enjoy the view and sky.

There's also a bar where guests can order local beers, sake, and wine, as well as fruit juice and ice cream. While relaxing, they can pick out from one of the 1,000 books available.

As well as fitness and massage services, morning yoga will begin this June. The MOON TERRASSE restaurant is also introducing new healthy dishes and drinks made with organic local ingredients.

Stay in Harajuku's Yados Jingumae Hotel if You Love Art

Japanese company Rokuyon, which is responsible for creating a variety of hotel plans in Shibuya including at our own MOSHI MOSHI ROOMS, has launched a new project for guests of various hotels who are fans of brands and artists.

For their first endeavour, Rokuyon has teamed up with Yados Jingumae which has undergone major renovations. Guests staying in Room 202 this spring can enjoy a range of artworks as part of the room's exclusive Harajuku Night Owl Art Exhibition, while in summertime Room 301 will incorporate furniture by Sekai Class.

Yados Jingumae Room 202: Harajuku Night Owl Art Exhibition

Living room

Bedroom

Artist room

Participating Artists

CHiNPAN | April 23, 2021 – May 30, 2021

CHiNPAN began their career as an oil painter after getting selected at the 2008 Asia Creative Art Exhibition at The National Art Center in Tokyo. They explore the possibilities of oil painting by not limiting themselves to just paper. "Fusion" is the theme of their work which has taken them to creating visuals for shops, fashion, music, and more.

BANBU | June 10, 2021 – July 19, 2021

BANBU is a 24-y-ear-old artist who studied art abroad in Canada and New York after graduating at a vocational school in Japan. Currently based in Tokyo, they create colourful and eye-catching graphics with their three-eyed character.

Hotel Stay x Artists Come Together

"Harajuku Night Owl Art Exhibition" is the theme of Room 202 which will collaborate with different illustrators, video makers, photographers, and other artists every 1-2 months, shining the spotlight on each of their unique visions.

Yados Jingumae Room 301: Sekai Class

Hotel Stay x Furniture

Vintage furniture and artwork from around the world will be brought together in Room 301 so guests can experience a 'world living' experience. What's more is that all of the furniture, art, and items on display will be purchasable, and will change on a fixed schedule.

Go Diving in Fuji Five Lakes' Lake Mototsu in Summer 2021

This summer, glamping resort HOSHINOYA Fuji is offering guests a diving experience into the crystal clear Lake Mototsu, the third largest of the Fuji Five Lakes. The diving tour comes as a chance for people to reconnect with nature during the troubling COVID-19 times – to unwind and refresh.

A magical scene of lava, large trees, and freshwater fish

Lake Mototsu is one of Japan's most popular freshwater diving spots. There are restrictions in place for for boats when riding across the beautiful lake, which shimmers crystal clear because of water welling rather than flowing. Divers will be able to spot lake prawns, tachysurus nudiceps, and other lake life which sprouted during the Jōgan eruption in 864. Lava poured from Mount Fuji and created a space for the lake to form. Other sights under the lake include towering trees standing silently over 10-meters in height, water spurting up from holes, and more.

An expert guide will take you to the diving spots

The lava belt

Water swells from the holes

Submerged trees sit silently

Divers will be taken on a tour by a well-versed guide with 21 years in the industry who will lead them to spots based on guests' interests. The experience welcomes both beginner and veteran divers.

An afternoon nap in the forest tents

Due to the breathing control and water pressure that diving exerts, rest is important, and so HOSHINOYA Fuji has prepared a place for divers to enjoy an afternoon nap. They can enjoy the sounds of the forest as they lay suspended between the trees in a hammock-like tent.

Information

Freshwater Diving

Running: July 1, 2021 – August 31, 2012

Where: HOSHINOYA Fuji

Times: 11:00-18:00
Capacity: One group per day (up to two people)

Price: ¥35,000 per person (doesn't include tax, service charge, or accommodation fee)
Bookings: https://hoshinoya.com/fuji/  *Must be made 3 weeks in advance

Royal Park Hotel Begins Serving Limited-Time Desserts For Golden Week

For this year's Golden Week, Royal Park Hotel in Tokyo is serving up a limited-time selection of two desserts on its first floor cafe and bakery IKI: the Koinobori Roll Cake and Animal Sweets & Pastries, both of which are available now until May 5. It's also selling two different mont blancs for Mother's Day and Father's Day.

Carp streamer-inspired roll cake and animal pastries

Koinobori Roll Cake – ¥2,160 (Tax Included)

Animal Sweets & Pastries: Sheep Cheesecake, Bear Tiramisu, Rabbit Mousse – ¥540 Each / Piglet Pastry, Dog Pastry, Chick Pastry – ¥324 (Tax Included)

This line-up of takeout desserts and pastries are made at the hotel's own cafe and bakery IKI, all of which have been made to celebrate Children's Day which falls on May 5 every year. This includes a moist chocolate and strawberry carp streamer roll cake which is popular at IKI every year. There's also a cute selection of animal delights including the light and fluffy Sheep Cheesecake, mascarpone cream and coffee Bear Tiramisu, and a sweet and tangy Rabbit Mousse made from assorted berry mousse and jelly, as well as three pastries made to look like a chick, dog, and piglet.

Serving: April 29, 2021 – May 5, 2021

Happy Father's Day & Happy Mother's Day Specials

Mother's Day Mont Blanc / Father's Day Mont Blanc – ¥1,944 Each (Tax Included)

The Mother's Day Mont Blanc is a wonderfully light combination of strawberry jelly, fresh strawberries, white chocolate mousse, and strawberry cream. The Father's Day version is made with a fresh mascarpone cream, a mont blanc base that's made from chestnut and blackcurrant jam, chocolate cream, and caramelised nuts.

Mother's Day Mont Blanc: May 7, 2021 – May 9, 2021

Father's Day Mont Blanc: June 18, 2021 – June 20, 2021

 

Monthly Breads: May & June

Each mother, IKI releases limited-time breads or pastries. For May, customers can enjoy the rich Edamame & Bacon Parmesan France and the bitter Chocolate Cream Cornet. In June, there's an Orange Cream Cornet made with sliced orange peel, and the Tomato Rustic which is crunchy on the outside and soft in the middle, combining tomato and cheese. There's also Shokupan made with matcha and large-grained adzuki beans.

Edamame & Bacon Parmesan France / Chocolate Cream Cornet (Dark Chocolate) – ¥302 Each (Tax Included)

Orange Cream Cornet – ¥302 / Tomato Rustic – ¥302 / Shokupan (Matcha & Adzuki Bean) – ¥648 (Tax Included)

May Monthly Bread: May 6, 2021 – May 31, 2021

June Monthly Bread: June 1, 2021 – June 30, 2021

Information

Royal Park Hotel Golden Week Desserts

Start Date: April 29, 2021

Where: IKI

Address: royal Park Hotel, 2-1-1 Nihonbashikakigarachō, Chuo-ku, Tokyo

Official Website: https://www.rph.co.jp/event/GWevent2021.html

Non-Alcoholic Cocktails Made With Vinegar Get Served at Tokyo's Royal Park Hotel

Royal Park Hotel is collaborating with the Japanese condiment brand Mizkan, which is known for its vinegars, mustards, salad dressings and more, to serve non-alcoholic cocktails made with vinegar. The Non Alco-Vinegar Cocktail Fair will be held from May 1 to June 30.

Royal Park Hotel x Mizkan

Tropical Princess/FLORAL BEAUTY Vinegar Cashew/Frozen Fruity Su/Blueberry Black Vinegar Soy Milk Shake/Vinegar Fruit Yogurt/Ponzu & Tomato Ginger

The non-alcoholic vinegar cocktails were created for both drinkers and non-drinkers of alcohol as a way to enjoy the food scene more. The alcoholic drinks used in cocktails gives them a kick, and so does vinegar when used in food. These beverages combine vinegar with a range of fruits, teas, carbonated water, and other ingredients.

The line-up was conceived by the Vinegar Club who have also posted recipes for various cocktails on their website – links below.

Enjoy a Picnic Under Okinawa's Starry Night Sky on Taketomi Island

HOSHINOYA Taketomi Island, a hotel resort in Okinawa, is bringing back its night time picnic plan this year where guests can sit on sofas by the beachside with the gorgeous starry sky overhead. The plan is called "Hoshi Furu Yoru no Teingaara Picnic" (Starry Night Milky Way Picnic). Teingaara (てぃんがーら) is Okinawan for the Japanese word for Milky Way (Ama no Gawa, 天の川). It will run from June 1 to August 31.

Gaze at the Milky Way beside the tranquil seaside

Aiyaru Beach is just a five-minute walk from HOSHINOYA Taketomi Island, and it's here where guests can enjoy a breathtaking view of the Milky Away. The beach is situated away from any hustle and bustle, and not many people visit at night, allowing for a chance to enjoy the sound of the waves. Plus, there aren't many days when people have picnics when the moon is out, meaning guests can enjoy a more quiet and private picnic under the moonlight on a comfy sofa.

A fancy picnic inspired by the Milky Way

Tuck into a very special picnic based on the Milky Way made with Taketomi Island's famous Japanese leek, papaya, purple yam, and other delicious veggies as well as island tofu cream and miso. The set comes with a sparkling wine which captures the deep hues of the night sky.

A conversation with the stars

An expert on the Ishigaki Island and the stars will take guests on a journey through the stars, offering commentary on the island's beauty and culture.

In March 2018, the Yaeyama Islands, which includes Taketomi Island, were recognised by the non-profit organisation International Dark‑Sky Association as Japan's first International Dark Sky Park for its distinguished quality of starry nights. The Yaeyama Islands have a lower latitude than Tokyo meaning many more stars can be seen in the sky. Summertime is the best season for enjoying its stars too.

Information

Hoshi Furu Yoru no Teingaara Picnic"

Japanese Plan Name: 星降る夜のてぃんがーらピクニック

Running: June 1, 2021 – August 31, 2021

Closed: June 20-25, July 19,-24, August 7-22.

Times: 20:00-21:30

Price: ¥30,000 per group (does not include tax, service charge, or accommodation fees)

Capacity: 1 group of two people per day
Bookings: https://hoshinoya.com/taketomijima/

*Bookings must be made 14 days in advance

*Picnic will not run if the weather is bad

*Picnic ingredients subject to change depending on stock

KOGEI Art Fair Kanazawa 2021 to Showcase the Craftsmanship of Kanazawa

KOGEI Art Fair Kanazawa 2021 is set to be held at Hyatt Centric Kanazawa from November 26 to November 28. The event is also taking submissions for the exhibition gallery.

Scenes from KOGEI Art Fair Kanazawa 2019

KOGEI Art Fair Kanazawa is an annual art fair that has been held in Kanazawa, Ishikawa, since 2017, showcasing the best of the region's craftsmanship. The event is taking submissions from both young up-and-coming artisans to seasoned craftsmen. Kogei is a branch of fine art unique to Japan that promotes traditional Japanese culture such as the tea ceremony, the essence of zen, Noh theatre, and more.

This year marks the 5th run of the art fair and will be its first collaboration with Hyatt Centric Kanazawa which opened in August of last year. The hotel will display many works from local artists and act as a hub for the promotion of Ishikawa's culture.

Information

KOGEI Art Fair Kanazawa 2021
2021/11/26 @ 13:00-19:00 (First View)
2021/11/27 @ 11:00-19:00 (General Opening)
2021/11/28 @11:00-18:00 (General Opening)


Location: Hyatt Centric Kanazawa (Floors 5F & 6F)

Address: 1-5 Hirooka, Kanazawa, Ishikawa 920-0031, Japan

Price: ¥2,000 (for two days)

Exhibits: 30-40 exhibits to be displayed from both Japan and overseas


Tickets

Sign-up window: April 19, 2021 – June 25, 2021 at 18:00 (JST)

Sign up here: https://kogei-artfair.jp/ 

Hoshino Resorts OMO3 Kyoto To-ji Opens For Business

The all-new Hoshino Resorts OMO3 Kyoto To-ji hotel opened its doors on April 15, 2021, welcoming guests to the surrounding area home to To-ji, Kyoto's famous Shingon Buddhist temple. The hotel's concept is "The Heart's Trip Through Time and Space," and aims to showcase to guests the sights and wonders of the To-ji area. The temple itself, which is listed as a UNESCO World Heritage Site, is just a 5-mintue walk from the hotel.

To-ji has a long history dating back to 796 when it was founded. Its 1,200 year or so history has spanned multiple periods of Japanese history. In 823, the Emperor Saga honoured the Japanese monk Kukai and bestowed the temple to him. Kukai made To-ji the central seminary of esoteric Buddhism and built various buildings such as the pagoda and halls. Since then, To-ji has been the headquarters of this esoteric sect of Japanese Buddhism. It is a hot spot for tourists and a sight many have most likely seen when looking up must-visit locations around Kyoto.

Inside the hotel

A delightful assortment of menu items

A stroll around To-ji

National Treasure morning walk

Two artworks: "Mandala Art" and "Hohoemi Wall"

Sand table for writing characters

Deepen your knowledge at the Shinbashira book table

OMO Hotels introduce their guests to the local area's secrets, allowing them to jump right in to all that's on offer. It acts as a resort of sorts with the hotel at the centre and the local sights within walking distance. To enjoy all there is to see, OMO offers the Go-KINJO tour guide service which comes in two forms: Go-KINJO Map and Go-KINJO Activity. Both have guests led by an OMO Ranger who are experts in the area and will take guests to see various locations while providing commentary.

On their tour, guests can learn all there is to know about the To-ji area, both past and present. That includes information about famous local stores not listed in guidebooks. It's an opportunity to discover the true To-ji area from when the temple was built to today by actually walking around seeing the sights yourself.

'hotel tou nishinotoin kyoto by withceed' is a new hotel in Kyoto managed by Withceed Hospitality Management that held its grand opening on April 20, 2021.

Located just a 10-minute walk from JR Kyoto Station, the hotel is situated between Nishi Hongan-ji and Higashi Hongan-ji, two temples and UNESCO World Heritage Sites. The hotel's concept is Oku (奥) which is Japanese for "deep," "interior," or being at the "heart" of something. Its aim is to offer guests a place to dive deep into Kyoto's traditions and culture in a space that puts great focus on its interior design.




The design is built around themes of 'light and shadow,' 'distance,' and 'gloss' which expresses the notion of depth. The lattice windows and sliding doors pour in natural light, and the single boulder makes one think of being in a garden. It's a design to tickle the senses and imagination which in turn lets guests feel the depth of culture and being deep within the space.

The hotel has its own cafe/bar fusion called 'cafe&bar oku' which serves food and drinks from a range of Kyoto restaurants and cafes such Kyoto-style meicha tea from Ippodo Chaho, a tea shop that first established back in 1717, as well as a traditional Japanese breakfast rice porridge called okaisan made using Hachidai Megihei rice, and more. Customers can also enjoy drinks from Allpress Espresso, a New Zealand speciality coffee roaster setting up shop in Japan for the first time.

Information

hotel tou nishinotoin kyoto by withceed

Grand Opening: April 20, 2021

Address: 455 Nishinotoincho Shimogyo-ku, Kyoto-shi, Kyoto-fu 600-8327 Japan
TEL: 075-744-0144
Official Website: www.hotel-tou.com

Surround Yourself in Atami's Natural Environment and Relax With a Special Hot Spring Plan

Onsen ryokan hot spring inn SOKI ATAMI is collaborating with Shiseido's skin and mind brand BAUM to offer a special new accommodation plan for the spring season. SOKI ATAMI x BAUM -Fresh Verdure & Healthcare- will run from May 1, but pre-bookings are already open on SOKI ATAMI's website.

Free gift bag to the first 100 people who make a reservation

Enjoy deep relaxation with sachets filled with natural smells like wood

A candle-lit night under the starry sky

Fresh verdure and caring for one's health is the theme of this event which takes place deep within Atami. The plan includes the Forest Twin bedroom which is fitted with a half open-air hinoki area that faces the mountains and lets guests feel like they are surrounded by the new green leaves of spring. Rooms are also kitted out with amenities such as BAUM's Hydro Essence Lotion which captures the essence of fresh trees and shrubs. Guests are invited to experience Atami's hot spring culture and cuisine as they allow their mind and body to relax, ultimately benefitting their health. This season is known for its bounteous verdure and refreshing breeze, but it's also said to help alleviate the May blues which many Japanese people experience after starting school or work again, the negative feelings of the rainy season, and more, all of which can put one's spiritual state out of kilter. The scent of trees will rid guests of stress, nerves, and tension, and bring about relaxation, peaceful sleep, and a good detoxing.

BAUM is a skin and mind brand that helps support the strength of one's skin by focusing attention on the water storage, growth, and environmental protection of trees and forests while showing the importance of looking after your mind and body. The brand is giving free gift bags to the first 100 people that make a reservation to show how anyone can enjoy a sustainable life using an everyday item.

On the top floor of the inn is a tearoom where guests can make their own sachets using hinoki cypress. Guests can also enjoy the Aroamtic Room Spray and Aromatic Candles provided by BAUM, all to further aid in relaxation and restoration. In the evenings, the lights will be switched off at the cafe and be replaced with candlelight which will serve as a romantic replacement to shine against the overhead backdrop of the starry night sky.

Information

SOKI ATAMI x BAM -Verdure & Healthcare-

Japanese Plan Name: SOKI ATAMI × BAUM 〜新緑と養生〜

Running: May 1, 2021 – Late June 2021

Reservations: Now Open
Make a reservation here: https://x.gd/rH5wO
Official Website: https://www.so-ki.jp

Stay in Harajuku's New Hotel Produced by Rolling Roster of Artists

India-ink painter CHiNPAN is collaborating with Rokuyon, who is known for helping to create a range of unique accommodations such as MOSHI MOSHI ROOMS, to launch a new kind of hotel experience in Harajuku beginning on April 23, 2021.

The project's name is Harajuku Yofukashi Art Exhibition, with yofukashi being Japanese for 'staying up late.' It will invite a new artist or creator on board every one or two months as an opportunity for them to showcase their works.

One of the art pieces

Wall art

Works displayed in the living space

The bedroom with art pieces against the walls and on the ceiling

Private area

MOSHI MOSHI ROOMS Series

MOSHI MOSHI ROOMS is our own hotel site located in the heart of Harajuku's tourism: it is within walking distance of Takeshita-dori (Takeshita Street), Meiji-dori, the Ura-Harajuku area, and Omotesando. This makes it the ideal place to stay for travellers visiting Harajuku.

SAKURA | More details here

ORIGAMI | More details here

DOSUKOI | More details here

With art events and exhibitions cancelled or severely restricted due to the pandemic, this project serves as a get promotional opportunity for artists to display their works and for art lovers to appreciate them. It aims to grow and become a new way to enjoy art.

Information

Harajuku Yorufukashi Art Exhibition

Japanese Name: 原宿夜ふかしアート展

Start Date: April 23, 2021

Where: Yados Jingumae (Formerly Wind Jingumae)

Address: 2-26-10 Jingumae, Shibuya, Tokyo

Official Website: https://www.chillnn.com/1773daedf52237 

Mr. Osomatsu Themed Hotel Rooms Open Across Japan

KADOKAWA has announced that it's taking the Mr. Osomatsu themed hotel room from EJ Anime Hotel at Tokorozawa Sakura Town in Saitama, which ran from December 3, 2020 to March 31, 2021, to six hotels in Sapporo, Nagoya, Osaka, and Hakata starting on April 28.

Mr. Osomatsu anime freebies for guests

Design of the free mask case

Free coaster

The 'EJ' of EJ Anime Hotel stands for 'Entertainment Japan.' The hotel aims to have guests living inside the stories they love from a wide range of Japanese media from anime to manga, movies, tokusatsu SFX movies, idol culture, and more. As well as room decorations and the exclusive merch that will be on sale, the hotel is also offering a new kind of accommodation experience by incorporating videos, sounds, lighting, and more. Its restaurant will also offer a selection of food and drink in collaboration with various series including all-out full course dinners.

Due to its popularity with guests, the Mr. Osomatsu themed anime room is heading to six locations across Japan which are listed below.

©赤塚不二夫/おそ松さん製作委員会