Neon Genesis Evangelion Themed Clothing Collection Released in Collaboration With X-girl
Women's streetwear fashion brand X-girl has teamed up with Neon Genesis Evangelion to release a new collection of 15 T-shirt inspired by the internationally-celebrated anime series. T-shirts from the collection dropped on Friday last week online Calif, which has an international shipping option, as well as at various stores around Japan, and more items are set to roll out from mid-April.
Neon Genesis Evangelion is known for its deep story, memorable characters, and stylish expression. It had a huge influence on the anime industry and since its release has continued to influence countless series that have followed it.
The new collection by X-girl captures famous scenes from the anime series and its memorable characters. There are also iconic lines written in text on the T-shirts.
The short-sleeved t-shirts were released on May 27, while shirts and bags will drop around mid-April.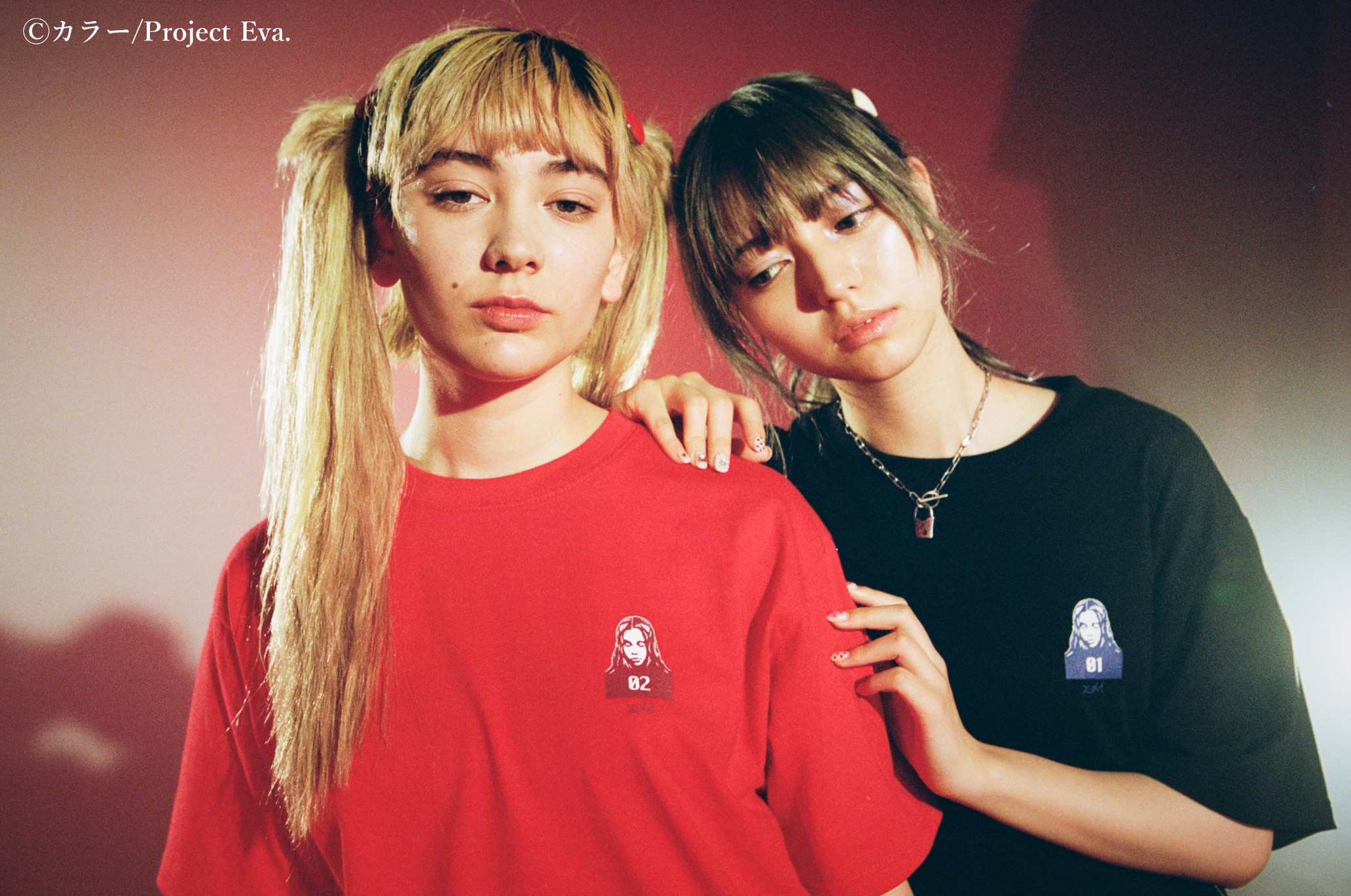 The new Evangelion: 3.0+1.0 animated film will be released on June 27, 2020. Get ready for it with a T-shirt from X-girl's new collection.

Ⓒカラー/Project Eva.
Information
X-girl x Neon Genesis Evangelion Collaboration
Sold At: All X-girl and XLARGE/X-girl stores in Japan, X-girl's official online store, EVANGELION STORE TOKYO-01, EVANGELION STORE SHINJUKU, EVANGELION STORE HAKATA, EVANGELION STORE OSAKA, EVANGELION STORE ONLINE
Official Website: https://x-girl.jp/en/news/202003/detail792
RELATED ENTRIES
Rei Ayanami Wears Red Lipstick in Anime Collaboration With Makeup Brand KATE

Kanebo Cosmetics released a 12-second commercial titled "Rei Ayanami, Her First Lipstick" on its official YouTube channel as well as on the official Twitter and Instagram pages of makeup brand KATE on November 4, 2020.

The commercial was released to promote "KATE Red Nude Rouge (EV)," a new lipstick released in collaboration with Kanebo Cosmetics' makeup brand KATE and the Evangelion franchise. The original voice actress for Rei, Megumi Hayashibara, reprised her role in the animated trailer which was created by illustrator and animator Yoneyama Mai.

About the collaboration

KATE's slogan is "NO MORE RULES" which encourages consumers to pick the colours they want to wear themselves without being tied down by society. This concept has led them to innovate in their makeup products, and is a concept that they believe connects with Rei Ayanami from the Evangelion franchise, which is what led to this collaboration.

Online pre-orders for this limited-edition lipstick opened on November 4. The product itself will launch online next year on February 2, 2021.

Rei Ayanami, Her First Lipstick

KATE Red Rouge (EV)

The vivid red lipstick comes in a palette together with an additional cream rouge colour, a brush, and a mirror.

Join Rei Ayanami in her first lipstick by picking up your own palette by KATE.

©カラー

X-girl Announces Ghost in the Shell: SAC_2045 Clothing Collaboration

Japanese women's street-wear brand X-girl has announced a clothing line-up in collaboration with the anime series Ghost in the Shell: SAC_2045 which will launch at X-girl and XLARGE/X-girl stores, as well as X-girl's online site, in Japan, on September 4, 2020.

The collection includes 1 long sleeve T-shirt and 3 short sleeve T-shirts.

X-girl x GHOST IN THE SHELL: SAC_2045 TACHIKOMA L/S TEE | ¥6,500 (Before Tax)

The long sleeve T-shirt features an illustration of the AI-endowed Tachikoma walking robot from the anime series reflected and shaped to look like the letter 'X' to represent the X-girl brand. The sleeves have the anime series logo and X-girl logo written down in the same fronts, giving them that near-future vibe.

X-girl x GHOST IN THE SHELL: SAC_2045 FACE IN PROFILE S/S TEE: ¥5,500 (Before Tax)

The first short sleeve T has the "Public Security Section 9" logo on the front which the series protagonist Motoko is linked to. The back has a scanning-like image of Motoko.

X-girl × GHOST IN THE SHELL: SAC_2045 MOTOKO S/S TEE: ¥5,500 (Before Tax)

This T-shirt also has the triangular Public Security Section 9 logo which has the city night sky coloured into it. The back of the collar has a plug print on it while the front has Motoko's plug code on it together with a graphic of the character herself looking tense in a firefight.

X-girl × GHOST IN THE SHELL: SAC_2045 FACE S/S TEE: ¥5,500 (Before Tax)

The final T-shirt in the lineup features a digital noise design, something which is seen a lot on the series, which an X-girl-like design.

This collection is a must-grab for fans of Ghost in the Shell, especially if you enjoyed Ghost in the Shell: SAC_2045, which is available to watch now on Netflix.

©S,IG/K/2045 

Neon Genesis Evangelion Escape Game Has You Dodging Lasers

Hakone Kowakien Yunessun, a hot spring amusement park in Hakone, began teaming up with Neon Genesis Evangelion on July 1 for a series of events. The newest event to be announced is the "Evangelion Laser Trap" escape game which is set to begin on July 23. The park's cave baths are also taking on a theme inspired by the Second Impact in Evangelion with special lights and sounds.

Evangelion Laser Trap Escape

Guests must become Evangelion characters and use their knowledge, experience, and whole body to make it through the dark room and avoid the red lasers. Those who clear the room will receive an original Evangelion sticker.

Second Impact Cave Baths

The cave baths will be illuminated with bright red lights inspired by the Second Impact cataclysm from Evangelion.

Evangelion themed food and drinks will be served at the event, and fans can get their hands on exclusive merchandise.

Information

Evangelion Laser Trap Escape
Running: July 23, 2020 – August 23, 2020
Location: Hakone Kowakien Yunessun

Opening Hours: 09:00-19:00 (Last Entries 18:00
Entry Fee: General ¥2,500 / Children (3-12 Years) ¥1,400

Participation Fee: ¥500 per person

Second Impact Baths

Running: January 10, 2020 – September 30, 2020

Location: Hakone Kowakien Yunessun

Opening Hours: 09:00-19:00 (Last Entries 18:00
Entry Fee: General ¥2,500 / Children (3-12 Years) ¥1,400

Participation Fee: Free

Official Website: https://eva-hakone.com/

Neon Genesis Evangelion x GU's Second Clothing Collection Releasing June 19

GU has revealed its next collaboration collection with the Neon Genesis Evangelion anime series which is set for release on June 19, 2020.

The collection features a diverse design line-up, such as the Eva-02 from the upcoming film Evangelion: 3.0+1.0 Thrice Upon a Time. Each item features characters, logos, and motifs from the franchise that any fan can recognise instantly. The collection includes t-shirts, hoodies, open shirts, and more.

The key visual illustrated exclusively for the collection features the Evangelion pilots donning the GU attire.

Orders Open For Neon Genesis Evangelion Exclusive Merchandise in Collaboration With 4 Brands

Four brands—tk.TAKEO KIKUCHI, Base Station, PLATINUM AURA, and UNBUILT TAKEO KIKUCHI—are teaming up with the popular anime franchise Neon Genesis Evangelion in promotion of the upcoming film Evangelion: 3.0+1.0 Thrice Upon a Time.

The items are set to roll out at WORLD ONLINE STORE from mid-June, each being a showcase of the brands as well as an expression of the popular anime franchise. The collection ranges from backpacks, tote bags and pouches to t-shirts, sneakers, and more. tk.TAKEO KIKUCHI will be releasing a special leather jacket featuring a large print on the back.

Be sure to check out the full collection in the lead up to Evangelion: 3.0+1.0 Thrice Upon a Time.

Evangelion: 3.0+1.0 Thrice Upon a Time Anime Film Collaborates With Eye Drops Brand Sante FX

Santen Pharmaceutical has teamed up with the upcoming anime film Evangelion: 3.0+1.0 Thrice Upon a Time to released limited edition versions of its eye drop products Sante FX NEO and Sante FX V+. The products went on sale on June 1, 2020.

The Sante FX series is a popular eye drops brand in Japan. It has previously collaborated with Evangelion in the past, with the last collaboration happening 8 years ago for the promotion of Evangelion: 3.0 You Can (Not) Redo. The product was promoted a series of commercials under the title "Refreshing Feeling Sante FX" which featured Evangelion references. They are doing the same for the new collaboration under the title "New Refreshing Feeling Sante FX."

Four different models will be released for both the Sante FX NEO and Sante FX V+ eye drops, including Shinji, Asuka, Rei, and Kaworu. Each features an original illustration of the characters along with colours that identify them.

A commercial was released to promote the products featuring narration by Kotono Mitsuishi who voices Misato Katsuragi in Neon Genesis Evangelion.

Sante FX x Evangelion CM


A special website was launched exclusively for the product where Sante FX are carrying out eye tests in Japanese. Users can answer questions to measure the "vigilance" of their eyes. The answers they get will also present them with the Evangelion character they are.

Women's streetwear brand X-girl has teamed up with toy company MediCom Toy to release their own BE@RBRICK bear. The product was released on calif on May 16, 2020.

BE@RBRICK is a collectable toy line created by MediCom Toy. Made up of just nine parts, the toy is made to look like a digital teddy bear as opposed to a traditional fluffy teddy bear. Its minimal design has allowed for a wide variety of collaborations with artists from around the world, anime series, films, and more.

X-girl's bear uses a clear pink body with a rainbow coating. The X-girl brand logo is plastered on the front, and the design is made in such a way as to identify both X-girl and MediCom Toy's influence.

The bear is available in three sizes: BE@RBRICK 1000% (70cm), BE@RBRICK 400% (28cm), and BE@RBRICK 100% (7cm). It comes in a set of two of these sizes and boxed in special packaging.

Glow in the dark

Be sure to check out this cute BE@RBRICK collaboration.

BE@RBRICK TM & Ⓒ 2001-2020 MEDICOM TOY CORPORATION. All rights reserved.

Evangelion: 3.0+1.0 T-Shirts Releasing by UNIQLO's UT Brand

UNIQLO's graphic T-shirt brand UT it collaborating with the forthcoming anime film Evangelion: 3.0+1.0 to release a collection of T-shirts at UNIQLO stores across Japan and their online store on April 17, 2020.

The film, which is set for release on June 27, 2020, will wrap up the Rebuild of Evangelion film series as the fourth and final entry. The T-shirts in the collection feature completely original and exclusive designs.

Designs take inspiration from memorable scenes

The collection is comprised of 8 original T-shirt designs which were drawn exclusively for UT, ranging from Evanglion Unit-01, Unit-00, and Unit-01 to popular character Kaworu, and the first-ever Unit-00 Berserk mode T-shirt design. Fans of the Evangelion world are sure to appreciate all the little details.

UT x Evangelion UNIQLO 2020 Spring/Summer


Delivered in an exclusive box with the Evangelion font

Those who purchase from the collection via UNIQLO's online store between April 10-23 will have their orders shipped in a special box bearing various words in the "Eva Font," such as the UNIQLO brand concept, the brand name's original "Unique Clothing Warehouse," and so on.

Due to the ongoing situation surrounding the novel coronavirus, select branches of UNIQLO in Japan are closed or have had their opening hours altered. Details can be found on their website.

Information

Evangelion UT

Release Date: April 17, 2020

Price: ¥1,700 (Before Tax)

Designs: 8

Available: UNIQLO stores in Japan / UNIQLO Japan online store

Product Page: https://www.uniqlo.com/jp/ja/contents/feature/ut-eva2020/

*Exclusive boxes come in one design and are available while supplies last

*Product manufacturing and distribution, as well as release date and so on are subject to extensions or change depending on the latest developments surrounding the coronavirus

Neon Genesis Evangelion Inspired Accessories to be Released by Q-pot.

Q-pot. is turning the world of Neon Genesis Evangelion into a delectable collection of dessert-themed accessories, which will go on sale at select Q-pot. shops, the Q-pot. pop-up shop in Seibu Ikebukuro, all EVANGELION STORE branches, and RADIO EVA STORE on April 2, 2020.

Let's take a look at what Q-pot. has whipped up in the accessory kitchen this time.

Macaron

Macaron (Unit-01/Unit-00/Unit-02/Unit-08/Mark.06) – Necklaces ¥9,000 Each (Before Tax), Bag Charms ¥8,000 Each  (Before Tax)

Modelled after Evangelion Units 01, 00, 02, 08, and Mark.06, and branded with the NERV logo, these macarons are coloured the same as the Plugsuits of their pilots, and are also topped with Entry Plugs.

Melty Melt

Melty Melt (Unit-01/Unit-00/Unit-02/Unit-08/Mark.06) – Necklaces ¥18,000 Each (Before Tax), Rings ¥15,000 Each  (Before Tax)

All of the necklaces and rings in the Melty Melt collection are handmade individually, and coloured beautifully like their respective Evangelions. The line-up is a loving homage to the series made into tasty and tempting-looking melted accessories.

Misato Biscuit Cross

Misato Biscuit Cross Necklace – ¥13,000 (Before Tax)

Misato Katsuragi is the operations director at NERV. This necklace is based on the cross pendant that she always carries with herーturned into a Q-pot-style biscuit. It reads 3310 (pronounced "Misato" in Japanese) on the back.

Longinus Folk

Longinus Folk Necklace – ¥16,000 (Before Tax)

Based on the Spear of Longinus, which is indispensable to the story of Evangelion, the tip reads "EVA" on one side and "Evangelion + Q-pot." on the other.

Lilith Sugar Cookie

Lilith Sugar Cookie Necklace – ¥10,000 (Before Tax) / Bag Charm – ¥9,000 (Before Tax)

Lilith was kept crucified to a giant cross in the deepest level of the NERV headquarters, Terminal Dogma. Lilith has been transformed into a cute sugar cookie necklace and bag charm, with chocolate and icing that looks so real you just want to take a bite.

Rei Capsule

Rei Capsule Necklace – ¥10,000 (Before Tax)

This necklace is inspired by Rei Ayanami, the First Child, and that includes it light purple and mint colours. The tablet reads "LINK" and "9mg."

EVANGELION x Q-pot. Special Package

01: Accessory Tin

The items in the Melty Melt series, the Misato Biscuit Cross Necklace, the Longius necklace, and the Lilith Sugar Cookie items all come in this original Evangelion x Q-pot. tin.

02: Accessory Bag

The Macaron items and Rei Capusle necklace are packaged in a special seal bag.

EVANGELION x Q-pot. (Limited Stock)

Those who spend over ¥30,000 (before tax) on these items are Q-pot. shops, the Q-pot. pop-up shop in Seibu Ikebukuro, and EVANGELION STORE branches will receive one of six possible postcards. These are limited in stock and so are a super rare collectable.

Information

EVANGELION x Q-pot. Accessory Collaboration

Release Date: April 2, 2020

*Direct sales will change to made-to-order once all in-store stock has been sold. Orders available until April 15, 2020.

*When stock sells out on the Q-pot. ONLINE SHOP, stock will change to made-to-order the following day.

*Items will be shipped from mid-June 2020. This is subject to change depending on the condition of production.

*On the first day of sales, all items will be limited to one per person.

Buy at:

①Q-pot. stores (From 10:00 A.M.)

 Omotesando/Tokyo Sky Tree Town Solamachi/LUCUA 1100/Q-pot. ONLINE SHOP/Q-pot. INTERNATIONAL ONLINE SHOP/Seibu Ikebukuro Pop-Up Shop

②EVANGELION STORE ONLINE (From 10:00 A.M.) *Made-to-order only

③EVANGELION STORE

*Sales will open at each respective branch's opening hours

④RADIO EVA STORE (Shibuya PARCO) Seibu Ikebukuro

*Stocking only April 2, 2020 – April 15, 2020

*RADIO EVA STORE sales will be announced on Twitter at a later date

*Not available at RADIO EVA ONLINE or RADIO EVA STORE e-commerce website

*This information is correct as of March 17, 2020. Subject to change without notice.

Q-pot. Official Website: http://www.q-pot.jp/news/2020/03/1199.html

EVANGELION STORE Heads to Shopee Thailand

BeeCruise, a company that supports the expansion of Japanese content overseas, has joined hands with the official Evangelion e-commerce site EVANGELION STORE, which is run by Ground Works, to make the EVANGELION STORE available in more countries around the world. The store hit the Thai branch of Shopeeーthe largest e-commerce site in Southeast Asiaーon March 4, 2020.

EVANGELION STORE first appeared on Shopee Taiwan in 2019. Since then, it expanded to Shopee Singapore and Shopee Malaysia in January this year. Shopee Thailand will be its fourth excursion, and to celebrate its opening, customers can get 10% off products on Shopee Thailand now until March 25, 2020 when they follow EVANGELION STORE.

The EVANGELION STORE release an official statement saying: "To all Evangelion fans, we are incredibly happy to be able to bring the official merchandise of EVANGELION STORE to you all. The final Evangelion film [Evangelion: 3.0+1.0] will be released on June 27, 2020. We ask for your support in getting excited about Evangelion!"

Find your favourite merchandise on the EVANGELION STORE today.

Neon Genesis Evangelion Themed Food Buffet to be Served at The Strings Hotel Nagoya

The Strings Hotel Nagoya has announced a special collaboration with the internationally-celebrated anime series Neon Genesis Evangelion. The hotel will serve up an Evangelion-themed buffet titled "Evangelion Buffet ~The Time Has Come~" which will be served at the hotel from February 15 to March 22 this year.

The Strings Hotel Nagoya sits at the doorstep of Sasashima-Raibu, making it one of the first places you will see upon arriving there. As part of the Evangelion Chukyoen Project, which aims to promote Evangelion to the world from Sasashima-Raibu, the hotel is hosting this very special themed buffet which will consist of an assortment of food, drinks, and dessertsーall serve Strings Hotel-style.

A statue of popular Evangelion character Kaworu Nagisa will be located on the first floor lobby, and there will also be a rally held to decipher a code.

The food menu is made up of 15 unique Evangelion-inspired dishes, such as the Misato Katsuragi Roast Pork, Pen Pen Penne Arrabbiata, Angel Attack, and more. Fans can also tuck into one of the 12 delicious desserts, like the Evangelion mecha coloured desserts, the "Hazelnut & Lemon Opera ~NERV~" based on the Nerv organisation, and more. For beverages, there's a selection of 9 soft drinks including 6 original non-alcoholic cocktails.

The buffet will take place at the hotel's Rooftop Garden which will  be decorated in all things Evangelion.

Information

Evangelion Buffet ~The Time Has Come~

Running: February 15, 2020 / February 22-24, 2020 / March 7-8, 2020 / March 21-22, 2020

Opening Hours:

February 22-23, 2020 / March 21, 2020

→Reception Opens: 11:30 / Dining: 12:00-13:30 (90 Minute Slot)

February 15, 2020 / February 22-24, 2020 / March 7-8, 2020 / March 21-22, 2020

→Reception Opens: 18:30 / Dining: 19:00-20:30 (90 Minute Slot)

Details

Location: The Strings Hotel Nagoya's "Rooftop Garden"

Address: 4-60-7 Hiraikecho, Nakamura Ward, Nagoya, Aichi Prefecture

Prices: Adults ¥5,000 / Children ¥2,500 / 3-6 Years Old ¥1,000 / 0-2 Years Old – Free (Tax & Service Charge Included)

Event Details (Japanese): https://www.strings-hotel.jp/nagoya/recommend/party/banquet/7188.html

渚カヲル立像特別展示

期間:2020年1月10日(金)~2020年3月31日(火)

場所:ストリングスホテル名古屋1階ロビーレストラン「ニューヨークラウンジ」前

暗号解読ラリー

期間:2020年1月10日(金)~2020年3月29日(日)の土日祝日

場所:ストリングスホテル名古屋1階レストラン「鉄板焼匠」前

*用紙配布場所:中京テレビ本社1Fロビー配布時間:10:00~17:00

詳細:https://www.ctv.co.jp/eva/areainfor.html#quizrally

The Strings Hotel Nagoya Official Website (English): https://www.strings-hotel.jp/nagoya/en/

SMALL WORLDS TOKYO: New Details Drop On Sailor Moon & Evangelion Areas at Tokyo's Miniature Theme Park

The date has finally been revealed for the opening of the all-new SMALL WORLDS TOKYO in Tokyo's Ariake district: April 25, 2020.

The park will cover an 8,000m2 area across its four floors: the Departure Floor where visitors arrive at the doorstep of the world of SMALL WORLDS TOKYO, the Departure Lounge where you can enjoy delicious food from around the world, SMALL WORLDS where you are thrown into multiple different worlds, and the Creators Floor where you will get to see these miniature worlds being created on a day-to-day basis.

The main floor, SMALL WORLDS, is made up of seven areas: the Kansai International Airport Area, the Space Center Area, World Streets Area, Sailor Moon Area, Neon Genesis Evangelion Tokyo-3 Area, Neon Genesis Evangelion Evangelion Cage Area, and the newly-announced Tokyo Area which for now is a tentative title as they begin preparations for rolling out details about it.

A new photo has been released, as pictured above, of the highly-anticipated Sailor Moon Area. It showcases the outside of series protagonist Usagi Tsukino's house which the park confirms is now complete.

The Neon Genesis Evangelion Tokyo-3 Area will also feature a visual attraction that makes use for AR/VR technology. It was made in collaboration with South Korean director Jae Cheol Hong. The park will also open a "Special Area" which will feature a miniature remodelling of Shurijo Castle in Okinawa, which was destroyed last month as a result of a fire. It will open sometime next year, and be subsequently moved to SMALL WORLDS OKINAWA, a new site set to open in 2021.

The Citizens Rights Figure Program, which opened in August, received such overwhelming praise a second run began on November 29. The program scans a 3D model a person and have a figure of themselves placed in the area of their choice. The areas people can place themselves in this time are the Kansai International Airport Area, Space Center Area, and World Streets Area.

Information

SMALL WORLDS TOKYO Entry Passports

Entry Passports, Entry Passports (With Backyard Tour), and Annual Passports are available via the park's official website and Lawson Tickets.

Prices (Tax Included):
Entry Passports: Adults ¥2,700 / Middle & High School Students ¥1,900 / Children (4-11 Years) ¥1,500

Entry Passports (With Backyard Tour): Adults ¥5,600 / Middle & High School Students ¥4,800 / Children (4-11 Years) ¥4,400

Annual Passports: Adults ¥9,800 / Middle & High School Students ¥7,600 / Children (4-11 Years) ¥5,900

Tickets on Park Website: https://www.smallworlds.jp/en/ticket_en/

Tickets on Lawson Tickets: http://l-tike.com/smallworlds

 

Citizens Rights Figure Program – 2nd Run (w/ Annual Passport)

Price: ¥12,630 (¥10,760 for those under the age of 18) *Subject to change

Now On Sale

Official Website: https://smallworlds-figureprogram.jp

SMALL WORLDS TOKYO

Address: Ariake Butsuryu Center, 1-3-33 Ariake, Koto Ward, Tokyo

Opening Hours: 9:00-21:30 (Subject to change on weekends, holidays, and certain periods)

Official Website: http://www.smallworlds.jp/