Yowamushi Pedal Anime's 'Five Bridges of Amakusa' Ranks Number One in Places People Want to Visit Most
Seikatsu Guide, and online website that helps support and promote local regions around Japan, has announced its Top 10 selection for "Places I Most Want To Go And See (Western Japan)" as voted for by people.
Right now, most of us are under lockdown and are prohibited from making trips deemed unnecessary. So why not make a list of places you want to visit for when we can next travel? One of those places should be the Five Bridges of Amakusa in Kumamoto Prefecture.
"Yowamushi Pedal" Anime | Five Bridges of Amakusa in Kumamoto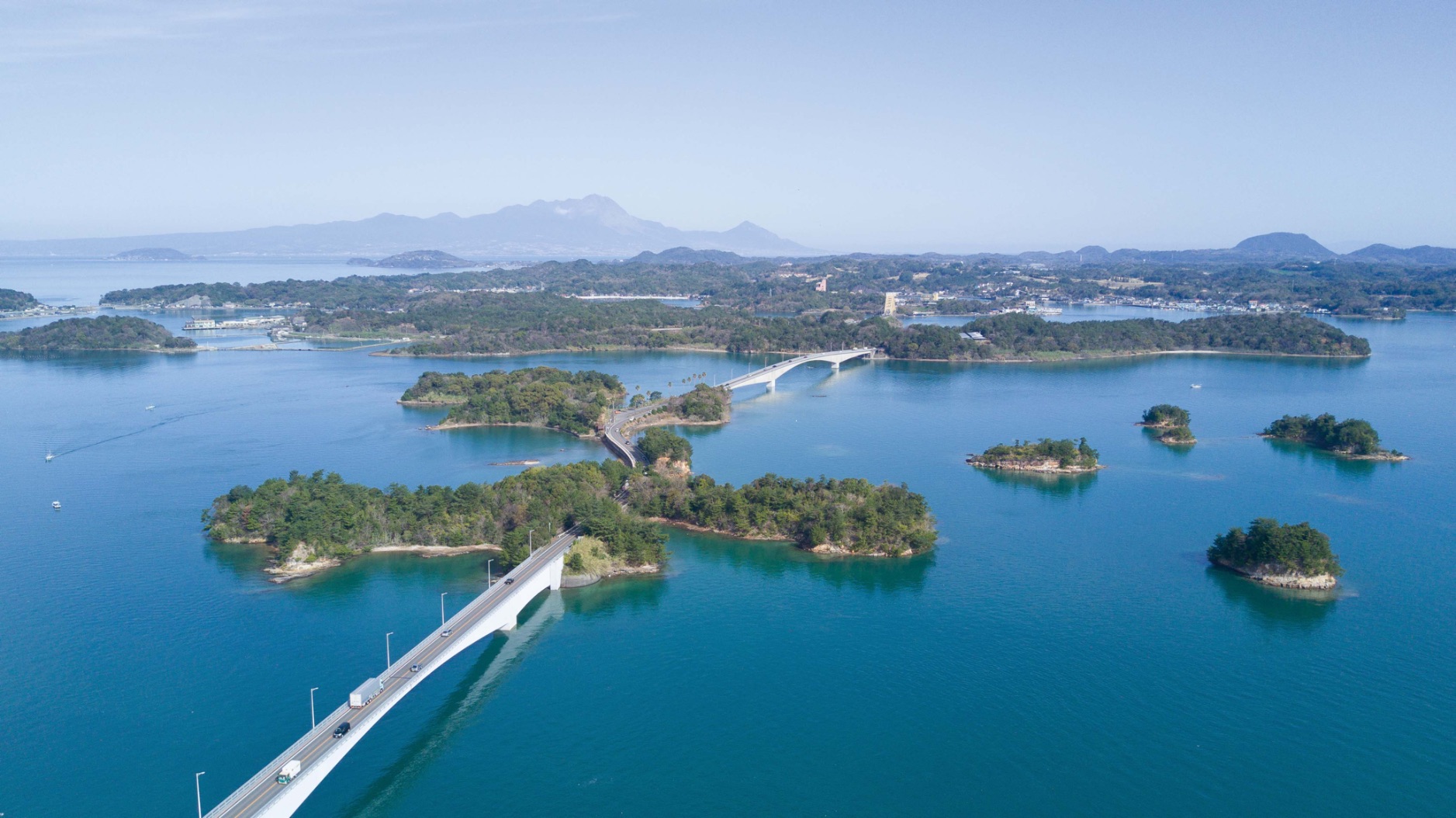 Taking the number one spot on the list is Five Bridges of Amakusa which is located in Kamiamakusa, Kumamoto. As the name suggests, five bridges make up the landmark, all of which stretch from Misumimachi and connect to Oyano Island, Nagaura Island, Oike Island, and Maejima Island. The bridges are a famous sightseeing spot and have been chosen as one of Japan's "100 Best Evening Spots" and "100 Best Roads."

One woman in her 30's said, "I've been there on numerous occasions. It's a really beautiful place." A man in his 30's also commented, "I love the [Yowamushi Pedal] manga. If you're going as a fan, that scene is really exciting, so I went there on my bike."
Comment from the person in charge of the Kamiamakusa Planning Committee
"Thank you for honouring us with 1st place in this […] ranking. Five Bridges of Amakusa features as the location for the race in the Yowamushi Pedal movie. It gets its name from its five bridges which connect the islands along National Route 266. The area is also nicknamed 'Amakusa Pearl Line' for the abundance of pearls that can be found here. It was also selected as one of Japan's 100 Roads. It's a truly beautiful bridge which is also an example of Japan's fine bridge building craftsmanship."
They continue: "Amakusa is surrounded by the beautiful ocean and spectacular mountains. Most of the city is located in Unzen-Amakusa National Park. There are islands that sit atop the glistening sea, and there's the Amakusa Alps which offer a spectacular view. It hails as one of Japan's best places for nature! There are many fun outdoor activities to experience, like dolphin watching, kayaking, cycling, and more. We have incredible food like kuruma prawns, which are a speciality food here, as well as free range local chickens. You can relax your mind and body with a dip in the hot springs while gazing at the ocean. Please be sure to drop by Kamiamakusa to enjoy everything it has to offer."
Other places that ranked on the list include the following.
2nd Place – "Manpuku" TV Drama | Porto Europe, Wakayama
3rd Place – STU48 Promotional Video | Chichibugahama Beach, Kagawa
4th Place – "Yatsuhakamura" Movie | Makido Cave, Okayama
5th Place – "Segodon" TV Drama | Tatsumonjizaka Trail (Ryumonjizaka), Kagoshima
RELATED ENTRIES
Home Cooking Themed Yowamushi Pedal LIMIT BREAK Collaboration Cafe to Open in Shibuya

Fans of Yowamushi Pedal won't want to miss this special collaboration! Chugai Grace Cafe, located on the seventh floor of Shibuya MODI, will be running the Yowamushi Pedal LIMIT BREAK cafe from September 22 until October 17, 2022.

Collaboration Menu

Sakamichi Onoda and Sangaku Manami's Udon & Onigiri Plate 


Yasutomo Arikita and Kuroda Yukinari's Hamburger & Salad Plate

Hayato Shinkai's Chocolate & Banana Mini Parfait

Sohoku High School Mango Whipped Cream & Calpis Drink

Hakone Academy Mint Whipped Cream & Calpis Drink

Goods

Pin (Random Holographic included, 9 varieties)

Acrylic Figure Stand (9 varieties)

Pin, Mini Character Ver. (Random Holographic included, 16 varieties)

Acrylic Stand (16 varieties)

Table Plate (9 varieties)

Shoulder Bag

Menu Order Bonus / Online Preorder Bonus

Coaster (1st Half): September 22 – October 4, 2022

Coaster (2nd Half): October 5 – October 17, 2022

The collaboration cafe focuses on dishes you may find at home, such as udon, onigiri, and even a chocolate banana mini parfait as a dessert. New original goods with exclusive illustrations will also be available for purchase!

©渡辺航(週刊少年チャンピオン)/弱虫ペダル05製作委員会

Yowamushi Pedal Easter Merchandise to Appear at AnimeJapan 2022

Yowamushi Pedal fans will be able to pick up some exclusive Easter-themed merchandise during AnimeJapan on March 26 and 27!

Pins (Random, 9 varieties)

Acrylic Figure Stands (9 varieties)

Chibi Character Pins (Random, 16 varieties)

Chibi Character Acrylic Stands (16 varieties)

Metalic Postcards (10 varieties)

Bonus Round Stickers (25 varieties)

The merchandise will be on sale at the event and also available for preorder at Chugai Online. Items are scheduled to ship in June.

©渡辺航(週刊少年チャンピオン)/弱虫ペダル04製作委員会

Three Japanese Tourism Instagram Accounts to Follow for Travel Inspiration

The pandemic has changed our lives forever. People have spent the last two years missing travel as they spend more and more time at home, and while many are ready to travel again, it can be difficult to know if it's the right time to return to normalcy. To make the situation a little easier, many local tourism associations in Japan are posting images on Instagram to inspire people to give traveling another try. These three Instagram accounts are our personal favorites, and once Japan opens to tourists again, you won't want to miss visiting these areas!

[Official Kumamoto Tourism Association] Motto, motto, Kumamoto!

Discover the charms of Kumamoto on this local Instagram account featuring photos from four unique local photographers. Many will know the area as the home of the character Kumamon. The images capture the daily lives of Kumamoto residents and include local food and gorgeous scenery. The postings also include the location of the photo and comments from the photographers, making things feel more personal. 

[Official Hokkaido Tourism Association] GoodDay Hokkaido

Hokkaido is an area rich in gourmet seafood and dairy, but its spectacular landscapes are reason enough to visit. GoodDay Hokkaido shows off both the common and uncommon elements of Hokkaido life, often introducing little-known areas. Each photo is vividly colored, and followers can see different seasons at every time of day as they scroll through the feed. See the best images from Japan's northernmost island each and every day on your smartphone!

[Ome / Okutama] Umetama

Umetama is an account that introduces places of interest in Ome and Okutama, two of Tokyo's most scenic towns. Each can be reached in about an hour by train from Shinjuku Station. Visitors can enjoy a gorgeous day trip from the Tokyo center, with the area featuring plenty of campsites and hiking trails. There are tons of stargazing spots, and visitors are often surprised that such incredible nature is so close to Japan's hectic capital. Those with kids will find plenty to do here, so start taking notes while you scroll through the Umetama page!

More and more young people are finding the appeal of Ome and Okutama, and the area has become the perfect relaxation spot for those seeking refuge from their busy lives. In addition, the craft beer bar Ome Beer, located near Ome Station, sells local alcohol, including Okutama's popular craft beer 'Vertere.' See the lesser-known side of Tokyo on this picturesque account. 

Remember how wonderful it is to travel? Hopefully, Japan opens for tourism again soon, and you can visit all of these gorgeous locales.

Anime-Inspired Cooking Project AniCook to Open Yowamushi Pedal Collaboration in Tokyo and Osaka

AniCook, a project using anime and manga to make cooking more fun, will hold a new collaboration with Yowamushi Pedal! The 'cookpad Sohoku Festival' will be held in Tokyo and Osaka from February 18 to March 13, 2022, and popular characters will greet guests with a White Day theme.

Menu

Onoda's High Cadence Climbing Hashed Meat with Rice / Imaizumi's Shift Change Riding Bolognese

Desserts

Naruko's Rocket Spring Style Tiramisu / Teshima's Tea Break Milk Tea Parfait / Makishima's Spider Lime Cheesecake

Drinks

Dessert Order Bonus: Sticker (5 varieties) / Drink Order Bonus: (5 varieties) *Random

Exclusive Goods

The Yowamushi Pedal menu was created with a slightly luxurious White Day theme in mind. Different fruits were used in the dishes which give a more elegant taste.

There will be a number of exclusive goods on sale featuring illustrations of beloved characters drawn especially for the cookpad project. These items will also be available on the official cookpadLive cafe website!

 

©渡辺航(週刊少年チャンピオン)/弱虫ペダル05製作委員会

Information

cookpadLive Sohoku Festival

cookpadLive cafe Omotesando
Address: Ao Building 3F (3-11-7 Kita-Aoyama, Minato-ku, Tokyo)
Running: February 18 – March 13, 2022
Hours: 11:00-21:00



cookpadLive cafe Shinsaibashi
Address: Shinsaibashi PARCO 5F (1-8-3 Shinsaibashisuji, Chuo-ku, Osaka)
Running: February 18 – March 13, 2022
Hours: 10:00-20:00 

Reservations: https://cookpadlive.cafe/collabo14
Sales Site: https://cookpadtv.stores.jp/

Official Site: https://cookpad-tv.com/

DANDELION PROJECT Celebrating Autumn at Kumamoto Castle for a Limited Time

Creative company NAKED is bringing their popular DANDELION PROJECT to Kumamoto Castle from November 19 until December 5, 2021, just in time to celebrate the Autumn Festival Castle Lighting event! 

The DANDELION PROJECT is inspired by the idea of world peace and hopes to help transcend barriers and connect people in an increasingly divided world. This networked initiative wants to bring this change about by planting (or installing) dandelion-inspired art around the world, while it invites people visiting these dandelion exhibits to send their prayers for peace as a digital flower in real-time. 

To celebrate the recent restoration of Kumamoto Castle's tower, the DANDELION PROJECT will ask visitors to give their prays for peace and safety as they enjoy the autumn lights. After the 2016 Kumamoto earthquake, the castle has slowly recovered, and this is the final step. Currently, DANDELION installations are popping up around Japan and internationally, with locations in Tokyo Tower, Saga Prefectural Exhibition Hall, and plenty of other places.

NAKED's popular attractions–the NAKED Distanced Lanterns and NAKED Flower Cleansing–will also be available to participate in during the event. Each is perfect for social distancing, and each will get a special Kumamoto Castle version. Interactive projection mapping will cause flowers to bloom beneath visitors' feet as they explore. After the event period, the works will be moved to Josaien, where they can be enjoyed until January 15, 2022. 

Information

DANDELION @ Kumamoto Castle Autumn Festival Castle Lighting

Address: Kumamoto Castle (1-1 Honmaru, Chuo-ku, Kumamoto)

AR: Kumamoto Castle (Special Walkway)

DANDELION: Ninomaru Plaza

NAKED Distanced Lanterns and NAKED Flower Cleansing: Ninomaru Plaza

Running: November 19, 2021 – December 5, 2021

DANDELION PROJECT/NAKED Distanced Lanterns/NAKED Flower Cleansing

Permanent Installation to Start November 19, 2021

AR 'KUMAMOTO CASTLE FANTASY OF LIGHTS' 

Running: Daily from 17:00-21:00 (Last Entry at 20:30)

Admission to Ninomaru Plaza: Free

Admission to Kumamoto Castle: Adults ¥800, Children ¥300

*Visitors will need to download the NAKED INC PLAY! smartphone app. 

'Yowamushi Pedal: GLORY LINE' New 'BIRTHDAY FLOWER' Goods Revealed for AGF2021

New 'Yowamushi Pedal: GLORY LINE' merchandise has been announced for 'Animate Girls Festival 2021,' which will be held on November 6 and November 7 2021. 

 

 

Bonus Present: Randomly Selected Original Book Marker (25 Designs) 

Lineup

'Yowamushi Pedal: GLORY LINE' Acrylic Stand (9 Types) ¥1,320 (Tax Incl.)

'Yowamushi Pedal: GLORY LINE' Trading Can Badges (Randomly Selected / 9 Designs): ¥440 (Tax Incl.) *These are trading items so you cannot pick the design


'Yowamushi Pedal: GLORY LINE' Trading Can Badges Mini Chara Ver. (Randomly Selected / 9 Designs): ¥440 (Tax Incl.) *These are trading items so you cannot pick the design

'Yowamushi Pedal: GLORY LINE' Trading Acrylic Stand Mini Chara Ver. (16 Designs): ¥660 (Tax Incl.) *These are trading items so you cannot pick the design

'Yowamushi Pedal: GLORY LINE' Trading Metallic Postcard (10 Designs): ¥440 (Tax Incl.) 

The new 'Yowamushi Pedal: GLORY LINE' merchandise displayed at 'Animate Girls Festival 2021' featured a 'BIRTHDAY FLOWERS' theme and all-new character illustrations.  In addition to being sold at the event, pre-orders have also been opened on the Chugai Mining Contents Online Webstore 'Chugaionline.' If you're a 'Yowamushi Pedal' fan then don't miss out!

©Watanabe Kou (Weekly Shonen Champion) / Yowamushi Pedal 04 Production Committee

Information

Animate Girls Festival 2021

Duration: November 6 ~ November 7 2021 

Main Event: 08:45 ~ 18:00 (Last entry at 16:30)

Location: Ikebukuro Sunshine City

Booth Name: Chugai Mining Booth (Y-16)  ※Yellow AREA: Cultural Center 2F, Exhibition Hall D

Official Site: https://agf-ikebukuro.jp/

 

Web Sales:

Chugaionline: https://www.chugai-contents.jp/shopbrand/ct146/ 

Reservation Period: October 22 18:00 Onwards until November 8 at 23:59

Shipping Dates: Scheduled for February 2022

The Crayon-Shin Chan Nohara Family Get Appointed as Official Restoration Supporters of Kumamoto

In an effort to help support of the restoration efforts in Kumamoto after the 2016 earthquake devastated the prefecture, the Nohara family from the popular manga and anime series Crayon Shin-chan have been appointed official Kumamoto Restoration Supporters. This begins with a PR campaign to help promote tourism in Kumamoto's city of Aso. To celebrate, Shin-chan himself visited the Kumamoto Prefectural Government on July 15.

Shin-chan's mother, Misae, was born and raised in Aso, Kumamoto, while himself and his father Hiroshi were both born in Akira Prefecture. Shin-chan considers Aso his second home, and all of this the reason behind the family's appointment as supporters. The manga series has raised money for Kumamoto numerous times in the past, including for the Crayon Shin-chan 25th Anniversary Exhibition which saw money raised for charity products donated towards relief efforts of the earthquake disaster. This year, the series joins hands with the prefecture once more.

The 2021 summer campaign is being carried with the slogan "I'm fine! ASO." The Nohara family will serve as PR characters to spread the word about Aso. This will include a digital stamp rally that will have people travelling around the prefecture on their smartphones. The app will be released in August, followed by campaign posters, pamphlets, and other promotional material rolling out.

When Shin-chan visited the local government office for his appointment as a supporter, he played the Nintendo Switch game Crayon Shin-chan: Ora to Hakase no Natsuyasumi – Owaranai Nanokakan no Tabi with officials, which also released on the same day. In the game you can visit lots of spots around Kumamoto such as Kumamoto Station, Kusasenri Observatory, Tsujun Bridge, Aso Station, and more.


©臼井儀人/双葉社・シンエイ・テレビ朝日・ADK
©2010熊本くまモン

 ⒸNeos Corporation
Nintendo Switchのロゴ・Nintendo Switchは任天堂の商標です。

KYARY PAMYU PAMYU meets IMABARI: A Visit to the Historical Sea Route

Imabari is a city in Ehime Prefecture that faces the Seto Inland Sea. Since olden times, it has flourished as an important location for marine traffic. It's home to a bounty of recognised national treasures and historical heritage sights, and is also famous for its production of citrus fruits such as mikan. Japanese pop star, model, and icon Kyary Pamyu Pamyu took a trip to this ancient city to discover its wonder and beauty.

A Visit to the Historical Sea Route

Oyamazumi Shrine

A 'power spot' revered by prominent people

Oyamazumi Shrine has been revered by prominent figures throughout history as a place dedicated to the god of the mountain, god of the ocean, and the god of war. It's home to numerous Important Cultural Properties which are available for viewing by the public such as the armour worn by the military commander Minamoto no Yoshitsune when the Minamoto clan won the Genpei War (1180-1185), armour worn by women, and more. The shrine is also a notable power spot for the ancient tree that has stood there for 2,600 years and is now recognised as a natural monument of Japan. Power spots are places in Japan where the spiritually-inclined draw energy from.

Information

Oyamazumi Shrine

Address: 3327 Omishimacho Miyaura, Imabari, Ehime 794-1393, Japan

TEL: 0897-82-0032

Opening Hours: Sunrise to 17:00

National Treasure Building: 8:30-17:00 (Last Entries 16:30)

Official Website: https://oomishimagu.jp/

Kurushima Kaikyo Service Area

Lip-smacking food aplenty

If you're one for great views, then the Kurushima Kaikyo service area is a must-visit, offering a panoramic look at the Kurushima Strait of the Seto Inland Sea. The service area is very well know particularly for the Jaguchi Mikan Juice, something of a city legend in Ehime where you can enjoy fresh mikan juice straight from a tap. You can also tuck a rice bowl dish made with tachiuo hairtail caught in the Seto Inland Sea that's made to look like Kurushima Kaikyō Bridge, or try Imabari's soul food dish: the Imabari Yakibuta Tamago Meshi, a pork, egg, and rice bowl. Don't pass up the chance to snap a photo at the designated photo spot with the Seto Inland Sea in the back either like Kyary above.

Information

Kurushima Kaikyo Service Area

Address: 3-9-68 Ohamacho, Imabari, Ehime, 794-0002, Japan

Food Court: [Weekdays] 8:00-21:00 / [Weekends & Holidays] 7:00-22:00

Shops: [Weekdays] 8:00-21:00 / [Weekends & Holidays] 7:00-22:00

Outside Shopping Area & Cafes: [Weekdays] 9:00-17:00 / [Weekends & Holidays] 9:00-18:00

Official Website: https://www.jb-highway.co.jp/sapa/kurushima.php

Murakami Suigun Museum

Dedicated to the Imabari heroes who protected the ocean




Murakami Suigun Museum is dedicated to kaizoku—pirates, or lords of the sea—something which conjures to mind villainy or bad guys, but the Murakami pirates were also considered heroes who helped maintain order and protect the sea during the Sengoku warring period of Japan. The museum features many displays of Murakami family treasures including the battle surcoat which the pirate leader wore over his armour, proudly bearing the Murakami family crest. Visitors can wear replicas of this coat, which Kyary tired herself: "Now I'm sorta like a military commander too," she said.

Information 

Murakami Suigun Museum

Address: 1285 Miyakubocho Miyakubo, Imabari, Ehime 794-2203, Japan
TEL: 0897-74-1065

Opening Hours: 9:00-17:00

Closed: Mondays (or Tuesday if the Monday falls on a public holiday) / New Year Holidays (Dec 29-Jan 3)

Official Website: https://www.city.imabari.ehime.jp/museum/suigun/

Roadside Station Yoshiumi Iki-iki-kan

A bundle of fun and entertainment in one place

Roll on up to Roadside Station Yoshiumi Iki-iki-kan to enjoy a shichirin BBQ feast with fresh seafood caught in the Seto Inland Sea while gazing out across Kurushima Kaikyo. This building complex serves as a resting spot and is also the perfect place to purchase local souvenirs including Ehime specialty products. It's also famous for its offering the chance to board a boat to ride around Kurushima Kaikyo, renting out bicycles, and more. You'll also be able to meet Koro-chan, a popular fish who has lived there for 30 years.

Information

Roadside Station Yoshiumi Iki-iki-kan

Address: 4520-2 Yoshiumichomyo, Imabari, Ehime 794-2114, Japan

TEL: 0897-84-3710

Opening Hours: 9:00-17:00

Restaurant: 10:00-16:00 (Last Orders 15:00)

Closed: New Year's Day (and certain days in winter)

Official Website: http://www.imabari-shimanami.jp/ikiiki/

Dolphin Farm Shimanami

Meet the cute and friendly dolphins

Dolphin Farm Shimanami, which is connected to Hakata Beach, is the best and biggest place in Japan to interact with dolphins. Visitors can get close to them and the dolphins will show off their tricks and skills. There's even a car camping area you can stay at.

Information

Dolphin Farm Shimanami

Address: 1673 Hakatacho Kanoura, Imabari, Ehime 794-2302, Japan

TEL: 0897-72-8787

Opening Hours: 9:00-17:00

Closed: On days with bad weath

Official Website: https://www.df-shimanami.com/

Hakata Beach

A white sandy beach rolling out 200-meters 

Hakata Beach is located at the base of Oshima Bridge in Hakata. The beach is famous for its salt which is best tried on their popular sweet-tasting sea salt ice cream.

Information

Hakata Beach

Address: 1668-1 Hakatacho Kanoura, Imabari, Ehime 794-2302, Japan

Sea Bathing: Early July – Late August

Official Website: https://www.city.imabari.ehime.jp/kanko/spot/?a=198

Imabari Towels

High quality towels woven with tradition and technique

Imabari is the biggest producer of towels in Japan. Even their white towels alone have countless types you can choose from, allowing you to pick which level of softness and comfort you want. The iconic brand logo is also impactful, capturing the quality, production, and enthusiasm that the makes have for the product. Kyary herself uses them all the time!

Information 

Imabari Towel

Official Website: https://www.imabaritowel.jp/

Sunrise Itoyama

Need a bike?

Sunrise Itoyama, located in the Imabari Central Cycling Terminal, is a rental bicycle service that has bikes and helmets for everyone's needs. Rent out a bike and ride the Shimanami Sea Route which connects Ehime and Hiroshima with a series of bridges that hop across the islands of the Seto Inland Sea.

Information 

Sunrise Itoyama

Address: 2-8-1 Sunabacho, Imabari, Ehime 794-0001, Japan

TEL: 0898-41-3196

Rent-a-Cycle Details: https://www.sunrise-itoyama.jp/archives/rentacycle/

Official Website: https://www.sunrise-itoyama.jp/

Marutomi

The famous restaurant known to every local

If you want the real experience of Imabari's yakitori soul food, you should visit Marutomi, a yakitori eatery. Imabari yakitori is different from the usual Japanese yakitori as it doesn't come skewered. Instead, the chicken is cut into small pieces and fried that way. One of the most popular ways to have it is with the skin on so the outside is crunchy and the inside succulent. It goes perfect with a cup of sake too.

Information 

Marutomi

2-3-6 Katayama, Imabari, Ehime 794-0063, Japan

TEL: 0898-23-2740

Opening Hours: 17:30-22:00

Closed: Wednesdays

Official Website: https://maru-marutomi.jp/

Imabari Castle

A castle by the sea

Imabari Castle, built by the daimyo Tōdō Takatora, is known famously as one of Japan's three "Castles on the Sea" and was also listed in Japan's Top 100 Castles. When it was first constructed, boats could enter the moat from the ocean. It's a site that breathes the prosperity that Imabari has enjoyed as a significant location for maritime traffic, the same Imabari that the Murakami pirates sought to protect. Head on up to the top of the castle to stand on the observation deck and gaze at an unbroken view of the city.

Information

Imabari Castle

Address: 3-1-3 Toricho, Imabari, Ehime, 794-0036, Japan

TEL: 0898-31-9233

Opening Hours: 9:00-17:00

Closed: December 29 – December 31

Official Website: https://www.city.imabari.ehime.jp/museum/imabarijo/

Kirosan Observatory Park

A breathtaking spectacle to remember

Kirosan Observatory Park is officially recognised by Setonaikai National Park. Standing atop the observation deck fills the eyes with wonder as they gaze upon a panoramic stretch of Imabari, the Seto Inland Sea, and Kurushima Kaikyo all at once. Kyary wrapped up her time in Imabari here as the sunset coloured the sky and sea in warm evening hues.

Information 

Kirosan Observatory Park

Address: 487-4 Yoshiumicho Minamiura, Imabari, Ehime 794-2115, Japan

No Fixed Holidays

Open 24-hours a day

Official Website: https://www.city.imabari.ehime.jp/kanko/spot/?a=182

Imabari Tourism Information: https://www.city.imabari.ehime.jp/kanko/

We hope you enjoyed joining Kyary on her adventures across Imabari, and perhaps she even got you a little curious in wanting to visit the city yourself. It's a treasure trove filled with vistas by the sea, in nature, and in the city itself with its Important Cultural Properties. Food is also a big part of travel for many people, so you can rest assured that your belly will be satisfied in Imabari as you try their speciality mikan, fresh seafood fished in the Seto Inland Sea, and more.

Kumamon Promotes Strawberry and Whipped Cream Pastry For Pasco Kumamoto Project

The Pasco Kumamoto Prefecture Project is a collaboration between the Japanese pastry company Pasco and Kumamoto Prefecture which has appointed Kumamon, the mascot of Kumamoto, as its head to promote local foods.

The project was started as a reconstruction and restoration effort to help support Kumamoto after the devastating earthquake that struck in 2016 and the 2018 Japan floods. For every select product sold, 0.5 yen is donated to the relief effort to aid victims of the disasters.

The Pasco Kumamoto Prefecture Project is set to run until end end of September this year. It released two items on April 1 as part of the project. It is now releasing two new products: the "Strawberry Jam & Milk Whipped Cream" pastry and "Pancake Omelette Custard & Milk Whipped Cream." The milk, strawberries, and eggs used for these confections are all sourced from Kumamoto

The pastry recipe creates whipped cream from milk and layers it with a strawberry jam made from yuubeni, a popular brand of strawberry grown in Kumamoto, before baking. The pancake omelette is a combination of Jersey milk, eggs, and custard cream to create a fluffy dessert.

Pasco carefully selects ingredients as part of Kumamon's promotional products

The ingredients used in the recipes for these food products are all carefully selected to go deliciously well with Pasco's bread. This includes milk, eggs, and yuubeni strawberries. Pasco plans to used Kumamoto-grown rice for a new product in August.

 

Scan the code on the packaging and meet Kumamon!

A special Kumamon AR service has also been created as part of the project. If you scan the code on the packaging of these products using a smart device, you can take a photo together with Kumamon as pictured above. He has the same design as on the packets.

Information

Pasco Kumamoto Prefecture Project – 2nd Release

Running: June 1, 2021 – July 31, 2021

Available: Supermarkets and shops in Japan

Pasco Official Website: https://www.pasconet.co.jp/

Kirin Announces Restoration Project With Gogo no Kocha Milk Tea

Kirin Beverage launched the Gogo Tea Happiness Project on June 1, 2021. The project will donate the proceeds made from select products to locations in Japan that require support in restoration efforts. The first product to launch is the 'Gogo no Kocha for HAPPINESS Kumamoto Strawberry Tea' which released in limited quantities in Japan on Tuesday.

 

Kirin Group launched a similar project in 2011 called the 'Kirin Bond Project.' in 2016, they began efforts to support the people of Kumamoto after the earthquake that struck there that year – to 'bind' them to the future. From then until 2018, they also shot commercials for their Gogo no Kocha milk tea brand at Miharashidai Station, Shirakawa River, and other places around Kumamoto, as well as promoted the village of Minamiaso to showcase its beautiful natural environment.

The Gogo Tea Happiness Project takes Kirin back to Kumamoto to continue helping to support restoration efforts, something the company has been doing since July 2011 after the Great East Japan Earthquake struck. For every bottle of Gogo no Kocha for HAPPINESS Kumamoto Strawberry Tea sold, not only does 3.9 yen of the proceeds go towards supporting Kumamoto, it also gives people around Japan the chance to try a type of strawberry grown in Kumamoto called yuubeni. The project also ties in with the 35th anniversary of Kirin's Gogo no Kocha tea.

Information

Gogo no Kocha for HAPPINESS Kumamoto Strawberry Tea

Japanese Product Name: キリン 午後の紅茶 for HAPPINESS 熊本県産いちごティー
Released: June 1, 2021

Available: Japan

Price: ¥140 (Before Tax)

Official Website: https://www.kirin.co.jp/

niko and … Collaborates With Kumamoto Painter to Promote New Store Opening

Style editorial brand "niko and …" opened pre-orders for a new collection with Kumamoto resident oil painter Takeshi Matsunaga at its new AMU PLAZA KUMAMOTO branch on April 23. The line-up is set to be subsequently released via the online webstore "st." as well as five branches of niko and … on April 29, including their Tokyo store.

MATSUNAGA TAKESHI MEETS niko and … KUMAMOTO

The line-up is a collection of everyday items from tote bags and mugs to key rings, pencil cases, iPhone cases, t-shirts, caps, and more. Each item features a design inspired by Rakunou Gyunyu, a brand of milk that's hugely popular in Kumamoto. Matsunaga adds his delicate touch to the oil-painted series. Part of the proceeds generated from the sales of these items will be donated to the city of Kumamoto in support of restoration efforts from the 2016 Kumamoto earthquakes.

niko and's new Kumamoto store also has a cafe attached to it, "niko and … COFFEE," where a milk smoothie will be sold for a limited time until September 30. Each will come with a milk-flavoured wafer featuring Matsunaga Takeshi's art on it.

Information

niko and … x Matsunaga Takeshi

Pre-Sales: April 23, 2021

Where: niko and … AMU PLAZA KUMAMOTO

General Sales: April 29, 2021

Where: .st / niko and … TOKYO/ Five branches of AMU PLAZA in Kyushu (Oita, Kokura, Hakata, Kagoshima, Nagasaki)

Buy on .st: http://www.dot-st.com/nikoand
Buy on niko and…: https://www.nikoand.jp

Appreciate Kumamoto's Culture at New Tokyu Hands Store in Amu Plaza Kumamoto

Tokyu Hands is opened a new lifestyle shop called Hands Be inside Amu Plaza Kumamoto in front of JR Kumamoto Station April 23. The shop will sell a range of everyday products from beauty to stationery, seasonal, and more, that showcase Kumamoto's culture and craftsmanship. Whether it be for yourself or a gift for someone else, there's something for everybody.

Kumamoto culture

Kurikawa Uchiwa Shoten

Kurikawa Shoten is a specialist in Japanese uchiwa fans that first opened in 1889. Kumamoto is the third biggest producer of uchiwa fans together with Kyoto and Marugame and is the only place passing down the traditional kutani craft of fans. Their fans are durable and long-lasting, enjoyed as gifts at children's birthday parties, weddings, as well as at company commemorations and elsewhere. To celebrate Hands Be's opening, the Kurikawa Shoten is providing fans with original colours exclusive to the new store.

Coffee Arrow

Coffee Arrow is a coffee shop that opened in Hanabatacho in the central ward of Kumamoto back in 1964. Customers can get their hands on a range of original coffee beans, merchandise, and more.

Coming together during these times

BLUE SEED BAG 

"HOLD hands be Happy" is the message written on the recyclable, eco-friendly BLUE SEED BAG which is made using washed blue sheets that were actually used as part of the restoration efforts after the Kumamoto Earthquake struck in 2016. The bags are a reminder that even though many of us can't hold hands with us during the pandemic, we are still connected by our hearts.

Wesign

Javasparrow is a manufacturer and service focused on creating products around "familiarity" and "connection." The Wesign is a set of two lights that connect to Wi-Fi. These unique lights can be used by lovers or family members who live apart or long-distance, so that you know when the other is on or offline, helping everyone feel connected.

Original bandana available for the grand opening

Hands Be is also offering a free bandana for the opening to anyone who spend over ¥3,000 (tax included).

Information

Hands Be Amu Plaza Kumamoto

Opening Date: April 23, 2021

Where: Amu Plaza Kumamoto Floor 3F, Kasuga, Nishi-ku, Kumamoto-shi, Kumamoto

Official Website: https://hands.net/