Colourful Yukata and Jinbei Collaboration Launches by Subikiawa and Felissimo
Felissimo has joined hands with popular Kyoto-based store Subikiawa to launch a new collaborative series of items. They are now available to purchase via Felissimo's official website.
Who are Subikiawa?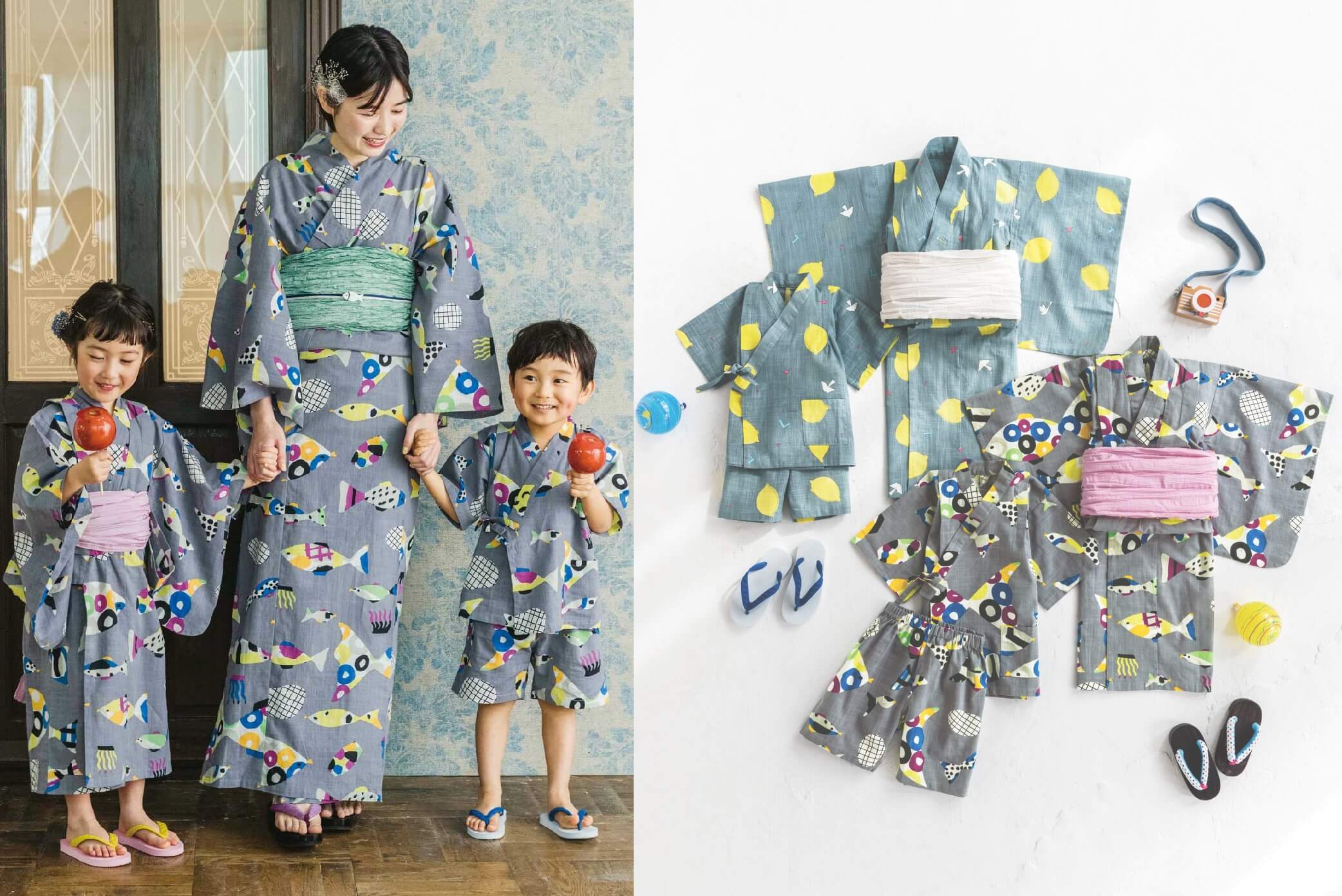 Subikiawa is a tableware store known to all in Kyoto that's open around three days a month. "Tabletop Circus" is the theme of their hand drawn tableware series which is mainly centred around glassware. Subikiawa first began their collaboration series with Felissimo back in 2016. Since then, they have teamed up to make yukata, jinbei, pyjamas, clothes, and moreーall with Subikiawa's cute illustrative designs.
The new yukata and jinbei they have developed for this summer features a colourful underwater theme with various fishes, pebbles, and water plants.

Kyoto Subikiawa Shokki to Tsukutta Suichu Dance Yukata – ¥5,500 (Before Tax)
Kyoto Subikiawa Shokki to Tsukutta Suichu Dance Yukata (Women's) – ¥7,300 (Before Tax)
The collection features yukata and jinbei made with designs so that parents and kids can dress up together. The clothes are made from 100% slub cotton yarn, giving them a nice feeling against the skin. The waist is also fitted with string so that even beginners to yukata can tie them easily.

Kyoto Subikiawa Shokki to Tsukutta Nail Seals (1 Set) – ¥1,400 (Before Tax)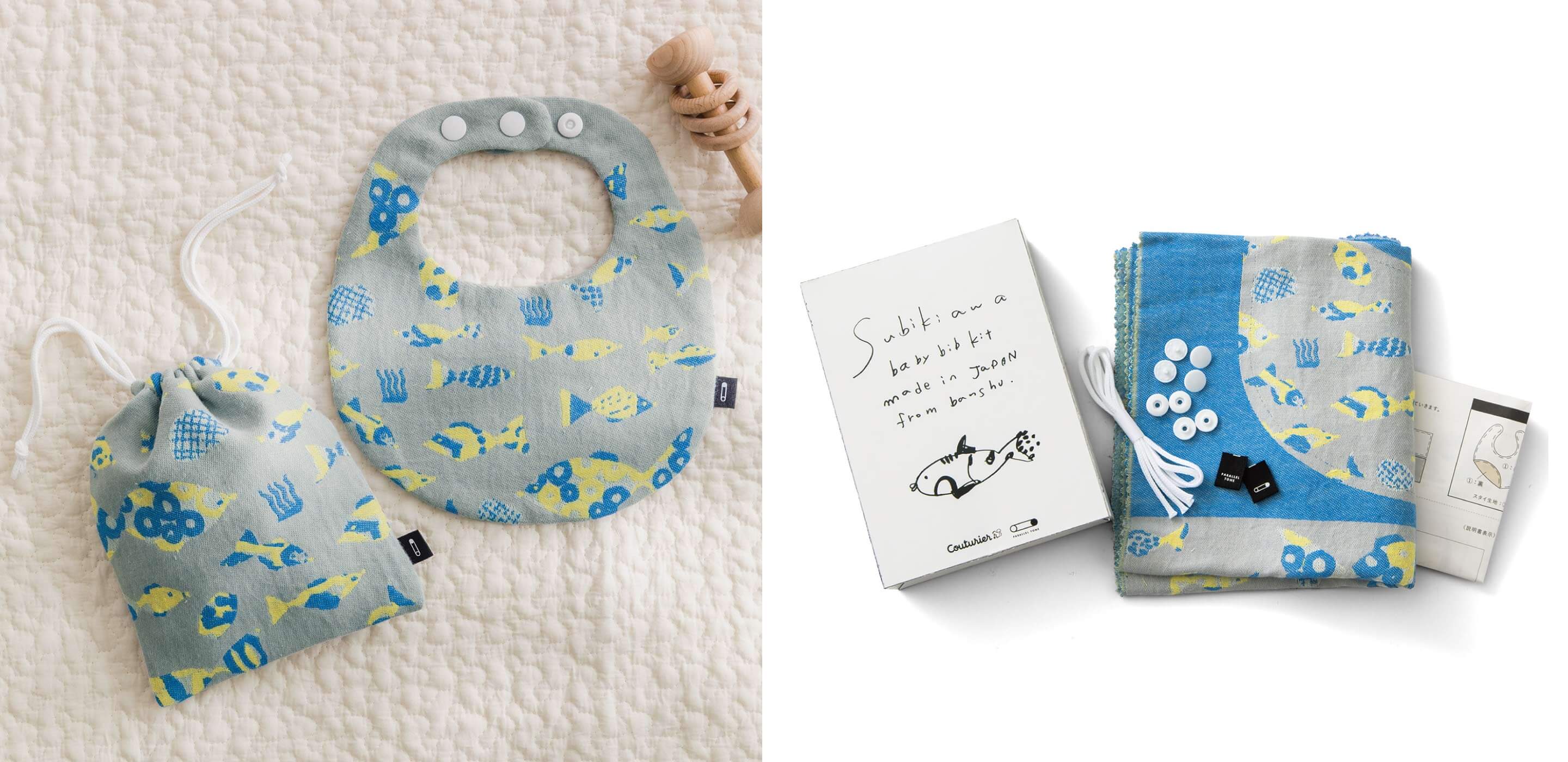 Kyoto Subikiawa Shokki to Tsukutta Suichu Dance Bib Kit (1 Set) – ¥2,800 (Before Tax)
The new collection also includes nail seals to make your fingertips bright and beautiful, as well as an embroidery kit to make your own cute bibーthis is part of Felissimo's brand Couturier. The bib is soft and made using 100% Banshu-ori cotton fabric. Banshu-ori is a fabric from Hyogo Prefecture. The cotton is also dyed before being woven so the colour won't fade as quickly when washed.
RELATED ENTRIES
Sebastian Masuda and Felissimo Release Kawaii Multicoloured Miwa Soumen Noodles

Felissimo and Sebastian Masuda's cute and happy KAWAII COMPANY project released a new collection of multicoloured soumen noodles at Senjutei Somen Chaya on July 11 which are available for a limited time until August 31. The colours of the noodles are naturally-derived.

KAWAII COMPANY 5 Kawaii Soumen Noodles | 1 Set = ¥2,420 (Tax Included)

Digital Catalogue

The cute Miwa soumen noodles are made by Ikeri, a long-standing shop that was established in Nara over 170 years ago. Each noodle colour signifies a different colour: Japanese purple sweet potato, plum, kabosu citrus, beefsteak, and plain. The noodles are packaged in a wooden box featuring KAWAII COMPANY's key visual designed by Sebastian Masuda along with golf leaf.

The noodles aren't designed just to look cute – they are authentic in flavour and in how they are made with traditional Japanese techniques.

Felissimo's Summer 2021 Hair Turbans Are Made Using Traditional Japanese Banshu-Ori Weaving

As part of Felissimo's "Japanese Craftsman Project," the fashion retailer released a new collection of jacquard hair turbans in collaboration with POLS, a textile brand based in Nishiwaki, Hyogo.

Green x Brown – Pink x Brown – Light Grey x Orange – Sky Blue x Yellow | ¥4,800 Each (Before Tax)

The hair turbans are made using a traditional Japanese weaving technique called banshu-ori whereby threads are dyed before they are woven, allowing for items to maintain their colour for much longer.

POLS is a textile company that uses a jacquard loom to create designs brimming with originality. The hair turban collection features colours that aren't over the top so can be enjoyed by anyone and everyone. They are also a great item for doing your hair and makeup while working remotely and add a little something to your look if you're in a situation when you need to wear a mask.

Sebastian Masuda x Felissimo Launch KAWAII COMPANY

Felissimo and Sebastian Masuda have collaborated to launch the all-new KAWAII COMPANY.

KAWAII COMPANY opened its website on November 16, 2020. It is a project for those who love the kawaii side of life, aiming to add spice to everyday normality and expand everyone's inner-kawaii. KAWAII COMPANY's website will house a whole range of original items, such as the "Roomy Monster" outfit which lets you transform into a colourful monster.

Roomy Monster | ¥12,000 (Before Tax)

With many people working from home now, online meetings are the new norm, which can be a stress for a lot of us. But KAWAII COMPANY has come up with a way to bring smiles to fellow colleagues with their "Roomy Monster" outfit which is sure to elicit surprise and smiles when everyone sees a colourful monster on the webcam. The design is inspired by a monster that Sebastian Masuda conceived as a child, and now the colourful and fluffy beast has come to life.

Monster Multi Pouch | ¥3,400 (Before Tax)


This monster multi pouch is like a plush toy, featuring fluffy fur, colourful hair, sparkly eyes, and a flowing, frilly dress. Its enormous mouth is closed with a zip which when opened reveals a place for storing all your bits and bobs.

Mini Eco Bag | ¥1,500 (Before Tax)

These colourfully kawaii eco-bags may only be 19cm long they're more reliable than they look. They can be wrapped up small for easy storage and unravelled for when you need to do a bit of shopping.

Double Gauze Mask | ¥1,600 (Before Tax)


Anti-bacterial Mask Case (Set of 3) | ¥1,400 (Before Tax)


Add some fun to your routine face mask wearing with a super cute mask and mask case for storage. They're not just for show either – made with double gauze, the material is of high quality and feels soft on the face. The masks are pleated and so curve to fit the face nice and snug. The cases are also made so that they are anti-bacterial, keeping your mask hygienic.

Kawaii Tansan Senbei (5 Included) | ¥2,000 (Before Tax)


The Kawaii Tansan Senbei is the first entry to the KAWAII TANBO series in which items that KAWAII COMPANY discover while travelling Japan are made into 'kawaii versions.' These senbei rice crackers are light, crunchy, and have great flavour. They are tinned and wrapped in cute packaging too making for a perfect gift.

Discover and enhance your love of kawaii with Sebastian Masuda's new project.

Takashimaya Shinjuku has revealed a new line of African print yukata made using materials from West and Central Africa. The collection will be released on the second floor of Takashimaya Shinjuku from June 24 to 30.

Hitomi Suzuki (鈴木仁美) is working to preserve traditional West and South African dyeing techniques. Using materials sourced from these countries, she has created yukata, bags, fans, and other items to sell in Japan.


The print feature vivid colours and eye-catching patterns—the kind you want to wear around the house during the lockdown for summer, or for a remote drinking party.

Information

African Print Yukata

Men's/Women's: From ¥33,000 (Tax Included)
Bags: ¥12,100-¥22,000 (Tax Included)
Uchiwa Fans: From ¥7,700 (Tax Included)
*Prices subject to change

*Photos are for illustrative purposes only

Official Website: https://www.takashimaya.co.jp/

Walt Disney Japan has announced that pre-sales for its new and original Disney themed yukata will open via shopDisney in Japan from June 9, 2020. Designs range from popular picks such as the Mickey Mouse yukata from last year to new designs like Alice in Wonderland.

The Mickey Mouse yukata has a white base which combined traditional Japanese prints of hemp leaves and a checked pattern with plum blossoms and Mickey. Dressing up in this gives off grown-up yet cute vibes.

The new Alice in Wonderland yukata has a navy base and features prints from the popular Disney movie made into a Japanese style design. It also comes with an obi sash featuring characters from the film on it in a casual manner, so it blends in well and isn't too flashy. shopDisney will also sell a bag, fan and other items with this design too so you can coordinate a style with the yukata.

Several items for kids will also be sold, such as a cute Elsa-inspired yukata, a Toy Story 4 jinbei, a Bunny shoulder bag, and more.

A TSUM TSUM series of summertime yukata will also be sold from June 9, 2020 which will include Mickey & Friends designs.

©Disney
©Disney/Pixar

Beautiful Jellyfish Umbrellas Designed by Kamo Aquarium Will Keep You Dry

YOU+MORE!, a brand of humorous merchandise and accessories developed by Felissimo, has teamed up with the famous Kamo Aquarium to release a series of jellyfish umbrellas.

The intricate umbrella designs were developed in cooperation with the staff at Kamo Aquarium's Jellyfish Dream House. Three different kinds of jellyfish were used as inspiration for the umbrellas.

Moon Jelly Umbrella

YOU+MORE! Moon Jelly Umbrella – ¥1,600

Moon jellyfish are perhaps one of the most popular kinds of jellyfish out there. What may be the most striking part of this umbrella is the colour gradation which gives it a transparent effect. The edges of the umbrella are also curved, giving it a delicate silhouette and making it look even more like the real things.

The umbrella's frames are built strong, and the material of the umbrella itself is a white glass fibre which serves not only to mimic the colour of a moon jelly, but so that you can still see through it too. (As a side note, all three of the umbrella designs are made from glass fibre.)

Northern Sea Nettle Umbrella

YOU+MORE! Northern Sea Nettle Umbrella – ¥1,600

Like the northern sea nettle itself, this umbrella features a dome shape and incorporates a stripe design. A northern sea nettle has 16 stripes, and so that many were added to the umbrella. The jellyfish staff at the aquarium praised this one as the most realistic.

Spotted Jelly

YOU+MORE! Spotted Jelly Umbrella – ¥1,600

Like the northern sea nettle, the spotted jelly too as a cute dome-shaped body. If someone who has never seen one of these jellyfish umbrellas before sees this design, they'll think of it as just having cute spotted design. However, a jellyfish enthusiast is sure to get excited as the sight of this one with its details like its orange colour and the dots around the edges.

Kamo Aquarium will begin selling limited edition versions from the end of June this year which come with an ephyra charmーthat's the name for a baby jellyfish. The aquarium is currently closed until May 6 due to the coronavirus. The latest updates can be found on their official website.

Cute New Doraemon Merchandise From Felissimo Can Be Enjoyed By Adults Too

Felissimo launched online pre-orders for its new line of 12 Doraemon themed items on February 20, 2020. Doraemon is a symbol of Japanーa national treasure that continues to be be adored by kids and adults alike around the country.

The collection is centred around everyday practical items that can even be enjoyed nonchalantly by grown-ups.

Doraemon Laundry Net Set – ¥1,400 (Before Tax)

There are four in this collection of laundry nets, big and small. Designs include "Mini Doraemon," "Memory Bread," "Anywhere Door," and "Dress-Up Camera."

Doraemon & Nobita-kun Slippers – ¥2,100 (Before Tax)

 Doraemon and Nobita-kun features on this collection of slippers. There are four designs, with the tops being made from corduroy, and all with beautiful colours.

Doraemon Pull Pass Case – ¥2,300 (Before Tax)

These three pass cases all have Doraemon designs and come with a pullable elastic string. Each has its own classy one tone colour. Perfect for storing small items and heading out.

Doraemon Smartphone Cases – ¥2,900 (Before Tax)

The three cute smartphone cases come in chic colours and designs, with an additional colour inside for the four card pockets.

Doraemon Plastic Bottle Towels – ¥950 (Before Tax)

Decorate your drinking bottle with one of these four cute Doraemon bottle towels, all with a cute tail. They can be used for other things like deodorant too.

Doraemon Zipper Bag Set – ¥800 (Before Tax)

Keep your food stored and safe in an adorable Doraemon zipper bag, whether it be snacks or ingredients. They're perfect for giving gifts in too.

Doraemon Nail Seals <Basic> – ¥1,450 (Before Tax)

Glam up with some cute Doraemon nail seals, ranging from natural colours to gold leaf and more, which can cater to a variety of different situations.

Doraemon Embroidered Pouches – ¥3,000 (Before Tax)

These kits embroidery equipment to make your own Doraemon-design pouch. Make the pouch, attach the fastener, and you've got yourself a place to store your items.

Adorable Shiba Inu Slippers and Handkerchiefs Released by Felissimo

Felissimo released a new line of shiba inu slippers and handkerchiefs from their humorous brand YOU+MORE! on their website on November 26.

The slippers feature various shiba inu pulling adorable faces, with the sole parts made to look like their fluffy bellies. The handkerchiefs are made using appliqué needlework to stitch a variety of different pups onto them. The prints are so realistic you'll find yourself wanting to stroke them.

The slippers come in three designs: Black Fur, Red Fur, and White Fur, all with loving faces looking up at you as you walk around the house.

The insoles are made with long and comfy boa fabric to create the fluffy underbelly of the dogs.

The gauze handkerchiefs come in six designs: Pomeranian, White Shiba, French Bulldog, Red Shiba, Golden Retriever, and Corgi.

The embroidered doggy designs are 3D textured, making you want to poke and stroke them all the time you're holding them. The front part is made from gauze and the back from pile. One of each of the six designs will be released monthly over a period of six months.

If you love shiba inu, or know someone that does, this is the perfect gift!

See Traditional and Modern Japanese Culture Collide With Yukata, DJs & More at Tokyo's Hamarikyu Gardens

The three-day Hamarikyu Oedo Cultural Festival will take place at the beautiful Hamarikyu Gardens in Tokyo from August 23 to 25. It will be produced by international fashion designer and stylist Junko Koshino.

The boisterous festival is a coming together of Japan's traditional Edo period and modern times which will be celebrated with a myriad of exciting experiences.

The centrepieces of this year's event are the DJ performances and Yukata Fest which will take place around the two 6-meter tall pillars in the garden's plaza. DJ KOO will appear as a special guest on Friday August 23rd while Japanese models Arina Urahama, Sayaka Shimizu and YORI will take the spotlight on Saturday 24th wearing Edo-style outfits with a contemporary pop spin all made by Junko Koshino.

During the Yukata Fest, there will be taiko drumming along to the DJ performance. Three people from the Eitetsu Fu'un no Kai―a group supervised by famous Japanese musician Eitetsu Hayashi―will be the drummers. The Fest will mash together traditional Japanese music with modern DJing.

Expect to be thrilled with an up-close performance of kendo swordsmanship, iai―the art of drawing one's sword―and a showcasing of naginata, a type of long pole weapon. There will also be a play area where you can play karuta with the Hyakunin Isshu one-hundred poems which was popular during the Edo period, blow bubbles, and more.

And of course, there'll be plenty of Japanese food to tuck into as well served at one of the many booths. This includes namie yakisoba, a local speciality soba noodle dish adored by the people of Fukuoka which will be served as part of maintaining the culture, a Fukushima no Sake standing bar which has won the top award in the Shinshu Kanpyokai 7 years in a row, and so on.

Specially prepared traditional Japanese wagashi confections produced by Junko Koshino will also be sold as part of a collaboration project with Ito En who are sponsoring the event and holding a special tea party. They are limited in availability, and those lucky few who do get a spot will be able to enjoy tea and sweets while enjoying a view of the spectacular Japanese-style gardens at the Nakajima No Ochaya cafe.

Visitors will also be able to pick from a wardrobe of bright and colourful yukata, including some designed by Junko Koshino, at one of the booths at the festival and have them fitted on from them. Those who arrive already dressed in a yukata will receive free entry to the festival!

You'll completely forget you're in the boisterous city of Tokyo while at this traditional x modern fusion of a festival. If you're in Japan this summer, then don't miss out. More details of the festival and its content can be found on the official website below.

Information

Hamarikyu Oedo Cultural Festival 2019

Date/Time:

August 23 @ 17:00-21:00
August 24 @ 11:00-21:00
August 25 @ 11:00-17:00

*Hamarikyu Gardens are open from 9am as usual while the festival is running

Location: Hamarikyu Gardens (1-1 Hamarikyuteien, Chuo Ward Tokyo)

Price: General ¥300 / 65+years ¥150 (Free for elementary school children and younger, residents of Tokyo, and middle school student residents and younger)

*Free entry for those wearing a yukata

Official Website: https://hamarikyu-event2019.jp/

Hi everyone, this is Midori from MMN's Editorial Department!

Do you know what a Yukata is? It's a long, casual garment that resembles a kimono. As they are made of light and breathable material, this traditional Japanese clothing is usually worn in the summer. A beautiful yet refreshing garment is the perfect clothing for a summer festival and other summer events. How would you like to try one on? Today, I'll be introducing you to this year's latest Yukatas.

KIMONOMACHI: Polyester Yukata Perfect for a Hot Summer's Day

These yukata are made from polyester which is breathable and ventilating. From subtle and mature patterns for adults to large, modern and vivid patterns, there is a wide range of fabric designs to choose from.  

Cream Water-Colour Camellia Flower Yukata: ¥11,880 (after tax) 

You also do not have to worry about coordinating your outfit as you can putchase a set that includes a Sash (obi) and Japanese wooden clogs (geta). This is recommended for those of you who are completely new to yukata-wearing.  

▼ KIMONOMACHI main shop

Official Website: https://www.kimonomachi.co.jp/

Cayhane Yukata: Easy to Wear By Yourself 

Cayhane sells yukata that are made from materials sourced from all over Japan. 

Reiría Minana Yukata: ¥7,128

The Yukata sold here consist of a top and bottom half, which makes it easy for anyone to put on.

You can also get yukata with a separate skirt too, meaning that you can wear the skirt with your other normal clothes on a regular day too.

▼ Cayhane

Official Website: http://www.cayhane.jp/shop/c/c01

kyomadoka: Wear a Yukata Designed By an AKB48 Graduate 

Haruna Kojima, who graduated from Japan's world famous idol group AKB48, created the designs for a collection of kyomadoka Yukata.

¥45,360 (after tax)

Not only are the designs made with lots of care and attention, but the materials used have been carefully sourced. The patterns are mature yet cute. 

▼kyomadoka: Haruna Kojima Original Design Yukata

Purchase here: https://isetan.mistore.jp/onlinestore/brand/006180/list?categoryId=01_061604&rid=24098c5b16c840e39ea3dddf42efd3ad

Sales Start: June 5, 2019

Felissimo Neko-Bu™: Fill Yourself With Feline Fabulousness

Cat-Themed Retro Modern Yukata ¥8,400 (before tax)

Notice the cute, round eyes of a cat amongst beautiful camellia flowers. Felissimo Neko-Bu™ sells cat-themed goods that are also perfect for adults. This retro-modern design is both cute and mature.

Look closely and you will also notice a striped pattern. Felissimo are selling many other cat-themed Yukata besides this so please check them out.

This is a design of a tiger playing with green foxtail grass.

▼Felissimo Neko-Bu™

Official Website: https://www.nekobu.com/

RiLi.tokyo Sells Yukata That Look Like Japanese Sweets

RiLi.tokyo sells Yukata that are perfect for walking the streets of Asakusa, Kyoto and other traditional-style streets that are full of dark and mature colours.

RiLi Yukata: ¥11,990 each (before tax)

The sash is a waist band with wrinkles so that it does not hurt when you put it on. You will notice that it is incredibly easy to wear these. All Yukata in this series use similar colours, so it is easy to coordinate your outfit with other friends and family members. ♡

Official Website: https://rili.tokyo/#new

Furifu and Touken Ranbu-ONLINE- Collaborative Yukata

Furifu is dedicated to creating new styles of traditional Japanese fashion. They have released a retro-modern style kimono brand through a collaborative effort with the game Touken Ranbu-ONLINE- . This includes three Yukata themed around the characters Kashuu Kiyomitsu, Tsurumaru Kuninaga and Kasen Kanesada.

 Kasen Kanesada ¥62,640 (after tax )

Tsurumaru Kuninaga: ¥62,640 (after tax)

Kashuu Kiyomitsu: ¥62,640 (after tax )

▼Furifu Touken Ranbu Collaborative Yukata

Official Website: https://mgos.jp/furifu/index.html

All these Yukata are available online. This would be the perfect way to stay cool and beautiful during the summer. Wearing one to a summer event would be a wonderful experience. ♡

Keio Plaza Hotel is expanding their yukata experience service plan "Easy Kimono". The plan, which allows guests to wear Japanese traditional clothing called yukata, was originally a weekday-limited plan. Now, the plan will be expanded to include the weekends and national holidays. The plan was launched in June 2017 through a collaboration with Keio Department Store's dressing rooms. Keio Plaza Hotel's objective is to spread Japanese culture and offer guests the opportunity to fully experience Japan. The hotel also offers tea ceremony and Ikebana flower arranging classes.

There are two yukata plans on offer: a standard plan available for men and women and a women-limited premium plan which includes top quality cotton yukata that have a mature feel to them. Both plans come with wooden clogs, an ornate kanzashi hairpin, a drawstring purse and a map of wonderful locations to take a stroll in Shinjuku. Head to the third floor lobby in the South Building of the hotel to arrive at the Keio Department Store Dressing Rooms. Here, you can choose your favourite yukata. Once you put it on, the staff will take a commemorative photo with a camera or your smartphone.

You can rent these yukata for a maximum of six hours, during which time you can take as many selfies as you want, enjoy a meal in Tokyo, and have a relaxing stroll around the streets of Shinjuku. This luxurious plan is a chance to experience the great feeling of wearing a yukata.

Information

Easy Kimono Yukata Wearing Plan (aimed at overseas foreigners)

Reservations: Everyday from 10:00am ー 4:00 pm

Returns: No later than 6:00pm on the day of rental.

(Arrangement/dressing takes approximately 30 ー 40 minutes)

Prices

Standard plan

1 person: ¥5,400 (after tax)

Women (up to 170cm tall, medium size) :  Selection of 30 yukata patterns

Men (Up to 185 cm tall, medium, large, extra large size): Selection of 6 yukata patterns

Premium plan (women-limited) 

1 person: ¥7,560 (after tax)

Women (up to 170cm tall, medium size) : Selection of 15 top-quality cotton yukata patterns

* Extended rental: ¥2,160 (after tax). Extended rental returns are expected by 12:00pm the following day.

Reservations can be made on the Hotel's Official Website: (English website only) https://www.keioplaza.com/offers/easykimono.html

Yukata IN LAFORET: Grab Your Summer Yukata at Laforet Harajuku's Event

Laforet Harajuku is holding a yukata event on its second floor CONTAINER area from June 25 to July 24 where you'll be able to pick from a wide range of different yukata designs.

This marks the 5th run of the event, and this year, it is being split into three separate periods. A total of 9 shops are participating including the popular kimono brand Roccoya Summer Shop which fuses the traditional with the modern as well as MICOPARADE which is managed by designer and Japanese clothing model Maria Kawahara.

The event's main visual was conceived by art director Tomoko Katayama, a designer at airlinesinc. and president of kimono teaching company Airport Lounge. There will be a photo spot as well as displays created by Katayama.

Period 1: June 25, 2019 – July 4, 2019

Roccoya Summer Shop

Roccoya is a brand popular for fusing together traditional and modern designs. The company is returning to Yukata IN LAFORET once again to sell a variety of new yukata, kimono and accessories. Pick anything from cute to contemporary to sophisticated couture. They also sell head accessories and customers can order specific sizes.

MICOPARADE

MICOPARADE is a kimono brand led by designer and Japanese clothing model Maria Kawahara which offers contemporary twists of traditional ideas. Expect kimono like you have never seen as modern fashion. This event will be MICOPARADE's first unveiling of their new products.

Period 2: July 5, 2019 – July 14, 2019

MIKI SAKURA & Sakura Maison

Sakura Maison focuses on "Japanese kawaii" kimono, accessories and obi sashes while MIKI SAKURA's concept, conceived by designers at Sakura Maison, is "dignified women wrapped in beautiful fragrances."

These two brands will come together to showcase an array of feminine yukata including yukata made from lase. They will also sell headdresses, ornate hairpins and other accessories. Expect to get your fill of kawaii♡

Asobiya Meets yuminique

Asobiya is a brand that adds a bit of fun to traditional Japanese motifs. They will collaborate with the "nostalgic and cinematic" brand yuminique for the very first time. Asobiya will have their popular paper crane series of items while yuminique will showcase their "SECRET" themed line-up this summer with an assortment of handmade head accessories with rose and lily of the valley designs. You're sure to find the right decorative accessories for your yukata look here♡

Period 3: July 15, 2019 – July 24, 2019

AYAKONAGAHASHI


Ayako Nagahashi's select shop is associated with many different kimono and yukata brands. The new yukata and accessory collection by KIIRO, which Nagahashi is the director of, and Furifu will be on show. New Yukata and obi sashes the likes of which the industry has never seen before from Nagahashi's private brand Fruttarossa will also make an appearance. There will also be plenty of other pieces like geta shoes and obi clips.

Shigemune Tamao

Unique and innovative kimono creator and artist Shigemune Tamao is opening her first ever store where she will sell original kimono, obi sashes, and a selection of items made in collaboration with guest brands that transcend traditional and contemporary clothing.

Find the yukata for you at this year's Yukata IN LAFORET.