Q-pot. Adds Kids Sizes to Next Batch Of Stylish Textile Face Masks
Q-pot. dropped its new collection of textile style face masks from its "Made in Japan" apparel line Q-pot.Dress via its online shop on April 22, 2020. The company is now taking orders for its 4th batch of masks.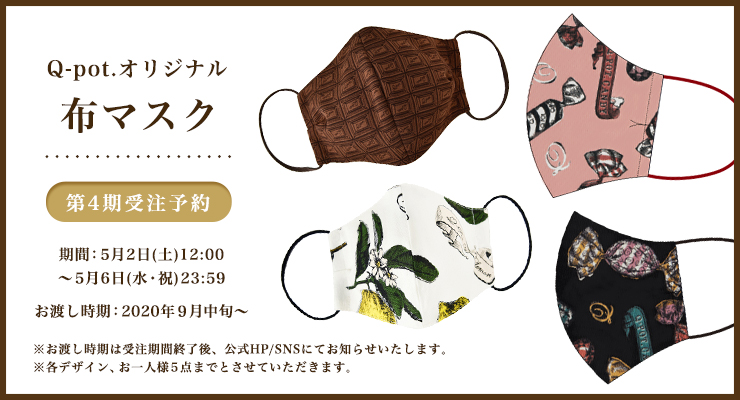 The masks feature the same textile design seen in Q-pot.Dress's attire collection. The "Chocolate College" design features Q-pot.'s signature motif. Due to high demand, the company is bringing the mask back in a kid's size. "Honey Lemon" will also be available again.

The "Candy" design from the brand's autumn collection which was released around Halloween has also been introduced into the fray. The fourth batch of masks are available to order until May 6, 2020 at 23:59 (JST).

The masks are a great way for parents and kids, as well as friends, to coordinate their outfits and look stylish.
Information
Q-pot. Cloth Masks – 4th Batch
Order Window: May 2, 2020 at 12:00 (JST) – May 6, 2020 at 23:59 (JST)
Buy Here: Q-pot. ONLINE SHOP / Q-pot. INTERNATIONAL ONLINE SHOP
Deliveries: Rolling out from mid-September 2020
*Maximum 5 masks per person for all designs.
*Depending on manufacturing decisions, delivery times may range beyond mid-September.
*Resales are strictly forbidden.
*Face masks are not scientifically recognised to help prevent the spread of viruses. Q-pot. requests that customers purchasing their face masks understand that they are not guaranteed protection.
*Photos are for illustrative purposes only.
RELATED ENTRIES
Stylish Taiwanese Face Mask Brand JIUJIU Releases in Japan

The popular Taiwanese face mask brand JIUJIU was released in Japan for the first time on Friday (February 26) via the company's new Japanese website.

We now live in a time where face masks are a part of everyday life when commuting, going to the shop, walking in public places, working at the office, and so on. Japan is no stranger to face masks as they were always a part of the culture for hygienic reasons in the workplace when an employee is ill, as a fashion statement, for those suffering from hay fever, and so on, but even there has seen a major increased demand for face masks since the pandemic began.

JIUJIU's face masks are used in medical professions in Taiwan. They are noted for not only they quality but fashion sentiment too, with over 60 style variations available. These masks are now available to buy in Japan in packs of 5.

Information

JIUJIU Face Masks

Released: February 26, 2021 (Japan)

Price: Pack of 5 – ¥548 (Tax Included)

Online Store: https://jiujiu-jp.com/

Sanrio Design Face Masks by Maison de FLEUR Keep You Stylish and Safe

Maison de FLEUR has revealed a new collection of face masks created in collaboration with Sanrio which will be released in Japan on February 23.

Sanrio Character Collab Masks | ¥2,200 Each (Tax Included)

My Melody

     Cinnamoroll

Little Twin Stars

Pompompurin

Kuromi

The masks are designed from the popular Sanrio characters My Melody, Cinnamoroll, Little Twin Stars, Pompompurin, and Kuromi. The parts that hook over your ears are fitted with a big, cute satin ribbon, and the front of the masks feature a gold leaf print matte design.

The masks can be used both as a fashion item and for protection against COVID-19.

Information

Maison de FLEUR x Sanrio Character Collab Masks

Release Date: February 22, 2021 at 20:00 @ STRIP CLUB / February 23, 2021 @ Maison de FLEUR stores

STRIPE CLUB Official Website: https://stcl.page.link/Z3cE

ZOZOTOWN: https://zozo.jp/

greet up Releases Antibacterial and Anti-Odour Face Mask Spray

Japanese brand greet up has launched its new antibacterial and anti-odour "Jia Shi AL" (次亜シーAL®) spray for face masks. The bottles are a convenient 50ml size so can be carried anywhere and everywhere.

Jia Shi AL is an antibacterial spray co-developed by Environmental Science Laboratory and Himawari Clinic, a leading medical clinic located in Ono, Hyogo.

In the regular electrolysis process, chlorine (CL2) is used which is poisonous, but no chlorine is used in the making of Jia Shi AL. It contains antibacterial alcohol and hypochlorous acid solution which is kind to the skin, including those with more fragile skin. It also eliminates pollen making it a perfect accomplice alongside those who suffer from hay fever. It can also be used on disposable face masks that can't be washed to disinfect them.

The Line-Up

Jia Shi AL Original Bottle 50ml | ¥550 (Tax Included)

 

Face Mask Sets

evolvetogether Set: 7 Face Masks (4 Colours) + Jia Shi AL 50ml Bottle Set | ¥1,980

Mask Colours: Amazonia, NYC, Milan, Tokyo

  

The spray is gentle on skin and safe to use on children and pets.

Jia Shi AL can be used for many things including:

 

Hands/Masks/Electronics

Pollen/House Dust Elimination

Kitchen/Wet Areas/Tableware

Furniture/Living Space

Inside Humidifiers To Cleanse Air

Information

Jia Shi AL Original Bottle 50ml

Japanese Product Name: 次亜シーAL® オリジナルボトル 50ml

greet up Official Website: https://greet-up.com/

Face Mask Shop to Open in Osaka On February 8

Japanese children's clothing brand BABYDOLL has announced that it will open up a shop selling only face masks in Namba, Osaka on February 8, 2021. The store is called #Jibun Iro Mask ("Mask in My Colour") and will sell the newest face masks in the popular MASK DEPOT series which have sold over 150,000 units in Japan.

Pick your colour and size

There's a line-up of around 200 original masks available in different colours and sizes. Customers take a "colour assessment" where they answer four questions and pick from 20 different colours to find their perfect match, resulting in a mask made for them. There's also an option to gift wrap the masks to be given as presents to people. And for the store's grand opening, those who purchase 3 or more masks will receive another mask free of charge. This offer is available from February 8 to 14.

New Limited-Edition Sakura Cherry Blossom Beauty Face Masks Released by LuLuLun

Japanese face mask and beauty brand LuLuLun released its new limited-edition cherry blossom scented face masks on Monday (February 1) to welcome in the Spring 2021 season early.

Spring 2021 Premium LuLuLun (Cherry Blossom Scent) | ¥1,600

Combined with springtime's beauty ingredient

Spring is the season when flare ups can happen and we need to be careful of UV light, humidity, and pollen. LuLuLun's products pride themselves on their moisturising properties, and their new cherry blossom face masks are no exception. They are combined with cherry blossom petal extract, lending a fragrant scent while leaving the skin smooth and beautiful.

Rape blossom oil for even smoother skin


The rape blossom is another of Japan's popular flowers as they blossom and transform fields into rolling carpets of bright yellow. The face masks contain oil extracted from rape blossom seeds for an extra blanketing of smooth skin.

Coltsfoot extract equals healthy texture


Also in the ingredient list is extract from the coltsfoot flower, a strong plant that is able to withstand winters to make it into the spring where it can finally reveal its delicate form. It serves to create a healthy complexion on the skin.

Cute Hello Kitty and Little Twin Stars Face Masks Release in Sanrio Collaboration

Japanese sneakers select shop atmos pink teamed up with Sanrio to release a cute collection of face masks on Thursday (January 28).

KIKI&LALA★atmos MASK Colours: White/Blue – ¥1,400 (Before Tax)

HELLO KITTY♡atmos MASK Colours: White/Pink – ¥1,400 (Before Tax)

The masks can be washed and are durable, fast-drying, block pollen, and cut UV. Face masks are part of everyday life now, so why not add a little fun to routine?

Evangelion x Q-pot Reveal New Accessory Collection Featuring Designs From the Anime Series

Q-pot., a Japanese accessory brand which makes jewellery that looks like real sweets and desserts, has announced a second accessory collaboration with the Evangelion series titled "2nd Melty Impact" which will hit Q-pot. stores, select Evangelion stores, and the IKSPIARI pop-up shop on January 20, 2021.

Evangelion x Q-pot. Accessory Collection

A.T. Field Gummy Candy Necklace | ¥10,500 (Before Tax)

The delicious-looking Gummy Candy Necklace inspired by the Absolute Terror Field, the protective barrier that Angels and Evangelions can create to protect themselves. The reverse side of the necklace pedestal also features an engraving of the Tree of Life.

Red Sea & Blue Sea Metal Rings | ¥9,000 Each

Two rings representing the blue sea and red sea, the former being before the Second Impact when the world was teeming with life and the latter after the Second Impact when life is destroyed.

L.C.L. Metal Rings | ¥9,000 Each

These rings are based on LCL, the amber-coloured liquid which enables the piloting of an Evangelion Unit. In the series we see the Entry Plug of an Eva Unit flooded with this translucent liquid.

Cassius's Fork Necklace | ¥16,000

Inspired by the Spear of Cassius that the mysterious boy Kaworu retrieves when he's piloting Mark.06. The spear is fitted as a necklace through a heart which is embedded between an Angel-like halo.

The 4th Angel's Macaron Necklace ¥9,000 / Bag Charm ¥8,000

A necklace and bag charm made to look like sweet macarons. The design is based on the 4th Angel with white faces and a black body. Inside is a bright-red Swarovski crystal to represent the Angel's Core.

Asuka's Puppet Sugar Cookie Necklace ¥9,500 / Bag Charm ¥8,000

A necklace and bag charm inspired b the cute hand puppet of Asuka Langley, the pilot of Unit-02. Made to look like a sugar cookie, the accessories capture the bright-red outfit and blue eyes of the adorable puppet. It looks like it's just come freshly baked out of the oven.

Each of these accessories arrives packaged in an original tin featuring the Evangelion x Q-pot. logos. The A.T. Field Gummy Candy, 4th Angel Macaron, and Asuka's Hand Puppet also feature unique serial numbers.

Other Merchandise

The collaborative collection also feature a selection of original merchandise too.

Asuka's Puppet Pop Socket | ¥2,200

Melty Impact Mug | ¥2,800

Evangelion x Q-pot. 1st Collaboration Restock

The popular macaron and Melty Melt series from Q-pots.'s first collaboration with Evangelion is also being restocked at select Q-pot. stores.

1st Collaboration Restock – Macaron Series

1st Collaboration Restock – Melty Melt Series

Evangelion x Q-pot. Novelty

Fans who spend over ¥30,000 on any of these items at Q-pot. stores or the IKSPIRIA pop-up shop will receive a set of 6 postcards featuring designs of each Eva pilot.

Sanrio's My Melody, Pompompurin, and Little Twin Stars Keep Your Face Masks Safe

Sanrio released pre-sales of its new Sanrio Characters Mask Bags for face masks via the online shop Asunarosha on Wednesday (December 9).


Following the success of the Hello Kitty and Cinnamoroll face mask bags released in September, all of which sold out, Sanrio is adding new designs into the mix. The bags are washable and allow you to carry your mask around conveniently and hygienically.

My Melody, Pompompurin, Little Twin Stars (Kiki & Lala) | ¥700 Each (Before Tax)

The new designs include the popular characters My Melody, Pompompurin, and Little Twin Stars (Kiki & Lala).


Hello Kitty, Cinnamoroll | ¥700 Each (Before Tax)

Hello Kitty and Cinnamoroll are also making a return so fans can pick from 5 different designs.

Sanrio Puroland is also releasing a cute collection of face mask and mask cases on December 18.

©1976, 1996, 2001, 2020 SANRIO CO., LTD.

Sanrio Puroland Announces the Release of Sanrio Character Face Masks and Cases

Sanrio Puroland has announced the release of a new Sanrio character face mask and case collection on December 18, 2020.


Original Masks & Cases – Regular Sizes (6 Designs) | ¥1,650 Each (Tax Included)

The face masks and face mask cases feature cute designs of Sanrio characters including Dear Daniel, Badtz-Maru, Kuromi, My Sweet Piano, and Mocha.


Original Masks & Cases – Kids Sizes (3 Designs) | ¥1,320 Each (Tax Included)

There are also kids sizes with My Melody, Kuromi, and a character mix designs so parents and children can look cute together.

Mask Attachments (6 Designs) | ¥1,650 Each (Before Tax)

Sanrio also has a line-up of Hello Kitty, Dear Daniel, My Melody, Kuromi, Pompompurin, and Cinnamoroll attachments for the face masks.

©1976, 2009 SANRIO CO., LTD. ©1976, 1988, 1989, 1990, 1993, 1996, 2001, 2005, 2020 SANRIO CO., LTD.

Harry Potter Accessories Released in Collaboration With Q-pot.

Japanese accessory brand Q-pot. has signed a partnership with Warner Bros. Consumer Products to release a special collection of accessories in collaboration with the Harry Potter film franchise which will celebrate the 20th anniversary of the first movie in the series, Harry Potter and the Philosopher's Stone, next year.


Q-pot. are delivering a sweet collaboration this winter with an accessory line-up that embraces yummy sweets and chocolate and Harry Potter.

Q-pot. is known for its fantastical accessory collaborations, having teamed up with the likes of Sailor Moon, Aladdin, Zootopia, and other franchises in the past, making it the perfect candidate to adorn consumers with the magical world of Harry Potter. Each and every one of the items in this collection are hand-made by artisans in Japan who have worked tirelessly to craft accessories with the finest of details.

Sorting Hat Necklace – ¥13,000 (Before Tax)

A necklace inspired by the famous Sorting Hat of Hogwarts which is responsible for sorting new students into one of four Houses: Gryffindor, Hufflepuff, Ravenclaw, and Slytherin. Having that hat on your head has got to be the most anxiety-inducing situation ever. This chocolatey necklace has a unique function that shows you which House you will be put into.

Sorcerer's Stone Gummi Candy Necklace – ¥10,500 / Bag Charm – ¥9,000 (Before Tax)

The iconic Philosopher's Stone, also known as the Sorcerer's Stone, is what Professor Quirrell is helping Voldemort to obtain in order to restore his body. Both the necklace and bag charm are made to look like beautiful and vibrant sweet and sour gummies.

Chocolate Frog Cake Necklace – ¥11,000 / Bag Charm ¥9,500 (Before Tax)

The Chocolate Frog is first seen aboard the Hogwarts Express when Harry and Ron meet for the first time and Harry orders the entire trolley of sweets.

Melting Chocolate Frog Ring (Size 11) – ¥11,000 / Piercing (One Ear) – ¥7,000 / Earring (One Ear) – ¥7,000 (Before Tax)

Also inspired by the same Chocolate Frog which both Harry and Ron don't actually get to try eating as it hops out of the train window. The ring, piercing, and earring is an homage to that scene.

Golden Snitch Macaron Necklace – ¥10,000 / Bag Charm – ¥8,500 (Before Tax)

The elusive Golden Snitch is what every Seeker on their Quidditch team wishes to catch at Hogwarts. The Golden Snitch necklace and bag charm are shaped like macarons with whipped cream between them and topped with golden feathers.

Gryffindor, Hufflepuff, Slytherin, and Ravenclaw Macaron Necklaces – ¥9,000 / Bag Charms – ¥8,000 (Before Tax)


A selection of macaron necklaces and bag charms for each respective House at Hogwarts. The accessories are coloured like the uniforms of students at Hogwarts and made to look like tea flavoured, cream-filled macarons.

Dark Mark Necklace – ¥10,000 / Bracelet – ¥12,000 / Piercing (One Ear) – ¥6,000 (Before Tax)


The Dark mark is of course the symbol of Voldemort and his Death Eaters, featuring a giant skull with a serpent protruding from its mouth. The necklace, bracelet, and piercing are must-grabs for fans of the Dark Lord and the terrifying Eaters.

Don't miss out on this magic-imbued collection by Q-pot. Orders for the collection will open on October 30, 2020

Information

Harry Potter x Q-pot Collaboration
Orders: Open October 30, 2020
Available: Q-pot. stores in Japan and Q-pot.'s online shop
Order Window: October 30, 2020 – November 15, 2020
Official Website: http://www.q-pot.jp/
*Available while supplies last

Face Masks Made From Recycled Organic Cotton to be Released at Muji

Ryohin Keikaku Co., Ltd. has announced the release of three cloth face masks—made from recycled organic cotton obtained from leftover materials during the manufacturing of autumn and winter apparel—which will be released at Muji stores across Japan from mid-October this year.

Face masks have become an essential part of peoples' daily lives across the globe, with many people now opting for reusable cloth masks over disposable ones due to their reusability by simply washing them, feeling soft on the face, and reducing waste.

Muji too is on board this more environmentally-friendly approach and released reusable three-layered face masks back online in May.

Face Mask (Fleece) – ¥999 (Tax Included)

Face Mask (Flannel) – ¥999 (Tax Included) / Face Mask (Corduroy) | ¥999 (Tax Included)

Muji's new masks will release in fleece, flannel, and corduroy designs.

All the masks are made from organic cotton leftover from Ryohin Keikaku manufacturing their hoodies, shirts, trousers, and other clothing items for the autumn/winter season.

Aladdin Inspired Jewellery Collection by Q-pot. Looks Like Real Chocolate

Q-pot. have added Jafar from the Disney film Aladdin to the "Disney Villains" collection of their "Disney Story Dreamed by Q-pot." line of jewellery and accessory products. The items are available for a limited time from September 12 to 30 at Q-pot. stores in Japan and the brand's online shop.

Aladdin is an internationally-celebrated love story about the titular street urchin and Princess Jasmine. It has many memorable characters, including Genie who Aladdin summons from a magic lamp, as well as the iconic Jafar, the film's main antagonist who adds spice to the story. It is this Disney villain that Q-pot. has taken inspiration from for their popular accessory range which is made to look like sweets.

Jafar/Snake Chocolate

Necklace ¥10,500 (Before Tax) | Bag Charm ¥9,500 (Before Tax)

Chocolate is an addictive indulgence for many people, and so it makes the perfect inspiration for the Jafar jewellery, as the villain is known for the skilful manipulation of his Snake Staff. The red jewel in the middle is like a sweetly boiled cherry. It comes as either a necklace of charm for your bag.

Jafar Snake Ring (Japanese Ring Size 12) ¥13,000 (Before Tax)

Information

Disney Villains -Jafar ‐

Available: September 12, 2020 – September 30, 2020

Delivery/Collection: From Early December 2020

Sold At: Q-pot. ONLINE SHOP / Q-pot. Omotesando / Q-pot. Tokyo Skytree Town Solamachi / Q-pot. Takashimaya Shinjuku / Q-pot. LUCUA osaka

Product Page: http://www.Q-pot.jp/news/2020/09/1306.html