McDonald's Japan Reveals New Peach Smoothie and Frappe
McCafé by Barista branches of McDonald's in Japan are releasing two new limited edition drinks on May 20: the "Goro Goro Peach Smoothie" and "Fuwa Fuwa Peach Creamy Frappe."
The "Peach Smoothie" first appeared at McDonald's Japan in 2015 and has been popular every year since. But these two new drinks are taking the peachness to the next level. Until now, the Peach Smoothie has been made with only white peaches, but the new beverages add yellow peaches to that for double the peach goodness.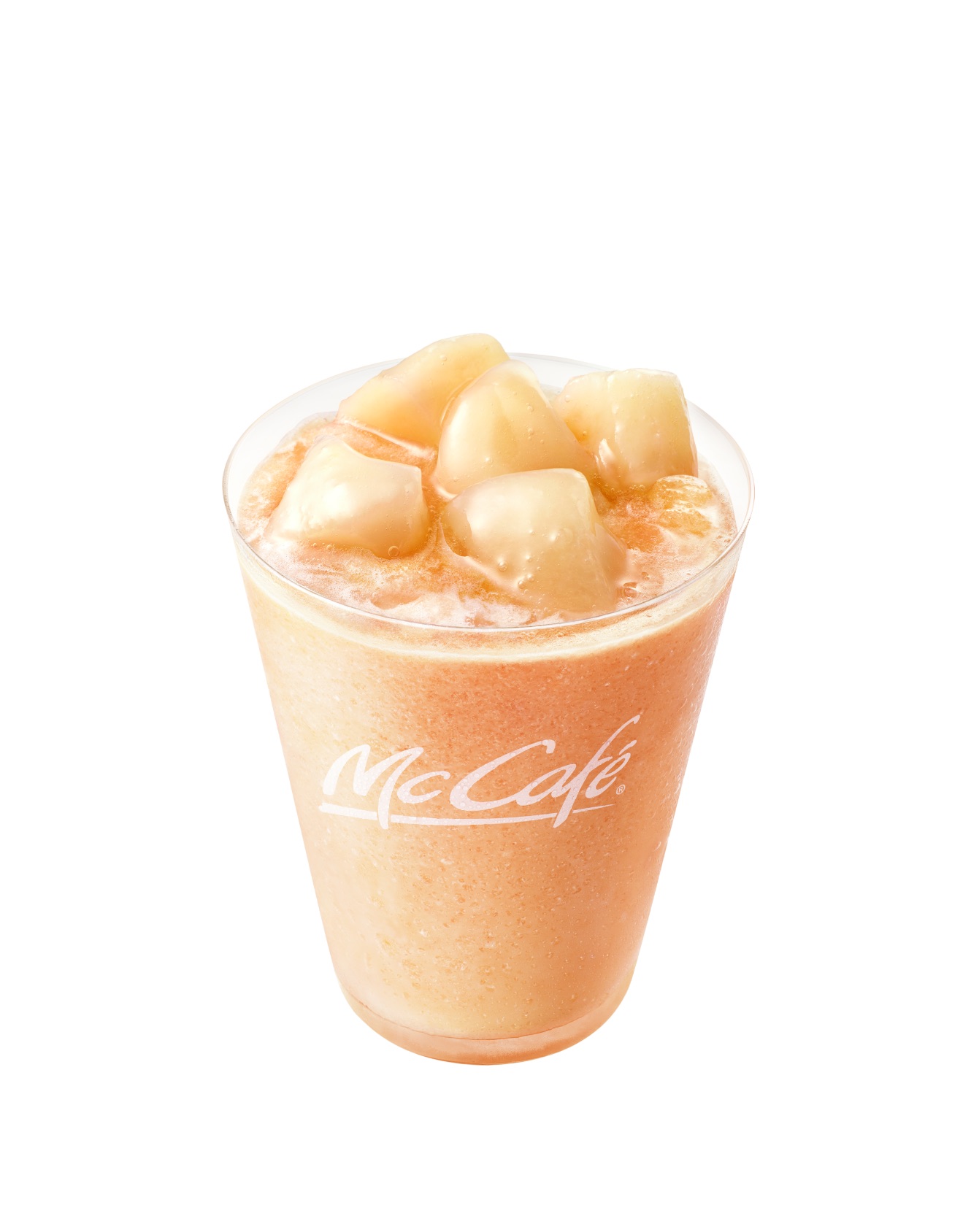 Goro Goro Peach Smoothie: Regular ¥440 / Large ¥480
The Goro Goro Peach Smoothie uses the juice of white and yellow peaches to create its smoothie base. It's also topped with a sauce made from the juice of white peach. The sweetness of this yellow and white peach combination makes for an even deeper level of flavour, and the fresh white pieces on top elevate it even more.
Fuwa Fuwa Peach Creamy Frappe: Regular ¥490 / Large ¥530
The frappe uses the same smoothie base and sauce, but adds whipped cream into the mix, resulting in a deliciously creamy texture and flavour.
And for an extra ¥60, you can add more sauce to your Goro Goro Peach Smoothie if you feel it isn't peachy enough!
Information
Goro Goro Peach Smoothie / Fuwa Fuwa Peach Creamy Frappe
Serving: May 20, 2020 – Late July 2020 (subject to change)
Available: At McCaféby Barista branches of McDonald's in Japan
McDonald's Japan Official Website: http://www.mcdonalds.co.jp
RELATED ENTRIES
McDonald's Japan Introduces Strawberry Creme Brulee Frappuccino for Limited Time

McDonald's Japan will be offering up a particularly tasty treat for the winter holidays! Starting November 24, the chain will release the Strawberry Creme Brulee Frappuccino for a limited time at stores featuring a McCafe by Barista corner. These locations employ full-time baristas serving 'authentic cafe coffee.' 

McCafe by Barista invites guests to enjoy high-quality frappuccinos and smoothies, and this winter, there are plenty of dessert-like additions to the menu. This Strawberry Creme Brulee Frappuccino is the first in the new lineup, combining strawberries and the annual winter staple, the Creme Brulee Frappuccino. 

Strawberry Creme Brulee Frappuccino Medium: ¥470 / Large: ¥540

Creme Brulee Frappuccino Medium: ¥470 / Large: ¥540

 

This new release has a base mixture of rich milk and creme brulee syrup, blended with sweet and sour strawberry sauce with crushed strawberries, fluffy creme brulee whipped cream, and thinly baked crushed cookies, all topped with a bittersweet caramel sauce. 

Information

Strawberry Creme Brulee Frappuccino

Available: November 24, 2021 – Mid-January 2022

Available at Participating McDonald's Locations with McCafe by Barista Nationwide

Official Site: https://www.mcdonalds.co.jp/

McDonald's Japan Releases New Black Thunder Winter Lightning McFlurry

McDonald's Japan has just released a tasty new treat for winter! The Black Thunder Winter Lightning McFlurry, a collaboration with the popular chocolate bar Black Thunder, is now available at participating locations nationwide. 

This popular collaboration firsts appeared in 2017 and is now available in winter for the first time. Even though the weather is chilly, it's impossible not to want to eat this unique blend of dark and white chocolate. The sugar rush is sure to get you through the day!

Black Thunder Winter Lightning McFlurry: ¥290 (Tax Included) 

Smooth soft-serve ice cream is mixed with Black Thunder incused cocoa cookies and plain cookies, then topped with two types of chocolate sauce. What's not to love about this blend of textures and flavors? Be sure to grab one before they disappear at the end of November!

Information

Black Thunder Winter Lightning McFlurry

Available: November 4 – end of November

Where to Buy: Participating McDonald's Locations Nationwide 

Sales Hours: 10:30-close (Until 1:00AM at 24-hour locations)

Official Site: https://www.mcdonalds.co.jp/

McDonald's Japan Releases New Locally Sourced Limited-Time Rice Burgers

Here's something you can only find in Japan: starting September 29, McDonald's locations throughout the country will add three new tasty sandwiches wrapped in rice buns to the menu for a limited time! These include the Gohan Chicken Filet with Garlic and Black Pepper, the Gohan Shrimp Filet with Spicy Sauce, and the Gohan Teriyaki Burger!

Each sandwich features a fluffy bun made entirely from domestically-grown rice and will be sold after 5 PM as part of the Yoru Mac (Night Mac) menu. Items on this late-night menu offer customers one special perk: any amount of meat can be doubled for only ¥100! Originally introduced in 2020, these burgers were a smash hit, mixing a traditional Japanese staple with western flavors. 

Gohan Chicken Filet with Garlic and Black Pepper: ¥410

Gohan Shrimp Filet with Spicy Sauce: ¥440

 

Guests are sure to enjoy each of these two brand-new menu items. The Chicken Filet features a garlic and black pepper sauce, while the Shrimp Filet is filled with plump shrimp cutlets with a spicy red-pepper-based glaze. 

A new series of ads for the new products starring popular actors Satoshi Tsumabuki and Jun Shison will begin airing on September 28. 

Gohan Burger 'Rice Farmers/Episode 1' – 30-second ad


More new additions to the Gohan Burger lineup are expected in late October, so keep an eye out! Would you like to try one of these the next time you're in Japan?

Information

Gohan Chicken Filet with Garlic and Black Pepper

Gohan Shrimp Filet with Spicy Sauce

Available: September 29, 2021 – Mid-November, 2021 at participating McDonald's Japan locations

Official Site: https://www.mcdonalds.co.jp/

McCafe by Barista® Offering New Kuromitsu Uji Matcha Frappe

In Japan, McDonalds McCafe by Barista will be releasing the new Kuromitsu Uji Matcha Frappe beginning September 1. The sweet autumn drink will only be available for a limited time.

McCafe by Barista has been popular with customers looking for sweet beverages, such as Frappes and smoothies. The Uji Matcha Frappe was added to the regular product lineup in June 2021, and features a mellow matcha flavor. With this release, kuromitsu, or Japanese black sugar syrup, has been added to enhance the drink's flavor.

Kuromitsu Uji Matcha Frappe: ¥490 (M), ¥560 (L)

 

The Kuromitsu Uji Matcha Frappe is made with powdered Uji Matcha tea from Kyoto, mixed with milk and topped with Kuromitsu jelly, known for its gentle sweetness and rich flavor. Brown sugar from Okinawa Prefecture along with whipped cream is added on top.

Uji Matcha Frappe: ¥440 (M), ¥490 (L)

The regularly available Uji Matcha Frappe is made with Uji Matcha powder from Kyoto, milk, and fluffy whipped cream. Dark green matcha powder and pure white whipped cream gives the beverage a gorgeous appearance, along with a truly Japanese flavor.

These are two drinks not to miss if you're in Japan!

McDonald's Japan Releases Strawberry and Banana Frappes at McCafe by Barista®

McDonald's Japan released its new Strawberry & Condensed Milk Frappe and Banana Caramel Frappe beverages at McCafe by Barista® branches up and down the country on July 14. The fruity frappes and the perfect choice for the hot summer season.

Strawberry & Condensed Milk Frappe | Regular: ¥490


The strawberry frappe is made with a sweet and tangy strawberry sauce that has fresh strawberry pieces in it as well as juice taken from amaou strawberries grown in Fukuoka which are known for their fresh and sweet taste. Added to the cup is rich condensed milk along with a squirt of whipped cream for a milky and velvety finish.

Banana Caramel Frappe | Regular: ¥490


The banana frappe is filled with a banana puree sauce, banana syrup, and a crème brûlée syrup. It's topped with smooth whipped cream and a drizzle of caramel sauce. The banana and caramel make for a delicious combination.

McDonald's Japan Releases Pikachu Desserts

Mc Donald's Japan released its new Sweets Trio Fruchu menu on Friday which features a line-up of three fruit-flavoured Pikachu items: the Yellow Peach McShake, Chocolate Banana McFlurry, and Hot Apple Custard Pie.


The menu items comes in limited-edition cups and packaging featuring the adorable Pikachu.




Yellow Peach McShake | Small ¥120 – Regular ¥200 (Tax Included)

A fruity and refreshing summery McShake made with sweet and sour yellow peach with that satisfying creamy McShake texture. Available in small and medium, both sizes come with three different cup designs each for a total of six.

Chocolate Banana McFlurry | ¥290 (Tax Included)

The Chocolate Banana McFlurry is served in an ice cream cup with a fresh squirt of milky rich soft serve and drizzled with banana and chocolate sauces. The ice cream is finished with a sprinkle of crunchy yellow cornflakes. Another perfect choice for cooling down in the hot summer weather. There are three possible cup designs to receive.

Hot Apple Custard Pie | ¥150 (Tax Included)

The apple custard pie is served hot with a crunchy outside and filled with custard cream made with fresh apple and vanilla beans and seasoned with caramel and cinnamon. There are three possible packaging designs to receive.



McDonald's Japan is also serving a Pikachu-style Happy Meal as part of the collaboration which come with one of six possible toys.

McDonald's Japan Releases Peach Smoothie and Frappe Made From Three Kinds of Peaches

McDonald's Japan is releasing two new beverages at McCafé by Barista® on April 28 each made with three varieties of peach: the Gorotto Peach Smoothie and Fuwa Fuwa Peach Creamy Frappe.

Gorotto Peach Smoothie: Regular ¥440 / Large ¥480

Fuwa Fuwa Peach Creamy Frappe: Regular ¥490 / Large ¥530

McDonald's Japan's original Peach Smoothie and Peach Frappe beverages first appeared in 2015 and have been slurped up by customers every year since. This year, they return even juicier and more delicious than ever before by being made with three kinds of peach juice: yellow peach, white peach, and for the first time, nectarine.

The Gorotto Peach Smoothie cup is topped with a sauce made from fresh white peach pieces that give an exquisite sweet kick to the richly sweet yellow peach. The nectarine adds a sweet and sour layer to the mix for the ultimate peach combination. The Fuwa Fuwa Peach Creamy Frappe has all of this plus a topping of fluffy whipped cream. And for an extra ¥60, customers can double the amount of sauce they can have on either of these drinks.

While these limited-time drinks are on offer, customers can pick up a stamp card. For every peach frappe or smoothie ordered, they'll get a stamp. Collect all four and get yourself a free regular-sized mango smoothie, green smoothie, chocolate frappe, or espresso frappe. The card is valid from April 28, 2021 to September 30, 2021.

Information

Gorotto Peach Smoothie / Fuwa Fuwa Peach Creamy Frappe

Release Date: April 28, 2021

Where: McCafé by Barista branches of McDonald's in Japan

McDonald's Japan Official Website: https://www.mcdonalds.co.jp/

McDonald's Japan Releases Coffee Jelly Pudding Frappe

McDonald's Japan continues its flurry of delicious releases to its diverse menu with the addition of the new Coffee Jelly Pudding Frappe which hit McCafé by Barista® branches of McDonald's on Wednesday (March 10).

The sweet beverage takes rich-tasting Japanese custard pudding, known as purin, and turns it into a drink. It's topped with fluffy whipped cream and dunked with chewy pieces of coffee-flavoured jelly which sit temptingly at the bottom of the cup waiting to be enjoyed. Together with a drizzle of caramel sauce, the drink is a perfect balance of sweet and full-body. A must-grab for the arrival of the warm spring weather.

McDonald's Japan Serving its Famous Limited-Time Teritama Burgers Again This Spring

Spring is almost here, which means the return of McDonald's Japan's famous "Teritama" series of burgers, a delicious combination of teriyaki sauce and egg. The customer-favourites hit the menu on Wednesday (March 3).

Teritama

Cheese Teritama

Pastrami Beef Teritama

Teritama Muffin

McFizz® Iwate Prefecture White Peach (1% Fruit Juice)

McFloat® Iwate Prefecture White Peach (1% Fruit Juice)

Shaka Shaka Potato® Chicken & Garlic Seasoning

The Teritama burger is a popular order at McDonald's in Japan. First launched in 1996, it lathers a pork patty with a sweet and sour teriyaki sauce that's made from apple and garlic and tops it with a runny egg. The series includes the standard egg and teriyaki pork burger as well as the cheddar cheese-loaded "Cheese Teriyama," and the spring season exclusive "Pastrami Beef Teriyama." This year also sees the return of the "Teriyama Muffin" which was first introduced in 2017.

Don't forget to order the black pepper-covered Shaka Shaka Potato fries that come with a chicken and garlic seasoning. As well as the savoury line-up, sweet tooths can look forward to a McFizz and McFloat made with the juice of white peaches farmed in Iwate Prefecture.

McDonald's Japan also released a series of commercials for the 2021 Spring season Teritama series. Check them out below.

McDonald's Japan Teritama 2021 | 15-Second Commercial

McDonald's Japan Teritama 2021 | 30-Second Commercial

McDonald's Japan Teritama 2021 | 60-Second Commercial

McDonald's Japan Teritama 2021 | 120-Second Commercial

Information

McDonald's Teritama 2021

Released: March 3, 2021

Where: McDonald's Japan branches

Official Website: https://www.mcdonalds.co.jp/

McDonald's KitKat McFlurry to be Whipped Up in Japan

McDonald's Japan is teaming up with Nestlé next week to bring back last years' customer-favourite McFluffy® KitKat® for a limited time starting on January 27.

McFlurry KitKat | ¥290

The delicious dessert combines McDonald's tasty soft service ice cream with crushed KitKat and finishes it with a drizzle of special sauce made with couverture chocolate. Mix everything together for pure chocolatey heaven goodness.

McFlurry Oreo | ¥290

McDonald's Japan also serves the McFlurry Oreo, a regular item on the menu, and right now is the only time you can enjoy comparing the tastes and textures between both the Oreo and KitKat McFlurries.

Which one has you drooling more?

Information

McFlurry® KitKat®
Running: January 27, 2021 – Late March 2021

Available: McDonald's Japan (Select branches not participating)
Serving Times: 10:30 until closure
Official Website: http://www.mcdonalds.co.jp/

*KitKat is a registered trademark of Nestlé Group.

Japanese Star Actor Kimutaku Features in McDonald's TV Commercial For New Cafe Latte & Choi Mac Burger

McDonald's Japan is teaming up with iconic Japanese actor and singer Takuya Kimura, also known as Kimutaku, once again following their collaboration with him in 2020. The star is featuring in a new commercial and campaign by McDonald's that centres on rediscovering the value and taste of the fast food chain.


The first in a series of commercials hit Japanese televisions on Tuesday (January 12) for McDonald's Japan's revamped hot and iced Cafe Lattes. The second commercial will be released next Tuesday (January 19) for the Yakkii grilled ginger burger. The ¥200 burger is arriving on the menu at McDonald's Japan the following day on Wednesday.

McDonald's Japan Adds Crème Brûlée and Belgian Chocolate Pies to the Menu

McDonald's Japan is bringing back its popular Belgian Chocolate Pie from last year and is also introducing a new Crème Brûlée Pie, both of which will hit the menu at all McDonald's branches from January 13 for a limited time.

Crème Brûlée Pie | ¥150 (Before Tax)

Belgian Chocolate Pie | ¥150 (Before Tax)

The hot pies are filled with deliciously sweet cream and are a perfect, cosy treat during the cold weather.

Information

Crème Brûlée Pie / Belgian Chocolate Pie
Serving: January 13, 2021 – Mid February 2021
Available: McDonald's Japan
Price: ¥150 Each (Before Tax)
Official Website: https://www.mcdonalds.co.jp/