Experience Japanese Culture at Home With Live Streams From Japanese Artists and Monks
Japan Culture and Technology, a company which offers Japanese experiences taught by professionals in their respective industries, has launched an online service on WABUNKA EXPERIENCE which lets you experience traditional Japanese culture from the comfort of your home.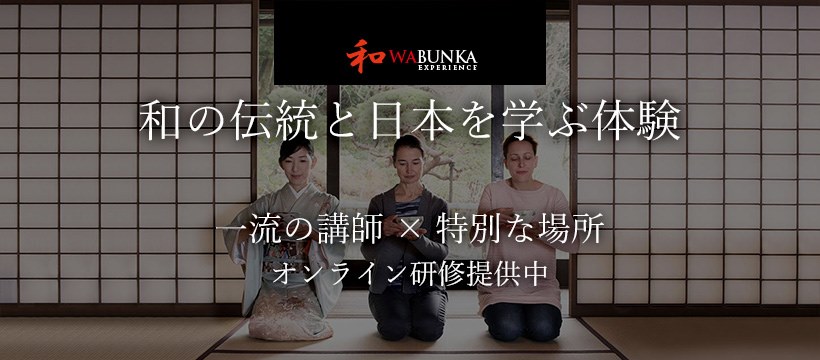 WABUNKA EXPERIENCE is led by leading artists and offers memorable experiences of Japanese traditional culture, such as calligraphy, tea ceremony, flower arrangement, and so on, at impressive sites in Tokyo or Kyoto.
Now people can learn about Japanese art, culture, and ways of thinking from home with the launch of their new online service. Expert Japanese artists and monks will be streaming workshops live from temples and cultural facilities in Kyoto and Tokyo. Since travel is strictly limited right now, this is the perfect opportunity for foreigners to learn more about Japan and Japanese culture.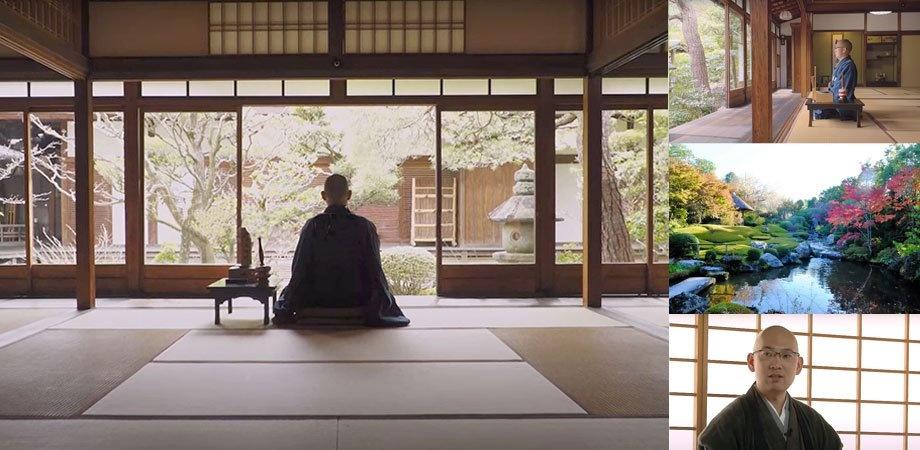 The commemorate the launch of the online service, it will be offered at a special price. Check out the website below and learn about the programs currently on offer, from online meditation to flower arrangement, tea ceremony, and more.
RELATED ENTRIES
Japanese Artists Associated With The TEA-ROOM Launch Art Production and Management Company

Mucha Kucha is announced the launch of a new art production and management project that aims to create a space and opportunities for people to discover the Japanese spirit and value through performances and products created by artists associated with the The TEA-ROOM.

The project brings together seven diverse artists from different backgrounds whose mission is to "Respect and Go Beyond."

Art Production & Management Project

Participating artists will showcase their experience and personalities in a variety of ways as part of the project in an effort to create new possibilities within Japanese culture while seeking to elevate cultural value.

The TEA-ROOM productions

Exhibits

Performances

Collaborations

Art and products

Participating Artists

Souryou Matsumura (Tea Ceremony Instructor)

Shiho Sakamoto (Confectioner)

Fumihiko Sano (Artitect/Artist)

Gentaro Yokoyama (Potter)

MAMI (Calligrapher)

RYOTA HAGIWARA (Flower Arranger)

Masahiro Inoue (Paperer)

The TEA-ROOM (Art Collective)

URBAN SENTO: The New Brand Making Japanese Bath House Clothing Stylish

"JAPAN MADE PROJECT" is a project launched by Japanese apparel shop URBAN RESEARCH which aims to revitalise regions around Japan by building local communities with businesses and creators around the country while also looking to take a step back to reconsider what is appealing about each of those regions.

As part of this new project, URBAN RESEARCH has announced its plans to establish "JAPAN MADE PROJECT TOKYO" on March 20, 2020. Focusing on Tokyo, this branch of the project will see the launch of "URBAN SENTO." This will focus on the potential of sento, or "bath houses," in the city, which will also include a new line of bath house clothing made in collaboration with Kosugi-yu a sento located in the Tokyo district of Koenji.

Public bath houses play an important part in Japanese culture by contributing to people's mental health and creating communities. This is especially so in a city as busy as Tokyo. That's where URBAN SENTO comes in, which will encourage the rediscovery of the city's appealing culture through sento.

Pre-sales for the new clothing line opened on the URBAN RESEARCH online store on February 14, 2020. It features a collection of must-have items for the bath house, whose message is to spread the bath house lifestyle.

Apparel

To ensure the clothing is comfortable as bath-wear, the collection is made from high quality cotton provided in collaboration with HAAG, a brand managed by Smile Cotton. This cotton is nice and soft and does not rub against the skin. Smile Cotton's materials are even endorsed by the Japan Atopic Dermatitis Patients Association.

Crew Neck T-Shirt – ¥7,700 (Tax Included) | Sizes: Small/Medium/Large | Colours: White/Light Grey/Black

One Piece – ¥13,200 (Tax Included) | Sizes: Small/Medium | Colours: White/Light Grey/Black

Short Pants – ¥12,100 (Tax Included) | Sizes: Small/Medium/Large | Colours: White/Light Grey/Black

ZIP Parker Hoodie – ¥16,500 (Tax Included) | Sizes: Small/Medium/Large | Colours: White/Light Grey/Black

Pouch (Medium Size) – ¥3,080 (Tax Included) | Colours: White/Navy/Orange

The mesh pouch can be taken into the bath with you. Put your shampoo or other bath products in with you and take a dip.

Miscellaneous Items: IKEUCHI ORGANIC x URBAN SENTO
The bath towels you can use at Kosugi-yu are made by IKEUCHI ORGANIC. They come in two sizes and are incredibly soft on the skin.

Oragnic 120 Bath Towel – ¥5,060 (Tax Included) | Colours: White/Grey

Oragnic 120 Face Towel – ¥1,980 (Tax Included) | Colours: White/Grey

Kimura Soap x URBAN SENTO
The products used for cleaning yourself at Kosugi-yu, as well as what's used for washing the towels, is soap provided by Kimura Soap. This pure soap, crafted by artisans by cooking in kettles, is friendly to the environment and the skin. It can be used at the bath house, in the bath at home, or even for your laundry.

Body Soap (Hinoki Cypress/Lavender) – ¥1,980 (Tax Included)

This body soap gently lathers your skin in bubbles and leaves your skin filling refreshed. Both the hand soap and body soap feel good to use.

The a video and main visual were released for URBAN SENTO, which feature Japanese music artists Yusuke Emoto and Aoi Nogi as the models.

Information

JAPAN MADE PROJECT TOKYO "URBAN SENTO"
Pre-sales: Opened February 14, 2020
Available: URBAN RESEARCH online store
*Only a select number of items are available in the pre-sale

General Sale: March 20, 2020

Available: URBAN RESEARCH online store / URBAN RESEARCH Jinnan / URBAN RESEARCH Namba CITY / URBAN Famima!! Toranomon Hills Business Tower
*Store list subject to change

Official Website: https://media.urban-research.jp/news/61847/

BEAMS fennica to Release Gorgeous Collection in Collaboration With Ainu Crafts

fennica is a fashion label associated with BEAMS that combines traditional Japanese handicraft with new and old designs collected from Northern Europe. The label has announced that it will collaborate with the Akan Tourism Association (法人阿寒観光協会まちづくり推進機構) non-profit organisation to release an all-new collection that incorporates traditional Ainu crafts.

Terry Ellisーthe London-based director of fennicaーand Keiko Kitamura observed Ainu culture in the Lake Akan area in Kushiro, Hokkaido, and have used the creative beauty of young craftsmen and craftswomen who are in charge of next-generation Ainu culture. Overtime they have worked together with the artisans to create an original collection entitled "Ainu Crafts from Lake Akan: Tradition and Innovation" which will be sold on the fifth floor of the Shinjuku branch of BEAMS Japan in the fennica studio and B Gallery from October 12.

The collection incorporates silver jewellery with Ainu patterns, wood-carved cutlery, hamper bags made with traditional materials, and many other lifestyle items familiar to Ainu culture. During the showcasing, there will be other exhibitions related to Ainu in the gallery, as well as talks, live performances, and more.

A special webpage went live on October 1 talking about this collaboration.

The collection's director Terry Ellis commented: "When I was walking around Takiguchi's store Ichigen No Mise, my attention focused on this cutlery. I felt the folklore in its simplicity. Though it's an item to be used, the craftsmanship is incredible. You can't just stop at one, you want to collect more and decorate with them." *Translated from Japanese

Keiko Kitamura, also a director for the collection, commented: "Akan is a rare kind of place, with mountains, rivers, lakes and forests. It has its own shapes and colours because of the light, colours and sounds which change intensely with time and soak into your body. And Ainu art is distinct from the traditional craftsmanship of other countries and regions because in almost all categories you can still produce it even today. There are [Ainu] people who are still continuing to make art for their family to this day. Their still being here is something valuable."

She continues: "Japan's handiwork is in danger of vanishing across all areas of the country. Even if there are no successors, there are people who have been beside them watching, and people who were once involved in the past. So we may barely just make it. Because if this handiwork comes to a stop, it will be no more. We feel a sense of duty to protect this wonderful work."

Information

Ainu Crafts from Lake Akan: Tradition and Innovation

Location: BEAMS Japan – Floor 5F (3-32-6 Shinjuku, Shinjuku Ward, Tokyo)

Running:

<fennica Studio> Product Sales: October 12, 2019 – October 20, 2019 (*AINU CRAFTS products, specially-made fennica select Lake Akan items, and more)

<B Gallery> Lake Akan Exhibitions: October 12, 2019 – October 27, 2019

①Live Event: October 13, 2019 @ 18:00-18:30

Guests: Sister music unit "kapiw & apappo" (Fukuko Gōukon/Emi Shimokura)

②Talk Show: October 20, 2019 @ 18:00-19:30

Guests: Kengo Takiguchi, Hiroyuki Shimokura, Erika Katsuya, Keiko Kitamura, Terry Ellis

*The live event and talk shows are booking-only. Please check the B Gallery website for more details and how to book.

Visit the following website for more details on the participating artisans: https://www.akanainu.jp/karpekuru

Keio Plaza Hotel Tokyo Offers Luxurious Accommodation Plan & Tea Ceremony Experience For Families

Keio Plaza Hotel Tokyo, a highly prestigious and magnificent 4-star hotel located in Shinjuku, is now serving an all-new "luxurious" family package which includes a tea ceremony experience and much more. It is currently running from July 20 to September 1.

The rooms offered in the accommodation plan are the hotel's popular Wide Twin Rooms located on the Premier Grand club floor. Use of the Club Lounge is included in the package. The Wide Twin Rooms include two roomy queen-size beds which span 1.53 meters wide which allow parents to sleep comfortably with their children. Rooms also feature their own bathroom facilities.

The package also includes a check-in simulation for children aged 6-12 years where they can get a feel for what it's like to check-in. They will fill in their own check-in cards with parents and receive a ticket for the tea ceremony experience. They will be able to take their card home with them and take a commemorative photo.

The tea ceremony experience will be held on the hotel's 10th floor in the "Shofuan," an authentic tearoom that has been in the hotel since it opened in 1971. Parents and children will receive proper instruction from the tea ceremony teacher before pouring their own tea, allowing them to learn about traditional Japanese culture and etiquette. They will receive a special certificate of completion at the end.

If you're travelling to Japan as a family this summer then enjoy it in luxury at Hotel Keio Plaza Tokyo.

Information

Tea Ceremony Experience and Luxurious Accommodations for Families

Running: July 20, 2019 – September 1, 2019
Price: ¥18,450 per person for the Wide Twin Rooms on the Premiere Grand Club Floor *Usage for 2-4 people (Includes use of the Club Lounge, breakfast, and includes service charge and tax)

Package Includes:

①Tea Ceremony experience for overnight guests (1.5 hours required, children of preschool age or younger cannot participate but are welcome to watch)

②Simulated Club Lounge check-in experience for children and special commemorative photographs available between 2:00p.m. to 5:00p.m.

③Amenity items for mother use (skin care products etc.)

④Commemorative certificates of stays and tea ceremony completion, and photographs presented to guests

⑤Complimentary late check-out at 12:00p.m. (Normal check-out time is 11:00a.m.)

⑥Complimentary use of Sky Pool facilities

Enquiries & Reservations: +81-35322-8000

Keio Plaza Official Website: https://www.keioplaza.com/

See Traditional and Modern Japanese Culture Collide With Yukata, DJs & More at Tokyo's Hamarikyu Gardens

The three-day Hamarikyu Oedo Cultural Festival will take place at the beautiful Hamarikyu Gardens in Tokyo from August 23 to 25. It will be produced by international fashion designer and stylist Junko Koshino.

The boisterous festival is a coming together of Japan's traditional Edo period and modern times which will be celebrated with a myriad of exciting experiences.

The centrepieces of this year's event are the DJ performances and Yukata Fest which will take place around the two 6-meter tall pillars in the garden's plaza. DJ KOO will appear as a special guest on Friday August 23rd while Japanese models Arina Urahama, Sayaka Shimizu and YORI will take the spotlight on Saturday 24th wearing Edo-style outfits with a contemporary pop spin all made by Junko Koshino.

During the Yukata Fest, there will be taiko drumming along to the DJ performance. Three people from the Eitetsu Fu'un no Kai―a group supervised by famous Japanese musician Eitetsu Hayashi―will be the drummers. The Fest will mash together traditional Japanese music with modern DJing.

Expect to be thrilled with an up-close performance of kendo swordsmanship, iai―the art of drawing one's sword―and a showcasing of naginata, a type of long pole weapon. There will also be a play area where you can play karuta with the Hyakunin Isshu one-hundred poems which was popular during the Edo period, blow bubbles, and more.

And of course, there'll be plenty of Japanese food to tuck into as well served at one of the many booths. This includes namie yakisoba, a local speciality soba noodle dish adored by the people of Fukuoka which will be served as part of maintaining the culture, a Fukushima no Sake standing bar which has won the top award in the Shinshu Kanpyokai 7 years in a row, and so on.

Specially prepared traditional Japanese wagashi confections produced by Junko Koshino will also be sold as part of a collaboration project with Ito En who are sponsoring the event and holding a special tea party. They are limited in availability, and those lucky few who do get a spot will be able to enjoy tea and sweets while enjoying a view of the spectacular Japanese-style gardens at the Nakajima No Ochaya cafe.

Visitors will also be able to pick from a wardrobe of bright and colourful yukata, including some designed by Junko Koshino, at one of the booths at the festival and have them fitted on from them. Those who arrive already dressed in a yukata will receive free entry to the festival!

You'll completely forget you're in the boisterous city of Tokyo while at this traditional x modern fusion of a festival. If you're in Japan this summer, then don't miss out. More details of the festival and its content can be found on the official website below.

Information

Hamarikyu Oedo Cultural Festival 2019

Date/Time:

August 23 @ 17:00-21:00
August 24 @ 11:00-21:00
August 25 @ 11:00-17:00

*Hamarikyu Gardens are open from 9am as usual while the festival is running

Location: Hamarikyu Gardens (1-1 Hamarikyuteien, Chuo Ward Tokyo)

Price: General ¥300 / 65+years ¥150 (Free for elementary school children and younger, residents of Tokyo, and middle school student residents and younger)

*Free entry for those wearing a yukata

Official Website: https://hamarikyu-event2019.jp/

Ehomaki Sushi Rolls to Eat in 2019: Heart-Shaped Rolls, Doraemon Rolls & More

Setsubun is an annual event in Japan that takes place on February 3. It is the day before spring and is a time when Japanese people perform a ritual called mamemaki in which beans are scattered to ward off evil.

Another element of Setsubun is the consuming of ehomaki. These large sushi rolls are to be eaten facing a set direction each year for good health all year round. This year's direction is East-Northeast.

We have created a list of ehomaki to be enjoyed in 2019 that includes classic rolls and more unique ones.

AEON's ehomaki can be enjoyed by kids and adults alike

AEON Retail has announced 22 varieties of ehomaki to be sold at nearly 400 branches of AEON and AEON Style on February 2 and 3. This includes Sushi Yoshitake's Goku Ehomaki―made by a Michelin 3-star restaurant that has ranked in the Michelin guide for 8 consecutive years―which incorporates sushi techniques from before the Edo period; as well as the Doraemon Ehomaki.

Thick ehomaki stuffed with sea urchin, caviar and more at Daimaru Tokyo

Daimaru Tokyo is now serving over 150 varieties of egomaki until February 3. This includes a fully-packed ehomaki made with 19 ingredients including sea urchin, caviar, tuna, fugu and more. There's also a red king crab ehomaki that lovers of crab won't be able to resist.

Strawberry-filled ehomaki roll at InterContinental Yokohama Grand

InterContinental Yokohama Grand's "Ehomaki Rolls" sell out every single year, and they're set to return once more in 2019 for a limited time. Available from January 26 until February 3, this dessert ehomaki is pumped with 2 varieties of high quality fresh cream and 5 whole sweet strawberries.

Matsuzakaya Nagoya's Heart-shaped ehomaki♡

The Nagoya branch of Matsuzakaya is serving 140 types of ehomaki in 40 of its stores on floor B1F. One of the most eye-catching options is the cute heart-shaped ehomaki that's filled with shibazuke, flying fish roe and shrimp tempura. There are only 50 of these being sold so be sure to get your hands on on quick!

Feeling hungry yet? When in Japan, do as the Japanese do and get your hands around a delicious ehomaki.

Osaka Bubble Festival Song 'Once In Your Life In Osaka' Goes Viral on YouTube

Bubble Festival -Osaka Bon 2018- is a huge outdoor festival scheduled for August 25 and 26 that will combine music, dance and traditional culture. To promote the festival, Cool Japan TV released a music video in collaboration with Room39 two weeks ago titled Once In Your Life -Osaka Bon- which has already broken 1 million views on YouTube.

Cool Japan TV released another viral hit titled Tokyo Bon in collaboration with Malaysian hip-hop artist Namewee last year which currently has over 34 million views. The video acted as a bridge between Japan and the rest of the world, prompting people to post videos of themselves performing the traditional bon odori dance themselves.

Bubble Festival -Osaka Bon 2018- is the first collaboration between producers Afro&Co. and Japan's largest influencer marketing company Cool Japan TV. The festival is focused on ensuring foreign tourists can enjoy the event too by offering information and services in multiple languages.

The music video for Once In Your Life In Osaka -Osaka Bon- features popular Thai artist Room39 as well as bon odori choreography by Ukon Takafuji. The colourful video captures the excitement of Osaka tourism and the bubble festival as they sing in English, Japanese, Thai and Chinese.

At the festival you can catch performances from DJ KOO, Ukon Takafuji, CYBERJAPAN DANCERS, SPICY CHOCOLATE, Have a Nice Day! who are known for their exciting live performances, calligrapher Bisen Aoyagi, DJ Afromance, and more.

Check out the video for yourself to witness the charm of Japanese culture.

■Information

Bubble Festival -Osaka Bon 2018-

Location: Osakajo Ongakudo

Date: August 25 (Open 4:30pm / Start 5:00pm) / August 26 (Open 12:30pm / Start 1:00pm)

Price: 1-Day Ticket ¥4,500 (Tax Included)

*¥1,500 for children aged between the ages of 3 and 12.

*Children under the age of 3 not permitted.

Event Website: http://afroand.co/awafes

Airbnb's Experience-Based Services Expanding in Japan to Promote Culture to Local & Foreign Guests

Airbnb have announced that they are expanding their experience-based services from select regions of Japan to all regions. These services offer both Japanese and foreigners a chance to get up close to Japanese culture and tradition.

Airbnb opened their "Experiences" services worldwide in 2016. To date, their experience service in Japan could be used in Kanto, Kansai, Fukuoka and Okinawa. Japan already ranks 2nd worldwide in the Experiences category with a recorded 886% increase this June in guests booking these services compared to last year.

These numbers are what led to Airbnb deciding to expand the service to the whole country. Individuals across Japan, interpreting services and more stretching all the way from Okinawa up to Hokkaido can register as an Airbnb Experiences host to network with over 300 million Airbnb travellers.

©Takumi Ota.jpg

To celebrate the expansion, a curation page for experiencing world architecture has been set up in co-operation with internationally acclaimed Japanese architect Kengo Kuma. A new destination has also been added for people to go and visit a building created by Kuma in the town of Yusuhara in Kochi Prefecture. Bookings opened on July 31.

Comment by Yasuyuki Tanabe (Country Manager, Airbnb Japan) 
"Experiences at Airbnb are a platform offering a chance for guests around the world to experience local charms and the passion of individuals. Hosts in Japan are able to provide true local experiences through Experiences which give a glimpse into Japan's rich culture and attraction. By expanding the service, I hope to also promote to the world the hidden charms of regions outside the famous tourist spots."

Comment by Kengo Kuma
"Airbnb's platform offers various experiences related to architecture that enable people to see architectural structures, from worldwide famous structures to locally unique ones. As part of that I have curated some local experiences offered by hosts who are rooted in their local region. As well as that, there are many structures I have created in Yusuhara in Kochi Prefecture, also known as the town atop the clouds, which I am extremely happy are now a newly introduced available experience on Airbnb. Travel is a treasure house of inspiration. I hope that by using Airbnb, lots of new inspiration will be born from exchanging and promoting to the people of the world Japanese culture and people's individuality. Japan also has a lot of assets it can boast to the world. Anyone in Japan can become an Airbnb Experiences host, so I hope lots of people use this opportunity to challenge themselves."

5 Must-Wear Yukata for Japanese Summer 2018

Yukata are a traditional type of Japanese clothing originally used before and after entering a steam bath. Today, they are used as summer dress when going to events such as summer festivals and firework festivals.

They come in many different colours and designs. Here's a list of ones we recommend for summer 2018.

Sailor Moon Yukata

These Sailor Moon themed yukata have been made in collaboration with Kyoto Marubeni. Choose from five yukata sets inspired by each sailor as well a range of other chic and modern yukata. They have all the accessories you need to including obi and folding fans so you can enjoy the full dress-up experience. How about becoming a sailor this summer?

Full Details: https://www.moshimoshi-nippon.jp/88541

Yukata Fukubukuro

Kyoto based traditional Japanese clothing brand KIMONOMACHI are selling yukata fukubukuro, or 'lucky bags.' There are several lucky bags to choose from, including one containing a single yukata, a 2-set which includes a yukata and obi, and 4, 5 and 6-sets which include that plus accessories. Part of the reason for the popularity of these bags is that you can pick from four sizes: Small (S), Free, (F), Tall (TL), and 2L. Choose from a variety of kawaii infused yukata!

Full Details: https://www.moshimoshi-nippon.jp/108656

Disney Princess Yukata

Disney have released a range of yukata and accessories at five of their stores and online. The Ariel and Rapunzel are original designs that were specially illustrated for these yukata. No matter which you choose, all of them embrace the characters' stories down to the tiniest of details. Pick one of these yukata and become a Disney princess this summer!

Full Details: https://www.moshimoshi-nippon.jp/113122

Tokyo 2020 Emblem Yukata

Summer 2018 marks two years until the Tokyo Olympics. Gear yourself up for the excitement this summer with these official Tokyo 2020 yukata, jinbei and accessories. Cloisonne design yukata with the Tokyo 2020 emblem on them were released on July 3, and the above indigo design will be available from early August. Both are stylish and come in a gentleman's version and a lady's version.

SCANDINAVIAN PATTERN COLLECTION

This collection is a Northern Europe design project developed by Andfika for children. There are yukata for girls and jinbei for both boys and girls. The collection incorporates designs from three designers in Sweden and Finland. The clothes are a unique mix of Northern Europe designs and traditional Japan clothing.

Did you like this list? There's a lot of variation when it comes to yukata, so be sure to pick the right one for yourself this summer in Japan.

Ukiyo-e & Sengoku Busho Crest Limited Edition Soy Sauce Packaging

Soy sauce company Marusen Shoyu, who are based in Yamagata Prefecture, are selling bottles of soy sauce with limited edition packaging. Get your hands on either the ukiyo-e soy sauce or sengoku busho crest soy sauce.

Yamagata Prefecture has a long history of 'dashi soy sauce,' which takes regular soy sauce and adds stock like bonito and kelp which brings an exquisite balance of sweetness and deliciousness and deepens the flavour of the soy sauce. Aji no Daimyo Shoyu is a type of dashi soy sauce made with dashi bonito. It was developed 40 years ago and remains a best seller among customers.

When the 2011 Tohoku earthquake hit Japan in 2011, Marusen Shoyu began to think up ways they could cheer up customers, locals and Japan as a whole from Yamagata by using their soy sauce. This is what led them to start producing dashi soy sauce. First and foremost was putting a smile on people's faces, and so they used the great local ingredients at their disposal as well as delicious ingredients in Japan to enable people to enjoy a bit of luxury and brighten up.

The new limited-edition packaging is linked to this idea.

Ukiyo-e Packaging 220ml x 3 Bottles

These make for a perfect souvenir outside Japan. The bottles are designs on the ukiyo-e pieces of Sharaku, a print designer of the Edo Period.

Sengoku Busho Crest Packaging 50ml x 3 Bottles

These mini bottles bear the family crests of Nobunaga, Hideyoshi and Ieyasu from the Sengoku period. They each have their own flavours and make for a great gift.

Both package designs come with 3 bottles each containing 3 different flavours. The Aji no Daimyo Shoyu is made with bonito dashi to make a sweet and deep flavoured dashi soy sauce. The Kombu Daimyo Shoyu is made with a delicious and fragrant kelp dashi. The Tokugawa Shoyu, which isn't made with dashi, has the same kick you'd find in a high quality soy sauce for sashimi.

Try these soy sauces for yourself, you're guaranteed to get addicted to each and every one of them!

Asakusa: Experience Amezaiku Candy Sculpting at Ameshin

Tezuka Arts & Crafts Co., Ltd. will newly open Asakusa Amezaiku Ameshin in Asakusa's district of Hanakawado on June 17, 2018.

The desire for a hands-on travel experience with people inside and outside Japan has been on the increase recently. That's where Asakusa Amezaiku Ameshin comes into play which will serve as an expansion of the branch in Imado, Taito.

Amezaiku is the Japanese art of crafting candy sculptures from heated sugar, most often into the form of animals.

The new shop in Hanakawado not only has a hands-on class for crafting amezaiku, but also original Ameshin products that you can buy to take home to make your own amezaiku. They also sell ready-made sculptures. The new shop is also closer to Asakusa Station than the previous, improving accessibility for travellers. The indoor space has been expanded to accommodate groups and school trips.

The old Amezaiku Ameshin in Imado will no longer be used for classes or amezaiku displays and instead become the company building and factory.

Get involved and hands-on with amezaiku, one part of Japan's rich culture, in Asakusa.

■Information

Asakusa Amezaiku Ameshin – Hanakawado

Address: Hori Bldg. 1F, 2-9-1 Hanakawado, Taito, Tokyo

Grand Opening: June 17, 2018

Running: 10:00-18:00

Closed: Thursdays

Access: 5-minutes on foot from Asakusa Station via all lines

(10-minutes on foot from Asakusa Station via Tsukuba Express)

TEL: 075-354-8511

Website: http://www.ame-shin.com

MMN Festival 2018: Experience-Based Booths Packed with Japanese Charm

MOSHI MOSHI NIPPON FESTIVAL 2018 in SHIBUYA was held across the weekend of March 24 and 25 and promoted Japanese culture to the world from Shibuya. The event ended with huge success.

One of the many things attendees enjoyed were the 'experienced-based booths.' From traditional Japan to the country's culture of kawaii, let's take a look at the line-up of booths that were packed with Japanese charm.

Harajuku Kawaii Market presented by Mynavi baito: Kawaii Culture at Laforet Museum

Japan's culture of kawaii gathered together at Laforet Museum for MMN Festival 2018. Many of the booths were popular including the accessory booths, DIY booths, and photo spots where people could go for a simple image change by putting on a wig.

Mynavi Baito

Mynavi Baito held a questionnaire for attendees regarding part time jobs. They asked questions like "Do you think your part-time work outfit is cute?" and other kinds of questions you'd only hear at MMN Festival. Those who answered were gifted an original memo pad. Mynavi also presented their Challenge Award onstage in relation to the questionnaire where fashion students were made to develop their own cute part-time work outfits. The students who made the outfits as well as the popular models put on an exciting performance.

DIY: Herbarium & Swag

Asami "Char" Tnabe was invited to host a workshop on how to make "herbariums" with colourful dried flowers and a bottle, and "swags" which are wall decorations made from plants and flowers. It cost just ¥1,500.

DIY: CHACO Hydrangea Accessories

Popular flower accessory shop CHACO held their own workshop. For ¥1,000 people made their own earrings and piercings from hydrangeas, perfect for spring and summer.

DIY: Mug Workshop

Apparel brand "Aymmy in the batty girls" led a ¥1,500 workshop where people got involved in making a kawaii mug with the brand logo and designs with spring and summer items. Aymmy designer Ayumi Seto also joined in the workshop where she showed how to make a cute mug while talking with fans.

 

Fortune Telling

Six fortune-tellers active in the media took shifts in fours. Just ¥500 got people an expert 10-minute reading. Lots of people turned up to this booth.

Big Harajuku Debut

Popular hair dye brand FRESHLIGHT hosted their popular campaign for people to make their big Harajuku debut (#原宿デビュー大作戦). They changed up their image with colourful wigs and took photos in the kawaii pink photo booth. Prizes will be sent at a later date to those who joined in the hashtag campaign by posting on social media. The models who performed on stage also stopped by this booth where they were posting plenty of 'kawaii' online.

Kawaii Darts

This game challenged people to throw darts onto a map of Japan. Local specialties unique to specific regions were given out depending on which parts of Japan were hit, such as kakeru miso from Nagano and cabbage cider from Gunma.

 Kawaii Basket

To win, people had to shoot a ball into a kawaii goal that looked just like a floral headband. Kawaii products from around Japan like accessories and cosmetics were given out depending on how many goals were scored.

OH!江戸ポップ -oh,EDO POP!!-(DODYCO)

People handmade marshmallow fondants, a photogenic dessert that originates from the US. They decorated it with flowers they cut themselves and other bits and bobs to make a castle and street, giving the Edo Period a taste of contemporary Harajuku. Timeless pop Edo desserts were brought to life at the festival.

Clarence Lee Design ~111-HAWAII PROJECT~

Japan's first collaborative project between a Hawaiian design company that combines Japanese ukiyo-e with Hawaiian motifs and a Japanese enterprise. Thanks to the success of crowdfunding, this project will bring about an array of apparel items fusing Japan and Hawaii, such as aloha shirts with traditional ukiyo-e prints.

Hawaiianjewelry -Aquabelle-

Hawaiian jewellery brand Aquabelle prepared a photobooth inspired by Hawaii's sandy beaches where people could feel like they were in Hawaii from Harajuku, with white sand and hibiscus in the frame!

Hikari TV Dream

At the promotional booth for crowdfunding service Hikari TV Dream, people enjoyed making their own wooden keyholder with the same wood used in the creation of Okawa Kumiko, a brand of furniture from Okawa in Fukuoka that has been designated as 'an art form to leave behind for the future.' Hikari TV's main character Hikari Kaesaru also made an appearance to excite everyone.

NOTO HI BAKARA

Those who rolled up to this booth enjoyed a game of jenga made up of hinoki building blocks. Hinoki building blocks don't generate bacteria even if a child licks them. The wood acts as an antibacterial and pesticide. The prize included NOTO HI BAKARA 'essential water' made with hinoki extract.

Cute Tanuki Don't Have It Easy Either

Ponkichi is the tanuki who came down from the mountain and just wants to kill, kill, kill humans from the manga series Kawaii Tanuki mo Raku Janai (Hakusensha). The popular foul-mouthed tanuki had his own photo spots where people took photos while hearing abuse from Ponkichi. They also made their own bad-mouth pin badges for free from 12 varieties.

Yuzawaya

Yuzawaya held a workshop to make popular herbarium piercings as well as resin piercings and earrings. The herbariums combined flowers and oil. Each class lasted 30 minutes and was a hit with people every time. Many people enjoyed making this original accessory.

Tokyo Flea Market

A flea market was held which sold personal items of the stage performers including Natsume Mito, Ayumi Seto, Rinko Murata, Yuru Suganuma, and more. The line-up included items the performers had worn in magazines and on their social media.

Don Quijote Perfume Cosmetics

The Don Quijote booth sold around 30 different brands of perfume. The staff working there were scent experts and offered advice on recommended perfumes like it was a perfume bar. Normally when you buy their perfume you have to pay a fee to get your name inscribed on the bottle, but they offered the service for free at the festival. "D Ting Eau de Toilette" by Akemi Darenogare also made its first Japan appearance.

MOSHI MOSHI NIPPON Market: Experiencing Japan's Unique Culture for Free

Various aspects of Japanese culture were presented at SHIBUYA CAST. From food to art, sightseeing and moe, everything was enjoyed by Japanese people and foreigners alike.

Delivering Satoyama Spring #tamura

A promoter of local specialities from and sightseeing in Tamura in Fukushima Prefecture. They sell Youchuu Gumi, (¥400) or larva gummies, named after the popular sightseeing spot Kabutomushi Shizen Kansatsu-en. They are shaped like the real thing – the body is Calpis flavoured while the centre is filled with purple blueberry sauce, creating a strange taste. They also sold strawberries, a noted product from Tamura.

Don Quijote – Souvenir Candy

Don Quijote is a super souvenir shop, and at the festival they stocked lots and lots of confections that screamed 'Tokyo,' including some of the most popular snacks and common snacks, chocolates, as well as the Tokyo strawberry chocolate daifuku, a defining souvenir of the city.

Katsukonmi

This booth managed by Keihan Sangyo handled Katsukonmi, a flavourful powdered dashi made bountifully with carefully selected ingredients such as katsuo tuna, mackerel and konbu. People were able to taste test dash stocks that used Katsukonmi. They also have a future line-up planned of new products with plenty of dietary fibres perfect for dieting.

 

Kyo Baum

Kyo Baum has stores in Gion, Shimizu and elsewhere and specialises in Uji matcha and soy milk flavoured Baumkuchen. Lotteries were held 3 times each day to win tickets for Kyo Baum, which are the perfect eating-and-walking snack, original masu boxes, and more. There was a huge line for the lottery before it began. The matcha and sugar fondant offers a crunchy texture at room temperature, and a completely different delicious experience when melted.

MOSHI MOSHI Kimono Salon

People had the opportunity to try on kimono with a Harajuku-style spin – lots of colours, eye-catching designs, studs and more. It was free to put on yourself and take a selfie, or ¥1,000 for the staff to help you put it on and take a picture. It cost ¥4,000 to rent the kimono for as long as the booth was open. There were lots of girls enjoying the MMN Festival experience by strolling around Onden Shrine dressed in kimono!

HARAJUKU EXPERIENCE

Official Harajuku sightseeing tours were held for foreign travellers by Airbnb. "Hidden Fashion Street Tour" enabled people to enjoy Harajuku fashion, "History Tour" detailed the history of Harajuku, "KAWAII×Food Tour" combined kawaii culture with cuisine, and the "Official Tour" took people around the various MMN Festival areas. The tours were mostly aimed at foreign travellers, but lots of fans turned up at the same time as the tours to see Saki Shibata and the other models working as tour guides.

PERFORMANCE SPACE

Creator MIOCHIN held a live painting session called Mio's World where she illustrated from her colourful pop perspective. This was her first ever live painting. She completed the piece across two days using permanent markers and POSCA markers while interacting with fans.

Maebashi "Kusatsu" Support Booth

A booth promoting the city of Maebashi in Gunma Prefecture, people had the opportunity to enjoy a footbath experience in the image of Kusatsu Onsen – a famous Japanese hot spring resort in Kusatsu – right in the middle of Shibuya. People lined up one by one to rest their tired feet. It became the resting place of the festival. There was also an introduction to professional football club Thespakusatsu Gunma supported by Maebashi city, as well as fliers handed out for Susono.

SHIBUYA FASHION FESTIVAL

SHIBUYA FASHION FESTIVAL.13 was held on March 24th. A lottery was held to win special benefits that could be used at participating stores.

 

Amato Café

Amato Danshi, the six-member idol unit centred around sweets, worked at their very own café. One of their recommended chocolates was the DEL'IMMO Bon Bons which came with a kabedon (¥1,800). The kabedon is a popular way of expressing love in Japanese media, such as anime, where one person hits (don) the wall (kabe) with one hand and pins someone against it. After receiving a kabedon from the group's members, customers were fed chocolate. What a heart-throbbing menu!

Maidreamin

The number one maid café group Maidreamin set up shop at the festival. For the special "SAKURA Float" (¥1,100 w/ omajinai), the main maids gave cute instructions to power up the item. It was quintessentially 'moe' and 'kawaii' made with cherry blossom syrup and cherry blossom ice cream. Customers also dressed up in maid outfits and original merchandise was sold. It was a sight to behold seeing customers experiencing maid culture for the first time and really getting into the fun of it, from girls to entire families.

MUSIO, Your Curious New Friend

Musio is your robot friend who came from the future. Equipped with state-of-the-art AI, Musio is able to do things like have natural conversations and express emotions. Everyone chatted with him and had their fortunes told.

The festival took place in 5 areas, and because there was plenty to be enjoyed for free, we saw many people having fun stopping by each location throughout the day.

5 areas, 5 themes. That was MOSHI MOSHI NIPPON FESTIVAL 2018 in SHIBUYA. This year was a huge change from last year. How did you find it? Did you have fun?

MOSHI MOSHI NIPPON will continue to promote Japan's multilayered culture to the world through our website, at events and elsewhere. We post the latest information about events on our website, so don't forget to stay up to date!