FINAL FANTASY VII REMAKE Exclusive Tokyo Skytree Video Now Streaming On YouTube
To celebrate the launch of FINAL FANTASY VII REMAKE, Tokyo Skytree launched an event titled "SKYTREE® in MIDGAR FINAL FANTASY Ⅶ REMAKE." However, due to the effects of the novel coronavirus (COVID-19), the event and tower had to close on March 1, 2020.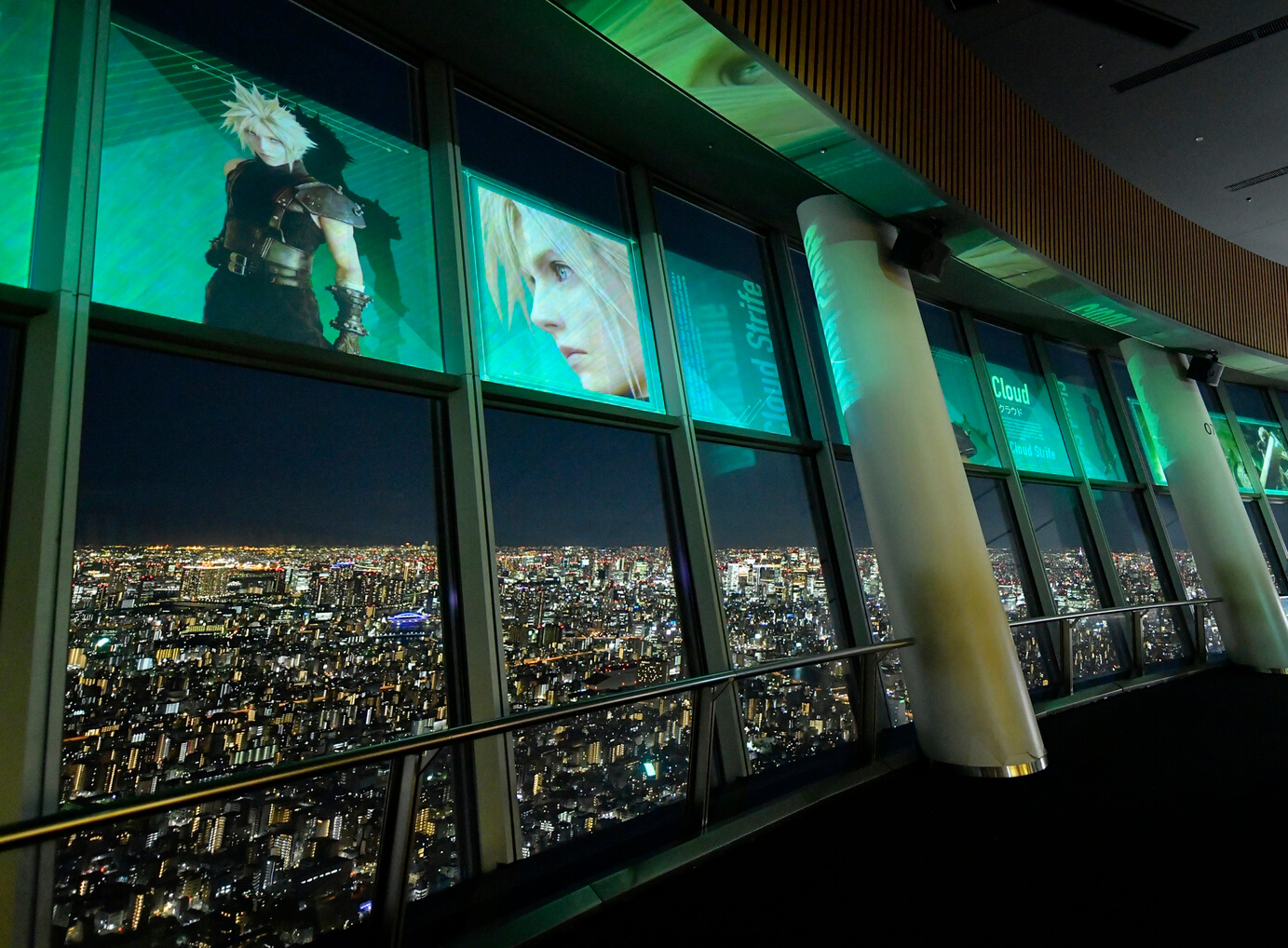 But Tokyo Skytree still wants people to enjoy the event in some way, and so they have decided on something super special that is sure to please fans. Originally, there was an original FINAL FANTASY VII REMAKE video created exclusively for Tokyo Skytree which was being shown up in the tower's TEMBO DECK, 350 meters in the air. It's called FINAL FANTASY VII PREMIUM ROUND THEATER, and you can now watch it over on Tokyo Skytree's official YouTube channel. It's available to watch until June 1, 2020 at 11:00 (JST).
Have you played FINAL FANTASY VII REMAKE yet? Be sure to check out this exclusive content before you have to travel to Tokyo to see it!
© 1997, 2020 SQUARE ENIX CO., LTD. All Rights Reserved.
CHARACTER DESIGN: TETSUYA NOMURA/ROBERTO FERRARI
LOGO ILLUSTRATION: © 1997 YOSHITAKA AMANO
©TOKYO-SKYTREE
RELATED ENTRIES
Coji-Coji Pop-Up Store Selling Parakeet Goods at Tokyo Solamachi

Popular Nippon Animation character Coji-Coji is getting a new pop-up store at Tokyo Solamachi, and this one is focused on the 3rd Year Parakeet Class from the series! The shop will be open from September 17 until October 10, 2021, and is located just underneath Tokyo Skytree–you can't miss it!

Novelty Items

Monday

Tuesday

Wednesday

Thursday

Friday

Reverse

Stamp Card

Original Business Card

Photo Spot

Full Layout

Magnified View (Partial)

 

Coji-Coji attends school in a fairy tale land, and the 3rd Year Parakeet Class is filled with all kinds of fun characters. The pop-up shop will sell 300 different Coji-Coji items, and will also feature a classroom-inspired photo spot! 

Those who spend more than ¥3,000 (including tax) on either Coji-Coji or Chibi Maruko-chan goods will get a special business card as a gift, with five unique cards available. A different character's card will be handed out depending on the day of the week!

A special stamp card will be given to guests visiting the shop. Just showing up to the store is enough to earn a stamp, and those with three stamps will receive an original business card as a present. 

Information

Coji-Coji Pop-up Shop  – 3rd Year Parakeet Class

Running: September 17 – October 10, 2021

Where: Tokyo Solamachi East Yard (4F, #12) 

Hours: 10:00 – 21:00 *Hours of Operation are the same as those of Tokyo Solamachi. 

Phone: 080-1327-4037

Official Site: http://cojicoji.site/

First 'Diamond Skytree' Photo Event to be Held at Sunshine 60 Observation Deck in Tokyo

The SKY CIRCUS Sunshine 60 Observatory in Ikebukuro, Tokyo, will hold its first 'Diamond Skytree' photography event on October 18, 2021, with another viewing on October 20. These events will have guests up early, beginning just after 6:00AM! This is when the sun will overlap with the very tip of Tokyo Skytree in the east, and is an extremely rare sight that can only be seen a few days each year.

From sunrise to 'Diamond Skytree' (Taken from the Sunshine 60 Observation Deck)

The best way to experience this once-in-a-lifetime event is to stay at the Sunshine City Prince Hotel, where you can also enjoy a night-view photo session the night before. It also means there won't be any rushing to the observatory in the wee hours of the morning! Visitors will also be able to hear a talk from night-sky photographer Hiroyuki Narisawa on how best to photograph 'Diamond Skytree.'

Information

SKY CIRCUS Sunshine 60 Observation Deck – 'Diamond Skytree' Photo Event

Dates: October 17-18, October 19-20

Reservations Open: September 7, 11:00 on official website.

Details: https://sunshinecity.jp

Baumkuchen Specialty Shop Katanukiya Offers Limited-Edition Panda Cake at New Location

On September 1, Baumkuchen specialty shop Katanukia opened its second location on the second floor of Tokyo Solamachi, beneath Tokyo Skytree. These traditionally German cakes are extremely popular in Japan, and using a cookie cutter can transform them into works of art! To commemorate the new shop, the Tokyo Solamachi location will sell a limited-edition Panda Baumkuchen that is almost too cute to eat.

Panda Baumkuchen

Starry Sky Panda Baumkuchen: ¥594 (Tax Included)


 

Starry Sky Panda Baumkuchen & Drawstring Bag Set: ¥1,815 (Tax Included)

The special Starry Sky Panda Baumkuchen is made from soft, moist cake, and depicts an adorable panda character ready to gaze at the night sky from Tokyo Skytree, the tallest tower in the world. Children and adults alike will enjoy its gentle milk flavoring.

The Starry Sky Panda Baumkuchen & Drawstring Bag Set includes the signature Baumkuchen, the Starry Sky Panda Baumkuchen, Panda shortbread, and an adorable bag. There will only be 100 of these sets available, so grab one before they're gone!

Is Baumkuchen popular in your country? How would you like to try these cute sweets in Tokyo?

Butter no Itoko x Samantha Thavasa Open Second Store Together at Tokyo Skytree

Butter no Itoko and Samantha Thavasa opened their second collaborative store branch in the desserts area of Tokyo Skytree Solamachi last Tuesday.

Butter no Itoko is a Nasa-based confectionery company co-developed by Chus and Shinrinno Bokujo, a company specialising in milk from Jersey cattle. It opened a store in collaboration with Samantha Thavasa last year at Haneda Airport Terminal 2.

Samantha Thavasa Exclusive Butter no Itoko Salted Caramel

Banana Smoothie

Solamachi Exclusive Samantha Thavasa x Butter no Itoko Eco Bag

The new store will sell a whole range of tasty treats including the salted caramel Butter no Itoko which was first released at the Haneda Airport branch, Shinrinno Bokujo's soft service ice cream, updated 90 Banana Smoothies, and more. There's also a limited-edition complete box of milk, chocolate, red bean paste butter, and salted caramel Butter no Itoko youc na get your hands on which were first released in April.

If you spend over ¥3,000 on desserts at the new store, you can also get your hands on the exclusive eco bag. These are available on a first-come, first-served purchase.

Information

Butter no Itoko x Samantha Thavasa Tokyo Skytree Town Solamachi

Grand Opening: 10:00-22:00 (currently operating on reduced hours at 10:00-20:00)
Address: Tokyo Skytree Town Solamachi Floor 1F East Yard 9, 1-1-2 Oshiage, Sumida, Tokyo, 131-0045, Japan
Samantha Global: https://samantha-global.com/

Butter no Itoko Official Website: https://butternoitoko.com/

Fender Announces FINAL FANTASY XIV Stratocaster

Fender, the iconic American instrument maker, is celebrating their 75th anniversary by holding a special collaboration with Square Enix's MMORPG Final Fantasy XIV. This includes the release of the all-new FINAL FANTASY XIV Stratocaster®. Pre-orders for the guitar will open first in Japan on May 25 and subsequently the Americas, EMEA and Australia in late 2021 with shipping scheduled for early 2022.

The Stratocaster is all-black with translucent sections of blue and purple to represent the Crystals of Light and Darkness in the game. It features a maple neck with a slim Modern C shape and a 12-fret fingerboard which has a meteor inlaid in the 12th fret. As well as the FFXIV logo, each guitar has the edition number printed on it to give it that premium feel.

The guitar is also equipped with the Fender V-Mod Strat Single-Coil Strat which features a Limit Break inspired by the ultimate moves seen in the Final Fantasy series' combat. Pressing it allows the player to. Using this enables the bridge and middle pickups in series for a heaviersound.

The guitar also comes with a hardshell case featuring the Fender and FFXIV logos.

 

FINAL FANTASY XIV Stratocaster® | $3,499.99 / £3,199 / €3,499 / $6,499 AUD / ¥396,000 JPY


The FINAL FANTASY XIV Stratocaster will also be playable inside the world of FFXIV in accordance with an update to the game's Performance Mode arriving in Patch 5.55 which is set to release on May 25. The in-game electric guitar will enable players to switch between clean and distorted tones, and they can also enjoy special performance features for the guitar including pick slide and mute effects.

 

Enjoy the FINAL FANTASY XIV Stratocaster in real life and in-game!

Information

FINAL FANTASY XIV Stratocaster®

Release Dates

Japan: May 25, 2021

Rest of the World: Late 2021

Fender Official Website: http://www.fender.com/

Evangelion Film's Tokyo Skytree Collaboration Gets Extended to May

Evangelion took over Tokyo Skytree in December last year in promotion of the new anime film Evangelion: 3.0+1.0 Thrice Upon a Time which was released on March 8, 2021. The ongoing event has been extended from March 31 to May 31.





 ©カラー ©TOKYO-SKYTREE

Special Tokyo Skytree Lighting

©カラー ©TOKYO-SKYTREE

Tokyo Skytree is being lit up in five different special illuminations on select days representing Eva Unit-01, Eva Unit-00, Eva Unit-02, Eva Mark.06, and Eva Unit-08.

 

Dates: March 8, 2021 / March 19-21, 2021

Times: 18:45-20:00

 

"Soul's Refrain" Video Added to the Screens

©カラー/Project Eva. ©TOKYO-SKYTREE

©カラー/Project Eva. ©TOKYO-SKYTREE

The SKYTREE ROUND THEATER® has been showcasing a special HD music video on the Floor 350 windows edited by the episode director for Neon Genesis Evangelion Masayuki. It features the classing opening theme A Cruel Angel's Thesis. The video and music, coupled with nighttime Tokyo in the background, makes for an unforgettable spectacle.

Now, a second music video is being added for the song Soul's Refrain which served as the main theme for the 1997 anime film Neon Genesis Evangelion: Death & Rebirth.

Where: Tokyo Skytree Tembo Deck (Floor 350F)

Price: Free

*The video runs approx. 9 mins

About the SKYTREE ROUND THEATER®

The SKYTREE ROUND THEATER surrounds and envelops you with a Panoramic screen (110m length x 2m height) screen which encircles 255 °of the Tembo Deck.
With 34 projectors, the images and visuals projected onto the night view are the pinnacle of artistry and fantasy.

©カラー/Project Eva. ©TOKYO-SKYTREE

The Spear of Longinus Pierces the Sky Arena

©カラー ©TOKYO-SKYTREE

The Sky Arena, which is located on Floor 4F of Tokyo Skytree Town, is now home to a giant recreation of the Spear of Longinus which makes for a great photo op.

FINAL FANTASY VII THE FIRST SOLDIER Battle Royale Game Announced For Mobile

Square Enix announced on Friday (February 26) the release of FINAL FANTASY VII THE FIRST SOLDIER, a new battle royale game for mobile which is set for release sometime in 2021. Check out the teaser trailer below.




FINAL FANTASY VII THE FIRST SOLDIER is set in Midgar and takes place 30 years before the events of Final Fantasy VII when Shinra is forming SOLDIER. In the trailer, the game looks to feature close quarters first-person and third-person gun fights, classic Final Fantasy summons, and more.

Tetsuya Nomura, the artist for the original Final Fantasy VII and director for Final Fantasy VII Remake, is serving as Creative Director for FINAL FANTASY VII THE FIRST SOLDIER.

© 1997, 2021 SQUARE ENIX CO., LTD. All Rights Reserved.

Powered by Ateam Inc.

CHARACTER DESIGN: TETSUYA NOMURA

Evangelion: 3.0+1.0 Thrice Upon a Time Takes Over Tokyo Skytree For Christmas

Tokyo Skytree® is promoting the release of the upcoming anime film Evangelion: 3.0+1.0 Thrice Upon a Time, which will hit theatres in Japan on January 23, 2021, by holding a special collaborative event at the tower from December 23, 2020 to March 31, 2021.

Tokyo Tembo Galleria Exhibits

Tokyo Tembo Exhibits (For illustrative purposes only) ©カラー ©TOKYO-SKYTREE


Those braving the quick climb to Tokyo Skytree's Tembo Galleria, which stands a towering 450 meters high, will be greeted with an incredible display of character and Evangelion-related exhibits, photo spots, and more.

①Tembo Shuttle (Elevator)

The interior of Tokyo Skytree's elevator, which leads straight up to the Tembo Galleria, will be decorated in all things Evangelion, from an Evangelion Unit-01 entry plug to scenes from the upcoming film and more, all ready to welcome guests into the world of Evangelion.

②Eva Unit-01 Head (Tembo Galleria Floor 445 Welcome Area )

When guests step out of the elevator they will be greeted by a giant head of Eva Unit-01 which they can take a photo next to.

③Eva Archive (Tembo Galleria Hallway)

The floor's 110-meter hallway will be lined with famous quotes and phrases from the Evanglion series.

④Angel Core (Tembo Galleria Floor 450)

Guests will find a photo spot recreating Tokyo-3 which becomes a red wasteland, as well as a full-scale Rei Ayanami statue.

⑤Evanglion's 4 Films (Tembo Galleria Floor 450 Slope)

Artwork from the four Evangelion films, from Evangelion: 1.0 You Are (Not) Alone to the upcoming Evangelion: 3.0+1.0 Thrice Upon a Time will be displayed.

⑥Destroy the Core (Tembo Galleria's Highest Point)

At the Galleria's highest point, 451.2m up, guests will find a photo spot with a Progressive Knife stuck into the core.

Diorama Exhibition (Tembo Galleria Floor 450 Return Slope)

When looping back around down the slope to return to the first area, there will be a selection of Evangelion figures recreating famous scenes from the series.

Tembo Deck Floor 350 Decorations

NERV Warning Announcements
NERV Warning Announcements (For illustrative purposes only)  ©カラー ©TOKYO-SKYTREE

Down on the Tembo Deck on Floor 350, guests will find warning messages from NERV on the windows of Tokyo Tower.

Original Merchandise

Metal Keyrings ¥1,320 Each (Tax Included) / Cookies ¥842 (Tax Included)


Original Shopping Bag (For illustrative purposes only) ©カラー ©TOKYO-SKYTREE


After guests have enjoyed their time at floor 450, they can head to the shop to check out a selection of original merchandise created for the exhibition, from key rings to cookies and more. Fans who spend over ¥3,000 (tax included) in one transaction will receive an original shopping bag featuring an image of Eva Unit-01 raising its fists to Tokyo Tower.

Original Cafe Menu

①Piano Cheesecake (Shinji & Kaworu Version) ¥1,300 / ②Blue Yogurt Drink (Rei Version) ¥900 / ③Blood Orange Juice (Asuka Version) ¥900 / ④Strawberry Soda Drink (Mari Version) ¥900 (All Tax Inclusive)


The SKYTREE CAFE on Floor 340 of the Tembo Deck has a special selection of Evangelion-themed food and drink for fans to enjoy.

Original Coasters (For illustrative purposes only) ©カラー ©TOKYO-SKYTREE


For every item ordered on the cafe menu, you will get one of five possible coasters selected randomly. These are available while supplies last. The cafe itself will also be decorated to look like the classroom of the Tokyo-3 school seen in the film series.

Take a Photo With Your Favourite Character

Tembo Galleria Floor 445 Photo Service – ¥1,800 (Tax Included) *Five photos
(For illustrative purposes only) ©カラー ©TOKYO-SKYTREE


Paper Mount (For illustrative purposes only) ©カラー ©TOKYO-SKYTREE


Fans can get five photos with individual characters from the films along with a printed photo mount which can also be downloaded digitally.

Sorakara-chan's Plugsuit

©カラー ©TOKYO-SKYTREE
(For illustrative purposes only) ©カラー ©TOKYO-SKYTREE


Sorakara-chan, the official mascot of Tokyo Skytree, will welcome guests for the duration of the exhibition wearing Rei Ayanami's plugsuit. If you want to meet her, be sure to ask a staff member and they can tell you what time she'll be making an appearance.

"A Cruel Angel's Thesis" Skytree Round Theater Ver. a.k.a Yoko Takahashi from KING SUPER LIVE

"A Cruel Angel's Thesis" Skytree Round Theater Ver. a.k.a Yoko Takahashi from KING SUPER LIVE ©カラー/Project Eva. ©TOKYO-SKYTREE


The SKYTREE ROUND THEATER® will showcase a special HD music video on the Floor 350 windows edited by the episode director for Neon Genesis Evangelion Masayuki. It will feature the classing opening theme A Cruel Angel's Thesis. The video and music, coupled with nighttime Tokyo in the background, will make for an unforgettable spectacle.

Special Tokyo Skytree Lighting

Special Lighting©カラー ©TOKYO-SKYTREE


Tokyo Skytree will be lit up in five different special illuminations on select days representing Eva Unit-01, Eva Unit-00, Eva Unit-02, Eva Mark.06, and Eva Unit-08l

Check out Tokyo Skytree's Official Website for more information.

Tokyo Skytree® Promotes NiziU's Debut Single 'Step and a step' With Special Light Show

To promote the debut single Step and a step by global girls group NiziU, which was released on Wednesday (December 2), Tokyo Skytree is set to put on a special rainbow-coloured light show. It will also display the outfits that Niziu wore in the music video of their pre-debut single Make you happy atop its 450-meter-high Tembo Deck.

NiziU is a nine-member global all-female music group which formed via Nizi Project, an audition programme co-produced by Sony Music Entertainment, Sony Music Labels, and JYP Entertainment.

Tokyo Skytree lights up in all the colours of the rainbow

Tokyo Skytree is running the light show for three consecutive days in promotion of NiziU's debut single Step and a step.

Light Show Schedule
December 2, 2020 @ 17:30-24:00
December 3, 2020 @ 17:30-24:00
December 4, 2020 @ 17:30-24:00

NiziU outfit exhibition

NiziU fans should head up to Tokyo Skytree's Tembo Deck where they can see the outfits that NiziU wore in their Make you happy music video which became a hit for its jump-rope dance sequence.

Outfit Exhibition Schedule

Running: December 2, 2020 – December 13, 2020

Location: Tokyo Skytree Tembo Deck (Floor 450F)

NiziU's popularity has continued to surge this year. Stay tuned for the latest information on the up-and-coming girl's group.

©2020 Sony Music Labels Inc./JYP Entertainment. All rights reserved.
©TOKYO-SKYTREE

Demon Slayer: Mugen Train Anime Film Promotion to Take Place at Tokyo Skytree

The highly-anticipated anime film Demon Slayer: Mugen Train is set for release on October 16, 2020. To promote the film, Tokyo Skytree will hold special lighting shows where the tower will be lit up in Demon Slayer themed colours, as well as display photo spots signed by the anime's voice cast, from October 16-18.

Demon Slayer: Mugen Train Light-Up

Tokyo Skytree will be lit up in colours inspired by Rengoku Kyojuro's Flame Breathing technique as well as the film's main theme Homura ("Flame").

Light-Up Dates


October 16, 2020 @ 17:45-Midnight
October 17, 2020 @ 17:45-22:00
October 18, 2020 @ 17:45-22:00

Demon Slayer: Mugen Train Signed Photo Spots


直筆サイン入りフォトスポット©Koyoharu Gotouge/Shueisha・Aniplex・ufotable ©TOKYO-SKYTREE


The Tokyo Skytree Tembo Deck will also have numerous photo spots signed by members of the anime's main voice cast including Natsuki Hanae (who voices Tanjiro Kamado), Akari Kitō (Nezuko Kamado), Hiro Shimono (Zenitsu Agatsuma), and Yoshitsugu Matsuoka (Inosuke Hashibira).

Running: October 12, 2020 – December 22, 2020
Location: Tokyo Skytree Tembo Deck (Floor 350F)

If you're in Tokyo this autumn, and are looking forward to the release of Demon Slayer: Mugen Train, then be sure to visit Tokyo Skytree for this promotion.

Information

Demon Slayer: Mugen Train Light-Up
Light-Up Dates
October 16, 2020 @ 17:45-Midnight
October 17, 2020 @ 17:45-22:00
October 18, 2020 @ 17:45-22:00

Demon Slayer: Mugen Train Signed Photo Spots
Running: October 12, 2020 – December 22, 2020
Location: Tokyo Skytree Tembo Deck (Floor 350F)

Christmas Gifts, Delicious Desserts & More Coming to Tokyo Skytree Town This Holiday Season

The dessert shops and and bakeries on the second floor of Tokyo Solamachiーthe shopping facility at the base of Tokyo Skytreeーare reading themselves for Christmas by baking up a whole range of festive delights for the holiday season, perfect for parties, gifts, or as a little self-indulgence. Let's dive in and take at what's on offer this year.

The perfect cakes for spending Christmas at home

Bonheur du Noel – ¥6,480 @ Ginza BOUL'MICHI (Tower Yard Floor 2F) [Reservations: November 1 – December 13 / Serving: December 21-25] *Tokyo Solamachi exclusive

Macarons are in this year in Japan, so BOUL'MICHI has whipped up the perfect strawberry chocolate cake adorned with colourful macarons and fresh strawberries to give it that Christmas-y look. Only 50 of these precious cakes will be sold, so don't miss out.

Fromage Citron @ – ¥2,970  Ginza Ginger (Tower Yard Floor 2F) [Reservations: November 1 – December 10 / Serving: December 23-25] *Tokyo Solamachi exclusive

This no-bake cheesecake is made with Oceania cheese and layered with an almond base followed by a sumptuously sour lemon cream.

16cm Yule Log – ¥4,104 @ Sweet Heart Tree (Tower Yard Floor 2F) [Reservations: November 1 – December 20 / Serving: December 15-25]

A gourmet yule log made with rich chocolate and packed with fruits and nuts. This sophisticated dessert is one for the adults to enjoy.

Takeout Sweets & Christmas Merchandise

 

Tiny Waffles (Dark Chocolate/White Chocolate) – ¥486 Each @ RL waffle cake (Tower Yard Floor 2F) [Reservations: November 1 – December 23 / Serving: December 20-25]

If you're looking for something a little smaller, perhaps as a Christmas present to friends and family or as a little gift to yourself, then check out these fluffy waffles made with strawberries, chocolate and whipped cream. Simple, but delicious!

Mamegui Towels (Santa Clause/White Christmas/Snowman) – ¥550 Each @ Mamegui (East Yard Floor 4F) [Available From November 1] *Gifts inside sold separately from ¥388

Mamegui are a type of towel used in Japan to wrap gifts in for people. These Christmas versions are perfect for wrapping up small presents for people, like Japanese snacks and candy.

Crispy Cakes (Happy Wreath/Santa/Reindeer) – ¥508 Each @ pon pon×Chris.P (East Yard Floor 2F) [Available From November 15]

These tiny crispy cakes are another great little bite to eat. The cute Santa version is cookie and milk flavoured and has marshmallows as the fluff of his hat.

Tokyo Skytree's THE SKYTREE SHOP Christmas Items

THE SKYTREE SHOP is the official souvenir store of Tokyo Skytree®. This Christmas they are selling a new batch of themed items, including plenty featuring their cute official mascot Sorakara-chan.

TOKYO SKYTREE Premium Chocolates – ¥1,706 @ Tokyo Skytree Floors 345 & 450 [Available From November 7]

This luxurious assortment of Tokyo Skytree-shaped chocolates come in a variety of flavours, including ruby chocolate.

Left: Sorakara-chan Winter Collection S – ¥2,200 / Right: Sorakara-chan Winter Collection Mascot – ¥1,375 @ Tokyo Skytree Floors 1, 5 & 450 [Available From November 7]

You can't leave Tokyo Skytree without a little memento, so why not pick up a cute duffle coat clad Sorakara-chan? Available this winter only.

Sorakara-chan Compact Mirrors – ¥968 @ Tokyo Skytree Floors 1, 5 & 450 [Available From November 7]

Also part of the Sorakara-chan winter collection are these compact mirrors which are filled with glitter that falls like stars or snowflakes depending which one you go for. They are small enough to fit into your pocket or bag making them super convenient.

And that's not allーTokyo Solamachi has countless other goodies, from desserts to souvenirs, to pick up this Christmas too. If you're in Tokyo this winter season and are planning a trip to Tokyo Skytree, be on the lookout.

*All listed prices include tax. Applicable tax rate may vary on certain products in line with Japan's consumption tax increase.
*Products and sale periods subject to change. Products available while supplies last.
*Pictured photos are for illustrative purposes only.

©TOKYO-SKYTREE

Tokyo Skytree Announces Dream Christmas 2019 Event Schedule

Tokyo Skytree is starting Christmas early this year as it announces a new event titled Dream Christmas 2019 which will take place in Tokyo Skytree Town® from November 7 to December 25.

Illuminations

Illuminations ©TOKYO-SKYTREETOWN

Christmas Lighting & Solami Zaka ©TOKYO-SKYTREETOWN

Skytree Town will be adorned in 500,000 individual illuminations, inspired by the people we treasure spending time with during Christmas.

Christmas Tree

The Sky Arena, too, will be decorated in Christmas lighting, and will house its first ever real fir Christmas tree.

Christmas Market 2019

Christmas Market (Picture from 2018 market) ©TOKYO-SKYTREETOWN

There will also be huts inside the Sky Arena draped with warm lighting and selling various Christmas food and desserts, as well as beer and other beverages.

Tokyo Skytree Christmas Lighting

Left: Candle Tree / Right: Champagne Tree ©TOKYO-SKYTREE

Tokyo Skytree will light up in two different designs: the Champagne Tree which is made to look like the world's biggest Christmas tree, and the Candle Tree.

SKYTREE ROUND THEATER®

SKYTREE ROUND THEATER©TOKYO-SKYTREE

Tokyo Skytree's Tembo Deck, which is located on the 350th floor, is known for its 110-meter long, 2-meter tall "Round Theater" which projects digital images and videos onto the windows so they look like a giant screen. All-new special Christmas visuals have been prepared for the holiday season.

Merry Christmas Stickers

Merry Christmas Stickers ©TOKYO-SKYTREE

If you say "Merry Christmas" to one of the Santa hat-wearing staff members in Tokyo Skytree you'll get an original sticker as a present.

This is just a small peek at some of the exciting things happening at Tokyo Skytree Town® this year. If you're spending Christmas in Japan's capital this year, be sure to pay a visit.

Information

Illuminations

Running: November 7, 2019 – December 25, 2019

*Select illuminations running until March 8, 2020. Illuminations subject to alterations depending on certain events and other circumstances.

Time: 16:00-24:00

Location: Around Tokyo Skytree Town

Christmas Market 2019

Running: November 7, 2019 – December 25, 2019

*Menus and other services set to change on November 29, 2019

Location: Sky Arena (Tokyo Skytree Town Floor 4F)

Tokyo Skytree Christmas Lighting

Running: November 7, 2019 – December 25, 2019 (Except November 12, 2019)

Time: [Nov 7-11] 17:00-22:00 / [Nov 13-Dec 25] 17:30-22:00

SKYTREE ROUND THEATER®

Running: November 7, 2019 – December 25, 2019

Time: 17:30/19:00/20:30/21:00 (*4 times a day approx. 3 mins each)

*Times will change to three sessions at 18:15/20:30/21:00 during Christmas Love Song live shows

Location: Tokyo Skytree Tembo Deck (Floor 350F)

Merry Christmas Sticker Present

Running: November 7, 2019 – December 25, 2019

Location: Tokyo Skytree Tembo Deck and elsewhere (1 per person while supplies last)

Tokyo Skytree Town® Official Website: http://www.tokyo-skytreetown.jp/english/