Street Fighter V Costume Design Contest Launched by Capcom
Street Fighter V was released back in 2016, and continues to enjoy a dedicated player base thanks to the ongoing updates. Street Fighter V: Champion Edition was released on February 14, 2020, featuring the original game and all of the content up to Season IV.
Capcom has now confirmed Season 5 which will roll out five new characters. Three new stages are also being planned. Capcom will also host a costume content for fans to design the outfits for the five new characters.
Season V: The Final Season is Now in Development
Season V is set to be final season to be released for Street Fighter V, which has garnered the support of many fans since its release back in 2016. Five new characters have been decided on and are now in development together with three new stages. More information is scheduled to roll out this summer.
Leave Your Name in Street Fighter History With the Costume Contest
One aspect of Street Fighter V that players love are the amount of costumes you can put characters in. Fans can see their favourite characters not just in their regular outfits, but in something more cool or even comical.
This is about to become even more fun as Capcom announces the launch of an official costume contest. Two costumes will be chosen from submissions based on votes by players. This is their chance to make their mark in Street Fighter history.
Pictured above are concept pieces designed by the Street Fighter V staff. Try designing something that really makes you outfit stand out from the rest.
Click here for more details on how to participate.
EX09 Colours Released Free Of Charge For All 40 Characters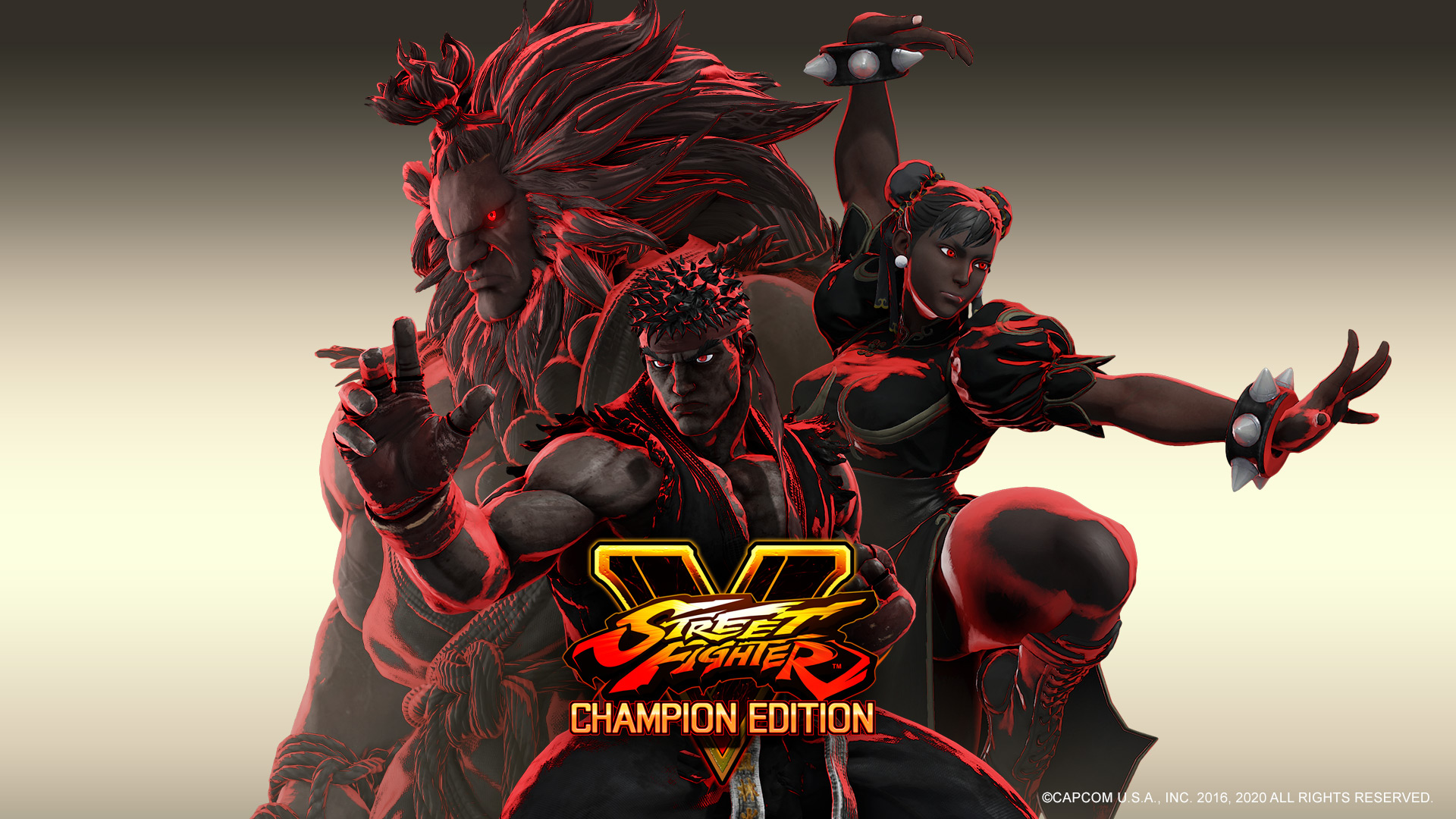 While we're still a while way from Season V, Capcom decided to release the EX09 colour for all 40 characters on Wednesday free of charge, an awesome combination of black and red.
©CAPCOM U.S.A., INC. 2016, 2020 ALL RIGHTS RESERVED.
Information
Street Fighter V: Champion Edition
Platforms: PlayStation®4 / PC
Genre: Fighting
Players: 1-2 (2-8 Online
CERO Rating: B
Official Website: https://streetfighter.com/
RELATED ENTRIES
Street Fighter V's 'Ring of Destiny' and 'Ring of Prosperity' Stages Jacked by Cup Noodle

Street Fighter V's DLC stages "Ring of Destiny" and "Ring of Prosperity" have been taken over by Nissin Foods's instant cup noodle brand Cup Noodle in Japan.

The Street Fighter video game series has sold over 44 million copies worldwide. Cup Noodle's collaboration with the internationally-celebrated series comes in promotion of the 2020 season of the Street Fighter League: Pro-JP, an e-sports league featuring Capcom's popular Street Fighter series in Japan. Both the "Ring of Destiny" and "Ring of Prosperity" stages will feature a Cup Noodle design until the final day of the league's grand finale, after which the stages will return to normal. This date has yet to be announced.

Nissin Foods | Comment

"We are supporting the biggest battle held by the Street Fighter V community by collaboration with [two of] the game's stages. In recent years, more people have woken up to gaming receiving much more attention. We see countless competitors around the world who are showing their talents. Momofuku Ando, the founder of [Nissin Food Products Co., Ltd.], invented the world's first instant noodles, Cup Noodle, which has been enjoyed by many competitors for being time-saving, allowing for them to hone their skills in their spare time. Cup Noodle wholeheartedly supports Street Fighter League: Pro-JP 2020 and the fiery passion of participating competitors. Hungry To Win!"

©CAPCOM U.S.A., INC. 2016, 2020 ALL RIGHTS RESERVED.

Street Fighter Exhibition at Fukuoka City Science Museum Rescheduled For July

The Street Fighter exhibition "Street Fighter: Ore Yori Tsuyoi Yatsura no Sekai Ten" (Street Fighter Exhibition: The World of Those Stronger Than Me) was originally scheduled to run from March 14 to May 24 but was cancelled due to the COVID-19 outbreak. However, it has been announced that the exhibition has been rescheduled and will take place from July 1 to September 22.

A ticket system is in place where attendees need to book a time and date in advance as a precaution against the novel coronavirus. Tickets can be bought in advance from the exhibition's official website.

Street Fighter is a fighting video game franchise developed and published by Capcom. The first game was released in 1987 for arcades. Street Fighter II was released in 1991 is hailed as a landmark title in the series and would set the standard of fighting games that followed. The latest instalment to the series, Street Fighter V, was released in 2016, with Street Fighter V: Champion Edition following in 2019.

The Street Fighter exhibition is set to display treasured documents and art pieces from the franchise, as well as showcase a cabinet of the arcade games. With full support and cooperation from Capcom, the exhibition is a must-visit for all fans of the influential fighting game.

Here's just a select glimpse of what to expect.

Street Fighter Gallery

This incredible gallery features a physical catalogue of game packages and cases, posters, and much more from across the series.

Memorable Street Fighter Scenes

①BONUS STAGE 2020 in FUKUOKA

Interactive Content: Destroy the car with a Surge Fist

②CONTINUE? Match Loss Facial Expression Collection

EXTRA ROUND: Secrets

A display of initial Street Fighter concepts, logos, character art, backgrounds, and more

CONTINUE: The Legend of Street Fighter Continues to Evolve

Information

Street Fighter Exhibition (Japanese Name: ストリートファイター「俺より強いやつらの世界展」)
Running: July 1, 2020 – September 22, 2020
Closed: Tuesdays (Except August 11/August 18/September 22)
Time: 9:30-18:00 (Last Entries 17:30) (Open until 21:30 from August 7-19)

Location: Fukuoka City Science Museum (4-2-1 Ropponmatsu, Chuo Ward, Fukuoka)
Price: General ¥1,100 / High School & Junior High School Students ¥800 / Ages 4+ ¥500

Official Website: https://streetfighter.artne.jp/

Street Fighter V Kicks Off Two-Week Season 4 Trial With New Characters

Capcom has announced that that the Street Fighter V Champion Edition characters Kage, Poison, Lucia, E. Honda, Gill, and Seth are all free to play right up until May 7, 2020.

These six characters forge the game's Season 4 character roster. The Champion Edition includes the base game, everything up to Season 4, 40 characters, over 200 costumes, and more.

Current holders of Street Fighter V can purchase the Upgrade Kit to upgrade the game with everything up to Season 4, including the new characters.

©CAPCOM U.S.A., INC. 2016, 2020 ALL RIGHTS RESERVED.

Information

Street Fighter V Champion Edition – Season 4 Trial
PS4/Steam
Running: April 24, 2020 – May 7, 2020

Official Website: https://streetfighter.com/

Chun-Li Inspired Street Fighter Shoes to be Released by Onitsuka Tiger

Onitsuka Tiger will release its new Street Fighter inspired trainers―made as part of its MEXICO 66 SD line―on July 27. To promote the trainers, manga author Masakazu Katsura designed an original Chun-Li key visual for the release.

As well as Katsura's illustration, 10 other artists have also contributed their own original Chun-Li drawings, including Hikaru Chō. For a limited-time only while the shoes are available, these illustrations can be seen by heading into select branches of Onitsuka Tiger listed below.

MEXICO 66 SD: ¥18,000 Each (Before Tax)

The shoes come with a card bearing a unique product code which can be used in-game to give Chun-Li an original Onitsuka Tiger outfit as well as the MEXICO 66 SD shoes themselves.

Chun-Li aren't going to want to miss out on this exclusive opportunity.

©Masakazu Katsura / Shueisha

Information

Chun-Li Illustration Schedule
May 24, 2019 – May 26, 2019 @ Onitsuka Tiger Omotesando
June 7, 2019 – June 9, 2019 @ Onitsuka Tiger Shinjuku East
June 21, 2019 – June 23, 2019 @ Onitsuka Tiger Namba
*Schedule subject to change.

Street Fighter V Arcade Edition Website: http://www.capcom.co.jp/sfv/

Onitsuka Tiger Website: www.onitsukatiger.com

UNIQLO Video Showcases New Monster Hunter & Street Fighter T-Shirts

UNIQLO is set to release its new collection of Street Fighter and Monster Hunter t-shirts from its graphic t-shirt brand UT both in-store and online on April 15.

In the run up to the collection's release, UNIQLO posted a video on their official YouTube channel in promotion of it.

The video features fight sequences that mix together gameplay and with live action.

UT has released many popular t-shirts in collaboration with Monster Hunter so far and this time it will include one in celebration of the series's 15th anniversary. The t-shirt will feature the legendary dragon Rathalos and a 15th anniversary  logo.

Other designs will include the easily-recognisable meat icons from the game, an original camoflauge t-shirt with silhouettes of the main monsters and more. Any gamers out there won't want to miss out on these fun and faithful collections.

Street Fighter T-Shirts Released by UNIQLO's UT Brand

Street Fighter II was first released in 1991 and become a record-breaking hit in the industry. Over the past few years, the fifth game in main series, Street Fighter V, has become international as an e-sport. Japanese clothing company UNIQLO have revealed that they are releasing 12 different t-shirts based on V from their t-shirt brand UT.

Featuring completely original designs, the t-shirts incorporate iconic motifs and poses from different characters in the game.

Which do you want the most?

Street Fighter II Neckties With Sound Effects Released by Perfect Suit Factory

Perfect Suit Factory has teamed up with Capcom to release a line of neckties inspired by Street Fighter II. Sales began on February 9, 2019 and only 2,000 will be sold.

Street Fighter II is a fighting game that was released for arcades back in 1991. The competitive game enjoyed huge popularity with children and adults alike. Its characters and their combos and finishing moves still grab the hearts of gamers to this day.

Fans can get their hands four different neckties which feature the memorable characters Ryu, Chun-Li, E. Honda and Dhalsim. Each tie is fitted with a device that plays two phrases and the words "You Win!" from each respective character.

These quirky and unique ties make for the perfect gift for fans of the famous franchise, whether for your game-loving special someone this Valentine's or a surprise birthday present. The sound device can also be removed from the neckties and used as a key ring.

Don't miss out on this super limited merchandise.

Information

Sound Neckties (Quantity: 2,000)

Price: ¥2,900 (Before Tax)

Release Date: February 9, 2019

Available: At most Perfect Suit Factory branches across Japan

Perfect Suit Factory Official Website: https://perfect-s.com/

Capcom Official Website: http://www.capcom.co.jp/

©CAPCOM U.S.A., INC. ALL RIGHTS RESERVED.