"Haikei, Dick Bruna" (Dear Dick Bruna) is a fashion project that was launched to celebrate the 65th anniversary of Miffy, a character created by Dutch author and illustrator Dick Bruna. Pre-sales for items in the line dropped on May 1, 2020 on the online shop MEETSCAL STORE and sold out instantly.
Now, pre-orders for a new summer collection is on its way and will arrive on June 19, 2020 at 14:00 (JST) on the website. In-store sales are being planned for release at a later date.
Summer Season Collection
Summer One Piece Shima Shima Blue (1 Size): ¥9,700 (Before Tax)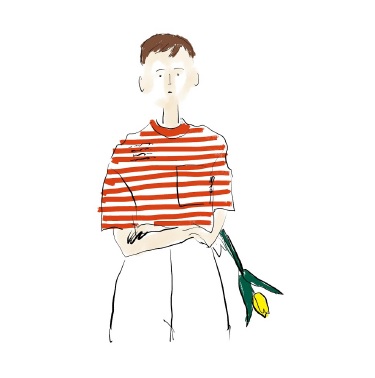 Summer T-Shirt Shima Shima Red/Blue (1 Size): ¥7,200 (Before Tax)
Two items perfect for wearing beneath the sun rays this summer.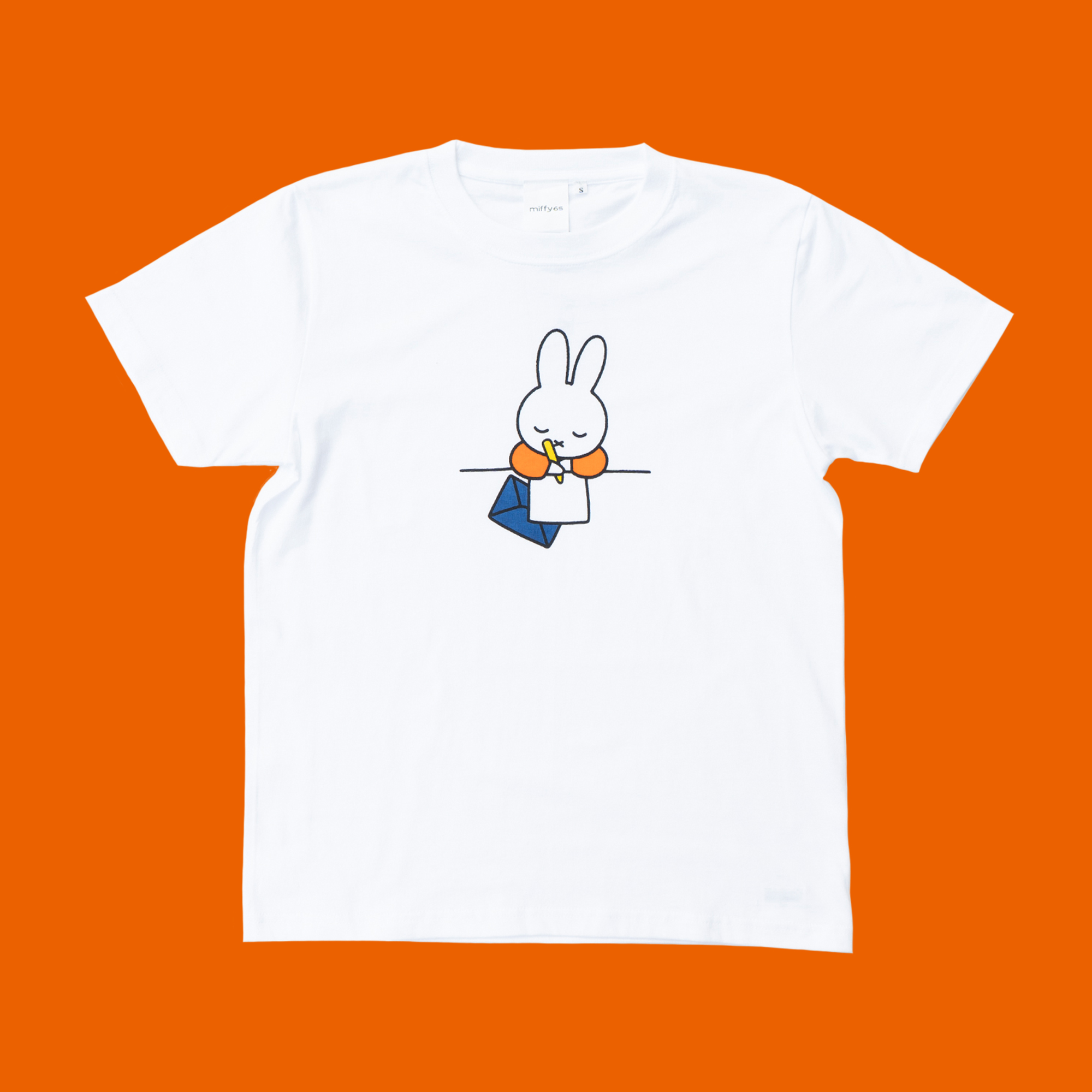 Exhibition-exclusive T-Shirt, will be sold at an upcoming exhibition
The above-pictured T-shirt will also be sold featuring an illustration of Miffy from the picture book Miffy's Letter. The front features Miffy writing his letter while the back includes the book's title written in Dutch.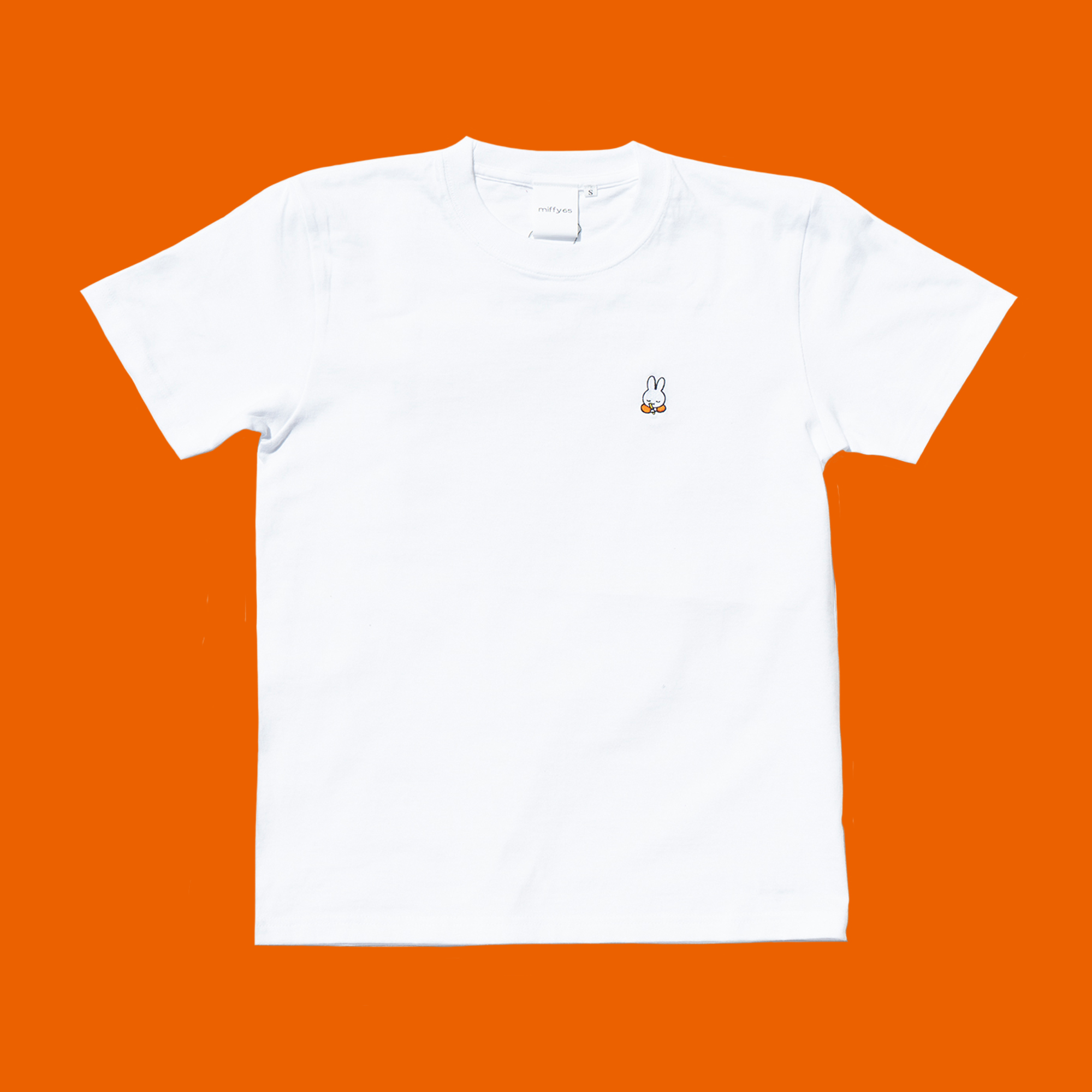 "Zero" T-Shirt: ¥3,900 (Before Tax)
The final orders for the popular Spring Collection also opened on June 1, 2020 at noon (JST).
Illustrations Dick Bruna©copyright Mercisbv, 1953-2020 www.miffy.com
Information
MEETSCAL STORE x ACID GALLERY
Release Date: June 25, 2020
Stores: Shibuya PARCO (Floor 4F), Ikebukuro PARCO (Floor 1F), Nagoya PARCO (Floor B1F), Shizuoka PARCO (Floor 1F), LUCUA Osaka (Floor 2F), Hiroshima PARCO (Floor 1F), Fukuoka PARCO (Floor 1F)
MEETSCAL STORE Online: https://meetscal.parco.jp/special/miffy
Miffy 65th Anniversary Exhibition
Official Website: https://miffy65.exhibit.jp/
RELATED ENTRIES
Miffy Creator Dick Bruna Gets Themed Wine Bar 'Dick Bruna TABLE' in Kobe

The new wine bar Dick Bruna TABLE is set to open in Kobe, Japan on July 17, 2020 at 11:00am (JST) where customers can enjoy various wines from around the world. Reservations are already open for both the bar and cafe tables, and if you book by July 16, you'll get an original coaster.

Dick Bruna TABLE KOBE is themed around the popular children's author and graphic designer Dick Bruna (1927-2017) who is known for his popular character Miffy. This will be the first bar of its kind centred on Bruna.

The bar has 4 floors which include a takeout counter, merchandise shop, cafe, wine bar, and event space. Dick Bruna TABLE will also be opening an online store for merchandise in the near future. It's a must-visit for any fan of Miffy and Dick Bruna's works.

Information

Dick Bruna TABLE
Address: 3-1-1 Sannomiyacho, Chuo-ku, Kobe
Opening Hours:
[Weekdays] 11:00-15:00 (Last Orders 14:00) / 17:00-23:00 (Last Orders 22:00)
[Saturdays] 11:00-23:00 (Last Orders 22:00)
[Sundays/Public Holidays] 11:00-21:00 (Last Orders 20:00)

Official Website: https://dickbrunatable.com/

Miffy Sakura Kitchen Opens Second Shop with Bakery in Yufuin

Miffy Sakura Kitchen, Arashiyama, Kyoto will open a forest-themed shop with an adjoined bakery in Yufuin, Oita on October 31, 2019.

As you enter the new shop, you will be immersed in its happy, warm and comforting atmosphere. Miffy Sakura Kitchen is popular for its Japanese-style kitchenware and miscellaneous goods which cannot be found anywhere else in Japan. The shop will also have an adjoining bakery area called Miffy Mori no Bakery, where customers order their favourite treats to take out. This includes the popular anpan bun, which is a bun containing sweet red bean paste. There will also be character-themed baked goods, soft serve ice cream, drinks and much more. 

You can order your delicious baked goods to go so you can explore the beautiful area of Yufuin, or you can choose to eat inside the bakery's beautiful and photogenic eating area. 

Miffy's good pal Boris will also be making an appearance at the brand new shop. His design will decorate some of the Miffy Sakura Kitchen-limited kitchenware and even some of the baked goods in the bakery. 

Information

Yufuin Miffy Mori no Kitchen/ Miffy Mori no Bakery

Address: 1503-8 Kawakami, Yufuin-cho, Yufu-shi, Oita

Opening Hours: 9:30 ー17:30 (subject to change)

Open all year round/

Grand opening: October 10, 2019

Miffy Sakura Kitchen Official Website: http://www.miffy-sakurakitchen.jp

Miffy Design Makeup Brushes Released by Kumano Brush

Kumano is a hub for brushes in Japan responsible for producing 80% of brushes in the country for painting, writing and cosmetics. Kumano Fude (also known as Kumano Brush), the company that produces these brushes, has joined paws with Dick Bruna's internationally loved bunny character Miffy to release a new range of makeup brushes. Four types were released on February 14 including face brushes and cheek brushes.

Kumano Fude's previously-released Rilakkuma and Rilakkuma Halloween brushes were incredibly popular, and the Miffy and Melanie brushes are sure to receive the same love. There are two each of face and cheek brushes each in the colour of the respective characters. All the brushes produced by Kumano Fude are handmade by experts in Kumano Prefecture.

The face brush handles are made with wood from cherry blossom trees with blue and red designs and decorative flowers.

The cheek brushes too come in their own respective colours. The yellow dye of the brush hairs gives the ends a perfectly round shape. The handles are made of hard maple and feature illustrations of Miffy hugging his teddy bear and Boris hugging a rabbit plush toy.

Not only are these brushes cute, they are authentic tools and a must-have for any cosmetic connoisseur. Perfect as a gift to a friend (or yourself!)

Information

Miffy Kumano Fude

Price: Face Brushes – ¥5,500 Each (Before Tax) / Cheek Brushes ¥3,700 Each (Before Tax)

Released: February 14, 2019

Product Page: https://hkds.tokyo/category/MIFFYKUMANOFUDE/

Illustrations Dick Bruna © copyright Mercis bv,1953-2019  www.miffy.com

Miffy Sakura Kitchen & Bakery to Open in Arashiyama, Kyoto

The new takeout bakery Miffy Sakura Kitchen will open in Arashiyama, Kyoto on October 3, fusing traditional Japan with Dick Bruna's cute bunny character.

The bakery faces the main street that runs from Togetsu-kyo Bridge through the Arashiyama Bamboo Grove, the most iconic tourist spots of Arashiyama.

Vintage Mugs – ¥1,200 (Pre-Tax)

Lunch Bowls – ¥2,000 (Pre-Tax)

At the bakery you can get your hands on a range of Miffy licensed merchandise as well as a string of exclusive Miffy Sakura Kitchen made in the style of traditional Kyoto pottery and more.

Of course, there's plenty of delicious goodies to get your fingers on too like anpan sweet bread, danish pastries, ice cream, drinks and more, all inspired by Miffy.

Miffy Anpan – ¥260 (Pre-Tax)

The Miffy anpan is shaped like Miffy's face which is filled with sweet adzuki bean paste.

Miffy Fuku Daruma Bread – ¥350 (Pre-Tax)

This cute and round Miffy bread is made in the image of a daruma doll and is filled with rich matcha cream. Limited quantity available.

Carrot Bread – ¥310 (Pre-Tax)

Miffy loves carrots, so this one's dedicated to her. It's made with carrot puree and contains an egg salad.

Miffy Danish Pastry – ¥500 (Pre-Tax)

When you sink your teeth into this crunchy toasted pastry your mouth is filled with the sweet taste of butter. You can order it as French toast or enjoy it as a sandwich.

Miffy Cube (Matcha & White Chocolate) – ¥230 (Pre-Tax)

This cubed shaped bread bears the shop's logo and Miffy on the front. You'll get addicted to the sweet white chocolate and bitter matcha inside!

The bakery itself will also be decorated with all things Miffy, so if you're a fan of the cute bunny yourself you'll definitely want to go and visit.

■Information

Arashiyama Miffy Sakura Kitchen
Address: 20 Sagatenryuji Tsukurimichicho, Ukyo Ward, Kyoto, Kyoto Prefecture

Grand Opening: October 3, 2018

Opening Hours
Miffy Kitchen: 10:00am-6:00pm
Miffy Bakery: 10:00am-6:00pm

Contact
Miffy Kitchen: 075-863-2022
Miffy Bakery: 075-496-4244

Miffy Sakura Kitchen Offiみっふぃー桜きっちん公式サイト:http://www.miffy-sakurakitchen.jp

Miffy Sakura Kitchen Pastry Takeout Shop to Open in Kyoto

Miffy Sakura Kitchen is Japan's first bread takeout shop to combine the traditional Japanese aesthetic with Miffy. The shop will open in Arashiyama, Kyoto on October 3.

 

Arashiyama is a huge tourist destination and one of Kyoto's most famous. The shop faces the main roads that run through Arashiyama, from Togetsukyo Bridge to the Bamboo Forest, making it an easily accessible location.

Miffy's kitchen will sell items in collaboration with traditional Kyoto handicrafts and Kiyomizu pottery as well as a range of traditional miscellaneous goods. Everything there is Miffy licensed merchandise. There's also the Miffy Sakura Bakery where you'll be able to get your hands on kawaii Miffy themed pastries, Danish pastries, soft serve ice cream, drinks and more.

If you're a Miffy fan then be sure to hit the Miffy Sakura Kitchen & Bakery in Kyoto later this year.

■Information

Miffy Sakura Kitchen – Arashiyama

Address: 20-27 Sagatenryuji Kitatsukurimichicho, Ukyo-ku, Kyoto-shi, Kyoto Prefecture

Opening Day: October 3, 2018

Opening Hours:

Miffy Sakura Kitchen – 10am-6pm (subject to change)

Miffy Sakura Bakery – 10am-5:30pm (subject to change)

No Fixed Holidays.

Miffy Sakura Kitchen Website: http://www.miffy-sakurakitchen.jp (*Will open at the beginning of October)

Miffy English Website: https://www.miffy.com/

Miffy Japanese Website: http://www.dickbruna.jp/

Huis Ten Bosch Theme Park: Events in June 2018

There's never shortage of things to do at Huis Ten Bosch, a theme park in Nagasaki absolutely packed with content from flowers to illuminations, games, music and more.

Pull out your diaries and write in the dates for these events taking place at the park in June.

"Happy Rain" – A rainbow of umbrellas stretching across each location

A whole host of events will take place at Happy Rain, and there will be plenty of food to eat and things to buy, all themed on rainbows.

Umbrellas of all colours float overhead along Rainbow Street, and the multicoloured food and merchandise on sale transform the area into a colourful creation. And if it rains, you can pick up an original poncho for just ¥100 – normally sold at ¥1,500.

■Information

Happy Rain

Location: Harbour Town

Running: June 1, 2018―June 30, 2018

Rainbow Fireworks
Date: June 16, 2018

Time: 20:40-21:00
*Special Viewing tickets available now available on the park's website.

"Miffy Month" – Celebrate with everyone!

 Miffy, the adorable bunny loved all over the world, is holding a birthday event this June.

Look forward to getting your hands on limited-edition Miffy merchandise and eating Miffy inspired food at the popular Nijntje Cafe. There will also be an event held with snacks thrown out to people.

■Information

Miffy Month
Running: June 1, 2018―June 30, 2018

Miffy Birthday Party
Location: Attraction Town (Muse Hall)

Dates: June 2, June 9, June 16, June 24, June 30

"Hydrangea Festival" – 1,250 varieties of hydrangea displayed

From the 2m tall and 10m wide 'Hydrangea Wall' to the magical illuminated 'Hydrangea Herbarium,' this new spot in Huis Ten Bosch Palace will be full of gorgeous hydrangea flowers. A social media campaign will also take place to win a coupon that can be used there.

Full Details: https://www.moshimoshi-nippon.jp/102391

■Information

Hydrangea Festival

Running: June 2, 2018―July 1, 2018

"Lily Festival" – 300 varieties of lilies

In the Lily Garden, you can take an absolutely gorgeous photo at a particular lily patch made to look like a lily dress. You'll be enveloped by the sweet scent of lilies outdoors, in the palace, the hotel, and pretty much everywhere else.

■Information

Lily Festival
Running: June 23, 2018―July 16, 2018

"BLAZE UP NAGASAKI 2018 in HUIS TEN BOSCH" – A rock event

This rock event is aimed at invigorating the region of Nagasaki. In addition to SHANK who are organising this event, a total of ten artists will perform including HEY-SMITH, SiM, Crossfaith , dustbox, G-FREAK FACTORY, MEANING, SIX LOUNGE, 04 Limited Sazabys, and Kariyushi58.

■Information

BLAZE UP NAGASAKI 2018 in HUIS TEN BOSCH
Location: Rotterdam special area

Date: June 9, 2018

Time: OPEN 9am / START 11am (subject to change)
Website: http://www.blazeupnagasaki.net/

Kichi Kichi Cat & Dog Walking

This event is organised by pet magazine Inu Kichi Neko Ichi. This is your chance to get your photo taken by a professional cameraman and printed in the magazine. This one's a must-check for pet owners.

3rd Bosch Cosplay Collection

The third Bosch Cos Collection will allow special access to a place you normally can't enter to be used a photo spot.

Nagasaki Prefecture is home to one of Japan's four biggest cities and is close to Fukuoka Prefecture. There's an express bus you can take from Fukuoka Station to gt to Huis Ten Bosch, and overall commuting there is very easy. There's always lots of events taking place at the park, and the ones this June can be enjoyed whether it's sunny or rainy.

Begin your summer with a trip to Huis Ten Bosch!

■Information

Huis Ten Bosch