107 Sinnoh Region Pokémon Added to Pokémon PON Stamp Line
Online hanko store Hankos released a new collection of stamps in its "Pokémon PON" stamp line on May 30 which are based on 107 Pokémon from the Sinnoh region. Hanko are a type of stamp or seal traditionally used in place of signatures in Japan. They are crafted with people's names and unique symbols.
Pokémon PON are made-to-order hanko stamps which feature a Pokémon of your choice and a name in Japanese writing. The Sinnoh region stamps follow the release of the Kanto, Johto, and Hoenn region themed stamps.
The 107 designs include the Sinnoh starter Pokémon Turtwig, Piplup, and Chimchar, as well as the Legendary Pokémon Dialga, Palkia, and Giratina, and Mythical Pokémon Shaymin, Darkrai, and Arceus.

When ordering your stamp you pick your favourite Pokémon and give your name to be written on it. This can be your actual name, surname, pen name, social media name and so on. Keep in mind though that there is a character limit: three Kanji, five Hiragana or Katakana, and up to six alphabet letters.
There are three different fonts and several types of hanko. One type produces ink by itself meaning you don't have to buy an ink pad. The wooden type can also be used with most banking facilities in Japan.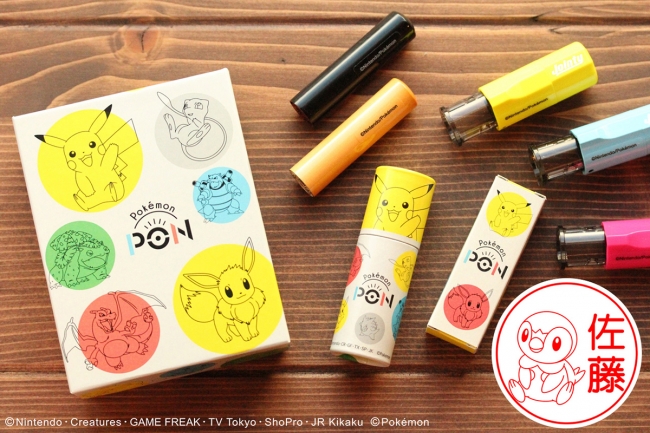 Pokémon PON stamps are packaged in an exclusive Pikachu and Eevee box.
©Nintendo・Creatures・GAME FREAK・TV Tokyo・ShoPro・JR Kikaku
©Pokémon
RELATED ENTRIES
Mew and Snorlax Charge Your iPhone With These Pokémon Cable Bites

Two new Mew and Snorlax "Cable Bites" have been added to the popular iPhone accessory series and will be released in Japan in late June.

A common problem iPhone users face is their phone cable disconnecting so they can't charge. The Cable Bite series was developed to tackle this issue.  Leave it to your Pokémon to look after your cable and look super cute while doing it.

Cable Bite Pokémon Mew: ¥680 (Before Tax)


Cable Bite Pokémon Snorlax: ¥680 (Before Tax)

Take your Pokémon with your wherever you go with the Pokémon Cable Bite series.

SAMANTHAVEGA's Pokémon Bag and Accessory Collection Kits Out Pokémon Trainers

Japanese clothing and accessory brand SAMANTHAVEGA, which is popular amongst girls in Japan, has teamed up with Pokémon to release a very special collection which is sure to please all you female Pokémon Trainers out there.

The theme of the cute and fun collection is "cute//mode" and captures the essence of Tokyo-born Japanese pop culture as well as the world of Pokémon.

Pikachu


Eevee

The collection features a line-up of bags—from shoulder bags to backpacks, tote bags and more—as well as T-shirts, bag charms, and iPhone cases. Pikachu, Eevee, Gengar, and Team Rocket are the focus of the designs.

Team Rocket

Gengar

Modelling the collection in the photos is Japanese model and actress Tina Tamashiro who also produces SAMANTHAVEGA's bags.

Limited Edition Shopper Bag


Pokémon Series Eco Tote Bag

Those who purchase anything from the collection in Japan will receive a limited-edition shopper bag—or the eco tote bag if they spend over ¥15,000. Both are limited in stock so customers will want to grab something quick.

SAMANTHAVEGA meets Pokémon Collection

Pokémon will also take over the Samantha Thavasa Omotesando GATES pop-up digital store from July 9, 2020.

©Nintendo・Creatures・GAME FREAK・TV Tokyo・ShoPro・JR Kikaku
©Pokemon

Information

SAMANTHAVEGA meets Pokémon collection
Release Schedule:
June 23, 2020 @ SAMANTHAVEGA Online Shop (Pre-Sale)
July 15, 2020 @ SAMANTHAVEGA Stores (Japan)

Special Pop-Up Shop
July 9, 2020 @ Samantha Thavasa Omotesando GATES Pop Up Digital Store
August 12-18, 2020 @ Hankyu Umeda

Official Website: http://www.samantha.co.jp/

Get Celebi & Zarude in Pokémon Sword and Shield With Pocket Monsters the Movie: Coco Tickets

Pocket Monsters the Movie: Coco was originally set for release on July 10, 2020, but was delayed due to the COVID-19 pandemic. The new release date has finally been set for August 7, 2020.


Trainers will now be able to get Ash's iconic hat with the Pokémon Sword and Shield Expansion Pass. Not only that, they have the chance to receive two Mythical Pokémon. But there's a catch.

Get Movie Tickets, Catch Celebi and Zarude

To get Celebi and Zarude, players must be in Japan and have pre-ordered tickets to the upcoming new Pokémon film, Pocket Monsters the Movie: Coco. Zarude is the newest Mythical Pokémon that has yet to officially make it into Pokémon Sword and Shield, making this the first announcement on how it will be released. There is no information on an international release as of yet.

Celebi and Zarude Ticket Pre-Orders (w/ Serial Code)
Release Date: August 7, 2020
Price: General ¥1,400 / Senior ¥800 (*May differ at certain cinemas)
Available: Japan (7-Eleven, AEON, AEON Super Center, Ito-Yokado, Toys "R" Us, Uny, Bic Camera, Tsutaya Records, Amazon.co.jp, Pokémon Center, Pokémon Store, Cinemas screening Pocket Monsters the Movie: Coco)

Ash's Iconic Hat Coming to Pokemon Sword & Shield Isle of Armor DLC

To celebrate the release of Pocket Monsters the Movie: Coco, players will soon be able to get their hands on Ash Ketchum's iconic cap. The hat will be part of the upcoming Isle of Armor DLC for Pokémon Sword and Shield.

To get the hat, players will need to have Zarude in their party, the new Mythical Pokémon. Cinemagoers will also be able to receive the hat, but details on how have yet to be announced.

©Nintendo・Creatures・GAME FREAK・TV Tokyo・ShoPro・JR Kikaku©Pokémon
©2020 ピカチュウプロジェクト
©2020 Pokémon. ©1995-2020 Nintendo/Creatures Inc./GAME FREAK inc.
ポケットモンスター・ポケモン・Pokémonは任天堂・クリーチャーズ・ゲームフリークの登録商標です。
Nintendo Switchは任天堂の商標です。

McDonald's Japan's Pokémon Happy Meals Are Pika-Tastic

McDonald's Japan has joined hands with Pokémon and BorneLund and will begin serving themed Happy Meals at McDonald's branches across Japan from June 19, 2020 for a limited time.

There are six Pikachu toys to get your Pokémon Trainer hands on, all of which have Pikachu wearing his hat from the hit movie Detective Pikachu. The line-up includes everything a detective needs including a magnifying glass, a periscope which has moving parts which look different as you flip it, a real-working Pikachu compass, and more.

McDonald's BorneLund collaboration collection also features six toys, including a pencil and stencil kit, a puzzle block set, and more. These items are sure to draw out the imaginations and creativity of kids.

Additionally, for every Pokémon Happy Meal and BorneLund Happy Meal bought on June 20 and 21, customers will receive a maze and sticker book for each the respective series.

Information

Pokémon Happy Meal / BorneLund Happy Meal
Release Date: June 19, 2020

McDonald's Japan Official Website: https://www.mcdonalds.co.jp/

Pokémon Cosmetic Series: New Face Masks Keep Pokémon Trainer's Skin Moisturised

Monosense is set to release the third collection of face masks in the popular Pokémon Cosmetic Series on June 19, 2020.

The Pokemon cosmetic series has been a huge success in Japan since it launched, spanning face masks, hand cream, lip cream, lip gloss, point packs, mirrors, and body gel. The face masks however have proven the most popular, having sold over 600,000 of them. Now, Pokémon Trainers can look forward to the third collection in an all new 2020 version.

Until now, the face masks themselves have had an entire print of a single Pokémon face on them. This time, however, they have a new design with many of that Pokémon on them, along with colours that remind one of that Pokémon.

Skin can get pretty dry when summer rolls around, so these made-in-Japan face masks will keep Trainers' skin moisturised thanks to the collagen, hyaluronic acid, and shea butter in them.

There are four Pokémon to choose from: Pikachu, Eevee, Psyduck, and Mew. Who will you choose?

Customisable Pokémon Shirts Brand Introduces New Polo Shirts

Pokémon Shirts was launched back in February 2019 by American custom shirt brand Original Stitch—which offers over one billion design customisations—and the Pokémon franchise. Pokémon Shirts ships worldwide including Europe, Canada, Australia and New Zealand.

To date, Pokémon Shirts has introduced 251 original prints with Pokémon from Pokémon Red and Blue and Pokémon Gold and Silver.

Original prints for the original 151 Pokémon from Pokémon Red and Blue are now available to customise with the brand's all-new polo shirts which were introduced on June 5, 2020. Customisation is diverse, ranging from the embroidery of the Pokémon themselves to the buttons as Poké Balls, Pokémon on the shirt pockets, and more.

Whichever Pokémon from the original you pick when customising a polo shirt can be embroidered on the pocket, on the inside of the cuff, or the outside. You can make a casual and smart yet still nerdy design with these customisations.

For the buttons, there's 3 different Poké Balls you can choose from: the original Poké Ball, Great Ball, or Ultra Ball. You can have one design for all three buttons, or one of each. The designs don't stand out too much, making them yet still great for smart casual settings while still supporting you love of Pokémon.

Choose between a standard rib collar for regular wear or a semi-formal collar band for business settings. If you select the standard rib collar, you can pick a different colour for the collar than the one you picked for your polo shirt.

©2020 Pokémon. ©1995-2020 Nintendo / Creatures Inc. / GAME FREAK inc. ポケットモンスター・ポケモン・Pokémonは任天堂・クリーチャーズ・ゲームフリークの登録商標です。

Pokémon Camping Items Released in Collaboration With Pokémon Center and LOGOS

Outdoor brand LOGOS has teamed up with the official Pokémon shop, the Pokémon Center, for the first time to release a new collection of Pokémon-themed camping gear. The items went on sale at Pokémon Center and its website in Japan on May 30, 2020.

The 10 items feature cute retro designs of familiar Pokémon and can be used for outdoor life and everyday use.

The line-up includes a sun shade that can be easily assembled by just taking it out of the bag and opening it, two types of chairs for adults and children, a lightweight cushion, two different floor blankets, a compact and foldable basket, a drinks cooler, a food cooler, and a mini table. The two-person LOGOS pop shade will be released on August 8.

Enjoy a Pokémon picnic or camping trip with this cute new collection from LOGOS and Pokémon Center!

Tropical Flavoured Pikachu Puré Gummies Dropping This Summer

Japanese confectionery company Kanro has revealed its new limited-edition, tropical flavoured Pikachu gummies which it developed in collaboration with Pokémon for its Puré gummy range. They will be released in Japan on June 2, 2020.

The sweet and chewy tropical gummies are made with pineapple juice which is the main flavour, mango juice, and banana juice. They also added a soda flavour for that Pikachu thunderbolt kick (and to balance the flavours!)

They come in limited-edition Pikachu shapes

A packet of these gummies includes the classic heart-shaped Puré gummy sweets as well as Pikachu-shaped ones. There are also four packet designs all featuring original and exclusive Pikachu illustrations.

Additionally, for a limited time, the regular lemon, grape, and muscat grape Puré gummy packaging feature Pikachu's paw prints on the front and back. There are even hidden Pikachu-shaped gummies inside these regular packets.

Pikachu online promotion

The product is being promoted over on the official Puré Twitter page. Pikachu is set to take over the page this June with promotional videos.

Pokémon 1/20 Figures to be Released as Part of 'Pokémon Scale World Galar Region' Collection

A new series of 1/20 size Pokémon figures are set to be released featuring Pokémon from Pokémon Sword and Shield. The series includes the "Pokémon Scale World Galar Region," "Pokémon Scale World Galar Region Set," and "Pokémon Scale World Galar Rillaboom," all of which are set to drop in September 2020.

What is Pokémon Scale World?

Pokémon Scale World is a series of detailed 1/20 scale figures of Pokémon and Pokémon Trainers by Bandai. For their fourth release, they are releasing Pokémon and Pokémon Trainers from the Galar Region, with both small figurines that can fit in the palm of your hand to bigger ones.

Pokémon Scale World Galar Region

Pokémon Scale World Galar Region: ¥500 Each / ¥3,500 Whole Set (Before Tax)

12 Pokémon and 1 Pokémon Trainer from Pokémon Sword and Shield arrive for the new collection. This includes Gloria, the three starter Pokémon (Grooky, Scorbunny, and Sobble) and their evolution, and more.

Rillaboom

Pokémon Scale World Galar Rillaboom: ¥3,600 (Before Tax)

You can also get your hands on Rillaboom, the final evolution of Grooky. At 10.5cm tall, he stands above the rest of the collection.

©2020 Pokemon.
©1995-2020 Nintendo/Creatures Inc. /GAME FREAK inc.

Pokémon the Movie: Coco Promoted With Merchandise Prize Campaign

FIRST BAKING CO., LTD. launched a campaign in Japan last Friday where Pokémon Trainers can win an assortment of fun and exciting merchandise for the upcoming Pokémon movie Pocket Monsters the Movie: Coco which is set for release on July 10, 2020.

To enter, you must collect five serial codes featured on select Pokémon bread packaging from FIRST BREAD which bears the campaign logo. You can then enter via the campaign's official website for a chance to win a variety of merchandise includes a Pokémon card folder, tote bag, and tumblers with straws.

How to Enter
Collect five serial codes from Pokémon bread at FIRST BREAD and then enter via the official website. There are three tiers of prizes.

Pokémon Bread 

Only Pokémon bread with "対象商品" written on it counts for the competition.

Competition Period
Applications: May 1, 2020 at 00:00 (JST) to July 3, 2020 at 23:59 (JST)

Campaign Logo Period: May 1, 2020 to June 30, 2020

Prizes & No. of People

A Prize: Original Large Pokémon Card Folder (2,500 Available)

B Prize: Original Parent & Child Tote Bags (1,000 Available)

Runner Up Prize: Set of 3 Tumblers w/ Straws (100 People)

*Photos are for illustrative purposes only

©Nintendo・Creatures・GAME FREAK・TV Tokyo・ShoPro・JR Kikaku ©Pokémon 

©2020 Pikachu Project

Pokémon Clothing Collection Releasing This Spring From GiRLS by PEACH JOHN

GiRLS by PEACH JOHN has revealed its new Pokémon collection which is set to release on their official website and in select stores on May 7, 2020. Items include Peasy wireless bras, bra sets, lounge wear and more with cute Pokémon designs from familiar faces such as Pikachu, Eevee, Jigglypuff, Sylveon, and more.

Product Line-Up

Peasy 001 – ¥2,280 (Before Tax) | Sizes: S, M, L


Pikachu Print Panties – ¥1,480 (Before Tax) | Sizes: M only

The Peasy wireless bra and underwear features an adorable Pikachu print design with the popular Pokémon's many different expressions.

Rirakore Sylveon Lace Bralette Set – ¥2,980 (Before Tax) | Sizes: M, L

Feel as beautiful as Sylveon with this lady-like bralette set.

Morikore Flowers & Eevee Bra Set – ¥3,980 (Before Tax) | Sizes: Bra = B-F/65/70/75

Eevee is embroidered into this cute bra set which is sure to please any girl.

Jigglypuff's Sleepy Pyjamas – ¥3,980 (Before Tax) | Sizes: M only

Jigglypuff will help lull you sleep with this comfy pyjama set.

Pokémon Icon Thermal Pyjamas – ¥3,980 (Before Tax) | Sizes: M only

Snug thermal pyjamas that are comfy even on hot summer days. The set features tiny adorable Poké Balls.

Pikachu Pouch – ¥1,980 (Before Tax) | Sizes: One Size

A pouch plump like Pikachu which you can find many uses for.

© 2020 Pokémon.
© 1995 – 2020 Nintendo/Creatures Inc./GAME FREAK inc.TM, ®, and character names are trademarks of Nintendo.

Pokémon Shirts Expands Range With 100 More Silver and Gold Pokémon

Pokémon Shirts added yet another 100 Pokémon from the Pokémon Gold and Silver series to its range on April 17. All Pokémon Trainers out there can now customise their shirts using any of the 251 Pokémon from the Gold and Silver video games.

Pokémon Shirts was launched back in February 2019 by American custom shirt brand Original Stitch, which offers over one billion design customisations, and the Pokémon franchise.

100 New Shirt Designs From Pokémon Gold and Silver

Customisation Examples (From Left): Flaaffy x Smeargle / Bellossom / Croconaw x Blastoise

Earlier this year between February 29 and March 1, Pokémon Shirts held limited online pre-sales for 20 of its new Pokémon Gold and Silver shirts, all of which sold out and sparked excitement on Japanese social media. Now, in addition to all 151 of the original Pokémon from Pokémon Red and Blue, fans can get their hands on Pokémon shirt designs from the first two generations of Pokémon.

Left: Togetic flying through fluffy clouds / Right: In Alola, Vikavolt is Heracross's greatest enemy

Fans can create some super creative designs on Pokémon Shirts with the new entries.

But the fun doesn't stop there, as Pokémon Shirts has added more shirt patterns which can be used as virtual wallpapers for online meetings to add a dash of fun to the meetings.

Information

Pokémon Shirts
Shipping: Japan, US, UK, Spain, Germany, Italy, France, Canada, Australia, New Zealand, Hong Kong, Taiwan, Singapore, Malaysia, Phillippines, India, Indonesia
Official Website: https://pokemon.originalstitch.com/en/