RADWIMPS Releases New Song 'cocorononaca' On Spotify and Other Streaming Services
RADWIMPS released a new song entitled cocorononaca today on Spotify, Apple Music, Amazon Music, and YouTube Music.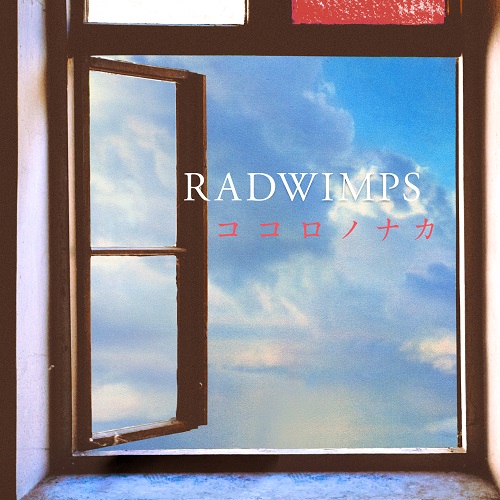 The song was recently revealed on the band's social media together with a video and received much excitement from fans, prompting the band to drop the track digitally today.
On the song, band vocalist and lead guitarist Yojiro Noda said: "I pray for each and every heart that was headed towards it goal, the hearts that have tasted hope, that they can once again move towards those goals in the future. I hope that this song serves as hope for people, even if just a little."
This is a track to check out when you're wanting a bit of positivity. Listen to cocorononaca now at the links below.
RELATED ENTRIES
RADWIMPS Announce Role-Playing Music Themed Virtual Experience 'SHIN SEKAI'

RADWIMPS have announced that they are launching a virtual live music experience by the name of 'SHIN SEKAI' on the virtual park system VARP which was developed by the Japanese creative collective PARTY. The concept of the project is "ROLE-PLAYING MUSIC" which will see RADWIMPS embarking to new territory in their career to deliver a unique experience to fans.

RADWIMPS made the difficult decision to cancel and postpone their Japan tour and world tour as a result of the COVID-19 pandemic. The SHIN SEKAI project comes not because of tour cancellations and therefore to replace real live shows with virtual ones, but to instead embrace and explore what is possible for the band in terms of a virtual concert either way. It will offer fans a new way to enjoy RADWIMPS music.

"SHIN SEKAI" RADWIMPS ROLE-PLAYING MUSIC teaser

Message from RADWIMPS

I had a tremendous dream a little before we went into discussions about VARP. There was a huge waterfall, and I saw buildings in ruin. I went through it all and saw groups of thousands of people. I've never had a dream like that before, and it left a real impression on me, and then I got the call [for this project]. I felt like it was far from a coincidence. I thought all of us going into this virtual space would give us a hint as to our futures, and so we set out on this journey together with everyone at PARTY.

We still don't know what lies ahead of us for the future, but I pray that by coming together closer than before by being inside the world of VARP we can share each others' feelings. I would be happy to embark on this journey with all of you.

ー Yojiro Noda, RADWIMPS

(Translated from Japanese by MMN)

Information

SHIN SEKAI
Running: December 29, 2020 – December 30, 2020
Official Website: https://rad.varp.jp/
How to Join: App TBA

Platforms: iOS/Android

Languages: Japanese/English

*Available to the people of the world including the US, Europe, Asia, and elsewhere

RADWIMPS Announce Special Online 15th Anniversary For November

It will have been 15 years since RADWIMPS made their debut this November, and to celebrate, the band will perform at Yokohama Arena on November 22 and 23 this year which will be streamed live in real time. And it's not exclusive to online either – fan will be able to attend the concert for real too as the show will be held in accordance with government guidelines against COVID-19.

If you're wanting tickets to watch the livestream outside Japan then you can buy them here. Don't miss out on what is to be a very special performance by RADWIMPS as they commemorate their 15th anniversary.

Information

RADWIMPS – 15th Anniversary Special Concert
November 21, 2020 | Start – 19:00 (JST) @ Yokohama Arena (Rehearsal. Won't be streamed online.)

November 22, 2020 | Start – 19:00 (JST) @ Yokohama Arena

November 23, 2020 | Start – 19:00 (JST) @ Yokohama Arena

Online Live Streaming
November 22, 2020 | Site Opens – 18:00 (JST), Show Starts 19:00 (JST)
November 23, 2020 | Site Opens – 18:00 (JST), Show Starts 19:00 (JST)
*Both concerts will be archived from November 24, 2020 at midnight (JST) to November 26, 2020 at 23:59 (JST)

Online Live Streaming Tickets

Watching Outside Japan: https://store.livefrom.events/collections/radwimps/products/radwimps-livestream

Watching Inside Japan: https://radwimps.jp/15th/

Seat Tickets for Yokohama Arena

November 21, 2020 | Doors 17:30 (JST), Start – 19:00 (JST) @ Yokohama Arena (Rehearsal. Won't be streamed online.)

November 22, 2020 | Doors 17:30 (JST), Start – 19:00 (JST) @ Yokohama Arena

November 23, 2020 | Doors 17:30 (JST), Start – 19:00 (JST) @ Yokohama Arena

15th Anniversary Special Concert Website: https://radwimps.jp/15th/

RADWIMPS Release 'Natsu no Sei' Music Video From New EP

01.September.2020 | MUSIC

RADWIMPS released their new music video for Natsu no Sei on their official YouTube channel. The song is the title track for their upcoming EP which is set to drop tomorrow (September 2).

The bright and sunny music video was directed by Kento Yamada and stars actress Anna Yamada.

RADWIMPS – "Natsu no Sei" Music Video

To celebrate the launch of the new song, RADWIMPS are holding a summer-themed social media project. Over on their official website, fans can use a digital photo frame which they are encouraged to post along with the hashtag #RADsummer2020.

Despite the effects of COVID-19 this year, RADWIMPS aren't backing down with their releases, with the announcement of their Natsu no Sei EP their first new material in just 3 months. The record will include the title track which was originally released exclusively on Apple Music and was used in a Japanese commercial, Light The Light which was used to cheer people up during the pandemic, Neko Jarashi which was used in a commercial for tea by Kirin, Shinsekai which was written for their performance on the TV Asahi show Music Station, and Kokoro no Naka (Complete ver.) which was used for promotion of "KIBO RELAY OVER THE EARTH."

Information

Natsu no Sei EP
Release Date: September 2, 2020
First Press Limited Edition A (CD+Blu-ray): ¥3,100 (Before Tax) [ UPCH-29372]
First Press Limited Edition B (CD+DVD): ¥3,000 (Before Tax) [ UPCH-29373]
Regular Edition (CD-Only): ¥1,600 (Before Tax) [UPCH-20558]

*First Press Limited Edition A and B copies come with a special 32-page booklet covering the recording of the Natsu no Sei music video
RADWIMPS Official Website: http://radwimps.jp/

RADWIMPS Announce New EP 'Natsu no Sei'

RADWIMPS have announced the release of their first EP, Natsu no Sei, which will drop on September 2, 2020.

Despite the effects of COVID-19 this year, RADWIMPS aren't backing down with their releases, with the announcement of Natsu no Sei their first new material in just 3 months. The record will include the title track which was originally released exclusively on Apple Music and was used in a Japanese commercial, Light The Light which was used to cheer people up during the pandemic, Neko Jarashi which was used in a commercial for tea by Kirin, Shinsekai which was written for their performance on the TV Asahi show Music Station, and Kokoro no Naka (Complete ver.) which was used for promotion of "KIBO RELAY OVER THE EARTH."

RADWIMPS will perform their new summer song Natsu no Sei on Japanese TV tonight. Full details below.

Information

Natsu no Sei EP
Release Date: September 2, 2020
First Press Limited Edition A (CD+Blu-ray): ¥3,100 (Before Tax) [ UPCH-29372]
First Press Limited Edition B (CD+DVD): ¥3,000 (Before Tax) [ UPCH-29373]
Regular Edition (CD-Only): ¥1,600 (Before Tax) [UPCH-20558]

*First Press Limited Edition A and B copies come with a special 32-page booklet covering the recording of the Natsu no Sei music video
RADWIMPS Official Website: http://radwimps.jp/

Fuji TV – "Kayousai Natsu" (Japanese Title: フジテレビ系列「FNS 歌謡祭 夏」)
Broadcasting: August 26, 2020 at 18:30 (JST)
Official Website: https://www.fujitv.co.jp/FNS/s/

RADWIMPS Release Music Video For 'Nekojarashi' Orchestral Version

RADWIMPS have dropped a music video for their song Nekojarashi (Orchestra ver.).

The music video was shot and made by staff who have been involved with many other RADWIMPS music videos. The video is a snapshot of an ordinary day, something which comes as a welcome during these chaotic times. It looks at what lies beyond in the future—a message of hope.

RADWIMPS recently released a music video for the normal version of Nekojarashi featuring a compilation of photos the band wanted fans to send in which showcase the little things in life that make them happy. Now fans can enjoy that alongside the video for the orchestral version.

RADWIMPS – "Nekojarashi (Orchestra ver.) Music Video

RADWIMPS Release Entire Discography on Spotify & Other Streaming Services

RADWIMPS release their entire discography today on Spotify, Apple Music, and other music streaming services—everything since their 2005 major debut.

That's 195 songs, beginning with their major debut single 25 Kome no Senshokutai to to their digital-only release Nekojarashi and their latest song Shinsekai. This is the perfect opportunity for fans to walk back through this musical history, and for those who are unfamiliar with RADWIMPS to learn about everything they have to offerーthis being the band known for writing the soundtracks for the hit anime films Your Name and Weathering with You.

The band also released a music video for Nekojarashi. The warm video is a compilation of photos the band wanted fans to send in which showcase the little things in life that make them happy.

RADWIMPS – "Nekojarashi" Music Video (#RADnekojarashi ver.)

RADWIMPS are also holding a campaign on social media which invites people to make a playlist of their 5 favourite RADWIMPS songs and then post it on social media with the hashtag #僕の私のRADWIMPSど真ん中5曲.

RADWIMPS Release New Song 'SHINSEKAI' on Streaming and Digital Music Platforms

RADWIMPS dropped their new song SHINSEKAI ("New World") on digital music and streaming platforms, including iTunes and Spotify, on May 9, 2020.

The track was written was completed only just recently for the band's performance on the TV Asahi show Music Station on May 8 where they played the song for the first time.

Lead vocalist, guitarist and songwriter for the band Yojiro Noda said: "When we first had talks about making a song, we thought to make one that would help people to look forward, so we started writing. But we gradually began to feel that it wouldn't be enough. COVID-19 has snatched away much from usーand at the same time it has helped us realise a lot of things. When things return to normal, I think we'll be living in a different world to what we knew. The way we run businesses and companies, how we are in the classroom or in politics. What kind of world will we live in from now? This song is one to imagine and start forming that time."

Kyary Pamyu Pamyu, ONE OK ROCK & Other Japanese Artists to Watch Live On YouTube During the Lockdown

With the world on lockdown as a result of the COVID-19 pandemic outbreak, everybody is cooped up indoors and spending time at home. If you're looking for something new to watch or listen to, then we've got you covered. MOSHI MOSHI NIPPON has compiled a list of 11 Japanese artists who have or are planning to post live footage of their full concerts and performances on YouTube.

The future looks uncertain as it is right now, so in the meantime let's find time to do the things we enjoy and stay positive as we get through this together.

ONE OK ROCK

ONE OK ROCK are set to premiere 6 of their past concerts on YouTube from 2014-2018. They will be the full performances with no cuts and will not be archived, so mark your calendars and be sure to tune in when they drop.

Full Details: https://www.moshimoshi-nippon.jp/313887

ONE OK ROCK's YouTube Channel: https://www.youtube.com/user/ONEOKROCKchannel

ARASHI

ARASHI has posted a full concert taken from his "untitled" tour which ran from November 2017 to January 2018. "Untitled" is the theme of the tour which looked towards ARASHI of the future. The stage set up and incredible performance are absolute must-sees.

ARASHI's Youtube Channel: https://www.youtube.com/channel/UCP7Gw_YZAuh4Yg2fcdcuumQ/

Kyary Pamyu Pamyu

Kyary Pamyu Pamyu is in the middle of posting 100 videos of her live performances which will be available to watch for a limited time between April 14 to May 17 this year. The videos are being released as a part of the at-home entertainment #ouchiasobi ("Play At Home") project launched by ASOBISYSTEM, the agency that Kyary is signed to. Now you can have fun too with Kyary by bringing her concerts into your home.

Full Details: https://www.moshimoshi-nippon.jp/313974

Kyary Pamyu Pamyu's Youtube Channel: https://www.youtube.com/kyarypamyupamyutv

AAA

AAA's performance at Saitama Super Arena was a highlight of their 2013 tourーa tour which took them to see 150,000 fans across Japan. The full show is now available to watch on YouTube until April 30, 2020 at 23:59 (JST), so be sure to check it out.

avex's Youtube Channel: https://www.youtube.com/user/avexnetwork/

RADWIMPS

RADWIMPS have posted some content from their recently-released live DVD and Blu-ray ANTI ANTI GENERATION TOUR 2019 onto their YouTube channel. Feel part of the crowd with the following thrilling performance.

Full Details: https://www.moshimoshi-nippon.jp/290378

RADWIMPS's Youtube Channel: https://www.youtube.com/user/radwimpsstaff/

Taichi Mukai

Taichi Mukai recently posted a video of his performance of his popular song Reset. The song was written as the first ending theme for the anime series Run with the Wind.

Taichi Mukai's Youtube Channel: https://www.youtube.com/user/0313taichi/

Official HIGE DANdism

Official HIGE DANdism's performance of I LOVE… at Pacifico Yokohama, which was held on February 10, 2020 as part of their "Travelers" tour, is available to listen to on Apple Music. This is another one that makes you feel part of the experience.

Apple Music "I LOVE…" Pacifico Yokohama (2020.02.10)

TK from Ling Tosite Sigure

TK posted a video on his YouTube channel of footage taken from his live performance at Landmark Studio in Yokohama. His live band line-up includes the familiar faces BOBO (Drums) and Sato Honoka (Violin) as well as Yoshida Ichiro Untouchable World (Bass) who was a support member for TK last year, Hiroko Sebu (Piano) who provided her piano playing on TK's single katharsis from last year, and Masao Watanabe (Cello).

Full Details: https://www.moshimoshi-nippon.jp/178674

Ling Tosite Sigure's YouTube Channel: https://www.youtube.com/user/sigureSMEJ/

amazarashi

amazarashi dropped a trailer last year for his live DVD and Blu-ray release Mirai ni Narenakatta Subete no Yoru ni. His self-cover of Long Hope Philiaーthe theme song of the anime film My Hero Academia: Two Heroes and fifth ending theme of the My Hero Academia anime seriesーis a must-see!

Full Details: https://www.moshimoshi-nippon.jp/270910

amazarashi's Youtube Channel: https://www.youtube.com/user/amazarashiSMEJ/

Suchmos

A live performance of Suchmos's hugely popular Mint. It features footage backstage from the band's tours across three years.

Full Details: https://www.moshimoshi-nippon.jp/207422

Suchmos's Youtube Channel: https://www.youtube.com/channel/UCQ3U5YJLWUr3VmQsO48jcQg/

Superfly

Here's a live music video of Superfly's song Kakusei, the theme for the anime movie Promare. The video uses live footage taken from Superfly's arena tour which incorporates gorgeous CG imagery.

Full Details: https://www.moshimoshi-nippon.jp/288707

Superfly's YouTube Channel:  https://www.youtube.com/user/superfly/

RADWIMPS Release New Song 'Nekojarashi' On Spotify and iTunes

RADWIMPS released their new song Nekojarashi on major download and streaming music services on April 5, 2020 including iTunes and Spotify.

Nekojarashi began featuring as part of a new commercial for Kirin's "Gogo no Kocha" (Afternoon Tea) brand of drinks last month. The song, like the commercial, is themed on those moments of happiness that are right in front of us. Two versions of the song were released digitally: the normal version, and an orchestral versionーthe latter of which is being used in the commercial and is featured under the name of the RADWIMPS frontman Yojiro Noda.

The commercial started airing on Japanese TV last month. Japanese actress Kyoko Fukada is the face of the commercial, which promotes how there is happiness to be found in those casual moments in our everyday lives even if we do not notice them.

Kiririn Gogo no Kocha (Straight Tea/Milk Tea/Lemon Tea)

A project has also been launched where people can take the frame of the Nekojarashi CD cover and create their own original cover by inserting a photo of themselves. Once uploaded, you can post on social media with the hashtag. Photos will then be selected to feature in a video. Full details can be found here.

Yojiro Noda | Comment

"The strengths that humans get used to is something amazing. Both the good and bad. For our own reasons, we seem to love and treasure having the breakfast we are so used to, the voice of someone saying 'I'm home,' the route we take back going home. The trick to living a fun life in this world might not be being overambitious, but the ability to notice those little joyful moments. Another thing is the existence of our selves with whom we spend every day with. Before we know it, we realise we didn't actually know what that meant, so we take notice and live our lives knowing it. The me that I don't even know might still be hidden away. That's what I wrote this song about."

Yojiro Noda Of RADWIMPS' New Song 'Nekojarashi' Gets Used in Japanese Commercial

Yojiro Noda, the lead singer and songwriter of Japanese rock band RADWIMPS, has written a new song entitled Nekojarashi for a television commercial in Japan.

The commercial in question is for Kirin's "Gogo no Kocha" (Afternoon Tea) brand of drinks, which is promoting a new theme beginning this month: "Happy Tea, Afternoon Tea." Japanese actress Kyoko Fukada is the face of the brand's new commercial, which promotes how there is happiness to be found in those casual moments in our everyday lives even if we do not notice them.

The first in the series of new commercials for Kirin Gogo no Kocha shows how there are many moments of happiness felt when spending time with loved ones, like friends and family, during an ordinary day. Yojiro Noda's new song, which he wrote for the commercial, too is themed on happiness, with its lyrics and gentle melody which is a perfect fit for the commercial. Check it out below.

Yojiro Noda said: "The strengths that humans get used to is something amazing. Both the good and bad. For our own reasons, we seem to love and treasure having the breakfast we are so used to, the voice of someone saying 'I'm home,' the route we take back going home. The trick to living a fun life in this world might not be being overambitious, but the ability to notice those little joyful moments. Another thing is the existence of our selves with whom we spend every day with. Before we know it, we realise we didn't actually know what that meant, so we take notice and live our lives knowing it. The me that I don't even know might still be hidden away. That's what I wrote this song about."

He concludes: "I'm also currently doing band sessions and writing stuff together with the other RADWIMPS members. I hope you look forward to that too."

Information

Nekojarashi

Lyrics/Composer/Arranger: Yojiro Noda

RADWIMPS Official Website: http://radwimps.jp/

Kirin Gogo no Kocha (Straight Tea/Milk Tea/Lemon Tea) New TV Commercial

"Kitto Shiawase wa, Sawareru Kurai, Soba ni Aru, Shiawase no Kocha" Chapter

Broadcast Date: March 17, 2020

Starring: Kyoko Fukada

Time: 30 Seconds

Broadcasting: Japan

Brand Website: https://www.kirin.co.jp/products/softdrink/gogo/

"Kirin Gogo no Kocha The Meisters" New TV Commercial

"The Meisters Kyoko Fukada Milk Tea Renewal & New Orange Tea" Chapter

Broadcast Date: March 17, 2020

Starring: Kyoko Fukada

Time: 15 Seconds

Broadcasting: Japan

Brand Website: https://www.kirin.co.jp/products/softdrink/gogo/mmt/

RADWIMPS Release Trailer For ANTI ANTI GENERATION TOUR Documentary

A trailer was released on the official RADWIMPS YouTube channel for a documentary that is featured on the band's upcoming live DVD and Blu-ray release ANTI ANTI GENERATION TOUR 2019, which is set to hit shelves on March 18, 2020.

"Documentary of ANTI ANTI GENERATION TOUR" Trailer

The documentary follows RADWIMPS on their long tour from last year, which saw them play 20 shows in 11 cities across Japan. It includes rehearsal and backstage footage, as well as the band interacting with the artists that joined them across the 2019 tour.

The DVD and Blu-ray will feature 23 songs which includes the guest performance from Aimyon for Nakidashisodayo, a song by RADWIMPS which she features on. It also includes a documentary of the tour, as well as guest appearances from artists who joined the band on stage including Miyachi, Titan Zombies, Taka from ONE OK ROCK, and Toko Miura.

RADWIMPS are set to embark on an all-new tour starting this March. Titled "KONNICHIWA NIPPON TOUR 2020," it will take them to seven cities in Japan for 10 showsーincluding four dome venues.

For the latest information on the upcoming tour and the band's releases, check their official website below.

Information

"ANTI ANTI GENERATION TOUR 2019" LIVE Blu-ray & DVD

Release Date: March 18, 2020

Price: Blu-ray ¥6,800 (Before Tax) / DVD (2 Discs) ¥6,800 Before Tax)

Stock Numbers: Blu-ray UPXH-20091 / DVD UPBH-20262/3

RADWIMPS Official Website: http://radwimps.jp/

RADWIMPS Release 'ANTI ANTI GENERATION TOUR 2019' Live DVD & Blu-ray Trailer and Promotional Visual

RADWIMPS have revealed the DVD and Blu-ray cover for the release of their upcoming live DVD and Blu-ray ANTI ANTI GENERATION TOUR 2019, as well as a trailer on their YouTube channel which features footage from the feel-good tour which was held last year.

The DVD and Blu-ray will feature 23 songs which includes the guest performance from Aimyon for Nakidashisodayo, a song by RADWIMPS which she features on. It also includes a documentary of the tour, as well as guest appearances from artists who joined the band on stage including Miyachi, Titan Zombies, Taka from ONE OK ROCK, and Toko Miura.

RADWIMPS are set to embark on an all-new tour starting this March. Titled "KONNICHIWA NIPPON TOUR 2020," it will take them to seven cities in Japan for 10 showsーincluding four dome venues.

For the latest information on the upcoming tour and the band's releases, check their official website below.

Information

"ANTI ANTI GENERATION TOUR 2019" LIVE Blu-ray & DVD

Release Date: March 18, 2020

Price: Blu-ray ¥6,800 (Before Tax) / DVD (2 Discs) ¥6,800 Before Tax)

Stock Numbers: Blu-ray UPXH-20091 / DVD UPBH-20262/3

RADWIMPS Official Website: http://radwimps.jp/