2020 Sanrio Character Awards: yoshikitty Places 1st Place in Three Countries
The final results for the 2020 Sanrio Character Ranking were announced on Tuesday, with Cinnamoroll placing number one overall. Yoshiki's collaboration character yoshiki ranked 1st place in France, Germany, and Brasil, as well as 2nd place in China and 6th place overall. This marks the 5th year that yoshikitty has ranked in the Top 10.
yoshikitty is a character based on the X Japan band member Yoshiki. The character has proven popular around the world, with merchandise so popular it never fails to sell out.
A special "Tanita Award" was also given to yoshikitty, and to celebrate, a limited-edition yoshikitty "Digital Health Meter" will be sold on the Tanita website. Costing ¥4,400 (tax included), it is now available to order until July 31, 2020, with a limited number of 100 models available.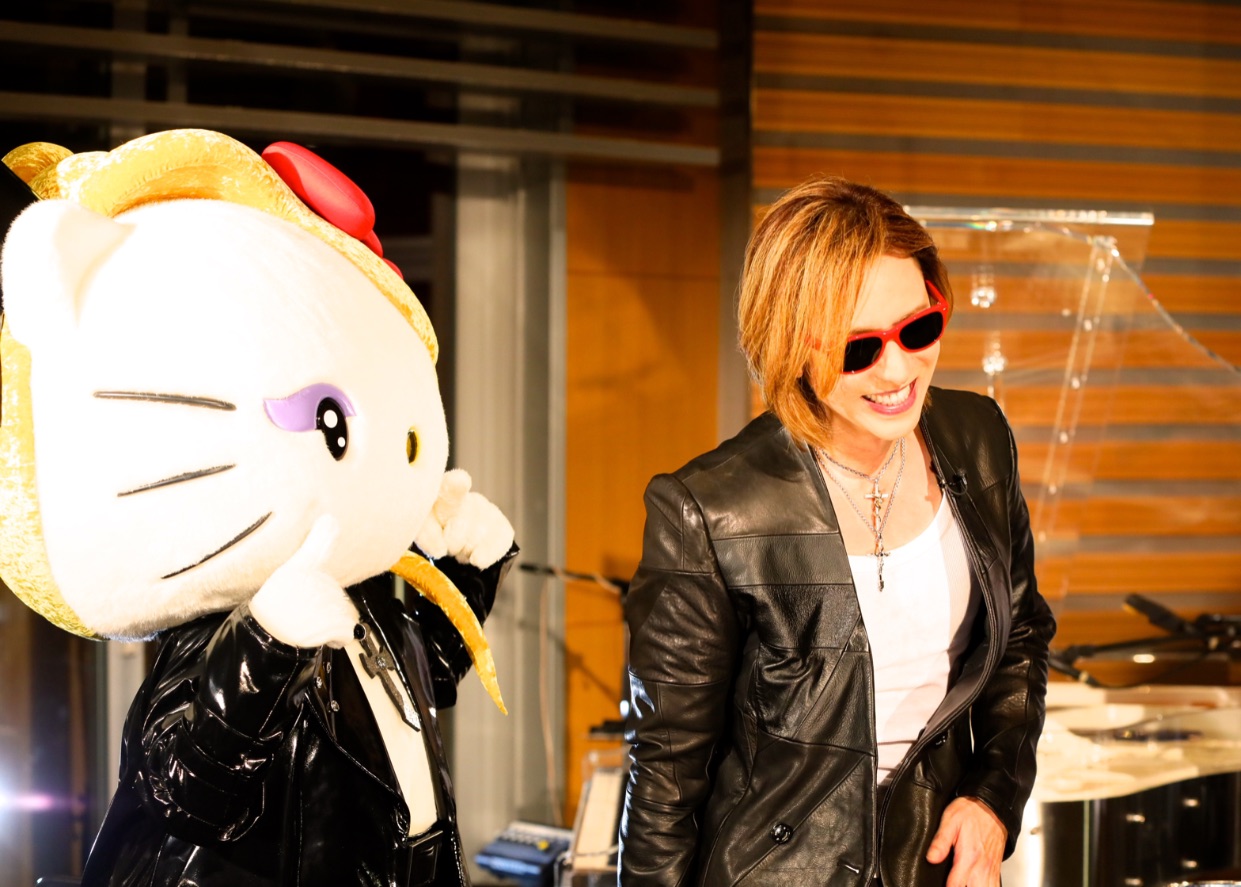 Yoshiki thanked yoshikitty fans around the world on his official Twitter and Instagram pages for voting and making the character place so high again this year. He also said: "I wonder if I should composed a yoshikitty theme song too to express my gratitude to everyone (haha). I want to continue delivering wonderful music to you all to repay you, even just a little. Thank you." (translated from Japanese by MMN)
RELATED ENTRIES
Sanrio Puroland Announces the Release of Sanrio Character Face Masks and Cases

Sanrio Puroland has announced the release of a new Sanrio character face mask and case collection on December 18, 2020.


Original Masks & Cases – Regular Sizes (6 Designs) | ¥1,650 Each (Tax Included)

The face masks and face mask cases feature cute designs of Sanrio characters including Dear Daniel, Badtz-Maru, Kuromi, My Sweet Piano, and Mocha.


Original Masks & Cases – Kids Sizes (3 Designs) | ¥1,320 Each (Tax Included)

There are also kids sizes with My Melody, Kuromi, and a character mix designs so parents and children can look cute together.

Mask Attachments (6 Designs) | ¥1,650 Each (Before Tax)

Sanrio also has a line-up of Hello Kitty, Dear Daniel, My Melody, Kuromi, Pompompurin, and Cinnamoroll attachments for the face masks.

©1976, 2009 SANRIO CO., LTD. ©1976, 1988, 1989, 1990, 1993, 1996, 2001, 2005, 2020 SANRIO CO., LTD.

Sanrio's Little Twin Stars Kiki & Lala to Feature in Special Christmas Event in Shinjuku

Sanrio's beloved character pair Kiki & Lala, also known as the Little Twin Stars, will feature as part of a special winter event titled "TWINKLE COLOR CHRISTMAS" in collaboration with Odakyu Electric Railway. It will take place at Shinjuku Southern Terrace from December 1 to 25, illuminating the area with beautiful Christmas lights.

Kiki & Lala's Twinkling Christmas Tree

Shinjuku Southern Terrace will dazzle visitors with its pink and blue illuminations as will its towering 4-meter tall Christmas Tree which was made in collaboration with the installation art group MIRRORBOWLER. It will be decorated in countless mirror balls which will reflect beautifully both during the day from the sun and at night with Kiki & Lala's illuminations. The tree will also be adorned with numerous Christmas decorations like clouds, moons, and stars—all very reminiscent of Sanrio's pastel-coloured pair.

Kiki & Lala Food & Drink

Kiki & Lala Ruby Chocolate Latte ¥400 (Tax Included) | Kiki & lala Twinkle Crepe ¥600 (Tax Included)

On weekends, as well as from December 19 up to Christmas Day, a food wagon will make an appearance at the event serving Kiki & Lala food and drink like the pink and fruity Ruby Chocolate Latte and fruit-filled Twinkle Crepe.

Limited-Edition Design Clip

Customers who spend over ¥2,000 (tax included) at the wagon will get themselves a free limited-edition design clip.

Cafe Wagon Schedule
Running: December 5th-6th, 12th-13th, 19th-25th, 2020
Opening Hours: 10:00-19:00

AR Kiki & Lala Tree

Those unable to visit Shinjuku this Christmas can access the "TWINKLE COLOR CHRISTMAS AR TREE" digitally This will have Kiki & Lala's Christmas tree appear on your phone when taking photos. You can access it here.

©'76,'20 SANRIO  著作(株)サンリオ

Information

Little Twin Stars x Shinjuku Southern Terrace TWINKLE COLOR CHRISTMAS
Running: December 1, 2020 – December 25, 2020
Tree Light-Up Schedule: December 1 = 17:00-24:00 / December 2-24 = 16:30~24:00 / December 25 = 16:30-21:00
Address: 2-2-1 Yoyogi, Shinjuku, Tokyo
Entry: Free
Official Website: https://www.sanrio.co.jp/news/ts-odakyu-twinkle-color-christmas-20201119/

Review: PURO RAINBOW CHRISTMAS at Sanrio Puroland Celebrates the 2020 Holiday Season

Sanrio Puroland's annual Christmas event PURO RAINBOW CHRISTMAS is running this year from November 13 to December 25. The first day of the event saw the park's beloved characters dressed in their Christmas attire to welcome the many guests that attended, who were sucked into a magical world with Christmas decorations and illuminations.


The theme this year's event is "Rainbows," and this time around, the event can be enjoyed both at the park and online.

Colourful lights illuminate the park, and there's a new illumination show which is performed to the tune of Christmas songs. 'Tis the season to be jolly at Sanrio Puroland this year, and guests are invited to get into that Christmas spirit as they spot the many Christmas decorations scattered throughout the park like presents. There's also a special photo spot where guests can take a commemorative festive photo. Guests can also go and watch the "PURO RAINBOW CHRISTMAS Special Greeting," a one-minute meet-up where the Sanrio characters all come together to say hello to guests.


As a precautionary measure against the spread of coronavirus, guests can also enjoy the PURO RAINBOW CHRISTMAS 2020 online too. The Sanrio Puroland Online Shop is stocking a special selection of holiday season goodies and merch, and the Christmas event held last year is available to watch as a compilation on a paid stream.


It wouldn't be Christmas without some delicious grub. On the first day, we saw a variety of tasty bites such as the "Hello Kitty Christmas Gift Curry" and the "Merry Christmas☆Happy Pudding French Toast. There's plenty of character-themed dishes, desserts, and drinks for guests to choose from, and they're sure to be spoiled for choice!


It's another holiday season of happiness happening at Sanrio Puroland this year.

©1976, 2009 SANRIO CO., LTD. ©1976, 1989, 1990, 1996, 2001, 2004, 2005, 2010, 2020 SANRIO CO., LTD.

Sanrio Puroland Reveals 30th Anniversary Celebrations With Food and Events

Sanrio Puroland, the popular theme park managed by Sanrio Entertainment, is set to turn 30-years-old on December 7, 2020. To celebrate, the park will begin holding a flurry of events and shows from the commemorative date as well as serve up anniversary food, sell anniversary merchandise, and more.

30th Anniversary Parade – "Hello, New World ~Connect to the Rainbow"

A new parade will be held to signal the 30th anniversary of Sanrio Puroland. It will be carried out with all necessary social distancing measures and will have mandatory seating as well as be held after the park's closing hours. Tickets can be bought in advance via the park's website or on the day at the ticket booth of the park in Puro Village.

Running: December 7, 2020 – January 11, 2021
Time: Weekdays 17:45 / Public Holidays & Winter Break 19:45
Official Webpage: https://www.puroland.jp/30th_parade/

30th Anniversary Food Menu

30th Anniversary Heartful Curry | ¥1,400

Puroland has prepared a special curry with rice, pate, cheese, and kamaboko, all of which have bee shaped into hearts. The Sanrio character designs that are served with the curry come in 14 different designs chosen randomly.

30th Anniversary Heartful Cake With AR Decorations | ¥980

A cute heartful cake topped with strawberries and a heart-shaped macaron. It also comes with AR decorations for smartphones when can be used by downloading the app STYLY and let you record a special AR video.

30th Anniversary Rainbow Drinks | ¥800 Each

Character Bib Bottle Seals

Guests can pick from a rainbow of different drinks. The first drink in the line-up will be red and contain fizzy jelly and cherries. Drinks also come with one of 30 possible bibs to hang over the drink bottles.

30th Anniversary Character Dessert Cups | ¥700

30th Anniversary Rainbow Miracle Ice | ¥400

Puroland's popular dessert cups have been revamped with a 30th anniversary design, as have their Miracle Ice.

30th Anniversary Merchandise

30th Anniversary Hello Kitty Mascot | ¥3,300 (Releasing: End of December 2020)


30th Anniversary Mini Mascots | ¥1,540 Each


Original Charms | ¥550 Each

Sanrio fans can get their hands on a range of new merchandise commemorating Puroland's 30th anniversary, including plenty of mascots and charms to add to your bag or phone.

30th Anniversary Hello Kitty Plush Toy Pins | ¥1,100 Each


30th Anniversary Blanket | ¥2,970

There are also plush toy pins, blankets, eco bags, pin badges, and more.

Secret Pin Badges | ¥400 Each or complete set for ¥13,200

Here's 30 years of Sanrio Puroland. We wish them many more happy years!

©'13,'20 SANRIO S/D・G ©'15,'20 SANRIO S/T・F ©'15,'20 SANRIO S/F・G ©'17,'20 SANRIO MP,TX
©'75,'76,'79,'84,'85,'86,'88,'89,'90,'92,'93,'96,'98,'99,'01,'04,'05,'10,'12,'20 SANRIO

Hello Kitty Turns Into Pixelated Figurine in Collaboration With Adam Lister

Isetan has teamed up with New York-based artist Adam Lister to release an official Hello Kitty figurine which hit the company's online store on Wednesday (November 11). It is also available to buy internationally via Adam Lister's online shop.

SPECIAL PRODUCT DESIGN & MEDICOM TOY

Adam Lister x HELLO KITTY (18cm Tall) | ¥18,700 (Tax Included)

The toy was made in collaboration with creative design company SPECIAL PRODUCT TOYS and MEDICOM TOY.

Adam Lister brings his signature pixelated style

Adam Lister is a New York-based visual artist whose work consists of geometric interpretations of iconic imagery and pop culture references. He breaks down classic images to their most elemental forms by combining the deconstructed and minimal aesthetic of pixelated graphics with the transparency of watercolour paint and the flatness of acrylic paint.

Lister's artwork has been exhibited in numerous galleries throughout the world and he has also collaborated with streetwear brands, athletic companies, and other artists.

©1976, 2020 SANRIO CO, LTD. APPROVAL No. L614063

Canon to Release Special Hello Kitty iNSPiC Mobile Printer

Canon Marketing Japan has announced the release of a special Hello Kitty model of its iNSPiC PV-123 pocket-sized mini printer.

The iNSPiC PV-123 is a mini printer designed for the smartphone generation that lets users print photos instantly. Canon's new model is made in collaboration with Sanrio's popular character Hello Kitty.

Not only does the printer itself feature a cute Hello Kitty design, it also lets users print special Hello Kitty themed frames and stamps using the Canon Mini Print app. These are available until October 31, 2021 for the Hello Kitty model only.

The iNSPiC PV-123 HELLO KITTY is the perfect companion for mobile printing, making it super easy to print your memories wherever you are.

Sanrio Puroland Halloween Makeup Developed in Collaboration With POLA

POLA INC. is collaborating with Sanrio Entertainment's amusement park Sanrio Puroland for their ongoing PURO HALLOWEEN PARTY event which is being held both at the park and online. The company has developed cute and sophisticated Halloween makeup inspired by the looks being worn by the Sanrio characters at Puroland for Halloween.

Halloween is a time to dress up as your favourite spooky figure, and POLA has jumped on board by creating a range of makeup looks to support Halloween outfits this year that anyone can do at home. Each look has a step-by-step visual guide as well as a video to help you along the way.

All the products used for the looks are by POLA and can all be bought at their nearly 4,000 stores including the 670 POLA THE BEAUTY branches and their flagship store POLA GINZA. Select branches in China, Taiwan, Hong Kong, Thailand, Macao, and Singapore are also stocking the items.

Hello Kitty Double Wall Glasses by GOODGLAS Are Perfect For Dessert Servings

Japanese glass company GOODGLAS re-released the red versions of its Hello Kitty double wall glasses on Friday after they sold out in just two months when they first went on sale on July 20.

Handmade Hello Kitty Double Wall Glass

Hello Kitty Double Wall Glass (Red) | ¥3,600 (Before Tax)

Glass products at GOODGLAS are all handmade and use the traditional glass blowing method.

Not just cute but practical too

Limited Edition Blue Colour

The glasses can be used for beverages too. Winter is on the horizon, so this is the perfect vessel to sip a cosy hot drink from.

Enjoy a tea break at home with Hello Kitty

限定カラーゴールド

When you pour either your hot or cold drink into the glass, Hello Kitty's face stands out even more—and depending on the beverage you pour inside, you can create different looks.

©︎1976, 2020 SANRIO CO., LTD.TOKYO,JAPANⓁ

Information

Hello Kitty Double Wall Glass Red
Re-released: October 23, 2020
GOODGLAS Japan Official Website:  https://www.r-kj.com/

Sanrio Themed Cafe Celebrates Characters' Monthly Magazine 'Ichigo Shimbun'

Sanrio is once again collaborating with the EGG & SPUMA cafe located on the 8th floor of Shinjuku Lumine EST to celebrate the 45th anniversary of Ichigo Shimbun, a monthly magazine published by Sanrio which includes information about the latest character merchandise, the Sanrio Character Awards, and more. The limited-time cafe will run from November 1, 2020 to late January 2021.

Sanrio fans can expect a very special menu line-up of food, drinks, and desserts based on their favourite characters from the Sanrio roster.

There will in fact be two different menus served on separate occasions. The first menu will welcome a soufflé omelette topped with a potato salad Pochacco while the second will see an adorably pink My Melody cream stew.

There will also be an incredibly cute two-tiered afternoon tea set with desserts and savoury items.

For drinks, there is a Hello Kitty strawberry milk, Cinnamoroll milk, and milk caramel pudding Pompompurin.

© 2020 SANRIO CO., LTD. APPROVAL NO. L613344

And everyone who orders from the collaborative menu will receive one of eight possible coasters as thanks for visiting.

Information

Ichigo Shimbun 45th Anniversary CAFE
Location: EGG & SPUMA, Shinjuku Lumine EST Floor 8F, 3-38-1 Shinjuku, Shinjuku Ward, Tokyo
Running: November 1, 2020 – Late January 2021

Opening Hours: 11:00-21:00 (Last Orders)

TEL: 03-6273-0255
Official Website: http://salt-group.jp/shop/egg-spuma/

Sanrio Puroland Announces Christmas 2020 Event PURO RAINBOW CHRISTMAS

Sanrio Puroland has announced that this year's PURO RAINBOW CHRISTMAS event will run from November 13 to December 25. The theme for 2020 is "Rainbows," and this time around, the event can be enjoyed both at the park and online.

Colourful and Kawaii Christmas Food

Sanrio Puroland will once again serve up a special Christmas menu of ten items, with iconic characters like Hello Kitty, My Melody and the Little Twin Stars wearing colourful Santa Claus hats.


Food includes dishes like "Hello Kitty's Christmas Gift Curry" with Hello Kitty holding a Christmas present, the snow white "Rainbow Christmas☆Snow Omelette Pasta," and more. There are also desserts such as "My Melody's Pink Yule Log Cake" and "Pochacco's Pistachio & Strawberry Tree Parfait." The multi-coloured menu line-up takes up Christmas classics like chicken and snow.

Cute Rainbow Coloured Merchandise

Mascots | ¥1,650 Each (Tax Included)

A collection of different mascots from Sanrio Puroland each wearing colourful Santa outfits.

Confectionery Set | ¥1,080 (Tax Included)

An assortment of confections served in an eye-catching box featuring familiar Sanrio faces.


Christmas Illuminations – "Rainbow Santa's Christmas Eve"

An exciting Christmas illumination show will take place at Puroland Village to the sound of Christmas-y Puroland music. Lights will brighten up the place with in a kaleidoscope of colours.

PURO RAINBOW CHRISTMAS Special Greeting

Visitors will be able to meet and take photos with the Sanrio characters in person for one whole minute. The cast will wear Christmas red outfits from November 13 to December 1 and change into white costumes from December 5. This will take place on the first floor Event Corner and will see Hello Kitty, My Melody, Pompompurin, Cinnamoroll, Wish me mell, and Dear Daniel make an appearance.  It will be carried out using social distancing measures.

Enjoy Puroland Christmas at Home

This year, Sanrio Puroland will stream past popular Christmas events held at the park on the Japanese video streaming site SHOWROOM on December 12. Shows include "HAPPY GIFT CHRISTMAS" from 2016, "The Puro Christmas" from 2019, and more.

Infinite Online Greetings

Sanrio Puroland launched online content back in June in response to COVID-19 which included getting to meet the characters online. They will host a special Christmas version on December 22 also on SHOWROOM where the characters will wear their white costumes from the Christmas show "The Puro Christmas." Participating characters include Hello Kitty, My Melody, Pompompurin, Cinnamoroll, Little Twin Stars (Kiki & Lala), Wish me mell, and Dear Daniel.

©'13,'20 SANRIO S/D・G ©'15,'20 SANRIO S/T・F ©'15,'20 SANRIO S/F・G ©'17,'20 SANRIO MP,TX©'75,'76,'79,'84,'85,'86,'88,'89,'90,'92,'93,'96,'98,'99,'01,'04,'05,'10,'12,'20 SANRIO

Lipton Tea Announces Hello Kitty Collaboration With Cute Yellow Label Designs

Tea brand Lipton has announced its first-ever collaboration with popular Sanrio character Hello Kitty to release limited-edition designs of its Yellow Label tea in Japan. The tea will hit shelves in Japan this December.

Teabag design

Join Hello Kitty for a cup of tea with her first ever tie-up with Lipton, a company that has been sipped for 130 years. Hello Kitty is donning a cute teacup hat, a design made exclusively for this collaboration, which features on the packaging as well as the teabag packs.

The packs will be sold at major supermarkets and elsewhere in Japan this winter from December. And to celebrate Tea Day in Japan, as well as Hello Kitty's Birthday—both of which fall on November 1—select items in this new tea range will be released early at the end of this month at Sanrio.

Lipton Japan will also post the first chapter of an original 4-panel Hello Kitty comic on its Twitter page in early November. The cute comic will be centred on Hello Kitty enjoying her cup of tea.

Information

Lipton Yellow Label Hello Kitty Design (25 Bags)

Price: ¥300

Lipton Yellow Label Hello Kitty Design (50 Bags)

Price: ¥500

Lipton Japan Official Website: http://www.lipton.jp/

My Melody and Kuromi Bubble Tea to be Served at Pearl Lady in Japan

Bubble tea chain Pearl Lady, which is celebrating its 17th anniversary this year, is teaming up with Sanrio for the second time to release two new drinks themed on the popular characters My Melody and Kuromi on October 16, 2020. My Melody and Kuromi are also celebrating their 45th and 15th anniversaries respectively.

Black Lemonade | Strawberry Milk Tea (w/ Novelty) – ¥500 Each (Tax Included)

The two beverages are Sweet Strawberry Milk Tea, which is inspired by the cute My Melody, and Black Lemonade, which is based on her rival Kuromi.

When ordering either of the drinks at Pearl Lady, customers will also get one of 6 possible badges as pictured above. One of the designs is a secret, so you'll need some luck if you want that one.