Knock About the House in gelato pique's Adorable Polar Bear Roomwear
Aimed at the summer season, Japanese roomwear brand gelato pique is launching its new "ICE BLUE COLLECTION" of cute polar bear themed roomwear for men, women, and children on June 19, 2020.
'Smoothie Light' Series

Pullover: ¥5,400 / Striped Short Pants: ¥4,200 (Both Before Tax)
gelato pique's "Smoothie" series is its most popular during spring and summer for its soft, smooth, comfortable, and light material. The striped pants also have a summer vibe to them.
'One Point Fresh' Series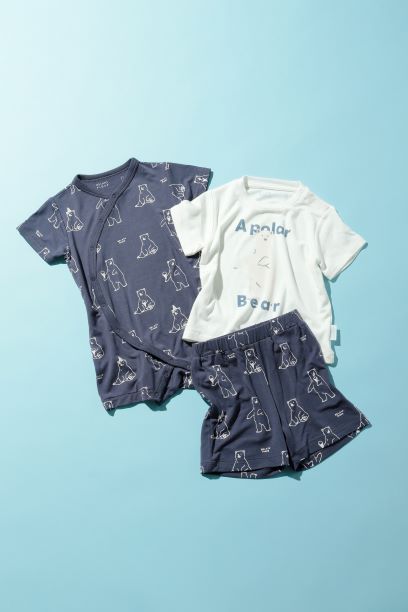 T-Shirt: ¥4,200 / Short Pants: ¥4,200 / HOMME T-Shirt: ¥4,600 / HOMME Half Pants: ¥5,200 / Kids T-Shirt: ¥3,200 / Kids Short Pants: ¥3,200 / Baby Low Pants: ¥4,600 (All Before Tax)
This series uses a soft and breathable kind of material to keep the wearer cool. The polar bear print also makes them look cute. There's kids sizes too, so the whole family can dress up.
Cotton Series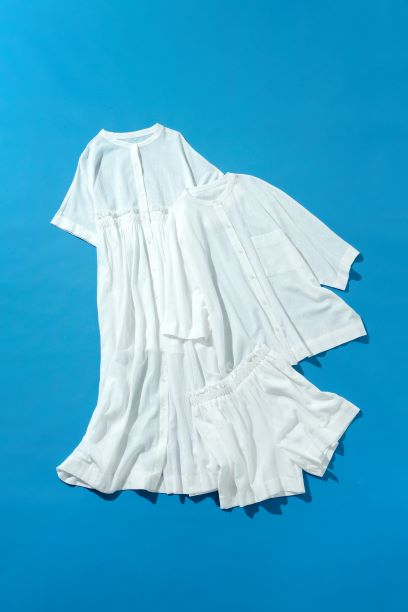 Shirt: ¥6,000 / Short Pants: ¥4,400 / Dress: ¥8,000 (All Before Tax)
The white cotton series is inspired by icebergs.
RELATED ENTRIES
Cherry Blossom Loungewear Collection by gelato pique Arrives in Time For Spring

Japanese luxury loungewear brand gelato pique is readying itself for spring with its new pink cherry blossom-inspired 'SAKURA COLLECTION,' set to release at gelato pique stores and its online store on March 19.

The Line-Up

'Smoothie Light' Scallop Cardigan ¥6,820 (Tax Included) / 'Smoothie Light' Scallop Long Cardigan ¥7,480 (Tax Included)'

The 'Smoothie' cardigans are made of light material that's smooth to the touch and come in cute designs.

Petal Motif Satin Shirt ¥6,820 (Tax Included) / Petal Motif Satin Short Pants ¥4,620 (Tax Included)

Pink satin loungewear adorned with gorgeous petals.

Tiered Dress ¥8,140 (Tax Included)

An airy cotton dress with a beautiful feminine silhouette.

Organdy Eco Bag ¥2,640 (Tax Included) / Mask Pouch ¥2,420 (Tax Included) / Mesh Mini Pouch ¥2,640 (Tax Included) / Mesh Pouch ¥2,640 (Tax Included) / Mesh Vanity Pouch ¥3,520 (Tax Included)

Sort your cosmetics and bits 'n' bobs with this heart-filled collection of pouches, and store your face mask away safely with the mask pouch.

Hair Mist ¥1,870 (Tax Included) / Hand Soap ¥1,034 (Tax Included)

gelato pique's popular hair mist and hand soap arrive in spring season limited-edition packaging.

Japanese Unisex Loungewear Brand Arce Opens Online Store

Wanget's unisex loungewear brand Arce launched its online shop on Wednesday (February 17). The brand is hosting a campaign on its social media pages to promote the launch where customers can win some free items.

Arce was established from Makuake on November 25, 2020. The brand creates clothes made in Japan using environmentally-friendly Japanese materials. Their loungewear is versatile and can be worn not only indoors but outdoors too, and even when going to meet people. The clothes are shipped in boxes made from FSC-certified cardboard, and the vinyl bags used to protect each item are made using biodegradable saccharum officinarum.

Arce held its first exhibition in Japan on November 25 and 26 last year to resounding success, bringing in many customers.

The brand is currently holding a campaign on its Instagram page from February 17 to 28 where people can enter for a chance to win the above-pictured T-shirt and pullover. Only one of each will be given to two people respectively. To enter, you need to follow Arce on Instagram and give a like on which item you want.

Animal Crossing: New Horizons x gelato pique Clothing Collection Adds More Items

Japanese luxury loungewear and sleepwear brand gelato pique is adding more items along with restocks of its popular collection in collaboration with Animal Crossing: New Horizons. Orders opened in Japan on Thursday (February 4) and will run up until Valentine's Day.

About the Collection

The collection is a collaboration with the Nintendo Switch™ title Animal Crossing: New Horizons. It captures the warm, cosy, laid-back life of the game in the form of comfortable loungewear so you can feel as soft and relaxed as the characters in the game.

Line-Up Excerpt (Pre-Tax Prices Listed)

Jacquard Pullover ¥5,800 | Men's Jacquard Pullover ¥6,800

Left: Smoothie JQD Pullover & Short Pants ¥9,800 | Right: Men's Smoothie JQD Pullover & Short Pants ¥11,800

Smoothie Jacquard Blanket | ¥5,800

Left: Room Shoes ¥3,400 / Men's Room Shoes ¥3,600 | Right: Cushion ¥3,400

Due to current government guidelines in Japan in response to COVID-19, select stores are currently closed, and so part of this collection will also be made available online in Japan.

© 2020 Nintendo

"Nintendo Switch" is a trademark of Nintendo.

Demon Slayer: Kimetsu no Yaiba Loungewear Collection Releases From Bandai

Bandai Apparel released a new collection of loungewear on its official shopping site Premium Bandai last Wednesday (February 3) based on the TV anime series Demon Slayer: Kimetsu no Yaiba.

Demon Slayer: Kimetsu no Yaiba Pyjama Sets

Tanjiro Kamado

Nezuko Kamado

Zenitsu Agatsuma

Inosuke Hashibara

Giyu Tomioka

Shinobu Kocho

Kyojuro Rengoku

Kanao Tsuyuri

Baby T-Shirts & Baby Pyjamas

The collection also includes seven T-shirts and five pyjama sets for babies.

Lounge about in the house wrapped in pyjamas of your favourite series with Bandai's new Demon Slayer: Kimetsu no Yaiba collection.

(C)吾峠呼世晴/集英社・アニプレックス・ufotable

Luxury Animal Crossing: New Horizons Clothing Collection by gelato pique Gets More Stock

Japanese luxury loungewear and sleepwear brand gelato pique will open online orders for an additional stock of its Animal Crossing: New Horizons collection on December 22, 2020 at 12:00pm (JST).

Original pre-orders for the collection will begin over on Gelato Pique's official website on November 18. They will subsequently be released at the official Nintento TOKYO store as well as select Gelato Pique stores in Japan on January 13, 2021. Before that, they are also lining the shelves of a Gelato Pique pop-up store called "Gelato Pique Christmas Town" in Omotesando Hills which is running until December 25.

ABOUT COLLECTION

The collection is a collaboration with the Nintendo Switch™ title Animal Crossing: New Horizons. It captures the warm, cosy, laid-back life of the game in the form of comfortable loungewear so you can feel as soft and relaxed as the characters in the game.

Line-Up (Excerpt)

Jacquard Pullover ¥5,800

A Timmy & Tommy knitted jacquard pullover with a simple yet design.

[Colours: Brown/Cream/Grey] Hoodies ¥6,800 | Short Pants ¥4,200 | Set ¥11,000

Become your favourite character with a cosy ear-topped hoodie and pants.

Left: Fruit Pullover ¥5,400 | Fruit Long Pants ¥5,200

Left: Character Pullover ¥5,400 | Character Long Pants ¥5,200

Cut and sewn pyjamas with mini character designs and fruit patterns.

Left: Blanket ¥5,800 | Right: Jacquard Blanket B ¥5,800

Stay warm with these Timmy & Tommy blankets.

Additional Stock Orders

Additional stock orders will take place on gelato pique's online store and USAGI ONLINE. It will run through a lottery system with random people being chosen. You will also need a Japanese address to receive the items.

Running: December 22, 2020 at 12:00 (JST) – January 17, 2021 at 23:59 (JST)

Product Delivery: January 23, 2021

Stay cosy and warm this winter with the critters of Animal Crossing.

© 2020 Nintendo

Information

Gelato Pique x Animal Crossing Collection
Releasing: December 18, 2020 at 12:00pm (JST)
Gelato Pique Official Online Store: https://gelatopique.com/20201116_01
USAGI ONLINE Official Website: https://usagi-online.com/s/201116PIQ/

Gelato Pique Christmas Town
Running: December 18, 2020 – December 25, 2020
Location: Space O, Omotesando Hills Floor B3F
Products: Animal Crossing meets GELATO PIQUE

In-Store Purchasing
Release Date: January 13, 2021
Locations: Select Gelato Pique stores / Nintendo TOKYO
*Only a selection of the products will be sold, the full collection is available online

Stay Warm This Holiday Season With gelato pique's Cute Christmas Loungewear Collection

Luxury loungewear and sleepwear brand gelato pique dropped its cosy new "GOOD NIGHT MERRY CHRISTMAS" collection on Friday (December 4) featuring a line-up of warm and fuzzy wearables perfect for the holiday season.

Collection Line-up (Excerpt)

Women's


gelato Bear Jacquard Pullover ¥5,800 (Before Tax) | gelato Bear Long Pants ¥4,200 (Before Tax) | gelato Bear Room Shoes ¥3,400 (Before Tax)

The Bear Jacquard series is a special knitted set in sleepy Bordeaux and cosy beige.

gelato Bear Parker ¥6,800 (Before Tax)

The Christmas wine-coloured parker comes with a hood with cute bear ears.

Bear Flannel Shirt ¥6,200 (Before Tax) | Bear Flannel Long Pants ¥6,200 (Before Tax)

Fluffy flannel fabric branded with cute bear illustrations.

Kids & Babies


gelato Bear Kids Jacquard Pullover ¥4,600 (Before Tax) | Bear Flannel Kids Shirt ¥4,400 (Before Tax) | Bear Flannel Kids Long Pants ¥4,400 (Before Tax)


gelato Bear baby Jacquard Romper ¥6,600 (Before Tax)

Strawberry Shortcake Crepe Arrive For Christmas 2020 at gelato pique cafe

gelato pique cafe in Japan is celebrating the holiday season with a series of 'WHITE CHRISTMAS' themed crepes and soft serve ice creams until December 27.

The cafe is a branch of the loungewear brand gelato pique. It aims to create desserts for adults. This Christmas, it is serving up some holiday special crepes and ice creams.

Strawberry Shortcake Crepe | ¥880 (Before Tax)

A fat crepe stuffed with strawberries and adorned in a way that's just like a shortcake. It contains not only strawberries, but raspberries, and cream. The whole wheat biscuit adds texture to the crepe so it's delicious to the last bite.

Pique Bear Crepe | ¥1,180 (Before Tax) *Limited quantity served each day


A snowy, all-white crepe made with sweet strawberries, milk gelato, and whole wheat biscuit. It's topped with a cute white chocolate bear.

Holiday Special Soft Creams – From Left: Strawberry Custard, Rich Milk, Mix | ¥450 Each (Before Tax)

The strawberry custard ice cream is made with smooth, sweet, and rich custard cream and strawberry for a melt-in-the-mouth combination. The rich milk ice cream is a mix of refreshing milk and rich vanilla. The mix option combines both of these flavours which results in a real mouth-watering treat.

If you're in Japan this holiday season, don't miss out on these delightful desserts.

Information

WHITE CHRISTMAS
Running: November 16, 2020 – December 27, 2020
Gelato pique cafe Official site:https://pique-cafe.com/
*The Gotemba Premium Outlets branch of gelato pique cafe is only selling the Strawberry Custard Cream Soft Cream
*The Tamagawa Takashimaya S.C. branch is not selling soft creams

UNIQLO Announces Loungewear Collaboration With Pokémon and Sumikko Gurashi

Japanese clothing retailer UNIQLO has announced a loungewear collection for the holiday season in collaboration with Pokémon and Sumikko Gurashi—the latter being a set of fictional characters created by San-X. Set to roll out in Japan from November 19, the fleece line-up is the perfect gift for the coming winter months.

Pokémon Line-Up

Everybody's favourite Pokémon are coming together for this cosy collaboration. The fleece set's theme is "Night Explorer" which imagines the wearer exploring the night together with their Pokémon. The designs feature moon and star motifs with neon colouring.

When the collection launches, those who purchase one of the Pokémon fleece sets in Japan will receive a set of two clear-coloured Pokémon figurines. And if they order online via UNIQLO's website, their order will be shipped in a special Pokémon box.


Buyers will also receive a card with a code on it to participate in a special campaign.

Sumikko Gurashi Line-Up

The corner-dwelling Sumikko Gurashi character merchandise is themed on a sleepover with items made warm, fluffy, and cosy.


The three Sumikko Gurashi sets will launch online only on December 18.


Picking up either of the fleece sets or poncho blanket sets from December 18 will land you one of the above-pictured plush toys.




UNIQLO will also be selling limited-edition Sumikko Gurashi gift cards too both online and in-store when the sets are released.

Animal Crossing: New Horizons Clothing & Accessories Revealed by Luxury Japanese Brand Gelato Pique

Nintendo has announced that luxury Japanese loungewear and sleepwear brand Gelato Pique is releasing a collection of clothing and accessories in collaboration with the Nintendo Switch™ title Animal Crossing: New Horizons.

The line-up includes pyjamas, hoodies, shorts, tote bags, blankets, pouches, and more, with the Animal Crossing's beloved Timmy and Tommy appearing as the main character feature on the designs.

Pre-orders for the collection will begin over on Gelato Pique's official website on November 18, but you will most likely need an address in Japan to order. They will subsequently be released at the official Nintento TOKYO store as well as select Gelato Pique stores in Japan on January 13, 2021. Before that, they will also line the shelves of a Gelato Pique pop-up store called "Gelato Pique Christmas Town" in Omotesando Hills which is set to run from December 18 to 25.

Animal Crossing: New Horizons Line-Up

Timmy & Tommy knitted jacquard tops with a simple desig


Jacquard Pullover ¥5,800 | Short Pants ¥4,200 | Cushions ¥3,400 Each (All Tax-Inclusive)

Become your favourite character with a cosy ear-topped hoodie


[Colours: Brown/Cream/Grey] Hoodies ¥6,800 | Short Pants ¥4,200 (All Tax-Include)

Cut & Sewn Series: Character designs and fruit patterns


Left: Fruit Pullover ¥5,400 | Fruit Long Pants ¥5,200

Left: Character Pullover ¥5,400 | CharacterLong Pants ¥5,200

Warm Timmy & Tommy blanket


Left: Blanket ¥5,800 | Right: Jacquard Blanket B ¥5,800 (Before Tax)

Animal Crossing x Gelato Pique Special Book


Pouch and tote bag comes with the book

Japanese publishing company Takarajimasha is also releasing a special book on December 22 entitled Animal Crossing meets GELATO PIQUE SPECIAL BOOK in two versions which come with a Timmy and Tommy design pouch and tote bag. These are limited-edition items available only with the book.

© 2020 Nintendo

Information

Gelato Pique x Animal Crossing Collection
Releasing: December 18, 2020 at 12:00pm (JST)
Gelato Pique Official Online Store: https://gelatopique.com/20201116_01
USAGI ONLINE Official Website: https://usagi-online.com/s/201116PIQ/

Gelato Pique Christmas Town
Running: December 18, 2020 – December 25, 2020
Location: Space O, Omotesando Hills Floor B3F
Products: Animal Crossing meets GELATO PIQUE

In-Store Purchasing
Release Date: January 13, 2021
Locations: Select Gelato Pique stores / Nintendo TOKYO
*Only a selection of the products will be sold, the full collection is available online

Cute and Cosy Snoopy Loungewear Made in Collaboration With Gelato Pique

Luxury loungewear and sleepwear brand Gelato Pique is teaming up with Snoopy to release a cosy new collection via their website and at Gelato Pique stores in Japan on November 12, 2020.

Gelato Pique is inviting people to spend the winter with Snoopy this year with their warm and fluffy 'SNOOPY meets GELATO PIQUE' collection which comes in a variety of comfy sizes for men, women, children, and babies.

SNOOPY meets GELATO PIQUE

Jacquard Series

Baby Moco Headband ¥2,200 | Jacquard Pullover ¥5,800 | Jacquard Long Pants ¥5,800 | Baby Moco Room Shoes ¥3,400 | Big Plush ¥8,800 | Jacquard Blanket ¥5,200

Jacquard Hoodie | ¥6,800

A fluffy series made with jacquard fabric and cute Snoopy prints all over. The hoodie even comes with Snoopy ears on top.

Border Series


Baby Moco Shawl Cardigan ¥7,200 | Baby Moco Long Pants ¥6,600

The shawl cardigan is perfect for the winter season, and the stripes have give the loungewear a casual and comfy look.

Snoopy Pattern Series


Shirt ¥6,300 | Pants ¥6,300

The Snoopy Pattern Series is the kind of thing you want to be wearing with some warm socks while sipping on something hot. Its simple design makes it perfect as a gift to someone under the Christmas tree.

Fleece Series


Fleece Pullover ¥5,600 | Fleece Long Pants ¥5,600

The Fleece Series is perfect for both relaxing and active days. The designs feature Snoopy and Charlie Brown chilling at home. The casual colours also mean you can wear either items together with something else, such as just donning the bottoms with something different on top.

© 2020 Peanuts Worldwide LLC

*All listed prices are pre-tax

Cardcaptor Sakura Roomwear and Merchandise Collection Releasing by ITS'DEMO

Japanese fashion variety store ITS'DEMO has revealed its new collection of Cardcaptor Sakura: Clear Card merchandise which is set to drop in Japan on October 13, 2020.

The items feature an original design and include everything from towels to pouches, stationery, confections, cosmetics like an eyeshadow palette, and more. ITS'DEMO is also releasing a range of roomwear on October 27 for those chilly autumn nights including room shoes, socks, a blanket, and other goodies.

© CLAMP・ST/Kodansha・NEP・NHK

Information

ITS'DEMO x Cardcaptor Sakura: Clear Card
Release Date: Rolling out October 13, 2020 at ITS'DEMO stores in Japan and their online store
Line-Up: Stationery, Pouch, Towel, Food, Cosmetics, and more
Items: 106 (Includes design and colour variations)

Price Range: ¥260-¥3,900 (Before Tax)

Official Website: http://itsdemo.jp

Snoopy Roomwear Releasing in Collaboration with gelato pique

Japanese roomwear company gelato pique is collaborating with the popular Peanuts comics to release a new Snoopy themed collection on May 14, 2020. The summer line-up is inspired by 70's and 80's colours blended into soft attire that feels super good on the skin for lounging about your home in.

′SMOOTHIE' LOGO KNIT

Jagged Parker – ¥7,200 / Jagged Short Pants – ¥4,800 (All Before Tax)

These two items are made from gelato pique's popular "SMOOTHIE" fabric which is soft to the touch. They feature a pop design with Snoopy logo'd on the front.

HOMME Jagged Parker – ¥8,200 / HOMME Jagged Pullover – ¥7,400 / HOMME Jagged Pants – ¥6,000 (All Before Tax)

Jagged Junior Parker – ¥6,400 / Jagged Junior Short Pants – ¥4,400 (All Before Tax)

The collection also features men's sizes with chic colours as well as junior sizesーthe latter of which is exclusive to online orders.

PRINTED SHIRTS PAJAMA

Shirt – ¥6,200 / Short Pants – ¥4,400 / Room Shoes – ¥3,200 (All Before Tax)

Featuring patterns all over, this individual item set is perfect for the spring and summer season. Each piece is made from a mix of recycled cotton that make it feel super comfortable to wear.

HOMME Shirt – ¥6,400 / HOMME Half Pants – ¥5,400 / Shirt – ¥6,200 / Short Pants – ¥4,400 (All Before Tax)

There men's sizes of this set too so it's perfect as a pairing gift.

Merch For Snoopy Fans

SLEEP Tissue Case – ¥4,800 (Before Tax)

Eco Cup – ¥1,000 (Before Tax)

There's also a selection of merchandise that Snoopy fans will love including a tissue box cover, eco cup, and more. Who better to spend your time with at home during the lockdown than Snoopy?

© 2020 Peanuts Worldwide LLC