One Piece and Dragon Ball Z Design Watches Released by G-SHOCK
CASIO G-SHOCK has announced a collaboration with the popular anime series One Piece and Dragon Ball Z, with watch designs for each show releasing in July and August respectively.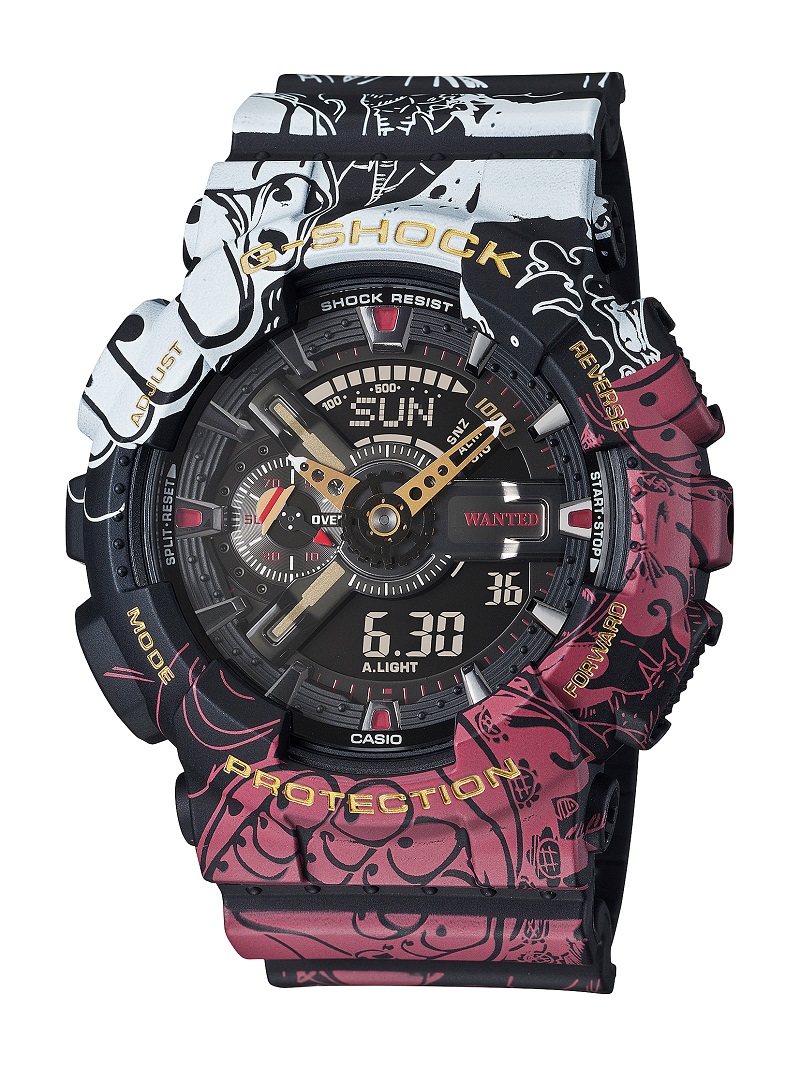 GA-110JOP: ¥26,400 (Tax Included)
The GA-110JOP One Piece watch uses the popular GA-110 model G-SHOCK which has a distinct big case. It's covered in a black base colour and features an illustration of Luffy strong and grown up. At 9-o'clock is a motif of Luffy's straw hat, while at 3-o'clock is the word "WANTED." Additionally, when the hour and minute hands both strike 2-o'clock and 4-o'clock, they combine with slanted golden lines to create the "X" shape that Luffy has on his chest.
The back cover features the "G-SHOCK x One Piece" logo.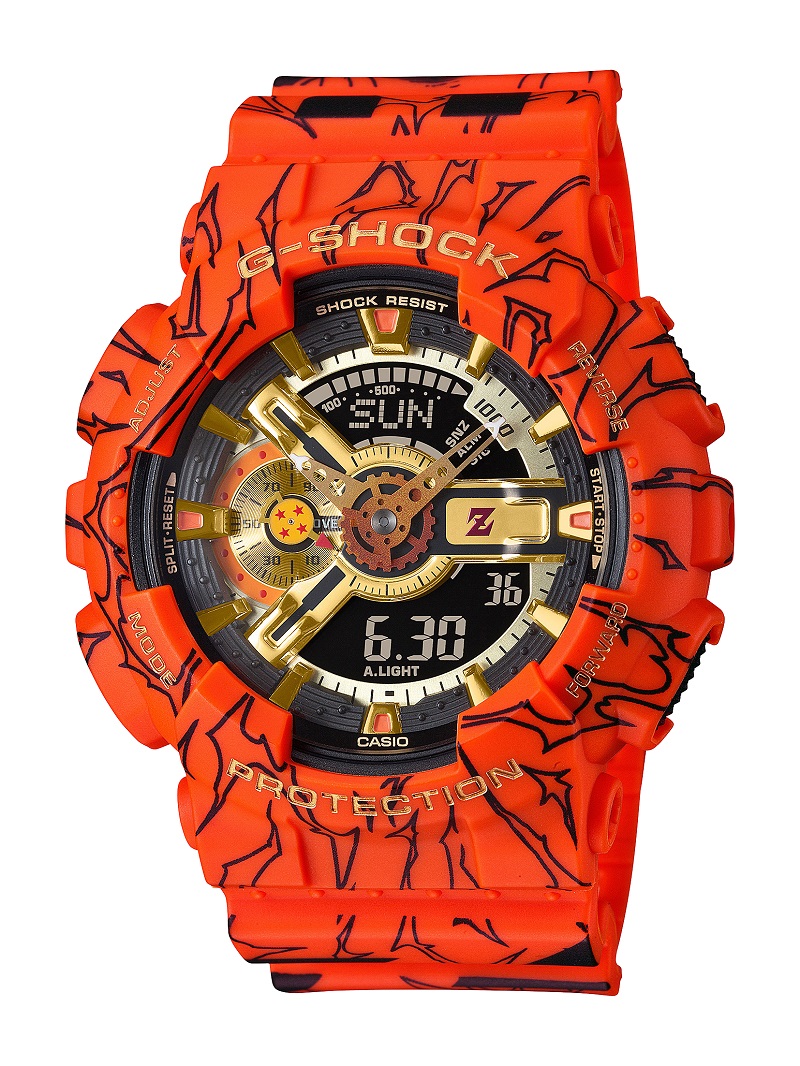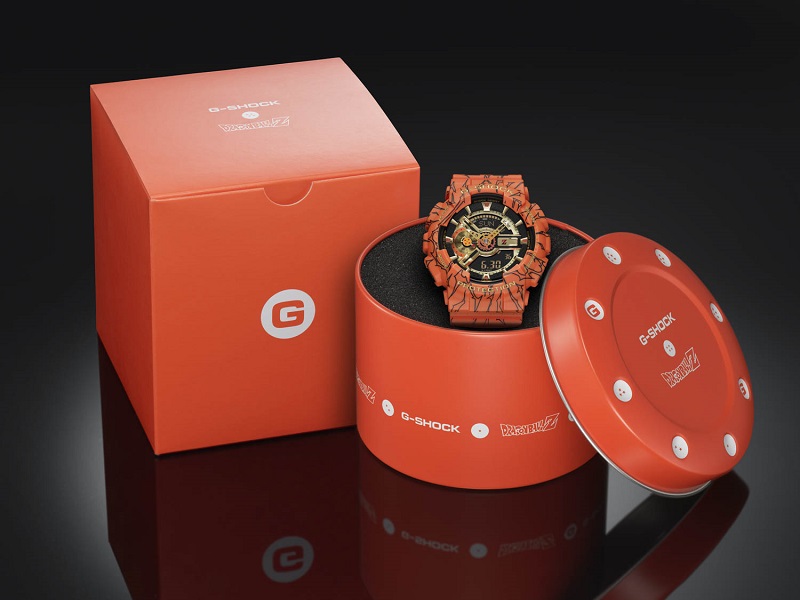 GA-110JDB: ¥26,400 (Tax Included)
Like the One Piece watch, the Dragon Ball Z one also uses the GA-110 model and is coloured in that iconic DBZ orange. The design is inspired by Goku going through training to become stronger. The lettering and logo is gold for accent. At 9-o'clock is the Four-Star Dragon Ball while at 3-o'clock is the letter "Z."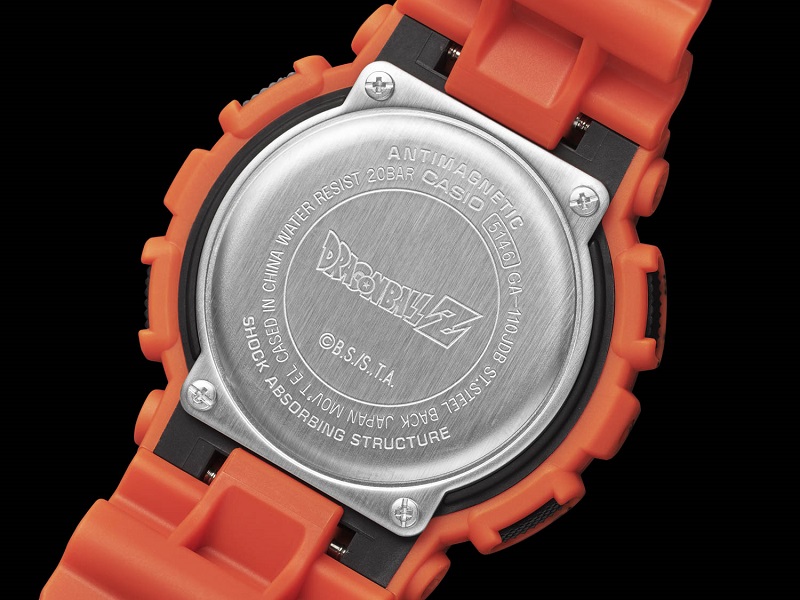 On the back cover of this one it features the Dragon Ball Z logo.
Both watch designs will for sure be appreciated by fans for their detailed designs and references.
Information
GA-110JOP
Release Date: July 2020
GA-110JDB
Release Date: August 2020
RELATED ENTRIES
Limited-Edition Emerald Blue Sailor Moon Eternal Wristwatch Released in Japan

Citizen Watch brand wicca released a new emerald green wristwatch to commemorate the release of the new anime film Sailor Moon Eternal. The item was released exclusively on PREMICO's online shop in Japan on January 6, 2021, with a limited stock of just 3,000.

Wicca x Sailor Moon Eternal Special Collab Watch | ¥29,800 (Before Tax)

The watch features intricate nods to the film such as a crescent moon at the 12-o'-clock mark with a rhinestone, Pegasus and white wings on the bottom half, an emerald blue round face, the Crystal Carillon on the 6-o'-clock mark, and more.

The mesh strap is pink and gold to complete the a beautiful and feminine appearance. And since only 3,000 have been made, each watch also has its own Edition Number engraved into it. The watches are packaged in special gold leaf box with a Swarovski® crystal on it.

©武内直子・PNP/劇場版「美少女戦士セーラームーンEternal」製作委員会

Swarovski® is a registered trademark of SwarovskiAG.

Wolfgang's Steakhouse x One Piece Spin Off Story Celebrates Manga's 1000th Chapter

The Japanese branch of the New York-based steakhouse Wolfgang's Steakhouse is celebrating the 1,000th chapter of the Weekly Shonen Jump manga series One Piece by creating an original spin-off story animation which will be posted on their official homepage and social media accounts at the end of January.

Wolfgang's Steakhouse is a steakhouse hailing from New York. Wolfgang Zwiener opened the chain over 40 years ago and it has gone on to open several branches in Japan, the first being in Roppongi in Tokyo followed by Marunouchi, Osaka, and Fukuoka. A new brand, Wolfgang's Steakhouse Signature, opened in Aoyama, Tokyo.

What tasty story awaits the Straw Hat Pirates? We will find out at the end of this month!

Doraemon Design Wristwatch Releases For Manga Character's 50th Anniversary

Customisable watch brand UNDONE released a new collection of wristwatches in Japan on Tuesday (December 15).

Special Doraemon 50th Anniversary Series

The celebratory line-up commemorates Doraemon's 50th anniversary and includes limited quantity models, customisable made-to-order models, and more, each with references to the beloved series.

50TH ANNIVERSARY

50TH ANNIVERSARY (Limited to 150 models) | ¥39,600 (Tax Included)

The '50TH ANNIVERSARY' model features an illustration of Doraemon as seen in the early days of the manga series.

The early artwork of Doraemon is nothing short of adorable

Back of wristwatch features vintage style design

FRIENDSHIP

FRIENDSHIP (Limited to 150 models) | ¥39,600 (Tax Included)

Best friends Nobita and Doraemon come together for this special design.


Spot Doraemon's tiny bell at 12-o'clock

Doraemon and Nobita on the back side

The watch has simple white dials, and it has a function where it lights up at night to reveal Doraemon and Nobita. The design captures the beauty of the pair's everlasting friendship.

THE BELL

THE BELL (Customisable Model) | ¥29,700 (Tax Included)

This cute watch just screams Doraemon's design with its colouring and his iconic bell in the centre.


The bell turns as the hands go around

Doraemons everywhere on the back side

This watch is customisable with various different designs. If you look closely at the 50-minute mark you'll see a red dot representing Doraemon's tail. It's also a nod to his 50th anniversary.

©Fujiko-Pro APPROVAL NO.S611617

Seiko to Drop New Pokémon Watch Collection | MOSHI MOSHI NIPPON

Seiko is teaming up with Pokémon to release four limited-edition watches on December 11, 2020. Each model will be available to buy from Seiko in Japan.

Pikachu Icon Design Model SCXP175 | ¥30,800 (Tax Included)

The Pikachu Icon Design Model SCXP175 features a modern design with a yellow dial and black Pikachu silhouette. Pikachu's tail is used as the watch hands, underneath which is a nod to Pikachu's effectiveness as a lighting-type Pokémon against water-types. The watch has a leather strap with Pikachu's paw prints running down it.

Pikachu Green Model SCXP177 | ¥30,800 (Tax Included)

The Pikachu Green Model SCXP177 features a green dial inspired by Pikachu running through Viridian Forest. The second hand also has Pikachu's tail and the leather strap has Pikachu's paw prints.

Eevee Model SCXP179 | ¥30,800 (Tax Included)

The cute Eevee Model SCXP179 has coloured dots for the hours which represent Eevee's nine different evolutions. The leather strap has Eevee's paw prints.

Mewtwo Model SCXP181 | ¥30,800 (Tax Included)

The Mewtwo Model SCXP181 is purple to represent the Psychic-type Legendary Pokémon Mewtwo. The leather strap reads "Pokémon" on it.

There are three different underside designs featuring a closed Poké Ball, an open Poké Ball, and a closed Great Ball.


Each watch comes in a special box and with an additional nylon strap, which you can swap out with the leather one, as well as a Poké Ball design cloth.

©Nintendo・Creatures・GAME FREAK・TV Tokyo・ShoPro・JR Kikaku ©Pokémon

BUSTERCALL = ONE PIECE Exhibition to Take Place at Yokohama ASOBUILD

The BUSTERCALL Project is holding a One Piece themed exhibition called BUSTERCALL = ONE PIECE Exhibition at Yokohama ASOBUILD from November 20 to December 27 at Yokohama ASOBUILD. BUSTERCALL is a project formed of 200 artists and creators around the world to deliver events and exhibitions centred on the popular manga and anime series One Piece.

At BUSTERCALL = ONE PIECE Exhibition, fans can pick up a range of merchandise as well as make their own original T-shirts at the workshop.

Original Emblem: ¥1,000 (Tax Included) *27 designs

Original T-Shirt: ¥3,500 (Tax Included)  WHITE/BLACK SIZES: S/M/L/XL

 Fans can make their own original emblems which can be attached to one of 27 different T-shirts.

One Piece fans can also get their hands on a selection of apparel, figures, and other pieces of merchandise, some of which will also be available to buy online in Japan. Some creators are also selling special items in limited quantities.

Original Sticker

All fans who visit the art exhibition will get a free original sticker too.

Information

BUSTERCALL = ONE PIECE Exhibition

Venue: ASOBUILD Floor 2F ALE-BOX
Address: 2-14-9 Takashima, Nishi-ku, Yokohama, Kanagawa

Running: November 20, 2020 – December 27, 2020
Opening Hours: 10:00-20:00 (Last Entries 19:00)

Entry: Free
Official Website: https://jp.bustercall.com

One Piece x Shu Uemura Makeup Collection is a Pirate Girl's Dream

The second instalment of the "Shu Uemura x One Piece Collection" finally launched on November 15. The collection was first announced back in September with the first instalment released on November 1.

The special collection is inspired by the brave and heroic Luffy and the Straw Hat Pirates from One Piece, one of Japan's biggest manga and anime franchises. The second instalment welcomes a new collection of highlighters, makeup brushes, and more for the holiday season.

Shu Uemura x One Piece Collection

Fearless Crew Highlighter Gold Feast / Fearless Crew Highlighter Romance Dawn (¥5,000 Each Before Tax)

Smooth, silky highlight powder to accentuate the face. Colours include shining gold which glistens like pearls and sun-basked peach. These highlighters capture the lively energy of Nami and Robin.

Fearless Crew Premium Brush Set (¥6,500 Before Tax) | Includes: Face Brush, Cheek Brush, Eyeshadow Brush, and Eyebrow Brush

The high quality mini brush set includes a face brush, cheek brush, eyeshadow brush, and eyebrow brush. Their small sizes makes them conveniently portable for the party season. They come in a marine blue bag with the Straw Hat Pirates on the front of it.

Petal 55 Foundation Brush (¥6,000 Before Tax)

A high quality Shu Uemura brush with beautiful form and functionality crafted by the brand's makeup artists. Their foundation brushes are very popular for layering the perfect base makeup.

Wanted Gold Eyelash Curler (¥2,000 Before Tax)

Add some volume to those lashes with this golden pair of curlers equipped with a One Piece skull charm.

©Eiichiro Oda/Shueisha, Toei Animation

One Piece x Shu Uemura Collaborate On Colourful New Makeup Collection

Japanese makeup artist brand Shu Uemura's highly-anticipated holiday collection is here. The "Shu Uemura x One Piece Collection" will launch in two parts: the first on November 1 and the second on November 15.

The special collection is inspired by the brave and heroic Luffy and the Straw Hat Pirates from One Piece, one of Japan's biggest manga and anime franchises.

The first part of the collection launching on November 1 welcomes Shu Uemura's popular vivid eyeshadows and iconic lipsticks from the Rouge Unlimited collection while the second part is made up of a variety of face colours, accessories, and more, made specially for the holiday season. Pre-orders for both parts will launch via Shu Uemura's website and select online stores in Japan on October 15, 2020.

Shu Uemura x One Piece Collection

Bright colours and textures inspired by the marine blue ocean, the beaming sun, and treasure—all elements that scream the adventures of One Piece. Shu Uemura invites people to join Luffy on that adventure with this new collection.

Part One

Wanted Treasure Box Eye Palette Grand Line / Wanted Treasure Box Eye Palette Thousand Sunny | ¥8,500 Each (Before Tax)

The Wanted Treasure Box Eye Palette Grand Line comes in a treasure chest-like eye palette case and boasts ten gorgeous colours, which includes numerous new colours and textures like Crushed Stone, Deep Matte, Antique Metal, and Warm Pearl. Inspired by the Grand Line ocean current in One Piece.

Rouge Unlimited Amplified / Rouge Unlimited Amplified Matte / Rouge Unlimited Matte / Rouge Unlimited Amplified Lacquer Shine | ¥3,300 Each (Before Tax) *Includes 9 colours

Each colour is based on one of the special moves performed by characters in One Piece. The colour arrangement is diverse, ranging from colours to make a statement to more casual ones. Wield the power of the Straw Hats wherever you go.

Part Two

Fearless Crew High Rider Gold First / Fearless Crew High Rider Romance Dawn | ¥5,000 (Before Tax)

Smooth, silky highlight powder to accentuate the face. Colours include shining gold which glistens like pearls and sun-basked peach.

Fearless Crew Premium Brush Set | ¥6,500 (Before Tax)

The high quality mini brush set includes a face brush, cheek brush, eyeshadow brush, and eyebrow brush.

©Eiichiro Oda/Shueisha, Toei Animation

One Piece Reveals Second Collaboration With Sports Brand Kappa

Itanlian-based sports brand Kappa is set to collaborate with One Piece for the second time on September 18.

The new collection features a range of attire combining Kappa's iconic style with illustrations of familiar faces from the popular anime series.

Hoodies | ¥9,800 Each (Before Tax)

T-Shirts | ¥5,900 Each (Before Tax)

The lineup includes three hoodies and t-shirts which feature a special graphic designed exclusively for this collection which combines Kappa's logo with the illustration drawn for the "One Piece Log Collection" DVD collection that released as part of One Piece's 10th anniversary.

The Kappa x One Piece tags that come on pieces in the collection can also be used as bookmarks.

The second collaboration will roll out from September 18, 2020 at Kappa stores in Japan, Kappa's official online store, and the One Piece Mugiwara store.

ONE PIECE LINE Messenger App Stamp Proceeds Donated to Japan's Front Line Health Care Workers

Johnny's Smile Up ! Project was set up by Johnny's Group to contribute towards society and aid in relief activities. In the past, it has helped organise relief activities following such disasters as the Great Hanshin-Awaji Earthquake, and Great Eastern Japan Earthquake.

Japanese messaging app LINE supports the project's work, and so has teamed up with it and Eiichiro Oda, Takuya Kimura, and Kazuya Kamenashi to create ONE PIECE themed 'donation stamps' which will be available on LINE from August 27 to November 26.

LINE sells donation stamps every year, with the proceeds going towards providing relief during disasters as well as for children around the world. Since April this year, LINE has supported and cooperated with Johnny's Smile Up ! Project, and in June released their first collaborative stamps together which were based on the Japanese boy band Kanjani Eight. The two companies are coming together once again to develop ONE PIECE stamps in collaboration with Japanese publisher Shueisha, the creator of ONE PIECE Eiichiro Oda, and singers and actors Takuya Kimura and Kazuya Kamenashi, both of whom are close friends with Oda.

The full stamp set includes 24 stamps for just ¥250 or 100 LINE coins, all of which were sketched and/or conceived by Eiichiro Oda, Takuya Kimura, and Kazuya Kamenashi.

Eiichiro Oda | Comment

"Illustration is a place where one's personality comes out. Kimura and Kamenashi don't normally draw pictures, so there was some silliness, but the atmosphere and intention was still 'Smile Up'! I had fun with them both, and I'm thankful for the size of their hearts. Be sure to try out the stamps!"

Takuya Kimura | Comment

"I am truly honoured to have received Eiichiro Oda-sensei's approval for the Smile Up ! Project. A lot of the words that are encouraging me these days can be found in ONE PIECE, and I was able to pick out my personal favourites! Definitely take a look!"

Kazuya Kamenashi | Comment

"I am beyond honoured to have been given the chance to participate as a fellow 'ONE PIECE x Smile Up ! Stamp' partner. Truth be told, drawing isn't my forte, but I put my heart into it and had a wonderful time. It was like a dream, a lot of fun. Make sure you all use the stamps!

Johnny's Smile Up ! Project will use the proceeds for the stamps to support front line health care workers in Japan.

*Comments translated from Japanese by MMN

©Johnny&Associates.

Feast Your Eyes On These PAC-MAN Watches From Timex

PAC-MAN turned 40 years old on May 22, 2020. To commemorate the 40th anniversary of one of the most recognisable video game characters, UENI TRADING, the sole Japanese distributor of American watchmakers Timex, released three new Timex 80 x Pacman watches on July 30, 2020. The watches are available in select stores and online stores in Japan.

This collaboration previously took place in November 2019 where the watches were a hug success amongst American fans. The watches have now arrived in Japan in the year of PAC-MAN's 40th anniversary.

Timex 80 x PAC-MAN Watches: ¥11,000 (Before Tax)
TW2U32000 | TW2U31900| TW2U32100

The watches are an arrangement of Timex's "Classic Digital" which capture that retro 80's design of PAC-MAN.

The LCD, back of the case, and bracelet all feature iconic PAC-MAN motifs. The alarm sound of the watches are also the PAC-MAN game sound. The watches feature all the typical functions like a stopwatch, calendar, and alarm, but with a PAC-MAN flair. They're also equipped with the Timex INDIGLO® night light which Timex first introduced back in 1992.

The watches will be available to purchase in Japan on the official online stores of Timex and ontime move as well as in-store at ontime Shibuya LOFT and ontime Umeda LOFT.

*Available online at Timex from July 30. General sales will begin on August 4.

Pop-up stores will also open at ontime Shibuya LOFT and ontime Umeda LOFT where you can get your hands on an original PAC-MAN sticker, play the original game, and more.

Information

Timex 80 x PAC-MAN Watch
Timex Online Store: https://www.timexwatch.jp/
ontime move Online Store: https://www.ontime-move.watch/news/5736/

ontime Shibuya LOFT
Address: Shibuya LOFT 1F, 21-1 Udagawacho, Shibuya, Tokyo
Opening Hours: 10:00-21:00
TEL: 03-5458-3076

ontime Umeda LOFT
Address: Umeda LOFT 1F, 16-7 Chayamachi, Kita-ku, Osaka-shi, Osaka Prefecture
Opening Hours: 11:00-21:00
TEL: 06-6359-3205

Dragon Ball Confections Kamehameha Into FamilyMart Convenience Stores in Japan

Character-inspired Japanese confectionery series Tabemas has revealed that its next batch of sweet treats are Dragon Ball Super inspired. The sweets were released at FamilyMart convenience stores in Japan on July 28, 2020.

'Tabemas' is an abbreviation of the Japanese words taberareru masukotto, meaning 'mascots that you can eat.' It is a Japanese confectionery series that combines well-known characters and Japanese sweets made from ingredients like red bean paste, sugar and rice flour. The sweets are also made with a dough called "nerikiri" which is used in making traditional Japanese wagashi sweets.

Tabemas Dragon Ball Super: ¥369 Before Tax | 1 set of 2

The confection designs include the iconic Dragon Balls from the series up to Seven-Stars, as well as Shenron.

Shenron is matcha-flavoured. Using nerikiri dough, Tabemas has brought the dragon god to life with his iconic red gaze, whiskers, and tail. Each of the seven Dragon Balls are filled with custard cream. One set of these confections comes with both Shenreon and one of the Dragon Balls, so fans can enjoy both flavours.

As well as all of the seven Dragon Balls, there are two secrets ones too. What exactly they are requires a trip to FamilyMart.

©Bird Studio/Shueisha・Fuji TV・Toei Animation

Information

Tabemas Dragon Ball Super
Released: July 28, 2020

Available: At the chilled desserts section of FamilyMart convenience stores in Japan

*Available while supplies last

*Stock date may differ from branch to branch

*Select stores not participating

Official Website:  https://www.bandai.co.jp/candy/tabemas/dragonball/

Da-iCE Release One Piece Opening Theme 'DREAMIN' ON' CD Cover

Da-iCE have released the CD cover for their new single DREAMIN' ON which will be the newest and 23rd opening theme for the anime series One Piece. The single is set for release on August 26, 2020.

First Press Limited Edition A

mu-mo Edition

The new opening theme DREAMIN' ON by Da-iCE will hit the anime series on August 2, 2020. It's a fast-paced rock song about friends, dreams, and having the courage to take a step forward.

First Press Limited Edition B / Regular Edition

There are two One Piece illustration CD covers and one of Da-iCE. First Press Limited Edition A copies feature Luffy holding a map that reads the name of the band and song on it, while the mu-mo edition has Luffy and his friends gathered round looking as if they're staring at a map.

DREAMIN' ON will also feature a cover by Da-iCE of the first ever One Piece opening theme We Are! which is also now available on their official website.

©Eiichiro Oda / Shueisha・Fuji TV・Toei Animation

Information

DREAMIN' ON
First Press Limited Edition A (SG+DVD): ¥2,300 (Before Tax) [AVCD-94894/B]
First Press Limited Edition B (SG+DVD): ¥2,300 (Before Tax) [AVCD-94895/B]
Regular Edition (SG): ¥1,300 (Before Tax) [AVCD-94896]
mu-mo Edition (SG+Goods): ¥3,500 (Before Tax) [AVC1-94897]

Da-iCE Official Website: https://da-ice.jp