One Piece and Dragon Ball Z Design Watches Released by G-SHOCK
CASIO G-SHOCK has announced a collaboration with the popular anime series One Piece and Dragon Ball Z, with watch designs for each show releasing in July and August respectively.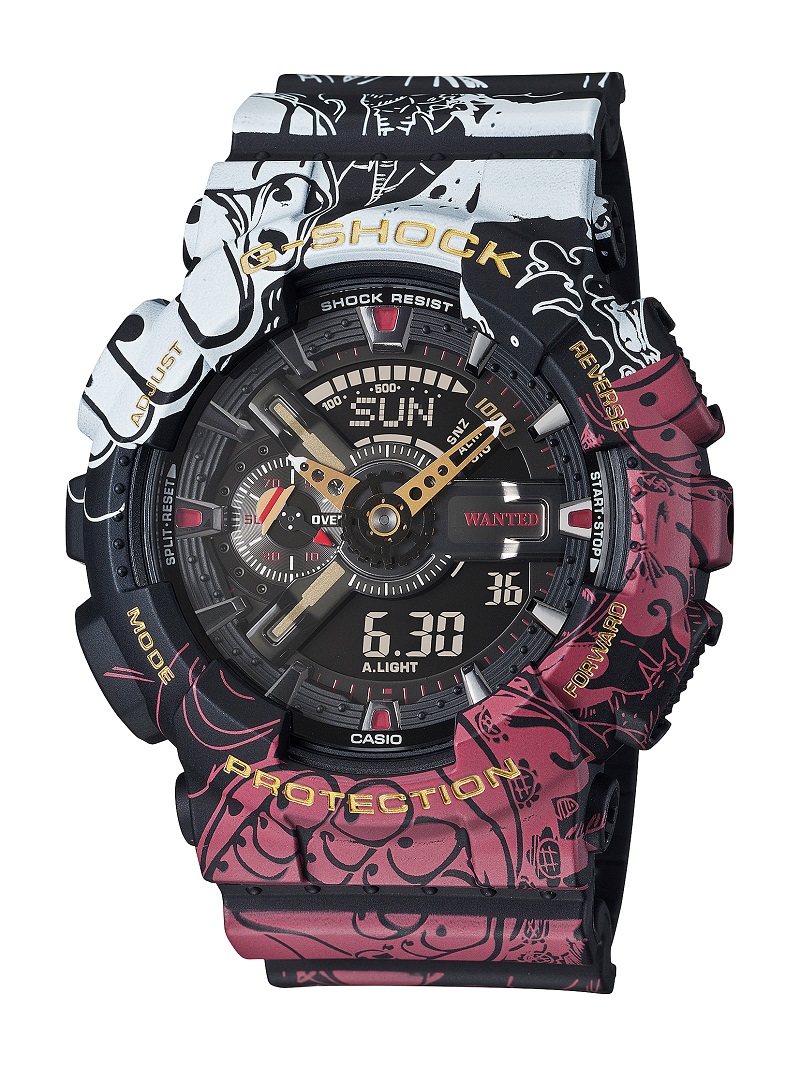 GA-110JOP: ¥26,400 (Tax Included)
The GA-110JOP One Piece watch uses the popular GA-110 model G-SHOCK which has a distinct big case. It's covered in a black base colour and features an illustration of Luffy strong and grown up. At 9-o'clock is a motif of Luffy's straw hat, while at 3-o'clock is the word "WANTED." Additionally, when the hour and minute hands both strike 2-o'clock and 4-o'clock, they combine with slanted golden lines to create the "X" shape that Luffy has on his chest.
The back cover features the "G-SHOCK x One Piece" logo.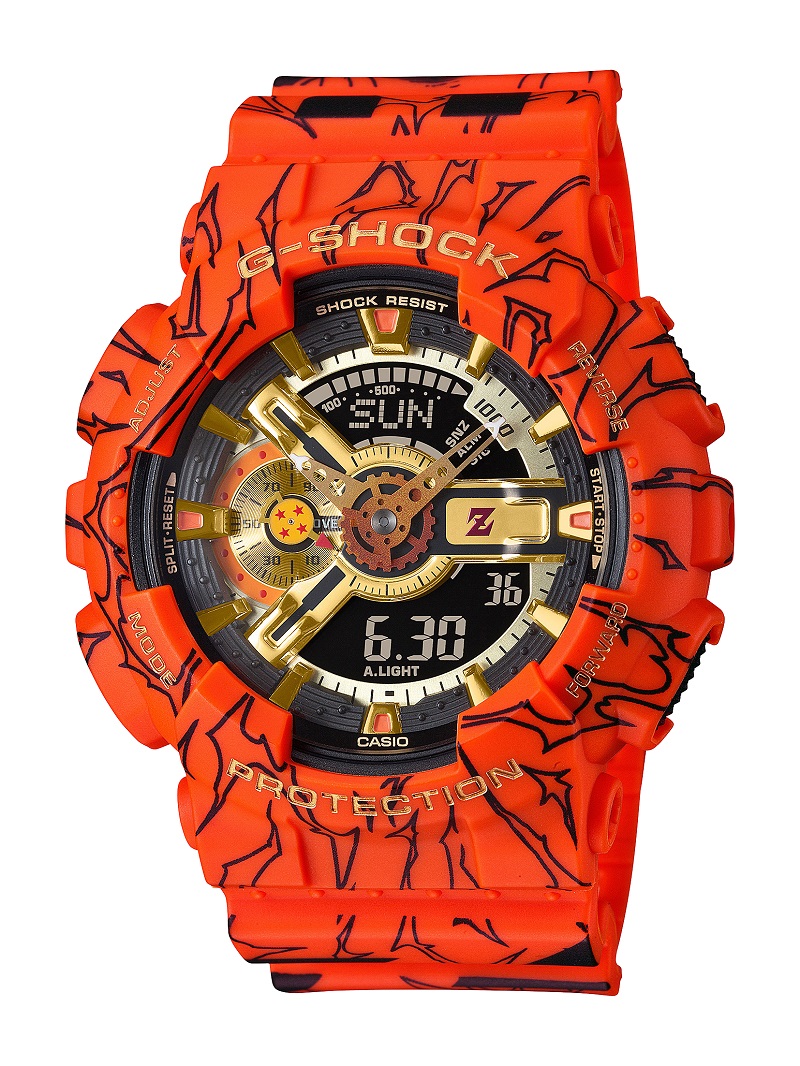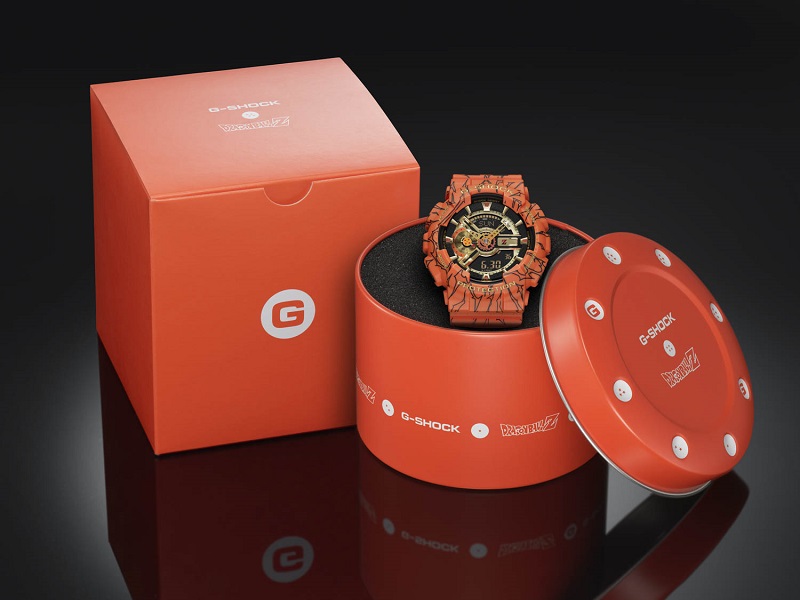 GA-110JDB: ¥26,400 (Tax Included)
Like the One Piece watch, the Dragon Ball Z one also uses the GA-110 model and is coloured in that iconic DBZ orange. The design is inspired by Goku going through training to become stronger. The lettering and logo is gold for accent. At 9-o'clock is the Four-Star Dragon Ball while at 3-o'clock is the letter "Z."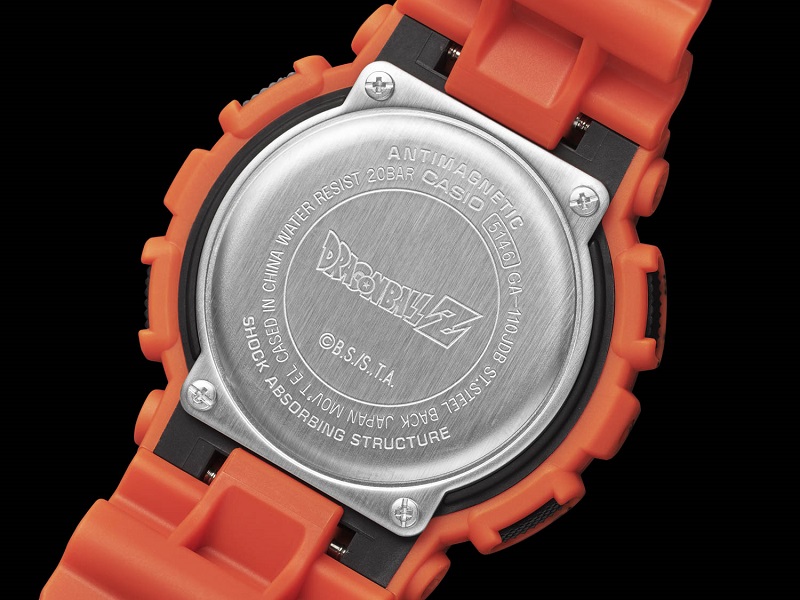 On the back cover of this one it features the Dragon Ball Z logo.
Both watch designs will for sure be appreciated by fans for their detailed designs and references.
Information
GA-110JOP
Release Date: July 2020
GA-110JDB
Release Date: August 2020
RELATED ENTRIES
Netflix Reveals One Piece Live-Action Series Set Details and Concept Art

During the Netflix Geeked Week livestream, more details about the Hollywood live-action One Piece adaptation were revealed to a sea of anxious fans.

Along with six new cast members, fans caught a glimpse of the fantastic sets being used for the series and a greeting from the showrunners Steven Maeda and Matt Owens, along with the actor playing Luffy, Iñaki Godoy.


The new cast members include Alexander Maniatis as Klahadore, Steven Ward as Mihawk, Craig Fairbrass as Chef Zeff, Langley Kirkwood as Captain Morgan, Celeste Loots as Kaya, and Chioma Umeala as Nojiko.

 

A One Piece live-action project had been discussed before, finally coming to fruition after original creator Eiichiro Oda and other members of Shonen Jump staff were convinced that it could be done well. As announced by a number of cast members on social media, the project began filming recently in South Africa.

Behind-the-Scenes Time-lapse Footage

"We get to go to work every day and walk on these massive sets and see these characters come to life," Maeda said. 

"Oda's world is so unique. Seeing all of this stuff in person, being able to reach out and touch it, has just been such an experience," Owens continued.

Eiichiro Oda's manga series has become one of the best-selling manga series in history. Originally published in Weekly Shonen Jump in 1997, the series recently celebrated its 100th volume and will celebrate 1,000 anime episodes in the coming weeks. With over 490 million copies in circulation, Luffy's adventure is beloved by manga fans around the world.

On August 6, the newest One Piece film, ONE PIECE FILM RED, will be released in theaters in Japan.

This live-action adaptation is highly-anticipated by longtime fans around the world. Stay tuned for more news to come!


Netflixシリーズ「ONE PIECE」全世界独占配信
©尾田栄一郎/集英社

One Piece Summer 2022 Event to Open at Universal Studios Japan

From July 1 until October 2, 2022, fans of the long-running series One Piece won't want to miss taking a trip to Universal Studios Japan! This year's event promises to be extra special as fans celebrate the 25th anniversary of the manga series and the 15th anniversary of the One Piece Premier Show, the annual event at USJ. A special menu featuring tasty treats inspired by the series will be available alongside unique merchandise only available on-site. 

This summer's limited menu and goods lineup are each inspired by a music festival. The event itself will draw inspiration from the film One Piece Film Red, scheduled to release on August 6, 2022.

The Discovery Restaurant in the Jurassic Park-themed area of Universal Studios Japan will be transformed into the One Piece Summer Banquet Restaurant during the event period, featuring a selection of tasty dishes inspired by each main character. This year, menu items inspired by Robin and Jinbe will be available for the first time.

Plenty of original merchandise will be on sale, with one specific item serving as a highlight of the new collection: the 15th-anniversary book. This tome includes details and images from each of the past One Piece Premier Shows and is a must-have for any fan. It also includes a message from the original series author Eiichiro Oda. 

One 'music festival' themed item is the Festival Towel. Playing a major role in the 2022 version of the One Piece Premier Show, the item is decorated with a limited edition 15th-anniversary design. Guests can also grab a collectible bracelet and salted candy in a unique soda can-inspired package. Of course, it wouldn't be a One Piece event without some straw hats for sale!

This year's menu includes everything from Nami's Orange Frappe to Frankie's Super American Hot Dog. Each of these tasty dishes will be perfect for posting on social media! Next to the Lost World Restaurant, guests can enjoy some additional goodies from the One Piece Food Cart including Sanji's Pork Ribs and Sanji's Peach and Lemon Frozen Smoothie, perfect for beating the heat.

Everyone, young and old, is invited to immerse themselves in the world of One Piece during this special celebration.

© 尾田栄一郎/集英社・フジテレビ・東映アニメーション

A BATHING APE Releases Dragon Ball Super: Super Hero Collaboration Collection

A BATHING APE, one of Japan's leading streetwear brands, has announced a new collection inspired by the new film Dragon Ball Super: Super Hero!


This isn't the first time that BAPE and Dragon Ball have come together for a stylish collaboration. The two have set the standard for what a crossover between streetwear and manga culture should look like, starting with the first collaboration in 2016. From pieces showing the protagonist Son Goku as a young boy to the most recent items inspired by the Majin Buu arc, fans of the series can't get enough.


The latest collection features characters from the highly-anticipated new film Dragon Ball Super: Super Hero set to premiere on June 11, 2022.

Son Gohan, Pan, Piccolo BABY MILO® T-Shirt (Colors: Black, White): ¥9,900 (Tax Included)

Red Ribbon Army BABY MILO® T-Shirt (Colors: Black, White): ¥9,900 (Tax Included)

Popular characters Gohan and Piccolo have been given the BABY MILO treatment along with the new androids Gamma 1 and Gamma 2 and their creator Dr. Hedo from the newly-revived Red Ribbon Army. 

BAPE® X Dragon Ball Super Ape Head Pullover Hoodie (Colors: Black, Orange): ¥28,600 (Tax Included)

BAPE® X Dragon Ball Super Ape Head Totebag (Colors: Black, Orange): ¥8,800 (Tax Included)

Fans of Goku, Vegeta, and Gohan's daughter Pan won't want to miss these stylish hoodies and tote bags complete with BAPE's signature Ape Head!




The collaboration items will be available at select stores throughout Japan and online starting on June 5, 2022, just before the movie's release. 

Information

A BATHING APE® × Dragon Ball Super: Super Hero

Release Date: June 5, 2022

Where to Buy:

BAPEXCLUSIVE™️ Aoyama
BAPE STORE®︎ COMME des GARCONS Osaka
BAPE STORE®︎ DOVER STREET MARKET Ginza
BAPE.COM Online Store

BAPE.COM Special Page:https://bape.com/pages/dragonball-super

A BATHING APE Releases Dragon Ball Z Majin Buu Collection

Japan's top streetwear brand A BATHING APE is releasing a new collection inspired by Dragon Ball Z! The two first collaborated in 2016 starting with imagery inspired by Son Goku's childhood. In June 2020, the company released a collection themed around the Cell arc.

Lineup

The newest collection was inspired by the final arc of the series, the Buu Saga, expressed in the style of BABY MILO.


The main characters from the series–Goku, Vegeta, Majin Buu, and Piccolo–are all depicted in BABY MILO style. In addition, characters such as Mr. Satan and Uub appear, perfect for more hardcore fans wanting to see lesser-known characters represented.


The lineup includes a coach jacket and hoodie featuring newly-drawn illustrations inspired by the final episode. Don't miss this special collaboration!

Information

A BATHING APE x Dragon Ball Z

Release Date: May 21, 2022
Where to Buy: A BATHING APE Authorized Retailers, BAPE.COM Web Store

For Preorder
Coach Jacket

Preorders start May 21, 2022 (Preorders will end when the item is sold out.)
Item to ship in early July
*Regular items and preorder items cannot be purchased in one order.

Official Site: https://bape.com/pages/dragon-ball-z

XLARGE Releases Dragon Ball Collaboration Collection Featuring Popular Characters

Fashion brand XLARGE has announced a new collaboration to commemorate the upcoming release of Dragon Ball Super: Super Hero in theaters. The film will see the return of the Red Ribbon Army, which Gohan, Piccolo, and other popular characters will have to defeat. Check out the collection below–is your favorite fighter in the lineup?

Collection

XLARGE×DRAGON BALL GOHAN S/S TEE

XLARGE×DRAGON BALL PICCOLO S/S TEE

XLARGE×DRAGON BALL CAPSULE CORP JUMPSUIT

XLARGE×DRAGON BALL ANDROID18 S/S TEE

XLARGE×DRAGON BALL BULMA S/S TEE

XLARGE×DRAGON BALL TRUNKS S/S TEE


The collection includes T-shirts featuring Gohan, Piccolo, Bulma, Android 18, and Trunks. Items will be available online and in select stores nationwide!


Information

XLARGE x Dragon Ball

Online Store
https://calif.cc/blogs/feature/220518xl_dragonball

Lottery: May 18, 12:00 – May 19, 11:59

*Winners to be Announced on May 20, 12:00

ZOZO
https://zozo.jp/shop/xlarge/
Available May 21, 12:00~

Available in-store: 

XLARGE locations nationwide, XLARGE/X-girl locations (excluding outlets)

May 21~

*The XLARGE x DRAGON BALL Capsule Corp Jumpsuit will only be available at the calif online store and ZOZOTOWN.

Dragon Ball Super: Super Hero Film Soundtrack Scheduled for June Release

The Dragon Ball Super: Super Hero film is scheduled to release in theaters on June 11, and the original soundtrack will hit shelves a few days prior, on June 8, 2022.

The film has been a hot topic in recent months. The original story, screenplay, and character design have all been handled by Akira Toriyama, with Tetsuro Kodama directing and Chikashi Kubota serving as animation director. 

The music will be composed by Naoki Sato, a composer who won the Best Music Award at the 29th Japan Academy Awards for the film Always: Sunset on Third Street. The musician has composed music for movies, dramas, and animated films such as Masquerade Night, Rurouni Kenshin: The Beginning, and the historical drama Reach Beyond the Blue Sky. The soundtrack will contain 23 background tracks.

Graniph Releases Items Inspired by Upcoming Dragon Ball Super: Super Hero Film

Japanese apparel brand Graniph has revealed two collaborative t-shirts inspired by the upcoming Dragon Ball Super: Super Hero film! The items are available at the Graniph online store and in select Graniph locations in Japan.

Lineup

'Superhero' T-shirt

'Fusion' T-shirt


The Dragon Ball Super film series has been a huge hit worldwide. The first film, Dragon Ball Super: Broly, was released in 2018. The upcoming film features a completely new story, in which the Red Ribbon Army is reformed and threatening the world yet again. Can our favorite fighters stop the bad guys before they unveil the ultimate evil weapon? Be sure to check out the film when it releases in June, and grab one of these t-shirts to wear to the theater!

ⓒバード・スタジオ/集英社
ⓒ「2022 ドラゴンボール超」製作委員会

Information

Graniph x Dragon Ball Super: Super Hero

Release Date: April 22, 2022

Where to Buy:

Graniph Online Store: https://www.graniph.com
Select Graniff Stores (Excluding some locations for kids)

Special Shop to Open in Tokyo and Kanagawa to Celebrate the Release of Dragon Ball Super: Super Hero

A special pop-up store celebrating the upcoming Dragon Ball Super: Super Hero film is coming to four locations in Tokyo and Kanagawa! The film is scheduled to be released on June 11, 2022, and fans can pick up some exclusive merchandise at Shinjuku Station, Kawasaki Station, Ikebukuro Station, and Akihabara Station. The dates are listed below!

Exclusive Products

Special Bonus

Product Lineup

Shop Displays

The pop-up shop will feature exclusive items decorated with popular imagery from the Dragon Ball series. Fans will also be able to grab some home goods themed around the Capsule House where Bulma lives!

As a purchase bonus, customers spending ¥2,500 or more will receive a special holographic sticker!

Each venue will be decorated, so enjoy taking some photos with your family and friends.

Information

DRAGON BALL POP-UP STORE BY FLOWERING

Locations/Dates: 

Shinjuku Station / April 25 – May 8

Kawasaki Station / May 17 – May 24

Ikebukuro Station / June 1 – June 9

Akihabara Station / June 14 – June 23

Official Site: https://www.jr-cross.co.jp/

Shueisha's Haruman!! 2022 Festival Celebrates Manga this Spring

Shueisha is currently offering a ton of manga for free as part of Haruman!! 2022. The campaign is running until May 15 at participating locations and tons of digital manga series are available for download.

©Shueisha

During Haruman!! 2022, users can read over 305 digital titles for free. This year's theme is 'Manga Festival,' and manga fans can find both recent and classic titles. Why not catch up on some manga history while you can?

A collaboration with the popular VTuber agency Hololive is also underway. One of the group's manga-loving members will be chosen each day to serve as Editor-in-Chief of an original manga magazine.

Popular authors are also commemorating the occasion with new illustrations. Eleven artists from Shueisha's manga department have drawn popular VTubers, and these awesome images are available exclusively on the Haruman!! website.

Stream Date: April 23, 2022

Participants: Shueisha x Hololive Traveling Editorial Department

Streaming Channel: https://www.youtube.com/channel/UCJFZiqLMntJufDCHc6bQixg

©Shueisha

In collaboration with puzzle game creators RIDDLER, 'The Search for the Great Manga King's Treasure' will be held. Pulling inspiration from One Piece, which is currently celebrating 25 years of serialization, fans will have to find clues to solve a massive mystery.

Find your new favorite manga series during Haruman!! 2022.

Information

Haruman!! 2022

Running: April 11 – May 15, 2022

Official Site: https://haruman.jp

Oreo Offering Dragon Ball Goods in New Red Ribbon Army Campaign

On April 18, Oreo launched a campaign in collaboration with Dragon Ball, offering fans to grab some cool merchandise! The campaign is celebrating the upcoming Dragon Ball film set to release on June 11, 2022.

The Red Ribbon Army, once destroyed by Goku, is making its return in the new film Dragon Ball Super: Super Hero! A new character featured in the movie is the genius scientist Dr. Hedo, who eats Oreo-style cookies on screen.

By purchasing Oreo products during the campaign period, fans will be entered to win a film poster and script set autographed by the cast, a mug featuring Dr. Hedo eating Oreos, and an original QUO Pay Card design.

In addition, 1,000 people who take the four-question Red Ribbon Army Certification Test on the official Oreo Twitter account (@Oreojpn) and get all answers right during the campaign will be entered to win a Red Ribbon Army Certification QUO Pay Card! This will feature an original design with Dr. Hedo, Gamma 1, Gamma 2, Magenta, and Carmine. The quiz will change every two weeks, with fans having three chances.


Are you excited about the new film coming this summer?

Custom Shirt Brand Original Stitch Announces One Piece Collection

Custom shirt brand Original Stitch has opened orders for a selection of new One Piece-inspired apparel! This is the first time the brand is teaming up with the beloved manga, and fans will want to get their hands on some of these unbelievable designs that pay homage to the long-running series.

LOOK BOOK

Patterns at a Glance

The new collection features completely original designs based on the motifs of popular One Piece characters, including Luffy's iconic Straw Hat. Each shirt is made-to-order, and customers can choose any fabric and size they like. The lineup also includes bandanas and masks!

 


A total of 30 different designs are available to choose from, with many inspired by the East Blue Saga, the first part of the series. Patterns can also be combined–for instance, the shirt's pockets and collar can have their own unique designs. 

Original Stitch has collaborated with some of Japan's most beloved properties in the past, with Pokemon Shirts becoming a phenomenon worldwide. A special Look Book is available for the new One Piece collection, so flip through and find a pattern that best represents you!

Information

One Piece Shirts Powered by Original Stitch

Release Date: March 16, 2022

How to Order: https://originalstitch.com/jp/onepiece
Available in: Japan, America, Canada, Taiwan, Hong Kong, Singapore, Malaysia, Philippines, India, Indonesia, U.K., Spain, Germany, Italy, France, Australia, etc. (Over 40 countries) 

POP UP STORE
Now Open
Mugiwara Store: Shibuya, Ikebukuro, Abeno, Umeda, Nagoya, Fukuoka, Kumamoto
Official Site: https://www.mugiwara-store.com/

Artist Takashi Murakami and Swiss Luxury Watch Brand Hublot Collaborate on NFT

Swiss luxury watch brand Hublot and top Japanese artist Takashi Murakami have released two pieces of digital NFT artwork inspired by Hublot's 'Classic Fusion Takashi Murakami' watches shown at the international watch exhibition 'Watches & Wonders.'

 

These pieces of digital artwork were inspired by the Classic Fusion Takashi Murakami All Black watch and the Classic Fusion Takashi Murakami Sapphire Rainbow Watch. Both items were released in 2021 and marked the first collaboration between Hublot and a Japanese artist. These two watches were released in quantities of 200 and 100 pieces, respectively, and both sold out in only a few days.


The collaboration includes two pieces of digital artwork featuring smiling flowers, a symbolic theme of Murakami's work and the Superflat art movement. There are 216 digital art pieces inspired by the All Black watch and 108 pieces inspired by the Sapphire Rainbow watch. These NFTs are primarily intended for current owners of the two limited-edition watches. Current watch owners must apply for the NFT between April 1 and April 25.


But don't worry: these NFTs will also be available to the public in limited quantities in May 2022!