Dragon Ball Z Clothing and Accessory Collection to Drop in Collaboration With BAPE®
A BATHING APE® is teaming up with Dragon Ball Z to release a special collaborative collection of attire and accessories on June 27, 2020 at all BAPE STORE® branches in Japan, BAPE.COM, and ZOZOTOWN.
BAPE® last collaborated with Dragon Ball for the release of the hit anime film Dragon Ball Super: Broly. The design for the the new collaboration takes inspiration from the company's mascot character BABY MILO®.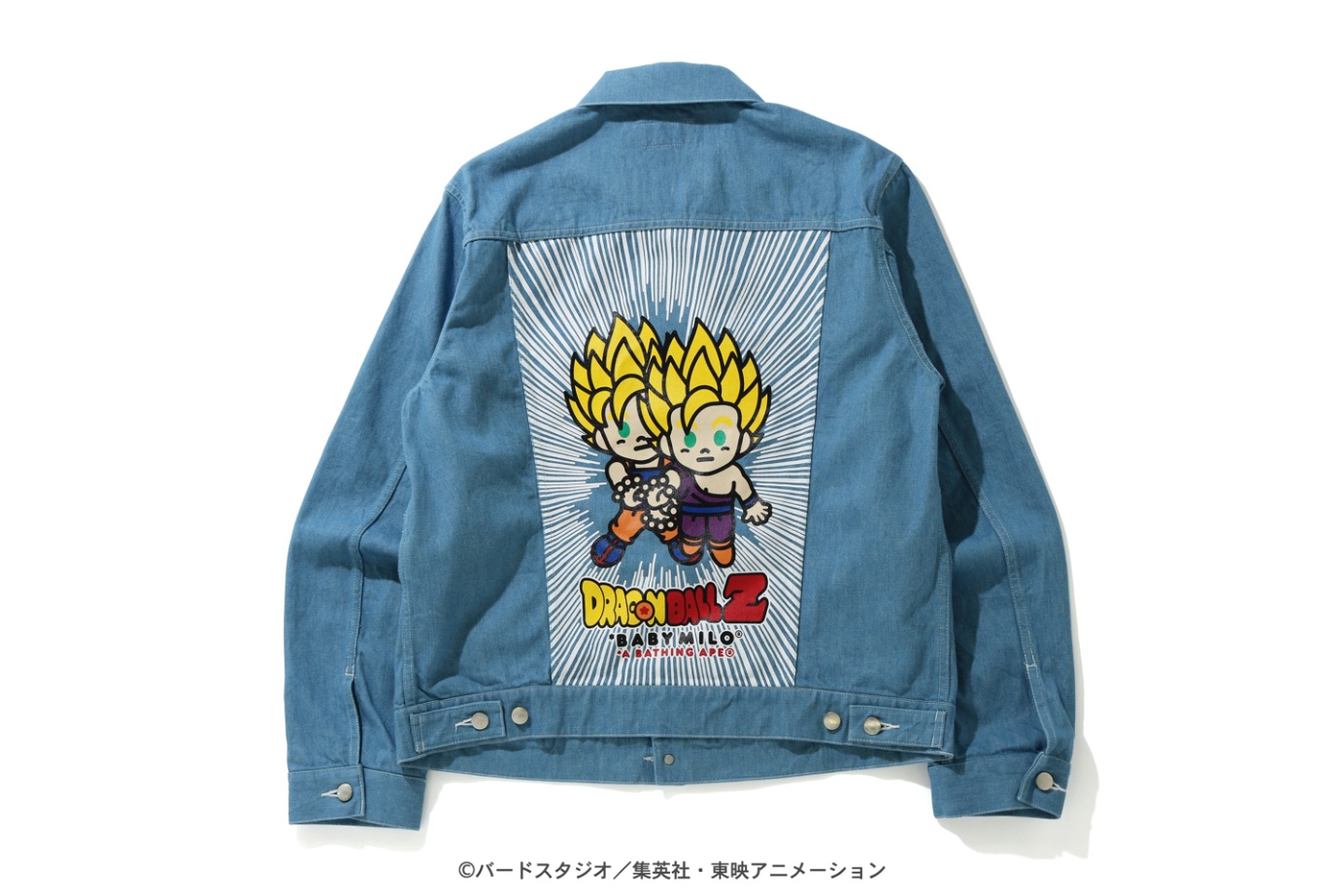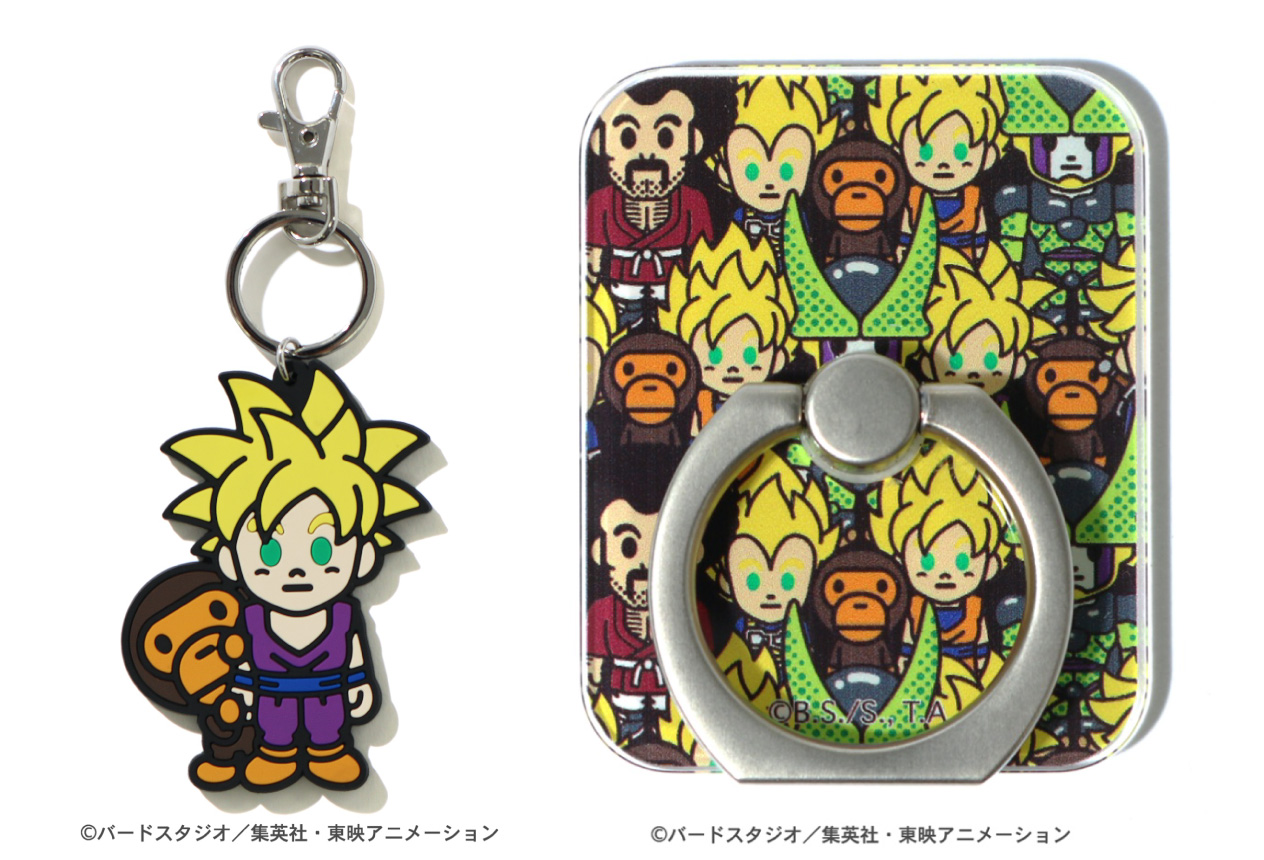 The collection includes a T-shirt, hoodie, denim jacket, and other must-grab items.
RELATED ENTRIES
A Bathing Ape Reveals BAPY® 'Homely Romance' 2020 Autumn/Winter Collection

A Bathing Ape brand BAPY® released  its "Homely Romance" themed 2020 autumn/winter collection on Tuesday (September 8)which takes inspiration from clothes worn in classy Victorian era residences.

The collection weaves a contemporary silhouette onto its luxury line, which includes a poplin shirt, lace denim dress, and more.


Prints include checked, which is a winter essential, as well as Renaissance-style wallpaper, both of which enhance the theme of the line. The BAPY® brand logo is branded on with pearls and rhinestones to give an elegant touch to each item. The items also incorporate satin and chiffon to preserve comfort and add that high quality feel.

The chic knitted jumper is the perfect choice for wintertime. It has frills on the sleeves and shoulders, and the buttons are concealed by the satin to further elevate that elegance. Its coloured in caramel and mint green and branded with the "B" logo.

The collection was released at the BAPY® Harajuku store on September 8, 2020.

Japanese street fashion brand A BATHING APE® is collaborating with Clarks Originals—a luxury footwear company founded in the UK in 1825—for the first time to release a new shoe collection at BAPE® stores in Japan, their official website, and the official Clarks online store on August 8, 2020.

Clarks Originals combine traditional British shoe manufacturing craftsmanship with innovative techniques. The popular shoes can be credited with helping to establish street culture. Their iconic Wallabees and Desert Boots are considerate of the brand's roots while still adapting to contemporary society and fashion. Now, Clarks Originals is coming together with A BATHING APE® for the very first time.

The collaboration celebrates the 70th anniversary of iconic Clarks's Desert Boots which were first released in 1950. The boots feature branding from both companies with original details laced through the designs.

The Wallabees design features lightweight shark outer soles with the upper featuring BAPE's® classic camouflage print and Charles F. Stead suede leather. The Desert Boot design has different BAPE® artwork printed on both leather uppers.

Modelling the footwear in the promotional material is professional footballer Raheem Sterling who plays for Manchester City.

These collaborative shoes from two instantly-recognisable brands are must-gets for your wardrobe.

Dragon Ball Confections Kamehameha Into FamilyMart Convenience Stores in Japan

Character-inspired Japanese confectionery series Tabemas has revealed that its next batch of sweet treats are Dragon Ball Super inspired. The sweets were released at FamilyMart convenience stores in Japan on July 28, 2020.

'Tabemas' is an abbreviation of the Japanese words taberareru masukotto, meaning 'mascots that you can eat.' It is a Japanese confectionery series that combines well-known characters and Japanese sweets made from ingredients like red bean paste, sugar and rice flour. The sweets are also made with a dough called "nerikiri" which is used in making traditional Japanese wagashi sweets.

Tabemas Dragon Ball Super: ¥369 Before Tax | 1 set of 2

The confection designs include the iconic Dragon Balls from the series up to Seven-Stars, as well as Shenron.

Shenron is matcha-flavoured. Using nerikiri dough, Tabemas has brought the dragon god to life with his iconic red gaze, whiskers, and tail. Each of the seven Dragon Balls are filled with custard cream. One set of these confections comes with both Shenreon and one of the Dragon Balls, so fans can enjoy both flavours.

As well as all of the seven Dragon Balls, there are two secrets ones too. What exactly they are requires a trip to FamilyMart.

©Bird Studio/Shueisha・Fuji TV・Toei Animation

Information

Tabemas Dragon Ball Super
Released: July 28, 2020

Available: At the chilled desserts section of FamilyMart convenience stores in Japan

*Available while supplies last

*Stock date may differ from branch to branch

*Select stores not participating

Official Website:  https://www.bandai.co.jp/candy/tabemas/dragonball/

A BATHING APE® and COMME des GARCONS to Release Second Exclusive Collection

A BATHING APE® and COMME des GARCONS have joined hands once again to release a new collection which will be exclusive to BAPE STORE® COMME des GARCONS Osaka from July 23, 2020.


After the opening of the new BAPE STORE® COMME des GARCONS Osaka store and the relocation and revamp of COMME des GARCONS Osaka in April this year, followed by the successful first collaboration between the two brands last month, BAPE STORE® COMME des GARCONS Osaka is announcing an exclusive new limited collection.

Motifs of the two brands were incorporated into the first collection to create the COMME des GARCONS CAMO.

This time around, designs have been made simpler and chic, with the familiar APE HEAD and COMME des GARCONS branded on the line-up which includes a T-shirt, long-sleeve striped T-shirt, and a zip-up hoodie.


The simple designs make this collection versatile and therefore makes each item enjoyable for pretty much any occasion. Like the first collaboration, the labels have been custom made too, lending a premium feel to the collection.。

This is a collection not to be missed, forged by the minds of A BATHING APE® and COMME des GARCONS.

One Piece and Dragon Ball Z Design Watches Released by G-SHOCK

CASIO G-SHOCK has announced a collaboration with the popular anime series One Piece and Dragon Ball Z, with watch designs for each show releasing in July and August respectively.

GA-110JOP: ¥26,400 (Tax Included)

The GA-110JOP One Piece watch uses the popular GA-110 model G-SHOCK which has a distinct big case. It's covered in a black base colour and features an illustration of Luffy strong and grown up. At 9-o'clock is a motif of Luffy's straw hat, while at 3-o'clock is the word "WANTED." Additionally, when the hour and minute hands both strike 2-o'clock and 4-o'clock, they combine with slanted golden lines to create the "X" shape that Luffy has on his chest.

The back cover features the "G-SHOCK x One Piece" logo.

GA-110JDB: ¥26,400 (Tax Included)

Like the One Piece watch, the Dragon Ball Z one also uses the GA-110 model and is coloured in that iconic DBZ orange. The design is inspired by Goku going through training to become stronger. The lettering and logo is gold for accent. At 9-o'clock is the Four-Star Dragon Ball while at 3-o'clock is the letter "Z."

On the back cover of this one it features the Dragon Ball Z logo.

Both watch designs will for sure be appreciated by fans for their detailed designs and references.

Information

GA-110JOP
Release Date: July 2020

GA-110JDB
Release Date: August 2020

Jump Force Deluxe Edition Arrives On Nintendo Switch This August

The Deluxe Edition of Spike Chunsoft's fighting game Jump Force published by Bandai Namco Entertainment is set to hit Nintendo Switch on August 27, 2020.

Jump Force is a fighting game that brings together a roster of over 50 characters from popular series the manga magazine Weekly Shonen Jump such as One Piece, Naruto, Dragon Ball, and many more. The game pits the characters in real world locations like New York and Matterhorn and has players battle it out.

The new trailer showcases some of the unique gameplay features which Nintendo Switch players will be able to enjoy, such as being able to play six-player local multiplayer games. The Nintendo Switch edition is packaged with the full game plus Character Pass 1 which introduces nine new characters into the long roster.

Those who pre-order the physical edition of the game will receive three One Piece, Dragon Ball, and Naruto avatar costumes and Frieza's pod as pictured below.

©JUMP 50th Anniversary
©BANDAI NAMCO Entertainment Inc. ©2017 Nintendo

Information

JUMP FORCE DELUXE EDITION Nintendo Switch™
Release Date: August 27, 2020
Platform: Nintendo Switch™
Official Website: https://www.bandainamcoent.com/games/jump-force

*Nintendo Switch and the Nintendo Switch logo are trademarks of Nintendo.

*YouTube is a trademark Google LLC.

Get Your Hands On BAPE® and COMME des GARCONS' New Collaboration Collection

Japanese fashion label COMME des GARCONS OSAKA moved to Midosuji in Shinsaibashi, Osaka in April and had a brand new interior makeover. The interior was designed by world-leading fashion designer Rei Kawakubo, who founded COMME des GARCONS in 1969.

The shop is completed with a BAPE STORE® located on the floor 1, earning its name BAPE STORE® COMME des GARCONS OSAKA. A BATHING APE® (BAPE®), which sprouted in Tokyo in 1993, continues to set the latest fashion trends which are compatible with a range of fashion styles from around the world.

The opening of the two new shops will be celebrated on June 20, 2020 with the release of the brands' first ever collaboration items.

The new collection incorporates BAPE®'s original "CAMO" design with both brand names. The new "COMME des GARCONS CAMO" items mark a significant moment in BAPE®'s history. The collection includes specially-made name tags and both brand logos to boast the collection's premium-quality design.

The compressed "shrink T-shirts", which is one of BAPE®'s most iconic items from the 90's, will also be released. These shirts are compressed to fit in the palm of your hand and became a famous collector's item among BAPE® fans. From spray cans to blaster guns, various shapes of these "shrink T-shirts" were developed. For this collaboration, the shirts are in the shape an ape's head.

BAPE STORE® COMME des GARCONS OSAKA's exclusive collection will be launched on June 20, 2020 so don't miss out!

Information

How to purchase from the collection

If you wish to purchase something from this collection, you need to fill out a lottery form. 

Form link: https://forms.gle/Nb9pDVEXCBKfbcGF7

Participation Period: June 16, 2020 (11:00am) ー June 18, 2020 (3:00pm)

*You can apply via this lottery during the dates and times stated above.

* It may not be possible to use a mobile phone email address to take part.


Terms and Conditions

・ Only those who have been selected will receive a numbered admission ticket or potential admission ticket by e-mail.
・The admission ticket does not guarantee purchase. Please note that even if you have an admission ticket, you may not be able to purchase your desired product.
・After all the customers with numbered admission tickets have entered the store, those who have the potential admission tickets will be allowed entry. Customers with potential admission tickets may not be able to purchase products.


・You will be asked to present a form of photo ID (passport, driver's license, or my number card) and your submitted lottery form. You must present your photo ID to make a purchase.
・Only one item per model can be purchased per person. Please note that no returns or exchanges can be made after purchase.
・Sales will be refused to anyone who causes trouble, fails to follow the instructions of security guards and staff, or attempts to make a purchase on behalf of someone else.



Collection Launch Date: June 20, 2020

BAPE STORE® COMME des GARCONS OSAKA

Floor 1 COMME des GARCONS OSAKA, 4-4-21, Minamisenba, Chuo Ward, Osaka

Special Edition Website: https://bape.com/apps/special/commedesgarcons/

BAPE® Releases Face Mask Case For Storing Your Mask

A BATHING APE® released its new face mask case on Saturday (May 23) for people to hygienically put away their face masks, whether to store away or for on the go. The cases will be given to everyone that purchases something from the BAPE STORE® or BAPE.COM in Japan.

The case features BAPE's iconic APE HEAD design. It's made from PVC and so can be hand washed so people can safely and hygienically store their face masks. The case can of course be used to store hand sanitiser or hand wipes too.

Information

BAPE® MASK CASE

Release Date: Saturday, May 23rd, 2020
Available: BAPE STORE® and BAPE.COM in Japan to all customers. One case per transaction. Available while supplies last.

Product Page: https://bape.com/blogs/news/bape-mask-case

Coca-Cola to Release New Bottle Designs in Collaboration With BAPE®

Coca-Cola System is joining monkey paws with A BATHING APE® to release two new bottle designs in limited quantities throughout Japan on May 25.

The designs come as part of Coca-Cola's slim bottle line which was first released in Japan back in 2015. This is the first time the slim bottles have collaborated with a fashion brand. There are two designs: the classic BAPE® ape and BABY MILO.

Left: Coca-Cola Slim Bottle BAPE® Design / Right: Coca-Cola Slim Bottle BABY MILO Design

A BATHING APE® has collaborated with Coca-Cola in Japan twice in the past since 2014. The slim bottles are 250ml for that quick refreshing hit, and are made from aluminium to keep your drink cold. It features the same stylish shape as Coca-Cola's glass contour bottles.

Coca-Cola's bottles have high design concepts having collaborated with the Olympics and FIFA World Cup, and in Japan they release seasonal bottles as well as bottles with tourist hot spots.

Information

Coca-Cola Slim Bottle BAPE® Design

Coca-Cola Slim Bottle BABY MILO Design
Release Date: May 25, 2020
Official Website: https://www.cocacola.jp/

A BATHING APE® is set to open preorders for brand new products on their official online shop BAPE.COM. BAPE® items exclusive to the official online shop that drop every Saturday will now be available on Fridays. Customers refraining from visiting the store in person can take advantage of BAPE®'s free shipping campaign which has been extended until May 11, 2020.

The latest news and updates on BAPE®, AAPE, BAPY®, BABY MILO® STORE, online store-limited items and much more can be found on A BATHING APE®'s official online shop.

Information

BAPE STORE® To Open in COMME des GARCONS in Osaka's Luxury Brand Hotspot

Japanese fashion label COMME des GARCONS OSAKA has moved to Midosuji in Shinsaibashi, Osaka and is set for its grand opening on April 3, 2020. 

The first floor will be occupied by BAPE STORE® (A BATHING APE®), making it the first ever COMME des GARCONS to house a BAPE STORE®. 

COMME des GARCONS was founded by world-famous fashion designer Rei Kawakubo in 1969. Besides developing a number of world famous brands such as COMME des GARCONS HOMME PLUS, she also founded the multi-brand retailer DOVER STREET MARKET GINZA, becoming a key figure in the world's leading fashion. As the second largest city in Japan after Tokyo and the largest in west Japan, Osaka has remained the economic and cultural epicentre of the Kansai region for centuries. Kawakubo's latest step in the world of fashion is the brand new opening of BAPE STORE® COMME des GARCONS OSAKA along Midosuji street, Shinsaibashi – a main street of central Osaka which is a hotspot of luxury designer shops. 

 

Last year, BAPE STORE® opened in Kyoto, marking a year since BAPE STORE® opened in the Kansai region. The interior of BAPE STORE® COMME des GARCONS OSAKA was done by Rei Kawakubo. This atmosphere and design is completely different to existing BAPE® stores and will also sell limited COMME des GARCONS and A BATHING APE® collaboration merchandise that are not available anywhere else.

If you're in Osaka and love high-end fashion, the brand new BAPE STORE® COMME des GARCONS store and its limited merchandise is worth checking out. 

BAPE STORE®

Information

BAPE STORE® COMME des GARCONS OSAKA

Address: Floor 1 COMME des GARCONS OSAKA, 4-4-21, Minamisenba, Chuo Ward, Osaka

Grand Opening: April 3, 2020

Items Release Date To Be Confirmed.

Special Edition Website: https://bape.com/pages/cdg_osaka/

Dragon Ball Z Desk Tool Collection Releasing in Collaboration With DyDo Drinks

To celebrate the release of their two new drinks, DyDo DRINCO, Inc. is collaborating with Dragon Ball Z to release a unique collection of convenient tools for computer desks. They will be released together with the drinks in limited quantities from March 9, 2020 at convenience stores and volume sellers across Japan.

*Pete Licata, 14th World Barista Championship Champion

①Super Saiyan Goku – Card Stand / ②Great Ape Vegeta – Cotton Swab Holder / ③4th Form Frieza – Eye Drop Stand / ④Raditz – Pen Stand / ⑤Captain Ginyu – Mechanical Pen Refill Stand / ⑥1st Form Cell – Clip Holder / ⑦Majin Buu – Phone Stand

Seven different tools will be sold, each a model of popular characters from Dragon Ball Z. They not only decorate your desk space, but also tidy it up and make things more convenient.

These are the perfect gift to all Dragon Ball Z fans as well as anime fans who like to nerd-up their desks!

©Bird Studio/Shueisha・Toei Animation


Information

Information

Dragon Ball Z Desktop Tool Collection

Release Date: March 9, 2020 (While supplies last)

Target Products:

①DyDo Blend Low Sugar Sekaiichi no Barista Kanshu (260ml) – ¥130 (Before Tax)

②DyDo Blend Black Sekaiichi no Barista Kanshu (275ml) – ¥124 (Before Tax)

Available: At convenience stores and volume sellers in Japan