Tell the Time With the Kawaii New Hello Kitty KAORU Wristwatches
Japanese watchmakers MARUZEKI released a new collection of Hello Kitty wristwatches as part of their KAORU model series on June 27, 2020.
KAORU x Hello Kitty Sweets Collaboration: ¥4,180 (Tax Included)
MARUZEKI's "KAORU" watches are inspired by aromatherapy, implementing a world-first concept that lets the wearer enjoy their favourite fragrances on the go. Designed and created with Japan's state-of-the-art materials and technology, the Hello Kitty collection of 3 watches come with vanilla, strawberry, and coconut scents.
The 'Vanilla White' fragrance is like a waft of sweet candy. It's a popular scent seen in products, and uses a mix of aroma oils and perfumes to create the uplifting fragrance. The watch face has an illustration of Hello Kitty enjoying a cup of tea.

'Strawberry Pink' is inspired by strawberry milk and strawberry shakes. They recommend this one if you're wanting a change of pace. This clock face has Hello Kitty enjoying some apple pie and talking on the phone.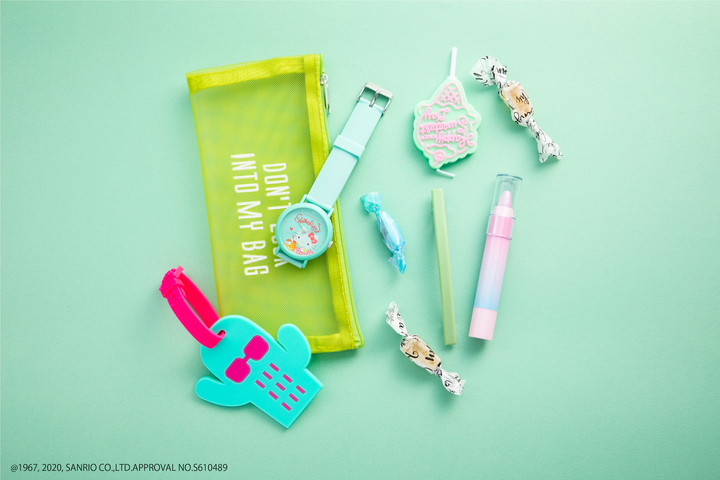 'Coconut Mint Green' is a relaxing blend of coconut and passion fruit. Hello Kitty is dressed adorably as a mother making an apple pie for this design.

The watches are packaged in special boxes with a cute pop-up Hello Kitty inside like that of a picture book. This itself serves as kawaii decoration, and makes for a great gift to someone (or yourself!)
RELATED ENTRIES
Go Strawberry Picking With Hello Kitty and Friends at Sanrio Puroland

Sanrio Puroland opened a special new event last Friday (January 8) called "Sweets Puro" which is themed on strawberry picking.

Characters greet guests in their strawberry-designed outfits

Guests participate in an augmented reality strawberry stamp rally

New character videos play at the illuminations

A strawberry-packed dessert menu

Limited-edition merch

Tables in the food court receive makeovers

Guests can look forward to seeing sparkly new pink-coloured illuminations, snapping sweet photos at the entrance photo spot, getting involved in the AR strawberry picking stamp rally using their smartphones, and more. They can also pay to spend one minute with the park characters who will be dressed in their strawberry outfits, and if they arrive 30 minutes before the first floor character food court opens, they can get the limited-offer morning breakfast "Strawberry Morning Bread Set." The park will even be serving up seasonal alcoholic drinks like the Sweets Puro Strawberry Peach Sour.

The first day of the event saw the characters come out to greet guests in their adorable strawberry and dessert themed costumes. This was followed by a new illumination show, Puro Sweets Party, which took place at Puro Village, and My Melody sang and danced to the music against the bright and beautiful lights. Guests enjoyed a selection of limited-time food like the Pompompurin's Croissant Doughnut Strawberry Sandwich and Hello Kitty's Sweet Strawberry Milk.

©1976, 2009 SANRIO CO., LTD. ©1975, 1976, 1990, 1996, 2001, 2004, 2005, 2010, 2017, 2021 SANRIO CO., LTD.

Information

Sanrio Puroland – "Sweet Puro"
Running: January 8, 2021 – March 9, 2021
Official Website: https://www.puroland.jp

Tomica x Sanrio Adds Badtz-Maru and Pekkle to Toy Car Series

Takara Tomy is set to release its second batch of toy cars in collaboration with Sanrio as part of its Tomica mini car series on January 16, 2021. The collection will be released at toy stores, department stores, Tomica branches, Takara Tomy's online site, select Sanrio stores, Sanrio's official website, and elsewhere in Japan.

Dream Tomica Sanrio Characters Collection 2 (6 Designs) | ¥770 Each (Before Tax)


Hello Kitty


Cinnamoroll


Pochacco

Pompompurin

Badtz-Maru

Pekkle

The first collection was released last year as a collaboration between Tomica, which has turned 50 years old, and Sanrio Characters, which has been on shelves since the 1980's. There are six cars in the collection which can be bought individually or as a set for ¥4,200 (before tax).

Get your hands on these cute cars inspired by the Sanrio characters.

© '76, '89, '90, '93, '96, '01, '21 SANRIO CO., LTD.

© TOMY

Limited-Edition Emerald Blue Sailor Moon Eternal Wristwatch Released in Japan

Citizen Watch brand wicca released a new emerald green wristwatch to commemorate the release of the new anime film Sailor Moon Eternal. The item was released exclusively on PREMICO's online shop in Japan on January 6, 2021, with a limited stock of just 3,000.

Wicca x Sailor Moon Eternal Special Collab Watch | ¥29,800 (Before Tax)

The watch features intricate nods to the film such as a crescent moon at the 12-o'-clock mark with a rhinestone, Pegasus and white wings on the bottom half, an emerald blue round face, the Crystal Carillon on the 6-o'-clock mark, and more.

The mesh strap is pink and gold to complete the a beautiful and feminine appearance. And since only 3,000 have been made, each watch also has its own Edition Number engraved into it. The watches are packaged in special gold leaf box with a Swarovski® crystal on it.

©武内直子・PNP/劇場版「美少女戦士セーラームーンEternal」製作委員会

Swarovski® is a registered trademark of SwarovskiAG.

Maison de FLEUR x Sanrio Reveal Kawaii Bag Collection For Second Collaboration

Lifestyle brand Maison de FLEUR and Sanrio have announced that preorders for the second collaboration in their "Maison de FLEUR×Sanrio characters" series will launch on Sanrio's online shop on January 8, 2021.

Ribbon Tote Bags (5 Designs) | ¥6,050 Each (Tax Included)

The cute collection combines fancy frills and ribbons with items inspired by My Melody, Cinnamoroll, Kuromi, as well as two new additions for this second collaboration due to fan demand – Pompompurin and Pochacco.

Items include the Ribbon Tote Bag, Ribbon Backpack, Mobile Shoulder Bag, and Tissue Pouch. Pre-orders run in Japan from January 8 to February 7 with shipping to begin in early March. The collection will subsequently go on general sale at Sanrio stores in late May. Further information will be announced by Sanrio at the end of April.

Ribbon Backpacks (3 Designs) | ¥12,100 Each (Tax Included)


Mobile Shoulder Bags (3 Designs) | ¥5,390 (Tax Included)

The collection is inspired by a tea party which is captured in the fancy designs featured on each item with the five characters enjoying themselves a cup of tea each.

Tissue Pouches (3 Designs) | ¥3,630 (Tax Included)


Mascot Charms | ¥2,970 (Tax Included)

The mascot charms will also make a return this collaboration at select Sanrio shops and the company's online store in late May 2021.

Alternate Colour Mascot Charms (5 Designs) | ¥2,970 (Tax Included)

Sanrio fans can also get their hands on another set of mascot charms with different colours. These will be sold exclusively at Maison de FLEUR stores in Japan and their online shop STRIPE CLUB.

ⓒ'76, '89, '96, '01, '05, '20 SANRIO 著作(株)サンリオ

Sanrio Puroland Announces the Park's First Magic Leap Attraction

Sanrio Puroland has announced that its first-ever attraction using Magic Leap 1 technology will open for a limited time from January 15 to February 14 next year.

Magic Leap 1 is a wearable spatial computer that brings the physical and digital worlds together as one. Puroland guests can look forward to an immersive experience together with their favourite characters including Hello Kitty, Cinnamoroll, and more.

Hello Kitty inside the attraction

Cinnamoroll inside the attraction

Free pins for those who participate

Have a go at Hello Kitty's Space Shooting, a digital shooting game which will earn you a free pin depending on the score you get.

Hello Kitty's Space Shooting


Cinnamoroll's Decoration Cafe lets you put up decorations together with Cinnamoroll using an original collection of stamps. Once you've finished decorating, you can take a photo and download it onto your phone.

Original photo frame

Cinnamoroll's Decoration Cafe

If you get to visit Sanrio Puroland in the New Year, be sure to try out the park's new limited-time attraction.

©1976, 1990, 2001, 2005, 2010, 2020 SANRIO CO., LTD. ©2013, 2020 SANRIO CO., LTD. S/D・G

*MAGIC LEAP is a trademark of Magic Leap, Inc.

Doraemon Design Wristwatch Releases For Manga Character's 50th Anniversary

Customisable watch brand UNDONE released a new collection of wristwatches in Japan on Tuesday (December 15).

Special Doraemon 50th Anniversary Series

The celebratory line-up commemorates Doraemon's 50th anniversary and includes limited quantity models, customisable made-to-order models, and more, each with references to the beloved series.

50TH ANNIVERSARY

50TH ANNIVERSARY (Limited to 150 models) | ¥39,600 (Tax Included)

The '50TH ANNIVERSARY' model features an illustration of Doraemon as seen in the early days of the manga series.

The early artwork of Doraemon is nothing short of adorable

Back of wristwatch features vintage style design

FRIENDSHIP

FRIENDSHIP (Limited to 150 models) | ¥39,600 (Tax Included)

Best friends Nobita and Doraemon come together for this special design.


Spot Doraemon's tiny bell at 12-o'clock

Doraemon and Nobita on the back side

The watch has simple white dials, and it has a function where it lights up at night to reveal Doraemon and Nobita. The design captures the beauty of the pair's everlasting friendship.

THE BELL

THE BELL (Customisable Model) | ¥29,700 (Tax Included)

This cute watch just screams Doraemon's design with its colouring and his iconic bell in the centre.


The bell turns as the hands go around

Doraemons everywhere on the back side

This watch is customisable with various different designs. If you look closely at the 50-minute mark you'll see a red dot representing Doraemon's tail. It's also a nod to his 50th anniversary.

©Fujiko-Pro APPROVAL NO.S611617

Couture Brooch Collaborates With Hello Kitty To Release Adorable Bags, Pouches and More

Ladies fashion brand Couture Brooch collaborated with Sanrio's most popular character Hello Kitty to release a new line of adorable fashion items which were released on December 11, 2010.

The new line includes a total of six different items with original designs by Couture Brooch including bags, pouches and smartphone cases. All items in the series feature Hello Kitty's signature ribbon motif. This is the perfect port of call when looking for a Christmas present for someone who loves cute designs. The ribbon afro Hello Kitty image is an original collaboration design and cannot be purchased anywhere else.


The collaboration items were released on Couture Brooch's official website on December 11. From December 16, the items will be available in shops across Japan and at selected Sanrio shops.

Make the most of a kawaii ribbon look with these adorable Hello Kitty collaboration items.

Sanrio's My Melody, Pompompurin, and Little Twin Stars Keep Your Face Masks Safe

Sanrio released pre-sales of its new Sanrio Characters Mask Bags for face masks via the online shop Asunarosha on Wednesday (December 9).


Following the success of the Hello Kitty and Cinnamoroll face mask bags released in September, all of which sold out, Sanrio is adding new designs into the mix. The bags are washable and allow you to carry your mask around conveniently and hygienically.

My Melody, Pompompurin, Little Twin Stars (Kiki & Lala) | ¥700 Each (Before Tax)

The new designs include the popular characters My Melody, Pompompurin, and Little Twin Stars (Kiki & Lala).


Hello Kitty, Cinnamoroll | ¥700 Each (Before Tax)

Hello Kitty and Cinnamoroll are also making a return so fans can pick from 5 different designs.

Sanrio Puroland is also releasing a cute collection of face mask and mask cases on December 18.

©1976, 1996, 2001, 2020 SANRIO CO., LTD.

Hello Kitty and Dear Daniel Winter Doughnuts to be Served at Floresta

Floresta Nature Doughnuts, a doughnut cafe that hand-makes doughnuts using organic ingredients, is baking up Hello Kitty and Dear Daniel doughnuts this Christmas from December 11 to 25. They will be served in-store at be available to order online in Japan.


Floresta Hello Kitty & Dear Daniel Christmas Doughnuts | ¥450 Each (Before Tax)

Both ring-shaped doughnuts are covered in a chocolate coating with Dear Daniel's made with organic matcha and Hello Kitty's with strawberry powder made from strawberries grown in Japan. The doughnuts are dusted with organic coconut flakes to look like snow and are decorated with the Star of Bethlehem.

These two doughnuts are naturally sweet and are the perfect kawaii treat to indulge in for this year's Christmas in Japan.

©'76,'99,'20 SANRIO APPR.NO.L610318

Sanrio's Little Twin Stars Kiki & Lala Light Up Shinjuku With TWINKLE COLOR CHRISTMAS Illumination Event

Sanrio's beloved character pair Kiki & Lala, also known as the Little Twin Stars, are hosting a special winter event titled "TWINKLE COLOR CHRISTMAS" at Shinjuku Southern Terrace from December 1 to 25, illuminating the area with beautiful Christmas lights, as part of their 45th anniversary.

Kiki & Lala's twinkling Christmas tree magical in the daytime and night time

The towering 4-meter tall Christmas Tree is decorated in countless mirror balls which reflect beautifully both during the day from the sun and at night with Kiki & Lala's illuminations. A special light show is also taking place from 16:30 each day with Christmas songs.


Decorated around the tree are Kiki & Lala neon signs and pastel-coloured adornments.

Those unable to visit Shinjuku this Christmas can access the "TWINKLE COLOR CHRISTMAS AR TREE" digitally This will have Kiki & Lala's Christmas tree appear on your phone when taking photos. You can access it here.

Kiki & Lala treats at the Sanrio Cafe Wagon

Limited time menu

45th Anniversary Items

On weekends, as well as from December 19 up to Christmas Day, a food wagon will make an appearance at the event serving Kiki & Lala food and drink like the pink and fruity Ruby Chocolate Latte and fruit-filled Twinkle Crepe.

©'76,'20 SANRIO 著作(株)サンリオ

Information

Little Twin Stars x Shinjuku Southern Terrace TWINKLE COLOR CHRISTMAS
Running: December 1, 2020 – December 25, 2020
Tree Light-Up Schedule: December 1 = 17:00-24:00 / December 2-24 = 16:30~24:00 / December 25 = 16:30-21:00
Address: 2-2-1 Yoyogi, Shinjuku, Tokyo
Entry: Free
Official Website: https://www.sanrio.co.jp/news/ts-odakyu-twinkle-color-christmas-20201119/

Sanrio's Little Twin Stars Get Themed Cafe in Osaka This Holiday Season

Sanrio's popular characters Kiki & Lala, also known as the Little Twin Stars, are getting their own themed cafe which will open for a limited time at the Fruits Parlor & Bakery Season & Co. in LINKS UMEDA in Osaka From December 3, 2020 to January 24, 2021.

The cafe will serve up a variety of menu items inspired by the Little Twin Stars as well as sell related merchandise. There will also be a photo spot for taking cute pictures, and a special dessert assortment made in collaboration with the popular artist Dream Ami which includes a parfait made up of their favourite sweet treats.

Cafe Menu (Prices Listed Before Tax)

Menu ①: December 3, 2020 – December 25, 2020


Little Twin Stars Shortcake (X'mas Ver.) | ¥1,900


Kiki's Shooting Star Sweets Parfait | ¥1,600

Menu ②: December 26, 2020 – January 24, 2021


Little Twin Stars Tart | ¥1,700


Lala's Shooting Stat Sweets Parfait | ¥1,700

Drinks Menu (Excerpt) (Available Throughout Collaboration)

Little Twin Stars Strawberry Tea Latte | ¥1,000

Dream Ami's Special Collaborative Menu (Available Throughout Collaboration)

Dream Ami×Little Twin Stars Star Sweets 2020 2,100円

Customers who spend more than ¥1,000 (before tax) on merchandise at the cafe will also receive a free A4 folder. These are available while supplies last.

Dream Ami's collaborative dessert looks both cute and delicious and definitely worthy of being on a Little Twin Stars menu!

Information

Little Twin Stars Collaborative Cafe
Running: December 3, 2020 – January 24, 2021
Location: Fruits Parlor & Bakery Season & Co.
Address: LINKS UMEDA (Floor 1F), 1-1 Ofukacho, Kita-ku, Osaka-shi, Osaka
Opening Hours: 9:30-22:00 (Last Orders 21:30)
TEL: 06-6743-4212

Official Website: https://season-co.shop

Seiko to Drop New Pokémon Watch Collection | MOSHI MOSHI NIPPON

Seiko is teaming up with Pokémon to release four limited-edition watches on December 11, 2020. Each model will be available to buy from Seiko in Japan.

Pikachu Icon Design Model SCXP175 | ¥30,800 (Tax Included)

The Pikachu Icon Design Model SCXP175 features a modern design with a yellow dial and black Pikachu silhouette. Pikachu's tail is used as the watch hands, underneath which is a nod to Pikachu's effectiveness as a lighting-type Pokémon against water-types. The watch has a leather strap with Pikachu's paw prints running down it.

Pikachu Green Model SCXP177 | ¥30,800 (Tax Included)

The Pikachu Green Model SCXP177 features a green dial inspired by Pikachu running through Viridian Forest. The second hand also has Pikachu's tail and the leather strap has Pikachu's paw prints.

Eevee Model SCXP179 | ¥30,800 (Tax Included)

The cute Eevee Model SCXP179 has coloured dots for the hours which represent Eevee's nine different evolutions. The leather strap has Eevee's paw prints.

Mewtwo Model SCXP181 | ¥30,800 (Tax Included)

The Mewtwo Model SCXP181 is purple to represent the Psychic-type Legendary Pokémon Mewtwo. The leather strap reads "Pokémon" on it.

There are three different underside designs featuring a closed Poké Ball, an open Poké Ball, and a closed Great Ball.


Each watch comes in a special box and with an additional nylon strap, which you can swap out with the leather one, as well as a Poké Ball design cloth.

©Nintendo・Creatures・GAME FREAK・TV Tokyo・ShoPro・JR Kikaku ©Pokémon