Witness 10,000 Sunflowers Bloomed in the Fields of Yokosuka Soleil Hill in Kanagawa
The sunflower season is set to bloom on Soleil Hill, a park in Yokosuka, Kanagawa, from mid July to late August where approximately 10,000 bright yellow sunflowers will shine across the 5,000㎡ rolling expanse. And it's free to enter.
Yokosuka Soleil Hill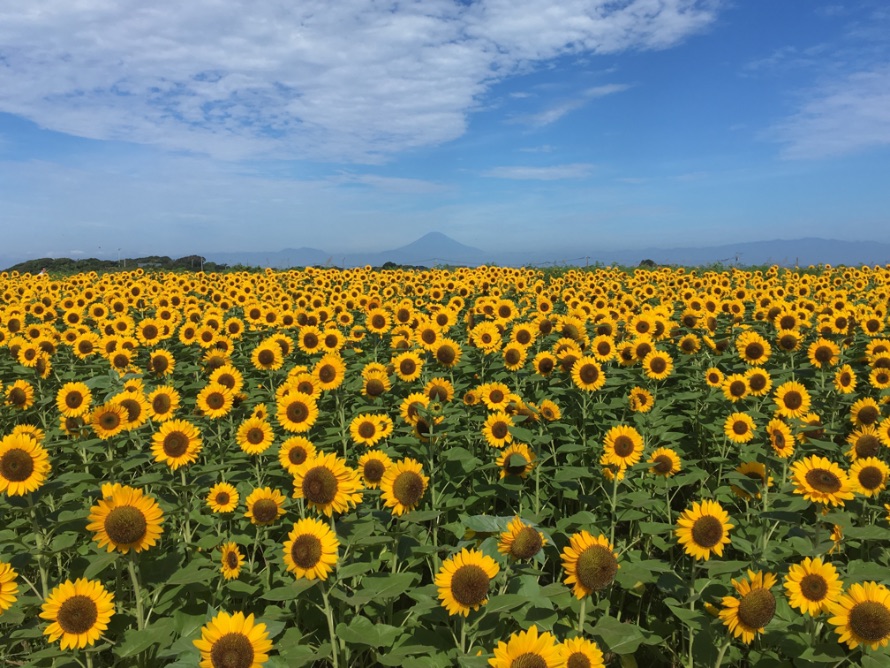 Soleil Hill is a slightly elevated mass spanning 24.6 hectares which faces Sagami Bay in the Miura Peninsula. It's a comprehensive park home to the Miura Peninsula farm as well as a host of hands-on activities. For example, you can experience picking the vegetables planted there, make your own bread, craft your own crafts, and more. You can also come into contact with various animals such as capybara and alpaca, go go-karting, sledding, and more.
Soleil Hill's Sunflowers
Mid July to late August is the best time to see Soleil Hill's sunflowers as this is when they are in full bloom. This period can change however depending on the weather. The spectacle of the beaming yellow flowers beneath the blue summer sky attracts over 130,000 visitors every year, making is a popular sightseeing spot. On a good day when the weather is clear, you can even see Mount Fuji and Sagami Bay.
The park has an atmosphere and aesthetic similar to Provence in southeastern France with its array of terracotta and brick buildings. In fact, the word "soleil" means "sun" in French, making it a fitting name for the sunflower fields of Soleil Hill. As well as there being plenty of photo opportunities there this year, the park will also be holding a stamp rally. Collect all of the stamps around the park and receive a prize. They even have sunflower-inspired food too.
RELATED ENTRIES
RELAX FUJINO: The New Glamping Guest House Opening in Kanagawa

Hibiya-Kandan is set to open a new glamping guest house by the name of "RELAX FUJINO" on August 21, 2020.

Just an hour and a half's journey from the city, RELAX FUJINO is opening in Kanagawa Prefecture's town of Fujino, a place known for its abundant nature and traditional arts. It aims to be a place where both "the heart and body can be happy."

The guest house promises to serve guests the ultimate relaxation experience, have them feeling positive about themselves, and opening their eyes to new discoveries. They will be able to enjoy the region's culture and nature while indulging in the kind of luxurious experience that Hibiya-Kandan is known for offering.

The glamping site is home to two separate sites: the Japanese-style "RURI" and the Western-style "ECRU," both of which have decks offering a panoramic view of the mountain range. Each site also has its own dome-shaped tent which span 28 square meters in length. There are counter tables which offer a panoramic view of the sights, garden tables, and even BBQ spaces. This mix of indoors and outdoors makes guests feel like part of Fujino's gorgeous natural environment. There are communal showers and toilets inside too, as well as a nearby hot spring facility.

The food served is made with plenty of organic vegetables grown in Fujino. A stay at the site means you get a free dinner and breakfast too.

There are plenty of both indoor and outdoors activities to get involved in, like yoga, coffee roasting, crafts, blueberry picking, and more.

Bookings open on August 1, 2020. If you're in Japan this summer, then why not get away from the hustle and bustle and enjoy a relaxing time out in nature?

Information

RELAX FUJINO
Grand Opening: August 21, 2020 (Bookings open from August 1, 2020)
Address: 4611-1 Magino, Midori-ku, Sagamihara, Kanagawa
TEL: 042-649-0286

Official Website: https://hibiya-stay.com/relax/

Plum Blossom Festival 2020: See the Plum Blossoms Of Odawara Flower Garden

The plum blossoms of Odawara Flower Garden, which is located in Odawara, Kanagawa, are at the height of their blossom right now. The park's Keiryu no Baien ("Mountain Stream Plum Garden") area boasts the largest collection of plum blossoms in Japan's Kanto region, with 480 trees spanning 200 species.

This year's Plum Blossom Festival at the park is now running until March 8, 2020, and is the perfect time to witness these beautiful flowers.

Home to 480 trees spanning 200 types of plum blossom treeーfrom early bloomers to late bloomersー, the Keiryu no Baien is a true spectacle to behold and a must-visit for any plant-lovers out there visiting the Kansai region of Japan. Every year, the Plum Blossom Festival takes on a unique theme, with 2020's titled "Rare Plum Blossoms ~Uncommon Plum Blossoms in the Auspicious Months of Early Spring~".

As the theme suggests, the Keiryu no Baien is home to many rare types of plum blossoms you won't see anywhere else, such as the ougonbai (黄金梅), which has distinct thin, pale yellow petals. This year's festival shines the spotlight on many more of these uncommon speciesーan unmissable chance for horticulturalists.

Plum Blossom Festival Soba Noodles – ¥600 (Tax Included) / With Drink ¥700 (Tax Included)

The Odawara Flower Garden cafe, Cafe Hibiscus, is serving a selection of plum blossom themed meals and drinks for the festival. This includes the above-pictured new soba noodle dish, which is topped with plum pulp grown in Odawara as well as kamaboko fish cake, shrimp fritters, and spring onion. The broth in particular is worth of note which the staff went to great lengths to create. There's also plum blossom ice cream too made with nanko plums, as well as other delicious bites.

Entry to Odawara Flower Park as well as use of the car park are completely free. The festival runs until early March, but to fully enjoy the early and mid bloomers in their height, now is the best time to go. Don't miss out.

Information

Odawara Flower Garden

Address: 3798-5 Kuno, Odawara-shi, Kanagawa Prefecture
Garden Opening Hours: 9:00-17:00 (Last entries to the Tropical Dome – 16:30)

Entry: Free (Fee charged to enter the Tropical Dome – Adults ¥200/Children ¥100)

Closed: Mondays (Or the following day if the Monday falls on a National Holiday) / National Holidays / New Year Holidays (December 29-January 3)

Access:

①Board the Izuhakone Bus towards "Flower Garden" (フラワーガーデン・県立諏訪の原公園) from Platform 2 of Odawara Station's East Exit and get off at "Flower Garden".

②20 minutes on foot from Iidaoka Station via the Daiyūzan Line

Plum Blossom Festival

Running: January 25, 2020 – March 8, 2020

Time: 9:00-17:00

Official Website: https://www.seibu-la.co.jp/odawarafg/

TOTOCO Odawara: Kanagawa's Sea Food Theme Park Opens November 22

Gyoko no Eki TOTOCO Odawara is a new "fish theme park" set to have its grand opening on November 22, 2019 at 10:00am (JST).

The facility was established to promote further exchanges with Odawara Fishing Port which is said to be the biggest fish market in western Kanagawa Prefecture. It is the first "Fishing Port" (Gyoko no Eki*) and will sell seafood sourced locally, fishery products and more, as well as hold events to help promote Odawara.

The building has three flours. The first floor is like a marketplace where fish, fishery products, produce, and more will be sold. The second and third floors house seafood restaurants and offer a panoramic view of Sagami Bay. This view is best observed from the terrace while you enjoy your delicious meal.

*Fishing Port (in Japanese: Gyoko no Eki, or 漁港の駅) is a registered trademark of Odawara City to highlight facilities that promote exchange with Odawara Fishing Port. (Registered Trademark No.: 6163121).

Odawara Fishing Port sells fresh fish sourced from the waters of Sagami Bay, which houses a variety of fish species, as well as fish and processed marine products from around Japan. TOTOCO Odawara will sell these very same products, all delivered directly from the port, to help spread the fishing culture and economy of Odawara.

Let's take a look at some of the delicious gourmet seafood meals you can expect to tuck into at TOTOCO Odawara!

Totomaru Summit Bowl – ¥2,480

A hearty and towering dish so high that it looks like it might topple over.

Greedy Sea Urchin Eggs & Salmon Roe Bowl – ¥4,280

A dream combination you've been waiting for your entire life. Savour the richness and sweetness of both of these mouth-watering delights.

Oyster Egg Donburi Set – ¥1,680

You can't even see the rice any more for the pile of tasty oyster eggs, with their exquisitely soft texture.

Osashimi Tengoku – Odawara Kaisen GO GO

The third floor of the building is home to Osashimi Tengoku – Odawara Kaisen GO GO, a restaurant that calls itself "Sashimi Heaven" and offers a 59 minute all-you-can-eat buffet of fish, sides, desserts and more.

59 Minute All-You-Can-Eat
Adults – ¥2,590 / Children (Elementary School & Younger) – ¥1,390 / 3-Years & Younger – Free (All Prices Before Tax)

Gyoko no Eki TOTOCO Odawara is easily reachable from Tokyo and right next to the local station. If you've come to Japan looking to try the country's famous seafood, then make sure to put this place on your list.

Information

Gyoko no Eki TOTOCO Odawara

Address: 1-28 Hayakawa, Odawara, Kanagawa Prefecture (West side of of Odawara Fishing Port)
Opening Hours: 9:00-17:00 (Subject to change depending on the season)
Access: By train – 10 minutes on foot from JR Hayakawa Station / By car – 2 minutes from Seishō Bypass Hayakawa Interchange or 4 minutes from Odawara-Atsugi Road Odawara-Nishi Interchange
Official Website: https://www.totoco-odawara.com

Eir Aoi Just Dropped The Music Video For Granbelm Anime Opening Tsuki wo Ou Mayonaka

Eir Aoi's LIVE TOUR 2019 Fragment oF took her on a journey across the country, performing at eight different locations to approximately 10,000 wild fans. She saw her final tour performance at Kanagawa Kenmin Hall on July 15.  

The overpowering digital rock song UNLIMITED sent an instant surge of energy through the crowd. Her heart-throbbing setlist included a range of big hits that were used as theme songs for the anime Sword Art Online including Iris, INNOCENCE, Cynthia no Hikari, Ryusei and IGNITE . Her strong vocals and the passion etched onto her face enthralled the crowd. 

For the encore, she performed Tsuki wo Ou Mayonaka, which is the new opening theme song for the anime Granbelm. The urgent beat of the song energised the audience, who were dancing and singing as one. For the last song, she performed AURORA, which she especially prepared for this day only. 

"There are times that I just cannot sing this song, but seeing the encouraging and excited faces of my fans gave me the support I needed to sing," she said.

Eir Aoi: Tsuki wo Ou Mayonaka Music Video

After the encore was over, there was a surprise for the fans. The music video for Tsuki wo Ou Mayonaka, the new theme song for the anime Granbelm, was played before the crowd. Fans could not contain their wild joy at being the first people to watch the video. The music video was just released on July 16 at 8pm, so please check it out. 

Odawara Flower Garden Plum Blossom Festival Taking Place in 2019

The beautiful and botanical Odawara Flower Garden located in the city of Odawara, Kanagawa Prefecture is set to hold its annual plum blossom festival from January 26 to March 10 next year.

The mountain stream plum gardens of Odawara Flower Garden boasts the largest variety of plum blossoms in the Kanto region. Spanning almost an enormous 2 hectares, it is home to 480 trees comprised of around 200 different species all of which bloom at different intervals – early bloomers and late bloomers. There is also an artificial mountain with streams and a pond. On a clear day, you can see the Tanzawa Mountains.


The Plum Blossom Festival is held every year from the middle of January to early March. The title of this year's theme is Ume no Hanairo ~Sensai na Shikisai no Omomuki~, which translates to "Plum Flower Colours: The Delicate Grace of Colours." The plum blossoms will be categorised by their colour and appearance. The main species shown will be those with particularly delicate hues.

A range of food and craft stalls will line the event selling lots of different items. This includes local businesses, meaning you get to see the faces of those producing and manufacturing things in the area.


There will even be a workshop in collaboration with Umemaru, the PR character for tourism in Odawara, where people can make their own original Odawara Flower Garden paper lantern. Full details will be announced on the garden's official website in the near future including dates for the events.

Enjoy a wonderful walk through the gardens and its plum blossom festival that transcends generations.

Information

Odawara Flower Garden Plum Blossom Festival

Address: 3798-5 Kuno, Odawara-shi, Kanagawa Prefecture
Garden Opening Hours: 9:00-17:00 (Last entries to the Tropical Dome – 16:30)

Entry: Free (Fee charged to enter the Tropical Dome)
Closed: Mondays (Or the following day if the Monday falls on a National Holiday)

Access: Board the Izuhakone Bus towards "Flower Garden" (フラワーガーデン・県立諏訪の原公園) from Platform 2 of Odawara Station's East Exit and get off at "Flower Garden"
Homepage: http://www.seibu-la.co.jp/odawarafg/

Kapibara-san Character Cafe to Open in Collaboration With 5 Hands Cafe Branches

The adorable Kapibara-san is joining paws with five Hands Cafe branches in Japan from November 5 to December 25.

This is in fact Hands Cafe's 4th collaboration with Kapibara-san. The key visual for the cafes takes on a Japanese-style design. Six different dishes will be sold.

Kapibara-san's Tsurun Udon Gozen: ¥1,320 (Tax Included) *Not sold at Shibuya branch

This meal includes a cute fried Kapibara-san atop a bed of sanuki udon noodles. It also comes with inari sushi to emphasise that Japanese feel.

White-san's Lovely Steak Gozen: ¥1,390 (Tax Included) *Not sold at Shibuya branch

This dish includes a chicken steak drizzled in Japanese-style sauce and is served with green salad and rice made into the shape of White-san, a friend of Kapibara-san.

Kapibara-san Dorayaki Set (Tax Included): ¥1,160

For dessert, tuck into a Kapibara-san dorayaki red-bean pancake and cream rice flour dumplings and wafer cake. There are three original wafer cake designs to enjoy which are chosen randomly, so look forward to seeing which you get!

The following two Christmas items will also be available from November 26 making for a total of 8 items to choose from.

Kapibara-san & Kokapi's Nosu Nosu Christmas Tree: ¥1,380 (Tax Included) *Available from November 26

The cute baby capybara Kopapi is riding on Kapibara-san's head in this dessert. They are both thick-friend pancakes. Next to them is a strawberry cream puff tower and matcha powder tree.

Kapibara-san's Christmas Houjicha Latte: ¥800 (Tax Included) *Available from November 26

Warm yourself up with this hot houjicha lattte topped with a Kapibara-san marshmallow. The whipped cream Christmas tree is sure to make you feel cosy too.

There's even five pieces of limited edition merchandise to get your hands on too, all with Japanese-style designs including a mug, pin badges and more.

OTONA Kapibara-san Mamezara

Finally, as a gift to customers, if you order one item from the menu you'll receive an original coaster, and if you order two an original mamezara, a tiny Japanese plate. These will change to Christmas designs from November 26.

Enjoy a fun and cute Japanese-style Christmas with Kapibara-san and his friends.

Information

Kapibara-san x Hands Cafe

Running: November 5, 2018 – December 25, 2018

*Select menu items available from November 26

Participating Cafe List

Hands Cafe Tokyu Plaza Omotesando Harajuku (Tokyu Plaza Omotesando Harajuku 5F, 4-30-3 Jingumae, Shibuya, Tokyo)

Hands Cafe Shibuya (Tokyu Hands Shibuya 7F, 12-18 Udagawacho, Shibuya, Tokyo)

Hands Cafe etomo Chuorinkan (2F, 4-6-3 Chuorinkan, Yamato, Kanagawa Prefecture)

Hands Cafe Umeda (Tokyu Hands Umeda 10F, 3-1-1 Umeda, Kita Ward, Osaka)

Hands Cafe Piole Akashi (Piole Akashi West Building 1F, 1-1-23 Oakashicho, Akashi, Hyogo Prefecture)

*The menu is subject to change without prior announcement.

*The items shown are still in development and may differ from the finished product.

Kapibara-san Official Website: https://tryworks.jp/

Hands Cafe Official Website: https://www.handscafe.jp/

©TRYWORKS

Top Picks for BBQs & Beer Gardens in the Kanto Region for 2018

The warm spring season is almost over, and summer is coming soon. BBQ parties and beer gardens are the two most exciting events of the hot summer season. In this article, I will introduce to you some recommended BBQ parties and beer gardens.

Top Picks for BBQs & Beer Gardens in the Kansai Region for 2018

Saitama Prefecture – Light & Music Beer Garden
The theme of the event is a "Japanese summer festival" (Natsumatsuri) and it will take place in a traditional Japanese-style beer garden. As you come through the bamboo lantern-lit entrance, you will be engulfed by soft lights in a wide, open green space.

Ordering the special offer Roast Beef Sushi (1 person 3 pieces) gives you the chance to see the expert chef put on a fiery flambe show. There's also a buffet with a mix of around 20 Japanese and Western foods such as skewered and grilled food, savory egg custard, sushi wrapped in fried tofu, juicy sausages and much more as well as a line-up of close to 15 drinks served free flow style including beer and Japanese cocktails.

Detailed information:https://www.moshimoshi-nippon.jp/102961

Tokyo- ARK HILLS SOUTH TOWER ROOFTOP LOUNGE ~ROPPONGI BBQ BEAR GARDEN~
A beer garden serving authentic BBQ cuisine was opened on top of Ark Hills South Tower where a luxurious rooftop garden sits. Despite being in the middle of the big city, the garden has a freeing, spacious feeling with plenty of greenery and even sofa seats. Food includes filling T-bone steak that uses carefully selected Iwanaka roasted pork shoulder, as well as a selection of seafood and vegetables. In addition, downstairs in the same building, you can buy meat to take to the BBQ too. Choose your favorite ingredients and enjoy cooking it on the barbeque yourself.

Detailed information:https://www.moshimoshi-nippon.jp/103521

Tokyo – LUGAR HA AMOR
LUGAR HA AMOR is a beer garden where you can enjoy an extraordinary space, foods, videos and music on the rooftop of MACHIDA MODI. The word LUGAR HA AMOR means "a place filled with love" in Portuguese. The space created under the key word of "luxury beer resort" has three kinds of comfortable sofas that are couple sofa, bed sofa and low table sofa. You can also enjoy the video show projected on the wall of the building and project a message to your precious person.

TOKYO – Hono no Bulgogi Densetsu β
The rooftop beer garden, Hono no Bulgogi Densetsu β was opened on the 16th floor of Tobu Hyakkaten Ikebukuro Honten. The theme of 2018's bear garden is "wellness." Healthy spinach and pea sprouts are added to the Bulgogi pot as well as vegetables. The spiciness of the bulgogi pot including eight kinds of vegetables, meat, bean starch vermicelli, kimchi, toppogi can be adjusted at your own will. They also offer beer/sour/whisky servers and a gin server!

Kanagawa Prefecture – Umi no Mieru Beer Garden Hama Beer!
Yokohama Grand Intercontinental Hotel opened their popular beer garden, Umi no Mieru Beer Garden Hama Beer! The terrace is very close to the ocean, so you can enjoy eating and drinking in the beer garden while feeling the breeze from the ocean.

The theme of the dishes this year is "American-style BBQ." Gorgeous meat dishes and American-style dishes using special spices and sauces which go well with beer, are offered. As a main dish, you can enjoy a big steak (100g.). Let's enjoy full-fledged hotel dishes at this beer garden♡

Kanagawa Prefecture – BAYSIDE BEER GARDEN 2018
Three kinds of BBQ beer gardens are offered at tables cook & LIVING HOUSE in Yokohama. The first BBQ is NEW YORK BBQ where you can enjoy juicy and thick smoked pork with a special BBQ sauce. You can also make your own customized burger at your own will! They are also offering many countries' BBQs including seafood BBQ and grilled steak! Fruits cocktails and plum wines are also available!

Top Picks for BBQs & Beer Gardens in the Kansai Region for 2018

Christmas is coming soon! Seven illumination events in Tokyo/Kanagawa.

The weather is getting cold and the winter season is just around the corner.

Can't wait until Christmas which is the biggest winter event! I will introduce to you some romantic illumination spots which will be opened from November.

Shibuya Hikarie (2017,11,1 (Wed.) to 12,25 (Mon.))

Minnie Mouse, the girlfriend of Mickey Mouse will appear at the event.

Various kinds of photo spots (scenes) will be installed in many areas inside the facility such as the scene where Minnie Mouse is preparing for Christmas with Micky Mouse and the scene where Minnie Mouse and Daisy are dressing up for the holiday season.

Detailed information:Mini Mouse will appear on Hikarie's Christmas illumination "TOKYU CHRISTMAS WONDERLAND 2017"

■Information

TOKYU CHRISTMAS WONDERLAND 2017 – Disney DREAM MOMENTS

Date: 2017,11,1 (Wed.) to 12,25 (Mon)

※The date differs depending on the facility

Venue: Shibuya Hikarie

Address: 2nd street, 21-1, Shibuya, Shibuyaku, Tokyo

Tokyo Sky Tree (2017,11,9 (Thurs.) to 12,25 (Mon.))

A "French Christmas" event where Lisa and Gaspard are highlighted will be held at the 450m-high viewing galleria under the original story of "the first Christmas in Tokyo where Lisa and Gaspard decorate the highest observation deck of Tokyo Sky Tree." The world of Lisa and Gaspard and hear-warming oil paintings can be enjoyed at this event while viewing the beautiful sight of the city with Christmas illuminations.

Detailed information: "Tokyo Sky Tree"×"Lisa and Gaspard" Christmas event

■Information

Date: 2017,11,9 (Thurs.) to 12,25 (Mon.)

Venue: Tokyo Sky Tree observation deck, viewing galleria

Tokyo Midtown (2017,11,15 (Wed.) to 12,25 (Mon.))

 "Midtown Christmas 2017" is a Christmas event which will reach its 10th year anniversary in November 2017. A rendition of cosmic space above the vast 2,000㎡ grass area can enjoyed at the popular main event "Star Light Garden."

Different renditions will be performed each day under the theme of "cosmic journey!" You can enjoy the rendition each day imaging many kinds of planets in the solar system such as the "moon," the "sun" and "Saturn."

Detailed information: Tokyo Midtown which will reach its 10th year anniversary this year will hold a Christmas illumination event this year

■Information

Midtown Christmas 2017

Venue: Tokyo Midtown / 9th street, 7-1, Akasaka, Minatoku, Tokyo

Date: 11,15 (Wed.) to 12,25 (Mon.)

Light up: 17:00 to 23:00

※Welcome illumination – until 24:00

Omotesando Hills (11,8 (Wed.) to 12,25 (Mon.))

Under the theme of "100-colored Christmas trees' wood," an artistic Christmas illumination will be held. The vivid-colored woods of Christmas trees created by "Shikiri," a concept based on Japan's traditional "majikiri (partition)" and a 7m tall white tree which is a layered, three-sided pyramid tree will be set up. The sight of the soft light shows and the various kinds of colors depending on place, angle and time will offer each visitor an emotional experience.

Detailed information: Colorful trees will light up Omotesando Hills "100 Shoku no Christmas Tree no Mori" 

◼︎Information

Date: 11,8 (Wed.) to 12, 25 (Mon.)

Light up: 11:00 to 23:00

※The light up will start right after the light up ceremony which will be held only on the 8th of November (Wed.).

TEL:03-3497-0310

 

>>next page

Samurai Oyado – A Soothing Guesthouse in Odawara

Odawara, a Town That Soothes Tired Travelers

It's easy to go to Hakone and Mt. Fuji from Kanagawa prefecture's Odawara city. Odawara has prospered as a town for travelers, especially those looking for lodgings, for over 300 years.

Samurai Oyado is a guesthouse near Odawara Castle and is a representation of those old style accommodations. This guesthouse is filled with the owners strong hopes of making it a place where travelers from abroad can re-energize themselves.

Consideration Is Key; Conveying the Spirit of Old Inns

What's most important when speaking to travelers from overseas is to see things from their perspective, and to be considerate of this.

This is what the owner Mr. Abe (on the left) and staff member Mr. Ozawa (on the right) say. Their thoughtful hospitality has led Samurai Oyado to have a high rating of 8.8 on Booking.com (as of March 2017).

The idea of starting the Samurai Oyado came from seeing the excitement travelers had at viewing historical or retro Japanese buildings while attending events in Japan. This led to the opening of Samura Oyado, with the revival of traditional inns as its concept.

Inns have existed in Japan for over 300 years and were once accommodations where samurai and other travelers stopped to spend the night in peace during long journeys. With this idea of a soothing stay in mind, Samurai Oyado has several key points to it that are sure to help its guests have a peaceful rest.

Soothing Point 1: Gorokichi Is Waiting to Greet You

When you enter the Samurai Oyado, you will be greeted by Gorokichi, the cat and mascot of this guesthouse. It's the perfect surprise for cat lovers. Gorokichi has an affectionate personality and likes to meet new people, and will not hesitate to approach the guests to say hi, even if it is the first time they are staying there.

What comes to your mind when someone asks you your favorite Japanese dish? Sushi, tempura, yakitori, ramen….SOBA! Soba is not very well known in America because Americans don't tend to eat them, and they are not commonly sold there. However, you cannot leave Japan without trying this delicious soba at restaurant Ikenoya!

The restaurant is located in Fuchinobe, Kanagawa. You can ride the bus from Fuchinobe Station Minami-guchi and get off at a stop called Chiyoda. It is about a 7 minute ride. If you like to walk and enjoy the town of Fuchinobe, it is a 30 minute walk from Fuchinobe Station. The store is located right next to 'Bikkuri-Donki'.

This restaurant is not only known for its taste, but also amount for its price. "Nami-mori" is the normal size with just one plate of soba, however, you can change any of the soba that comes with the meal to "Oo-mori" (2 plates) or "Toku-mori" (3 plates) for FREE!

There are typical types of soba like Mori-soba, Tanuki-soba, and Kake. Then there are also menu sets like the Oyakodon set, which is a set of oyakodon (rice bowl with eggs and chicken) and soba, Tendon-set (rice bowl with tempura), etc. There are also gozen, which are set meals of rice, main dish, side dish, pickles, and soup.

Today I tried Ten-seiro, which is soba with tempura. The soba here is very soft and chewy, and it goes very well with the Tempura. The tempura included shrimp, green beans, eggplant, and pumpkin. What's very nice is it also came with salad and dorayaki. It was hard for me to imagine the flavor when I heard that this dorayaki is made out of soba powder. It tasted a little different from normal dorayaki, however, it was really tasty and the anko (red bean paste) really goes will with the pastry. I wasn't able to taste the soba at all!

There are tons of different soba restaurants in Japan, but I would really recommend everyone to visit Ikenoya! The waiters are very kind and would explain you about the menu politely. The location isn't bad at all because there is also a parking lot for those who came with a car. For those who have already tried soba before but didn't really enjoy it, this restaurant lets you change the noodle to udon for any menu! They are so kind and generous! Soba is not very known in America, so I recommend you to at least try it once. Now you know where to go to try soba!

■Information:

Address: 1-20 Hikarigaoka 1cchoume Kanagawaken Sagamiharashi Chuuouku

Telephone: 0120-381-908

Open: 11:00~14:30, 17:00~21:30

■Writer:Jessica Poluhowich

Instagram:mintbaby

−−−

■Related article:Girls Night Out, No クリボッチ(Kuribocchi)!