Tokyo Stroll: The Café That You Want to Visit to See Someone #13 – 'Sepia' in Shibamata
In this edition of The Café That You Want to Visit to See Someone, I visited Sepia in Shibamata, a Showa-retro style cafe which I've always wanted to visit.
The cafe is just a 2-minute stroll from Shibamata Station which appears in the Japanese film Otoko wa Tsurai yo. The walk along the road that leads to Sepia, which is nearby the Buddhist temple Shibamata Taishakuten, is a pleasant one. Tokyo is a city consistently perceived as one that is cutting-edge in every aspect, but what I felt from each and every building surrounding Shibamata Station was a kind of warmth that you feel when something has history to it.
It's been seven years since I came to Tokyo. Visiting Shibamata made me me realised how many places there are which I still don't know about. It invigorated me. As my mind wandered with these pondering thoughts, I finally spotted the sign outside the cafe, and it sure is a cute one!
The moment I stepped inside, I stood, my mouth agape, and looked at my surroundings. It's the first time I've entered such a bright, shining cafe. It was littered with characters I've never seen before, manga, magazines, and more.
When you hear the word kira kira ("glitter," "sparkle"), the first thing that comes to mind for a lot of people is probably Harajuku and the Harajuku style, but Sepia's version of kira kira is a nostalgic one betwixt 1965 and 1975 during the Showa Period. The cafe is incredibly delicate in every spot and corner, like I'm looking inside some grand treasure chest.
The owner of Sepia is Kiyoko Hasezawa. The cafe gets its name from the manga Milky Sepia Monogatari by Ako Mutsu. Ms. Hasezawa said that she wanted to bring to life the world of the manga she loved. The cafe is full of her dreams and is enjoyed by everyone, both children and adults alike.
The cafe menu is even inspired by the food that appears in the Milky Sepia Monogatari manga. The hard pudding I had, which combined caramel sauce and cream, was an absolute delight.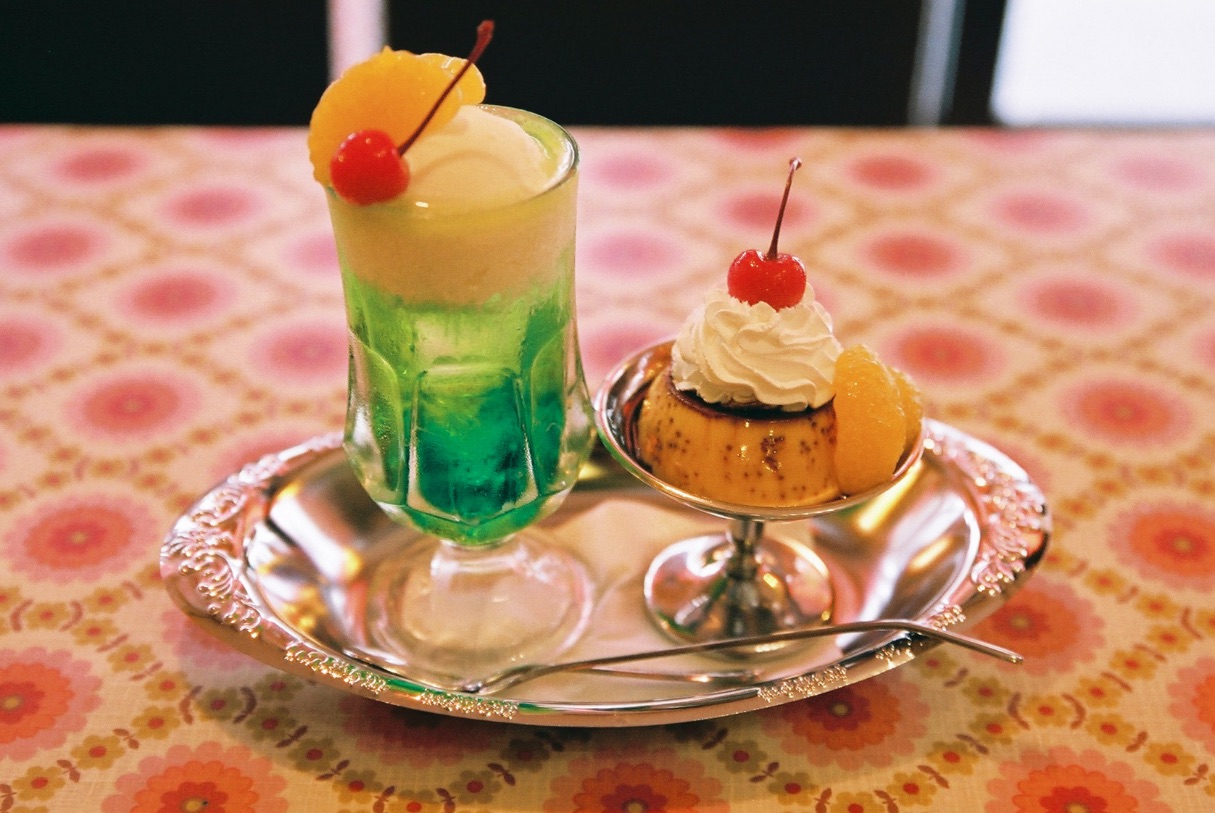 Homemade Showa Pudding & Cream Soda Set: ¥1,200
If we're talking cafes, then you can't go wrong with cream soda. The cream soda served at Sepia comes in seven different flavours and colours: melon, Blue Hawaii, strawberry, lemon, peach, grape, and orange. I was spoilt for choice on which to go for, but in the end I went with the pink-coloured strawberry. It had a sweet flavour and was really delicious.
Strawberry Cream Soda: ¥750
I devoured the hotcakes too. The pastry was so fluffy and tasty – I could have eaten a hundred of them. The second one I ate with honey.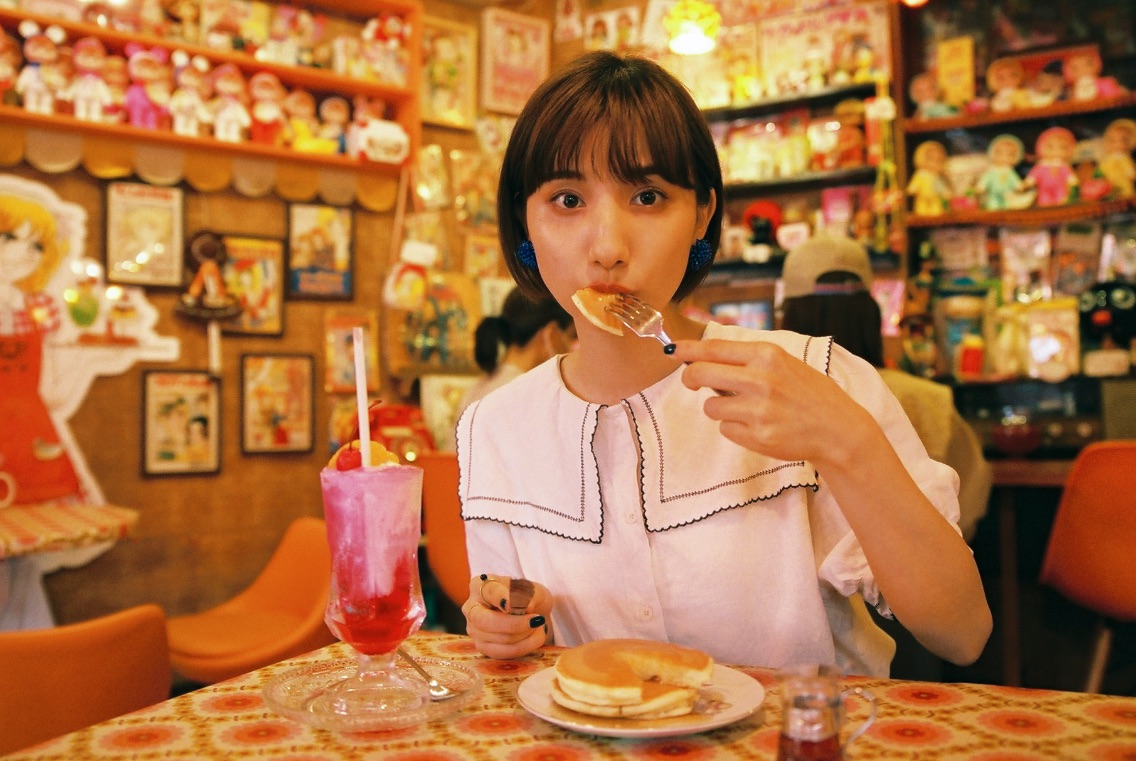 Hotcakes: ¥600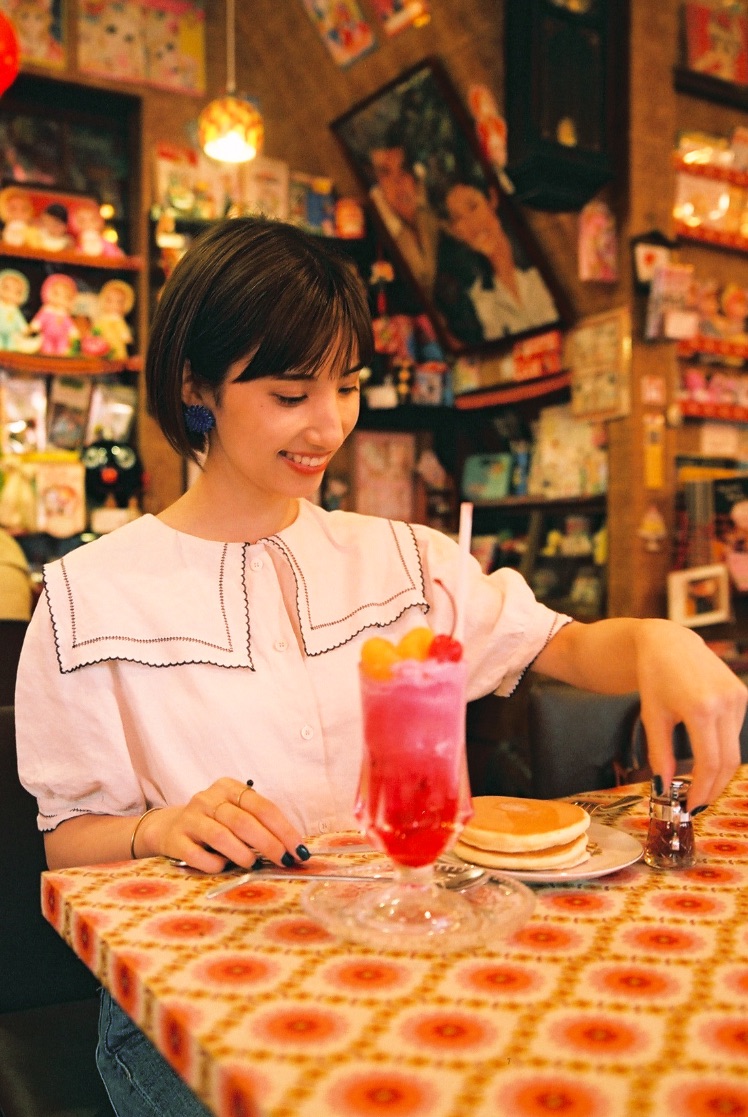 At the back of the cafe, they also have the "Candy Candy Museum." There's a personal collection of items from Candy H Milky, a female fashion enthusiastic who used to be a customer at Sepia. There's a photo spot for snapping a photo in the cafe too.
It's a great time getting to go and look at the displays after eating. I recommend going to see the collection yourself with your own eyes. Entry to the museum is ¥300.
There's a tearoom up on the second floor which has a nostalgic vibe to it. I felt warm and relaxed, like I'd been transported to my grandma's house.
Humans can't travel back in time, but if we look after mementos properly, we can go back there in our minds and memories. Sepia, a place that continues to be cherished and loved, is everybody's treasure trove.
My oh my, I really want to go back there again.
Writer/Model:Ema Tanioku
Photographer:Haruka Yamamoto
Design:Yuko Takayama(ASOBISYSTEM)
Information
Sepia
Address: 7-4-11 Shibamata, Katsushika-ku, Tokyo
Days Open: Fridays, Saturdays, Mondays
Business Hours: 12:00-17:00 (Last Orders 16:30)
For the latest information, visit Sepia's official Twitter page @sepia_mama
RELATED ENTRIES
Japanese Music Artists to Perform at Crocs Japan x atmos pink's Summer Festival

Casual footwear brand Crocs Japan and sneaker select shop atmos pink are set to host a summer pop-up event titled 'Atokuro Natsumatsuri' at atmos pink's flagship store in Harajuku as well as online from July 31 to August 9.

atmos is one of the leading sneaker brands in Japan, while Crocs is a staple of summertime footwear. Together, the two brands are set to deliver an array of summer season content with classic Japanese summer stalls, creating your own custom Crocs Jibbitz™, and more. Additionally, everyone who attends the event and buys something will enter for a chance to win some limited-edition merhandise.

Starting on August 2, a line-up of Japanese artists will perform live on YouTube for the event, with names such as FAKY, Yurufuwa Gang, ELLE TERESA, CHAMELEON LIME WHOOPIEPIE, Atarashii Gakko no Leaders, and more.

Information

Atokuro Natsumatsuri
Running: July 31, 2021 – August 9, 2021

Location: atmos pink Flagship Shop Harajuku

Address: 6-5-3 Jingumae, Shibuya, Tokyo

Opening Hours: 11:00-20:00

Live Schedule​
August 2 @ 21:00 – FAKY

August 4 @ 21:00 – Yurufuwa Gang
August 6 @ 21:00 – ELLE TERESA
August 8 @ 21:00 – CHAMELEON LIME WHOOPIEPIE, Atarashii Gakkou no Leaders

atmos pink channel: https://www.youtube.com/channel/UCkSEEsKnBrGz0bP9XLDkSGw

atmos pink Official Website: https://www.atmos-pink.com/

Shibuya PARCO's Dwiky KA Exhibition Collaborates With Japanese Brands and Artists

PARCO opened the Dwiky KA Exhibition at its Shibuya branch on Friday where it's set to run until August 9. Dwiky KA is an Indonesian artist who has collaborated with many music artists and apparel brands.

Dwiky KA x HYSTERIC GLAMOUR

Dwiky KA x BiSH

Dwiky KA x Kosuke Kawamura

Dwiky KA x Kosuke Kawamura

Dwiky KA x Tappei

Robot exhibit

As part of the exhibition, a line-up of merchandise and original items is being sold, including collaborations with brands Hysteric Glamour and balansa x YAGI, artists Kosuke Kawamura and Yappei, and idol punk band BiSH.

Information

YAGIBOY & GALLERY X presents Dwiky KA exhibition "LABRAX"
Running: July 30, 2021 – August 9, 2021

Location: GALLERY X

Address: Shibuya PARCO Floor B1F, Udagawacho, Shibuya, Tokyo
Opening Hours: 11:00-20:00
Price: ¥500 (Tax Included)
Official Website: https://art.parco.jp

Pretty Boy Detective Club Anime Themed Cafe Menu to be Served in Osaka

As part of their AniCook project which gets people to enjoy anime through cooking, CookpadTV have announced that the 7th series they are collaborating with is Pretty Boy Detective Club. The collaboration includes a food menu inspired by the series that will be served on the 5th floor of Shinsaibashi PARCO in Osaka from August 19 to September 5.

Food

Trump Demi Hamburger / Hagoita Chirashi Chahan

Desserts

Starry Sky Cream Pancakes / Yubiwa Academy Middle School Gateau Chocolate / Auditorium Cheesecake

Drinks

Manabu's Assam Blue Moon Tea / Nagahiro's English Breakfast Sesame Tea / Michiru's Earl Grey Acerola Tea / Hyota's Ceylon Mango Tea / Sosaku's Darjeeling Hazelnut Tea

Get 1 of 5 stickers with every food and dessert order, and 1 of 5 postcards when ordering a drink

Exclusive merchandise

Acrylic Stands | 5 Designs

Acrylic Keyrings | 5 Designs

Acrylic Coasters | 5 Designs

Pins | 5 Designs

The dishes and drinks on the menu were created to get people enjoying food more. The cafe is also selling a range of exclusive merchandise both at the cafe and online.

Life Lessons with Uramichi Oniisan Anime Themed Cafe to Open in Ikebukuro

Animate Cafe Stand Hareza Ikebukuro has announced a collaboration with the ongoing TV anime series Life Lessons with Uramichi Oniisan which will see the cafe served up a themed menu, sell exclusive merchandise, and decorate the interior with original illustrations from August 25 to September 27.

Animate Cafe exclusive illustrations

Animate Cafe exclusive chibi illustrations

Collab Menu (Excerpt)

Parfait | ¥700 (Tax Included)

Latte | ¥600 (Tax Included)

Soda | ¥650 (Tax Included)

Original Merchandise

Big Acrylic Stand Keyrings | 3 Designs | ¥1,600 Each (Tax Included)

Cookies | ¥1,000 (Tax Included)

Acrylic Stand Keyrings | 6 Designs | ¥700 (Tax Included)

Rubber Keyrings | 10 Designs | ¥700 Each (Tax Included)

Life Lessons with Uramichi Oniisan is a dark comedy manga series by Gaku Kuze that's been serialised in Comic POOL since 2017. An anime adaptation began airing on July 6, 2021.

(C)久世岳・一迅社/「うらみちお兄さん」製作委員会

Tokyo's The Art of DC – The Dawn of Super Heroes Exhibition and What to Look Out For

The Art of DC – The Dawn of Super Heroes opened at Tokyo City View in Roppongi Hills Tower last month where it's set to run until September 5.

The exhibition shines a spotlight on DC's Superheroes and Supervillains, such as Superman, Batman, and Joker, with over 400 exhibit items from comics to original documents and more on display. Let's take a closer look at just some of the things for DC fans to enjoy.

World-first exhibits of film costumes

In the Suicide Squad area, the actual costume worn by Margot Robbie when she played Harley Quinn in the film is on show. The costumes worn by Bloodsport and Peacemaker in the upcoming film The Suicide Squad are also being displayed.

See the Dark Knight's Batpod

The real Batpod used in The Dark Knight Trilogy stands in its full 3.7 meter long glory against a backdrop of night-time Gotham City.

A collection of masks worn by Heath Ledger's Joker

The mask and outfit worn by Heath Ledger as the Joker is also being showcased. He won the Academy Award for Best Supporting Actor for his role as the character in The Dark Knight. This one's a must-see for fans of the legendary character.

Harley Quinn & Joker afternoon tea

Harley Quinn & Joker Afternoon Tea | ¥5,000 (Tax Included)

Head to THE SUN & THE MOON restaurant to enjoy an afternoon tea inspired by Harley Quinn and Joker.

Superman Sky-High Drink | ¥1,400 (Tax Included)

The Clown Prince of Crime | ¥1,400 (Tax Included)

There's also a menu of mocktails to enjoy which are inspired by the characters of the DC universe.

DC Menu

Running: Until September 5, 2021

Location: THE SUN & THE MOON (Restaurant)

Opening Hours: 11:00-22:00

Official Website: http://thesun-themoon.com/

All DC characters and elements © & ™DC Comics. WB SHIELD: ™& © WBEI (s21)

Information

The Art of DC – The Dawn of Super Heroes

Running: June 25, 2021 – September 5, 2021

Location: Tokyo City View (Roppongi Hills Mori Tower Floor 52F)

Opening Hours: 10:00-22:00 (Last Entries 21:00)

Official Website: https://tcv-taod.roppongihills.com

First Official Chiikawa Shops Open at KIDDYLAND Harajuku and Osaka Umeda

KIDDYLAND has announced the opening of the first official shops themed on the popular character Chiikawa. Named Chiikawa Land, the two stores will open at the Harajuku and Osaka Umeda branches of KIDDYLAND on August 7.

Chiikawa is a popular character first revealed by Japanese illustrator Nagano on Twitter. In December 2020, the official online store Chiikawa Market opened, and Nagano released a book compiling the manga panels they drew and posted on Twitter. With over 550,000 follows on Twitter, Chiikawa has become extremely popular, with even themed cafes and an exhibition, Chiikawa's Forest, having taken place.

Now Chiikawa get its own official shops at KIDDYLAND with merchandise featuring new and exclusive artwork drawn by Nagano and more.

Get your paws on exclusive merch at Chiikawa Land

Smartphone Stickers | 3 Designs | ¥385 Each (Tax Included)

Acrylic Stands | 3 Designs | ¥770 Each (Tax Included)

Pins | 3 Designs | ¥330 Each (Tax Included)

Acrylic Keyrings | 3 Designs | ¥660 Each (Tax Included)

Large Hand Towels | 2 Designs | ¥770 Each (Tax Included)

Mug | ¥1,650 (Tax Included)

T-Shirts | 3 Designs | ¥3,080 Each (Tax Included)

Positively adorable frames for pre-order

Chiikawa Art Frame – Clouds | ¥16,500 (Tax Included)

Chiikawa Art Frame – Faces | ¥16,500 (Tax Included)

Chiikawa Art Frame – Ramen | ¥16,500 (Tax Included)

Buyer bonuses

For every ¥1,100 spent in a single transaction, receive one of three possible Umaibo corn sticks.

For every ¥3,300-¥5,499 spent in a single transaction, receive an exclusive hologram pin.

Spend over ¥5,500 to receive a random special gift: one of four possible lunch boxes or one of five plush pins.

Chiikawa Land shopping bag

Snap a photo at one of the photo spots

Get a stamp at both KIDDYLAND branches

 

©nagano

Art For Social Change Project Launches in Japan Using Waste to Create Art

Innovation Design launched its new 'Art For Social Change' project at haishop in Shibuya Scramble Square on July 21 which sees artwork made from waste.

According to Japan's Ministry of the Environment, 42.74 million tonnes of garbage has been thrown out since 2019. That's the equivalent of around 115 Tokyo Domes, or 918g of waste per person everyday. The waste cannot be exported, and so real action is required to reduce the amount of waste create on the island country of Japan, especially when thinking 20 years down the road.

That's where haishop comes in. Using caps from detergent, which are actually no longer sold, as well as plastic caps and other materials resulting from waste, it will create a new identity for waste together with consumers in the form of art. Art For Social Change aims to send a message to society to make real transformations in the world through the medium of art.

It's easy to imagine what happens when creating a product up to its completion, but considering what happens to it after it's been used is a lot more difficult. Every year, the available capacity at final disposal sites decreases more and more. The important topic at hand is getting everyone in Japan to really treasure the products they buy, to conceive ideas on how to prolong longevity of the things that people purchase, and construct a new society centred on recycling and reusing. And this isn't just a Japan problem – it's a global one. That's the message which Art For Social Change carries.

 

The only conditions on participating with the project is that you agree with its goal and that you use materials on sale at haishop. Everyone is invited regardless of age or gender.

The artworks in action


4th year students from Nitobe Bunka Elementary & Junior High School used waste materials to create 'souvenir' theme products which the children are helping to sell at the shop. The proceeds go back to the school itself while helping teach children about new ways of reusing and recycling.

Souvenirs created by the students of Nitobe Bunka Elementary & Junior High School

Mascara bottles made using caps from detergent bottles

Miffy x studio CLIP Merchandise Collection Revealed

Lifestyle brand 'studio CLIP' is collaborating with children's author Dick Bruna's popular character Miff with a cute merchandise collection that's set to drop at all studio CLIP branches in Japan and the online webstore .st on August 1.

The Line-Up

Limited-edition shopping bags

Fruit Soda & Soft Serve Ice Cream Parfait

studio CLIP collaborates with Miffy every year, and this year is no different, with a special line-up of character goods themed on friends and family. Boris makes an appearance this time too. Items include hand gel holders, vinyl umbrellas, tote bags, and more. There's also exclusive shopping bags for Miffy fans who buy any of the collab merch, as well as themed drinks and desserts at studio CLIP CAFE.

Information

studio CLIP x Miffy

Release Date: August 1, 2021

Locations: studio CLIP / studio CLIP Webstore

Webstore: http://www.dot-st.com/studioclip/ 

Cafe

Running: August 1, 2021 until sold out

Location: 3 studio CLIP CAFE branches (Grand Tree Musashikosugi/Yume Town Hiroshima/Yume Town Hikarinomori)

Love Live! Nijigasaki High School Idol Club x Oedo Onsen Monogatari Event Announced

The Tokyo-based bathhouse Oedo Onsen Monogatari is set to collaborate with the anime series Love Live! Nijigasaki High School Idol Club with a special event titled 'Tokimeki Onsen Monogatari' from July 30 to September 5. This will mark the site's final collaboration with an anime series as the bathhouse is closing on September 5.


For the collaboration, panels and decorations featuring original artwork of the Nijigaku members is featured around the bathhouse. There's also a special photospot featuring a backdrop of a scene taken the anime's second episode.

A lottery draw will take place where you can pay ¥550 for a chance to win a cushion, illustrated print, or bromide. There are also 10 collab drinks as well as three pasta dishes to pick from. Fans can also get their hands on exclusive merch such as keyrings, tees, tapestries, and more.

Sumikko Gurashi Bubble Tea Released by XIE XIE PEARL

Bubble tea shop XIE XIE PEARL is collaborating with San-X and their popular corner-dwelling characters Sumikko Gurashi with a line-up of drinks and merch until August 23.

Fruit is the theme of the collaboration which arrives in a line-up of colourful beverages served in limited-time cups. Each character's drink is loaded with toppings.

Shirokuma's Peach Milk | ¥756 (Tax Included)

Neko's Jewel Berry Lemonade | ¥756 (Tax Included)

Tonkatsu's Caramel Banana Milk | ¥756 (Tax Included)

Penguin's Jewel Mint Lemonade | ¥756 (Tax Included)

Original collab goods

Large Stickers | 4 Designs | ¥330 (Tax Included)

Mini Tote Bag | ¥990(Tax Included)

Mirrors | 5 Designs | ¥550 (Tax Included)

Re-release of previous collab merch

Free novelty stickers and pouch

If you order one of the collab drinks you'll receive a free sticker, and if you order all four drinks, you get an original Sumikko Gurashi pouch. All you need is your receipt to show at the register.

©︎2021 San-X Co., Ltd. All Rights Reserved.

Information

XIE XIE PEARL x Sumikko Gurashi

Running: July 22, 2021 – August 23, 2021

Official Website: https://www.krg-inc.com


HMV Record Shop Shibuya Commemorates 7th Anniversary With Special Edition Vinyls

HMV Record Shop Shibuya is celebrating its 7th anniversary by releasing 14 special edition vinyl records. The Tokyo-based record shop opened in August 2014.

<7 Inch> Makafushigi Adventure! / Romantic Ageru yo: ¥2,200 | <7 Inch> TV Manga Dragon Ball Hits Collection LP: ¥4,400 | <7 Inch> Dragon Ball Z CHA-LA HEADCHA-LA / Detekoi Tobikiri Zenkai Power!: ¥2,200

Hubert Laws, Eloise Laws "Family" ¥2,090 | HIROSHI FUJIWARA& K.U.D.O. PRESENTS "Michael Jackson/Jackson 5 Remixes" LP ¥3,850 | Manami Kakudo – "oar" LP ¥3,850 | Takumi Moriya Trio "Waiting in Vain feat. Ernest Ranglin/Burnin and Lootin" ¥2,420 | TOSHIO MATSUURA GROUP – "PINA" ¥2,530

MAYER HAWTHORNE "Rare Change/Only You" ¥1,980 | DJ KAWASAKI "ONE WORLD" LP ¥4,180 | FROMM "Aliens (with Kim Feel) / Hold Me Like It's Forever (with Car, the garden) ¥1,980 | CHEEZE – "LOSER/Today's Mood" ¥1,980 | Choi Jungyoon "Dance With Me Baby/Delete You" ¥1,980

LEARNERS "TEENAGE KICKS" (2nd Press/Different Cover) | 400 Copies | ¥1,650

TONDABAYASHI RAN Design LUCKY7 GIRL T-Shirt (White/Grey) | ¥3,080 Each

TONDABAYASHI RAN Design LUCKY7 GIRL Slip Mat | ¥2,200

HMV Record Shop Shibuya is located in Udagawacho, an area of Shibuya that was known as the holy ground of vinyl records in the 90's. Since opening on August 2, 2014, the store has enjoy many customers for its collection of second-hand records, special editions, vinyl-related merchandise, and more.

In celebration of seven years since its grand opening, HMV Record Shop Shibuya has released 14 titles such as three records commemorating the 35th anniversary of the Dragon Ball anime series, limited-edition exclusives, and more. The records will also roll out at other HMV Record Shop branches as well as HMV&BOOKS Online from July 28.

A collection of merchandise has also been released for the celebration with designs by Tokyo-based artist TONDABAYASHI RAN such as tees and a slip mat. A sale for second-hand vinyls also began at the Shibuya branch on July 22.

POKÉMON COLORS Exhibition Opens at Matsuya Ginza

Matsuya Ginza opened its POKÉMON COLORS exhibition on July 22 which is set to run until August 11. The event is a kaleidoscope of bright colours and shapes of Pokémon and Pokémon motifs, with four activities and one installation to enjoy, as well as 160 original pieces of merchandise for fans to buy.

Logo mark

Art Deli Key Visual | ¥4,400

Pikachu Design Pouches – Assorted Pokémon Design Pouches | Small: ¥1,650 Each, Large ¥3,300 Each

Get your hands on a range of vivid and stylish Pokémon items, take photos at the many different photo spots dotted around the event, and learn the latest news about the Pokémon franchise.

Indigo dye art piece

Dangling from the first floor atrium is a 20-meter Pokémon art piece made by the dye group BUAISOU who used the traditional Japanese art of indigo dyeing to create it.

©2021 Pokémon. ©1995-2021 Nintendo/Creatures Inc./GAME FREAK inc.
ポケットモンスター・ポケモン・Pokémonは任天堂・クリーチャーズ・ゲームフリークの登録商標です。

Information

POKÉMON COLORS

Running: July 22, 2021 – August 11, 2021

Location: Matsuya Ginza – Floor 8F

Opening Hours: 10:00-20:00

Official Website: https://pokemon-colors.com/