Enjoy Japan's Ennichi Festival At Home with These Adorable Sanrio Lanterns, Keyrings and More
Sanrio characters are celebrating Japan's Ennichi celebration this year with a series of cute Ennichi-themed merchandise. Ennichi is a day of celebration in Japan which sees festivals, performances and the streets lined with delicious food stalls across the country. The day celebrates a particular Japanese deity in Shinto and Buddhism. Although festivals up and down the country have been cancelled due to the coronavirus pandemic, there is no reason to stop the celebration completely ー thanks to Sanrio's adorable merchandise series, you can enjoy the exciting festival vibes from the comfort of your own home.
The Sanrio Character Ennichi Design Series was released on July 29, 2020 and contains a total of six different items.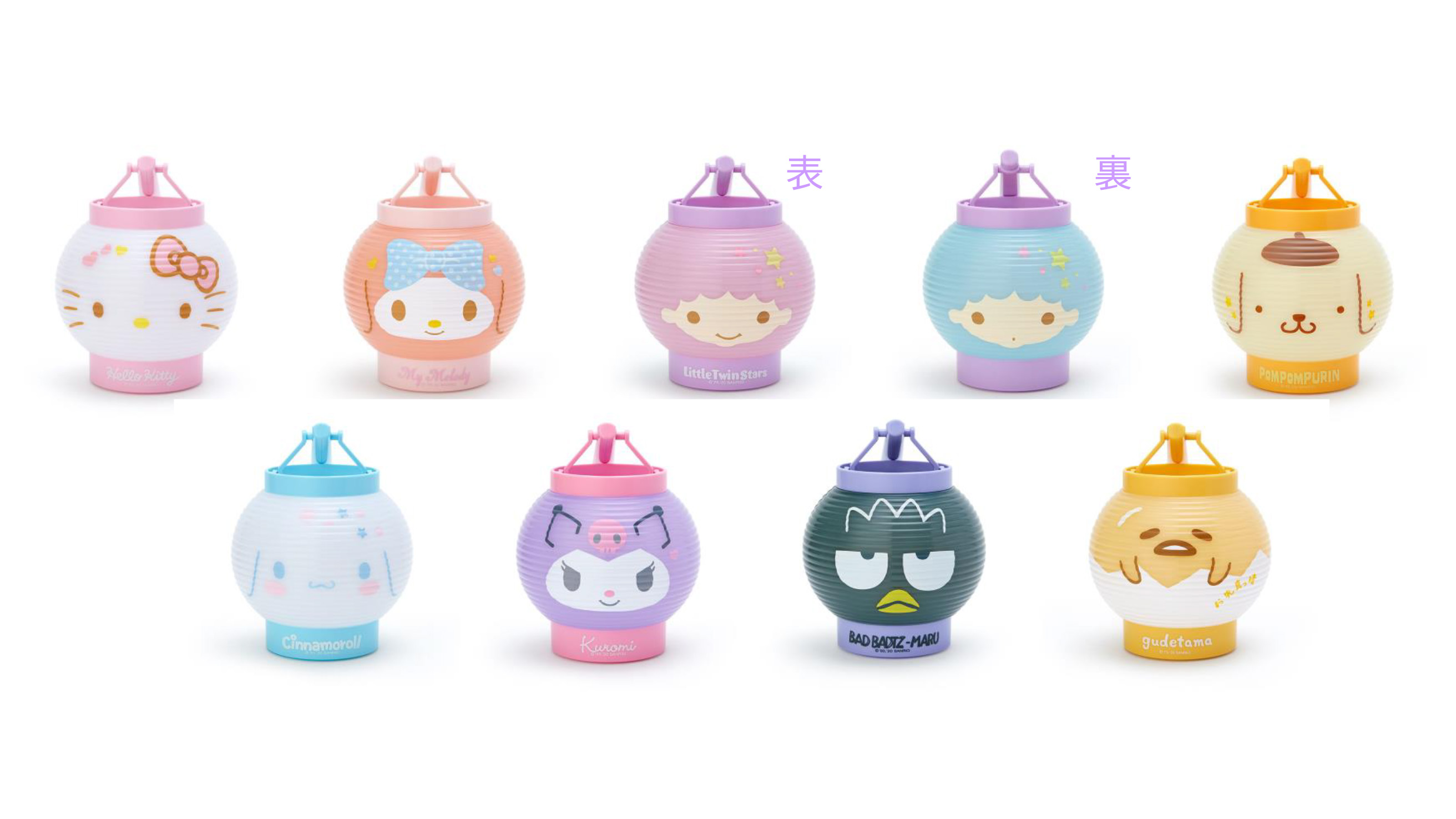 Sanrio LED Lantern (8 Designs): ¥1,100 Each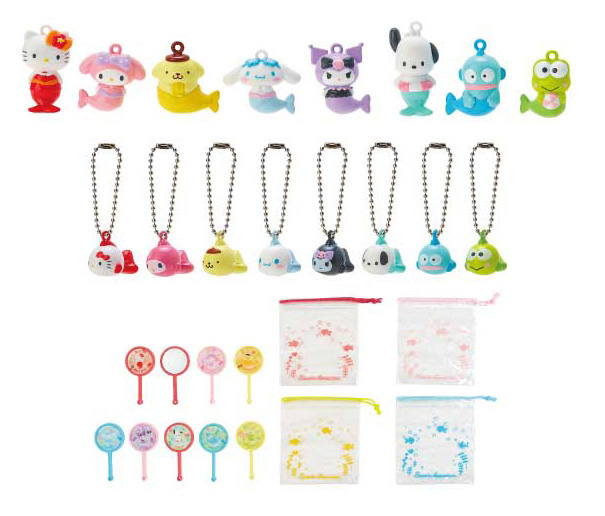 Sanrio Goldfish Scooping Set: ¥1,100
The Sanrio festival lanterns can change into three different colours. You can hang it on a hook, place it on the ground or carry it around with you, giving you a total of four fun ways to interact with your new lantern. The Goldfish Scooping Set includes a drawstring bag. Choose from a variety of items to create a personalised set.
Sanrio Die Cut Uchiwa Fan (Six Designs) :¥550 Each

Sanrio Toy Keyring (7 Designs): ¥2,200 Each
From candy apples, to chocolate bananas to candyfloss, the Sanrio uchiwa fans show the adorable characters dressed as different festival foods. For the keyrings, the characters are dressed in traditional Japanese yukata.
The new line of Sanrio items are full of Japanese summer festival vibes and are a perfect way to join in on the Ennichi celebration.
©'76,'79,'85,'88,'89,'93,'96,'01,'05,'20 SANRIO
©'13,'20 SANRIO S/D・G 著作(株)サンリオ
*Names of merchandise have been translated from Japanese
Information
Sanrio Character Ennichi Design Series
Release Date: July 29, 2020
Available At: Sanrio stores, the Sanrio section of department stores, Sanrio Online Shop
Official Website: https://shop.sanrio.co.jp/ 
RELATED ENTRIES
Go Strawberry Picking With Hello Kitty and Friends at Sanrio Puroland

Sanrio Puroland opened a special new event last Friday (January 8) called "Sweets Puro" which is themed on strawberry picking.

Characters greet guests in their strawberry-designed outfits

Guests participate in an augmented reality strawberry stamp rally

New character videos play at the illuminations

A strawberry-packed dessert menu

Limited-edition merch

Tables in the food court receive makeovers

Guests can look forward to seeing sparkly new pink-coloured illuminations, snapping sweet photos at the entrance photo spot, getting involved in the AR strawberry picking stamp rally using their smartphones, and more. They can also pay to spend one minute with the park characters who will be dressed in their strawberry outfits, and if they arrive 30 minutes before the first floor character food court opens, they can get the limited-offer morning breakfast "Strawberry Morning Bread Set." The park will even be serving up seasonal alcoholic drinks like the Sweets Puro Strawberry Peach Sour.

The first day of the event saw the characters come out to greet guests in their adorable strawberry and dessert themed costumes. This was followed by a new illumination show, Puro Sweets Party, which took place at Puro Village, and My Melody sang and danced to the music against the bright and beautiful lights. Guests enjoyed a selection of limited-time food like the Pompompurin's Croissant Doughnut Strawberry Sandwich and Hello Kitty's Sweet Strawberry Milk.

©1976, 2009 SANRIO CO., LTD. ©1975, 1976, 1990, 1996, 2001, 2004, 2005, 2010, 2017, 2021 SANRIO CO., LTD.

Information

Sanrio Puroland – "Sweet Puro"
Running: January 8, 2021 – March 9, 2021
Official Website: https://www.puroland.jp

Tomica x Sanrio Adds Badtz-Maru and Pekkle to Toy Car Series

Takara Tomy is set to release its second batch of toy cars in collaboration with Sanrio as part of its Tomica mini car series on January 16, 2021. The collection will be released at toy stores, department stores, Tomica branches, Takara Tomy's online site, select Sanrio stores, Sanrio's official website, and elsewhere in Japan.

Dream Tomica Sanrio Characters Collection 2 (6 Designs) | ¥770 Each (Before Tax)


Hello Kitty


Cinnamoroll


Pochacco

Pompompurin

Badtz-Maru

Pekkle

The first collection was released last year as a collaboration between Tomica, which has turned 50 years old, and Sanrio Characters, which has been on shelves since the 1980's. There are six cars in the collection which can be bought individually or as a set for ¥4,200 (before tax).

Get your hands on these cute cars inspired by the Sanrio characters.

© '76, '89, '90, '93, '96, '01, '21 SANRIO CO., LTD.

© TOMY

Maison de FLEUR x Sanrio Reveal Kawaii Bag Collection For Second Collaboration

Lifestyle brand Maison de FLEUR and Sanrio have announced that preorders for the second collaboration in their "Maison de FLEUR×Sanrio characters" series will launch on Sanrio's online shop on January 8, 2021.

Ribbon Tote Bags (5 Designs) | ¥6,050 Each (Tax Included)

The cute collection combines fancy frills and ribbons with items inspired by My Melody, Cinnamoroll, Kuromi, as well as two new additions for this second collaboration due to fan demand – Pompompurin and Pochacco.

Items include the Ribbon Tote Bag, Ribbon Backpack, Mobile Shoulder Bag, and Tissue Pouch. Pre-orders run in Japan from January 8 to February 7 with shipping to begin in early March. The collection will subsequently go on general sale at Sanrio stores in late May. Further information will be announced by Sanrio at the end of April.

Ribbon Backpacks (3 Designs) | ¥12,100 Each (Tax Included)


Mobile Shoulder Bags (3 Designs) | ¥5,390 (Tax Included)

The collection is inspired by a tea party which is captured in the fancy designs featured on each item with the five characters enjoying themselves a cup of tea each.

Tissue Pouches (3 Designs) | ¥3,630 (Tax Included)


Mascot Charms | ¥2,970 (Tax Included)

The mascot charms will also make a return this collaboration at select Sanrio shops and the company's online store in late May 2021.

Alternate Colour Mascot Charms (5 Designs) | ¥2,970 (Tax Included)

Sanrio fans can also get their hands on another set of mascot charms with different colours. These will be sold exclusively at Maison de FLEUR stores in Japan and their online shop STRIPE CLUB.

ⓒ'76, '89, '96, '01, '05, '20 SANRIO 著作(株)サンリオ

Sanrio Puroland Announces the Park's First Magic Leap Attraction

Sanrio Puroland has announced that its first-ever attraction using Magic Leap 1 technology will open for a limited time from January 15 to February 14 next year.

Magic Leap 1 is a wearable spatial computer that brings the physical and digital worlds together as one. Puroland guests can look forward to an immersive experience together with their favourite characters including Hello Kitty, Cinnamoroll, and more.

Hello Kitty inside the attraction

Cinnamoroll inside the attraction

Free pins for those who participate

Have a go at Hello Kitty's Space Shooting, a digital shooting game which will earn you a free pin depending on the score you get.

Hello Kitty's Space Shooting


Cinnamoroll's Decoration Cafe lets you put up decorations together with Cinnamoroll using an original collection of stamps. Once you've finished decorating, you can take a photo and download it onto your phone.

Original photo frame

Cinnamoroll's Decoration Cafe

If you get to visit Sanrio Puroland in the New Year, be sure to try out the park's new limited-time attraction.

©1976, 1990, 2001, 2005, 2010, 2020 SANRIO CO., LTD. ©2013, 2020 SANRIO CO., LTD. S/D・G

*MAGIC LEAP is a trademark of Magic Leap, Inc.

Sanrio's My Melody, Pompompurin, and Little Twin Stars Keep Your Face Masks Safe

Sanrio released pre-sales of its new Sanrio Characters Mask Bags for face masks via the online shop Asunarosha on Wednesday (December 9).


Following the success of the Hello Kitty and Cinnamoroll face mask bags released in September, all of which sold out, Sanrio is adding new designs into the mix. The bags are washable and allow you to carry your mask around conveniently and hygienically.

My Melody, Pompompurin, Little Twin Stars (Kiki & Lala) | ¥700 Each (Before Tax)

The new designs include the popular characters My Melody, Pompompurin, and Little Twin Stars (Kiki & Lala).


Hello Kitty, Cinnamoroll | ¥700 Each (Before Tax)

Hello Kitty and Cinnamoroll are also making a return so fans can pick from 5 different designs.

Sanrio Puroland is also releasing a cute collection of face mask and mask cases on December 18.

©1976, 1996, 2001, 2020 SANRIO CO., LTD.

Hello Kitty and Dear Daniel Winter Doughnuts to be Served at Floresta

Floresta Nature Doughnuts, a doughnut cafe that hand-makes doughnuts using organic ingredients, is baking up Hello Kitty and Dear Daniel doughnuts this Christmas from December 11 to 25. They will be served in-store at be available to order online in Japan.


Floresta Hello Kitty & Dear Daniel Christmas Doughnuts | ¥450 Each (Before Tax)

Both ring-shaped doughnuts are covered in a chocolate coating with Dear Daniel's made with organic matcha and Hello Kitty's with strawberry powder made from strawberries grown in Japan. The doughnuts are dusted with organic coconut flakes to look like snow and are decorated with the Star of Bethlehem.

These two doughnuts are naturally sweet and are the perfect kawaii treat to indulge in for this year's Christmas in Japan.

©'76,'99,'20 SANRIO APPR.NO.L610318

Sanrio's Little Twin Stars Kiki & Lala Light Up Shinjuku With TWINKLE COLOR CHRISTMAS Illumination Event

Sanrio's beloved character pair Kiki & Lala, also known as the Little Twin Stars, are hosting a special winter event titled "TWINKLE COLOR CHRISTMAS" at Shinjuku Southern Terrace from December 1 to 25, illuminating the area with beautiful Christmas lights, as part of their 45th anniversary.

Kiki & Lala's twinkling Christmas tree magical in the daytime and night time

The towering 4-meter tall Christmas Tree is decorated in countless mirror balls which reflect beautifully both during the day from the sun and at night with Kiki & Lala's illuminations. A special light show is also taking place from 16:30 each day with Christmas songs.


Decorated around the tree are Kiki & Lala neon signs and pastel-coloured adornments.

Those unable to visit Shinjuku this Christmas can access the "TWINKLE COLOR CHRISTMAS AR TREE" digitally This will have Kiki & Lala's Christmas tree appear on your phone when taking photos. You can access it here.

Kiki & Lala treats at the Sanrio Cafe Wagon

Limited time menu

45th Anniversary Items

On weekends, as well as from December 19 up to Christmas Day, a food wagon will make an appearance at the event serving Kiki & Lala food and drink like the pink and fruity Ruby Chocolate Latte and fruit-filled Twinkle Crepe.

©'76,'20 SANRIO 著作(株)サンリオ

Information

Little Twin Stars x Shinjuku Southern Terrace TWINKLE COLOR CHRISTMAS
Running: December 1, 2020 – December 25, 2020
Tree Light-Up Schedule: December 1 = 17:00-24:00 / December 2-24 = 16:30~24:00 / December 25 = 16:30-21:00
Address: 2-2-1 Yoyogi, Shinjuku, Tokyo
Entry: Free
Official Website: https://www.sanrio.co.jp/news/ts-odakyu-twinkle-color-christmas-20201119/

Sanrio's Little Twin Stars Get Themed Cafe in Osaka This Holiday Season

Sanrio's popular characters Kiki & Lala, also known as the Little Twin Stars, are getting their own themed cafe which will open for a limited time at the Fruits Parlor & Bakery Season & Co. in LINKS UMEDA in Osaka From December 3, 2020 to January 24, 2021.

The cafe will serve up a variety of menu items inspired by the Little Twin Stars as well as sell related merchandise. There will also be a photo spot for taking cute pictures, and a special dessert assortment made in collaboration with the popular artist Dream Ami which includes a parfait made up of their favourite sweet treats.

Cafe Menu (Prices Listed Before Tax)

Menu ①: December 3, 2020 – December 25, 2020


Little Twin Stars Shortcake (X'mas Ver.) | ¥1,900


Kiki's Shooting Star Sweets Parfait | ¥1,600

Menu ②: December 26, 2020 – January 24, 2021


Little Twin Stars Tart | ¥1,700


Lala's Shooting Stat Sweets Parfait | ¥1,700

Drinks Menu (Excerpt) (Available Throughout Collaboration)

Little Twin Stars Strawberry Tea Latte | ¥1,000

Dream Ami's Special Collaborative Menu (Available Throughout Collaboration)

Dream Ami×Little Twin Stars Star Sweets 2020 2,100円

Customers who spend more than ¥1,000 (before tax) on merchandise at the cafe will also receive a free A4 folder. These are available while supplies last.

Dream Ami's collaborative dessert looks both cute and delicious and definitely worthy of being on a Little Twin Stars menu!

Information

Little Twin Stars Collaborative Cafe
Running: December 3, 2020 – January 24, 2021
Location: Fruits Parlor & Bakery Season & Co.
Address: LINKS UMEDA (Floor 1F), 1-1 Ofukacho, Kita-ku, Osaka-shi, Osaka
Opening Hours: 9:30-22:00 (Last Orders 21:30)
TEL: 06-6743-4212

Official Website: https://season-co.shop

Sanrio Puroland Announces the Release of Sanrio Character Face Masks and Cases

Sanrio Puroland has announced the release of a new Sanrio character face mask and case collection on December 18, 2020.


Original Masks & Cases – Regular Sizes (6 Designs) | ¥1,650 Each (Tax Included)

The face masks and face mask cases feature cute designs of Sanrio characters including Dear Daniel, Badtz-Maru, Kuromi, My Sweet Piano, and Mocha.


Original Masks & Cases – Kids Sizes (3 Designs) | ¥1,320 Each (Tax Included)

There are also kids sizes with My Melody, Kuromi, and a character mix designs so parents and children can look cute together.

Mask Attachments (6 Designs) | ¥1,650 Each (Before Tax)

Sanrio also has a line-up of Hello Kitty, Dear Daniel, My Melody, Kuromi, Pompompurin, and Cinnamoroll attachments for the face masks.

©1976, 2009 SANRIO CO., LTD. ©1976, 1988, 1989, 1990, 1993, 1996, 2001, 2005, 2020 SANRIO CO., LTD.

Sanrio's Little Twin Stars Kiki & Lala to Feature in Special Christmas Event in Shinjuku

Sanrio's beloved character pair Kiki & Lala, also known as the Little Twin Stars, will feature as part of a special winter event titled "TWINKLE COLOR CHRISTMAS" in collaboration with Odakyu Electric Railway. It will take place at Shinjuku Southern Terrace from December 1 to 25, illuminating the area with beautiful Christmas lights.

Kiki & Lala's Twinkling Christmas Tree

Shinjuku Southern Terrace will dazzle visitors with its pink and blue illuminations as will its towering 4-meter tall Christmas Tree which was made in collaboration with the installation art group MIRRORBOWLER. It will be decorated in countless mirror balls which will reflect beautifully both during the day from the sun and at night with Kiki & Lala's illuminations. The tree will also be adorned with numerous Christmas decorations like clouds, moons, and stars—all very reminiscent of Sanrio's pastel-coloured pair.

Kiki & Lala Food & Drink

Kiki & Lala Ruby Chocolate Latte ¥400 (Tax Included) | Kiki & lala Twinkle Crepe ¥600 (Tax Included)

On weekends, as well as from December 19 up to Christmas Day, a food wagon will make an appearance at the event serving Kiki & Lala food and drink like the pink and fruity Ruby Chocolate Latte and fruit-filled Twinkle Crepe.

Limited-Edition Design Clip

Customers who spend over ¥2,000 (tax included) at the wagon will get themselves a free limited-edition design clip.

Cafe Wagon Schedule
Running: December 5th-6th, 12th-13th, 19th-25th, 2020
Opening Hours: 10:00-19:00

AR Kiki & Lala Tree

Those unable to visit Shinjuku this Christmas can access the "TWINKLE COLOR CHRISTMAS AR TREE" digitally This will have Kiki & Lala's Christmas tree appear on your phone when taking photos. You can access it here.

©'76,'20 SANRIO  著作(株)サンリオ

Information

Little Twin Stars x Shinjuku Southern Terrace TWINKLE COLOR CHRISTMAS
Running: December 1, 2020 – December 25, 2020
Tree Light-Up Schedule: December 1 = 17:00-24:00 / December 2-24 = 16:30~24:00 / December 25 = 16:30-21:00
Address: 2-2-1 Yoyogi, Shinjuku, Tokyo
Entry: Free
Official Website: https://www.sanrio.co.jp/news/ts-odakyu-twinkle-color-christmas-20201119/

Review: PURO RAINBOW CHRISTMAS at Sanrio Puroland Celebrates the 2020 Holiday Season

Sanrio Puroland's annual Christmas event PURO RAINBOW CHRISTMAS is running this year from November 13 to December 25. The first day of the event saw the park's beloved characters dressed in their Christmas attire to welcome the many guests that attended, who were sucked into a magical world with Christmas decorations and illuminations.


The theme this year's event is "Rainbows," and this time around, the event can be enjoyed both at the park and online.

Colourful lights illuminate the park, and there's a new illumination show which is performed to the tune of Christmas songs. 'Tis the season to be jolly at Sanrio Puroland this year, and guests are invited to get into that Christmas spirit as they spot the many Christmas decorations scattered throughout the park like presents. There's also a special photo spot where guests can take a commemorative festive photo. Guests can also go and watch the "PURO RAINBOW CHRISTMAS Special Greeting," a one-minute meet-up where the Sanrio characters all come together to say hello to guests.


As a precautionary measure against the spread of coronavirus, guests can also enjoy the PURO RAINBOW CHRISTMAS 2020 online too. The Sanrio Puroland Online Shop is stocking a special selection of holiday season goodies and merch, and the Christmas event held last year is available to watch as a compilation on a paid stream.


It wouldn't be Christmas without some delicious grub. On the first day, we saw a variety of tasty bites such as the "Hello Kitty Christmas Gift Curry" and the "Merry Christmas☆Happy Pudding French Toast. There's plenty of character-themed dishes, desserts, and drinks for guests to choose from, and they're sure to be spoiled for choice!


It's another holiday season of happiness happening at Sanrio Puroland this year.

©1976, 2009 SANRIO CO., LTD. ©1976, 1989, 1990, 1996, 2001, 2004, 2005, 2010, 2020 SANRIO CO., LTD.

Sanrio Puroland Reveals 30th Anniversary Celebrations With Food and Events

Sanrio Puroland, the popular theme park managed by Sanrio Entertainment, is set to turn 30-years-old on December 7, 2020. To celebrate, the park will begin holding a flurry of events and shows from the commemorative date as well as serve up anniversary food, sell anniversary merchandise, and more.

30th Anniversary Parade – "Hello, New World ~Connect to the Rainbow"

A new parade will be held to signal the 30th anniversary of Sanrio Puroland. It will be carried out with all necessary social distancing measures and will have mandatory seating as well as be held after the park's closing hours. Tickets can be bought in advance via the park's website or on the day at the ticket booth of the park in Puro Village.

Running: December 7, 2020 – January 11, 2021
Time: Weekdays 17:45 / Public Holidays & Winter Break 19:45
Official Webpage: https://www.puroland.jp/30th_parade/

30th Anniversary Food Menu

30th Anniversary Heartful Curry | ¥1,400

Puroland has prepared a special curry with rice, pate, cheese, and kamaboko, all of which have bee shaped into hearts. The Sanrio character designs that are served with the curry come in 14 different designs chosen randomly.

30th Anniversary Heartful Cake With AR Decorations | ¥980

A cute heartful cake topped with strawberries and a heart-shaped macaron. It also comes with AR decorations for smartphones when can be used by downloading the app STYLY and let you record a special AR video.

30th Anniversary Rainbow Drinks | ¥800 Each

Character Bib Bottle Seals

Guests can pick from a rainbow of different drinks. The first drink in the line-up will be red and contain fizzy jelly and cherries. Drinks also come with one of 30 possible bibs to hang over the drink bottles.

30th Anniversary Character Dessert Cups | ¥700

30th Anniversary Rainbow Miracle Ice | ¥400

Puroland's popular dessert cups have been revamped with a 30th anniversary design, as have their Miracle Ice.

30th Anniversary Merchandise

30th Anniversary Hello Kitty Mascot | ¥3,300 (Releasing: End of December 2020)


30th Anniversary Mini Mascots | ¥1,540 Each


Original Charms | ¥550 Each

Sanrio fans can get their hands on a range of new merchandise commemorating Puroland's 30th anniversary, including plenty of mascots and charms to add to your bag or phone.

30th Anniversary Hello Kitty Plush Toy Pins | ¥1,100 Each


30th Anniversary Blanket | ¥2,970

There are also plush toy pins, blankets, eco bags, pin badges, and more.

Secret Pin Badges | ¥400 Each or complete set for ¥13,200

Here's 30 years of Sanrio Puroland. We wish them many more happy years!

©'13,'20 SANRIO S/D・G ©'15,'20 SANRIO S/T・F ©'15,'20 SANRIO S/F・G ©'17,'20 SANRIO MP,TX
©'75,'76,'79,'84,'85,'86,'88,'89,'90,'92,'93,'96,'98,'99,'01,'04,'05,'10,'12,'20 SANRIO