Harajuku's KAWAII MONSTER CAFE Serves Up a Special Summertime 5th Anniversary Lunch Menu
KAWAII MONSTER CAFE HARAJUKU is celebrating its 5th anniversary this year with a special limited-time summer lunch menu which is now being served until September 30.
KAWAII MONSTER CAFE opened its crazy doors on August 1, 2015. Since then, it has become an iconic must-visit spot of Tokyo's youth fashion hub Harajuku, serving Harajuku-esque food, drinks, and desserts. And they haven't held back on their colourful anniversary lunch either.
*Menu names have been translated from Japanese. The main dishes listed are an excerpt from the full menu.
MAIN DISHES
KAWAII Cold Noodles ~5 Years Begun~ | ¥980
This gorgeously colourful KAWAII MONSTER CAFE-style serving of cold noodles looks just like a parfait. The rainbow of ingredients is made to look like the goldfish scooping game seen at Japanese festivals.
Colourful Pop Burger – Froggy Looking Back Over 5 Years | ¥1,480
This frog burger has been seen at the cafe before, but this one celebrates 5 years of KAWAII MONSTER CAFE. It's a filling combination of bacon, cheddar cheese, lettuce, tomato, and of course the patty, all topped with BBQ sauce. It's served with both shoestring potato chips and lattice-cut potato chips.
SWEETS

Choppy Macaron Ice Cream | ¥950
The popular "tunkaron" macarons make their way to the KAWAII MONSTER CAFE in this ice cream dessert which is a combination of vanilla, strawberry, and chocolate ice cream made to look like the cafe's mascot Choppy. He's surrounded by a bed of sweet cotton candy.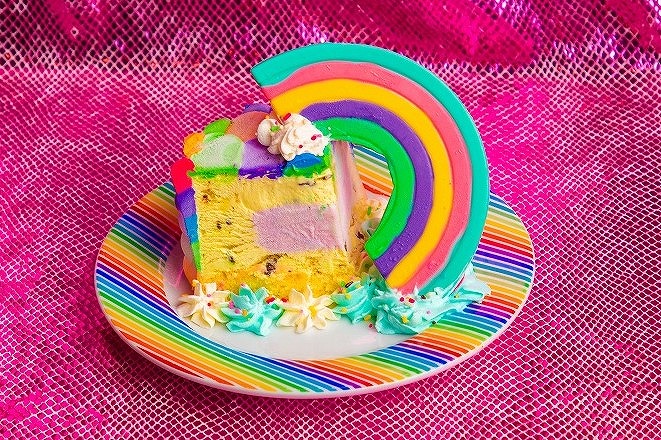 Colourful Rainbow Ice Cream Cake (Quarter) | ¥800
KAWAII MONSTER CAFE's popular "Poison Cake" dessert arrives in an ice cream version for thr 5th anniversary. The marshmallow ice cream is filled with chocolate chips and the whole thing is coated in cream cheese. It's topped off with a rainbow made entirely from chocolate.
Melty Ice Cream Chocolate Banana Pie: ¥1,300
A custard pie topped with an upside down ice cream and adorned with a kaleidoscope of fresh cream, chocolate, sweets, and more. As you eat through the dessert, you'll find a chocolate coated banana – a classic sweet treat sold at Japanese summer festivals.
DRINK
Shake Hip Shake Chocolate Banana / Harajuku Decora Smoothie / Frozen Lemonade Ginger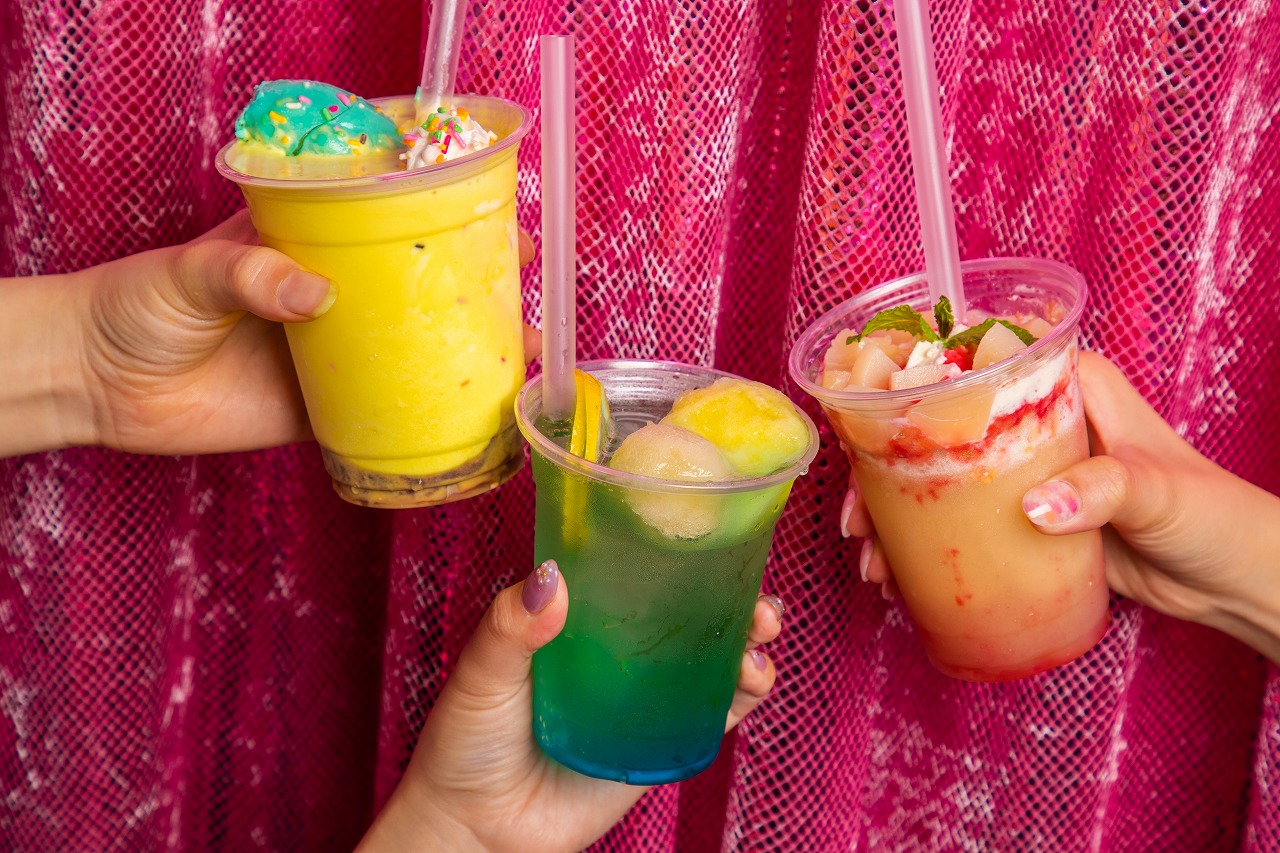 Shake Hip Shake Chocolate Banana | ¥900
A shake that mixes cocoa and banana to create that Japanese summertime chocolate banana flavour.
Harajuku Decora Smoothie | ¥900
This peach smoothie is subtly sweet and has a satisfying texture that feels good when it goes down the throat. It's topped with fresh peach and nata de coco.
Frozen Lemonade Ginger | ¥850
A combination of sour lemon and fragrant ginger makes this a healthy beverage. Topped with lemon and ginger sherbet, it's a frozen, non-alcoholic cocktail.
Briana Gigante Shake: ¥950
This shake is a collaboration with Briana Gigante, a YouTuber. It's also inspired by her, mixing together coffee jelly, berry sauce, and brown cane sugar. It's finished with a topping of fresh strawberry, Oreo, and chocolate lips.
KIDS MENU
Kids Pop Mini Sliders w/Drink: ¥780
A colourful slider dish that's sure to be adored by kids. It comes with both a mini cheeseburger and fried shrimp burger with a side of nuggets and fries.
Kids Kiss Parfait: ¥850
The cafe's "Poison Parfait" has been turned into a kids version, layered with strawberry sauce, milk sauce, Japanese pudding, vanilla and strawberry ice cream, gummies, marshmallows, fresh berries, and chocolate lips.
Information
KAWAII MONSTER CAFE HARAJUKU
Address: YM Square Bldg. 4F, 4-31-10 Jingumae, Shibuya, Tokyo
Opening Hours: 11:30-19:00
No Fixed Holidays
Access: 5-minutes on foot Harajuku Station via JR / 1-minutes on foot from Meiji-Jigumae Station via Chiyoda Line and Fukutoshin Line
Official Website: https://kawaiimonster.jp/
RELATED ENTRIES
Pokémon Cafe and Pikachu Sweets by Pokémon Cafe Reveal New Desserts Including Polteageist Tea Set

Pokémon Cafe and Pikachu Sweets by Pokémon Cafe are releasing a new teatime menu at their respective branches on October 24, 2020.

Pokémon Cafe

Polteageist & Sinistea Tea Party! Fruit Tea Set ~Apple Flavoured~ | ¥1,188 (Tax Included)


Polteageist & Sinistea Tea Party! Fruit Tea Set ~Strawberry Flavoured~ | ¥1,188 (Tax Included)

Pokémon Cafe is serving up two different fruit tea sets based on the Ghost-type Pokémon Polteageist and Sinistea. Customers are free to pour in their desired amount of fruit syrup which changes the colour of the tea. The sets come with a cute cookie too.

Pikachu Sweets by Pokémon Cafe

Left: Polteageist's Tea Party! Fruit Tea ~Mixed Berry Flavour~ / Right: Polteageist's Tea Party! Fruit Tea ~Peach Orange Flavour~ | ¥700 Each (Before Tax)

Pikachu Sweets by Pokémon Cafe is also going to serve up some Polteageist themed fruit teas as well as a selection of desserts like macarons and financier almond cakes which have Pokémon tail and ear designs.

After ordering one of the Polteageist fruit teas, customers can place their cups under the Polteageist tea pot as pictured above and activate the pot to dispense their drink, so it's like Polteageist  really pouring tea for you.

Left: Swirlix Strawberry Macaron | Middle: Pikachu Vanilla Macaron | Right: Galarian Ponyta Pistachio Macaron – ¥500 Each (Before Tax)

Treat yourself to one of the super cute Swirlix, Pikachu, or Ponyta macarons each with designs that tell you instantly which Pokémon they're inspired by.


Polteageist Fruit Tea and & Pikachu Macaron Set

Customers can order a tea and macaron combination set too.

Pikachu Parfaits

Pikachu Glass Parfait Set | ¥1,500 (Before Tax)

An adorable set of Pikachu parfaits, one being caramel banana flavoured and the other chocolate.

Pikachu Tea Party Assortment – Pika Pika Pikavee Set | ¥2,800 (Before Tax)

Another set to share between friends and family, this time with two Pikachu glass desserts as well as Pikachu and Eevee cupcakes.

Pikachu Tea Party Assortment – Ghost Type Set | ¥2,800 (Before Tax)

This set comes with the Pikachu glass desserts as well as Ghost-type Gengar and Litwick mousse cakes.

The Polteageist teapot and Sinistea teacup used at the Pokémon Cafe and Pikachu Sweets by Pokémon Cafe will also be released at Pokémon Center Online in Japan on December 5, 2020.

© 2020 Pokémon.©1995-2020 Nintendo/Creatures Inc./GAME FREAK inc.
Pokémon, ポケットモンスター, and ポケモン are registered trademarks of Nintendo, Creatures Inc., and GAME FREAK inc..

Information

Pokémon Cafe (Nihombashi, Tokyo)
Address: Nihombashi Takashimaya SC East Bldg. 5F, 2-1-2 Nihombashi, Chuo Ward, Tokyo
Business Hours: 10:30-22:00
No Fixed Holidays (Except when Nihombashi Takashimaya SC is closed)
Reservations: https://www.pokemoncenter-online.com/cafe/reservation.html

Pokémon Cafe (Shinsaibashi, Osaka)
Address: Daimaru Shinsaibashi Honkan 9F, 1-7-1 Shinsaibashisuji, Chuo Ward, Osaka, Osaka Prefecture
Business Hours: 10:00-21:30
No Fixed Holidays (Except when Daimaru Shinsaibashi is closed)
Reservations: https://www.pokemoncenter-online.com/cafe/reservation.html

Pikachu Sweets by Pokémon Café 

Address: Sunshine City Alpa Floor 2F, 3-1-2 Higashiikebukuro, Toshima City, Tokyo

Opening Hours: 10:00-20:00
Official Website: https://www.pokemoncenter-online.com/cafe/pikachu_sweets/

*Opening hours subject to change, please check in advance before travelling.

*Food served and duration subject to change without notice.

*Photos are for illustrative purposes only.

*Seat reservations are taken online only – phone reservations not available.

Tokyo's New Shisha Bar 'AROMA SMOKE SHIROKANE' Opens This November

AROMA SMOKE SHIROKANE is a new shisha bar set to open in Shirokane, Tokyo, this November, offering private booths to all customers.

Shisha is a flavoured tobacco made from a syrupy tobacco mix. The shisha experience is popular worldwide with groups coming together to enjoy the experience at shisha bars or hookah lounges and in recent years have grown in popularity in Japan, particularly amongst women and people who weren't regular cigarette or roll-up smokers before.

Private rooms for a shisha get-together with friends

Shisha bars continue to open up in Tokyo, but AROMA SMOKE SHIROKANE boasts as the only place in Japan's capital with completely private rooms for all customers. This is particularly favourable during the pandemic in order to greatly reduce the risk of coming into contact with other customers.

Enjoy shisha while having a meeting

Shisha is enjoyed by a lot of business-people in Japan, and recently there has been an increasing demand for more business meetings to be had over shisha. The private booth setting makes AROMA SMOKE SHIROKANE perfect for realising this request, so customers can discuss all their ideas over a smoke.

Try two different flavours on the same visit

Customers are able to change up their shisha flavour once during their two hour session, allowing them to try two completely different flavours on the same visit completely free of charge. Now that's service.

With the professional interior design of AROMA SMOKE SHIROKANE one can't help but feel like it's otherworldly. Customers can spend their time in class and comfort and smoke without having to worry about others. If you visit Tokyo, and love shisha, then this is a place you can't pass up.

Information

AROMA SMOKE SHIROKANE
Address: 6-21-12 Shirokane, Minato-ku, Tokyo
No Fixed Holidays
Opening Hours: 11:00-18:30
Price: From ¥4,000 (Before Tax)
Official Website: https://aroma-smoke-shirokane.business.site

Disney: Twisted-Wonderland Mobile Game Gets Themed Cafes in Tokyo, Osaka and Nagoya

LEGS, INC. has announced that it will open three cafes themed on the mobile game Disney: Twisted-Wonderland at OH MY CAFE branches in Tokyo and Osaka on November 20 and in Nagoya on November 27.

Disney: Twisted-Wonderland is a Japanese mobile game that was released on March 18, 2020. The concept, character designs, and scenario for the adventure rhythm game were conceived by Yana Toboso, the creator of the popular Black Butler manga series. The game is centred on the villains of Disney.

The cafe's theme places customers in the food hall of Night Raven College, the magic training school where the game is set. It will be adorned in decorations inspired by the game's food hall, and coupled with that, the cafe will serve up food and drink that actually appear in the game. There's also exclusive merchandise for players to get their hands on.

The Menu

There are four different lunches to pick from, all of which are low in salt content and so are a healthy option for wizards and witches flying into the cafe.

Food

<Lunch Option A>


Deluxe Menchi Katsu Sandwich | ¥1,990, with plate ¥4,290 (Before Tax)

The most popular item on the food hall's menu is the non-fried menchi-katsu meat cutlet sandwich.

<Lunch Option B>


Salmon Cream Stew | ¥1,990, with plate ¥4,290 (Before Tax)

A cream stew packed with salmon and vegetables and served with slices of baguette for dipping.

<Lunch Option C>


Tomato Base Squid Ink Pasta | | ¥1,990, with plate ¥4,290 (Before Tax)

A colourful tomato-based veggie pasta in squid ink and served with fruity yoghurt.

<Lunch Option D>


Four Mushroom Risotto | ¥1,990, with plate ¥4,290 (Before Tax)

A creamy, mild-flavoured risotto served with four different kinds of mushrooms.

Drinks


Character Drinks (7 Flavours) – Heartslabyul, Savanaclaw, Octavinelle, Scarabia, Pomefiore, Ignihyde, Diasomnia | ¥890 with coaster ¥1,790 (Before Tax)

A selection of colourful tinted waters inspired by seven different characters seen in the game.

Merchandise


Superdeformed Series Art Example


Pattern Series Art Example

Magic-wielding players can get their hands on a selection of merchandise both at the cafes, and from November 20, via the OH MY CAFE STORE website. There are two different designs for the merch line-up as pictured above.

Bonus Items

Customers who book a table in advance (¥650 before tax per person) at the cafe will receive one of 22 possible lunch mats, and if they order a drink, one of 22 coasters.

©Disney

Information

Disney: Twisted Wonderland @ OH MY CAFE

OH MY CAFE TOKYO

Address: Tokyu Plaza Omotesando, 4-30-3 Jingumae, Shibuya, Tokyo

Running: November 20, 2020 – January 31, 2021

kawara CAFE&DINING Shinsaibashi

Address: Shinsaibashi Opa Floor 9F, Nishi-Shinsaibashi, Chuo Ward, Osaka, Osaka Prefecture

Running: November 20, 2020 – February 2, 2021

kawara CAFE&KITCHEN Nagoya PARCO
Address: Nagoya PARCO, 3-29-1 Sakae, Naka-ku, Nagoya-shi, Aichi
Running: November 27, 2020 – February 9, 2021

Official Website: http://twst.ohmycafe.jp

Tokyo Midtown Announces Winter Event 'MIDTOWN WINTER MOMENTS'

Tokyo Midtown has announced that its winter event 'MIDTOWN WINTER MOMENTS' will run from November 19, 2020 to February 28, 2021.

"ANOTHER WORLD" is the concept for this year's rendition of the annual event, which will see new winter illuminations, Christmas decorations, the opening of an ice rink, and plenty of other fun experiences for people to enjoy throughout the entire day, right into the evening.

MIDTOWN WINTER LIGHTS

A highlight of the event will be the "MIDTOWN WINTER LIGHTS," warm illuminations to light fires in hearts during the cold winter season that will create a dazzling spectacle the likes of which cannot be missed.

Path of Light – An Illuminated World

The pedestrian walkway will welcome a strip of gorgeous golden lights affixed to towering trees to guide your way. More golden lights than ever before are being prepared this year to pull visitors into a romantic and dreamy world.

SNOW LIGHT GLOBE – A World of Snow

The SNOW LIGHT GLOBE is a giant 3-meter tall and 4.5-meter wide snow globe inside which glistens sparkling snow, crystals, and aurora. The lights are ever-changing throughout the day, presenting itself differently every time you look at it.

STEP LIGHT – A Colourful World

STEP LIGHT is a fun and interactive illumination display with lights that light up when you step on them, creating a colourful walkway.

Running: November 19, 2020 – February 28, 2021

Time: 17:00-23:00 (Until 24:00 around the plaza)

Location: Midtown Garden

MIDTOWN ICE RINK – A World of Ice

MIDTOWN ICE RINK is something people in Tokyo look forward to every winter. This year, the rink is opening in November. It's one of the biggest ice rinks in Tokyo and provides real ice for people to skate on, welcoming everyone from children and beginners to pros. The rink will be open into the evening too when it will be lit up so people can enjoy a little night skating session.

Running: November 19, 2020 – February 28, 2021
Time: 11:00-21:00 (Last Entries 20:00)

*Opens at 17:00 on November 19 and is closed on January 1

*Opening hours subject to change depending on weather
Location: Tokyo Midtown
Prices:

General (High School Students and older) – Weekdays ¥2,000 / Weekends & Public Holidays ¥2,500

Children (Junior High School Students and younger) Weekdays ¥1,500 / Weekends & Public Holidays ¥2,000

Midtown Christmas Trees

Various Christmas trees will be set up in the Tokyo Midtown garden area, indoors, and elsewhere to set in the holiday season mood.

Running: November 19, 2020 – December 25, 2020

Present Christmas Tree – A World of Fantasy

The Tokyo Midtown garden will welcome a mysterious kind of Christmas tree for the first time every this year—one which sprouts presents. 25 presents will be grown, and in December one will be given out each day.

Time: 17:00-23:00
Location: Midtown Garden

Santa Tree – A Miniature World


Around 1,800 individual Santa Claus ornaments will make up the 4-meter tall Santa Tree inside the Tokyo Midtown Galleria

Time: 11:00-Midtown
Location: Galleria 1F Tree Shower

Choose! Choose! AR Tree – An Original World

Tokyo Midtown also has something for people to enjoy at home. They can use an app that makes use of AR tech so that a Christmas tree can appear when you go to take a photo which you can decorate with an assortment of ornaments. There's over 1,000 possible combinations. More details about this will be posted on the event website in early November.

Shibuya's L'OCCITANE CAFE Reveals Spooky Parfait For Halloween 2020

L'OCCITANE CAFE Shibuya is getting ready for Halloween with the reveal of its sweet potato and apple parfait which will be served from October 21 to 31. The Tokyo-based cafe is centred on the food culture and lifestyle of Provence in southern France.

Sweet Potato and Apple Parfait | ¥1,280 (Tax Included)

The seasonal treat is a mix of purple sweet potato and regular sweet potato, baked apples, apple sherbet, and vanilla ice, all topped off with whipped cream, roasted nuts, and almond tuile biscuits in the shape of ghosts and a pumpkin.

Information

Sweet Potato and Apple Parfait
Serving: October 21, 2020 – October 31, 2020

L'OCCITANE CAFE Shibuya
Address: 2-3-1 Dogenzaka, Shibuya, Tokyo
Opening Hours:
[Sun-Thur] 11:00~22:00 (Last Orders 21:00)
[Fri-Sat] 11:00-23:00 (Last Orders 22:00)
TEL:03-5428-1563
Access: Straight ahead of Shibuya Station's 5th Exit (Inokashira Exit)
L'OCCITANE Japan Official Website: https://jp.loccitane.com/

Tokyo's New Art Cafe WHAT CAFE Opens in Tennozu

Warehouse TERRADA opened up the new art cafe 'WHAT CAFE' in Tennozu, Tokyo, on October 15, 2020.

Left: Overlap of paint (dot3) by Soichi Yamaguchi | Right: Ichijiteki ni Inu, Ichijiteki ni Hito, Ichijiteki ni E by Dan Isomura

WHAT CAFE will serve as a hub to support artists in Japan's art industry by functioning as both a gallery and cafe in a 800㎡ space. The gallery will change out the artwork from time to time to allow for more artists to showcase their works to visitors throughout the year. There will be hundreds of pieces shown in an entire year.

Left: Peel off the paint "No.125" by Haruna Shinagawa | void #35 by KIKUCHI Ryo

Tokyo's Tennozu area is looking to become a major stop for art in Japan and is currently home to various art facilities like the pigment lab PIGMENT TOKYO and Japan's biggest gallery complex TERRADA ART COMPLEX.

If you're interested in contemporary art in Japan, and are visiting Tokyo, then you won't want to miss a stop to Tennozu. Be sure to stop by WHAT CAFE.

Information

WHAT CAFE
Address: 2-1-11 Higashishinagawa, Shinagawa-ku, Tokyo
Opening Hours: 11:00-18:00

*No fixed holidays but the facility may be closed for certain events

Official Website: https://cafe.warehouseofart.org

Shaun the Sheep Themed Food Served Up in Japan to Celebrate 25th Anniversary

To celebrate 25 years since the screen debut of the beloved clay animated Shaun the Sheep, a new shop and cafe called "Shaun the Sheep Farm Cafe Stand" is opening up in Kanagawa serving up themed food, drink, and desserts.

Shaun the Sheep Farm Cafe Stand

Shaun the Sheep Farm Cafe Stand will open on October 15, 2020 in Kamiooka, Kanagawa, as a takeout cafe stand inspired by Shaun the Sheep. Customers can look forward to a selection of coffees and desserts based on the adorable sheep himself. And to celebrate the cafe's grand opening, a special free show will take place there from October 15-18, 2020.

Shaun Soft Cream | ¥500 (Before Tax)

Subtly sweet soft serve ice cream topped with a Shaun the Sheep cookie.

Shaun Cafe Latte | ¥700 (Before Tax)

A foamy latte with a cute Shaun marshmallow sat on top.

Shaun the Sheep Farm Cafe Stand

Location: mioka LIST (Floor 6F)

Access: Directly connected to Kamiōoka Station via the Tokyu Line and Yokohama City Blue Line
Opening Hours: 11:00-21:00 (Last Orders 20:45)

Shaun the Sheep Village Shop & Cafe

The Shaun the Sheep Village Shop & Cafe in Minami Machida Grandberry Park, which opened in November 2019, introduced a limited-time autumn menu last month which is still being served.

Shaun's Special Meatball Spaghetti | ¥1,580 (Before Tax)

A hot meatball spaghetti served with a Shaun the Sheep waffle which can be enjoyed together with fresh cream, maple syrup, and the meat sauce.

Baby Shaun's Forest Grape Trifle w/ Drink | ¥1,480 (Before Tax)

A towering trifle topped with seasonal grapes, vanilla ice cream, grape sherbet, custard, and grape jelly for a sweet and sour autumntime mix.

Fluffy Baby Shaun Custard or Caramel | ¥250 for one, ¥1,000 for five (Before Tax)

An adorable confection enjoyed by both child and grown-up customers. The cafe has now introduced a new caramel flavour.

Shaun the Sheep Village Shop & Cafe

Location: Grandberry Park Central Court Wonder Theatre (Floor 1F)

Opening Hours: 10:00-22:00 (Food Last Orders 21:00 / Drinks Last Orders 21:30)

Shaun the Sheep Farm Cafe: Halloween Menu

Shaun the Sheep Farm Cafe, a permanent cafe located inside Prime Tree Akaike Shopping Mall in Aichi, is serving up a special Halloween menu this year.

Shaun's Happy Halloween Plate 2020 | ¥1,380 (Before Tax)

A bright-red tomato sauce hamburger served with pumpkin cream soup and salad.

Shaun's Happy Halloween Dessert Assortment | ¥1,180 (Before Tax)

A sweet combo of pumpkin mont blanc and a pumpkin tart.

SHAUN THE SHEEP AND SHAUN'S IMAGE
ARE ™ AARDMAN ANIMATIONS LTD. 2020

Tokyo's Mickey Mouse Exhibition 'THE TRUE ORIGINAL & BEYOND' Previews 5 Japanese Artworks

The Asahi Shimbun and Nippon TV are set to host an exhibition centred on Mickey Mouse at the MORI ARTS CENTER GALLERY in Roppongi, Tokyo, from October 30, 2020 to January 11, 2021, in celebration of 90 years since Mickey Mouse's screen debut. The exhibition will showcase works shown at the Mickey: The True Original Exhibition held in New York in 2018-2019.

Before the exhibition opens, five participating Japanese artists have each revealed their never-before-seen artworks which will be on display.

The Tokyo exhibition will be a travel back through time, looking at Mickey Mouse from the past to the present. It will be split into three zones: "The Origin," "The True Original," and "Beyond." The five artists showcasing their work early will be featured in the "Beyond" zone and include Tomoko Oshima, Kosuke Kawamura, Nana Soeda, Calligrapher MAMI, and WAKU. Below are their featured pieces along with their comments.

Tomoko Oshima | Comment

"What's fascinating about Mickey Mouse is, for reasons I can't begin to work out, how he became a part of each person's life. I was raised in a household that banned cartoon characters, so it always felt like something unobtainable. Mickey Mouse is like a hero to all of us. He's dazzling and radiant, a kind of being I can't look directly in the face of. When working on my Mickey Mouse art [for the exhibition], my concept was to create a Mickey that's special only to me, so I challenged myself to turning that Mickey Mouse that everyone feels happy looking at and loves into my usual art style."

Oheya (Bedroom), Tomoko Oshima

Kosuke Kawamura | Comment

"What I find fascinating about Mickey Mouse is that no matter how old I get, he always transports me away from the real world to a world of dreams. He's an idol of mine. I even have my own collection of merchandise I've been collecting over the years. For the exhibition, I needed to creating something for the Beyond [zone], so I tried shaping Mickey Mouse from how I see him in my head. I've always made sure to balance my artwork in such a way that it can be seen in two ways. When you stand close, you can see the detailed composition, but when you step away, it looks different. This time around I gave myself a little challenge and made the silhouette of his face and hands using flowers. If you get close to it you'll see that it's made up of lots of flowers, but stand from afar and you'll be able to see the facial expressions and his pointing figure. I'd like people to give both a go, so when you've looked at it up close then take a step back."

Untitled, Kosuke Kawamura

Nana Soeda | Comment

"I feel Mickey Mouse's appeal from his long history and how he has changed overtime, so I tried to express these aspects in the piece I made. The theme for it is centred on Mickey Mouse in the future, so when I was thinking about what he might look like in the future, I looked to past [designs] and tried fixing them up. So in my piece there's a trace of looking back at past Mickey Mouse while giving him an update. Creating those 'futures' made me feel like I was walking through my own past and processes. You can't know exactly what's to come in the future even for someone as internationally popular as Mickey Mouse. But by learning from past memories and mistakes, you can draw on those to create a future, don't you think? That's something I wanted to convey in this piece, and I did so by creating something that's close to the Mickey Mouse of the past with both 2D and 3D surfaces. The Mickey Mouse I drew is the one of ages past that looks completely different to his appearance today. But those look at it might feel something newer about it than older. That, or they might feel uncomfortable seeing him in a way they're not used to. I want people to take their time looking at both and feeling whatever they feel when they do."

LOVE, Nana Soeda

Calligrapher MAMI | Comment

"I've captured Mickey Mouse's silhouette as its own kanji by using calligraphy. His appearance is iconic worldwide, and by making him recognisable through this common language, I've tried to create a new kanji, effectively breaking the language barrier of calligraphy, something which is difficult in itself to overcome for people. Another thing with calligraphy is that you can write the same piece hundreds of times which means it can be fine tuned over and over. I believe that overlaps with Mickey Mouse's design as he has too has evolved for a hundred years. But by no means have his designs he just spring out of existence immediately. He has undergone trial and error through the times, and always shines bright. It's because of everyone who will see my piece as this exhibition that I've been able to create something I can feel from the heart."

ZEN Mickey, Calligrapher MAMI

WAKU | Comment

"I think the appeal of Mickey Mouse lies in the fact that people around the world all remember him from their childhoods. We form memories during our childhoods, and ever I've been able to recognise those memories inside of me, Mickey Mouse was something that was always close to me. When I see three circles together, Mickey Mouse's face comes into my mind. He might be the first internationally recognisable symbol. I felt that the affinity between symbolism and neon signs is very high. So for my piece, I incorporated the techniques used for traditional Japanese neon signboards, something which I see less of these days. I took that and created the three Mickey Mouse circles using light."

Untitled (Still Being Worked On), WAKU

Information

MICKEY THE TRUE ORIGINAL & BEYOND
Running: October 30, 2020 – January 11, 2021

Time: 10:00-20:00

Venue: MORI ARTS CENTER GALLERY (Roppongi Hills Mori Tower Floor 52F)

Entry Price: General ¥2,800 / Junior & High School Students ¥2,000 / Elementary School Students ¥1,200 / Preschoolers – Free
Official Website: mtob.exhibit.jp

BT21 Cafe to Open in Tokyo, Osaka and Nagoya For Autumn 2020

The 7th run of the popular BT21 Cafe is set to open in Tokyo, Osaka, and Nagoya starting from October 17, 2020.

BT21 are the LINE messenger app characters created by K-pop group BTS. The cafe has seen six runs in Japan until now, and has proven immensely popular amongst fans for the selection of original dishes and drinks as well as exclusive merchandise. The 6th run ran back in February and March with a spring theme.

The theme of the 7th edition is centred on having a pyjama party in the long autumn evenings. The cafe artwork as well as food and merchandise is all themed on the autumn season.

FOOD

The food menu is a choice of a main, such as pasta or paella, and a side like clam chowder which is served up a cute character mug of your choice.

Fish Ragu Fusilli Pasta Set Menu Example | ¥1,490

A fusilli pasta dish served with a seafood tomato sauce.

Eggplant & Zucchini Lasagne Set Menu Example | ¥1,490

A lasagne served with the summer vegetables eggplant and zucchini as the main ingredient.

Seafood Paella Set Menu Example | ¥1,490

A Spanish dish containing Paella made with a seafood stock and served with potato wedges covered in a bravas sauce.

Margherita Pizza Set Menu Example | ¥1,490

The staple takeout pizza topped with tomatoes, mushrooms, and basil.

DESSERT

A selection of cakes served in different mugs with BT21 character designs.

Shortcake / Chocolate Cake / Mont Blanc / Cheesecake  – ¥1,290 Each

DRINKS

Drinks are self-service and include carbonated water, milk, and other beverages all of which can be topped with a dollop of character ice cream. This is a new kind of drink to be introduced at BT21 Cafe.

Character Drinks: KOYA/RJ/SHOOKY/MANG/CHIMMY/TATA/COOKY  – ¥990 Each

Glass Drinks: KOYA/RJ/SHOOKY/MANG/CHIMMY/TATA/COOKY – ¥500 Each

TAKEOUT DRINK | 1,690

The takeout drink is a blueberry milk combination.

GOODS

Fans can get their hands on a selection of original and exclusive miscellaneous merchandise all with the stay-at-home pyjama party theme.

Heart Pins | ¥600 Each (Design Chosen Randomly)


Card File | ¥1,300

Bonus Items

Cafe Original Cards

Cafe Original Coasters

Customers who book a table in advance will receive a free cafe original card, and those who order a drink a free coaster.

©BT21

Information

BT21 Cafe

Tokyo Cafe

Running: October 17, 2020 – November 23, 2020

Address: PINE UNDER FLAT B1F, 5-13-2 Jingumae, Shibuya, Tokyo

Osaka Cafe

Running: October 17, 2020 – November 27, 2020
Address: TOWER RECORDS CAFE UMEDA NU CHAYAMACHI, 10-12 Chayamachi, Kita-ku, Osaka-shi, Osaka

Nagoya Cafe

Running: October 17, 2020 – November 27, 2020
Address: TOWER RECORDS CAFE Nagoya Sakae SKYLE, 3-4-5 Sakae, Naka-ku, Nagoya-shi, Aichi

Table Bookings
Price: ¥650 (Before Tax)
BT21 Cafe Official Website: https://box-cafe.jp/

Tokyo's Cheese Dish Factory Releases New Tart Parfait Mont Blancs

Cheese Dish Factory, a restaurant in Shibuya MODI in Tokyo, released a new seasonal dessert for the autumn season on Monday called the 'Tart Parfait Mont Blanc.' The tasty bite's foundation is an almond tart which is filled and layered with ingredients like a parfait before being topped off with mont blanc cream.


The dessert comes in for delightful variations such as the 'Chestnut & Tiramisu' which tops tiramisu with the flavours of autumn like chestnut ice cream and chestnut cream, and the 'Berry & Berry' which is piled full of strawberry cream and topped off with a strawberry. Sweet-tooths will discover a labyrinth of flavours as they gradually make their way through whichever they decide to order.

Chestnut & Tiramisu (Mascarpone Cheese) | ¥880 (Before Tax)

The tiramisu is made with mascarpone and has on top of it Japanese chestnut and chestnut ice cream. The chestnut cream is arranged like a mont blanc. The inner tiramisu adds a unique touch to make this a mont blanc for the ages.

Berry & Berry (Cream Cheese) | ¥820 (Before Tax)

This tiramisu is made from cream cheese which is topped with strawberry sauce and vanilla ice cream. A parfait mont blanc for the strawberry lover who won't be able to resist the strawberry cream and the crowning fresh strawberry.

Fromage & No-Bake Cheesecake (Parmigiano-Reggiano Cheese) | ¥780 (Before Tax)

A no-bake cheese cake combined with cream cheese ice cream and cream cheese. Inside you'll find fresh white peach. There's also a crispy texture brought by the Parmigiano-Reggiano. A must-try for cheese fanatics.

Matcha & Brown Sugar Syrup Soy Flour (Ricotta Cheese) | ¥780 (Before Tax)

A mountain made from matcha warabimochi, adzuki red bean paste, brown sugar syrup soy flour, and vanilla ice cream. This one's full of Japanese flavours, but also ricotta cheese, making it a Japan x Western fusion.

Information

Cheese Dish Factory Shibuya MODI
Address: Shibuya MODI Floor 9F, 1-21-3 Jinnan, Shibuya-ku, Tokyo

Access: 3-minutes from Shibuya Station
TEL: 03-6416-5179
Business Hours: Lunch 11:00-15:00 / Cafe 15:00-17:00 / DINNER 17:00-23:30
Official Website: http://www.sld-inc.com/cheesedishfactory.html

teamLab Creates New Expressions For its Planets Exhibitions in Tokyo

The interdisciplinary art collective teamLab has added new elements to its Floating in the Falling Universe of Flowers and The Infinite Crystal Universe exhibits at teamLab Planets Tokyo in Toyosu, Tokyo.

Floating in the Falling Universe of Flowers
teamLab, 2016-2018, Interactive Digital Installation, Endless, Sound: Hideaki Takahashi

Floating in the Falling Universe of Flowers showcases a seasonal year of flowers blooming and changing with time and how life spreads out into the universe. Enter a vast, immersive world where over 10 million flowers bloom.

The Infinite Crystal Universe
teamLab, 2018, Interactive Installation of Light Sculpture, LED, Endless, Sound: teamLab

The light sculpture of The Infinite Crystal Universe extends infinitely in all directions. People use their smartphones to select elements to throw The Infinite Crystal Universe. These elements are reborn in three dimensions, creating the artwork. 26 light sculptures have been made for the exhibit.

A survey was carried out with 522 guests who visited teamLab Planets Tokyo between August 31, 2020 and September 13, 2020 in relation to the safety measures put in place at the site against COVID-19. The results showed that 94% of people answered that they felt safe during their time there.

Information

teamLab Planets TOKYO DMM.com
Address: teamLab Planets TOKYO, 6-1-16 Toyosu, Koto-ku, Tokyo
Opening Hours: [Weekdays] 10:00-19:00 / [Saturday] 9:00-20:00 / [Sunday] 9:00-19:00

*Last entries are 30 minutes before closing times
Official Website: https://planets.teamlab.art/tokyo/

Picasso's Ceramic Works to be Displayed at Tokyo's New YOKU MOKU MUSEUM

YM House is set to open the new YOKU MOKU MUSEUM in Minami-Aoyama, Tokyo, on October 25, 2020. The museum began taking bookings on October 2. It will limit the number of people allowed in the museum at once as a precaution against the spread of COVID-19 so that visitors can enjoy the works on display without worry. Tickets are available directly at the museum on the day, but since there's a capacity limit, it's recommended that visitors book online.

About YOKU MOKU MUSEUM

YOKU MOKU is a Japanese confectionery company best known for their Cigare cookies which are shaped to look like cigars. The company was founded by Noriichi Fujinawa, who maintained that "confections are creations." Toshiyasu Fujinawa, the Chairman of YOKU MOKU Holdings, will act as the Museum Director at YOKU MOKU MUSEUM where a wide selection of artworks from YOKU MOKU's collection will be displayed, including the Picasso ceramics the company has collected for over 30 years.

About the YOKU MOKU Collection

YOKU MOKU's collection boasts a comprehensive line-up of Picasso's ceramics that the artist himself made at the Madoura workshop in Vallauris. That makes the works in the collection even more prized as the ceramics themselves were shaped by Picasso's skilled hands.

The artist's passion for ceramics developed in 1947 and he worked on them at the Madoura workshop until his death in 1973. He forged everything from bowls to plates, jugs, and more.

Information

YOKU MOKU MUSEUM
Address: 6-15-1 Minami-Aoyama, Minato-ku, Tokyo

Opening Hours: 10:00-17:00 (Last Entries 16:30)

Closed: Mondays / New Year Holidays / October 26, 2020

Access: 12-minutes on foot from Omotesando Station
Bookings: https://www.e-tix.jp/yokumokumuseum/

*Information subject to change depending on COVID-19