Concert Review: BAND-MAID's First Online Concert Rocks Fans Around the World
BAND-MAID held their first ever online Serving (concert) on July 23, 2020, which was watched by Masters and Princesses (fans) across the globe who expressed their great excitement at the performance.
Intro sound effects rang while LED lights fell on the stage as the band members stepped out to an audience-less venue. They began their set with DOMINATION, followed by their up-tempo classics Dilemma and Play. Guitarist KANAMI and bassist MISA showed off their incredible skill on their instruments as the band put on a performance that had fans feeling like they were actually there at the show.
Before we knew it, the first part of the show had concluded. For the middle section, BAND-MAID played some ballads like glory and Rinne. Guitarist and vocalist Miku Kobato then took to the mic for some MC time. She read comments which were flooding in from fans around the world, something which is only possible with a streamed show like this. Comments were in multiple languages, including English. The official hashtag for the concert (#bandmaidokyuji) made it to 2nd place on Twitter's trending page in Japan. It was proof of BAND-MAID's popularity around the globe.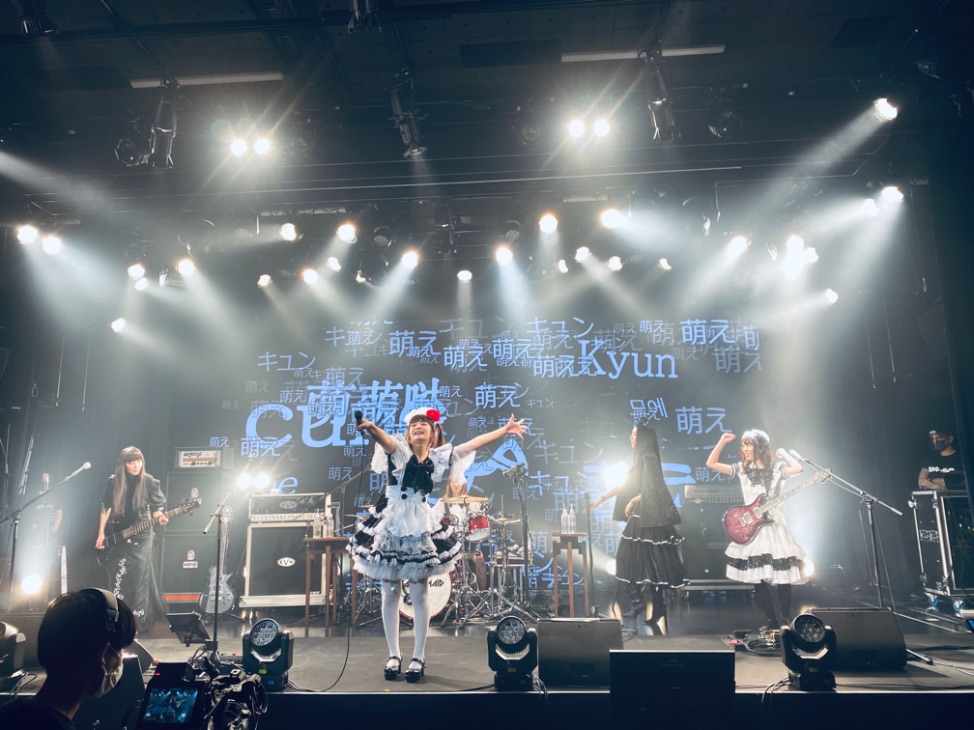 Kobato carried out her signature Omajinai Time―a section of the concert performed at every show―which consists of call-and-response with the crowd of the phrases "Moe Moe" and "Kyun Kyun." The Serving resumed with DICE as BAND-MAID dashed into the final part of the 1-hour show. The band performed FREEDOM, and lastly Blooming during which bright vivid lights lit up the stage.
The members took a photo on stage while visuals appeared on the back screen. Whether BAND-MAID have an audience watching in the venue, or at home, what is certain is that they always make sure to crack up their performance to max, and then some.

Pre-sale tickets for BAND-MAID's upcoming concert at the Nippon Budokan in February 2021 are now on sale.
Photos: SAKU
RELATED ENTRIES
BAND-MAID Perform TV Anime Log Horizon: Destruction of the Round Table's Opening Theme

It has been announced that BAND-MAID's new single Different, which is set for release on December 2, 2020, will be used as the opening theme for the upcoming TV anime series Log Horizon: Destruction of the Round Table coming this January. The song will feature on BAND-MAID's highly-anticipated fourth album Unseen World which will hit shelves on January 20, 2021.

Different cover art

Unseen World comes as BAND-MAID's first release since moving labels to Pony Canyon. It will be released in three versions: the CD-only Regular Edition, the First Press Limited Edition which includes a DVD featuring instrumental music videos, and a Limited Pressing Edition which features two discs, a multi-track Blu-ray with instrumental music videos, a studio photobook, and special packaging.

BAND-MAID will perform at the legendary Nippon Buddokan in Tokyo on February 11, 2020. The concert will be held in accordance with government guidelines surrounding the pandemic.

Information

ALBUM Unseen World

Release Date: January 20, 2021
LinkFire: https://lnk.to/UnseenWorld_CD

Limited Pressing Edition (2 CDs+Blu-ray+Studio Photobook): ¥7,000 (Before Tax) [PCCA-04991]

First Press Limited Edition (CD+DVD): ¥4,000 (Before Tax) [PCCA-04992]

Regular Edition (CD-Only): ¥3,000 (Before Tax) [PCCA-04993]

Different (Single)

Release Date: December 2, 2020

Price: ¥1,000 (Before Tax)

Stock No.: CRCP-10453

BAND-MAID NIPPON BUDOKAN OKYU-JI
Date: February 11, 2021

Time: Open 17:00 / Start: 18:00

Venue: Nippon Budokan
Details: https://bandmaid.tokyo/contents/326310

BAND-MAID Official Website: https://bandmaid.tokyo

BAND-MAID Announce New Single and Album Releases

29.September.2020 | MUSIC

BAND-MAID have announced that they will release a new single on December 2, 2020 as well as a brand new studio album in January 2021 at the same time as the band moves labels to Pony Canyon.

BAND-MAID recently held online concerts for fans in July and August which saw Masters and Princesses from over 60 countries tune in.

The rock band's new single is their first in nearly eight months and comes as the first release following their live DVD and Blu-ray WORLD DOMINATION TOUR Shinka at LINE CUBE SHIBUYA which hit shelves back in April. Full details of the single have yet to be revealed, but it's been confirmed that it will include their song Different which is set to be used as the opening theme for an upcoming anime series in January. It will be the band's final release from Nippon Crown before their move to Pony Canyon.

BAND-MAID will perform at the legendary Nippon Buddokan in Tokyo on February 11, 2020. The concert will be held in accordance with government guidelines surrounding the pandemic. Pre-sale tickets are now on sale.

BAND-MAID Announce First 'Online Serving' Live Stream Concert

BAND-MAID have announced details for their first ever no-audience, online Serving (concert) which will be live streamed on July 23, 2020.

According to the band's official website, the show will start at 4:00pm (JST). Tickets are scheduled to go on sale on July 9 from 12:00pm (JST).

In the run up to the concert, BAND-MAID have posted a live performance of their song Wonderland taken from February 14, 2020.

BAND-MAID / Wonderland (Feb. 14th ,2020)

It has also been announced that official pre-sales for the band's forthcoming performance at Nippon Budokan next year in February will go on sale on July 11, 2020.

BAND-MAID Drop Surprise Instrumental Track 'Want more!' For Free

Japanese maid outfit-clad hard rock band BAND-MAID held a live stream on May 10, 2020, aka "The Day of Maid," where they opened free downloads to a surprise instrumental track entitled Want more!.

The stream was held in response to the COVID-19 pandemic so the band could interact with fans. Comments flooded in from fans around the world.

Want more! is available to download for free via the link below. The link will expire after May 17, 2020.

BAND-MAID also just released their live DVD and Blu-ray WORLD DOMINATION TOUR 【Shinka】 at LINE CUBE SHIBUYA on April 29, 2020.4

BAND-MAID Release 'Choose me' Live Video From Upcoming Live DVD & Blu-ray

Japanese rock band BAND-MAID just dropped a live performance of their song Choose me taken from their upcoming live DVD and Blu-ray release WORLD DOMINATION TOUR 【Shinka】at LINE CUBE SHIBUYA which is set to hit shelves on April 29, 2020.

BAND-MAID has made their name known the world in recent years, especially with their latest album CONQUEROR which clocked in three categories of the Billboard US charts when it dropped at the end of last year.

This is the band's first live DVD and Blu-ray release, and features footage of the final concert from their tour "WORLD DOMINATION TOUR Shinka at PRESENTED BY LIVEDAM Ai" held at LINE CUBE SHIBUYA in Tokyo on February 14, 2020. It will also feature a bonus documentary and bonus audio.

BAND-MAID / Choose me (Feb. 14th, 2020)

Choose me was the climax of the opening of this Serving from the rock maids, be sure to check it out.

Information

WORLD DOMINATION TOUR Shinka at LINE CUBE SHIBUYA

Release Date: April 29, 2020

Blu-ray: ¥5,980 (Tax Included) [CRXP-10007]

DVD: ¥4,980 (Tax Included) [CRBP-10066]

Official Website: https://bandmaid.tokyo

BAND-MAID Tease Upcoming Live DVD & Blu-ray For WORLD DOMINATION TOUR Tokyo Concert

With their latest album CONQUEROR having clocked in three categories of the Billboard US charts, BAND-MAID have just teased a visual for the release of their upcoming live DVD and Blu-ray WORLD DOMINATION TOUR Shinka at LINE CUBE SHIBUYA which will hit shelves on April 29, 2020.

This is the band's first live DVD and Blu-ray release, and features footage of the final concert from their tour "WORLD DOMINATION TOUR Shinka at PRESENTED BY LIVEDAM Ai" held at LINE CUBE SHIBUYA in Tokyo on February 14, 2020. It will also feature a bonus documentary and bonus audio.

The main visual for the release was drawn by popular illustrator NekoshowguN and features the band members.

Additionally, it has been announced that there will be bonus items coupled with the DVD/Blu-ray release when bought at select stores in Japan.

Pre-sale tickets for BAND-MAID's 5-date Zepp tour will go live at Lawson on March 12. The band will also perform at Nippon Budokan on February 11, 2021. Before that, however, pick up a copy of the DVD/Blu-ray to witness the thrill of their live performance from their sold-out tour.

Information

WORLD DOMINATION TOUR Shinka at LINE CUBE SHIBUYA

Release Date: April 29, 2020

Blu-ray: ¥5,980 (Tax Included) [CRXP-10007]

DVD: ¥4,980 (Tax Included) [CRBP-10066]発

Official Website: https://bandmaid.tokyo

BAND-MAID Drop Music Video For Tony Visconti-Produced Song 'The Dragon Cries'

BAND-MAID just released the music video for their song The Dragon Cries taken from their latest album CONQUEROR which was released to international acclaim, making it into three categories on Billboard US.

The Dragon Cries is produced by American veteran record producer Tony Visconti who is known for having worked with a plethora of some of the biggest names in music history, including David Bowie and T-Rex.

The theme of the music video is "world peace," with the track having lyrics that serve as the alarm bell to the current condition of the world.

BAND-MAID – "The Dragon Cries" Music Video

BAND-MAID have just two more dates left of their 2019-2020 "World Domination" tour, which will take place at LINE CUBE SHIBUYA on February 13 and 14. The tour has taken them to 17 places across Japan, with every date having sold out.

The video is a must-see, and is undoubtedly an exciting release for fans going to their final shows tomorrow and the day afterーthe finale concerts to their long tour which have sold out despite being on weekdays.

Information

BAND-MAID WORLD DOMINATION TOUR "Shinka"
2020/2/13 @ LINE CUBE SHIBUYA, Tokyo *Sold Out
2020/2/14 @ LINE CUBE SHIBUYA, Tokyo *Sold Out

Inkcarceration Festival
Running: July 10, 2020 – July 12, 2020
Location: Ohio State Reformatory, Mansfield, Ohio, United States
Line-up: Limp Bizkit, Weezer, Blink 182, BAND-MAID, and many more
Buy Tickets: https://inkcarceration.frontgatetickets.com

Official Website: https://inkcarceration.com/

Netflix – "Kate"
Release Date: TBA
Director: Cedric Nicolas-Troyan
Starring: Mary Elizabeth Winstead, Tadanobu Asano, Jun Kunimura, MIYAVI, BAND-MAID

Official Website: https://bandmaid.tokyo/

BAND-MAID to Perform at Inkcarceration Festival in Ohio US

Japanese rock band BAND-MAID, whose latest record CONQUEROR is enjoyed huge success right now having charted in three categories in the US Billboard charts, have announced that they will perform at Inkcarceration Festival in Ohio, US, which is set to run from July 10-12 next year.

Inkcarceration Festival will take place at the Ohio State Reformatory, an infamous historic prison which was used as the setting in the movie The Shawshank Redemption. Other acts confirmed to perform for the 2020 festival include Limp Bizkit, Weezer, and Blink 182. BAND-MAID will be the first Japanese act to play the hard rock event.

From working with world-renowned producer Tony Visconti and their Hollywood debut in a Netflix movie to their contracts with major booking agencies such as United Talent Agency and Live Nation, BAND-MAID are conquering the world with no intention of stopping.

Information

Inkcarceration Festival
Running: July 10, 2020 – July 12, 2020
Location: Ohio State Reformatory, Mansfield, Ohio, United States
Line-up: Limp Bizkit, Weezer, Blink 182, BAND-MAID, and many more
Buy Tickets: https://inkcarceration.frontgatetickets.com

Official Website: https://inkcarceration.com/

BAND-MAID's New Album 'CONQUEROR'

Released: December 11, 2019

First Press Limited Edition A (CD+Blu-ray): ¥4,545 (Before Tax) [CRCP-40590]

First Press Limited Edition B (CD+DVD): ¥3,636 (Before Tax) [CRCP-40591]

Regular Edition (CD-Only): ¥2,727 (Before Tax) [CRCP-40592]

Streaming/Download Link: https://maid.lnk.to/conqueror

BAND-MAID Official Website: https://bandmaid.tokyo/

BAND-MAID Release 'Blooming' Music Video From New Album 'CONQUEROR'

BAND-MAID just dropped their new music video for Blooming which is taken from their upcoming new album CONQUEROR which is set to hit shelves tomorrow on December 11, 2019.

BAND-MAID「Blooming」Music Video: 

BAND-MAID once again showcase their great musicianship in this headbangerーanother fast-paced tune, something which BAND-MAID have been rolling with recently.

With the release of their third album CONQUEROR set for tomorrow, BAND-MAID released the album digitally worldwide on December 4 and it soon conquered the iTunes rock charts of countries all over the world.  The album currently holds third place in Japan. On December 5, it reached no.1 in Canada, no.7 in the UK, no.4 in France, no.3 in Australia, no.11 in Hong Kong, and even no.1 of 40 places on the America and World Music Charts.

From working with world-renowned producer Tony Visconti and their Hollywood debut in a Netflix movie to their contracts with major booking agencies such as United Talent Agency and Live Nation, BAND-MAID are conquering the world with no intention of stopping.

CONQUEROR will mark almost two years since the band released a full-length studio album.

Information

BAND-MAID's New Album 'CONQUEROR'

Tracks: 15

Release Date: December 11, 2019

First Press Limited Edition A (CD+Blu-ray): ¥4,545 (Before Tax) [CRCP-40590]

First Press Limited Edition B (CD+DVD): ¥3,636 (Before Tax) [CRCP-40591]

Regular Edition (CD-Only): ¥2,727 (Before Tax) [CRCP-40592]

Streaming/Download Link: https://maid.lnk.to/conqueror

BAND-MAID Official Website: https://bandmaid.tokyo/

BAND-MAID's New Album 'CONQUEROR' Conquers iTunes Rock Charts Worldwide

With the release of their third album CONQUEROR set for December 11, BAND-MAID released the album digitally worldwide on December 4 and it soon conquered the iTunes rock charts of countries all over the world. 

The album currently holds third place in Japan. On December 5, it reached no.1 in Canada, no.7 in the UK, no.4 in France, no.3 in Australia, no.11 in Hong Kong, and even no.1 of 40 places on the America and World Music Charts.

From working with world-renowned producer Tony Visconti and their Hollywood debut in a Netflix movie to their contracts with major booking agencies such as United Talent Agency and Live Nation, BAND-MAID are conquering the world with no intention of stopping. 

Information

BAND-MAID's New Album 'CONQUEROR'

Tracks: 15

Release Date: December 11, 2019

First Press Limited Edition A (CD+Blu-ray): ¥4,545 (Before Tax) [CRCP-40590]

First Press Limited Edition B (CD+DVD): ¥3,636 (Before Tax) [CRCP-40591]

Regular Edition (CD-Only): ¥2,727 (Before Tax) [CRCP-40592]

Streaming/Download Link: https://maid.lnk.to/conqueror

BAND-MAID Official Website: https://bandmaid.tokyo/

BAND-MAID Releases 3rd Album 'CONQUEROR' Digitally Worldwide and Announces Guitar Battle on NHK TV Show

BAND-MAID has just released all the songs from their third album CONQUEROR digitally. The physical album is set for release on December 11. 

CONQUEROR holds a number of their greatest songs which became sensational hits even before their release such as the Yu-Gi-Oh! VRAINS ending theme glory, Bubble, which is the theme song for the ABC TV drama Perfect Crime, and even The Dragon Cries, which is a global hit produced by American veteran record producer Tony Visconti. 

Having released all the songs from their new album digitally with a physical album to follow, BAND-MAID has proven their exponential growth to the world once again. Check out the streaming and download links below to hear their flawless musicianship.

But that's not all. BAND-MAID worked up a sensation on December 1 when they appeared on music news program SHIBUYA NOTE. On December 10, BAND-MAID's guitarist KANAMI will appear on the NHK Educational TV show Shakiin! Sound Fighters (シャキーン!サウンドファイターズ). During the show, KANAMI will face off against Shinji Wajima from rock band Ningen Isu in a guitar battle.

From their Hollywood debut to working with world-renowned producers and contracting with a world major booking agency, BAND-MAID are on a streak of global breakthroughs and have no intention of stopping. 

Information

CONQUEROR

Contains 15 Songs

December 11, 2019

First-Press Limited Edition A (CD+Blu-ray): CRCP-40590 / ¥4,545 + Tax

First-Press Limited Edition B (CD+DVD)  CRCP-40591 / ¥3,636 + Tax

Regular Edition (CD): CRCP-40592 / ¥2,727 + Tax

Stream/Download Link: https://maid.lnk.to/conqueror

BAND-MAID Official Website: https://bandmaid.tokyo/

NHK Educational TV: Shakiin! Sound Fighters

Round 1: December 10, Round 2: December 13 (On Air: 7:00am – 7:15am)

Shinji Wajima (Ningen Isu) vs KANAMI (BAND-MAID) 

BAND-MAID to Appear in Netflix Original Movie 'Kate' as Themselves & Sign Contract With United Talent Agency

It has been revealed that BAND-MAID are set to appear as the band themselves in the upcoming action thriller Netflix Original movie Kate. The band have also signed a contract with United Talent Agency, one of the biggest booking agencies in the world.

Kate is being directed by French film director and visual effects artist Cedric Nicolas-Troyan (Snow White and the Huntsman) while the screenplay is being written by Umair Aleem. It will be produced by David Leitch, who directed Deadpool 2 and Atomic Blonde.

The film will star lauded actress Mary Elizabeth Winstead as the protagonist, as well as numerous notable Japanese actors including Tadanobu Asano, Jun Kunimura, and musician and actor MIYAVI.

Following BAND-MAID's signing with booking agency Live Nation, it has now been announced that they have sealed a deal with United Talent Agency tooーone of the world's four biggest booking agencies. They are known for having booked some of the world's biggest artists, including Guns N' Roses and Muse, as well as numerous top bands from Japan such as ONE OK ROCK and BABYMETAL.

It was also revealed last week BAND-MAID's song The Dragon Cries, which is featured on their upcoming third studio album CONQUERORーset for release on December 11, 2019ーwas produced by legendary American record producer Tony Visconti, who has worked with a plethora of some of the biggest names in music including David Bowie. All of this good news about BAND-MAID is pushing them further to their goal: conquering the world.

Information

Netflix – "Kate"
Release Date: TBA

CONQUEROR

Release Date: December 11, 2019

Tracks: 15

First Press Limited Edition A (CD+Blu-ray): ¥4,545 (Before Tax) [CRCP-40590]

First Press Limited Edition B (CD+DVD): ¥3,636 (Before Tax) [CRCP-40591]

Regular Edition (CD-Only): ¥2,727 (Before Tax) [CRCP-40592]

Streaming/Download Link: https://maid.lnk.to/conqueror

BAND-MAID on United Talent Agency: https://www.unitedtalent.com/artist/band-maid/

BAND-MAID Official Website: https://bandmaid.tokyo/