Pikachu Ice Lollies and Frappe to Arrive at Tokyo's Pokémon Cafe This Summer
The Pokémon Cafe in Ikebukuro, Tokyo is introducing some refreshing Pikachu sweet treats  to its menu this summer, beginning on August 1.
Pikachu Pineapple Ice Bar | ¥650 (Before Tax)
First up on the is the tropical pineapple flavoured ice bar which comes with four different variations of Pikachu's adorable face. There's also two different packaging designs which come in blue or pink.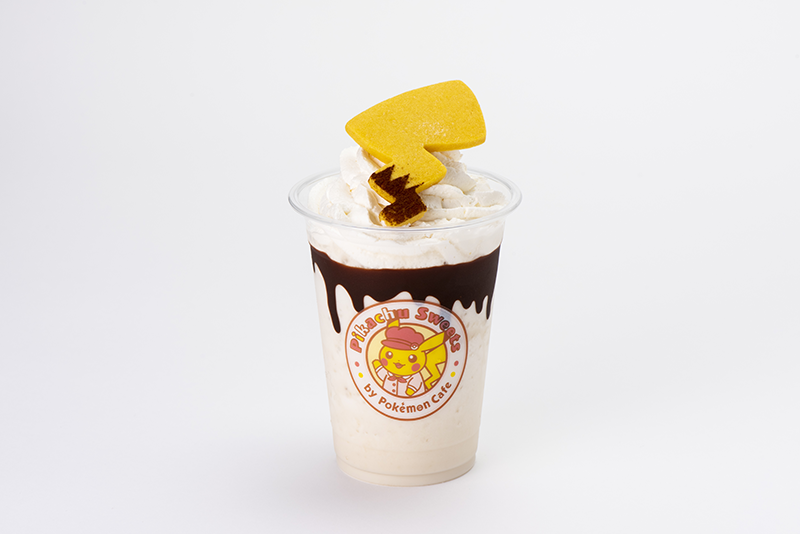 Pikachu Tail Chocolate Banana Frappe | ¥700 (Before Tax)

Drink Sleeve | ¥550 (Before Tax)
For drinks, the Pokémon Cafe is serving up a chocolate banana frappe topped with Pikachu's tail made from chocolate. The drink comes with a free sleeve of Pikachu's chubby face.
© 2020 Pokémon.©1995-2020 Nintendo/Creatures Inc./GAME FREAK inc.
Information
Pikachu Sweets by Pokémon Cafe
Address: Sunshine City Alpa 2F, 3-1-2 Higashi-Ikebukuro, Toshima-ku, Tokyo
Opening Hours: 10:00-20:00
Official Website: https://www.pokemoncenter-online.com/cafe/pikachu_sweets/
Cautions
*Opening hours subject to change. Please check the official website before travelling.
*Duration of these limited-time menu items subject to change without notice.
*Available while supplies last.
*Photos are for illustrative purposes only. Actual products may differ in colour and design.
RELATED ENTRIES
Winter Vegan Food to be Served Up at BOTANIST Tokyo in Harajuku This Holiday Season

BOTANIST's flagship shop BOTANIST Tokyo will be serving up a special Northern European-themed holiday season menu at its second floor BOTANIST Cafe from October 31, 2020. The line-up is made with the wish in mind that everyone can live with hope in mind as we draw closer to the end of 2020 and ready for the start of the New Year.

Holiday Menu

All food on the seasonal holiday menu is vegan and promised to be filling, delicious, and healthy.

White Mushroom & Meatball Pasta | ¥1,250 (Tax Included)

A vegan pasta with must-have meatballs covered in a lip-smacking tomato sauce. The pasta is made from rice flour.

Shiitake Patty & Shimeji Sauce Hamburger | ¥1,500 (Tax Included)

A vegan burger with a patty made from shiitake mushrooms and doused in an aromatic shimeji mushroom sauce. It's served with hot hasselback potatoes which are seen in the cuisine of North Europe as well as cauliflower.

Five Mushroom Soy Potage | ¥510 (Tax Included)

A rich potage made from five varieties of mushroom including shiitake, eryngii, shimeji, and hen-of-the-wood. It has a full-bodied flavour and is nothing short of delicious.

​

Vegan Doughnut Holiday Cake | ¥600 (Tax Included)

A Christmas cake where you can pick two vegan doughnuts from a selection of flavours. It's filled with soy cream which goes perfectly with the chewy rice flour doughnuts.

Christmas Set To Go


Christmas Set To Go: ¥2,200 (Tax Included) / Uber Eats: ¥2,600 (Tax Included)

A Christmas set that can be ordered to go or via Uber Eats. Perfect for get-togethers with friends and families.

BOTANIST Botanical Winter Coffret


BOTANIST Botanical Winter Coffret (Premium Hair Care Set) | ¥8,690 (Tax Included)

At BOTANIST Tokyo's first floor shop, they have announced the release of a new hair care collection called BOTANIST Botanical Winter Coffret which will hit shelves on October 31, 2020.

BOTANIST Tokyo's vegan winter menu will arrive on October 31, 2020 which is the final day of their vegan autumn menu. Check out their autumn food line-up here.

Information

BOTANIST Tokyo
Address: 6-29-2 Jingumae, Shibuya, Tokyo (1st Floor – Shop / 2nd Floor – Cafe)
TEL: 1st Floor: 03-5766-3777 / 2nd Floor: 03-5766-3778
Opening Hours: 11:00-20:00

Official Website: https://shop.botanistofficial.com/

POKÉMON AIR: The Cute Pikachu Toy That You Can Ride Launches New Orders

Japanese company JAM launched the POKÉMON AIR back on October 1, an adorable 50cm long Pikachu toy that can be sat on, which sold out immediately. Due to its success, it has announced that it will begin a second wave of orders on October 26 at 11:00am (JST) via their online store.

POKÉMON AIR | ¥7,500 (Before Tax)

The big, round, and plump Pikachu has many uses, whether for sitting or leaning on when you want to read or play games, hugging, or using as interior design.

Shipping will roll out in Japan from mid-December just in time for Christmas, so those who missed out on the first batch of orders now have a chance to get their very own Pikachu too.

Jazz Manga Series BLUE GIANT Collaborates With Brooks Brothers in Omotesando

Brooks Brothers, the oldest apparel brand in the US, is teaming up with Shinichi Ishizuka's popular jazz manga series BLUE GIANT with a collaborative event set to take place at Brooks Brothers Omotesando in Tokyo from October 30 to November 15.

The event celebrates the simultaneous release of all 11 volumes of the European edition of the manga series, entitled BLUE GIANT SUPRIME, as well as the first volume of BLUE GIANT EXPLORER which is set in the US—the holy grail of jazz.

The event will showcase Brooks Brothers' iconic button-down shirt with a famous quote said by the protagonist of BLUE GIANT as pictured above which roughly translates to: "A white shirt is proof of a jazzman!!"

There will also be displays of original illustrations drawn by Shinichi Ishizuka himself for the event, panels from the manga on show, original art by popular collage artist Kosuke Kawamura and embroidery artist Mana Morimoto, and more. Visitors will even get to try some embroidery themselves in a special workshop, and much more.

The Aoyama branch of Brooks Brothers recently moved to Omotesando, signalling a new start for the store. Likewise, the BLUE GIANT story is now set in the US, which will make for more new and exciting stories. The event serves to celebrate the new chapters of both Brooks Brothers and BLUE GIANT.

Information

Brooks Brothers x BLUE GIANT "NEW CHAPTER"
Running: October 30, 2020 – November 15, 2020
Opening Hours: 11:00-20:00
Location: Brooks Brothers Omotesando
Address: H-CUBE MINAMIAOYAMA 5-7-1 Aoyama, Minato-ku, Tokyo

Embroidery Workshop
Running: October 30, 2020 – October 31, 2020

Silkscreen Service
Running: October 30, 2020 – November 15, 2020
*Silkscreen service that prints BLUE GIANT motifs, Kosuke Kawamura's original art, and more onto shirts you buy

Brooks Brothers Japan Official Website: http://www.brooksbrothers.co.jp/
BLUE GIANT Official Website: https://bluegiant.jp/

Taste Authentic Japanese Matcha at Asakusa's New Matcha Specialist Shop Kaminari Issa

Asakusa welcomed the newest and third branch of matcha dessert specialist shop Kaminari Issa on October 2, 2020, which opened its doors along Dempoin Street. The shop is just a 3-minute walk from Asakusa Station and 2-minutes from Kaminarimon.

Signature delights on Kaminari Issa's menu include the Okoicha Warabi Latte and Okoicha Gelato. Everything on the menu is made with rich, high quality matcha, from the matcha tea lattes to the matcha beer, parfaits, ice cream, dacquoise, and more. If you love matcha, and you're in Tokyo, this place is a must-visit.


There are plenty of items to get your hands on in this newest store, which also has its own eat-in space, tea leaf display, and more.

They even sell kits so you can make your own Okoicha Warabi Latte and Wakocha Brown Sugar Warabi Latte at home.

Information

Kaminari Issa Dempoin-dori
Address: 2-2-2 Asakusa, Taito-ku, Tokyo
Opening Hours: 10:00-18:00 (until 17:00 on Mondays)
TEL: 03-5830-6948
Access: 3-minutes on foot from Asakusa Station
Official Website: https://www.kaminari-issa.com/

Disney's Fantasia Gets Sweets Collection by Tokyo Banana

GRAPESTONE is releasing a new sweets collection at Disney SWEETS COLLECTION by Tokyo Banana, which is located in Tokyo Station, in collaboration with the Disney classic Fantasia. The confections will be released in limited quantities from October 30, 2020.

© Disney Disney SWEETS COLLECTION by Tokyo Banana JR Tokyo Station

Disney SWEETS COLLECTION by Tokyo Banana opened on the JR Line side of Tokyo Station in November of last year. The shop is a joint-collaboration with Tokyo Banana—the official souvenir sweet of Tokyo—and Disney. The shop sold over 100,000 products in the first week of its opening, and caught the attention of Disney fans on social media who described the shop and the packaging of their sweets as cute.

Disney Fantasia Chocolate Sandwich (Contains 28) | ¥3,024 (Tax Included)

The cute packaging features Mickey Mouse as The Sorcerer's Apprentice in the 1940 animated film Fantasia. The light and crunchy cat tongue cookies at filled with chocolate banana milk shake flavoured cream

The confections serve as the perfect gift or souvenir from Japan to yourself or any fan of Disney.

© Disney

Information

Disney Fantasia Chocolate Sandwich
Running: October 30, 2020 – Mid December 2020

Available: Disney SWEETS COLLECTION by Tokyo Banana JR Tokyo Station

Purchasing: 70 available per day, max 2 per person
Official Website: https://www.tokyobanana.jp/disney/index.html

Sanrio Puroland Announces Christmas 2020 Event PURO RAINBOW CHRISTMAS

Sanrio Puroland has announced that this year's PURO RAINBOW CHRISTMAS event will run from November 13 to December 25. The theme for 2020 is "Rainbows," and this time around, the event can be enjoyed both at the park and online.

Colourful and Kawaii Christmas Food

Sanrio Puroland will once again serve up a special Christmas menu of ten items, with iconic characters like Hello Kitty, My Melody and the Little Twin Stars wearing colourful Santa Claus hats.


Food includes dishes like "Hello Kitty's Christmas Gift Curry" with Hello Kitty holding a Christmas present, the snow white "Rainbow Christmas☆Snow Omelette Pasta," and more. There are also desserts such as "My Melody's Pink Yule Log Cake" and "Pochacco's Pistachio & Strawberry Tree Parfait." The multi-coloured menu line-up takes up Christmas classics like chicken and snow.

Cute Rainbow Coloured Merchandise

Mascots | ¥1,650 Each (Tax Included)

A collection of different mascots from Sanrio Puroland each wearing colourful Santa outfits.

Confectionery Set | ¥1,080 (Tax Included)

An assortment of confections served in an eye-catching box featuring familiar Sanrio faces.


Christmas Illuminations – "Rainbow Santa's Christmas Eve"

An exciting Christmas illumination show will take place at Puroland Village to the sound of Christmas-y Puroland music. Lights will brighten up the place with in a kaleidoscope of colours.

PURO RAINBOW CHRISTMAS Special Greeting

Visitors will be able to meet and take photos with the Sanrio characters in person for one whole minute. The cast will wear Christmas red outfits from November 13 to December 1 and change into white costumes from December 5. This will take place on the first floor Event Corner and will see Hello Kitty, My Melody, Pompompurin, Cinnamoroll, Wish me mell, and Dear Daniel make an appearance.  It will be carried out using social distancing measures.

Enjoy Puroland Christmas at Home

This year, Sanrio Puroland will stream past popular Christmas events held at the park on the Japanese video streaming site SHOWROOM on December 12. Shows include "HAPPY GIFT CHRISTMAS" from 2016, "The Puro Christmas" from 2019, and more.

Infinite Online Greetings

Sanrio Puroland launched online content back in June in response to COVID-19 which included getting to meet the characters online. They will host a special Christmas version on December 22 also on SHOWROOM where the characters will wear their white costumes from the Christmas show "The Puro Christmas." Participating characters include Hello Kitty, My Melody, Pompompurin, Cinnamoroll, Little Twin Stars (Kiki & Lala), Wish me mell, and Dear Daniel.

©'13,'20 SANRIO S/D・G ©'15,'20 SANRIO S/T・F ©'15,'20 SANRIO S/F・G ©'17,'20 SANRIO MP,TX©'75,'76,'79,'84,'85,'86,'88,'89,'90,'92,'93,'96,'98,'99,'01,'04,'05,'10,'12,'20 SANRIO

Cute Pika-Pika Pikachu Designs Featured On Lemon Flavoured Puré Gummies

Japanese confectionery company KANRO has once again joined pika-paws with Pikachu for the third time to feature the beloved Pokémon on the lemon flavour their Puré gummies. They will be released in Japan from October 27, 2020 in limited quantities.

Pikachu Puré Gummies – Third Collaboration

Following the success of the first two collaborations in June and July this year, with buyers expressing how cute they are in Japanese social media, KANRO is at it again, this time with their lemon flavour. There will be eight different Pikachu packet designs for this third collaboration, each with an attractive neon sign logo. The combination of gelatine and pectin is what gives Puré gummies their chewy texture.

Puré Gummy Lemon Pokémon (56g) | ¥130 (Tax Included)

In a packet of these gummies you'll find two shapes: the classic Puré heart shape and Pikachu shape, so you'll always be in for a surprise each time you reach into the bag.

Puré Gummy Pikachu Video

KANRO has released yet another promotional video for this third collaboration. The video for the first collaboration garnered 1 million views in just three days. Check out the adorable video below.

Pika Puré Merchandise Campaign

KANRO is also holding a campaign on their official Twitter page from October 28-30 where you can win a free Pika Puré eco bag.

Additionally, 210 random people who buy Puré gummy products in Japan from October 27 to December 20 will be chosen to win additional merchandise. 10 people will get a big cushion and 200 a big blanket. To enter, purchase select Puré products in Japan and send your receipt to the company via the LINE messaging app.

©2020 Pokémon ©1995-2020 Nintendo/Creatures Inc./GAME FREAK inc.
Pokémon, ポケットモンスター, and ポケモン are registered trademarks of Nintendo, Creatures Inc., and GAME FREAK inc..

Pokémon Cafe and Pikachu Sweets by Pokémon Cafe Reveal New Desserts Including Polteageist Tea Set

Pokémon Cafe and Pikachu Sweets by Pokémon Cafe are releasing a new teatime menu at their respective branches on October 24, 2020.

Pokémon Cafe

Polteageist & Sinistea Tea Party! Fruit Tea Set ~Apple Flavoured~ | ¥1,188 (Tax Included)


Polteageist & Sinistea Tea Party! Fruit Tea Set ~Strawberry Flavoured~ | ¥1,188 (Tax Included)

Pokémon Cafe is serving up two different fruit tea sets based on the Ghost-type Pokémon Polteageist and Sinistea. Customers are free to pour in their desired amount of fruit syrup which changes the colour of the tea. The sets come with a cute cookie too.

Pikachu Sweets by Pokémon Cafe

Left: Polteageist's Tea Party! Fruit Tea ~Mixed Berry Flavour~ / Right: Polteageist's Tea Party! Fruit Tea ~Peach Orange Flavour~ | ¥700 Each (Before Tax)

Pikachu Sweets by Pokémon Cafe is also going to serve up some Polteageist themed fruit teas as well as a selection of desserts like macarons and financier almond cakes which have Pokémon tail and ear designs.

After ordering one of the Polteageist fruit teas, customers can place their cups under the Polteageist tea pot as pictured above and activate the pot to dispense their drink, so it's like Polteageist  really pouring tea for you.

Left: Swirlix Strawberry Macaron | Middle: Pikachu Vanilla Macaron | Right: Galarian Ponyta Pistachio Macaron – ¥500 Each (Before Tax)

Treat yourself to one of the super cute Swirlix, Pikachu, or Ponyta macarons each with designs that tell you instantly which Pokémon they're inspired by.


Polteageist Fruit Tea and & Pikachu Macaron Set

Customers can order a tea and macaron combination set too.

Pikachu Parfaits

Pikachu Glass Parfait Set | ¥1,500 (Before Tax)

An adorable set of Pikachu parfaits, one being caramel banana flavoured and the other chocolate.

Pikachu Tea Party Assortment – Pika Pika Pikavee Set | ¥2,800 (Before Tax)

Another set to share between friends and family, this time with two Pikachu glass desserts as well as Pikachu and Eevee cupcakes.

Pikachu Tea Party Assortment – Ghost Type Set | ¥2,800 (Before Tax)

This set comes with the Pikachu glass desserts as well as Ghost-type Gengar and Litwick mousse cakes.

The Polteageist teapot and Sinistea teacup used at the Pokémon Cafe and Pikachu Sweets by Pokémon Cafe will also be released at Pokémon Center Online in Japan on December 5, 2020.

© 2020 Pokémon.©1995-2020 Nintendo/Creatures Inc./GAME FREAK inc.
Pokémon, ポケットモンスター, and ポケモン are registered trademarks of Nintendo, Creatures Inc., and GAME FREAK inc..

Information

Pokémon Cafe (Nihombashi, Tokyo)
Address: Nihombashi Takashimaya SC East Bldg. 5F, 2-1-2 Nihombashi, Chuo Ward, Tokyo
Business Hours: 10:30-22:00
No Fixed Holidays (Except when Nihombashi Takashimaya SC is closed)
Reservations: https://www.pokemoncenter-online.com/cafe/reservation.html

Pokémon Cafe (Shinsaibashi, Osaka)
Address: Daimaru Shinsaibashi Honkan 9F, 1-7-1 Shinsaibashisuji, Chuo Ward, Osaka, Osaka Prefecture
Business Hours: 10:00-21:30
No Fixed Holidays (Except when Daimaru Shinsaibashi is closed)
Reservations: https://www.pokemoncenter-online.com/cafe/reservation.html

Pikachu Sweets by Pokémon Café 

Address: Sunshine City Alpa Floor 2F, 3-1-2 Higashiikebukuro, Toshima City, Tokyo

Opening Hours: 10:00-20:00
Official Website: https://www.pokemoncenter-online.com/cafe/pikachu_sweets/

*Opening hours subject to change, please check in advance before travelling.

*Food served and duration subject to change without notice.

*Photos are for illustrative purposes only.

*Seat reservations are taken online only – phone reservations not available.

Tokyo's New Shisha Bar 'AROMA SMOKE SHIROKANE' Opens This November

AROMA SMOKE SHIROKANE is a new shisha bar set to open in Shirokane, Tokyo, this November, offering private booths to all customers.

Shisha is a flavoured tobacco made from a syrupy tobacco mix. The shisha experience is popular worldwide with groups coming together to enjoy the experience at shisha bars or hookah lounges and in recent years have grown in popularity in Japan, particularly amongst women and people who weren't regular cigarette or roll-up smokers before.

Private rooms for a shisha get-together with friends

Shisha bars continue to open up in Tokyo, but AROMA SMOKE SHIROKANE boasts as the only place in Japan's capital with completely private rooms for all customers. This is particularly favourable during the pandemic in order to greatly reduce the risk of coming into contact with other customers.

Enjoy shisha while having a meeting

Shisha is enjoyed by a lot of business-people in Japan, and recently there has been an increasing demand for more business meetings to be had over shisha. The private booth setting makes AROMA SMOKE SHIROKANE perfect for realising this request, so customers can discuss all their ideas over a smoke.

Try two different flavours on the same visit

Customers are able to change up their shisha flavour once during their two hour session, allowing them to try two completely different flavours on the same visit completely free of charge. Now that's service.

With the professional interior design of AROMA SMOKE SHIROKANE one can't help but feel like it's otherworldly. Customers can spend their time in class and comfort and smoke without having to worry about others. If you visit Tokyo, and love shisha, then this is a place you can't pass up.

Information

AROMA SMOKE SHIROKANE
Address: 6-21-12 Shirokane, Minato-ku, Tokyo
No Fixed Holidays
Opening Hours: 11:00-18:30
Price: From ¥4,000 (Before Tax)
Official Website: https://aroma-smoke-shirokane.business.site

Disney: Twisted-Wonderland Mobile Game Gets Themed Cafes in Tokyo, Osaka and Nagoya

LEGS, INC. has announced that it will open three cafes themed on the mobile game Disney: Twisted-Wonderland at OH MY CAFE branches in Tokyo and Osaka on November 20 and in Nagoya on November 27.

Disney: Twisted-Wonderland is a Japanese mobile game that was released on March 18, 2020. The concept, character designs, and scenario for the adventure rhythm game were conceived by Yana Toboso, the creator of the popular Black Butler manga series. The game is centred on the villains of Disney.

The cafe's theme places customers in the food hall of Night Raven College, the magic training school where the game is set. It will be adorned in decorations inspired by the game's food hall, and coupled with that, the cafe will serve up food and drink that actually appear in the game. There's also exclusive merchandise for players to get their hands on.

The Menu

There are four different lunches to pick from, all of which are low in salt content and so are a healthy option for wizards and witches flying into the cafe.

Food

<Lunch Option A>


Deluxe Menchi Katsu Sandwich | ¥1,990, with plate ¥4,290 (Before Tax)

The most popular item on the food hall's menu is the non-fried menchi-katsu meat cutlet sandwich.

<Lunch Option B>


Salmon Cream Stew | ¥1,990, with plate ¥4,290 (Before Tax)

A cream stew packed with salmon and vegetables and served with slices of baguette for dipping.

<Lunch Option C>


Tomato Base Squid Ink Pasta | | ¥1,990, with plate ¥4,290 (Before Tax)

A colourful tomato-based veggie pasta in squid ink and served with fruity yoghurt.

<Lunch Option D>


Four Mushroom Risotto | ¥1,990, with plate ¥4,290 (Before Tax)

A creamy, mild-flavoured risotto served with four different kinds of mushrooms.

Drinks


Character Drinks (7 Flavours) – Heartslabyul, Savanaclaw, Octavinelle, Scarabia, Pomefiore, Ignihyde, Diasomnia | ¥890 with coaster ¥1,790 (Before Tax)

A selection of colourful tinted waters inspired by seven different characters seen in the game.

Merchandise


Superdeformed Series Art Example


Pattern Series Art Example

Magic-wielding players can get their hands on a selection of merchandise both at the cafes, and from November 20, via the OH MY CAFE STORE website. There are two different designs for the merch line-up as pictured above.

Bonus Items

Customers who book a table in advance (¥650 before tax per person) at the cafe will receive one of 22 possible lunch mats, and if they order a drink, one of 22 coasters.

©Disney

Information

Disney: Twisted Wonderland @ OH MY CAFE

OH MY CAFE TOKYO

Address: Tokyu Plaza Omotesando, 4-30-3 Jingumae, Shibuya, Tokyo

Running: November 20, 2020 – January 31, 2021

kawara CAFE&DINING Shinsaibashi

Address: Shinsaibashi Opa Floor 9F, Nishi-Shinsaibashi, Chuo Ward, Osaka, Osaka Prefecture

Running: November 20, 2020 – February 2, 2021

kawara CAFE&KITCHEN Nagoya PARCO
Address: Nagoya PARCO, 3-29-1 Sakae, Naka-ku, Nagoya-shi, Aichi
Running: November 27, 2020 – February 9, 2021

Official Website: http://twst.ohmycafe.jp

Tokyo Midtown Announces Winter Event 'MIDTOWN WINTER MOMENTS'

Tokyo Midtown has announced that its winter event 'MIDTOWN WINTER MOMENTS' will run from November 19, 2020 to February 28, 2021.

"ANOTHER WORLD" is the concept for this year's rendition of the annual event, which will see new winter illuminations, Christmas decorations, the opening of an ice rink, and plenty of other fun experiences for people to enjoy throughout the entire day, right into the evening.

MIDTOWN WINTER LIGHTS

A highlight of the event will be the "MIDTOWN WINTER LIGHTS," warm illuminations to light fires in hearts during the cold winter season that will create a dazzling spectacle the likes of which cannot be missed.

Path of Light – An Illuminated World

The pedestrian walkway will welcome a strip of gorgeous golden lights affixed to towering trees to guide your way. More golden lights than ever before are being prepared this year to pull visitors into a romantic and dreamy world.

SNOW LIGHT GLOBE – A World of Snow

The SNOW LIGHT GLOBE is a giant 3-meter tall and 4.5-meter wide snow globe inside which glistens sparkling snow, crystals, and aurora. The lights are ever-changing throughout the day, presenting itself differently every time you look at it.

STEP LIGHT – A Colourful World

STEP LIGHT is a fun and interactive illumination display with lights that light up when you step on them, creating a colourful walkway.

Running: November 19, 2020 – February 28, 2021

Time: 17:00-23:00 (Until 24:00 around the plaza)

Location: Midtown Garden

MIDTOWN ICE RINK – A World of Ice

MIDTOWN ICE RINK is something people in Tokyo look forward to every winter. This year, the rink is opening in November. It's one of the biggest ice rinks in Tokyo and provides real ice for people to skate on, welcoming everyone from children and beginners to pros. The rink will be open into the evening too when it will be lit up so people can enjoy a little night skating session.

Running: November 19, 2020 – February 28, 2021
Time: 11:00-21:00 (Last Entries 20:00)

*Opens at 17:00 on November 19 and is closed on January 1

*Opening hours subject to change depending on weather
Location: Tokyo Midtown
Prices:

General (High School Students and older) – Weekdays ¥2,000 / Weekends & Public Holidays ¥2,500

Children (Junior High School Students and younger) Weekdays ¥1,500 / Weekends & Public Holidays ¥2,000

Midtown Christmas Trees

Various Christmas trees will be set up in the Tokyo Midtown garden area, indoors, and elsewhere to set in the holiday season mood.

Running: November 19, 2020 – December 25, 2020

Present Christmas Tree – A World of Fantasy

The Tokyo Midtown garden will welcome a mysterious kind of Christmas tree for the first time every this year—one which sprouts presents. 25 presents will be grown, and in December one will be given out each day.

Time: 17:00-23:00
Location: Midtown Garden

Santa Tree – A Miniature World


Around 1,800 individual Santa Claus ornaments will make up the 4-meter tall Santa Tree inside the Tokyo Midtown Galleria

Time: 11:00-Midtown
Location: Galleria 1F Tree Shower

Choose! Choose! AR Tree – An Original World

Tokyo Midtown also has something for people to enjoy at home. They can use an app that makes use of AR tech so that a Christmas tree can appear when you go to take a photo which you can decorate with an assortment of ornaments. There's over 1,000 possible combinations. More details about this will be posted on the event website in early November.

Shibuya's L'OCCITANE CAFE Reveals Spooky Parfait For Halloween 2020

L'OCCITANE CAFE Shibuya is getting ready for Halloween with the reveal of its sweet potato and apple parfait which will be served from October 21 to 31. The Tokyo-based cafe is centred on the food culture and lifestyle of Provence in southern France.

Sweet Potato and Apple Parfait | ¥1,280 (Tax Included)

The seasonal treat is a mix of purple sweet potato and regular sweet potato, baked apples, apple sherbet, and vanilla ice, all topped off with whipped cream, roasted nuts, and almond tuile biscuits in the shape of ghosts and a pumpkin.

Information

Sweet Potato and Apple Parfait
Serving: October 21, 2020 – October 31, 2020

L'OCCITANE CAFE Shibuya
Address: 2-3-1 Dogenzaka, Shibuya, Tokyo
Opening Hours:
[Sun-Thur] 11:00~22:00 (Last Orders 21:00)
[Fri-Sat] 11:00-23:00 (Last Orders 22:00)
TEL:03-5428-1563
Access: Straight ahead of Shibuya Station's 5th Exit (Inokashira Exit)
L'OCCITANE Japan Official Website: https://jp.loccitane.com/