Make Your Own Original KitKat at Tokyo's KitKat Chocolatory Miyashita Park Shibuya
Nestlé Japan is opening a new branch of KitKat Chocolatory inside Shibuya's new shopping mall Miyashita Park on August 4, 2020.

KitKat Chocolatory is a direct-to-consumer chain, serving premium, handcrafted KitKats made with top quality ingredients and production methods under full direction by Takagi Yasumasa―the owner and chef of LE PATISSIER TAKAGI. Its product line-up features a range perfect as gifts to friends, family and co-workers, or as a treat to yourself.
Japan is home to eight KitKat Chocolatory branches. The new Miyashita Park Shibuya branch will open as the fourth in Tokyo, as well as the first where you can create your own KitKat products.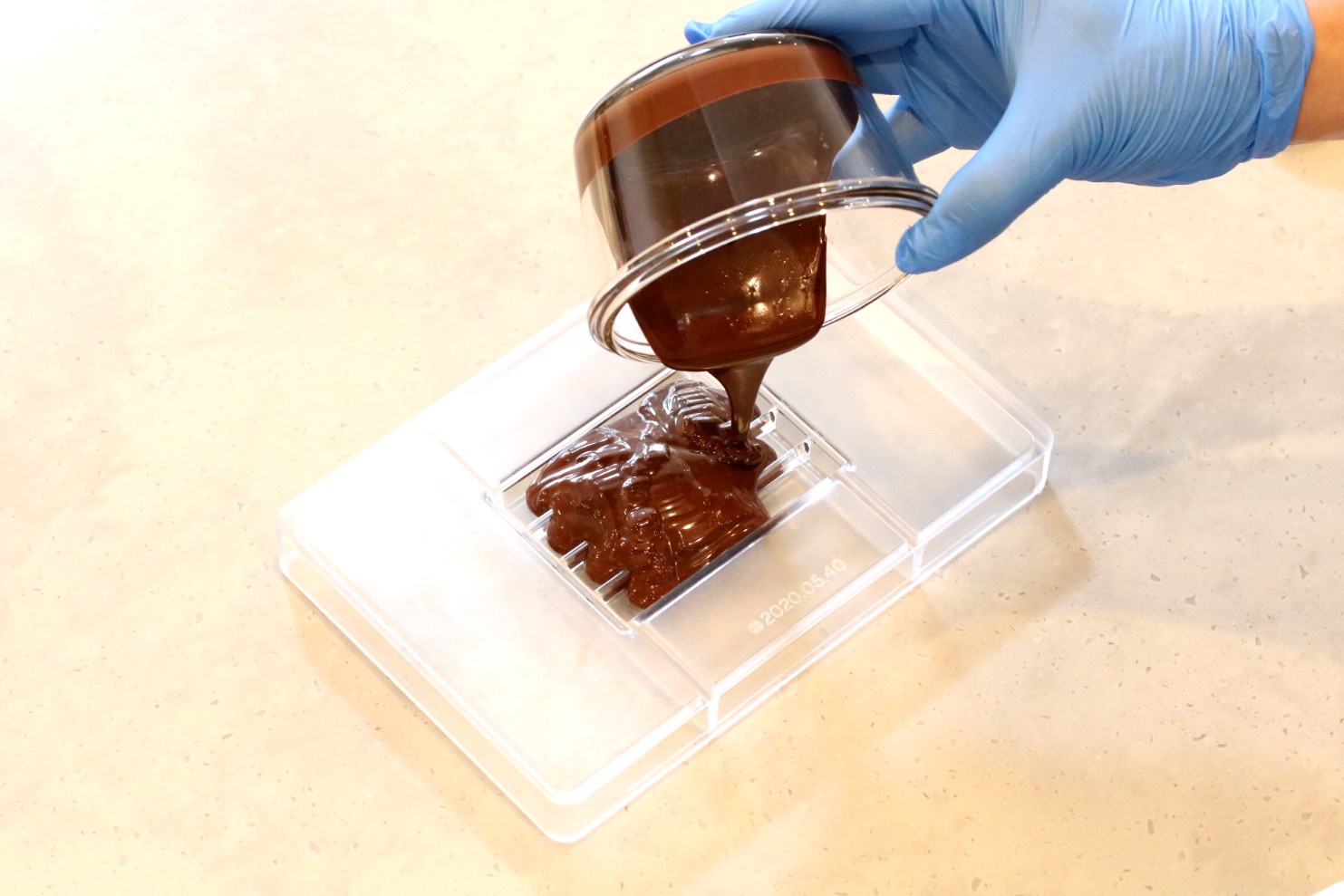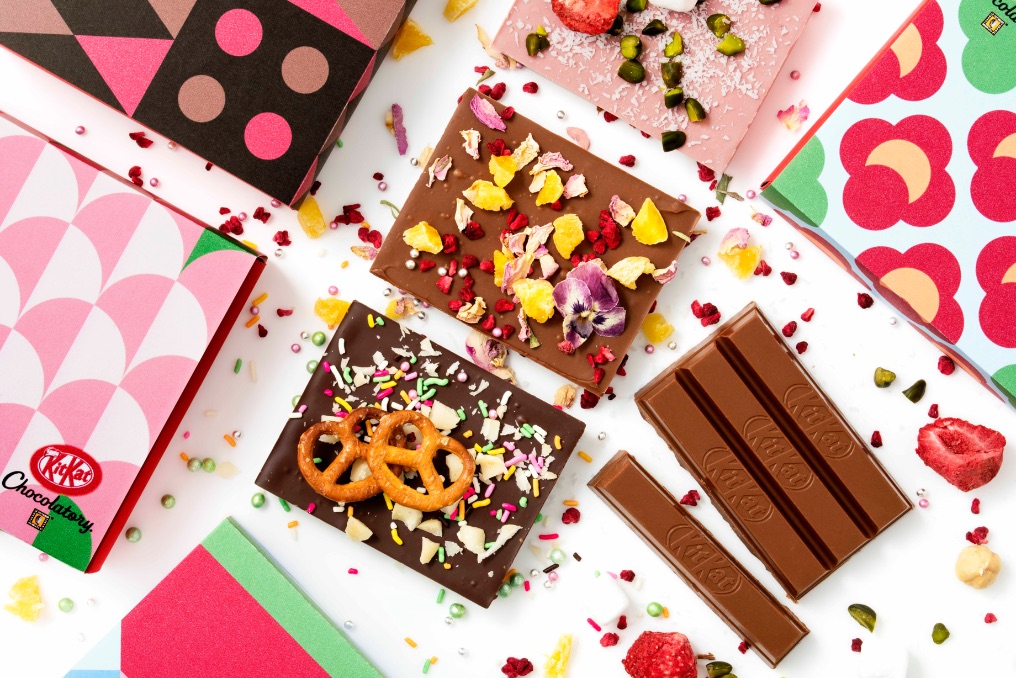 My KITKAT: ¥2,000 (Before Tax)
"My KITKAT" comes as the world's first KitKat service where consumers can create their own original chocolate bars.
KitKat Waffle: ¥1,000 (Before Tax)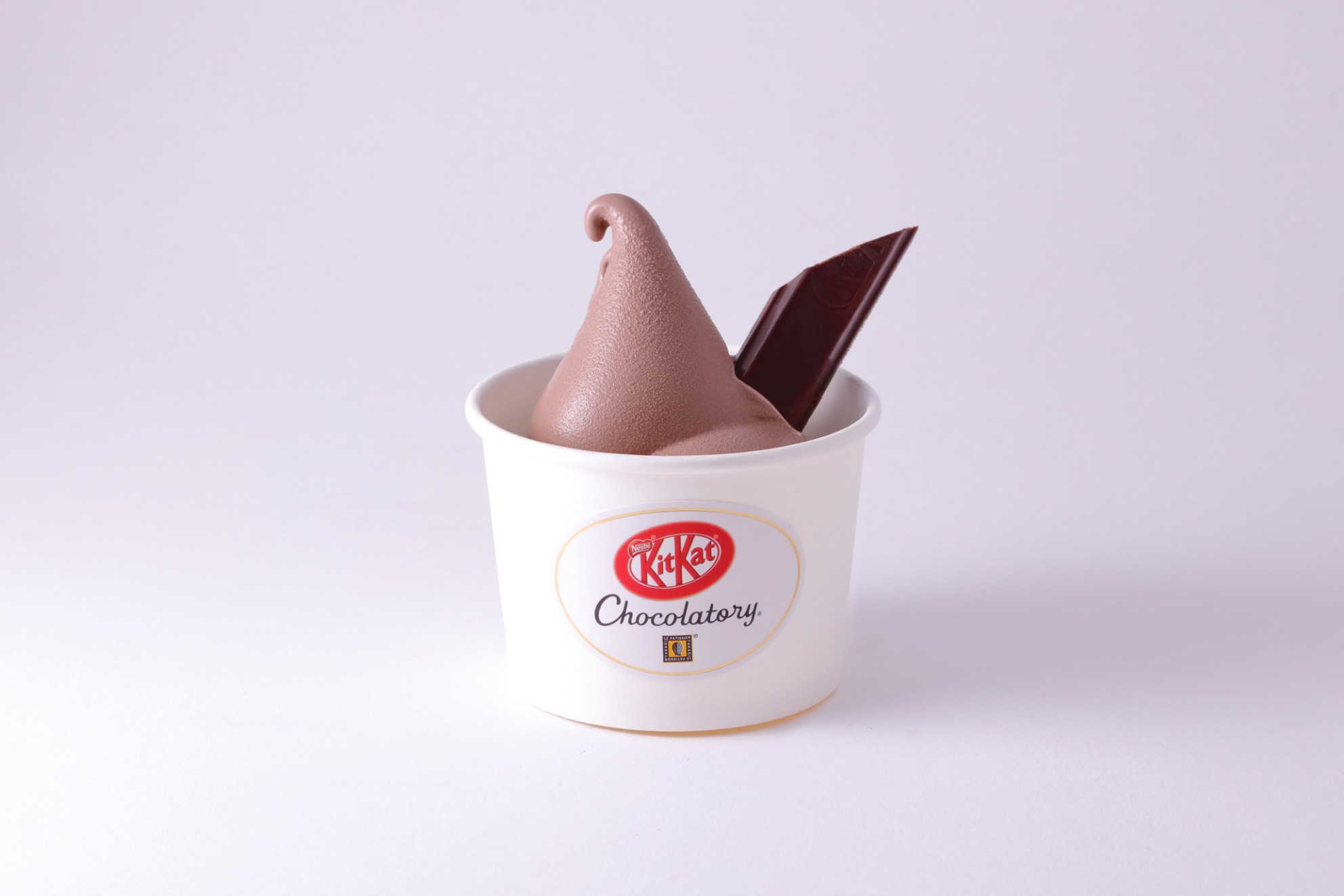 KitKat Chocolatory Sublime Soft Cream: ¥630 (Before Tax)
KitKat Chocolatory Miyashita Park Shibuya will also sell a variety of unique and exclusive KitKat desserts, like luxurious soft serve ice cream topped with couverture chocolate. It will also offer a cafe menu created by Nespresso, where customers can pair Chocolatory desserts with seasonal coffee menus, and more.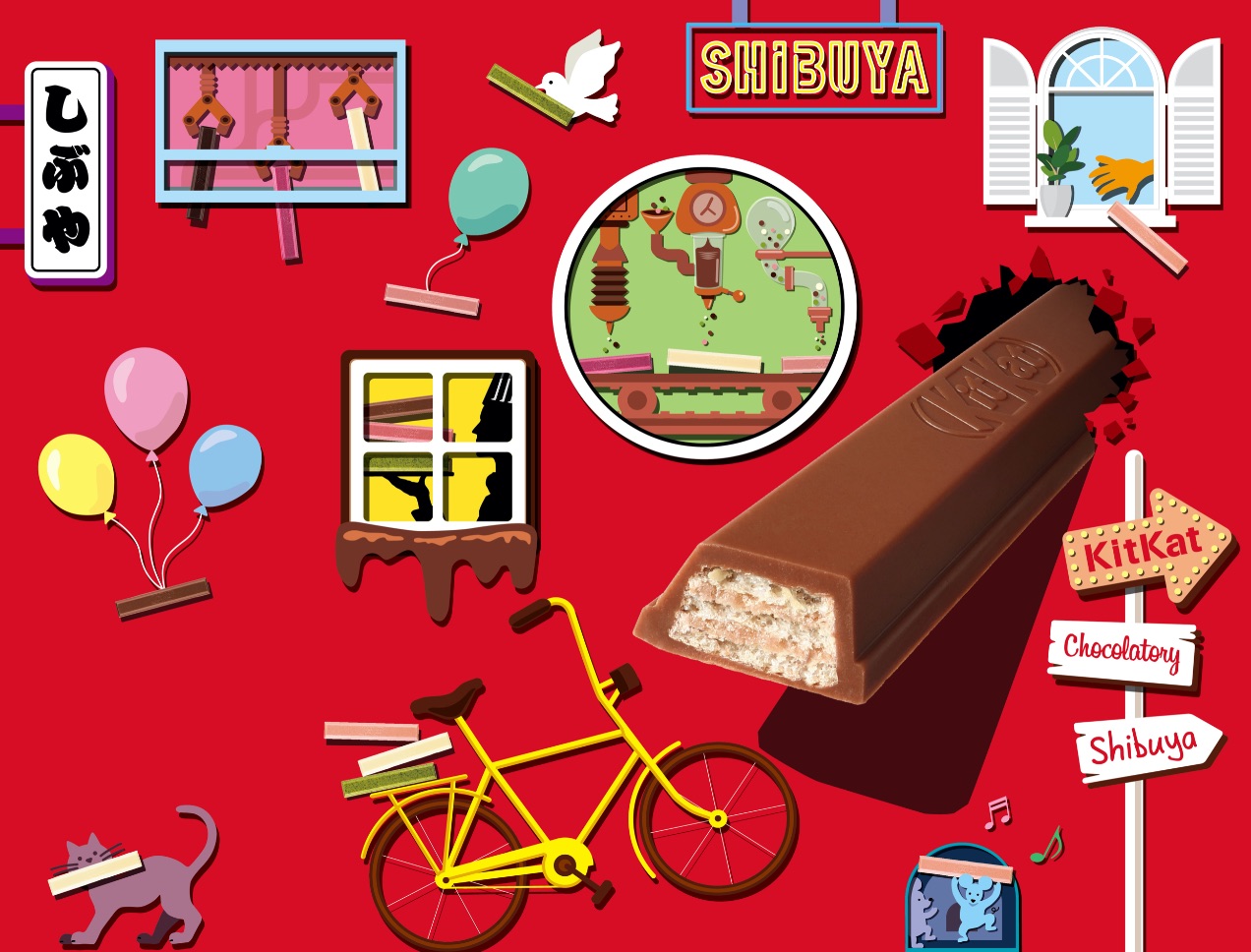 Shibuya-esque wall art will decorate the interior of the shop, making for plenty of photo opportunities.
Information
KitKat Chocolatory Miyashita Park Shibuya
Grand Opening: August 4, 2020
Address: Miyashita Park South 2F, 6-20-10 Jingumae, Shibuya, Tokyo
Opening Hours: 11:00-21:00 (Last Orders 20:00)
TEL: 03-6427-6811
Official Website: https://nestle.jp/brand/kit/chocolatory/
RELATED ENTRIES
Detective Conan Themed Cafes Open in Japan to Promote Upcoming 'Scarlet Bullet' Anime Film

To promote the upcoming anime film Detective Conan: The Scarlet Bullet which is set to released in Japan on April 16, 2021, seven themed cafes will open in Tokyo, Osaka, Nagoya, and Sapporo from March 24. The cafe is themed on a retro diner which will transport fans back in time to diners inspired by America in the 1950s and 60s.

Main Visual

Bonus Items

RETRO AMERICAN DINER MENU

DETECTIVE BURGER/SNIPER BURGER/ZERO BURGER/BOYISH BURGER/SHERRY BURGER/OSUSOWAKE BURGER – ¥1,599 Each (Before Tax), +¥500 For Acrylic Key Ring

DETECTIVE SUNDAE/SNIPER SUNDAE/ZERO SUNDAE/BOYISH SUNDAE/SHERRY SUNDAE/OSUSOWAKE SUNDAE – ¥1,099 Each (Before Tax), +¥500 For Acrylic Key Ring

DETECTIVE SODA/SNIPER SODA/ZERO SODA/BOYISH SODA/SHERRY SODA/OSUSOWAKE SODA – ¥899 Each (Before Tax), +¥500 For Acrylic Key Ring

CONAN CAFE CLASSIC Menu

APTX-4869 TROPICAL LAND CURRY | ¥1,400 (Before Tax)

COLUMBO MINT SAUCE PASTA ¥1,499 / DELICIOUS TO DIE FOR RAMEN ¥1,099 / POIROT CAFE SANDWICH ¥1,399 (All Prices Before Tax)

AI'S BERRY CHEESE FRENCH TOAST ¥1,200 / RAN'S LEMON PIE ¥1,499 / HIROSHI AGASA'S "SHIPPAI JA" PANCAKES VER.2 ¥1,199 (All Prices Before Tax)

CRIMINAL'S BLACK SESAME STRAWBERRY AU LAIT ¥999 / CRIMINAL'S SOUVENIR MUG +¥1,400 (All Prices Before Tax)

LEFT'S CAFE LATTE ¥899 / YOUNG DETECTIVE SHAKE ¥1,099 / RAN'S BERRY JELLY SODA ¥999 (All Prices Before Tax)

LIMITED EVENT MENU

1st Menu: Detective Conan: The Scarlet Bullet Menu | April 16, 2021 – May 31, 2021

AKAI FAMILY BANQUET ¥1,499 / UNAGI'S KABAYAKI & TARE OKAWARI RICE ¥1,699 / SHUKICHI & YUMI'S DELICIOUS SHORTCAKE ¥1,399 / SCARLET OGURA STRAWBERRY TOAST ¥1,599 (All Prices Before Tax)

2nd Menu: Phantom Thief Kid & Aoyama Sensei's Birthday Menu | June 1, 2021 – July 11, 2021

*Only available at Nagoya cafe from July 1-11

THE JEWEL GARDEN SALAD ¥1,499 / MAGIC SPICE PARFAIT ¥1,200 / AOYAMA-SENSEI BIRTHDAY CURRY ¥1,399 (All Prices Before Tax)

3rd Menu: Shuichi Akai Season 1 Menu | July 1, 2021 – August 15, 2021

4th Menu: Shuichi Akai Season 2 Menu | August 16, 2021 – September 26, 2021

*Menus 3 and 4 exclusive to Shinjuku and Umeda cafes

*Menus 3 and 4 are centred on the character Shuichi Akai

Original Merchandise

Pins (6 Designs) | ¥450 Each (Before Tax)

Acrylic Coasters (12 Designs) | ¥800 (Before Tax)

Mini Acrylic Stands (12 Designs) | ¥900 (Before Tax)

Acrylic Magnets (6 Designs) | ¥500 (Before Tax)

Folders (6 Designs) | ¥300 (Before Tax)

Bandanas (2 Designs) | ¥1,500 Each (Before Tax)

Eco Bag | ¥1,850 (Before Tax)

Chocolate Tin | ¥1,600 (Before Tax)

Fans can tuck into a Detective Conan-themed retro menu as well as get their hands on some exclusive merchandise featuring original chibi art.

Make sure you don't miss Detective Conan: The Scarlet Bullet.

©青山剛昌/小学館・読売テレビ・TMS 1996

Disney x MOUSSY Release Retro Clothing Collection

High-casual brand MOUSSY has collaborated with Disney to release the "Disney SERIES CREATED by MOUSSY." The Spring/Summer 2021 collection dropped in Japan on Wednesday (February 24).

PALS TAPESTRY SH JKT | ¥34,980 (Tax Included)

PALS TAPESTRY SK | ¥19,910 (Tax Included)

MATCHING OUTFITS POJ | ¥8,250 (Tax Included)

ALWAYS COOL TSJ | ¥6,600 (Tax Included)

The collection combines 70s-80s vintage taste with a 90s street style to create a special retro fusion design. The items are crafted by Japanese artisans from the gobelin-stich fabric series PALS TAPESTRY and feature Minnie and Mickey Mouse in different attire including cute matching outfits.

©Disney

Marc Jacobs Tote Bag Pop-Up Shop to Open in Ginza in March

Marc Jacobs is set to open a tote bag pop-up shop in Ginza Mitsukoshi from March 3 to March 16.

THE MESH SMALL TRAVELER TOTE BAG: ¥33,000 (Before Tax) / THE MESH TRAVELER TOTE BAG ¥36,000 (Before Tax)

The pop-up shop will include pre-sales of the brand's newly-updated mesh tote bags made from lightweight material. Each bag on show will feature playful designs in many variations such as shoulder bags, purses, and more.

Information

THE TOTE BAG Pop-Up Shop

Running: March 3, 2021 – March 16, 202

Where: Ginza Mitsukoshi

Address: The Stage at Ginza Mitsukoshi Floor 1F, 4-6-16 Ginza, Chuo-ku, Tokyo

Marc Jacobs Japan Official Website: https://www.marcjacobs.jp

Aromatic Kamakura Raw Chocolate Brand to Open New Branch in Nagoya

MAISON CACAO, the company behind the aromatic raw chocolate brand of the same name, will open a store on floor B1F of JR Nagoya Takashimaya on March 3, 2021. It will be the brand's first permanent shop in Japan's Tokai region.

The company held a special Valentine's event from late January to Valentine's Day where MAISON CACAO made the second most sales. They also enjoyed other sold out products, and showcased some exclusive indulgences like the gold leaf-adorned "Aroma Raw Chocolate ARMOUR" and "Aroma Raw Chocolate STRAWBERRY" as well as the all-new "Cacao Butterland."

The Nagoya Line-Up

Aroma Raw Chocolate AMOUR | ¥6,000 (Before Tax)

Exclusive to this new Nagoya branch of MAISON CACAO, these "AMOUR" chocolates are all handmade using techniques that have been passed down through the company. The dark chocolates are wrapped in luxurious gold leaf and have a fruity, sweet, and bitter combination. One box contains a generous serving of 16.

Cacao Butterland | ¥2,000 (Before Tax)

MAISON CACAO uses cacao beans from Columbia to bake its menu. These gooey treats are made with cacao butter and chocolate caramel with a double layering of dark and white chocolate. A rich and filling serving of six comes in a box.

 

Aroma Raw Chocolate STRAWBERRY | ¥2,200 (Before Tax)

Also a Nagoya-exclusive, these strawberry variants are made with intensely sweet JApanese amaou strawberries white combine with the fragrance cacao butter and white chocolate for a refreshing taste. You get 16 in a single box.

But Wait, There's More…

Raw Chocolate Butter Cake | ¥3,500

A cake made with velvety chocolate butter cream packed with roasted nuts, raisins, and caramel chips.

Rich Raw Chocolate Tart STRAWBERRY | ¥2,000

Yet another exclusive to Nagoya, these crunchy tarts are lathered in amaou strawberry chocolate and filled with runny and fruity amaou strawberry cream. A box comes with three included.

Other Popular Goodies Available While Supplies Last

Aroma Raw Chocolate MAISON (Grape) | ¥2,400 (Before Tax)

Babka | ¥2100

Raw Gateau Chocolate | ¥2500 (Before Tax) 

Information

MAISON CACAO

Grand Opening: March 3, 2021

Location: JR Nagoya Takashimaya Floor B1F

Address: 1-1-4 Meieki, Nakamura-ku, Nagoya-shi, Aichi

Opening Hours: 10:00-20:00

MAISON CACAO Official Website: https://maisoncacao.com/

Uji Matcha Loaded Pancakes Get Served Up at Eggs 'n Things Japan This Spring

For the entire month of March this year, Eggs 'n Things Japan is serving up "Uji Matcha Tiramisu Pancakes" and "Egg Scramble House Sandwich" at all branches.

The Seasonal Menu


Uji Matcha Tiramisu Pancakes | Eat In ¥1,480, Takeout ¥1,080

 These rich tiramisu pancakes are made with a dough laced in delicious Uji matcha and topped with succulent strawberries.

*The takeout option doesn't come with whipped cream

Egg Scramble House Sandwich | Eat In & Takeout ¥1,380

 A classic BLT layered perfectly so every ingredient stands out for every bite.


A Refreshing, Fruity Springtime Drink


Tropical Fruit Mix | ¥650

 Customers can stay refreshed this spring with this tropical fruit mixed beverage of mango, pineapple, banana, and more.

Classy Japanese Shrimp Senbei Crackers Release From Keishindo in Almond, Cheese, and Chocolate Flavours

Japanese snack company Keishindo recently launched a new series of shrimp senbei rice crackers called "Ajiwau Wa" (The Taste of Japan). The snacks are deep in flavour, arriving in almond, cheese, and chocolate.

The Line-Up

Kongari Ebi Cheese (Contains 6) | ¥648 (Tax Included)

The shrimp crackers are topped with cheese and baked. The charred cheese brings out the flavour of the shrimp even more.

Ebi Almond (Contains 6) | ¥648 (Tax Included)

A rich and crunchy rice cracker made with in-house roasted almonds. With every bite comes more and more umami goodness.

Kutsurogi Yaki Chocolate (Contains 6) | ¥756 (Tax Included)

A harmony of sourness and sweetness delightfully adorns this chocolatey treat. The contrasting flavours results in a complex taste that could be called a completely new flavour.

Seasonal Kutsurogi Yaki Chocolate Strawberry | ¥756 (Tax Included)

Similar to the regular chocolate version but combined with sweet strawberry which gives the crackers a pink appearance.甘

Ajiwau Aji Assortment (Contains 9) | ¥1,080

Japanese Spring Cherry Blossom Desserts and Food Bloom Pink at Tokyo Solamachi This March

Spring is arriving early at Tokyo Solamachi where shops and restaurants will be serving up their own cherry blossom themed desserts and dishes from March 1.

The Line-Up: A Delectable Excerpt

Vibrant Cherry Blossom Desserts Welcome Spring

Hanami Soft | ¥800

Where: Gion Tsujiri (East Yard Floor 6F)

Serving: March 1, 2021 – April 30, 2021

Feel the warm breeze of Japanese hanami with a parfait serving of cherry blossom bavarian cream and jelly, Uji match soft serve ice cream, cherry blossom chocolate, white flour dango dumplings, high quality red bean paste, wafer, and other little assorted treats.

Sakura Mochi Flavoured Spring Pancakes | ¥935

Where: Coconoha (West Yard Floor 4F)

Serving: March 1, 2021 – April 11, 2021

Coconoha's popular fluffy pancakes topped livingly with cherry blossom ice cream, chewy white flour dumplings, and sweet red bean paste.

 

Takeout Cherry Blossom Food

Sakura Sushi | Takeout ¥2,138, Eat-In ¥2,178

Where: Kirby Cafe Tokyo (East Yard 4F)

Serving: From March 19, 2021

A picnic serving of six springtime sushi rolls decorated with Kirby references which comes in a cute lunchbox.

Cherry Blossom Lassi | ¥520

Where: AMARI DELI (West Yard Floor 2F)

Serving: March 1, 2021 – April 11, 2021

A cherry blossom lassi in full bloom with fluffy whipped cream and finished with sprinkles of pink-coloured chocolate.

 

Cute Spring Cherry Blossom Snacks

Financier Sandwich Box – Sakura & Matcha | ¥1,500 (Contains 4)

Where: Afternoon Tea Room (East Yard Floor 3F)

Serving: February 25, 2021 – April 21, 2021

An assortment of two financier cakes: the Sakura Financier Sandwich which is cherry blossom flavoured and filled with white chocolate, roasted walnuts, and strawberry flakes, and the Matcha Financier Sandwich which is filled with milk chocolate, roasted walnuts, and pistachio. Available while supplies last.

 

Restaurant Menus Beckon Hanami

Spring Roast Beef Nigiri & Cherry Blossom Dashi Kishimen Noodles | ¥1,380

Where: Sugimoto (East Yard Floor 6F)

Serving: March 1, 2021 – April 11, 2021

Roast beef sushi rolls made with Nagoya Owari beef and served with slightly-salted flat kishimen noodles served in a cherry blossom flavoured broth. Limited to 10 servings per day.

This is just a sampled look at what's to come at Tokyo Solamachi this spring – if you're in Tokyo for the cherry blossom season, be sure to visit!

Information

Cherry Blossom Desserts & Dishes

Where: Tokyo Solamachi

Address: 1-1-2 Oshiage, Sumida-ku, Tokyo

Starting: March 1, 2021

TEL: 0570‐55‐0102 (11:00-19:00)

Tokyo Solamachi Official Website: http://www.tokyo-solamachi.jp/

Laforet Harajuku Welcomes High-End Brands and Tokyo's First Femtech Store For Spring 2021

Starting this month, Laforet Harajuku is readying itself for Spring 2021 with the rollout of items by high-end brands and shops, all with an audience in mind who simply love culture regardless of their age or gender. This spring will see the opening of Lois CRAYON, a brand that emphasises individuality and will be celebrating its 50th anniversary next year, as well as "circle in circle," a new spot that will serve as a gathering place for a variety of clothing brands like l'atelier du savon, CHILD WOMAN, and more.


Laforest will also welcome LOVE PIECE CLUB to Tokyo for the first time, a shop which opened as Japan's first centring on Femtech. It offers a variety of items to help support women's health through technology.

AIR will offer a diverse wardrobe of unisex items from popular street brands such as REVENGE STORM, STARWALK, THEATER8, and more. CHOA ONNI is exhibiting South Korean culture like wearing K-pop idol clothes to take photos, and ovgo B.A.K.E.R is serving up vegan food and gluten-free cookies.


Public toilets will display photos by photography unit Toki to Yamikaya and Alexander Julian.


March 6 | New Store Opening
《Floor 1F》Lois CRAYON




4.23| New Store Opening
《Floor 3.5F》circle in circle




March 26 | New Store Opening
《Floor B0.5F》LOVE PIECE CLUB




February 11 | New Store Opening

《Floor 3F》『    』AIR




February 25 | New Store Opening
《Floor B0.5F》ME'VE the store
 

March 12 | New Store Opening
《Floor B0.5F》




February 25 | New Store Opening
《Floor 5F》SpRay/Libby&Rose




February 25 | New Store Opening
《Floor B1F》CHOA ONNI




March 6 – April 4 | New Store Opening
《Floor 2F》ovgo B.A.K.E.R





《Floor B1F》Women's & Men's Gallery Toilets

  

 Toki with Alexander Julian

Alexander Julian
Yamikaya / FLOWER PUSHER

■Laforet Harajuku 2021 SS Promo Visual

Laforet Harajuku's Spring/Summer 2021 promo visual was created by Japanese art director Uenishi Yuri. Following the Autumn/Winter 2020 theme, Uenishi has conceived a new concept: 'CHARGE.' This theme focuses on the roots of plants that spread underground, with the yellow colour used in the visual reminiscent of electricity or lightning flashes.

Milky Strawberry Sandwich Biscuits by Sugar Butter Tree Arrive Ahead of Spring

Sugar Butter Tree, a shop by Grapestone that specialises in cereal sweets, released its new Strawberry Chocolate Sandwich at all branches of Sugar Butter Tree on February 15.

A Limited-Time Treat Made With Seasonal Japanese Strawberries

This strawberry-loaded biscuit is sold by Sugar Butter Tree every year. It's made with only the best picked springtime strawberries to create a delicious chocolatey snack. If you love strawberries, then this is a treat for you.

Sugar Butter Tree Strawberry Chocolate Sandwich: Pack of 5 – ¥648 / Pack of 8 – ¥1,080 / Pack of 12 – ¥1,620 (Tax Included)

Milky, melt-in-the-mouth strawberry goodness

The chocolate 'sandwich' contains crunchy milk cream with a delicious sugar butter scent. This is wrapped in a strawberry chocolate coating, making for a mix of sweet and tangy.

Looks cute on the table served with tea

The design theme for the biscuit is "strawberry teatime." Its pastel colour makes for a cute serving snack served with a cup of tea.

Information

Sugar Butter Tree's Strawberry Chocolate Sandwich

Available: February 15, 2021 – Mid May 2021 (While supplies last)

Where: Sugar Butter Tree (Tokyo/JR Nagoya Takashimaya/Hankyu Umeda/Hakata Hankyu) + Gin no Budou (Daimaru Tokyo/Seibu Ikebukuro/Lazona Kawasaki)

Also Available Online: https://www.paqtomog.com

Sugar Butter Tree Official Website: https://www.sugarbuttertree.jp/

Succulent Strawberry Tarts Get Baked Up at Andrew's Eggtart This Spring

Japan's egg tart chain Andrew's Eggtart is baking up some special handmade strawberry tarts this spring made with fresh strawberries farmed in Japan.

Spring Strawberry | ¥380 (Before Tax)

The tarts are triple-layered with a strawberry compote, strawberry cream, and an in-house original custard cream. Each tart is finished with fresh cuts of succulent strawberry to finish, adding a fruity flavour to the sweet treat.

Information

Spring Strawberry

Order Window: March 3, 2021 – May 31, 2021

Participating Branches: Dotonbori / Osaka Namba Station / JR Tsuruhashi / AEON Mall Osaka Dome City / Nagoya Meitetsu / Kagoshima Tenmonkan

*Available while supplies last

Andrew's Eggtart Official Website: https://www.eggtart.jp

Art and Chocolate Melt Together in Chocola Meets Crowdfunder

A new chocolate brand by the name of Chocola Meets has been cooked up in Japan that prioritises bean to bar chocolate made from fairtrade cocoa beans. The brand's USP however lies in its collaboration with artists who pen work for the chocolate's packaging.

16 art pieces created by 4 artists for the craft chocolate packaging

Chocola Meets will begin selling its tasty chocolate collection from mid-March, but for those who can't wait, the brand launched a crowdfunding campaign on February 15 via CAMPFIRE which offers pre-sales.

 

Chocola Meets prides itself on its collaborative business model which provides support to participating artists by giving them a cut of sales. This includes the money made for the crowfunder as well as the proceeds made from chocolate sales.

Sasabe (Chocola Meets, Operations Officer) | Comment

"The concept for Chocola Meets is, 'Meet My Like: Experience What it Feels Like to Find Your Likes.' This is something we value and is the reason why Chocola Meets exists. The reason behind our collaborative business model of Art x Craft Chocolate, something which hasn't been done before, is to continuously offer that very concept – one which holds irreplaceable value. And in order to do that, we needed something that allows the artists to continue living comfortably. So we're giving proceeds from the chocolate to the artists which gives them an incentive to create."

The CAMPFIRE crowdfunder offers pre-sales of the chocolates at a discounted price. There are other benefits too, like framed art by the artists, coupons, and more.

Chocola Meets successfully met their Crowdfunding goal, having raised ¥430,700 of the pledged ¥300,000 (as of February 16, 2021).

Disney Japan Celebrates Minnie's Day With Exclusive Minnie Mouse Merchandise

Minnie's Day is set to fall in Japan on March 2, so to celebrate, Walt Disney Japan is getting in on the festivities nice and early by announcing the release of a new Minnie Mouse merchandise collection, called the "Disney ARTIST COLLECTION by Kelly Park," which will be officially released at Disney stores in Japan on February 23. Pre-sales will also roll out at select stores and Disney Japan's online store shopDisney from February 19.

©Disney

©Disney

Plushie ¥3,300 / Makeup Brush Set ¥2,640 / Tote Bag ¥2,090 / Room Fragrance ¥4,180 / iPhone Case (iPhone 11) ¥3,520 / Mirror ¥2,420 / Ballpoint Pen & Notebook Set ¥1,980 – (Prices Include Tax)

©Disney

nuiMOs Plushie ¥2,750 (Tax Included)


Kelly Park is an artist that is enjoying immense popularity in South Korea right now. Their new "Disney ARTIST COLLECTION by Kelly Park" is an exclusive release in collaboration with Disney Store.

The line-up is a celebration of all things Minnie Mouse for her big day, aptly named "Minnie's Day," on March 2. Vibrant blue is the main colour for the collection which Kelly Park has created to support fellow dreamers out there – those who have big hopes and aspirations in their everyday lives. The designs are bright, beautiful, and full of positivity, making them a perfect pick for the coming spring season. Minnie fans can feel fresh this spring season with fahsion items, accessories, stationery, a variety of lifestyle goods, and more.

Disney's popular nuiMOs plushie range will welcome an exclusive new Minnie Mouse plushie on February 26 which features the date "March 2, 2021" on it for Minnie's Day. It also comes with a pin. These plushies are limited-edition and only 320 will be sold – a number that of course aligns with March 2.

Celebrate the day of the original Disney Princess with the new Disney ARTIST COLLECTION by Kelly Park.