Pokémon Virtual Fest Virtual Theme Park to Open in Japan
The Pokémon Company has announced the opening of a virtual theme park―Pokémon Virtual Fest―in Japan which will open from August 12 to 31 this year.


Pokémon Virtual Fest will be accessible via the 'cluster' app on mobile or PC. Pokémon Trainers can look forward to jumping into a fully-realised Pokémon world with themed attractions, events, and much more. Let's take a look at just some of the content players can look forward to experiencing.
Entrance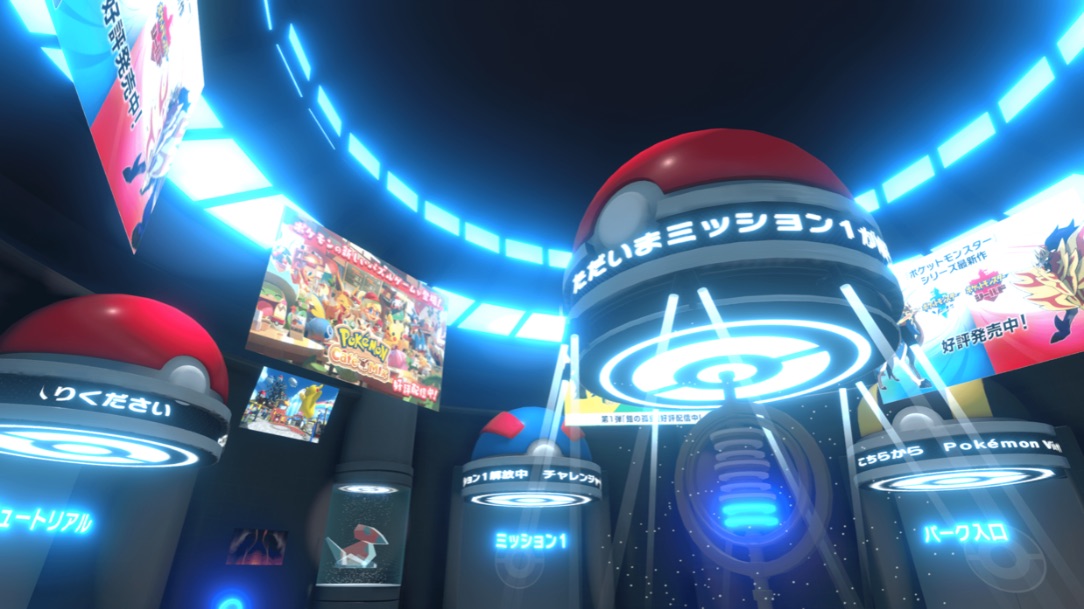 The first place that users will come to when entering Pokémon Virtual Fest is the Entrance. Just like a real theme park, Pokémon Virtual Fest has its own proper entrance too, beckoning players to the fun that is to be had. This first virtual area will feature holograms of Pikachu, Polygon, and other Pokémon. At the centre of the entrance is a board which displays the results of players' who have completed missions in the park.
Avatars
Choose your own avatar from Grookey, Scorbunny, or Sobble. More avatars are in the works to be added to the roster. Users can take photos in the virtual space too. Find an ideal spot and snap some pictures with friends.
Mission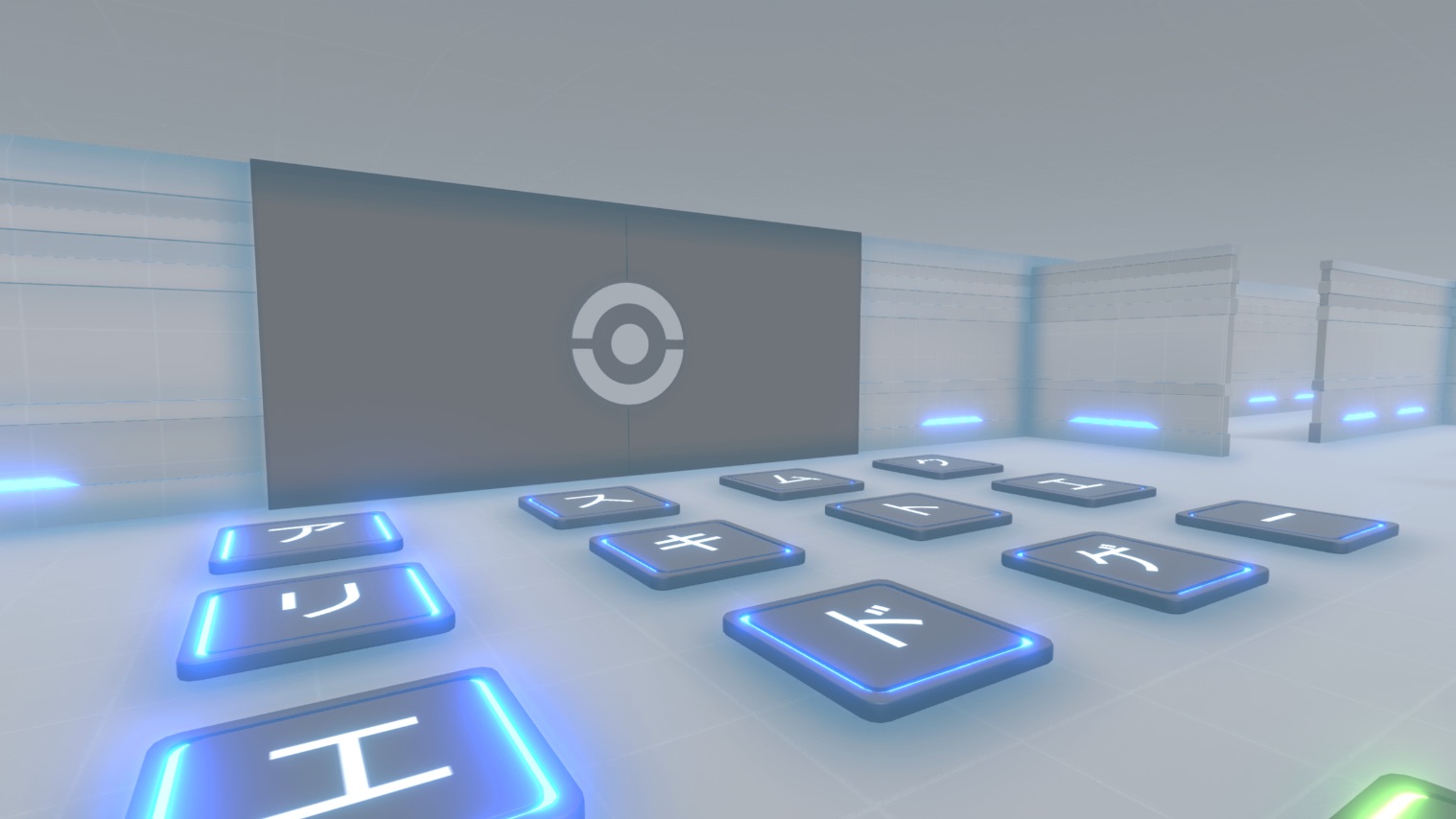 The missions are in the style of an escape game. Created by escape game specialists SCRAP, players must figure out how to escape the room which will earn them a clear. There is the "Maze Mission" where you must navigate through twists and turns while answering questions, the "Word Puzzle Mission" where you must collect letters scattered around the room to solve the puzzle, and the "Riddle Missions" where you must decipher codes to figure out the riddle.
Theme Park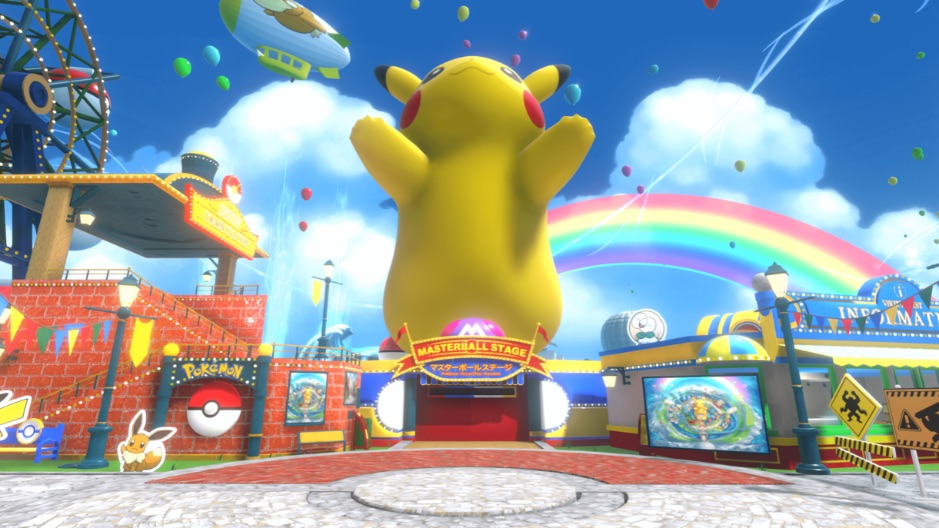 When players approach the gate, they are welcomed by an enormous Pikachu. As they walk around the park, checking every nook and cranny, they may even find Pokémon hidden here and there.
Attractions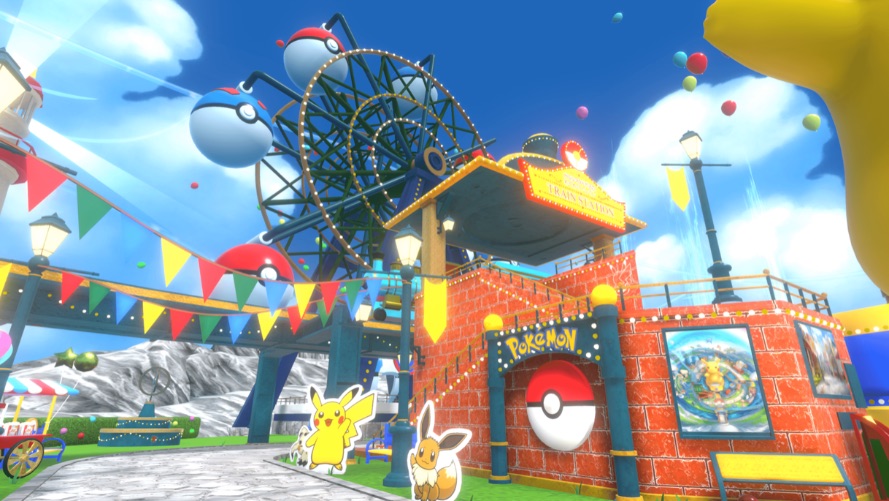 Since this is a theme park, you've got to have attractions. At Pokémon Virtual Fest, there is a Pokémon Ferris Wheel, the Galarian Weezing Train which gives players a tour of the park, and many more.
Store Area
Numerous shops will line the park where players can get themselves a range of virtual souvenirs, ice cream, and other fun summertime things.
Beach Area
There's even a beautiful beach in the park. Players are invited to listen to the sounds of the waves while doing some beach athletics on the water with friends, take photos, and make some great summer memories.
Event Stage
Sat underneath the giant Pikachu monument is a stage where a flurry of exciting events will take place. Players can watch Pokémon Sword and Shield Pokémon battles amongst other things. And from August 29 to 31, a special event will take place which includes a Pikachu dance show, fireworks, and more.
Pokémon Virtual Fest will open from August 12 to 31 in Japan.
©2020 Pokémon. ©1995-2020 Nintendo/Creatures Inc. /GAME FREAK inc.
Pokémon, ポケットモンスター, and ポケモン are registered trademarks of Nintendo, Creatures Inc., and GAME FREAK inc.
© 2017 Cluster, Inc.
*Photos are of a product still in development

Information
Pokémon Virtual Fest
Running: August 12, 2020 – August 31, 2020
Compatible Devices: Smartphone (iOS/Android), PC (Win/Mac), VR HTC VIVE/VIVE Pro, Oculus Rift/RiftS)
How to Acess: Create a free account on the 'cluster' app. The app must be installed on your device. For full details, visit the Pokémon Virtual Fest website below.
Pokémon Virtual Fest: https://pokemon2020.cluster.mu/
Cautions
*Information and content subject to change without notice.
*Time slots are allocated, and so there may be restrictions on the number of people who can enter at once.
*Please note that it is possible for devices (smartphone, PC or VR device) may overheat if you play for long periods of time. If you are concerned about this occurring, you are encouraged to close the 'cluster' app and let your device cool down for a while before playing again.
RELATED ENTRIES
Earth Day Tokyo 2021 to Promote Sustainability, Eco-Friendliness, and an Organic Lifestyle at Yoyogi Park

This year's Earth Day Tokyo will take place at Yoyogi Park from April 17-18 where messages of eco-friendliness, organic products, sustainability, ethics, and inclusiveness will be at the core of various events held as part of the festival.

This year marks Earth Day Tokyo's 20th run as part of the global Earth Day initiative and brings together environmental NPOs, charities, and locals. Due to COVID-19, in-person events will only take place on April 17 and 18 but the festival will run online from April 17 to 25.

Earth Day Tokyo 2021 Concert

Concerts will take place across the two-day Yoyogi Park festival. Many musicians and guests have committed themselves to the future of the planet at the Earth Day Tokyo's concerts, with past line-ups including Japan's King of Rock Kiyoshiro Imawano, UA, BONNIE PINK, and more.

This year will see performances from Itou Seikou ITP, Kenichi Nagira, yae, scoobie do, Taiji Sato, Nozomi Nobody, hachi_Aigoz, tico moon, Rokuta Yanagiya, and Ichido Ryutei.

Market area

Every single product at the market booths has a story, and visitors will be able to hear about them from the makers in-person as they shop. And the items sold at the market will be different each day, stocking something to add a little environmental consideration into our lives.

C. W. Nicol's "Nicol's Forest Kitchen" sausages help plant forests

The late Welsh-born Japanese writer, actor, and singer-songwriter C. W. Nicol was the Executive Committee Chairman for Earth Day Tokyo from 2000 until his passing last year. He also launched Nicol's Forest Kitchen in 2011 which has been a regular at Earth Day Tokyo to help protect Japan's forests. The food stall will make an appearance this year too.

C. W. Nicol began to wonder how he could help raise people's interest in forests as well as help revitalise forests that had been destroyed. Nicol's Forest Kitchen project was his answer: to spread awareness through food, and in doing so, the project could help build up forests.

Visitors separate garbage themselves with the help of volunteers

At the Eco Station, volunteer staff will help direct visitors in separating garbage properly, raising awareness on the proper procedures which they can take away home with them.

Information

Earth Day Tokyo 2021 @ Yoyogi Park

Running: April 17, 2021 – April 18, 2021

Time: 10:00-17:30

Where: Yoyogi Park

Entry: Free

Earth Day Tokyo Official Website: https://www.earthday-tokyo.org

Little Glee Monster and Other Japanese Artists Announced For Tokyu Musix Challenge

Tokyu Musix Challenge is set to take place at Bunkamura Orchard Hall this year on March 7 at 18:00.

2020 saw the cancellation of music events across the world, with Japan being no exception. Shibuya, Tokyo's hub of countless live music venues and halls, was particularly affected by the effects of the pandemic. But the energy and power that music artists hold is one they can offer to brighten up peoples' time during today's times. That's where Tokyu Musix Challenge comes in, a new kind of music festival that will bring together a multitude of genres, and where better for it to be held than the cultural melting pot that is Shibuya.

This year will be the first run of the festival, where a collaboration between classical music and contemporary pop music will clash at Bunkamura Orchard Hall. The Tokyo Philharmonic Orchestra, which is recognised as Japan's oldest symphony orchestra, will play alongside acts such as Little Glee Monster, Ai Higuchi, Win Morisaki, Meimi Tamura, Kayoko Yoshizawa, ROTH BART BARON, and more. And the line-up is set to grow as more performers will be announced in the lead up to the event.

Comments from the Artists

Little Glee Monster

"We are really looking forward to feeling the fresh breeze of our music colliding with the grand scale of an orchestra. We'll be sure to play our part so that we don't lose to the overwhelming performance of everyone in the Tokyo Philharmonic Orchestra, but also so that our music complements theirs. We hope that everyone can have a good time and feel good from the strength that music has."

Ai Higuchi

"In 2020, we may have all lived kind of complicit with so many options in front of us leading down different paths. A certain friend might have gone to a drinking party, another might not have seen their lover for a long time. What choices do we make? We become darker depending on our choices. In Shibuya, a city that continues to change, I will sing my unchanged songs."

Win Morisaki

"Over this past year, the respect I have for the position I'm in where I can express myself has really sunk in. I'm so happy I've been able to get involved with this challenge. And getting to sing with an orchestra, it's magnificent. I'm so excited about what's to come."

Meimi Tamura

"I can't contain my excitement at a genre collaboration between classic, which is the foundation of music, and pop which is strongly tied to Shibuya. I think I'm going to start feeling tense at getting to perform alongside everyone in the Tokyo Philharmonic Orchestra and singers of all different kinds of music. We don't have a lot of freedom today during the pandemic, but I will work my hardest so that I can deliver love through music from the city of Shibuya."

Kayoko Yoshizawa

"My chest roars and having the opportunity to perform along side Japan's oldest and longest-running Tokyo Philharmonic Orchestra at the legendary Orchard Hall. It's my first time experiencing singing with an orchestra, so I'm looking forward to seeing how the songs will be structured, and how my voice will sound, when we do it."

Ditto Pokémon Pink Gold Necklace Released by Japanese Luxury Jewellers U-TREASURE

Japan's luxury character jewellery brand U-TREASURE, which creates accessories for character-loving adults, welcomes its new Ditto Pokémon necklace coated in pink gold.

Ditto Necklace Silver (Pink Gold Coating) | ¥17,600 (Tax Included)

Ditto is known for its shapeshifting ability to transform into anything. This Normal-type Pokémon, first introduced in Generation I, has turned into a luxury pink gold necklace so you can take it with you on your Pokémon Trainer adventures wherever you go.

Poké Lid Project Lays Down New Manhole Covers in Kyoto

Five new Pokémon manhole covers were laid in Kyoto on Tuesday as part of the Poké Lid  project to place Pokémon-design manhole covers across the country.

Kyoto Original Poké Lids

The five Poké Lids are located in Arashiyama, Okazaki Park, Maruyama Park, Umekoji Park, and Nishikyogoku Athletic Park.

All of the Poké Lids placed across Japan feature completely original Pokémon designs making each individual one the only one in the world. The Pokémon Company is also working to make each one of them PokéStops for Pokémon GO.

 ©2021 Pokémon. ©1995-2021 Nintendo/Creatures Inc./GAME FREAK inc.

Hoshino Resorts BANTA CAFE Announces Art Festival by the Beachside

The incredible Hoshino Resorts BANTA CAFE, a beachside cafe which offers guests a breathtaking ocean view along the Okinawan coast, has announced the upcoming Beachside Art Festival which will take place from April 10 to May 9. The festival will bring together artwork from a range of artists born and raised in Okinawa and leading the island's youth culture. There will be a range of events from live painting to workshops, exhibits, and more.

The participating artists have all taken part in personal art exhibits, art events, showcased their work at concerts, and more both inside and outside Japan, but due to COVID-19, many events have of course been cancelled. Beachside Art Festival will serve as a way to display their wonderful works while supporting them at the same time.

The Artist Line-Up

DENPA

nami

HAYATO MACHIDA

Chibana Yukinaga

MACHIDA visiting BANTA CAFE to check the feel of the ocean and their artwork

Vibrant artwork with the ocean as the backdrop

Visitors will be greeted by artwork dotted across various locations around BANTA CAFE. If they follow the top of the cliff down to the beach they will find sofas to sit on which have also been decorated with the artists' artwork. Then there's the Goro Goro Lounge with its enormous window that stretches an entire wall and offers a panoramic view of the sea. Here, visitors can look out at the artwork which will look like it's floating above the horizon. All drinks ordered also come with a free sticker featuring artwork by the four participating artists.

Experience art-in-the-making with live painting

DENPA and MACHIDA will host their own live painting sessions where they will take inspiration from the surrounding environment.


HAYATO MACHIDA @ April 10, 2021 / April 11, 2021

DENPA @ April 18, 2021

Times: 11:00-13:00 / 14:00-17:00

Where: In front of BANTA CAFE on the beach

Price: Free

Have a go at traditional Okinawan bingata dyeing

Visitors can have a go at making their very own coasters from nine different colours using a traditional Okinawan stencilled dyeing technique known as bingata.


Running: April 24, 2021 / May 1, 2021 / May 2, 2021 / May 5, 2021

Times: 10:00 / 12:00 / 14:00 / 16:00 (Each slot lasts approx. one hour)

Capacity: 4

Where: Iwaba Terrace

Price: ¥2,000 (Tax Included)

Note: Online booking required

Take home a souvenir at the beachside museum shop

A museum shop will be open for the event on weekends and holidays where you can pick up art prints, stickers, postcards, and other mementos.


Opening Days: Weekends & Public Holidays

Opening Hours: 10:00-18:00

Where: Beachside Terrace

Information

Hoshino Resorts BANTA CAFE – Beachside Art Festival

Running: April 10, 2021 – May 9, 2021

Where: Hoshino Resorts BANTA CAFE, Okinawa

Official Website: https://banta-cafe.com/en/

Mew Pokémon Diamond Necklace With Pink Gold Coating Releases in Japan

Japanese character jewellers U-TREASURE is now taking limited-time orders for a new pink gold-coated necklace based on the beloved Pokémon Mew. It's available to buy until April 13 at the U-TREASURE Concept Store in Ikebukuro and on their official website.

Pokémon Silver Pink Gold Coated Mew & Poké Ball Necklace | ¥17,600 (Tax Included)

The gorgeous necklace features Mew sat on top of a Poké Ball with its cute tail wrapped around the necklace chain. The Poké Ball has a sparkling diamond at its centre. A stylish piece that any Pokémon lover will want to wear!

elrow Launches Worldwide Up & Coming Talent DJ Contest

International club event organiser elrow opened global applications for its "Up & Coming Talent" DJ contest on Thursday which is set to run until March 14. Anyone around the world who is aged 18+ can submit their applications via elrow's official website.

Up&Coming Talent | elrow


Application Period: March 18, 2021 – April 14, 2021

Conditions: Aged 18+

Apply Here: https://www.elrowupncoming.com/

The contest's mission is to find and co-create up and coming talent and help them build their careers so that they can find independent success in the music industry. They are looking to "discover and promote the new headliners of tomorrow."

Several panels of judges will take part in selecting applicants. elrow is looking for two artists from around the world who have both DJ and production knowledge. Successful applicants will be added to elrow's roster of artists for a minimum for one year. It's a must for bedroom artists and dance music-lovers looking to make it in the industry.

Goldfish Festival to Take Place This Summer at Hoshino Resorts Aomoriya

If you're looking to experience Aomori's culture, then Hoshino Resorts Aomoriya is the hotel to stay at. Every year throughout the year the accommodation hosts many festivals. This summer, guests can look forward to the Goldfish Festival which will run from June 1 to August 31. Inspired by local tradition, the hotel will be decorated with paper goldfish floats—including one towering 3-meters tall—known as kingyo nebuta or kingyo neputa in Japanese. Shaved ice will also be served to help guests cool off.

Kingyo Nebuta goldfish floats, a summer tradition of Aomori

Aomori is synonymous with its myriad of goldfish festivals. The must-have decoration at these festivals are their goldfish floats which are lit up in the evenings. Their origin lies in the tsugaru-nishiki, a species of goldfish found only in Aomori's city of Tsugaru. People revered them back in the day and so created the floats to showcase that. They are a symbol of summertime Aomori and adored by locals and tourists alike.

Kingyo Sukui Yatai: Challenge yourself to Japanese festival goldfish scooping

A new stall arrives at Hoshino Resorts' Goldfish Festival this year: the classic Japanese goldfish scooping experience, a common sight at summer festivals. The goldfish you catch can be 'rented' and taken to your hotel room. Guests have to meet certain requirements if they want to be able to take the fish home with them. The staff look after the fish every day so guests can rest assured they are treated well. Goldfish scooping will be held with social distancing measures in place, with only one group allowed in the stall per turn.

4 Exciting Things to Look Forward to

Surrounded by over 450 ningyo neputa goldfish floats

Goldfish ice cream made in the form of traditional Japanese amezaiku candy art

Time: 19:00-22:00

Where: Yottemare Sake Bar

Price: ¥900 (Before Tax)

Take your scooped fish to your hotel room

Time: 16:00-21:00

Where: Jawamegu Plaza

Price: ¥500 (Before Tax)

Includes: 2-3 fish, fishbowl, air pump

Over 30 summer yukata to pick from with goldfish designs

Time: 15:00-20:00

Where: Jawamegu Plaza

Price: Adults ¥500 / Kids ¥300 (Before Tax)

Information

Shigakko Kingyo Matsuri Festival

Running: June 1, 2021 – August 31, 2021

Where: Hoshino Resorts Aomoriya

Conditions: Must be a guest staying at the hotel

Entry: Free

Event Details: https://hoshinoresorts.com/ja/hotels/aomoriya/

Pokémon GO and the Pokémon Trading Card Game Collaboration Announced For Summer 2021

The Pokémon Company has announced a collaboration between Pokémon GO and the Pokémon Trading Card Game (Pokémon TCG) for Summer 2021.

Cross Collaboration to Commemorate Pokémon's 25h Anniversary

This year marks the 25th anniversary since the release of Pokémon Red and Blue, as well as the 5th anniversary of Pokémon GO. In celebration, The Pokémon Company has various things planned for players of both games. It has not yet revealed much, but the following has been confirmed.



Professor Willow Card Obtainable Worldwide in Pokémon TCG

For the first part of the collaboration, Professor Willow will feature as a card in Pokémon TCG worldwide this summer. The artwork and content of the card will be revealed in late May.

Further announcements regarding the cross collaboration are to be announced at a later date, so stay tuned.

Information

Pokémon GO
©2021 Niantic, Inc. ©2021 Pokémon. ©1995-2021 Nintendo/Creatures Inc. /GAME FREAK inc.

Pokémon Trading Card Game
©2021 Pokémon. ©1995-2021 Nintendo/Creatures Inc. /GAME FREAK inc.

Official Website: https://corporate.pokemon.co.jp/en/

Iconic Japanese Mascot Kumamon Takes Annual Festival Online to Thank Fans

Kumamon is a Japanese mascot many are sure to have seen. It was created in 2010 as a way to promote Kumamoto Prefecture in Kyushu, Japan.

Each year, Kumamon brings fans together at an event called "Kumamon Fan Gratitude Festival in TOKYO." This year, for the safety of fans, it will be held digitally—from Tokyo rather than in Tokyo—with an online stream via Kumamon's official YouTube channel Kumamon TV on February 12 at 20:00 (JST). Kumamon is currently in the last stages of preparing what is sure to be an equally fun event for fans.

You can follow Kumamon on social media at the links below. Be sure to tune in for the stream this Friday.

Pokémon, My Melody, Moomin and More Valentine's Day Chocolates Arrive at Daimaru Tokyo

The Hoppe Town area of Daimaru Tokyo is currently celebrating Valentine's Day up to February 14 with the release of a selection of gift chocolates by six brands in collaboration with popular characters.

Pokémon Chocolate Set (Large Box) | ¥1,404 (Tax Included)

My Melody x Goncharoff Chocolates (Contains 21) | ¥2,160 (Tax Included)

Moomin x Merry Chocolate's Hattifatteners Chocolates (Contains 11) | ¥1,188 (Tax Included)

Dick Bruna by Morozoff: Picture Book Chocolates (Contains 15) – ¥864 (Tax Included) / Miffy Pouch Chocolates (Contains 8) – ¥1,320 (Tax Included)

Chatrois Kitten Tiny Plain Chocolates | ¥783 (Tax Included)

Katanukiya Angel Panda | ¥684 (Tax Included)

Which of these cute and tasty-looking treats has caught your eye the most?

©Nintendo・Creatures・GAME FREAK・TV Tokyo・ShoPro・JR Kikaku ©Pokémon
©1976,2021 SANRIO CO,LTD.APPROVAL NO.L613374
©Moomin Characters™

Information

Daimaru Tokyo Valentine's Sweets
Running: January 27, 2021 – February 14, 2021

Location: Hoppe Town on Floor 1F of Daimaru Tokyo
Official Website: https://www.daimaru.co.jp/

Poké Lid Project Lays Down New Manhole Covers in Nara Prefecture

Five new Pokémon manhole covers were laid in Japan's Nara Prefecture on Wednesday (January 20) as part of the Poké Lid  project to place Pokémon-design manhole covers across the country. There are now a total of 148 lids in 13 locations in Japan.

Nara's 5 new Poké Lids

All of the Poké Lids placed across Japan feature completely original Pokémon designs making each individual one the only one in the world. The Pokémon Company is also working to make each one of them PokéStops for Pokémon GO.

If you're planning a trip to Japan, be sure to check if there are any Poké Lids at your destination.

©2021 Pokémon. ©1995-2021 Nintendo/Creatures Inc./GAME FREAK inc.
Pokémon, ポケットモンスター, and ポケモン are registered trademarks of Nintendo, Creatures Inc., and GAME FREAK inc.