Pokémon Virtual Fest Virtual Theme Park to Open in Japan
The Pokémon Company has announced the opening of a virtual theme park―Pokémon Virtual Fest―in Japan which will open from August 12 to 31 this year.


Pokémon Virtual Fest will be accessible via the 'cluster' app on mobile or PC. Pokémon Trainers can look forward to jumping into a fully-realised Pokémon world with themed attractions, events, and much more. Let's take a look at just some of the content players can look forward to experiencing.
Entrance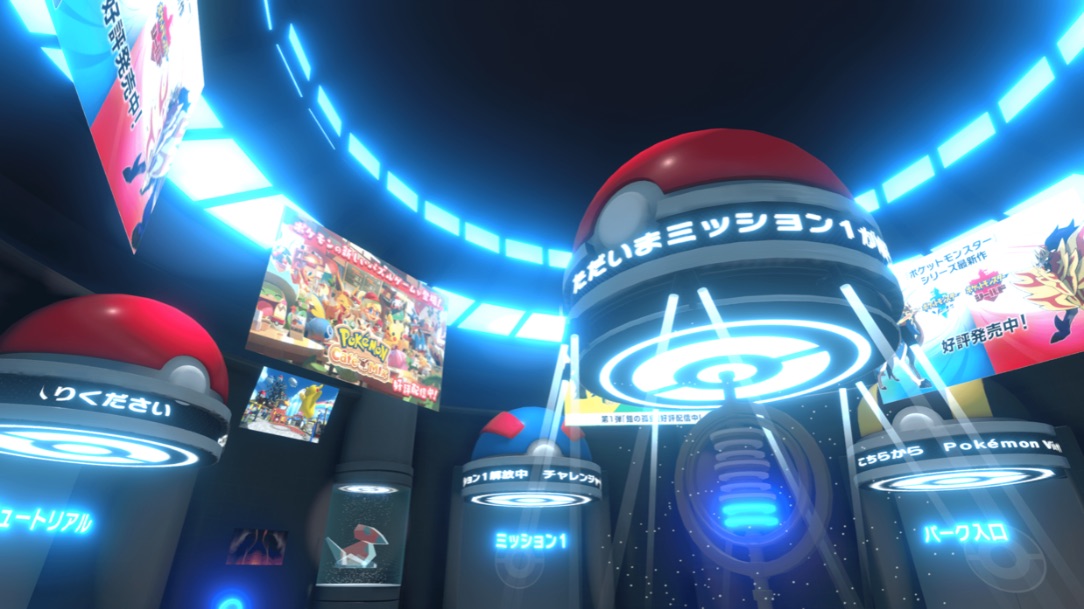 The first place that users will come to when entering Pokémon Virtual Fest is the Entrance. Just like a real theme park, Pokémon Virtual Fest has its own proper entrance too, beckoning players to the fun that is to be had. This first virtual area will feature holograms of Pikachu, Polygon, and other Pokémon. At the centre of the entrance is a board which displays the results of players' who have completed missions in the park.
Avatars
Choose your own avatar from Grookey, Scorbunny, or Sobble. More avatars are in the works to be added to the roster. Users can take photos in the virtual space too. Find an ideal spot and snap some pictures with friends.
Mission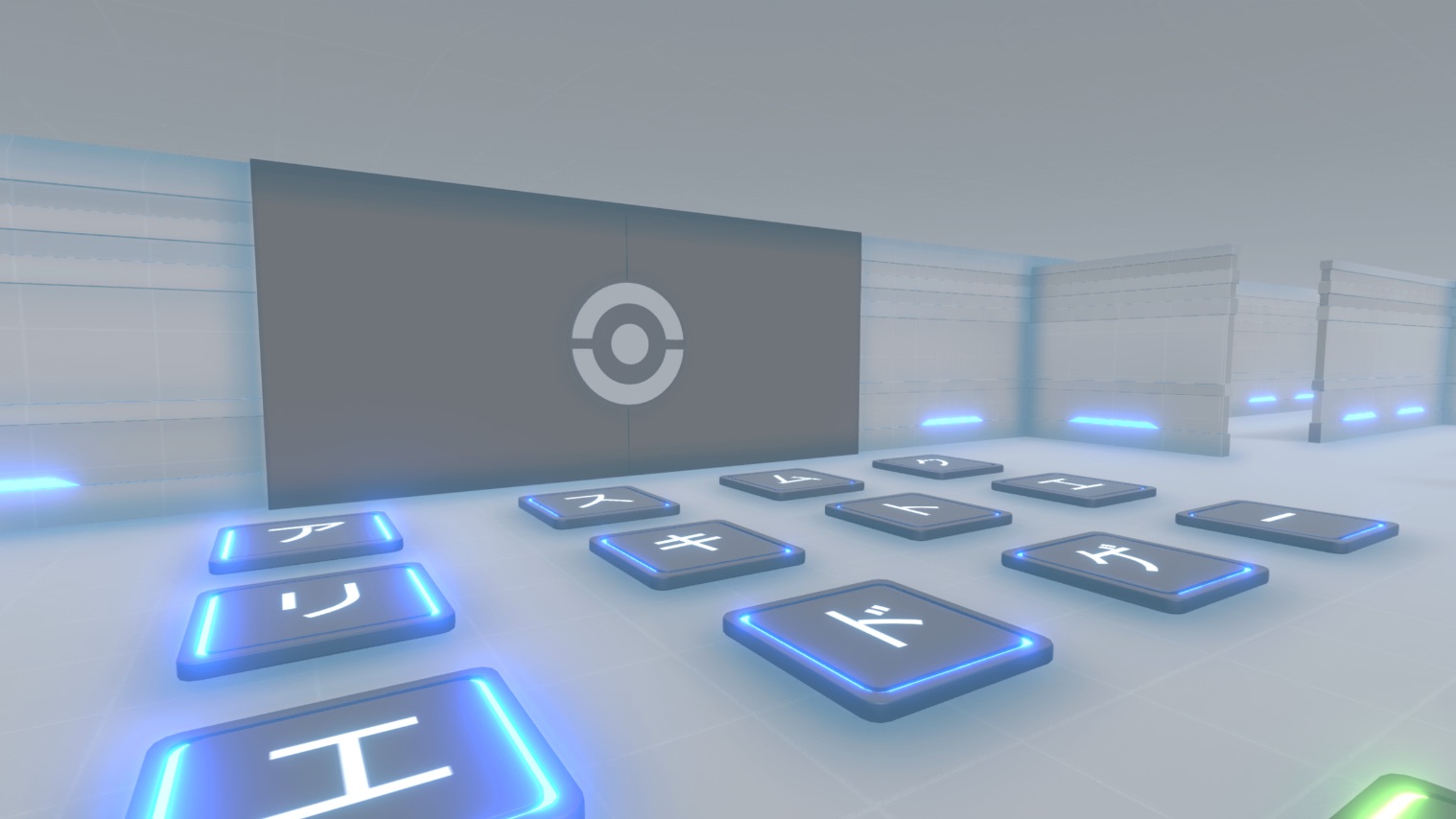 The missions are in the style of an escape game. Created by escape game specialists SCRAP, players must figure out how to escape the room which will earn them a clear. There is the "Maze Mission" where you must navigate through twists and turns while answering questions, the "Word Puzzle Mission" where you must collect letters scattered around the room to solve the puzzle, and the "Riddle Missions" where you must decipher codes to figure out the riddle.
Theme Park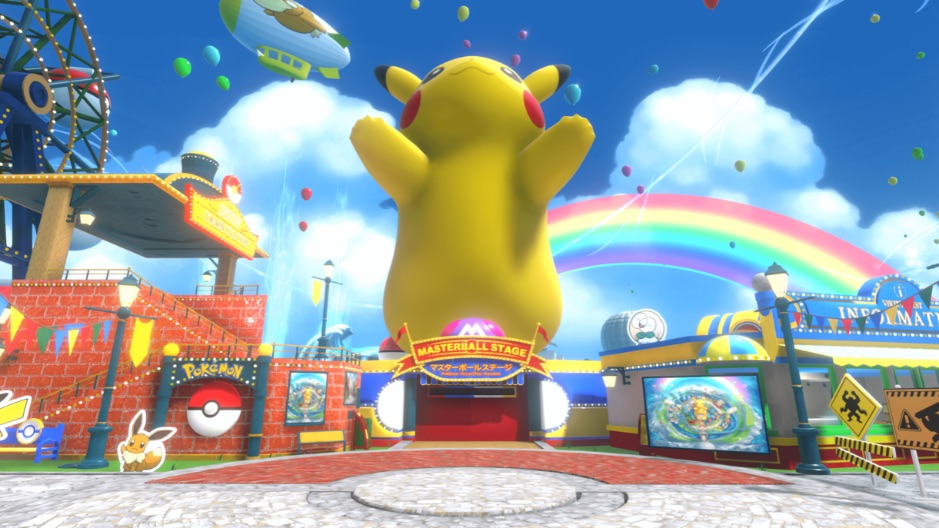 When players approach the gate, they are welcomed by an enormous Pikachu. As they walk around the park, checking every nook and cranny, they may even find Pokémon hidden here and there.
Attractions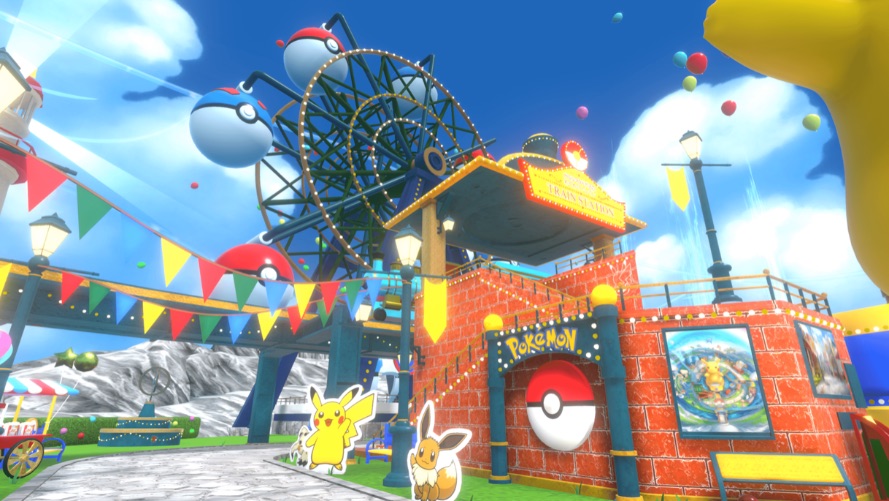 Since this is a theme park, you've got to have attractions. At Pokémon Virtual Fest, there is a Pokémon Ferris Wheel, the Galarian Weezing Train which gives players a tour of the park, and many more.
Store Area
Numerous shops will line the park where players can get themselves a range of virtual souvenirs, ice cream, and other fun summertime things.
Beach Area
There's even a beautiful beach in the park. Players are invited to listen to the sounds of the waves while doing some beach athletics on the water with friends, take photos, and make some great summer memories.
Event Stage
Sat underneath the giant Pikachu monument is a stage where a flurry of exciting events will take place. Players can watch Pokémon Sword and Shield Pokémon battles amongst other things. And from August 29 to 31, a special event will take place which includes a Pikachu dance show, fireworks, and more.
Pokémon Virtual Fest will open from August 12 to 31 in Japan.
©2020 Pokémon. ©1995-2020 Nintendo/Creatures Inc. /GAME FREAK inc.
Pokémon, ポケットモンスター, and ポケモン are registered trademarks of Nintendo, Creatures Inc., and GAME FREAK inc.
© 2017 Cluster, Inc.
*Photos are of a product still in development

Information
Pokémon Virtual Fest
Running: August 12, 2020 – August 31, 2020
Compatible Devices: Smartphone (iOS/Android), PC (Win/Mac), VR HTC VIVE/VIVE Pro, Oculus Rift/RiftS)
How to Acess: Create a free account on the 'cluster' app. The app must be installed on your device. For full details, visit the Pokémon Virtual Fest website below.
Pokémon Virtual Fest: https://pokemon2020.cluster.mu/
Cautions
*Information and content subject to change without notice.
*Time slots are allocated, and so there may be restrictions on the number of people who can enter at once.
*Please note that it is possible for devices (smartphone, PC or VR device) may overheat if you play for long periods of time. If you are concerned about this occurring, you are encouraged to close the 'cluster' app and let your device cool down for a while before playing again.
RELATED ENTRIES
POKÉMON COLORS Exhibition Opens at Matsuya Ginza

Matsuya Ginza opened its POKÉMON COLORS exhibition on July 22 which is set to run until August 11. The event is a kaleidoscope of bright colours and shapes of Pokémon and Pokémon motifs, with four activities and one installation to enjoy, as well as 160 original pieces of merchandise for fans to buy.

Logo mark

Art Deli Key Visual | ¥4,400

Pikachu Design Pouches – Assorted Pokémon Design Pouches | Small: ¥1,650 Each, Large ¥3,300 Each

Get your hands on a range of vivid and stylish Pokémon items, take photos at the many different photo spots dotted around the event, and learn the latest news about the Pokémon franchise.

Indigo dye art piece

Dangling from the first floor atrium is a 20-meter Pokémon art piece made by the dye group BUAISOU who used the traditional Japanese art of indigo dyeing to create it.

©2021 Pokémon. ©1995-2021 Nintendo/Creatures Inc./GAME FREAK inc.
ポケットモンスター・ポケモン・Pokémonは任天堂・クリーチャーズ・ゲームフリークの登録商標です。

Information

POKÉMON COLORS

Running: July 22, 2021 – August 11, 2021

Location: Matsuya Ginza – Floor 8F

Opening Hours: 10:00-20:00

Official Website: https://pokemon-colors.com/

Official Pokémon Baby Brand monpoké Unveils Autumn/Winter 2021 Lookbook

Pokémon's official baby brand monpoké revealed their 2021 AUTUMN/WINTER LOOKBOOK' on their official website. First launched in July 2019, this month sees the release of some special new items, including the brand's first Eevee designs, in celebration of its 2nd anniversary.

2nd Anniversary Line-Up

Introducing the "monpoké Collection" by Asics, a Pikachu themed line-up that comes part of their children's shoe series SUKU². Pre-sales for the footwear opened on Asics' online store on July 8 with general sales set to roll out on July 17 at Asics Kids Ginza, Asics Kids Grand Front Osaka, select Asics Walking branches, select shoe shops, and elsewhere in Japan.

Plus2do, an organic cotton clothing brand, has released a new line of haramaki with cute embroidery that are great for babies who get cold tummies. Made from high quality organic cotton, the haramaki are all carefully crafted by artisans, and will roll out at Plus2do and elsewhere from July 29.

Inujirushi Honpo is offering a range of apparel and gifts for babies aged from birth to 12 months such as an apron suit, birth preparation set, maternity notebook case, and more. They will be released at department stores, including Takashimaya Osaka Store from July 14-20 and at Takashimaya Yokohama Store from July 21-August 3.

Takihiyo is releasing a line-up of clothing items for children aged 1-3 such as caps, outerwear, pants, pouches, and more at specialist stores from July 29.

Other items will also enter the collection in August such as Eevee plush toys from Sekiguchi, wooden rattles from Kawada, and more.

More details on the product will be released on the official Pokémon Japan homepage and Twitter in the lead up the releases.

©2021 Pokémon. ©1995-2021 Nintendo/Creatures Inc./GAME FREAK inc.

Japan's Poké Lid Project Lays Down Seven New Manhole Covers in Hokkaido

Seven new Pokémon manhole covers were laid in Hokkaido on July 7 as part of the Poké Lid project to place Pokémon-design manhole covers across the country. The new designs include Alola Vulpix, Togekiss, Bewear, Ditto, Combusken, and more, which were placed in Hakodate, Otaru, Nemuro, Noboribetsu, Hombetsu, Rikubetsu, and Nakashibetsu.

アローラロコンとロコンと「ポケふた」

Hokkaido is now home to 26 Poké Lids

All of the Poké Lids placed across Japan feature completely original Pokémon designs making each individual one the only one in the world. The Pokémon Company is also working to make each one of them PokéStops for Pokémon GO.

Appointed in November 2018 as the leader and deputy leader of the "Hokkaido Aficionado Expedition," Alolan Vulpix and Vulpix have been promoting Hokkaido in their respective capacities. Alolan Vulpix is known as the Fox Pokémon and thrives in snow mountains. It was chosen to promote Hokkaido, one of Japan's snowiest regions.

©2021 Pokémon. ©1995-2021 Nintendo/Creatures Inc./GAME FREAK inc.
ポケットモンスター・ポケモン・Pokémonは任天堂・クリーチャーズ・ゲームフリークの登録商標です。

Hello Kitty Summer Event Themed On the Undersea Palace Princess Oto-hime Kicks Off in Hyogo

The Hello Kitty media art facility and restaurant HELLO KITTY SMILE on Awaji Island kicked off a summer event on July 1. Titled "HELLO KITTY SMILE Oto-hime Ryugu-jo Beach Summer Festival," the event is set to run until the end of August.

Digital fireworks set the summer vibe

Catch your own Sanrio figure

Decorate your own Sanrio character ceramic

Children's meal at the Party Terrace


Hello Kitty afternoon tea at the Party Balcony

Spicy tortilla at the Garden Terrace

The event is themed on Oto-hime, the princess of the underwater palace Ryugu-jo which features in the Japanese folktake of Urashima Taro. It focuses on Hello Kitty and is a celebration of Bon odori, a type of dance that takes place during the Japanese summertime Bon Festival. Hello Kitty performs the dance on stage, and the audience can join in with handclapping, dancing, and waving the free fan they receive upon entering the venue. Visitors can also buy a ticket to meet Hello Kitty, and those who do receive a free plush toy along with a photo with the Sanrio queen herself.

At the event, visitors can enjoy Sanrio versions of all the fun things Japanese summer festivals, or natsumarui, have to offer like catching a Sanrio figure instead of a goldfish, painting ceramics, making vinyl prints, squirting water pistols, jumping on a giant trampoline, and so much more.

Other things to look out for include special screenings at the HELLO KITTY SMILE theatre and the firework projection mapping show. The event also has four different restaurants which are serving limited-time, seasonal summer treats: the Party Terrace, Party Balcony, Restaurant Tamatebako, and Garden Terrace.

Ⓒ2021 SANRIO CO., LTD. APPROVAL NO. L627610

Information

HELLO KITTY SMILE Oto-hime Ryugu-jo Beach Summer Festival

Japanese Event Title: HELLO KITTY SMILE 乙姫竜宮城 海辺の夏祭り

Running: July 1, 2021 – August 31, 2021
Opening Hours:10:00-19:00 (Last Entries 18:00)
*Brunch served exclusively on weekends and public holidays at the Party Terrace at 9:00-10:00 (last orders 10:30)

Closed: Tuesdays

Address: 985-1 Nojimahikinoura, Awaji, Hyogo 656-1721, Japan

Official Website: https://awaji-resort.com/hellokittysmile/

Japan's Poké Lid Project Lays Down Two New Manhole Covers in Tokyo

Two new Pokémon manhole covers have been laid in Tokyo as part of the Poké Lid project to place Pokémon-design manhole covers across the country. This includes a Tyrunt & Wynaut cover at the National Museum of Nature and Science and a Baltoy & Bronzor cover at Tokyo National Museum.

Tokyo's new Poké Lids

All the current Poké Lids

All of the Poké Lids placed across Japan feature completely original Pokémon designs making each individual one the only one in the world. The Pokémon Company is also working to make each one of them PokéStops for Pokémon GO.

©2021 Pokémon. ©1995-2021 Nintendo/Creatures Inc./GAME FREAK inc.
ポケットモンスター・ポケモン・Pokémonは任天堂・クリーチャーズ・ゲームフリークの登録商標です。

McDonald's Japan Releases Pikachu Desserts

Mc Donald's Japan released its new Sweets Trio Fruchu menu on Friday which features a line-up of three fruit-flavoured Pikachu items: the Yellow Peach McShake, Chocolate Banana McFlurry, and Hot Apple Custard Pie.


The menu items comes in limited-edition cups and packaging featuring the adorable Pikachu.




Yellow Peach McShake | Small ¥120 – Regular ¥200 (Tax Included)

A fruity and refreshing summery McShake made with sweet and sour yellow peach with that satisfying creamy McShake texture. Available in small and medium, both sizes come with three different cup designs each for a total of six.

Chocolate Banana McFlurry | ¥290 (Tax Included)

The Chocolate Banana McFlurry is served in an ice cream cup with a fresh squirt of milky rich soft serve and drizzled with banana and chocolate sauces. The ice cream is finished with a sprinkle of crunchy yellow cornflakes. Another perfect choice for cooling down in the hot summer weather. There are three possible cup designs to receive.

Hot Apple Custard Pie | ¥150 (Tax Included)

The apple custard pie is served hot with a crunchy outside and filled with custard cream made with fresh apple and vanilla beans and seasoned with caramel and cinnamon. There are three possible packaging designs to receive.



McDonald's Japan is also serving a Pikachu-style Happy Meal as part of the collaboration which come with one of six possible toys.

Rilakkuma & Sumikko Gurashi Festival Announced For Fall in Sapporo

Rilakkuma and Sumikko Gurashi are set to collaborate at a special festival centred entirely around the characters which will run at Sapporo Factory from September 17 to November 28.

Rilakkuma, Sumikko Gurashi, and you are invited to the festival which will be split into two areas: the Rilakkuma Pavilion and Sumikko Gurashi Pavilion where the characters will be present to greet guests. The event is taking on a magical theme which imagines the spirits of San-X, the company who created Rilakkuma and Sumikko Gurashi, casting a mysterious magic on the festival to bring happiness to all.

There's plenty for fans of the characters to enjoy including fun photo spots, exclusive merchandise, and much more.

If you're in Sapporo this autumn, don't miss the Rilakkuma & Sumikko Gurashi Festival.

Information

Rilakkuma & Sumikko Gurashi Festival

Running: September 17, 2021 – November 38, 2021

Venue: Sapporo Factory 3 (Floor 3F)

Address: 4 Chome-1-2 Kita 2 Johigashi, Chuo Ward, Sapporo, Hokkaido 060-0032, Japan

Opening Hours: [Weekdays] 13:00-17:00 (From 10:00 on September 17) / [Weekends] 10:00-17:00 (Last Entries 16:30)

Closed: Thursdays (Except September 23, 2021)

TEL: 011-272-9302 (10:00-17:00 except weekends and holidays)

Official Website: https://ntv.co.jp/rilakkuma-and-sumikko-fest/

Pokémon x Tokyo Banana Expands Across Japan

The Pokémon Tokyo Banana confection series launched its first two products that it ever released at Yume Town, Yume City, LEC, and Yume Mart branches in the South-west most part of Honshu, Shikoku, and Kyushu on May 14.

Pikachu Tokyo Banana (Banana Flavour) | Includes 2 | ¥292 (Tax Included)

Eevee Tokyo Banana (Caramel) | Includes 2 | ¥292 (Tax Included)

Heart-shaped tail ends

Six different packaging designs each for Pikachu and Eevee

Tokyo Banana are popular cream-filled cakes and are the official souvenir sweet of Tokyo. The Pokémon series turns these fluffy treats into cute confections for you to enjoy with your favourite Pokémon during snack time.

Pikachu was the first to enter the Pokémon Tokyo Banana series who was turned into a banana custard cream-filled sponge cake. The second was Eevee with the fluffy sponge a delicious caramel macchiato flavour and filled with sweet banana custard cream

The confections are both branded with adorable heart-shaped tails, and each comes with one of six possible packaging designs.

©2021 Pokémon. ©1995-2021 Nintendo/Creatures Inc./GAME FREAK inc.
ポケットモンスター・ポケモン・Pokémonは任天堂・クリーチャーズ・ゲームフリークの登録商標です。

Sakura Miku Blossoms On Merchandise at Hirosaki Sakura Matsuri 2021 in Aomori

Japanese anime, game, and hobby merch site CharaAni released a new collection of Sakura Miku merchandise on Monday in collaboration with the Hirosaki Sakura Matsuri 2021 festival.

Hirosaki Sakura Matsuri 2021 x Sakura Miku Line-Up

Folders | ¥450 Each (Tax Included)

Tapestries | ¥3,500 Each (Tax Included)

Acrylic Stands | ¥1,500 Each (Tax Included)

Holographic Pins | ¥550 Each (Tax Included) *Blind box, designs are random

Reversible Blankets | ¥5,500 Each (Tax Included)

Scarf Towel (Art by iXima) | ¥2,000 (Tax Included)

Happi (Art by iXima) | ¥6,000 (Tax Included)

Hand Towel (Art by Mamo) | ¥1,000 (Tax Included)

Motel Key Ring (Art by iXima) | ¥1,500 (Tax Included)

Teacups | ¥1,700 Each (Tax Included)

Flat Pouch (Art by iXima & Mamo) | ¥2,500 (Tax Included)

Drum Bag (Art by iXima) | ¥6,500 (Tax Included)

Full Graphic T-Shirt (Art by Morichika) | ¥5,500 (Tax Included)

Full Graphic Zipper Hoodie (Art by Hechima) | ¥9,900 (Tax Included)

Fashion Mask (Art by iXima) | ¥2,200 (Tax Included)

Desk Mat (Art by iXima) | ¥3,300 (Tax Included)

Shitakawa Rayaki Dove Whistle | ¥2,200 (Tax Included)

Music Box: "Haru o Matsu Hito" – PolyphonicBranch feat. Hatsune Miku

The Sakura Miku x Hirosaki Sakura Matsuri 2021 collection invites on board four artists: iXima, Mamo, Hechima, and Morichika who have created original artwork for the line-up. The items can be bought both at the festival and online.

The collection also includes Sakura Miku-inspired dove whistles made by Shitakawa Rayaki Tsuchi Ningyo, a clay doll company that has been around for over 200 years. The company began in the latter half of the Edo Period when Takaya Kanegura, who had learned how to make ceramics in the town of Chikuzen in Fukuoka, was employed by the Hirosaki Domain to build a furnace.

Miku fans can also get their hands on a music box which features an original song created for the festival called Haru o Matsu Hito ("Person Waiting For Spring"). It features artwork by iXima.

Art by iXima / Mamo / へちま / もりちか © Crypton Future Media, INC. www.piapro.net

Earth Day Tokyo 2021 to Promote Sustainability, Eco-Friendliness, and an Organic Lifestyle at Yoyogi Park

This year's Earth Day Tokyo will take place at Yoyogi Park from April 17-18 where messages of eco-friendliness, organic products, sustainability, ethics, and inclusiveness will be at the core of various events held as part of the festival.

This year marks Earth Day Tokyo's 20th run as part of the global Earth Day initiative and brings together environmental NPOs, charities, and locals. Due to COVID-19, in-person events will only take place on April 17 and 18 but the festival will run online from April 17 to 25.

Earth Day Tokyo 2021 Concert

Concerts will take place across the two-day Yoyogi Park festival. Many musicians and guests have committed themselves to the future of the planet at the Earth Day Tokyo's concerts, with past line-ups including Japan's King of Rock Kiyoshiro Imawano, UA, BONNIE PINK, and more.

This year will see performances from Itou Seikou ITP, Kenichi Nagira, yae, scoobie do, Taiji Sato, Nozomi Nobody, hachi_Aigoz, tico moon, Rokuta Yanagiya, and Ichido Ryutei.

Market area

Every single product at the market booths has a story, and visitors will be able to hear about them from the makers in-person as they shop. And the items sold at the market will be different each day, stocking something to add a little environmental consideration into our lives.

C. W. Nicol's "Nicol's Forest Kitchen" sausages help plant forests

The late Welsh-born Japanese writer, actor, and singer-songwriter C. W. Nicol was the Executive Committee Chairman for Earth Day Tokyo from 2000 until his passing last year. He also launched Nicol's Forest Kitchen in 2011 which has been a regular at Earth Day Tokyo to help protect Japan's forests. The food stall will make an appearance this year too.

C. W. Nicol began to wonder how he could help raise people's interest in forests as well as help revitalise forests that had been destroyed. Nicol's Forest Kitchen project was his answer: to spread awareness through food, and in doing so, the project could help build up forests.

Visitors separate garbage themselves with the help of volunteers

At the Eco Station, volunteer staff will help direct visitors in separating garbage properly, raising awareness on the proper procedures which they can take away home with them.

Information

Earth Day Tokyo 2021 @ Yoyogi Park

Running: April 17, 2021 – April 18, 2021

Time: 10:00-17:30

Where: Yoyogi Park

Entry: Free

Earth Day Tokyo Official Website: https://www.earthday-tokyo.org

Little Glee Monster and Other Japanese Artists Announced For Tokyu Musix Challenge

Tokyu Musix Challenge is set to take place at Bunkamura Orchard Hall this year on March 7 at 18:00.

2020 saw the cancellation of music events across the world, with Japan being no exception. Shibuya, Tokyo's hub of countless live music venues and halls, was particularly affected by the effects of the pandemic. But the energy and power that music artists hold is one they can offer to brighten up peoples' time during today's times. That's where Tokyu Musix Challenge comes in, a new kind of music festival that will bring together a multitude of genres, and where better for it to be held than the cultural melting pot that is Shibuya.

This year will be the first run of the festival, where a collaboration between classical music and contemporary pop music will clash at Bunkamura Orchard Hall. The Tokyo Philharmonic Orchestra, which is recognised as Japan's oldest symphony orchestra, will play alongside acts such as Little Glee Monster, Ai Higuchi, Win Morisaki, Meimi Tamura, Kayoko Yoshizawa, ROTH BART BARON, and more. And the line-up is set to grow as more performers will be announced in the lead up to the event.

Comments from the Artists

Little Glee Monster

"We are really looking forward to feeling the fresh breeze of our music colliding with the grand scale of an orchestra. We'll be sure to play our part so that we don't lose to the overwhelming performance of everyone in the Tokyo Philharmonic Orchestra, but also so that our music complements theirs. We hope that everyone can have a good time and feel good from the strength that music has."

Ai Higuchi

"In 2020, we may have all lived kind of complicit with so many options in front of us leading down different paths. A certain friend might have gone to a drinking party, another might not have seen their lover for a long time. What choices do we make? We become darker depending on our choices. In Shibuya, a city that continues to change, I will sing my unchanged songs."

Win Morisaki

"Over this past year, the respect I have for the position I'm in where I can express myself has really sunk in. I'm so happy I've been able to get involved with this challenge. And getting to sing with an orchestra, it's magnificent. I'm so excited about what's to come."

Meimi Tamura

"I can't contain my excitement at a genre collaboration between classic, which is the foundation of music, and pop which is strongly tied to Shibuya. I think I'm going to start feeling tense at getting to perform alongside everyone in the Tokyo Philharmonic Orchestra and singers of all different kinds of music. We don't have a lot of freedom today during the pandemic, but I will work my hardest so that I can deliver love through music from the city of Shibuya."

Kayoko Yoshizawa

"My chest roars and having the opportunity to perform along side Japan's oldest and longest-running Tokyo Philharmonic Orchestra at the legendary Orchard Hall. It's my first time experiencing singing with an orchestra, so I'm looking forward to seeing how the songs will be structured, and how my voice will sound, when we do it."

Ditto Pokémon Pink Gold Necklace Released by Japanese Luxury Jewellers U-TREASURE

Japan's luxury character jewellery brand U-TREASURE, which creates accessories for character-loving adults, welcomes its new Ditto Pokémon necklace coated in pink gold.

Ditto Necklace Silver (Pink Gold Coating) | ¥17,600 (Tax Included)

Ditto is known for its shapeshifting ability to transform into anything. This Normal-type Pokémon, first introduced in Generation I, has turned into a luxury pink gold necklace so you can take it with you on your Pokémon Trainer adventures wherever you go.