Sailor Moon Collaboration Campaign Includes Roomwear and Reversible Luna Pillow Prizes
Japanese manufacturing company Lion Corporation launched a collaboration campaign on August 3 between pain meds company BUFFERIN Premium and BUFFERIN Lunai and the upcoming animated film Sailor Moon Eternal which is being released on January 8, 2021.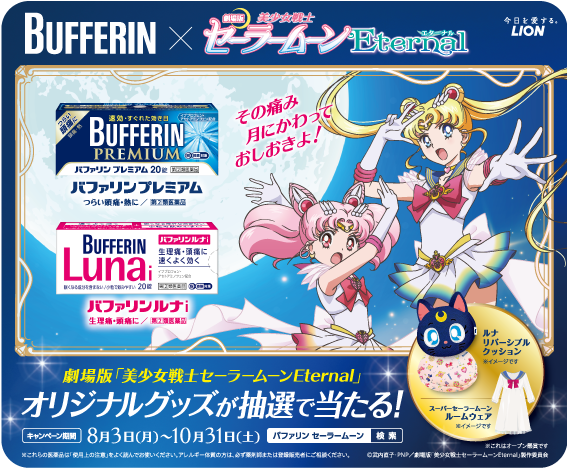 BUFFERIN launched a campaign in June 2018 called "TIME IN A BOX" which was aimed at supporting women suffering with menstrual pain. The campaign featured an original story which saw the magical girl Sailors of Sailor Moon using BUFFERIN to battle the 'enemy' of menstrual pain to bring peace to women.
An original quiz has been conceived for the campaign which features the familiar faces of 10 Sailors from the Sailor Moon franchise. Participating in the quiz gives fans a chance to win a line-up of merchandise.
Left: Luna Reversible Cushion / Right: Super Sailor Moon Roomwear

Those who clear the quiz game will enter for the chance to win a line-up of Sailor Moon items. 100 lucky people can win the reversible Luna cushion while just 10 can win the one piece-style roomwear.
Clearing the quiz will also get you a special message from the Sailors.
The campaign is running in Japan only. It will be promoted across social media, such as on YouTube and Instagram, as well as inside trains in Tokyo, all in promotion of the upcoming film Sailor Moon Eternal.
BUFFERIN x Sailor Moon Promotional Video

If you're in Japan, or have a friend in Japan, don't miss out on this special collaboration.
©Naoko Takeuchi
©Naoko Takeuchi・PNP / "Sailor Moon Eternal' Film Production Committee

RELATED ENTRIES
Sailor Moon Museum Details Second Round of Exclusive Merchandise

The Sailor Moon franchise's 30th-anniversary museum will run from July 1 to December 30 at Tokyo's Roppongi Museum. The series became a global phenomenon in the 1990s and remains massively popular to this day.

 
The exhibition will feature the largest-ever exhibition of original illustrations by Sailor Moon's creator Naoko Takeuchi, at over 600 pieces. The museum will have three phases, each swapping out different pieces, so fans can have a different experience depending on when they visit!

The event will include an 'immersive experience theater,' which will display colored images on a massive 4.5 x 8-meter screen with special effects. Fans can also enjoy a 'hologram manuscript exhibit,' which will display the Sailor Scouts' famous dialogue. Plenty of merchandise will also be available for purchase, with the second round of available goods just announced!

Original Merchandise (Second Lineup)

Clear Folder ('90s Anime Logo)

Clear Folder (Random, 5 varieties)

Masking Tape Holder

Masking Tape (Luna, Artemis & Diana)

Hat ('90s Anime Logo)

Cloth Shirt ('90s Anime Logo)

Aurora Sticker (Random, 10 varieties)

Reversible Cushion (Luna & Artemis)

Pochette (Luna)

Face Powder Collection (5 varieties)

The second round of original merchandise features many items utilizing the '90s anime logo, including a shirt, hat, and clear folders. A themed masking tape holder was made to resemble Sailor Moon's Moon Stick, and the tape itself features the cats Luna, Artemis, and Diana.

 

The interior of the special store created for the exhibition was designed by Wataru LINDA Igarashi, an art director known for his cute pieces based on the concept of 'window shopping.' 

Come experience some serious nostalgia at the Sailor Moon museum later this year!

© Naoko Takeuchi

Information

Sailor Moon Museum

Running: July 1 – December 30, 2022

Vol.1: July 1 – September 4

Vol. 2: September 10 – November 6

Vol. 3: November 12 – December 30

Closed: September 5-9, November 7-11

Hours: 10:00-18:00 (Last entry at 17:30)

Venue: Roppongi Museum (5-6-20 Roppongi, Minato-ku, Tokyo)

Official Site: sailormoon-museum.com

Sailor Moon Museum Details Exclusive On-Site Merchandise

The Sailor Moon franchise's 30th-anniversary museum will run from July 1 to December 30 in Tokyo's Roppongi Museum. The series became a global phenomenon in the 1990s and remains popular to this day.



The exhibition will feature the largest-ever exhibition of original illustrations by Sailor Moon's creator Naoko Takeuchi, at over 600 pieces. Rare original color drawings and some never-before-scene creations will be on display, and fans won't want to miss this incredible chance. The museum will have three phases, each swapping out different pieces. Fans can have a different experience depending on when they visit!

Postcard Set (A): ¥880 (Tax Included)

Clear Folder A (Set of 2): ¥770 (Tax Included)

Nakayoshi Extras Reprint – Premium Card Collection Graffiti Ver. 1 / Ver. 2: ¥1,650 

 

A special store at the exhibition will sell original goods featuring original artwork by the original series creator Naoko Takeuchi. Postcards and clear folders feature colorful designs of famous scenes from the series, and longtime fans will appreciate a reproduced collection of trading cards that appeared in Nakayoshi Magazine.

 

New original goods will be available during each period of the museum. In late June, the interior of the exhibition and the second batch of original merchandise will be revealed!

© Naoko Takeuchi

Information

Sailor Moon Museum

Running: July 1 – December 30, 2022

Vol.1: July 1 – September 4

Vol. 2: September 10 – November 6

Vol. 3: November 12 – December 30

Closed: September 5-9, November 7-11

Hours: 10:00-18:00 (Last entry at 17:30)

Venue: Roppongi Museum (5-6-20 Roppongi, Minato-ku, Tokyo)

Official Site: sailormoon-museum.com

Sailor Moon Museum Reveals Collection of Original Drawings Made for Current Exhibition

The Sailor Moon franchise's 30th-anniversary museum will run from July 1 to December 30 at Tokyo's Roppongi Museum. The series became a global phenomenon in the 1990s and remains popular to this day.


The exhibition will feature the largest-ever collection of original illustrations by Sailor Moon's creator Naoko Takeuchi. Rare original color drawings and some never-before-scene creations will be on display. The museum will have three phases: volume 1 (July 1 – September 4), volume 2 (September 10 – November 6), and volume 3 (November 12 – December 30), and during each phase, new works will be available for guests to peruse.


The event will also include an 'immersive experience theater,' which will display colored images on a massive 4.5 x 8-meter screen with special effects. Fans can also enjoy a 'hologram manuscript exhibit,' which will display the Sailor Scouts' famous dialogue. Anime materials and a selection of classic merchandise from the 90s to the modern-day will be available to peruse, as well as outfits from the musicals.

Prior to the start of the exhibition, three new original drawings have been created by original author Naoko Takeuchi. These exclusive images will be on display throughout the event!

© Naoko Takeuchi

Information

Sailor Moon Museum

Running: July 1 – December 30, 2022

Vol.1: July 1 – September 4, 2022
Vol.2: September 10 – November 6, 2022

Vol.3: November 12 – December 30, 2022
*Closed September 5-9, November 7-11
Hours: 10:00-18:00 (Last entry at 17:30)

Venue: Roppongi Museum (5-6-20 Roppongi, Minato-ku, Tokyo)

Official Site: www.sailormoon-museum.com

Sailor Moon Commemorates 30th Anniversary with Museum, Details Revealed

The Sailor Moon franchise's 30th-anniversary museum will run from July 1 to December 30 in Tokyo's Roppongi Museum. The series became a global phenomenon in the 1990s and remains popular to this day.

The exhibition will feature the largest-ever exhibition of original illustrations by Sailor Moon's creator Naoko Takeuchi, at over 600 pieces. Rare original color drawings and some never-before-scene creations will be on display, and fans won't want to miss this incredible chance. The museum will have three phases: volume 1 (July 1 – September 4), volume 2 (September 10 – November 6), and volume 3 (November 12 – December 30). 

The event will also include an 'immersive experience theater,' which will display colored images on a massive 4.5 x 8-meter screen with special effects. Fans can also enjoy a 'hologram manuscript exhibit,' which will display the Sailor Scouts' famous dialogue. Anime materials and a selection of classic merchandise from the 90s to the modern-day will be available to peruse, as well as outfits from the musicals.


More information regarding original merchandise and the on-site cafe menu will be announced soon, so stay tuned!

© Naoko Takeuchi

Information

Sailor Moon Museum

Running: July 1 – December 30, 2022

Vol.1: July 1 – September 4

Vol. 2: September 10 – November 6

Vol. 3: November 12 – December 30

Closed: September 5-9, November 7-11

Hours: 10:00-18:00 (Last entry at 17:30)

Venue: Roppongi Museum (5-6-20 Roppongi, Minato-ku, Tokyo)

Official Site: sailormoon-museum.com

Sailor Moon Eternal Film Inspires Bridal Jewelry Collection

The U-Treasure brand is known for releasing incredible jewelry for adults based on popular brands and characters. This time, the company has released a number of bridal pieces inspired by Sailor Moon Eternal The Movie, including an engagement ring, wedding rings, and more.

Crisis Moon Compact Ring

Moonlight Ring Eternal ver.

Moon Kaleidoscope Half Eternity Ring

Moon Kaleidoscope Ring

Crystal Carillon & Pegasus Dream Necklace

The Crisis Moon Compact Ring engagement ring is made in a solitaire style and embellished with the Crisis Moon Compact on the stone seat supporting the diamond. The simple wedding bands feature a moon design in the center, perfect for fans of the series who don't want to be too flashy.

 

The Moon Kaleidoscope Half Eternity Ring contains 15 diamonds and can be worn as an engagement ring or a wedding band. The Moon Kaleidoscope Ring is a wedding band with the moon kaleidoscope motif inspired by Super Sailor Moon.

 

The Crystal Carillon & Pegasus Dream Necklace features a cute design with a Pegasus plate set in a resin that resembles a crystal bell.

Which of these designs would you prefer to wear to show off your love story? 

Universal Cool Japan 2022 Unveils Anime and Game-Inspired Food Menus and Merchandise

Universal Studios has revealed new menu and merchandise details for its Cool Japan 2022 event to be held from March 4 to August 28, 2022. Five globally-beloved anime and game series will be featured at the park this year including Sailor Moon and Attack on Titan.

Attack on Titan

Food

Levi Popcorn Bucket

Syringe Pen

Cushion

 

At the Studio Stars Restaurant, guests can find menu items inspired by the characters Eren and Levi, a dessert with a gentle sweetness inspired by Mikasa's red scarf, and much more. The park's famous popcorn bucket will feature Levi for a limited time, with the treat inside flavored by the character's favorite tea. The new lineup of merchandise includes a ballpoint pen resembling a syringe, an extremely important item in the series. A stuffed animal showing Levi taking down a titan is also a must-buy for fans.

Detective Conan

Food

Ribbon Hair Clip / Miniature Car

Printed Cookie Set

 

Fans of the ace detective can enjoy a sandwich shaped like Conan's bowtie, perfect for posting on social media. A number of new items will be for sale at Universal during the event, with the printed cookie tins serving as a perfect souvenir. 

HUNTER×HUNTER

Food

Mizumishiki Glass / Muffler Towel

Headphone Pouch / Card Case

Immerse yourself in all things Hunter x Hunter as you explore the Cool Japan 2022 event. A stylish headphone pouch and a hilarious towel are just a few items you'll be able to buy exclusively at the park. 

Sailor Moon

Food

Universal Heart Compact

Ribbon Hair Clip

 

The Sailor Moon area features menu items inspired by Tuxedo Mask and Sailor Moon, a cake in the shape of Sailor Chibi Moon's heart compact, colorful desserts symbolizing the five inner Sailor Soldiers and drinks for one of each of the four outer Senshi. The full lineup of goods includes bag charms, face towels, and ribbon hair clips too cute for girls to resist!

Monster Hunter

Roasted Meat

Poogie Churritos

Recovery Potion Bottle

Figure

Get ready to embark on your own adventure with a potion bottle and huge slab of meat, perfect for keeping your energy up! Fans of Monster Hunter will find plenty to love here, with a collaborative figure perfect for completing any fan's shelf.

Which area would you be most excited to visit?

©諫山創・講談社/「進撃の巨人」The Final Season製作委員会 
原作/青山剛昌「名探偵コナン」(小学館「週刊少年サンデー」連載中)
© 2022 青山剛昌/名探偵コナン製作委員会
©P98-22 ©V・N・M
©Naoko Takeuchi
©武内直子・PNP・東映アニメーション
©CAPCOM CO., LTD. ALL RIGHTS RESERVED.
書・紫舟
WIZARDING WORLD and all related trademarks, characters, names, and indicia are © & ™ WBEI. Publishing Rights © JKR. (s22)
Minions and all related elements and indicia TM & © 2022 Universal Studios. All rights reserved.TM & © Universal Studios & Amblin Entertainment
Universal Studios Japan TM & © Universal Studios. All rights reserved.
© Nintendo

Information

Universal Cool Japan 2022

Running: March 4 – August 28, 2022

Official Site: http://www.usj.co.jp/

ANNA SUI Releases New Collection to Celebrate the 30th Anniversary of Sailor Moon

To celebrate 30 years of Sailor Moon, fashion brand ANNA SUI has announced a number of collab items available to preorder until March 6, 2022! 

Moon Stick Necklace

Space-Time Key Necklace

Star Power Stick Earrings & Ear Cuff Set

Cutie Moon Rod Earrings 

Cosmic Heart Compact Choker

10 Sailor Soldiers Glass Cord Chain Necklace

Which Sailor Scout is your favorite? Can you believe it's been three decades since the series debut?

First Collaboration Between Sailor Moon Eternal and Sanrio Characters Announced

To commemorate the 30th anniversary of Sailor Moon, a special collaboration project with Sanrio has been announced! Characters from Sailor Moon Eternal are joining everyone's favorite kawaii mascots in a collection not to be missed!

 

This is the second collaboration between Sailor Moon and Sanrio, the first being the My Melody collab in 2017 and 2018 to celebrate the series' 25th anniversary. This year's event is a collaboration with the theatrical version of Sailor Moon Eternal, which was released in two parts last year. The illustrations were drawn by Sanrio designers to bring hope and dreams to fans of both franchises. Check out the six collaboration designs below!

Super Sailor Moon x Hello Kitty

Super Sailor Moon, the soldier of love and justice, teams up with the bright and caring Hello Kitty to bring love to the masses. Check out the matching costumes!

Super Sailor Chibi Moon x My Melody

Super Sailor Chibi Moon is always dreaming of becoming an adult, and the kind-hearted My Melody is sticking by her side. 

Super Sailor Mercury x Cinnamoroll

Super Sailor Mercury, the warrior of knowledge, is friends with the sweet Cinnamoroll. Keep an eye out for those matching tails!

Super Sailor Mars x Kuromi

Super Sailor Mars and Kuromi are the perfect team. With their cool style, they work hard to achieve their dreams.

Super Sailor Jupiter x Marron Cream

Super Sailor Jupiter and Marron Cream love to cook and grow flowers. Their matching floral designs are perfect for their tastes.

Super Sailor Venus x Pompompurin

Warrior of love Sailor Venus is accompanied by the laid-back Pompompurin. Don't they look cute with their matching berets?

Sailor Moon Store to Open at Paseo in Sapporo, Hokkaido for Limited Time Only

Kiddy Land will be holding the "Sailor Moon store -petit-" at Paseo, a shopping center connected directly to Sapporo Station in Hokkaido, for a limited time only from December 17 to March 27, 2022.

Sailor Moon store -petit- is a traveling branch of Sailor Moon Store, which gathers all the products of Sailor Moon series. During the period, there will be rewards for purchasing the products, so take this opportunity to visit the Sailor Moon Store.


© Naoko Takeuchi
© 武内直子・PNP/劇場版「美少女戦士セーラームーンEternal」製作委員会
© 武内直子・PNP・東映アニメーション

Sailor Moon Eternal Inspired Face Mask Protects and Looks Kawaii

Bandai Namco Group released a new Sailor Moon Eternal themed face mask as part of their 'CHARA-MASK' line for adults on Premium Bandai on June 14.





CHARA-MASK Sailor Moon Eternal | ¥2,200 (Tax Included)

The face mask, based on the Sailor Moon Eternal anime film, was designed in collaboration with Sailor Moon's author Naoko Takeuchi. It's lined with sparkly rhinestones to give it a cute finish.

Bandai's CHARA-MASK series features reusable masks fitted with anti-odour and anti-bacterial filters which can be swapped out. They are also made from comfortable light mesh fabric, can be washed, and worn for long periods of time. They are sized at 100mm in width and 130mm in height.

©︎ 武内直子・PNP/劇場版「美少女戦士セーラームーンEternal」製作委員会

Information

CHARA-MASK – Sailor Moon Eternal

Released: June 14, 2021 (Available while supplies last)

Delivery: October 2021

Sailor Moon Eternal Anime Film Promoted With Luna and Artemis Cheesecakes

Neko Neko Cheesecake, a bakery chain in Japan which cooks up cute desserts and pastries shaped like cats, is promoting the release of the two-part anime film Sailor Moon Eternal with two cheesecakes reminiscent of Luna and Artemis. The cakes will be sold from February 11 to March 25.

Sailor Moon Nyan Cheesecake (Mango) | ¥1,380 (Before Tax)

Sailor Moon Nyan Cheesecake (Strawberry) | ¥1,380 (Before Tax)

The cakes arrive in fruity mango and strawberry flavours, available both in-store at Neko Neko Cheesecake branches and via the online store All Hearts Mall in Japan. Both are also safely wrapped up and packaged in a cute box featuring a sailor uniform before being placed in a bag that has Luna and Artemis huddled together and sat atop a crescent moon.

The first film in the Sailor Moon Eternal series was released on January 8, 2021, and the second on February 11, 2021.

©武内直子・PNP/劇場版「美少女戦士セーラームーンEternal」製作委員会

Sailor Moon Eternal's Second Anime Film Promoted With Luna Shaped Bread

Japanese bakery Neko Neko Shokupan is promoting the release of the second in the two-part anime film series Sailor Moon Eternal by baking up a bread inspired by everyone's favourite feline: Luna. The bread will be sold from February 11 to March 25.

Neko Neko Shokupan Luna Bread w/ Chocolate Pen | ¥1,200 (Before Tax)

The bread is made of pastry laced with black cocoa powder. Luna's ears are strawberry flavoured and she  of course has her iconic crescent moon atop her forehead. She arrives safely packaged in a cube-shaped box decorated in night sky stars and the moon. This box is placed in an eye-catching bag with little Sailor Moon details that are sure to be familiar to any fan, including Luna herself as well as Artemis.

The bread is available in-store at Neko Neko Shokupan branches and via the online store All Hearts Mall in Japan

The first film in the Sailor Moon Eternal series was released on January 8, 2021, and the second on February 11, 2021.

©武内直子・PNP/劇場版「美少女戦士セーラームーンEternal」製作委員会