artKYOTO 2020: The Art Fair at Kyoto's World Heritage Site Nijō Castle
artKYOTO 2020 will take place at the World Heritage Site and former imperial villa Nijō Castle from November 6-8.
This marks the second-ever run of the event, following the success of the first last year. Once again, the grand and breathtaking Nijō Castle serves as the venue for the event where around 30 of Japan's best galleries, both old and contemporary, come together to exhibit various artworks to the people of Kyoto.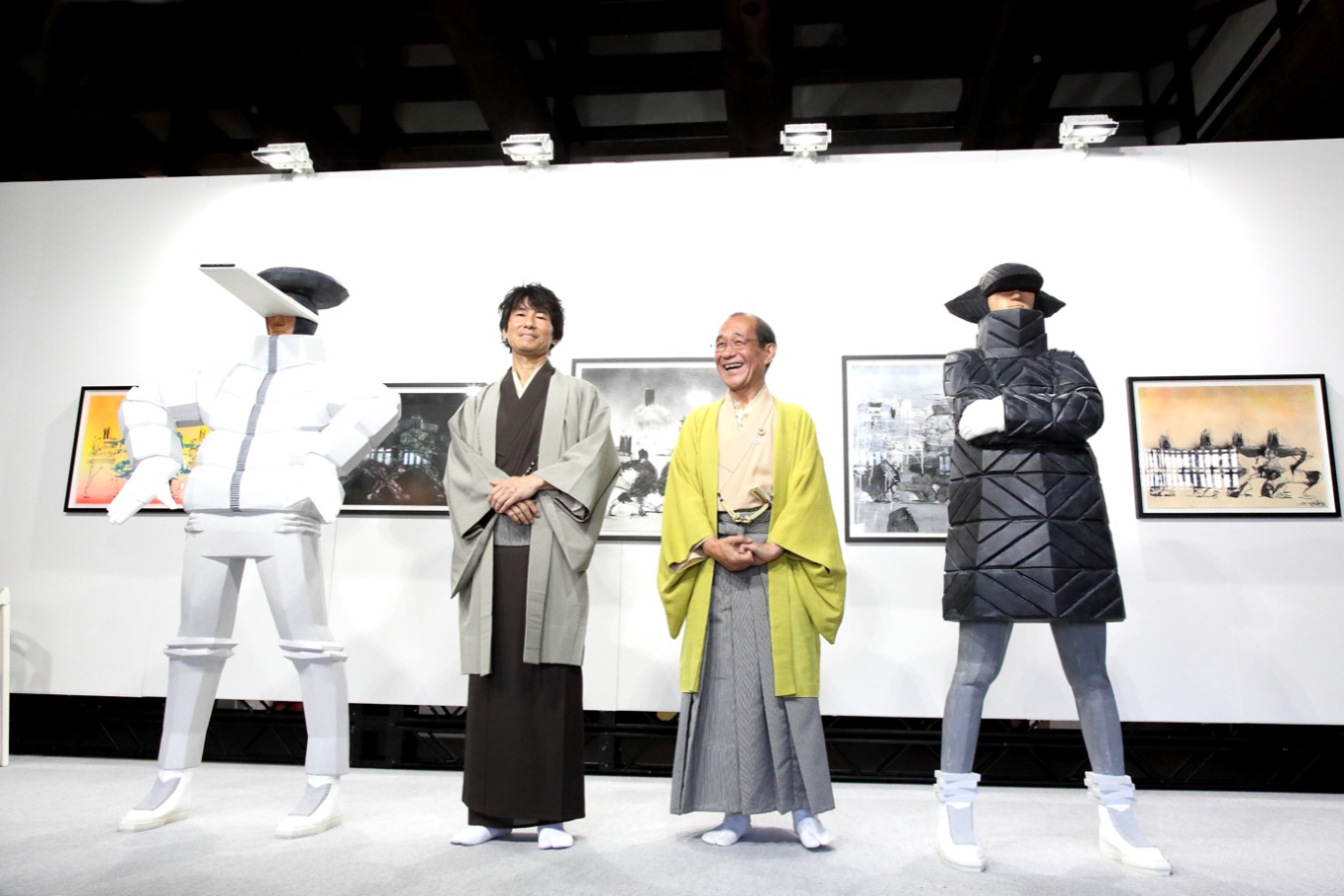 With the COVID-19 pandemic having affected Japan's economy as well as impacting society overall due to the many restrictions on movement, artKYOTO 2020 aims to bring back art and culture, as well as help circulate the economy, and contribute towards artists while promoting the value that art has on society.
Art Fair
Photo from artKYOTO 2019

Photo from artKYOTO 2019 | Photo by office TKD
The first artKYOTO event saw 31 galleries come together to promote Japan's art industry through Kyoto's history and culture. This year will see a diverse exhibit from old works to contemporary pieces.
artKYOTO 2020 will adopt all of the necessary precautions against COVID-19 while still delivering a a fully-fledged experience for people to enjoy art.
Information
artKYOTO 2020
Running: November 6, 2020 – November 8, 2020
Opening Hours: 11:00-20:00 (Until 17:00 on November 8)
Location: Nijo Castle, 541 Nijojocho, Nakagyo Ward, Kyoto
Official Website: https://artkyoto.jp/
RELATED ENTRIES
Experience a Hotel Camping Experience at Rihga Royal Hotel Kyoto

Rihga Royal Hotel Kyoto is collaborating outdoor recreation product brand Coleman to launch the Hotel Camp Buffet which will run from May 1 to August 31 at the hotel.

Guests can enjoy a fusion of the hotel and camping experiences as Coleman provides their tents, tables, chairs, and other outdoor items to be used at Rihga Royal Hotel Kyoto. The hotel chef, Honda, has also conceived a camp buffet for guests to enjoy at both lunchtime and dinnertime.

The hotel is carrying out all necessary measures against COVID-19 including providing guests with a how-to breakdown at all tables, providing alcohol spray, mouth guards with the Coleman logo so guests can enjoy dining and talking, and more.

Coleman x Rihga Royal Hotel Kyoto Hotel Camp Buffet

Individual Room Plan | Capacity: 4-6 People

Enjoy a camping buffet with tents, chairs, and other camping goods provided by Coleman. Everything will already be set up for guests to enjoy.

 

Lunch & Dinner Buffet Menus

Dinner

・Beef churrasco in black pepper

・Chicken paella

Lunch

・Frankfurt and smoked berry ham

Lunch & Dinner

・Meat and potato cottage pie

・Atlantic salmon wood plank grill

・Croque-madame style hot ham and cheese sandwich

・Spare ribs in BBQ sauce

Information

Hotel Camp Buffet

Where: ALL DAY DINING KAZA (Rihga Royal Hotel Kyoto Floor 1F)

Address: 1 Taimatsuchō, Shimogyo Ward, Kyoto

Running: May 1, 2021 – August 31, 2021

Times: [Lunch] 11:30-15:00 (Last Orders 13:00) / [Dinner] 17:30-21:00 (Last Orders 19:00)

Bookings: Must be made 3 days in advance. Slots are two hours max.

Price: ¥6,050 (Includes lunch and dinner buffet and room)

Lunch/Dinner: https://www.rihga.co.jp/kyoto/restaurant/list/kaza/menu/lunch/

Rihga Royal Hotel Kyoto Official Website: https://www.rihga.co.jp/kyoto

Demon Slayer: Kimetsu no Yaiba Holds Wisteria Event in Japan to Ward Off Demons

Keifuku Electric Railroad launched an event on Boxing Day last year in Japan in collaboration with the TV anime series Demon Slayer: Kimetsu no Yaiba. The event is still taking place and is set to end on April 11.

At Arashiyama Station on the Randen Line, there is a temporary area draped with wisteria flowers that commuters are encouraged to participate in as part of the collaboration. Built to ward off demons, fans of the anime series can write their own messages to be strung up on the flowers. They can write their thoughts and feelings on the characters and series as well as wishes and prayers for COVID to soon be over for all. It's been a popular photo spot amongst passengers. And if you head from this area up to the roof, you can gaze out at the incredible view of Arashiyama.

The New Disney Kyoto Traditional Design Series Combines Disney With Kyoto Craftsmanship

Kyoto City and Japanese company Shintsu are set to release their Disney/Kyoto Traditional Design Series after previously having to postpone the release due to the pandemic. It will be available from April 27 to May 10 and celebrates the skilled, dexterous hands of Kyoto's expert craftsman and their industry which has been passed down for thousands of years. They have innovated to create something brand-new that captures both the craft and culture of Kyoto and the contemporary wonder of Disney.

Comments from the Creators

©Disney

Okazen | Comment

"We have existed inside our town in Kyoto for 200 years. We make a variety of items from garments for maiko apprentice geisha to our own company-originals products. For this Disney/Kyoto Traditional Design Series, we wondered how we could express the world of Disney using the kyoyuzen Kyoto-style method of dyeing. We made something with detailed consideration, looking at all the intricate things in the dyeing process. Our Fantasia furisode long-sleeved kimono features a truly treasured scene which enabled use to incorporate many different methods in order to capture the expression, clothing, and all the stars as much as possible. We believe this piece will suck everyone into Fantasia's world."

©Disney

©Disney

Asahido | Comment

"For producing something for the Disney/Kyoto Traditional Design Series, we asked gave one of our craftsmen free rein to put their own individual self into the work. At the time, they were primarily an illustrator, so we were worried if the judges would overlook them, but the end result was something that looks truly complete and finished. The traditional craftwork of Kiyomizu pottery is a process of hand making and hand drawing each and every little thing. I believe it's this quality that gives the characters warmth and life. I'd love for people to take it in their hands themselves and take their time looking at it in a full 360°."

©Disney

Tsujikura | Comment

Tsujikura is Japan's oldest wagasa Japanese umbrella shop. We've been in Kyoto since 1690. In that small space underneath the washi Japanese paper and bamboo, one enters a rich world where they can feel the four seasons of Japan. Our umbrella for the Disney/Kyoto Traditional Design Series uses a very advanced technique known as kiritsugi, a type of cutting and patching. We displayed Mickey Mouse and Minnie Mouse on handmade washi paper which we dyed. You can feel an affinity with the umbrellas for their simple and minimal designs. Our aim was to incorporate Disney elements into a traditional Japanese umbrella pattern."

Other Featured Works

©Disney

aiba

©DISNEY Based on the"Winnie the Pooh" works by A.A. Milne and E.H. Shepard .

Asahido

©Disney

Kamiya

©Disney

©Disney

EIRAKUYA

©Disney

Okazen

©Disney

Katoriya

©Disney

Kanbayashi Shunsho Honten

©Disney

KYUKYODO

©Disney

Shoyeido

©Disney

Tankosha

©Disney

Tsujikura

©Disney

Nakajima Zougan

©Disney

Nakamura Rosoku

©Disney

Miyawaki Baisen-an

Poké Lid Project Lays Down New Manhole Covers in Kyoto

Five new Pokémon manhole covers were laid in Kyoto on Tuesday as part of the Poké Lid  project to place Pokémon-design manhole covers across the country.

Kyoto Original Poké Lids

The five Poké Lids are located in Arashiyama, Okazaki Park, Maruyama Park, Umekoji Park, and Nishikyogoku Athletic Park.

All of the Poké Lids placed across Japan feature completely original Pokémon designs making each individual one the only one in the world. The Pokémon Company is also working to make each one of them PokéStops for Pokémon GO.

 ©2021 Pokémon. ©1995-2021 Nintendo/Creatures Inc./GAME FREAK inc.

Godzilla vs. Kyoto Event Begins This Spring

Kyoto Tower is set to be host to the upcoming Godzilla vs. Kyoto event which is running from April 16 to June 30. 

Key visual illustrated by Yusuke Nakamura

Stamp design

Stamp design

Stamp rally postcard

Godzilla vs. Kyoto Official Merchandise

Novelty illustrated by Yusuke Nakamura – available for the first 50 people each day

Kyoto Tower will hold a stamp rally event as part of Godzilla vs. Kyoto which will have people trying to find stamps in six locations in the tower as well as at Toji Temple and elsewhere. There is also a selection of official merchandise, a Godzilla exhibition, and much more planned.

If you're in Japan this spring, don't miss Godzilla taking over Kyoto.

TM & (C) TOHO CO., LTD.

イラスト/中村 佑介 TM & (C) TOHO CO., LTD.

Matcha and Latte Cookies and Drinks Released by Yojiya

Kyoto makeup brand Yojiya is now selling its own collection of snacks and drinks which it released via its website last week.

Yojiya Matcha Sandwich Cookies | ¥1,400 (Tax Included)

Yojiya Cafe Latte Chocolate Cookies | ¥1,350 (Tax Included)

Yojiya Matcha Milk | ¥950 (Tax Included)

Yojiya's snack line-up is made with the idea of being able to enjoy high-quality food products at home. Their collection includes crunchy matcha and cafe latte cookies along with matcha milk, the latter of which is made with famous Uji matcha from Uji, Kyoto. Perfect for a tea/coffee break or as a souvenir.


HOSHINOYA Kyoto Announces Traditional Boat Ride Experience With Musical Performance For Guests

HOSHINOYA Kyoto has announced that this summer it will hold its Kyo no Ohayashibune boat-riding service which allows one group of guests to rent a boat on which they will ride down the Ōi River and enjoy a traditional musical performance while tucking into some chimaki bamboo-wrapped cake, a confection seen only during the run of Kyoto's Gion Matsuri festival.

Experience 1: Traditional hayashi orchestra aboard a Heian aristocratic boat

One group of guests will board their rented boat at Togetsu Bridge and be taken down the river where they can enjoy the verdant expanse of the valley while listening to a traditional Japanese Gion hayashi musical performance. The Ōi River was formerly a river boated down by Heian nobles who would have waka poetry and orchestral music performed to them on board. HOSHINOYA Kyoto guests will also be able to feel like a Heian aristocrat with this exclusive experience.

Experience 2: The sounds of Konchi Kichin

Konchi kichin is another Japanese term to express Gion hayashi musical performance. These performances are composed of Japanese gongs, flutes, and taiko drums, which are played on yamaboko floats by several dozen people during processions at the Gion Festival. The boat ride will recreate this experience so guests can enjoy the performance more up close as well as learn how to play the gong.

Experience 3: A taste of chimaki

Guests will be able to feel like they are at the Gion Festival by kicking back and enjoying a cup of green tea together with a chimaki, a traditional bamboo-wrapped cake that's only served at the festival. These cakes are often used to decorate the entrances of people's houses in Kyoto to ward off illness and disasters.

Gion Matsuri is one of Japan's three biggest festivals. It has been around for over 1,000 years and last a month. When July hits, the Japanese Gion hayashi orchestras begin popping up around the city signalling the start of the festival. It's a summer tradition of Kyoto and one which can now be enjoyed on board a special boat experience.

Information

HOSHINOYA Kyoto – "Kyo no Ohayashibune"

Japanese Service Name: 星のや京都「京のお囃子舟(はやしぶね)」

Running: July 2021 (July 2nd, 3rd, 9th, 10th, 30th, and 31st)

Times: 17:30-18:30

Boarding Point: HOSHINOYA Kyoto

Notes: Guests only

Bookings: https://hoshinoya.com/kyoto/

*Bookings must be made 3 days in advance

These Mother's Day Gifts by Kyoto Brands Offer Well-Deserved Relaxation Time

Japanese company Maruhisa has released a new collection of Mother's Day gift items which will make for perfect relaxation presents to well-deserving mothers, whether you live with them or have been unable to meet with them for a long time.

 

A collection of four items from Kyoto

The set includes three sweet treats from Kyoto as well as a premium face mask made by a Fushimi-based brewery.

The Set at a Glance

 

Strawberry Flower Chocolate Cookies (Contains 6)

These chocolate cookies are a staple Kyoto souvenir. They're made by buckwheat producer Marutamachi Kawamichiya and are shaped to look like cute flowers.

 

Matcha Strawberry Chocolate (3 Bags)

These matcha strawberry chocolates are made using authentic matcha from a tea shop in Kyoto. They're stuffed with whole freeze-dried strawberries which add a fruity tang.

Chocolate Senbei Rice Cracker Bouquets (Contains 5)

A tasty delight made by Sekiseika, a maker of Japanese senbei rice crackers that has been around since 1922. This perfect bouquet is made with chocolate cream and topped with crushed almonds.

Fushimi Bijin Premium Face Mask (Contains 1)

This face mask contains a range of plant-based ingredients such as junmaishu sake made without added alcohol or sugar and coconut water. The junmaishu is provided by Tsukinokatsura, one of the oldest Japanese breweries that was first established in 1675.

Have you bought your Mother's Day gift yet?

Tokyo's Pixar Exhibition 'PIXAR! PIXAR! PIXAR!' to Open in Spring 2021

A Japan-original Pixar exhibition by the name of PIXAR! PIXAR! PIXAR! is set to run from April 8-19 at Seibu Ikebukuro in Tokyo. The exhibition is a celebration of all things Pixar Animation Studio and Walt Disney Japan where fans will have the opportunity to glimpse never-before-seen concept art, learn about the secrets of the studio's office building, hear interviews with Japanese staff who work at the animation studio, and much more.

Pixar fanatics can expect to see all their favourite characters from the filmography such as Monsters Inc., Toy Story, Wall-E, Coco, Finding Nemo, and more. There will be plenty of merchandise to add to the collection too—around 200 pieces in fact—including items with official artwork that has never been made into merch before.

New official artwork illustrated by Pixar Animation Studios for 'PIXAR! PIXAR! PIXAR!'

 

The artists at Pixar Animation Studios have created an original collection of artwork for the exhibition which will be displayed around the site itself as well as on merchandise sold there. There will also be a behind-the-scenes video showing at the exhibition where you can see the staff drawing the pieces.

                                               

A historical lookback at Pixar's filmography

The exhibition will pay homage to everything Pixar has to offer, from their roots of animation shorts to their critically acclaimed full length animated features. If you have a favourite from any of these, you're sure to find merchandise of it at the exhibition.

Feel like you've been invited to Pixar Animation Studios

The exhibition will have an area decorated with a gallery of posters, the famous Pixar lamp and ball, Woody and Buzz statues made from Lego, and more, as well as a photo gallery from pictures taken inside the studio.

Learn all there is to know about Pixar

Learn all the trivia about Pixar from what kind of Japanese people work at the studio, what characters are hidden throughout their films, and more.

Original Merchandise                                     

Fans can sift through around 200 pieces of original merchandise.

Movie Poster Collection

The posters released for each of Pixar's films have been shrunk down into a collection of postcards.

Final frame merchandise

A line-up of merchandise featuring the final frames taken from all 23 of Pixar's feature length animations.

Early concept art

The exhibition will sell an array of merchandise featuring artwork that has never been turned into merch before, such as early concept art.

Easter eggs

There will also be merchandise featuring fun Easter eggs hidden throughout Pixar's films.

 

Pixar Animation Studios

A line-up of merchandise that makes you feel like you're part of the Pixar office.

Bonus Items                              

Visitors that spend over ¥3,000 (tax included) on merchandise at the exhibition will receive one of 8 possible pins. These are available on a first-come, first-served basis. Additionally, spending over ¥6,000 will get fans an original bottle too.

The exhibition will also be moving around Japan after its Tokyo run. Check the locations below.

©DISNEY/PIXAR All rights reserved. No reproduction or republication without written permission.

Information

PIXAR! PIXAR! PIXAR!

Running: April 4, 2021 – April 19, 2021

Opening Hours: 10:00-20:00 

Where: Seibu Ikebukuro Annex Bldg. Floor 2F

Price: General ¥800 / Children ¥500

Kyoto Exhibition

Running: April 21, 2021 – May 5, 2021

Where: Daimaru Kyoto Museum Floor 6F

Entry: Free

Aichi Exhibition

Running: July 21, 2021 – August 12, 2021

Where: Matsuzakaya Nagoya Floor 7F

Entry: Free

Shizuoka Exhibition

Running: December 29, 2021 – January 16, 2021

Where: Matsuzakaya Shizuoka Floor 8F

Entry: Free

POP-UP SHOP

Where: Fukuoka PARCO Floor 5F

Running: April 17, 2021 – May 9, 2021

Entry: Free

Official Website: https://www.ntvs.co.jp/ppp-official/

Blue Bottle Coffee's Kyoto Cafe Announces New Lounge Area Opening

Blue Bottle Coffee Japan has announced that its new lounge space The Lounge -Kyoto- will open on the second floor of its Kyoto cafe on March 20, 2021.

An Exclusive Course at The Lounge -Kyoto-

KYO-TO-TO x Blue Bottle Coffee Original Hand Towel

¥1,700 (Exclusive to Blue Bottle Cafe Kyoto)

Blue Bottle Coffee opened its Kyoto-based cafe in March 2018 as its eighth branch. The first by the coffee chain to open in the Kansai region of Japan, the cafe is located near the famous Nanzen-ji Temple. The cafe building itself is renovated from a traditional two-storey Kyoto-style house which has a history spanning over 100 years. Blue Bottle Cafe retained many of the building's traditional charms like the thick beams and pillars which are both rough yet refined and tasteful.

The Lounge -Kyoto- is also a renovation that maintains the warmth and welcoming atmosphere of the Kyoto-style house. This exclusive area seats just seven people, with seats needing to be booked in advance. Customers can enjoy Blue Bottle Coffee's new coffee course menu which includes three different freshly-made coffees and two seasonal desserts. The cafe recommends trying each coffee as it is first to enjoy the flavour before customising it.

If you're heading through Kyoto this spring or in the future, be sure to book seats at Blue Bottle Coffee's new lounge space.

BEAMS JAPAN x Fukushima Prefecture's Fukushima Mono Mappu Project Heads to Kyoto

Fukushima Mono Mappu, a project run in collaboration with BEAMS JAPAN and Fukushima Prefecture, has set up to shop in Kyoto for the first time at BEAMS JAPAN KYOTO where their line-up of products will be available for purchase until March 14.

Shirakawa Daruma BEAMS JAPAN KYOTO Exclusive Model (Purple) | Small ¥900, Medium ¥1,800, Large ¥4,500 (Before Tax)

The Fukushima Mono Mappu project launched in January 2018 as a way to promote Japan's prefecture of Fukushima across the country. The collaborative project has released many different items, and now the people of Kyoto will be able to enjoy what the prefecture has to offer. To celebrate its first time in Kyoto, BEAMS JAPAN KYOTO will also be selling an exclusive purple daruma.

Information

Fukushima Mono Mappu – Peko Taro's City Trip 

Japanese Event Title: ふくしまものまっぷ べこ太郎の都旅

Running: February 17, 2021 – March 14, 2021

Location: BEAMS JAPAN KYOTO

Opening Hours: 11:00-20:00

Address: Shinpuhkan, 586-2 Banocho, Nakagyo Ward, Kyoto, 604-8172

TEL: 075-708-6848

Official Website: https://www.beams.co.jp

Kyoto's Shinto Shrine Iwashimizu Hachimangu Announces Light-Up Event

Iwashimizu Hachimangu, a Shinto Shrine in Yawata, Kyoto, has announced that a 5-day light-up event will take place from February 10 to 14 at the site's main shrine which is listed as a national treasure of Japan.

Following government guidelines in response to COVID-19, the event will feature LED illuminations, glowing exhibits from craftsmen, lights made by locals from materials such as bamboo, and more, all in the hopes of creating a bit of evening-time sightseeing in the area. The event will also be streamed live online for those unable to attend where viewers can also enjoy watching ceremonial dance by shrine maidens.

Information

Iwashimizu Hachimangu Inori no Tomoshibi ~Wa no Kokoro~

Event Name in Japanese: 国宝・石清水八幡宮 祈りのともしび~和の心~
Running: February 10, 2021 – February 14, 2021
Light-Up Times: 17:00-20:00
Location: Iwashimizu Hachimangu (30 Takabo, Yawata, Kyoto)
Note: Face masks and COVID-19 Contact Confirming Applications required
Event Page: https://ochanokyoto.jp/event/detail.php?eid=569
Official Website: https://newnormaltourism.jp/