Stay in a Glamorous Tent and Enjoy the Breathtaking Nature of Akan-Mashu National Park
As an official partner of the Ministry of the Environment​'s Project to Fully Enjoy National Parks, wondertrunk has teamed up with Kussharo Prince Hotel (Hokkaido) to create a series of new programmes for guests to fully immerse in nature. Kussharo Prince Hotel sits right at the shore of Lake Kussharo – Japan's biggest caldera lake and enjoys the breathtaking scenery of Akan-Mashu National Park.
As well as the nature-immersing programmes, three glamping tents have been set up in the hotel's garden. There are even areas specifically designed for those who wish to take a "workation". These areas are located in a peaceful and soothing natural environment and are ideal for remote working.
Glamping

The glamping experience offers three glamping tents, hotel rooms and access to the workation space.  The lake shore sauna tent from last year is also available this year and can be used by glamping guests only. Each tent houses two semi-double beds and sleeping bags which is perfect for a family of two adults and two children.
Glamping Tent Contents: Low Chairs, Low Table, Hanging Rack, Rug, Cushions, Bath Towels, Face Towels

Choosing the glamping tent package also gives you access to many of Kussharo Prince Hotel's facilities including the toilets and even the hot springs (Kussharo Onsen) which are located inside. The package also includes a delicious garden breakfast by Lake Kussharo served by Kussharo Prince Hotel. There is also the option to enjoy a delicious barbeque in the evening at the glamping site provided by wondertrunk.
Experience Nature with the "Green Session" Programme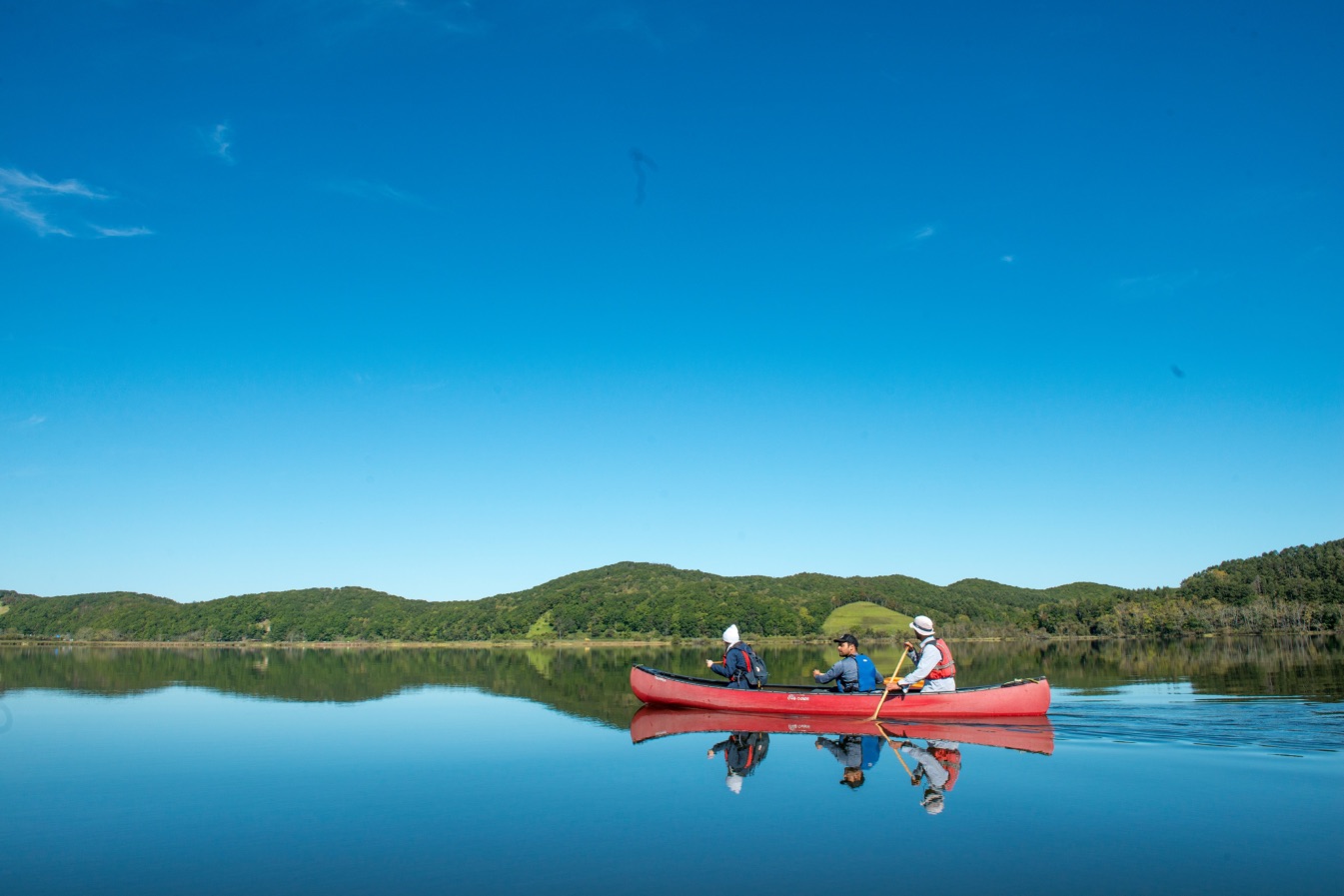 The Green Session programme is designed to give guests the opportunity to immerse themselves in nature with their five senses. During the one-day programme, a local guide will teach you of the ways of the Ainu people – the indigenous people of Japan who live as one with nature.
Programme Outline:
A: Ainu Teachings of how to live as one with nature: Ainu wood carving experience and a canoe trip to the river source.
Dates: September 13, October 4 and October 18
B: A Tree Specialist's Teachings of how to bond with nature: Forest trekking and a wooden cutlery-making experience.
Dates: September 6, September 20, October 25, November 1
C: Ainu Teachings of how to live as one with nature: Ainu wood carving experience and trekking around Lake Kussharo.
Dates: September 27, October 11, November 8
Meeting Point: Kussharo Prince Hotel Floor 1 Lobby
Immerse yourself in nature and learn more about Japan's indiginous people with this very special experience.
Information
Wondertrunk Experience in Akan-Mashu National Park
Glamping Period Running : August 12 – November 8, 2020
Nature Programme Running: Every Sunday from September 6 – November 8
Reservations and More Information: https://bit.ly/3gMNXT0
RELATED ENTRIES
'Rilakkuma & Sumikko Gurashi Festival' Photo Event Starting in Sapporo

The 'Rilakkuma & Sumikko Gurashi Festival Commemorative Photo Event' will be held between September 17 and November 28 2021 on the third floor of the Sapporo Factory San Jō-kan Building.

 

After enjoying yourself at the joint event, you can take some commemorative photos with Rilakkuma and the Sumikko's, who will be wearing new costumes especially for this event! 

October 9: 11:00/ 13:00/ 15:00/ 17:00 (Approx. 30 slots) (Each session lasts approx. 30 minutes)
Featured Characters: Korilakkuma and Tokage


October 31: 11:00/ 13:00/ 15:00/ 17:00 (Approx. 30 slots) (Each session lasts approx. 30 minutes)
Featured Characters: Chairokoguma and Neko

Weekday Limited Admission Freebies: 'RilaSumi Festival' Original Bookmark (Selected from 8 random designs: Rilakkuma & Kiirotori, Korilakkuma, Chairokoguma, Shirokuma, Penguin?, Tonkatsu & Ebifurai no Shippo, Neko, Tokage)


Don't miss out on this limited time opportunity! 

Information

'Rilakkuma & Sumikko Gurashi Festival'  Sapporo

Duration: September 17 ~ November 28, 2021

Closures: Every Thursday (excluding September 23)

Opening Hours:

Weekdays: 13:00 ~ 17:00(September 17 opening hours 10:00 ~ 17:00)

Weekends, Holidays: 10:00 ~ 17:00 ※Admissions close at 16:30

Location: Sapporo Factory San Jō-kan 3F

Address: 4-chome, Kita 2 Johigashi, Chuo Ward, Sapporo

Ticket/Event Information: https://www.ntv.co.jp/rilakkuma-and-sumikko-fest/ 

Official Twitter:  https://twitter.com/rk_sumikko_fest (@rk_sumikko_fest)

 

Commemorative Photo Spot Location: Sapporo Factory Event Space

Lottery Appilcation Period: September 1 ~ September 26 at 23:59

Details & Application Info: http://www.stv.jp/event/rilakkuma-and-sumikko-fest/photo.html 

Nature and Art Scene of Jozankei, Hokkaido on Display in New Night Walk Attraction

The Jozankei Tourism Association is currently hosting the JOZANKEI NATURE LUMINARIE -WATER LIGHT VALLEY- event until October 20, 2021. This marks the sixth year of the event, which presents the natural beauty of the rivers, valleys, and forests of Jozankei in a new light. 

Guests can enjoy an illuminated walk along the Toyohira River in the Jozankei area of Hokkaido, and wander across the picturesque Futami Suspension Bridge. The night walk takes places to the southwest of the Sapporo city center. 

Forest Illumination

Futami Valley

Visitors will encounter a variety of unique light art as they stroll through the rich nature of Jozankei guided by the elusive kappa, known to be the guardian Gods of the region. 

Nature Light Canvas

River Road

As visitors approach, the river begins to glow while flowers bloom in this interactive art experience. By using projection mapping across the Futami Suspension Bridge and an all-encompassing light show within the canyon, the event hopes to remind visitors that nature is important and worth preserving. 

Which part of the nature walk would you be most excited to see? 

Information

JOZANKEI NATURE LUMINARIE-WATER LIGHT VALLEY

Address: Jozankei Futami Park – Futami Suspension Bridge
Jozankei Onsen Nishi 4-chome, Minami-ku, Sapporo, Hokkaido

Running: July 1-October 20, 2021

Opening Hours: 

July/August: 19:00-21:00

September/October: 18:00-21:00

Tickets: Guests of Jozankei Onsen only

Official site: https://jozankei.jp/jozankei-nature-luminarie

Peanuts 70th Anniversary Exhibition Now Open in Sapporo

Beginning at Seibu Ikebukuro in December 2019, the "Snoopy Time Capsule Exhibition" is celebrating the 70th Anniversary of the Peanuts comic strip all over Japan. Sapporo is the sixth stop on this final tour, and the event will be open until August 23, 2021. 

The immersive space is divided into time periods, displaying various Peanuts works from the 1950s until the 2000s. Guests can enjoy photo ops featuring beloved characters, and browse limited-time merchandise made especially for the exhibition. 

The story behind the event is fitting: Snoopy finds a time capsule, and upon opening it, the contents fly out! Together with the Peanuts gang, it's up to visitors to help find each memory made over the past 70 years. 

© 2021 Peanuts Worldwide LLC  www.snoopy.co.jp

Special Exhibition Events

The Exhibition

The entire Peanuts gang awaits visitors at the entrance, each with their own key.

 

The history of author Charles M. Schulz and the Peanuts characters are presented in a vividly-colored timeline. 

One exhibit from the 1950s focuses on the unrequited love between Lucy and Schroder. 

Another from the 1960s takes a look at the many occupations Snoopy has attempted. 

Learn more about Charles M. Schulz while browsing past Peanuts goods, books, and more. 

Anniversary Market

Snoopy Plushie: ¥3,850 (Tax Included, limit one per customer)

70th Anniversary Pin Set: ¥7,700 (Tax Included)

Acrylic Key Holder: ¥715 Each (Tax Included)

A4 Clear File (2 designs): ¥440 Each (Tax Included)

Snoopy Plush Badge (2 designs): ¥880 Each (Tax Included)

A6 Notepad (2 designs): ¥660 Each (Tax Included)

Mascot Keychain: ¥1,980 Each (Tax Included, limit one per customer)

Each ticket purchased for the exhibition includes a special key. By finding 5 pieces of art hidden throughout the venue and using this key, guests will receive a special comic illustration as a gift to take home. 

The Final Tour is coming to an end soon, so don't miss it!

© 2021 Peanuts Worldwide LLC(短縮形 © 2021 Peanuts)

Information

Snoopy Time Capsule Exhibition Final Tour

Running: Until August 23, 2021

Location: Daimaru Sapporo (7F Hall)

Hours of Admission: 10:00-19:30 (Until 16:30 on August 23)

Official Site: https://www.snoopy.co.jp/

Hoshino Resort Tomamu Offers Limited-Time Salmon Themed Package

One of the largest resorts in Hokkaido, Hoshino Resort Tomamu will be offering a 'Family Salmon Trip' package starting on September 4, 2021. This two-day, one-night plan will be available until October 31, 2021, and features a salmon-themed room complete with salmon pajamas! The accompanying meal plan includes dishes made from different parts of salmon, complete with a challenge: try your hand at making salmon roe, and enjoy your creation at breakfast the next day! Who knew that a salmon-themed getaway was even possible? 

Salmon Room

Bath inspired by a salmon roe bowl

Salmon Roe making experience

Children's Salmon Plate

Salmon Dinner

Breakfast 'Salmon and Roe Oyako-don'

Why the salmon theme? The source of the Mukawa River is located near the resort, and where salmon are said to migrate, leaping upstream. Starting in September 2017, the salmon travel plan was introduced to inspire visitors to enjoy this fish at peak season. During the two-day, one-night stay, guests can surround themselves with all things salmon, going so far as to feel like one themselves! This 'Family Salmon Trip' was launched to give children a chance to experience the fun, based on one of Hokkaido's most beloved dishes. 

The plan includes a room decorated from floor to ceiling in fishy furnishings, including salmon curtains, mugs, figures, and cushions. The bedroom is inspired by the salmon's difficult trek up the river, with a bed frame depicting father and son bears attempting to make a catch. Children will have a blast transforming into a salmon in their special pajamas, complete with a nightcap. The whirlpool tub offers stunning views, but that's not all–with the help of bath salts, the bathtub transforms into a bowl of salmon roe, with a new salmon fillet float to make the experience even more memorable!

Families can change into a cook's coat and try their hand at preparing salmon roe, which will then be used in next day's 'Salmon and Roe Oyako-don' breakfast. The 'Children's Salmon Plate' features a collection of unique salmon dishes on a fish-shaped plate, while adults can enjoy the featured Salmon Dinner, which uses every part of the salmon, from the nose to the tip of the tail!

How do you feel about a salmon-themed family vacation? 

Information

Family Salmon Trip

Running: September 4, 2021-October 31, 2021 until check-in
Details/Reservations (up to 10 days in advance): https://www.snowtomamu.jp/ 

Go Glamping Under the Stars Indoors with New Sega Toys x RIHGA Royal Hotel Kyoto Collab

​It may seem like a strange collaboration, but RIHGA Royal Hotel Kyoto is teaming up with Sega Toys to offer a limited-time hotel stay guests will never forget. From August 12, 2021 to March 31, 2022, visitors can stay in a tropical jungle-themed room beneath the stars. Sega Toys is well-known for their 'Homestar' series of home-use planetariums, and the new 'twinkling stars' functionality will make its debut in this magical room. 

Starry Sky Glamping Room

Sega Toys 'Homestar,' On Sale August 12, 2021: Guest Room




'Galaxy Ttungcaron,' created by RIHGA Royal Hotel Kyoto's Chef Pâtissier

Red Ring Solar Eclipse Ttungcaron

This unique 'Starry Sky Glamping at the Hotel' plan will commemorate the launch of a new 'Homestar' home-use planetarium, set to go on sale August 12, 2021. These popular items have sold over 1.7 million units, and those who book this jungle-themed room will be able to go stargazing while in the comfort of their hotel room. Originally, this plan was concocted by female staff at the hotel as a way to provide comfort and happiness to those who have been unable to travel easily, or who have experienced lifestyle changes due to the current situation around the world.

A reservation won't have guests walking into just any hotel room: one room has been completely stripped of furniture, and is completely decorated with imitation greenery to create an immersive jungle atmosphere. Tents, rugs, and lanterns are all provided, making it feel like you're really in the great outdoors. When it's time to sleep, feel free to use the Dream Switch, which projects moving picture-books onto the ceiling–perfect for children! If you have a sweet tooth, try the scrumptious ttungcarons developed by the hotel's Chef Pâtissier and currently hugely popular on social media. The outer space theme continues with the limited 'Homestar' ttungcaron set, featuring a Red Ring Solar Eclipse sweet, and the Sega Toys collaboration ttungcaron, with images of the Earth, the Moon, and Jupiter!

This hotel glamping experience is the perfect way to refresh and recharge. Would you give it a try?

Information

Sega Toys x RIHGA Royal Hotel Kyoto 'Starry Sky Glamping at the Hotel' 

Running: August 12, 2021-March 31, 2022 (Limited to 1 couple per day)
(Sales period is subject to change.) 

Reservations/Details: https://www.rihga.co.jp/kyoto/stay/

Meiji Marble Chocolate Themed Hotel Room Opens at The Royal Park Hotel Kyoto Umekoji

In celebration of Meiji's popular Marble chocolate, The Royal Park Hotel Kyoto Umekoji is collaborating with the confectionery brand to offer a Marble themed hotel room for guests. The room opened on July 27.

Showa retro-style posters, telephone, and other decorations

Meiji's colourful Marble chocolate was first released in 1961. It turned 60-years-old in February of this year, meaning it has continued to be enjoyed by three generations. Grandparents have passed them onto mothers and fathers, and them to their own children. Now the whole family can celebrate the chocolate in a themed hotel room in Kyoto.


Named the Marble Room, the hotel room is decorated in seven colours just like the chocolates themselves. This includes seven individual pillows on the sofa, balloons, wall decorations, and more. There's even a crane game inside the room where guests can obtain some chocolates for free.

Also inside the room are Showa retro-style posters and a telephone, and guests can watch all of the old Marble commercials on the television which have aired these past 60 years. Guests also receive a free smartphone ring, eco bag, pouch, and other little freebies as part of the plan.

Satoyama Jujo THE HOUSE IZUMI: Rent Out a Renovated Japanese House in Niigata

Japanese design company Jiyujin launched its new Satoyama Jujo THE HOUSE chain of accommodations this month which offer a single group of guests a one-night stay in an entire house.

The first branch to open is IZUMI which features a fully-renovated Japanese-style house located in the city of Uonuma in Niigata. A gorgeous outlook is offered from the house with an unbroken view of lush forests, rice fields, and Mt. Makihata, which is listed as one of the '100 Famous Japanese Mountains.'

A breathtaking view awaits guests from the open-air bath

The spacious living room

Fully renovated from a 150-year-old private house, the building is supported by beautiful wooden beams and columns, and in the middle the oe, a sunken hearth. This, along with the beams and sashigamoi joints, are made from keyaki Japanese zelkova which is an elm-like tree. This species of tree is rare even in a tree-covered region such as Uonuma. The lumber used for this house was cut, preserved, and dried out for a number of decades before being processed into building material for the house. The heart in the middle of the living room is reminiscent of a time when large families would gather around one and serves to recreate that lifestyle.

The Nishiyama region is known for is production of delicious rice. IZUMI in fact looks out over Kabanosawa, a special and important place of rice production in Nishiyama. This vantage point also gives guests an opportunity to appreciate the hot and cold temperatures of the daytime and evening, the rivers, the shape of the land, and the earth the city sits on. The drastic change in temperatures in the day and night are especially noteworthy as this, along with the basin between the mountains, gives rise to a sea of clouds.

IZUMI sits on a hill that overlooks the rice paddies, making it a perfect location for spotting the sea of clouds. Minamiuonuma's sea of clouds has over a 70% chances of appearing in the autumn and spring seasons.

The number one reason why Japan's old, long-standing, and precious private houses are demolished is due to the cold getting in and it being too dark inside. Even those who want to see them preserved for tradition, including those who live in them already, would rather live in a modern home. That's why Jiyujin has begun a renovation project instead of a demolition one. By refurbishing the houses, the ancient framework can be fixed up and preserved while a range of contemporary amenities are incorporate to fit with modern lifestyles. The Satoyama Jujo accommodations are built so they can be used for over 100 years.

For dinner, there are three options for guests. The first is a dinner at SANABURI which earned itself a Michelin star in Michelin Guide Niigata 2020. The second is a meal at a restaurant that earned the status of Bib Gourmand in the same guide. The third is to prepare your own meal in the house. There are plenty of shops around the station nearby where you can buy local ingredients.

After a delicious meal, guests can take a soak in the open-air tub and enjoy gazing out across the fields and the beautiful mountains which stand almost 2,000 meters high.

Information

Satoyama Jujo THE HOUSE IZUMI

Japanese Name: 里山十帖 THE HOUSE IZUMI

Address: 671-1, Amanosawa, Minamiuonuma, Niigata, 〒949-6433, Japan

Official Website: Opening early July 2021

Access: 7-minutes by car from Jōetsu International Skiing Ground Station (JR Joetsu Line) / 16-minutes by car from Shiozawa-Ishiuchi IC

Japan's Poké Lid Project Lays Down Seven New Manhole Covers in Hokkaido

Seven new Pokémon manhole covers were laid in Hokkaido on July 7 as part of the Poké Lid project to place Pokémon-design manhole covers across the country. The new designs include Alola Vulpix, Togekiss, Bewear, Ditto, Combusken, and more, which were placed in Hakodate, Otaru, Nemuro, Noboribetsu, Hombetsu, Rikubetsu, and Nakashibetsu.

アローラロコンとロコンと「ポケふた」

Hokkaido is now home to 26 Poké Lids

All of the Poké Lids placed across Japan feature completely original Pokémon designs making each individual one the only one in the world. The Pokémon Company is also working to make each one of them PokéStops for Pokémon GO.

Appointed in November 2018 as the leader and deputy leader of the "Hokkaido Aficionado Expedition," Alolan Vulpix and Vulpix have been promoting Hokkaido in their respective capacities. Alolan Vulpix is known as the Fox Pokémon and thrives in snow mountains. It was chosen to promote Hokkaido, one of Japan's snowiest regions.

©2021 Pokémon. ©1995-2021 Nintendo/Creatures Inc./GAME FREAK inc.
ポケットモンスター・ポケモン・Pokémonは任天堂・クリーチャーズ・ゲームフリークの登録商標です。

Popular Character Chiikawa Gets Exhibition at Sapporo PARCO

PARCO has announced an exhibition based on the popular Japanese character Chiikawa which will take place on the 7th floor of their Sapporo branch from July 3.

Entrance photospot

Chiikawa Diagnosis

Game

Bye Bye Photospot

Message board

Entrance ticket pochette bag bonus

Game stickers

Exclusive shopping bag

Event exclusive merchandise

Pins (10 Designs)

Chiikawa no Mori Postcard Book – Event Exclusive Edition

Chiikawa no Mori Postcard Book – Regular Edition

Folder

Hand Towels (2 Designs)

Face Towel

Acrylic Clock

Large Tote Bag

T-Shirt

Puzzle

Chiikawa is a popular character by Japanese illustrator Nagano. In Chiikawa no Mori, or Chiikawa Forest, lives Chiikawa, Hachiware, and Usagi, who enjoy relaxed lives there. Nagano's stories of them have drawn much attention on Twitter. The event will include newly-drawn artwork, photo spots, a new animation, a game, a corner where you can write messages to Chiikawa and his friends, and much more. Pre-sales of postcard books are also available. And if you spend over ¥2,200 at the event, you get a free exclusive shopping bag.

Information

Chiikawa no Mori
Running: July 3, 2021 – July 25, 2021

Opening Hours: 10:00-20:00 (Last entries 19:30 / Until 18:00 on July 25)

Venue: Sapporo PARCO (Floor 7F)

3-3 Minami 1 Jonishi, Chuo-ku, Sapporo-shi, Hokkaido
*In case of crowding, you won't be able to return  to the exhibition room if you go onto the merchandise corner

*1 person per transaction

*Entry restrictions may be applied in case of crowding to avoid the spread of COVID-19


Details: https://sapporo.parco.jp/

Tickets

Price: General ¥500 / Student ¥400 / Elementary school children and below – Free

Buy Tickets: https://eplus.jp/chiikawa/

Chiikawa Official Twitter: https://twitter.com/ngnchiikawa (@ngnchiikawa)

Official Site: https://art.parco.jp/

KYARY PAMYU PAMYU meets IMABARI: A Visit to the Historical Sea Route

Imabari is a city in Ehime Prefecture that faces the Seto Inland Sea. Since olden times, it has flourished as an important location for marine traffic. It's home to a bounty of recognised national treasures and historical heritage sights, and is also famous for its production of citrus fruits such as mikan. Japanese pop star, model, and icon Kyary Pamyu Pamyu took a trip to this ancient city to discover its wonder and beauty.

A Visit to the Historical Sea Route

Oyamazumi Shrine

A 'power spot' revered by prominent people

Oyamazumi Shrine has been revered by prominent figures throughout history as a place dedicated to the god of the mountain, god of the ocean, and the god of war. It's home to numerous Important Cultural Properties which are available for viewing by the public such as the armour worn by the military commander Minamoto no Yoshitsune when the Minamoto clan won the Genpei War (1180-1185), armour worn by women, and more. The shrine is also a notable power spot for the ancient tree that has stood there for 2,600 years and is now recognised as a natural monument of Japan. Power spots are places in Japan where the spiritually-inclined draw energy from.

Information

Oyamazumi Shrine

Address: 3327 Omishimacho Miyaura, Imabari, Ehime 794-1393, Japan

TEL: 0897-82-0032

Opening Hours: Sunrise to 17:00

National Treasure Building: 8:30-17:00 (Last Entries 16:30)

Official Website: https://oomishimagu.jp/

Kurushima Kaikyo Service Area

Lip-smacking food aplenty

If you're one for great views, then the Kurushima Kaikyo service area is a must-visit, offering a panoramic look at the Kurushima Strait of the Seto Inland Sea. The service area is very well know particularly for the Jaguchi Mikan Juice, something of a city legend in Ehime where you can enjoy fresh mikan juice straight from a tap. You can also tuck a rice bowl dish made with tachiuo hairtail caught in the Seto Inland Sea that's made to look like Kurushima Kaikyō Bridge, or try Imabari's soul food dish: the Imabari Yakibuta Tamago Meshi, a pork, egg, and rice bowl. Don't pass up the chance to snap a photo at the designated photo spot with the Seto Inland Sea in the back either like Kyary above.

Information

Kurushima Kaikyo Service Area

Address: 3-9-68 Ohamacho, Imabari, Ehime, 794-0002, Japan

Food Court: [Weekdays] 8:00-21:00 / [Weekends & Holidays] 7:00-22:00

Shops: [Weekdays] 8:00-21:00 / [Weekends & Holidays] 7:00-22:00

Outside Shopping Area & Cafes: [Weekdays] 9:00-17:00 / [Weekends & Holidays] 9:00-18:00

Official Website: https://www.jb-highway.co.jp/sapa/kurushima.php

Murakami Suigun Museum

Dedicated to the Imabari heroes who protected the ocean




Murakami Suigun Museum is dedicated to kaizoku—pirates, or lords of the sea—something which conjures to mind villainy or bad guys, but the Murakami pirates were also considered heroes who helped maintain order and protect the sea during the Sengoku warring period of Japan. The museum features many displays of Murakami family treasures including the battle surcoat which the pirate leader wore over his armour, proudly bearing the Murakami family crest. Visitors can wear replicas of this coat, which Kyary tired herself: "Now I'm sorta like a military commander too," she said.

Information 

Murakami Suigun Museum

Address: 1285 Miyakubocho Miyakubo, Imabari, Ehime 794-2203, Japan
TEL: 0897-74-1065

Opening Hours: 9:00-17:00

Closed: Mondays (or Tuesday if the Monday falls on a public holiday) / New Year Holidays (Dec 29-Jan 3)

Official Website: https://www.city.imabari.ehime.jp/museum/suigun/

Roadside Station Yoshiumi Iki-iki-kan

A bundle of fun and entertainment in one place

Roll on up to Roadside Station Yoshiumi Iki-iki-kan to enjoy a shichirin BBQ feast with fresh seafood caught in the Seto Inland Sea while gazing out across Kurushima Kaikyo. This building complex serves as a resting spot and is also the perfect place to purchase local souvenirs including Ehime specialty products. It's also famous for its offering the chance to board a boat to ride around Kurushima Kaikyo, renting out bicycles, and more. You'll also be able to meet Koro-chan, a popular fish who has lived there for 30 years.

Information

Roadside Station Yoshiumi Iki-iki-kan

Address: 4520-2 Yoshiumichomyo, Imabari, Ehime 794-2114, Japan

TEL: 0897-84-3710

Opening Hours: 9:00-17:00

Restaurant: 10:00-16:00 (Last Orders 15:00)

Closed: New Year's Day (and certain days in winter)

Official Website: http://www.imabari-shimanami.jp/ikiiki/

Dolphin Farm Shimanami

Meet the cute and friendly dolphins

Dolphin Farm Shimanami, which is connected to Hakata Beach, is the best and biggest place in Japan to interact with dolphins. Visitors can get close to them and the dolphins will show off their tricks and skills. There's even a car camping area you can stay at.

Information

Dolphin Farm Shimanami

Address: 1673 Hakatacho Kanoura, Imabari, Ehime 794-2302, Japan

TEL: 0897-72-8787

Opening Hours: 9:00-17:00

Closed: On days with bad weath

Official Website: https://www.df-shimanami.com/

Hakata Beach

A white sandy beach rolling out 200-meters 

Hakata Beach is located at the base of Oshima Bridge in Hakata. The beach is famous for its salt which is best tried on their popular sweet-tasting sea salt ice cream.

Information

Hakata Beach

Address: 1668-1 Hakatacho Kanoura, Imabari, Ehime 794-2302, Japan

Sea Bathing: Early July – Late August

Official Website: https://www.city.imabari.ehime.jp/kanko/spot/?a=198

Imabari Towels

High quality towels woven with tradition and technique

Imabari is the biggest producer of towels in Japan. Even their white towels alone have countless types you can choose from, allowing you to pick which level of softness and comfort you want. The iconic brand logo is also impactful, capturing the quality, production, and enthusiasm that the makes have for the product. Kyary herself uses them all the time!

Information 

Imabari Towel

Official Website: https://www.imabaritowel.jp/

Sunrise Itoyama

Need a bike?

Sunrise Itoyama, located in the Imabari Central Cycling Terminal, is a rental bicycle service that has bikes and helmets for everyone's needs. Rent out a bike and ride the Shimanami Sea Route which connects Ehime and Hiroshima with a series of bridges that hop across the islands of the Seto Inland Sea.

Information 

Sunrise Itoyama

Address: 2-8-1 Sunabacho, Imabari, Ehime 794-0001, Japan

TEL: 0898-41-3196

Rent-a-Cycle Details: https://www.sunrise-itoyama.jp/archives/rentacycle/

Official Website: https://www.sunrise-itoyama.jp/

Marutomi

The famous restaurant known to every local

If you want the real experience of Imabari's yakitori soul food, you should visit Marutomi, a yakitori eatery. Imabari yakitori is different from the usual Japanese yakitori as it doesn't come skewered. Instead, the chicken is cut into small pieces and fried that way. One of the most popular ways to have it is with the skin on so the outside is crunchy and the inside succulent. It goes perfect with a cup of sake too.

Information 

Marutomi

2-3-6 Katayama, Imabari, Ehime 794-0063, Japan

TEL: 0898-23-2740

Opening Hours: 17:30-22:00

Closed: Wednesdays

Official Website: https://maru-marutomi.jp/

Imabari Castle

A castle by the sea

Imabari Castle, built by the daimyo Tōdō Takatora, is known famously as one of Japan's three "Castles on the Sea" and was also listed in Japan's Top 100 Castles. When it was first constructed, boats could enter the moat from the ocean. It's a site that breathes the prosperity that Imabari has enjoyed as a significant location for maritime traffic, the same Imabari that the Murakami pirates sought to protect. Head on up to the top of the castle to stand on the observation deck and gaze at an unbroken view of the city.

Information

Imabari Castle

Address: 3-1-3 Toricho, Imabari, Ehime, 794-0036, Japan

TEL: 0898-31-9233

Opening Hours: 9:00-17:00

Closed: December 29 – December 31

Official Website: https://www.city.imabari.ehime.jp/museum/imabarijo/

Kirosan Observatory Park

A breathtaking spectacle to remember

Kirosan Observatory Park is officially recognised by Setonaikai National Park. Standing atop the observation deck fills the eyes with wonder as they gaze upon a panoramic stretch of Imabari, the Seto Inland Sea, and Kurushima Kaikyo all at once. Kyary wrapped up her time in Imabari here as the sunset coloured the sky and sea in warm evening hues.

Information 

Kirosan Observatory Park

Address: 487-4 Yoshiumicho Minamiura, Imabari, Ehime 794-2115, Japan

No Fixed Holidays

Open 24-hours a day

Official Website: https://www.city.imabari.ehime.jp/kanko/spot/?a=182

Imabari Tourism Information: https://www.city.imabari.ehime.jp/kanko/

We hope you enjoyed joining Kyary on her adventures across Imabari, and perhaps she even got you a little curious in wanting to visit the city yourself. It's a treasure trove filled with vistas by the sea, in nature, and in the city itself with its Important Cultural Properties. Food is also a big part of travel for many people, so you can rest assured that your belly will be satisfied in Imabari as you try their speciality mikan, fresh seafood fished in the Seto Inland Sea, and more.

Experience a Front Row Seat of Karuizawa's Tranquil Forests at HOSHINOYA

HOSHINOYA Karuizawa has announced a special summer plan for guests called "Mori no Hotori cafe&Bar ~Suijo no Tokutoseki~" (Cafe & Bar by the Forest ~Special Seats on the Water~). The midsummer evening plan is available for one group per day and takes place at the hotel's cafe and bar which sits by a forest and faces the Kera-Ike Pond. It invites guests to relax under the starry night sky on the water and enjoy the sounds of nature while enjoying drinks and bites to eat.

Japan is known for its summer hot summers. However, Karuizawa enjoys a cooler climate, so evenings dip to around 20°C for a comfortable temperature.

Stargazing on top of the water

HOSHINOYA Karuizawa is connected directly to Karuizawa Wild Bird Sanctuary. At the entrance, by the Kera-Ike Pond, is the hotel's Mori no Hotori cafe&bar which is open all year. The cafe/bar fusion is surrounded by Karuizawa's lush forests, and it's here that guests can enjoy sitting on specially-prepared seats on the water. It will feel like they are walking on water as they approach their seats where they can take their shoes off and sit on the tatami mats to gaze at the stars.

Calm the heart with an enchanting performance

When you walk up the stairs that face Kera-Ike from HOSHINOYA Karuizawa, your ears will be met with the enchanting sound of crystal bowls which add a mysterious depth to the natural sounds of the forest, spiriting guests away to another wonderful world.

Indulgent drinks and food

Guests can pick from a range of drinks and bites to eat scented with fruits, wood, and other natural fragrances of the forest. There arw six drinks to choose from including a gin and tonic made with lindera umbellata, a type of camphor, as well as a whisky made with ripe fruits. Food includes chocolate made from lindera umbellata and kuma bamboo grass, cherry blossom and walut chips, and more.

Information

Cafe & Bar by the Forest ~Special Seats on the Water~

Japanese Plan Name: 森のほとりcafe&bar ~水上の特等席~

Running: July 1, 2021 – August 31, 2021
Book Here: https://hoshinoya.com/karuizawa/

*Bookings must be made 5 days in advance

Requirements: Must be aged 20+ years / HOSHINOYA Karuizawa guests only
Time: 20:00-21:00
Capacity: 1 group of two people per day

Notes: Will not take place if it rains

Official Website: https://hoshinoya.com/

Be Surrounded by Glowing Fireflies With Kissho Yamanaka's New Hotel Plan

Kissho Yamanaka, a hot spring hotel in Kaga, Ishikawa, is now offering a firefly-viewing experience as part of a new guest plan until June 15. This gorgeous resort, situated by the Daishoji River in the Kakusenkei Gorges, was awarded three Michelin stars in the Ryokan category of Michelin Guide Hokuriku 2021 Special Issue.

The firefly tour arrives as early summer is soon to begin. As part of the hotel plan, guests can also enjoy a dazzling Firefly Cocktail too.

Feel the rays of early summertime at Kissho Yamanaka.

Information

Firefly & Sunset Hotel Plan

Address: Kissho Yamanaka, 1 Chome-14−3 Yamanakaonsen Higashimachi, Kaga, Ishikawa 922-0114, Japan

Official Website: https://kissho-yamanaka.com/