New Gudetama Sticker Designs Cover All Prefectures Across Japan
Japanese online store Asunarosha is releasing a new set of Gudetama stickers this Friday (August 21) with designs featuring motifs and references to all 47 prefectures in Japan.
¥350 Each (Before Tax)
So far, we've seen Gudetama stickers with the lazy egg himself at tourist spots, practicing customs, experiencing, eating food, transforming into historical figures, and more, each tied to various cities around the country.
This time around, there are 47 stickers for all 47 prefectures in Japan. Gudetama has transformed into famous products and locations from each prefecture.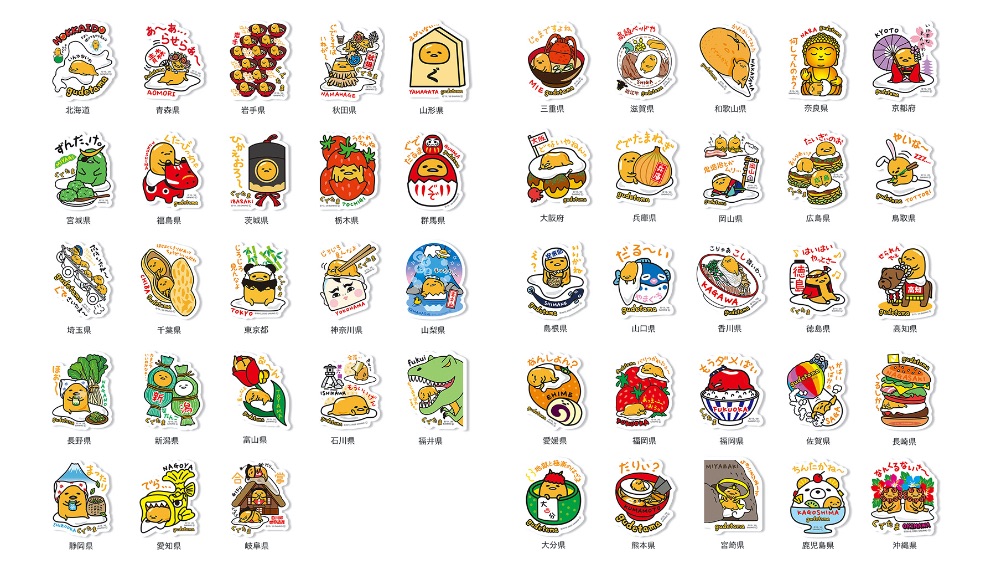 The stickers are a cute way for people in Japan to buy something related to each prefecture during this time when people are having to limit travel.

Sticking one on the back of your phone adds a bit of travel fun to your day.
RELATED ENTRIES
Yoshikitty Wins 1st Place in 4 Countries in 2021 Sanrio Character Ranking

Sanrio announced the winners of the 2021 Sanrio Character Ranking last week. While Cinnamoroll came in 1st place overall, Yoshikitty has captured the hearts of fans outside Japan by placing No. 1 in Italy, Germany, France, and Thailand. He ranked 11th overall. The character is inspired by Japanese musician and X Japan member Yoshiki.



Every year, Sanrio also partners with TANITA, an electronics company centred on health, on Sanrio-themed pedometers as part of the Sanrio Character Ranking. For the second year in a row, the Yoshikitty pedometer received the highest number of advance sales. To celebrate this achievement, Yoshikitty was also presented with the TANITA Award.

YOSHIKI met with Yoshikitty in LA during an online event for the announcement to express his gratitude to fans.

Congratulations, Yoshikitty!

Sanrio Announces Kawaii Musical 'From Hello Kitty'

Sanrio has announced that their popular cast of characters are set to perform at an attraction-style musical titled From Hello Kitty which will run at the IHI Stage Around Tokyo on from July 26 to September 26.

All of the familiar faces from Sanrio's character roster, including Hello Kitty, Dear Daniel, Cinnamoroll, Pompompurin, My Melody, and the Little Twin stars—all of whom ranked high on this year's Sanrio Character Ranking—will make an appearance alongside notable Japanese actors Shota Takasaki, Dai Gotou, and Kodai Miyagi.

The musical is a historical lookback at 60 years of Sanrio and a delivery of their core message: to help everyone in the world get along. A special edition of the 'Miracle Gift Parade' held at Sanrio Puroland will also take place with an original story.

The art direction of the stage performance is being done by Sebastian Masuda, the music composed by music producer Hyadain, and the choreography created by Yukio Ueshima who has worked on countless Broadway musicals including a theatrical adaptation of the popular sports manga series The Prince of Tennis.



The musical is taking place at IHI Stage Around Tokyo, a unique theatre with 360-degrees rotating audience seats surrounded by movable huge screens and stages. The audience seats that are placed on a huge circular platform slowly rotates to each stage set as the story moves on, without waiting for set changes. Visitors will also be able to take photos with different Sanrio characters each day.

IHI Stage Around Tokyo is produced by TBS Television, Inc., Imagine Nation B.V., and The John Gore Organization Inc.

Pompompurin's 25th Anniversary Celebrated With Limited Edition Dessert at FamilyMart

Sanrio teamed up with the convenience store chain FamilyMart to commemorate the 25th anniversary of their popular character Pompompurin with a special soufflé and macarons that hit shelves up and down Japan on June 8.

Pompompurin Soufflé Pudding | ¥276 (Before Tax)

Pompompurrin & Cinnamoroll Macarons | ¥350 (Before Tax)

Pom's Kitchen Campaign

The Japanese pudding-style soufflé is made with smooth and velvety custard and caramel. It's sold in a cup in three different original designs. Also available as part of the celebration is a set of macarons made to look like Pompompurin as well as Cinnamoroll, another one of Sanrio's most popular characters. They are wearing cute king and queen crowns respectively.

A campaign is also being held where you can win some special Pompompurin merchandise by posting a photo of a rice dish inspired by Pompompurin on social media. More details can be found on the campaign website below.

2021 Sanrio Character Ranking: Cinnamoroll Takes Home the Crown For the Second Year in a Row

Sanrio announced the final results and winners of the 36th Sanrio Character Ranking, an annual event where fans vote for their favourite Sanrio character to see who is the most popular. A total of 21,346,750 votes were submitted for 2021.

2021 Sanrio Character Ranking: General Ranking

Comments from the Winners

1st Place: Cinnamoroll
"I'm going to treasure this feeling forever! Thank you all for your support!♪"



2nd Place: Pompompurin
"Thanks so much for cheering me on!♡ I'm so grateful for all the love!"



3rd Place: Pochacco
"I can't believe I got 3rd again this year! It's thanks to all your support! I'm going to try hard next year too!"

2021 Sanrio Character Ranking: Collaboration Category

This year sees Cinnamoroll take the top spot for the second year in a row. In the first round-up of announcements, Cinnamoroll was already at number one, but in the second round-up he dipped to 2nd place. That didn't stop him however as after gaining over 2.3 million votes, he grabbed that shiny crown once again. Pompompurin, who is celebrating his 25th anniversary this year, came in 2nd again, and Pochacco in 3rd again. Hello Kitty, who ranked 5th last year, came in 6th place this year – a place she kept since the second round-up. SHOW BY ROCK!! who will commemorate her 10th anniversary next year came in 8th once again. Kuromi, who received much love from overseas fans this year, climbed from last year's 7th to 5th this year, making it the first time she has clocked in the Top 5 spot in 11 years. Cogimyun came in 10th after coming in 13th last year, making it her first time in the Top 10.

The Collaboration Category, which began in 2013, saw 27 entrees from different businesses and creators. Popular creators Azuki and Hapidanbui took 1st place this year.

Mizkan Launches Gudetama Egg on Rice Collaboration With Sanrio

Mizkan launched a social media campaign last Tuesday in collaboration with Sanrio's popular character Gudetama. As part of the campaign, the lazy egg character is featuring on the packaging for Mizkan's 'Tamago Shoyu Tare,' an egg soy sauce topping for rice. There are eight designs in total, and all limited in stock.

The campaign invites foodies to make their best version of N-TKG, that's an abbreviation of natto tamago kake gohan, or natto egg on rice. 30 lucky people have the chance to win an original Quo card featuring a Gudetama design. All they need to do is follow Mizkan on Twitter and post their creation along with the Japanese hashtag #マイベストNTKG ("My Best NTKG") while quoting the campaign tweet.

N-TKG Recipe Maker

Mizkan have created a special N-TKG maker where you can make your own digital natto egg on rice. You enter six alphabetical letters which will give you a variety of toppings to creating your own dish. You can then use this as reference for actually making it in real life.


How to Make
1. Enter 6 letters into the recipe maker
2. Make your own original N-TKG using the toppings chosen by the letters you pick
3. Try making the dish yourself!

Information

#マイベストNTKG Campaign
Submission Period: June 1, 2021 – July 31, 2021
Official Website/N-TKG Recipe Maker: https://mizkan-ntkg.com/  


Sanrio Character Ranking 2021 to Announce Winner in Collaboration With Tokyo Girls Collection

Sanrio has announced that the announcement ceremony for the winner of the 2021 Sanrio Character Ranking will take place in collaboration with Tokyo Girls Collection (TGC), a semi-annual fashion festival in Tokyo, on June 8. The event will be streamed live on Hello Kitty and TCG's respective LINE accounts, as well as Sanrio's official YouTube account, so that more people can tune in to this year's announcement and see which of Sanrio's characters will take the crown.

80 characters are participating in this year's Sanrio Character Ranking which will be announced in order from 80 to 1. This year also sees the return of the sub-award categories including Collaboration. Hosting the event as MC is tarento and actress Nao Asahi and the Japanese comedy duo Wagyu ga Tsutome.

But the winner announcement is not the only event scheduled for 2021's ranking. Since this time is a collaboration with TGC, there will be a fashion runway where popular models will show off their looks, a live performance with JO1 and the Sanrio characters, a rap battle, and more.

Fashion Runway: Famous models display the Sanrio character aesthetic

On the fashion stage, a line-up of well-known Japanese models will serve fashion inspired by Sanrio's most famous characters including My Melody, Kuromi, Little Twin Stars, and Pompompurin.

Marie Iitoyo and Maika Yamamoto will use a real-time composite photography system as they dress up as the adorable My Melody and her rival Kuromi. Serving the dreamy star-filled world of Kiki and Lala are Kaane and Sakura Saiga, Yoshiaki & Michi, and Rikariko. For the Pompompurin section, which is themed on the golden retriever's daily life, we have Nana Kato, Ami Komuro, Natsuki Deguchi, Sachi Fujii, and Roy. But that's not all as Sakachin, Yuki Higashihara, and Reina, who won the LINE LIVE auditions to appear on this year's fashion runway, will also appear.

A heated rap battle between the Sanrio characters

In the rap battle, KIRIMI-chan, Kuromi, Kogimyun, and Pompompurin will go head to head against special guests Tsukasa Saito of comedy duo Trendy Angel and Yuriyan Retriever. 

The Sanrio cast join music artists for a concert

The adorable Cinnamoroll, who is also expanding his work as an idol, will perform alongside JO1, while Hello Kitty will sing with singer-songwriter Sonoko Inoue.

A new virtual experience using the latest technology

Japanese digital advertising company CyberAgent, who produced virtual events and 3DCG content, will be using the latest in 3DCG and XR tech to blur the lines between reality and the virtual space with an interactive experience, such as people's comments on social media and the video displaying in real time, and more.

Sanrio Puroland Announces Online Puzzle Solving Game With Hello Kitty and Friends

Sanrio Entertainment is teaming up with Harekage, a company that incorporates puzzles and riddles into promotional material, to launch a special online puzzle game that will be held via Zoom. The name of the game is "Acquisition of Puroland ~Rescue Captured Hello Kitty~" and it will be held six times on June 18, 19, 25, 26, and July 2 and 3.

In the game, which features a completely original story, players will communicate with the Sanrio characters on Zoom to solve the puzzle. They can write messages of support as well as tell the characters where and what to move. The event is being held online in response to COVID-19 and the shortened hours at Sanrio Puroland, so Sanrio fans unable to travel there can still meet with their favourites online. The stream will take place live from Puroland after closing hours.

How to Play

Players must purchase an online ticket and access the Zoom URL on the day. When the stream starts, an opening movie will play detailing the story. The game has a time limit as well as a final video after completing it. The puzzle and riddle can be accessed from the webpage provided. Players will use the chat function on Zoom to communicate with the Sanrio cast including Hello Kitty, Cinnamoroll, and Pompompurin, and guide them on what they should do to help save Hello Kitty.

The Game

This game is different from a quiz where knowledge is the key. Instead, you must use your full power of imagination to use the rules and words provided to line-up keywords in the right order and more. It's a fun game that both kids and adults alike can get involved with. Kids tend to have more imagination than adults so they might be the ones solve the puzzle first!

© 1990, 2009, 2021 SANRIO CO., LTD. TOKYO, JAPAN  著作 株式会社サンリオ

Information

Acquisition of Puroland ~Rescue Captured Hello Kitty~

Japanese Name: 買収されたピューロランド〜囚われのハローキティを救え〜       

Running: June 18, 2021 / June 19, 2021 June 25, 2021 / June 26, 2021 / July 2, 2021 / July 3 2021

Where: Zoom

Runs: Twice per day

Run ①: Stream Opens 17:50 / Game Runs 18:00-19:30

Run ② Stream Opens 19:50 / Game Runs 20:00-21:00

Ticket Price: ¥3,400 (Tax Included)

Buy Tickets: https://l-tike.com/search/?lcd=34031

Official Website: https://www.puroland.jp/liveshow/nazotoki/

Cinnamoroll's Warm & Fluffy Dessert Party to Grace Hilton Osaka This Summer

Hilton Osaka's second floor restaurant Folk Kitchen has announced a collaboration with Sanrio to serve up Cinnamoroll's Warm & Fluffy Dessert Party, a food menu themed on Sanrio's popular character Cinnamoroll who took home the number one spot in the 2020 Sanrio Character Ranking. He was born up on a cloud in the sky, and that's where guests are invited to dine with him: on his dessert wonderland, featuring around 25 dreamy-cute items, atop a fluffy cloud. The restaurant will take on special decorations for the menu's duration, and guests might even spot some other familiar Sanrio faces too like Hello Kitty, My Melody, and more.

Raindrop & Dance Yogurt Ring Cake

Kuru Kuru Coffee Cup Peach Mousse

Warm & Fluffy Cloud Mousse

Cafe Cinnamoron Cream-Loaded Pastries /Brown Sugar Chocolate Flower Tarts

Marshmallow Truffle

I Dropped My Ice Cream – Chocolate Mousse & Blackcurrant Cake

This is Hilton Osaka's third summer dessert buffet in a row held in collaboration with Sanrio's characters. Focusing on the greatly loved Cinnamoroll, whose fandom is mostly made up of those in their teens and 20's, guests can look forward to tucking into a deliciously kawaii menu. The restaurant's pastry chef Hyaku, also known as the wizard of smell and texture, recommends the 'Raindrop & Dance Yogurt Ring Cake' which is made with a fruity mango cream that melts into a creamy sour mousse. The raindrops are represented by chocolate, and the fluffy cloud is actually crunchy meringue. The dessert captures the bright and sparkly world of Cinnamoroll.

The 'Kuru Kuru Coffee Cup Peach Mousse' is loaded with peach compote and vanilla mousse for an exquisite balance of flavours. It's topped off with Sanrio characters made of chocolate.

The 'Warm & Fluffy Cloud Mousse' has a gorgeous pink gradation. Inside the honey mousse is a refreshing layering of sudachi citrus jelly, fresh orange, and pistachio biscuit.

There's also the 'Cafe Cinnamoron Cream-Loaded Pastries' and 'Brown Sugar Chocolate Flower Tarts' which capture the cuteness of Cinnamoroll.

There's also a refreshing dessert-in-a-glass for cooling down over the summer: the 'Marshmallow Truffle' which is inspired by unicorns. It has alternating layers of raspberry and lychee cream which when mixed create all-new delights for your taste buds.

Another fun item on the menu is the 'I Dropped My Ice Cream – Chocolate Mousse & Blackcurrant Cake.' Now that's a mouthful! The ice cream cake is steeped in elderflower foam which goes amazingly well with the chocolate mousse. Other bites include the hibiscus-scented 'Almond Panna Cotta White Peach Compote' and the 'Rainbow Agar-Agar' among other things.

Cinnamoroll's Warm & Fluffy Dessert Wonderland – Sanrio Characters Collaboration Afternoon Tea Set

There's even a special afternoon tea set served in a cute little jewellery box!

There are many kawaii moments to be had in Japan, and this is one of many!

Information

Cinnamoroll's Warm & Fluffy Dessert Wonderland – Sanrio Characters Collaboration Tea Party

Japanese Name: シナモロールのふわもこスイーツワンダーランド ~サンリオキャラクターズ コラボティーパーティー~

Running: June 4, 2021 – September 12, 2021

Where: Folk Kitchen (Hilton Osaka Floor 2F)

Serving Times: Everyday 15:00-16:30

Price: [Weekdays] ¥4,900 Per Person / [Weekends] ¥5,300 Per Person

Afternoon Tea Set

Running: June 4, 2021 – September 12, 2021

Where: MYPLACE Cafe & Bar (Hilton Osaka Floor 1F)

Serving Times: 12:00 until daily limited stock runs out

Price: ¥4,500 Per Person

Official Website: https://osaka.hiltonjapan.co.jp/plans/restaurants/sweets/folkkitchen-2106

Sanrio Character Themed Afternoon Tea and Cafe Items Arrive at EGG & SPUMA

The Shinjuku branch of EGG & SPUMA is now hosting "Sanrio Characters CAFE," a menu of food and drink themed on Sanrio's beloved characters. Running until August 31, the cafe has also been decorated in colourful and cute Sanrio designs.

Receive a free coaster with your order

The menu line-up features lots of fruits, including the Cinnamoroll crème brûlée which is served on weekdays only, fruit sandwiches which will include My Melody themed ones this month and June, Hello Kitty and Keroppi ones in July, and Little Twin Stars in August. There's also fruity jelly and more.

If you're a Sanrio fan look to indulge a little more, then there is also a two-tiered afternoon tea set. The upper plate includes Kiki & Lala sandwiches, a Keroppi tart, the Cinnamoroll crème brûlée, and more. On the bottom plate there is Hello Kitty apple jelly, My Melody strawberry caprese salad, Kuromi canapé, and so on. There will also be special pancakes and a jelly dessert arriving in June which must be booked in advance.

Which of these Instagram-worthy delights do you want to tuck into?

Information

Sanrio Characters CAFE
Address: EGG & SPUMA Shinjuku Lumine EST (Floor 8F), 3-38-1 Shinjuku, Shinjuku-ku, Tokyo,  160-0022
Running: May 15, 2021 – August 31, 2021

Opening Hours: 11:00-20:00 (Last Orders 19:00)
TEL: 03-6273-0255
Official Website: http://www.salt-inc.co.jp/egg-and-spuma/

2021 Sanrio Character Ranking: Pompompurin Takes 1st Place in Interim Results

Votes for the 2021 Sanrio Character Ranking opened on April 9. Fans around the world have been voting for their favourite characters to win this year. The winner is set to be announced on June 8, but results of 1st place to 10th place for the second round-up have been revealed. These interim results were collected from votes placed online, in Sanrio's Ichigo Shimbun magazine, and Sanrio's online shop.

Taking the number one spot of the interim results is Pompompurin who made his debut 25 years ago. In 2nd place is Cinnamoroll, who is not far behind in the voting numbers. In 3rd is Pochacco, in 4th is My Melody, and in 5th is Kuromi. These characters are usually ones to rank high each year. Hello Kitty has moved up two places from the first round-up to 6th. Yoshikitty, the character representing music artist YOSHIKI, is in 8th.

Entering the Top 10 for the first time ever is Kogimyun in 9th place. There's still a little ways to go until votes close on May 24, so it could still be anyone's game. The winner will be announced online on June 8 at 19:30 (JST).

Comments from the Top 3 (Translated by MMN)

1st Place: Pompompurin

"Wow, 1st place! Thanks for all your support♪ I'm super happy, so lemme tell you something! I found an island that's shaped like me! The world we live in sure is exciting. My dream is to go there with you all after getting 1st place♪"

2nd Place: Cinnamoroll

"Thanks so much for your support! I love you all, and I want you to see me become an idol, stand on a big stage, and sing and dance for you♪"

3rd Place: Pochacco

"I'm still in 3rd place from the first round-up! Thank you, allll♪ It's all thanks to your support. Make a stop with me on our walk. If I'm together with you all, we're sure to see a brand new world. Keep supporting me, okay?"

Top 5 Characters Ranking Analysis

1st Place: Pompompurin

Pompompurin has been in the Top 3 for several years in a row. He last took 1st place in 2016. This year marks the 25th anniversary of his debut. He's looking to be number one after five long years.

2nd Place: Cinnamoroll

Cinnamoroll is a very busy individual, even making a CD debut. He first took 1st place in 2017 and has done three times in total. Will he take home the top spot again like last year?

3rd Place: Pochacco

Pochacco finally entered the Top 3 again last year for the first time in 23 years. This veteran character actually achieved this feat five years in a row between 1991-1995. Will 2021 be his year?

4th Place: My Melody

My Melody has been in the Top 5 for 24 years in a row. She has gone up one place since the first round-up. She has been in the Top 3 every year since 2017.

5th Place: Kuromi

Also known as My Melody's rival, Kuromi has seen a huge increase in popularity in recent years, and her place in the Sanrio Character Ranking has surged. Will she enter the Top 3 for the first time ever and beat her biggest rival, My Melody!?

Voting at the Sanrio Character Ranking is open to fans around the world. Hurry and make your vote before they close on May 24!

©'21 SANRIO S/F·G 著作(株)サンリオ

Information

2021 Sanrio Character Ranking Interim

Vote Deadline: May 24, 2021

Final Result Announcement: June 8, 2021 @ 19:30 (JST)

Vote Here: https://ranking.sanrio.co.jp/en/

Sanrio's Hello Kitty Inspires Cute Robot Set by LOVOT

GROOVE X's home robot series LOVOT is set to launch its first collaboration with Sanrio's beloved character Hello Kitty on May 17 with the release of a limited-edition set of two robots.

Yellow nose sold separately

The Hello Kitty x LOVOT original set comes with a charm (pictured far right)

Dress up in a cute Hello Kitty outfit


Those who purchase this set receive an original cloissone ware charm, each of which has a unique serial number on it. There's also a cute Hello Kitty outfit for dressing up your robot. The base of these robots, all of which are handmade individually, are coloured white like Hello Kitty and features her cute whiskers and red ribbon.

LOVOT launched four years ago and began selling its home robots in December 2019. This marks the company's first tie-up with Hello Kitty, a character known to all around the world.

2021 SANRIO CO., LTD. APPROVAL NO. S620221

Hello Kitty Diamond Necklaces Released by Japanese Luxury Jewellers U-TREASURE

Japan's luxury character jewellery brand U-TREASURE, which creates accessories for character-loving adults, released a new collection of Hello Kitty-inspired necklaces on Tuesday which are available for a limited time until May 25.

The necklaces feature a simple design with a single diamond stone tipped with Hello Kitty's ribbon. The necklaces come in various versions including platinum, yellow gold, pink gold, and also silver with cubic zirconia. The collection is available to purchase at U-TREASURE's concept store in Ikebukuro and their online shop.

<Hello Kitty Ribbon Necklaces> Platinum 950: ¥88,000 / K18 Yellow Gold, K18 Pink Gold: ¥88,000 / Silver & Cubic Zirconia: ¥16,500

©2021 SANRIO CO., LTD.